Avira's Phantom VPN comes from one of the more famous antivirus companies around. But making a high-quality VPN is a very different game.
Phantom VPN offers a modest network of 50 servers in 36 countries. With AES-256 encryption, OpenVPN support, and essential features like a kill switch, this service looks compact and secure.
However, looks can be deceiving. There's much more you need to know about this VPN before the final verdict. Off the bat, though, 50 servers is going to cause issues for heavy users, so looking to a more reliable partner, like ExpressVPN, may be a better option.
And while it can bypass Netflix's geoblocks, the low server count can cause slow speeds and lagging. Want speedy, hassle-free streaming? Check out our top picks for Netflix.
Let's get started with our in-depth review!
Streaming – Does Avira Phantom VPN Work with Netflix?
Bypassing the tough Netflix geoblocks can be an issue even for the best VPNs. Ideally, you want lots of servers and special streaming features for reliable access.
This is why Phantom VPN surprised us. Despite its barebones package and average server network, it managed to unblock Netflix across several regions (US, UK, and the Netherlands).
We had no luck with other streams like BBC iPlayer, Hulu, and HBO GO. This isn't a surprise, as popular streaming services are constantly adding in new blocks to prevent VPN access.
In short, Phantom VPN successfully gets past Netflix – at least for now. Whether you'll be able to watch your favorite shows is another story. Its speeds are slow (as you will soon see), so expect a fair amount of buffering and fuzzy pictures. You don't need to suffer lagging with every vendor though, especially our #1 recommended vendor, ExpressVPN.
Speed Test – How Fast Is Avira Phantom VPN?
We tested Phantom VPN with a 75 Mbps connection. Here's our speed without a VPN:

We were off to a promising start. The VPN showed some impressive results when we used the Nearest Location feature:

Then, we looked at the US New York server, which we also used for the US Netflix tests:

The connection was still fast enough for hassle-free streaming, but a 70% drop isn't what you want to see. Especially if you have a slower connection by default.
We thought we'd get better speeds on the UK server, as it was much closer to our test location:

We were wrong. The VPN was even more sluggish here.
Unfortunately, the speed tests were mostly disappointing. In most cases, Phantom VPN performed well when we picked servers close to our real location, but the slowdown became serious as we moved farther away.
You should expect a drop in quality when you connect to a server overseas, but it shouldn't be that big.
Even on nearby servers, Phantom VPN was sometimes unbearably slow. We had our worst result on the France server:

Overall, streaming fans and power users won't be impressed by these numbers. It seems Avira doesn't put speed high on its list of priorities.
Is Avira Phantom VPN Good for Torrenting?
There's nothing more annoying than a VPN provider staying silent on important features.
Unfortunately, this is exactly what Avira does when it comes to torrenting.
Technically, Phantom VPN allows P2P connections on its servers. We know that because we tried it – not because Avira reassured us.
There's no mention of torrents on the VPN's page, and you won't find any useful information in the FAQ. Maybe it's a "don't ask, don't tell" situation – but it doesn't work for us.
It's like Avira refuses to acknowledge that many people use a VPN for safer torrenting. For that alone, we believe you'll be better off with a VPN that openly supports P2P and offers some helpful features for the job.
Security – Is Avira Phantom VPN Safe?
On paper, Phantom VPN seems to provide all you need for safe and private browsing. Does this claim hold when you take a closer look?
Let's start with the logging policy.
Does Avira Phantom VPN Keep Logs?
Avira is brief, clear, and transparent when it comes to the data it tracks.
It includes minor bandwidth logs (how much data you've used), whether you're a free or paying user, and some diagnostic data. The last one is entirely optional, and you can turn it off inside the client: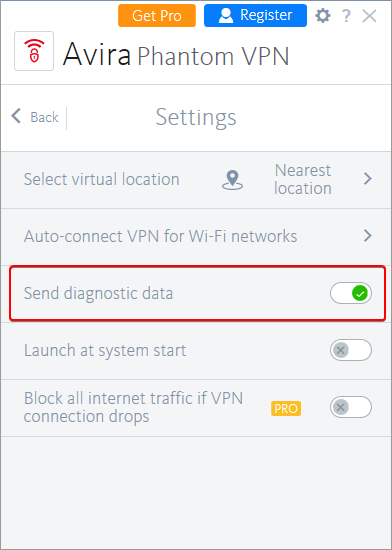 The good news – none of your personal information is logged. Avira doesn't track IP addresses or browsing histories when you use Phantom VPN. It also doesn't store any info on the files you download or websites you visit.
It's not a true zero-logging policy, but it's good enough. There's one more thing, though.
Avira, and by extension Phantom VPN, is based in Germany. Two issues here – first, Germany has some serious data retention laws, and Avira has to comply with them.
Second, Germany is part of the Fourteen Eyes alliance, and it's been known to share surveillance information with other members – even the NSA.
This may be enough to discourage privacy-conscious users from this VPN. But what matters most is that Phantom VPN doesn't collect anything sensitive about you. Despite the problem with jurisdiction, we consider this VPN a friend of your privacy.
Does Avira Phantom VPN Have an Adblocker?
While Phantom VPN lacks adblocking and anti-malware features (kind of ironic, don't you think?), it does come with some basic security features.
We were glad to see DNS leak protection and a working kill switch. There's also an auto-connect feature for unsecured wi-fi.
It's true Avira could have included a lot more. But as far as antivirus companies and their VPNs go, you could have a lot less – AVG Secure VPN, for example, doesn't even have a kill switch.
Does Avira Phantom VPN Work in China?
Avira hasn't introduced any special servers or settings to tackle heavy censorship. As a result, Phantom VPN isn't suitable for countries like China.
Bypassing the Great Firewall is a challenge for most VPNs. Usually, you'll need special obfuscation protocols and stealth servers. Not many providers take the extra steps to include those. Sadly, Phantom VPN is no exception.
Price and Value for Money
Avira Phantom VPN is firmly in the budget category, based on features and price.
With an affordable monthly plan and even cheaper yearly package, it offers good value for money.
Android and iOS users can also get an interesting deal with the monthly mobile plan. For pocket change, you get a great baseline VPN, unlimited bandwidth, and as many connected devices as you want.
And that's not everything!
Does Avira Phantom VPN Have a Free Version?
Avira offers a free version of Phantom VPN. The full range of servers is available, and you get the auto-connect feature.
There are some restrictions. One of them is the bandwidth limit – your monthly cap is set to 500 MB, and it can be doubled to 1 GB once you register. Sadly, free users also lose the kill switch feature.
Avira Phantom VPN's Refund Policy
Avira offers a 30-day refund period for all of its products.
But there's a catch.
To get your money back, you'll need to contact not Avira, but the billing partner Cleverbridge.
This can prove annoying, as Cleverbridge can also redirect you to Avira, and you can end up in a tedious back-and-forth until you finally receive your refund.
Is Avira Phantom VPN Compatible with My Device?
If you're running one of the four major platforms, yes! Phantom VPN is available on Windows, Mac, Android, and iOS.
There's also a Chrome extension, but make no mistake – it's less of a VPN and more of a proxy service.
If you were hoping to use Phantom VPN on your router or Linux machine, you're out of luck. There's no support for smart TVs or gaming consoles, either.
Encryption
Avira Phantom VPN is solid here, thanks to the 256-bit encryption together with the OpenVPN protocol.
One thing that bothered us was the lack of OpenVPN features. You can't choose ports or switch between OpenVPN UDP/TCP.
Since Avira doesn't give you the OpenVPN configuration files, you can't run a manual setup. This means you're left with a streamlined client that doesn't offer any room for tweaking.
Avira Phantom VPN Customer Service
The first thing we check when we're looking at customer support is live chat. Avira disappointed us here – the closest option is a phone call.
You can also get in touch via email, but you'll have to wait at least a day or two before you hear back.
The worst part is Avira, like many other companies with multiple products, doesn't seem to have any dedicated VPN experts to answer your questions.
Oh, and you can only use the above if you're a paying customer. Free users will have to settle for the knowledge base, which doesn't have any in-depth information.
From what we've seen, Phantom VPN doesn't offer the customer service its users deserve.
User Experience
Avira Phantom VPN is a joy to use – but don't expect anything out of the ordinary.
The interface is the same for the free and paid versions. It's all about simple protection here: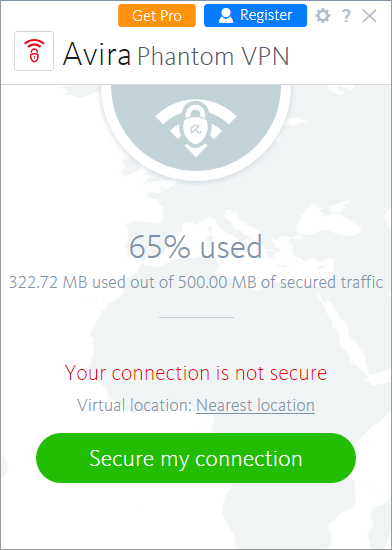 One click (or tap) of the big green button, and the VPN is on.
You'll connect to the nearest location by default, but clicking on it will bring up the server menu, where you can choose a specific country: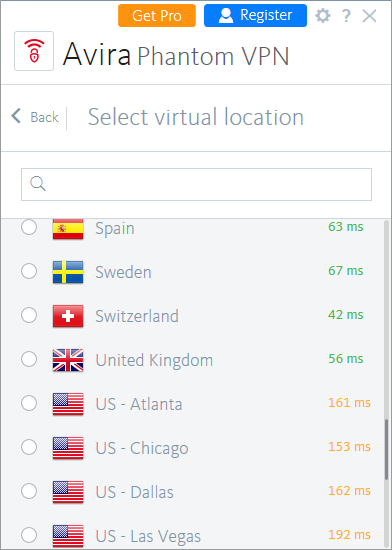 The search bar is helpful, and it's always nice to see server ping. This makes finding optimal VPN locations much easier.
Overall, Phantom VPN earns a great score for user experience. That said, there isn't much to leave you confused.
Conclusion
The big question – is Avira Phantom VPN worth it?
If you're looking for nothing but the VPN basics, then yes.
There really isn't much to hate about this VPN – it's cheap, compact, and easy to use. You can get some good tests with the free version before you commit to a subscription, and mobile users get a seriously good deal as well.
But there isn't much to like, either. The slow speeds and lack of open P2P support mean this VPN isn't a favorite for streaming or torrenting. If you want to stream anywhere in the world, these top five VPNs offer lightning-fast speeds and HD quality for streaming on Netflix.
And even though the logging policy is favorable, it's not perfect.
In the end, nothing stands out here. Avira Phantom VPN is a casual service that works best for light browsing and baseline protection. If you want anything fancier, the competition is a step ahead.
CyberGhost is our recommendation for a reasonably-priced VPN with great premium features. Special servers and proprietary features for security and streaming make CyberGhost a crowd favorite.
If you want the best speeds, check out ExpressVPN. It comes with split tunneling and custom DNS servers for streaming on your smart TVs and consoles. Plus, its customer service is one of the best we've seen!
Users on a budget may also want to consider IPVanish. Like Phantom VPN, it gives you unlimited connections – but for all types of devices! That's just one of the great features IPVanish offers.
💸

Price
$5.83/month

📆

Money Back Guarantee
30

📝

Does VPN keep logs?
No

🖥

Number of servers
1400

💻

Number of devices per license
5

🛡

Kill switch
Yes

🗺

Based in country
Germany

📥

Supports torrenting
No