Astrill VPN is undeniably powerful and packed with useful features. Its network of 300+ servers in 64+ countries offers superfast connection speeds and access to geo-restricted content around the world. By way of comparison, ExpressVPN has 3,000 servers in over 160 countries.
This VPN provides a long list of encryption algorithms and secure protocols to choose from, including a proprietary protocol that allows you to bypass the Great Firewall of China without being detected or blocked. Another standout feature is its ability to unblock Netflix libraries, plus BBC iPlayer, which are both notorious for intense geoblocking.
We wanted to really find out if this VPN is as good as it seems—and as good as it claims to be. See our test results below to find out how Astrill VPN's features and performance held up under a closer look.
Streaming – Does Astrill VPN Work with Netflix?
When we tested Astrill's ability to access geo-restricted streaming content, the VPN passed with flying colors.
All three US servers we tested could access popular US streaming content, including Netflix, Hulu, and Amazon Video, with none of the sites detecting that we were using a VPN.
We also had no trouble accessing the UK Netflix catalog and BBC iPlayer while connected to Astrill's UK server.
Is Netflix top of your list for a VPN? It is for many users! Check out our list of the top 10 VPNs for Netflix to see what else is on offer.
Astrill VPN Speeds
Astrill claims to have some of the fastest servers on the market due to their heavy investment in network infrastructure.
This provider claims to avoid using virtual servers, unlike many other VPNs, in order to provide the best possible speed and performance.
We put this VPN's connection speeds to the test. Before connecting to Astrill, we had a starting speed of 72 Mbps.
While connected to Astrill's closest US server, we had an average download speed of 63 Mbps: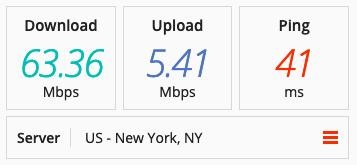 Across the country, with one of Astrill's West Coast servers, our average speed was 49 Mbps: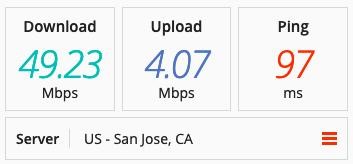 Astrill's UK server performed very well, with an average speed of over 60 Mbps. Other European servers gave us similar results.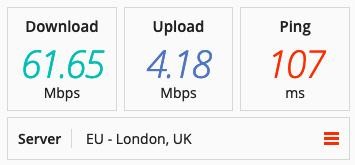 Even as far away as Japan, Astrill's server gave us over 50 Mbps.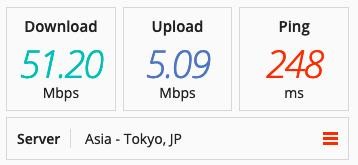 Astrill passed our tests with superfast speeds across the board. We barely noticed any change in loading times while browsing and streaming, even when connecting to the most distant servers.
These excellent connection speeds are ideal for HD streaming, online gaming, and other demanding activities.
Is Astrill VPN Good for Torrenting?
Astrill VPN offers full support for torrenting on designated P2P servers, which are marked with a star when you select your location. These servers are also enabled with port forwarding for faster speeds.
In fact, Astrill explicitly promises to "keep your torrent downloads 100% private" and to prevent your ISP and government authorities from detecting your activity. Your IP address is masked and your data is securely encrypted.
Astrill promises compatibility with BitTorrent, uTorrent, LimeWire, and other P2P sharing networks.
Security – Is Astrill VPN Safe?
Astrill VPN is packed with powerful security features to keep your internet connection safe. One big advantage to Astrill's service is that these features can be extensively customized to your preferences.
By default, Astrill protects your data with the extremely secure AES 256-bit encryption, but you can also manually select from a long list of encryption options.
You can choose among any of the following types of encryption:
AES 128-bit, 192-bit, or 256-bit encryption
Blowfish 128-bit, 192-bit, 256-bit, or 448-bit encryption
CAST 128-bit, 192-bit, 256-bit, or 512-bit encryption
Camellia 128-bit, 192-bit, or 256-bit encryption
If you're using Windows, macOS, or Linux, you can also take advantage of Astrill's automatic kill switch that keeps your data from leaking even if your connection suddenly drops.
Astrill offers a generous choice of protocols, including OpenWeb, StealthVPN, Wireguard, TCP/UDP OpenVPN, OpenConnect, Cisco IPSec, IKEv2/IPSec, L2TP/IPSec, and SSTP.
OpenWeb, one of Astrill's proprietary protocols, is extremely secure and optimized for bypassing government censorship and VPN bans. It makes your VPN use very hard to detect, which is great for getting past tough VPN bans on streaming sites like Netflix.
The other big advantage of this protocol is that it allows you to switch between servers almost instantly, much faster than most other protocols.
This greatly improves your safety by limiting the amount of time spent between connections, even if you don't have the VPN's kill switch enabled.
Looking for an extra level of security and anonymity? Astrill offers an Onion over VPN service, which allows you to safely connect to the Tor network through Astrill's servers without using the Tor browser.
Does Astrill VPN Keep Logs?
Astrill VPN claims to have a strict no-logs policy, but the details are a little more complex. In reality, Astrill does keep anonymous partial connection logs, but no usage logs and no personally identifiable information.
The privacy policy explains that during an active session, Astrill's system keeps track of your connection times, IP address, device type, and Astrill VPN application version. This information is supposedly gathered only to keep track of the number of simultaneous connections on each account.
As soon as you disconnect from the VPN, all information gathered during that session is permanently deleted from the system. At no point in time is any of your usage data or personal information collected.
Astrill is transparent about this policy, and users can view and delete their active sessions at any time within their account page.
For up to 30 days, Astrill also retains partial connection logs of your 20 most recent VPN sessions, including connection times, connection durations, server locations accessed, your device type, and your Astrill app version. This information is stored anonymously and not connected to any personally identifiable information.
You can request manual deletion of all data connected to your account at any time by contacting support.
Astrill also promises not to sell, rent, or trade any of your information with any third parties.
Does Astrill VPN Have an Ad Blocker?
Astrill VPN comes equipped with an ad blocker that can be turned on in the Settings. When we tested the ad blocker on several sites filled with adware, the app was able to successfully block all of the ads that we encountered.
The ad blocker blocks ads using a database of known adware. You can edit this list to manually add any ads that aren't being caught by the filter.
Does Astrill VPN Work in China?
One of Astrill VPN's biggest selling points is its ability to perform reliably in China. This is mainly due to its proprietary StealthVPN protocol.
StealthVPN protocol is based on OpenVPN software, which is already an extremely secure protocol. In addition to being highly safe and reliable, StealthVPN adds an extra layer of traffic obfuscation.
This is a fancy way of saying that it scrambles your traffic to hide the fact that you are using a VPN. This allows you to fly past the Great Firewall of China without being detected.
Astrill also includes a Smart Mode feature, which allows you to automatically use your Astrill VPN connection to access international websites, but use your real IP address to access local sites. This can help you avoid raising suspicion and allow your VPN use go undetected.
Price and Value for Money
Astrill VPN's three subscription plans are a bit pricey even compared to most premium VPNs, but you do get a lot of bang for your buck. The extra cost is worth it, especially if you plan on using the advanced features.
Each of the three subscription plans includes the same features and differs only in length. Longer subscription plans offer a better value for your money.
For an additional monthly cost, you can purchase the use of private IP addresses.
You can also pay for the VIP add-on, which gives you access to a handful of exclusive high-speed VIP servers, most of which are located in Asia and optimized for gaming.
Astrill VPN accepts more than 10 different payment options, including major credit cards, online payment platforms, bank transfers, and Bitcoin (for enhanced privacy).
There is also a 7-day free trial that does not require you to enter any payment information. We recommend that you take advantage of the free trial to test out the service before making a purchase because Astrill doesn't offer a money-back guarantee.
Is Astrill VPN Compatible with My Device?
One of Astrill VPN's biggest advantages is its broad device compatibility. You can download a dedicated app for each of the following platforms:
Windows
macOS
iOS
Android
Linux
You can also purchase an Astrill VPN preconfigured router that is set up and ready to use right out of the box. This option offers hassle-free protection for all of the devices in your household.
Manual installation guides are available on the website for additional devices, including Kindle Fire, BlackBerry, Apple TV, and Boxee.
Astrill VPN makes a bit of a misleading claim on its home page that you can "connect unlimited devices." In fact, while the VPN can be installed on unlimited devices, you are limited to five simultaneous device connections.
Astrill VPN Customer Service
There are a lot of ways to contact the customer service team.
We tested the VPN's customer support by reaching out through their 24/7 live chat feature. We were given an accurate time estimate for when we could expect to speak with a representative, and we only waited for five minutes before receiving a helpful response.
You can also contact the Astrill team by filling out a contact form on the website or sending an email to the support or sales team.
If you live in the US or Hong Kong, you can call an Astrill customer service phone line.
On the attractive, informational, and well-designed website, you can browse installation manuals, FAQs, and video tutorials.
User Experience
Experienced VPN users will be pleased with Astrill VPN's advanced features and customization options, but new users may feel a bit like they were thrown into the deep end.
While navigation isn't a problem, the app's interface isn't as intuitive as it could be. You will likely require at least some basic background knowledge on VPNs and cybersecurity to be able to take advantage of everything Astrill has to offer.
Although there is no automatic server-selection feature, the main screen allows you to easily connect to your most recent server location by clicking the big button in the middle.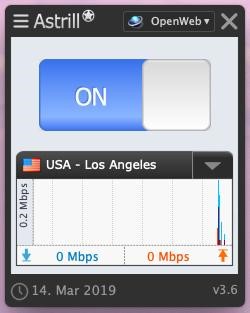 Clicking your current server location opens up a drop-down menu where you can manually select a server from a list of all locations, recommended servers, and your favorites.
You can open the Settings by clicking the three-line ("hamburger") icon at the top left corner.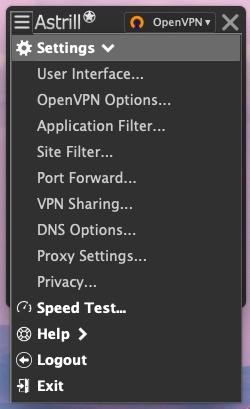 The Settings can be a little overwhelming at first, and it's not immediately obvious where a given option is located.
For example, it took a few tries before we realized that the Kill Switch setting could be found under Privacy.
Similarly, we spent a few minutes in the Settings trying to change our encryption protocol, before noticing that the option is located in a drop-down menu at the top right corner of the app.
We then spent a while trying to figure out how to close the Settings. We eventually restarted the app out of frustration, before realizing that we could just click the three-line icon at the upper left again to return to the main interface.
A user-friendly feature worth mentioning is the Smart Mode, which allows you to select which apps and websites go through the VPN server and which ones go through your real IP address.
Overall, exploring the VPN's capabilities for the first time requires some trial and error, but the app is actually quite easy to use after you get familiar with the layout.
Conclusion
Astrill VPN offers a powerful service packed with robust security features and plenty of options for customization. This VPN is a top choice for anyone looking for a service that can work reliably and safely in China.
With superfast speeds, torrenting support, and the ability to bypass geoblocks on popular streaming content, Astrill is a great multipurpose VPN, although it comes at a higher price point than many other premium VPNs like ExpressVPN.
It's reliable for unblocking Netflix and BBC iPlayer, so it's a strong choice for speedy streaming. But, we still think you could get better value for money with one of these top 10 vendors who offer more advanced features and streaming profiles.
If you're looking for a no-hassle, user-friendly VPN that requires no background knowledge to use, check out our list of top VPNs overall.
| Features | Details |
| --- | --- |
| Number of countries with servers | 59 |
| Number of servers | 300 |
| Does VPN keep logs? | Yes |
| Does VPN include a kill switch? | Yes |
| Number of devices per license | 5 |