How to Make a VPN Undetectable & Bypass Blockers in 2020
Updated on 31st March 2020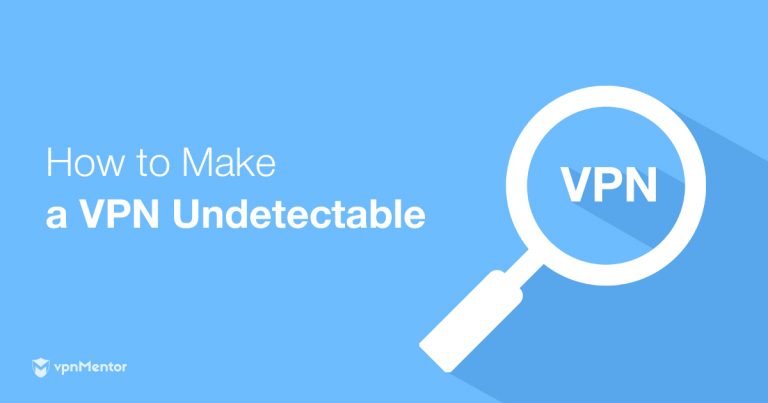 Online threats are everywhere these days, and that means VPNs – virtual private networks – are becoming a necessity for all internet users. A good VPN masks your activity and helps you stay hidden online, protecting you from identity fraud, viruses, information harvesting, and even government surveillance.
However, some ISPs, websites, and online services, including streaming services, now block VPN connections. This prevents you from accessing their content, even while using a VPN. Netflix is one of the most high-profile services that takes this approach.
Luckily, it is possible to work around these blocks without reducing your security or privacy. In this article we show you the best ways to make a VPN undetectable.
Top VPNs for Avoiding VPN Blocks
NordVPN– Obfuscated servers scramble your data so you don't get blocked, while unsurpassable security features ensure your connection is always safe and private.
ExpressVPN – Exceptional speeds and a range of encryption protocol alternatives to OpenVPN make ExpressVPN an excellent choice when you need to be undetectable.
Surfshark – Unlimited connections and a focus on getting around Netflix and other platform VPN blocks, combined with robust security and lightning speeds.
IPVanish – This security-conscious VPN offers configurable settings, including alternative connection settings that are harder to detect than OpenVPN.
VyprVPN – The combination of Chameleon technology, configurable connection settings, and latency-free servers provides a superb, undetectable service.
Understanding VPN Blocks
From copyright to censorship, there are many reasons websites block VPNs. If you've tried to stream an international Netflix library with a VPN, you'll be well-acquainted with its VPN error codes.

These geo-restrictions are generally in place due to copyrights and licensing agreements with content producers. Other websites, such as newspapers, message boards, or shopping portals, may limit access for an array of reasons, including government censorship.
VPN blocks come in several forms, but lucky for you, the most common are also the easiest to get around. These are some of the ways that service providers and websites spot VPNs and block them:
IP blocks – When you connect to your VPN, it masks your real IP address and displays the servers' IP to the sites you visit. In an effort to control the content you view, websites like Netflix compare your IP address with a list of known VPN IPs. If there's a match, you'll be blocked.
DPI (Deep packet inspection) – This is a more technically advanced method of blocking VPN connections. It analyzes the encrypted data that is passed from a VPN; checking for unique cryptography signatures. If these are present, your access can be blocked instantly. DPI is more difficult to bypass than other methods.
Port blocking – Most VPNs use specific ports to connect to the internet. These ports can be considered as similar to tunnels or hallways. Each of these ports has a number. All a website or service needs to do is check the traffic coming from the port and block it. This method isn't as common as IP blocking, but it is easier to circumvent if you have the right VPN.
How to Make a VPN Undetectable
There are multiple ways to prevent your ISP, streaming services, and other sites from detecting that you're using a VPN.
First, you need to make sure you're using a high-quality VPN with strong encryption and obfuscation features. Your VPN will need to regularly refresh its IP addresses to avoid detection, too.
If you're still having trouble once you're connected to a high-performance VPN, the steps below will solve the problem.
Changing your VPN Settings
Tweaking your VPN settings can boost your security and make your VPN harder to identify. One of the best places to start is with the encryption protocols. The most common setup with many VPNs is 256-bit AES encryption with OpenVPN protocol. This is the standard setup because it provides the best balance between speed and security. However, many blocking algorithms check for OpenVPN traffic. When you switch to a different protocol, bypassing the blocks is much easier. Which protocol you use will depend in part on the ones that are supported by your VPN provider. The main protocols are listed below.
OpenVPN – Most VPNs use this as their default protocol. It is the best option if detectability is not a concern.
L2TP/IPSec – When L2TP (Layer 2 Tunneling Protocol) is combined with IPSec (Internet Protocol Security) you gain a more secure, but slower environment than with OpenVPN. It is a good choice if detectability is more of a concern than speed.
SSL/TLS Transport Layer Security and Secure Sockets Layer are less common VPN protocols. This is what makes them a good choice if you're trying to make your VPN undetectable.
SSH – Rarely offered by VPNs, Secure Shell tunnel traffic is able to break through most firewalls and blockades.
VPN Port Switching
Switching the port your VPN uses for traffic can keep your VPN undetectable – however, this can only be achieved if it's an option your VPN offers. Here is a list of ports. Try switching to the lesser known ports for the best results.
1194 – As the official OpenVPN port, it is the one most likely to be detected.
2018 – An alternative for slipping by ISP blocks.
41185 – If your traffic is blocked across lower port ranges, then it is a great alternative.
443 – HTTPS secured sites tend to utilize this port, so it is rarely blocked.
80 – Also a default port used for encrypted traffic, so rarely blocked.
Other Ways to Stay Undetected
Obfuscated servers are the first line of defence when you need your VPN to go undetected. They encrypt your data as usual, and then strip away the metadata that sites and surveillance agencies use to identify VPN traffic.
Governments that enforce internet censorship tend to block VPN ports, too. Obfuscated servers scan for open ports that they can push your traffic through instead.
Does the VPN you're interested in not have obfuscated servers? While this feature is a huge benefit, it's not the only one that can mask traffic. VPNs have several tools to get around blocks.
Tor Browser
Tor, also known as The Onion Router, is an open-source browser that enables users to surf the web anonymously. It isn't completely infallible, but if you use it in combination with a VPN, it can provide excellent results and remain undetected.
SSH Tunnel
SSH tunnels are a way of covering data with an additional layer of encryption. This allows them to pass undetected through filtering services. It is in a host of different applications, including sending and receiving files via FTP, and so it is rarely monitored or blocked. One of the problems with this approach, however, is speed. SSH tunnels are noticeably slower and are therefore unsuitable for use with streaming services.
SSL/TLS Tunnel
SSL tunnels are one of the best ways to mask your connection, because blocking that interferes with Secure Socket Layer connections would interfere with HTTPS traffic, which includes everything from online shopping to banking and anything other website that deals with private data. If your VPN doesn't offer this tunneling protocol by default, it is possible to download the software and set it up yourself, however, it can be time-consuming.
SOCKS5 Proxy (Shadowsocks)
Designed to help users obtain restriction-free access in censorship-heavy countries like China, SOCKS5 Proxy works by using the Socket Secure 5 protocol to transfer data using a proxy server. SOCKS also adds a layer of authentication that ensures that only the intended user can access the proxy. This makes it a very effective method of encrypting and sending traffic. SOCKS5 Proxy is more reliable and faster than some of the other methods we have explored, but it is not the easiest to set up.
Top VPNs for Staying Undetected Online – Full Analysis (Updated 2020)
The first step to making your VPN undetectable to services and websites that are looking for it is to use a high-quality provider. Premium VPNs work just as hard to develop technologies that mask them, plus they're constantly adding and changing their IP addresses so they can't be tracked.
After lots of research and testing, we've found the following five VPNs to be among the best at bypassing VPN blocking so you can continue to browse, stream, and torrent without detection.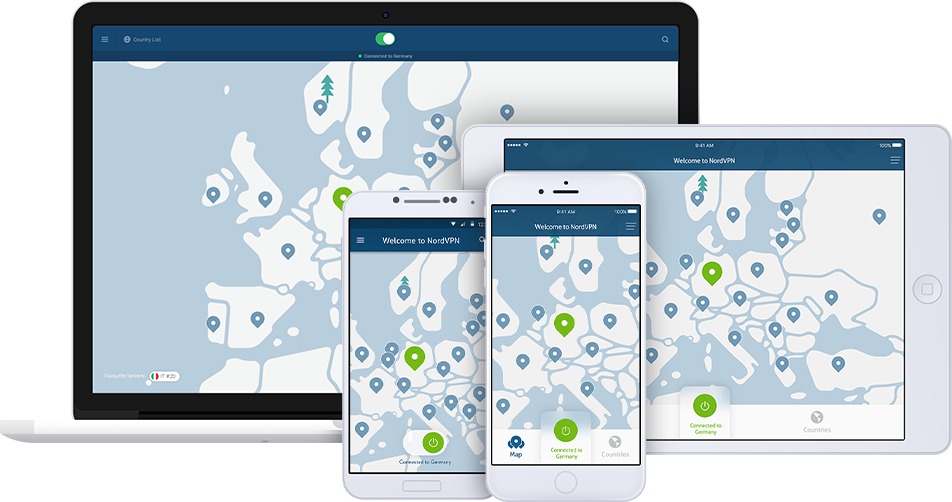 NordVPN Key Features
Obfuscated servers that completely hide your traffic
Double VPN to further hide your activities and data
5,600+ servers in 58 countries
AES 256-bit encryption
30-day money-back guarantee
Works with: Amazon Prime Video, BBC iPlayer, Netflix, Hulu, Showtime, Sling TV, and more
Compatible with: Chrome, Firefox, Linux, Windows, macOS, Android, iOS, and some routers
NordVPN's high-performance obfuscated servers hide your VPN use from firewalls, blocking algorithms, and anti-VPN programs. They scramble your packet's metadata so your encrypted data looks like regular traffic under DPI.
With NordVPN, you can choose from several VPN protocols, including L2TP, PPTP, and SSTP.
Other security features that keep your data and identity safe include DDoS protection and Onion Over VPN. The VPN also offers Double VPN, a feature that routes your traffic through two separate, encrypted servers to ensure it's completely impossible to read.
You're also protected by AES 256-bit encryption and a no-logs policy that guarantees your personal details are never recorded. The fact that NordVPN is located outside of 5/9/14 Eyes reach is even more assurance.
You can experience for yourself all that NordVPN has to offer by taking advantage of its 30-day money-back guarantee.
Want to know more? Explore our NordVPN review to see the full results of our research and testing.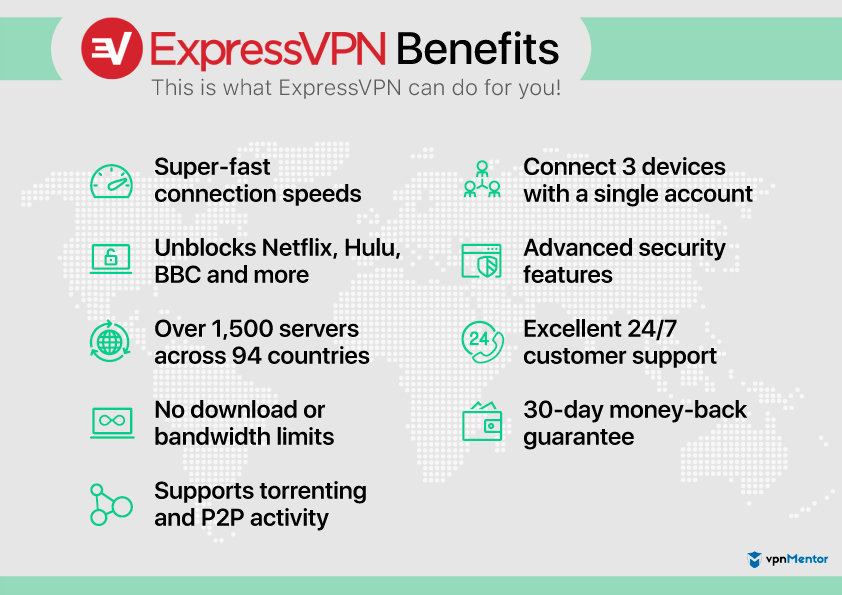 ExpressVPN Key Features
Multiple encryption protocols
Excellent spends for downloading, streaming, and more
3,000+ servers in 90+ countries
Military-grade encryption and no-logs policy
30-day money-back guarantee
Works with: Hulu, Netflix, Amazon Prime Video, HBO, DAZN, BBC iPlayer, and more
Compatible with: Windows, macOS, Linux, Chrome, Firefox, mobile devices, and some routers
ExpressVPN provides a range of change of features that you can modify to ensure your connection is undetectable. It offers various encryption protocols, including L2TP/IPsec, SSTP, and PPTP as alternatives to OpenVPN.
Its exceptional speeds mean that you shouldn't notice too much in a drop of speed when using slower protocols.
ExpressVPN runs over 3,000 servers across 94 countries, so you always have a great connection, regardless of where you are located.
The provider offers 256-bit AES encryption, DNS requests, and IP addresses, as well as a strict no logging policy. An automatic kill switch and DNS leak protection also help to keep you anonymous and secure online.
If you're not sure if ExpressVPN can get the job done, you can take advantage of the 30-day money-back guarantee and try it out risk-free.
Want to know more? Explore our ExpressVPN review to see the full results of our research and testing.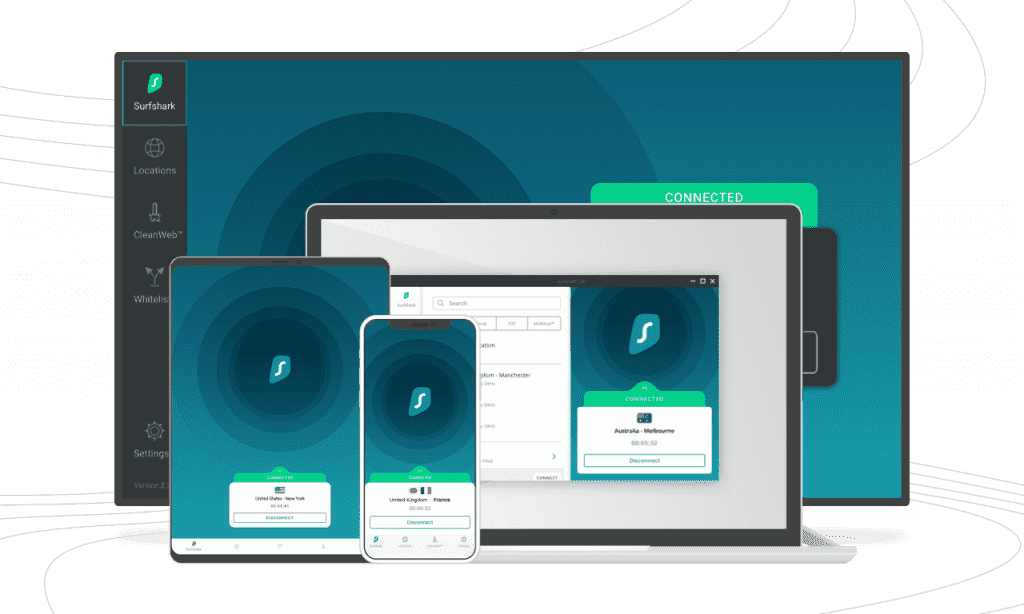 Surfshark Key Features
Over 800 servers in 50 countries
Fast speeds
Military-grade encryption and a kill switch
30-day money-back guarantee
Works with: Netflix, Amazon Prime Video, BBC iPlayer, Hulu, and more
Compatible with: Windows, macOS, Firefox, Chrome, Android, iOS, Linux, gaming consoles, and more
This provider is a fast-growing VPN that specializes in flying under the radar and remaining undetectable to even the biggest and most anti-VPN websites, including Netflix.
Surfshark regularly adds to its network of 800+ servers, across 50 countries, offering incredible speeds and the ability to hide your location, undetected, from anywhere in the world. This is backed up with military-grade encryption, an automatic kill switch, strict no-logs policy and many more state-of-the-art security features. 
While it hasn't been on the market for long, Surfshark has quickly established itself as a market leader in VPN. You can see for yourself with a risk-free 30-day money-back guarantee. 
Want to know more? Explore our Surfshark review to see the full results of our research and testing.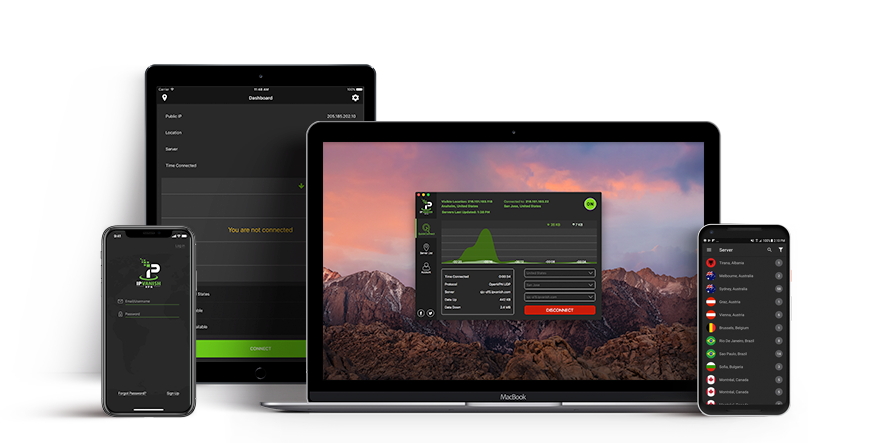 IPVanish's Key Features
Flexible configuration and encryption options
256-bit AES encryption
Automatic kill switch and no-logs policy
1,000+ servers in 60 countries
7-day money-back guarantee
Works with: Netflix, FOX US, Sling TV, Vudu, ESPN, HBO Go, and DAZN
Compatible with: Android, iOS, Windows, macOS, Linux, Chromebook, and some routers
IPVanish's configuration menu allows you to switch connection protocols, providing PPTP and L2TP/IPSec as alternatives to OpenVPN.
It also offers a host of privacy and security features, starting with military-grade encryption and DNS leak protection. You'll also find an automatic kill switch that instantly blocks incoming and outgoing traffic as soon as the VPN is disconnected (accidentally or otherwise). A no-logs policy promises that your personal details, including browsing history and IP address, are never stored.
A network of over 1,000 servers across 60 countries gives you a wealth of choice when it comes to connection locations. IPVanish also offers excellent speeds, which reduce the effects of using slower protocols to remain undetected.
However, unlike other providers, IPVanish offers a money-back guarantee for 7 days only, so you'd have to make up your mind about it pretty fast.
Want to know more? Explore our IPVanish review to see the full results of our research and testing.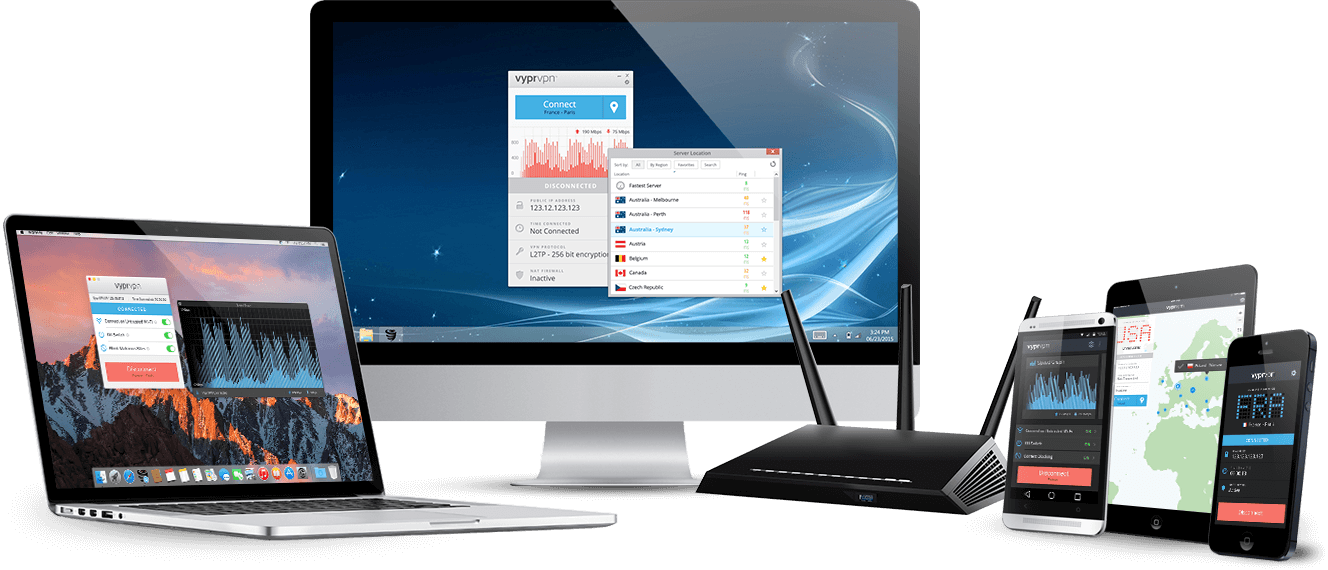 VyprVPN Key Features
Masks online traffic with Chameleon technology
128-bit and 256-bit encryption
700+ servers in 70 countries
Automatic kill switch and DNS leak protection
30-day money-back guarantee
Works with: Hulu, Netflix, BBC iPlayer, ITV Hub, DAZN, Eurosport, and others
Compatible with: Android, iOS, Linux, Windows, macOS, smart TVs, and some routers
VyprVPN uses Chameleon technology to mask your VPN traffic and defeat deep packet inspection. Users can also choose between PPTP 128-bit encryption and L2TP/IPSec 256-bit, depending on your specific needs.
The provider also offers a network of over 700 servers across 70 countries and a no-logging policy that covers DNS requests and traffic information. DNS leak protection and an automatic kill switch combine with the other great features to secure your connection whenever you are online.
Want to know more? Explore our VyprVPN review to see the full results of our research and testing.
The Bottom Line
Even as the world becomes more connected, you may find yourself unable to access more and more content due to geo-restrictions. The websites that control this content are working hard to block VPNs and restrict your access, which means you need a VPN service that's just as smart and resourceful.
We like NordVPN the best because its obfuscated services and Double VPN make it practically impossible to detect. But you'll find that all the VPNs recommended here will help you maintain access to everything the internet has to offer.
If you'd like to learn more about VPNs and how they can help you, take a look at our VPN Guide for Newbies. Ready to make a purchase? Use our VPN coupons and deals to save on your subscription.