5 Best VPNs for Warzone — Get Easy Bot Lobbies in 2023
Updated on 23rd January 2023
A VPN can improve your Call of Duty: Warzone gameplay, but finding the right one is challenging. Many VPNs are hard to set up on consoles and can increase latency which causes lag. On top of this, not all of them can grant you access to bot lobbies due to a limited server network.
Thankfully, a quality VPN can help you make contact with a broader player base and enter bot lobbies so you can boost your stats. You can access geo-restricted content, speed up the match-making process, and reduce input latency. It can also help protect you from DDoS attacks, which can crash your network and ruin your game.
After testing 30+ VPNs, my top recommendation is ExpressVPN. It has a large server network and ultra-fast speeds so that you can score in Call of Duty: Warzone easier — plus, it's super secure. You can try ExpressVPN out risk-free as it's backed by a 30-day money-back guarantee. If you find it's not for you, it's easy to claim a refund.
Alternatively, you could consider CyberGhost. It has gaming-optimized servers and a nice, polished app, but keep in mind that it tends to be slower than ExpressVPN on long-distance connections. I'd only try it if you have a good baseline speed.
Play Warzone With ExpressVPN Now
Important! While Warzone's Security and Enforcement Policy doesn't state that using a VPN is prohibited, using one to gain an unfair advantage over other players could result in your account being penalized. We recommend that you read up on the latest terms and conditions for Warzone, so you don't accidentally break any rules.
Short on Time? Here Are the Best Warzone VPNs in 2023
Best VPNs For Warzone — Full Analysis (Updated in January 2023)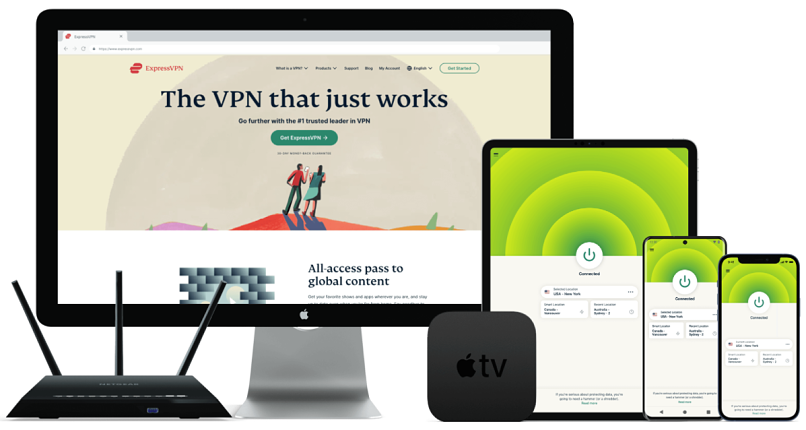 Editor's Choice
Editor's Choice

Tested January 2023
Try Risk-Free for 30 Days
Available on:
Chrome
Router
Smart TV
More
www.ExpressVPN.com
Lightning-fast speeds and low ping to play Warzone without slowdowns
3,000+ servers in 94 countries to get easier lobbies
5 simultaneous device connections
Works with: Warzone, CODM, COD Modern Warfare, COD Vanguard, Fortnite, and more
Compatible with: PS4/5, Xbox One/Series, Windows, Mac, iOS, Android, Linux, routers, and more
ExpressVPN has superfast speeds and low ping for smooth Warzone gameplay. During my tests on its nearby New York and New Jersey servers, I recorded an average ping rate of 28 ms (lower than 100 is needed), and my download speeds hovered at 63 Mbps. This is only a 3% drop from my base connection. I could play Warzone on my Windows 11 PC completely lag-free. Plus, I was also able to download large Warzone updates at close to my baseline speed without being throttled by my ISP.
It has 3,000+ servers in 94 countries to access game servers from across the world. That means if you're traveling abroad, you can connect with your friends back home. In addition, after connecting to its Egypt, Sri Lanka, and Bahamas servers, I was able to bypass SBMM and get easier lobbies. This also reduced my matchmaking time by 20%, which is impressive. With so many servers, you can battle Warzone opponents in any part of the world and find bot lobbies.
ExpressVPN's robust security features help keep your Warzone gaming sessions secure. It comes with AES 256-bit military-grade encryption, DNS/IP leak protection, and an automatic kill switch to encrypt traffic and hide your IP address. I tested 9 of its servers for DNS/IP leaks and never found any — my true location was always hidden. This means that hackers won't be able to locate your network, so they can't initiate DDoS attacks against you.
Its split tunneling feature lets you choose which traffic passes through the VPN tunnel. This means you can choose to only encrypt your gaming traffic. So, I could choose which apps were routed through the VPN and which went through my usual high-speed connection. This way, you can access your favorite local content while still securing your gameplay.
By installing ExpressVPN on your router, you can change your Warzone region on your gaming console. ExpressVPN has a native app for routers, which makes it super easy to install and switch server locations on console. Most VPNs require manual router setup and you have to connect your entire network to a single location. But ExpressVPN's router app allows you to set device groups — I set my PS5 up on an Egypt server to access bot lobbies, and left all my other devices connected to the US.
The cheapest plan costs $6.67/month, which is a bit pricier than other VPNs. Luckily, ExpressVPN offers generous discounts throughout the year — I got 49% off when I signed up for its long-term plan. All of the plans offer the same features, making the 12-month plan the best value.
If you're unsure, you can try ExpressVPN out risk-free. It's backed by a 30-day money-back guarantee, so you can cancel your subscription if you don't like it. After using the service for 29 days, I contacted support via its 24/7 live chat feature and asked for a refund. The rep only asked me a couple of questions about my user experience and promptly approved my refund. I had my money back after 2 days.
Specialty servers to get straight to lag-free gaming in just a few clicks
9,758+ servers in 91 countries to play in any region of your choice
7 simultaneous device connections
Works with: Warzone, CODM, COD Modern Warfare, COD Vanguard, Fortnite, and more
Compatible with: PS4/5, Xbox One/Series, Windows, Mac, iOS, Android, Linux, routers, and more
CyberGhost offers gaming-optimized servers, which makes it super easy to find the ideal server for Warzone. I could easily find these listed in the "For Gaming" category. These dedicated gaming servers can be sorted based on ping and distance, so you can connect to the fastest available location right away. Plus, you can also search and connect to your preferred location in just a few clicks.
All its servers deliver fast speeds and low ping (depending on your location). I tested its dedicated gaming server in the US and had a ping of 48 ms. This is ideal for uninterrupted, lag-free gaming. On top of that, I was able to access bot lobbies using the Liechtenstein server. I never encountered any input lag or slowdowns while playing. Just try to connect to a server that's closest to your actual location. You won't lose Call of Duty: Warzone matches due to high ping.
It uses powerful security features to protect your gameplay against DDoS attacks. Dedicated IP/DNS leak protection, an automatic kill switch, and military-grade encryption will keep your IP address safe. I tested its security by rapidly changing servers to see whether my information leaked. Each time I disconnected from CyberGhost, it cut off my internet connection, keeping my IP secure. Your Call of Duty: Warzone match will never be ruined by hackers.
You can use CyberGhost on your gaming console simply by installing the VPN on compatible routers. It doesn't have a native app like ExpressVPN, so you have to set it up manually. However, I found the setup instructions for this on CyberGhost's website. The process was pretty straightforward — I could start playing Warzone securely on my PS5 in just 10 minutes.
My only complaint is that its long-distance connections can be a bit slow. When I connected to its Argentinian server, the ping rose to 99 ms and I had a speed drop of 22% from my base connection. However, the gameplay was still fairly smooth. You won't notice the drop if you have a fast baseline connection.
You can get a CyberGhost subscription for just $2.19/month with its long-term plan. However, if you pay by the month, it gets pretty pricey. Short-term plans also get a limited money-back guarantee (14 days vs 45 days). Considering all this, I recommend long-term options as they offer better value and are much cheaper in the long run.
With its generous money-back guarantee, you can easily get a full refund within 45 days if you're not happy with it. I tested it for 14 days, then contacted support via live chat and explained why I wanted to cancel my subscription. The support representative approved my request immediately, and I got my money back in just 4 days.
Customizable security to find the right balance of speed and security
29,650+ servers in 84 countries to connect to bot lobbies
10 simultaneous device connections
Works with: Call of Duty: Warzone, Call of Duty Mobile, COD Modern Warfare, COD Vanguard, Fortnite, and more
Compatible with: PS4/5, Xbox One/Series, Windows, Mac, iOS, Android, Linux, routers, and more
PIA offers customized security settings, letting you optimize your connection as per your requirements. For instance, you can choose between AES 128-bit and 256-bit encryption. The former delivers faster speeds and is still strong enough to secure your Warzone gameplay. In addition, you can also choose between multiple VPN protocols. This includes WireGuard, which gave me a ping of 51 ms and a speed of 53.95 Mbps (a 17% drop) on a local server in my tests. You can tweak your connection to get the lowest ping for bot lobbies.
In addition to military-grade encryption, you get robust security features like an automatic kill switch and IP/DNS leak protection. I tested whether PIA leaks your data using an online tool, and it passed all my tests. This means you'll never be forced out of the game due to DDoS attacks.
PIA has a massive server network of 29,650 servers in 84 countries. This includes servers in Argentina, Egypt, and Singapore, which are known for easier Warzone lobbies. During my tests, I connected to its Egypt server and got easy kills. You'll have no problem finding a location filled with bot lobbies.
Even though the customization options are nice, using PIA can be a bit complicated. This VPN is a good option for anyone who already has some knowledge about VPNs, but might not be the best choice if you're new to the software. That said, it comes pre-configured in a working state, so customization is totally optional.
PIA is super affordable when you sign up for the long-term plan. You can sign up for just $2.19/month. Monthly plans are also available, which offer the same features, but they're more expensive in the long run. Plus, they don't include the 1-year subscription to Boxcryptor that you get with the long-term plans. This is a third-party cloud storage service.
There's also a 30-day money-back guarantee, so you can test Private Internet Access risk-free. After using the service for 23 days, I contacted live support and asked for a refund. The rep asked me why I wanted to cancel and approved my request after I gave my reason. The refund reached my account after 5 days.
5,507 servers in 60 countries, including obfuscated options to hide your VPN use
AES 256-bit encryption, kill switch, and an audited no-logs policy to protect your data while gaming
6 simultaneous device connections
Works with: Warzone, CODM, COD Modern Warfare, COD Vanguard, Fortnite, and more
Compatible with: PS4/5, Xbox One/Series, Windows, Mac, iOS, Android, Linux, routers, and more
NordVPN has a decent server network, including some specialty options like its Obfuscated servers. These hide the fact that you're using a VPN, which makes them great for playing Warzone securely on restrictive networks. They are designed to bypass VPN blocks posed by certain institutions and firewalls in countries like China. You can easily find them in a separate drop-down menu on the main screen of the app.
I got really good speed results while testing NordVPN. The average of the regular and Obfuscated servers I tried gave me a ping of around 60 ms, which was more than enough to play COD with no lag. The Obfuscated servers dropped my download speeds by an acceptable 18%, whereas the regular ones, by only 5%. This means that you don't have to worry about interruptions while playing Warzone, no matter which of these servers you choose.
Keep in mind that the Obfuscated servers can only be used with the OpenVPN protocol, so they can be a bit slower, though unnoticeable. For the regular servers, I recommend using the proprietary NordLynx protocol because it's the fastest option. But both are secure and protect you against DDoS attacks.
NordVPN's app is quite easy to use. To protect your connection while playing Warzone, you just need to select your preferred server location and click on it. All of its server options are neatly organized on the main screen under "Specialty Servers". Under it, you have the whole list of regular locations to choose from.
My only issue with NordVPN was that the Windows app took too long to launch every time (more than half a minute). However, after that, the app ran smoothly for me, so it wasn't too much of a problem.
NordVPN's pricing starts from $3.49/month for a long-term plan. There are also short-term options, but I always recommend yearly subscriptions because they're a better value for money.
All plans are backed by a 30-day money-back guarantee if you want to try it out at no risk for gaming. I tested it by contacting customer service via the 24/7 live chat, and the process was painless. They approved my request, and after 5 days, I got all my money back.
Unlimited simultaneous device connections under 1 account
3,200 servers in 100 countries to game with friends worldwide and find bot lobbies
Military-grade encryption and 2 kill switch options to safeguard your gaming data
Works with: Warzone, CODM, COD Modern Warfare, COD Vanguard, Fortnite, and more
Compatible with: PS4/5, Xbox One/Series, Windows, Mac, iOS, Android, Linux, routers, and more
Surfshark lets you have an unlimited number of connections, so you can use it to play Warzone on any of your devices simultaneously. This gives you great value for money since you only pay for one subscription. I tested it on 4 devices at the same time. Despite having multiple connections, I was able to farm bots in Warzone on my PC while streaming and torrenting on other devices. There were no disconnections or long loading times.
It comes with a handy speed test feature that you can use to find the optimal server for gaming. With it, you can either test specific servers or choose from the different tabs given at the top. I tested all of its servers in Europe, and the ping varied from 50 ms up to 90 ms. On average, I got around 66 ms on these servers, which is a good result for lag-free gaming.
Surfshark also has automatic Camouflage and NoBorders modes to obfuscate your traffic if you want to play Warzone on a restrictive network. The perk of these features is that they work in the background. Whenever they notice firewalls, they immediately start working by hiding the fact that you're using a VPN. NoBorders also gives you a list of the best servers to use for these types of networks.
The only drawback is that the VPN is based in the Netherlands, which is a member of the 9 Eyes Alliance. The countries in this Alliance can request VPN services to share user data. However, Surfshark has a strict no-logs policy. This means that it doesn't collect or store your identifiable data, so it doesn't have anything to share with third parties anyway.
It offers different plans that come with the same features. You can get a long-term Surfshark subscription for just $2.30/month.
No matter whether you choose a long- or short-term plan, they all come with a 30-day money-back guarantee. Getting a refund is easy through the live chat. All you need to do is let them know that you want to cancel. When I did that, my refund was issued within the same week.
Quick Comparison Table: Warzone VPN Features
The table below compares the features of top-recommended VPNs. This includes the number of countries, average ping, how many devices you can connect, and the cheapest monthly plan on offer.
Tips on How to Choose the Best VPN For Call of Duty: Warzone
A good VPN for Call of Duty: Warzone should provide you with fast speeds, strong security, and a large server network. I selected the VPNs on this list using these criteria:
Low ping. The lower the ping the more stable your connection is. Ideally, you should look for a VPN that can offer a ping lower than 100 ms on the server you want to use. The ping rate you get highly depends on your distance from the server and other factors like how lightweight the protocols are. All the VPNs listed offered really good ping results.
Large server network. The more extensive the server network, the less likely it is you'll run into an overcrowded or poor server connection. It will also allow you to log in to Call of Duty: Warzone in places where the game is unpopular, allowing you to easily find bot lobbies.
Fast speeds. Choose a VPN that offers fast speeds. The speed drop on nearby connections should be lower than 40%. This way, you can download game updates securely and quickly. I tested each VPN to ensure they deliver fast speeds even on long-distance connections.
Protection against DDoS attacks. Your VPN should have 256-bit encryption, IP/DNS leak protection, and an automatic kill switch. These features will hide your IP address and keep you protected from DDoS attacks.
Router support. Gaming consoles (like PS4/PS5 and Xbox Series) do not natively support VPNs. However, if your VPN is compatible with routers, you can install the VPN on your router to cover your entire home network. This lets gaming consoles easily use the VPN connection. All the VPNs on this list work with routers.
Value for money. Make the most out of your money by choosing a quality VPN with affordable prices. The VPNs I've chosen above all offer premium service for a low price — especially if you choose a long-term plan, as these often come with huge discounts.
Reliable money-back guarantee. VPNs that offer a money-back guarantee are confident in their services. All the VPNs I've listed come with a reliable, trustworthy money-back guarantee, so you can test them risk-free.
Responsive customer support. Even the best VPNs sometimes run into issues. It's important to have a 24/7 support team on hand to help fix these as they happen, so you can get right back to gaming. The VPNs above all offer live chat, so you can get a quick response to any questions or issues. They can even walk you through more complicated setups like with VPN hotspots and routers.
Quick Guide:
How to Use a VPN to Get Easier Warzone Lobbies in 3 Easy Steps
Download a VPN. I recommend ExpressVPN because its worldwide server network helps you get easier lobbies. Plus, it has fast speeds and low ping for lag-free gaming, even in bot lobbies.
Connect to a server. Choose a location where Warzone isn't popular (like Argentina or Egypt).
Start playing. Open the game, and start shooting easy targets.
How to Set Up a Warzone VPN on Consoles
Setting up a VPN on Windows is easy as all VPNs offer apps that are directly compatible with the OS. When it comes to consoles, things can get a bit tricky.
There are 2 methods for setting up a Call of Duty: Warzone VPN on consoles. The PC method is the easiest to set up, but it offers higher latency as your PC is using the same traffic. The router method is slightly trickier to set up and only works on compatible routers, but it provides the best latency since it doesn't share traffic. I recommend the PC method for ease of use and the router method for best performance.
ExpressVPN is the best VPN for Warzone if you want to play on console because it offers a native router app that makes it way easier to use on a console than most other VPNs. That, on top of its low-latency servers and lightning-fast speeds, make it a top choice.
Once you've downloaded it, follow my step-by-step instructions below to easily set it up to work with your console. The other VPNs in this list can be set up for console similarly using the PC method.
PC Method
Connect ExpressVPN to a server location. Press the server list button, select the "All Locations" tab, and pick a country where Call of Duty: Warzone isn't popular (like Egypt) to find bot lobbies. If you're not interested in bot lobbies, then choose a server nearest your location for the lowest ping/best performance.
Open your PC's Network settings. Choose the "Mobile Hotspot" option and turn it on.
Change your adapter options. This will take you to the Network Connections window, where you will see a network called Local Area Connection #.
Access ExpressVPN's network connection. Locate a connection with an "ExpressVPN Wintun Driver" description and right-click to open its "Properties."
Allow sharing. In the sharing tab, check the box for "Allow other network users to connect through this computer's Internet connection."
Select the network to share. Under "Home Networking Connection", select the name of the mobile hotspot (Local Area Connection #) you just created and click OK.
Connect your console. Connect your console to the hotspot using WiFi.
Router Method
This method is for installing ExpressVPN's native router app onto an ASUS router model. You'll have to find the instructions for your router on its site, since each model has different instructions.
Head to the configuration page. Sign into ExpressVPN's site, and go to the setup page. Select "router".
Download the firmware. Scroll down and under "Firmware Download", select your router model from the drop-down menu and click "Download Firmware."
Access your router. In your browser's address bar, enter the IP address for the router admin panel. In most cases, the default address is 192.168.0.1 or router.asus.com.
Upload the firmware. On the left column, select "Administration", then select the "Firmware Upgrade" tab. Choose "Upload" and choose the file you downloaded in step 2.
Follow the on-screen prompts. Once you see "Firmware upgrade is done", you'll know that ExpressVPN has been successfully installed on your router.
Connect your console. Just re-connect your console to the WiFi network.
FAQs on Playing Call of Duty: Warzone With a VPN
What is the best location for Call of Duty: Warzone bot lobbies?
Bot lobbies are available in countries where the game isn't popular. Despite being super successful in certain countries, Warzone doesn't have as many players in countries like Argentina, Sri Lanka, Egypt, Singapore, and more. Connecting to a server in one of these countries can offer reliable access to bot lobbies. The VPNs in this list have several servers in these countries.
To raise your chances of being placed in bot lobbies, you can try connecting to servers in places where it's still working hours or early in the morning. This is because not many people will be playing online during these time periods.
That said, it's important to connect to a server that's not too far away from your physical location. This is because ping increases proportionally to the distance between you and the server you connect to.
What should I do if my VPN isn't working with Warzone?
First off, you should make sure you're using a VPN that's been tried and tested to work with Warzone.
If you still continue to get errors, try disconnecting from your current server, and choose a different location. It's possible that there are some problems with the server you're connected to, and switching to a different one can resolve the problem.
You can also try switching security protocols. Plus, make sure you're running the latest version of the VPN app. If all else fails, you can contact customer support.
Is it okay to use a VPN in Warzone or will I get banned for it?
While Warzone's Security and Enforcement Policy doesn't state anywhere that using a VPN is against the rules, it does state that using any software to gain an unfair advantage over other players and tamper with stats is against the rules and could result in a ban. I recommend you keep up-to-date with the latest Warzone policy just to be sure.
Some VPNs have weak security and can be easily detected by Warzone's anti-cheat system as tampering software, resulting in a ban. Therefore, it's important to choose a VPN that has strong security features, like an automatic kill switch and leak protection.
Will a Warzone VPN prevent internet throttling?
Yes, a quality VPN can prevent internet throttling and increase speeds in some cases. For example, your ISP may throttle speeds to discourage you from visiting certain sites or prevent you from engaging in high-bandwidth activities.
A VPN encrypts all your internet traffic, so your ISP can't see where your traffic is going. This means it won't restrict your bandwidth and you can torrent, stream, and game at the same time without slowdowns.
That said, a VPN won't prevent internet throttling if you've already exhausted your ISP data limit. And it also won't work if your ISP has restricted bandwidth for all its users to handle network congestion.
Can I use a free VPN to play Call of Duty: Warzone?
Yes, but I wouldn't recommend it. Many free VPNs come with capped speeds and limited data, so they're not good for gaming. In addition, they often lack servers in locations where bot lobbies are common. It's better to use a low-cost premium VPN that offers fast speeds, low ping, and plenty of servers.
Some free VPNs can also log your data and share it with third parties. This can put your privacy at risk, so it's important to choose a VPN that's safe and secure.
Get the Best VPN For Call of Duty: Warzone Today
A tried and tested VPN can vastly improve your Call of Duty: Warzone experience. It not only protects your gameplay from hackers but also helps you avoid SBMM and connect to bot lobbies.
Out of all the VPNs I've tested, ExpressVPN is my top recommendation. It offers industry-leading security features, blazing-fast speeds, and plenty of servers, making it an excellent choice for Call of Duty: Warzone. Since it is backed by a 30-day money-back guarantee, you can test ExpressVPN with Warzone risk-free. If it's not for you, then you can request a refund.
To summarize, the best VPNs for Call of Duty: Warzone in 2023 are…
Privacy Alert!
Your data is exposed to the websites you visit!
The information above can be used to track you, target you for ads, and monitor what you do online.
VPNs can help you hide this information from websites so that you are protected at all times. We recommend ExpressVPN — the #1 VPN out of over 350 providers we've tested. It has military-grade encryption and privacy features that will ensure your digital security, plus — it's currently offering 49% off.