What is VPN Obfuscation? Best Way to Hide VPN Traffic in 2023
Updated on 18th January 2023
Advanced detection methods can identify your VPN connection. This lets websites (like Netflix) block your access, helps ad networks collect your data, and may lead to ISP throttling. However, the best obfuscated VPNs can avoid detection and enhance your privacy.
This article explains what VPN obfuscation is and shows how obfuscation camouflages your VPN traffic as regular internet activity. It can come in many forms, including specialized obfuscated VPN servers, stealth protocols, and proxies. I also clarify what sets this mode apart from encryption, double VPN, and Onion over VPN.
My team and I tested 50+ obfuscated VPNs to find the best services. They can get past the most sophisticated geoblocks and firewalls (for example, in restriction-heavy countries like the UAE). Their reliable security features protect your personal information and prevent ISPs from intentionally slowing down your speeds. Plus, you can torrent safely, thanks to P2P traffic support.
ExpessVPN is my favorite obfuscated VPN. It safeguards your data on all popular operating systems with a built-in obfuscation mode and military-grade encryption. Besides, it has a vast server network and impressive speeds to access international content from anywhere without interruptions. Best of all — you can try ExpressVPN with confidence (it's backed by a trustworthy 30-day money-back guarantee).
Get the Best Obfuscated VPN Today
Short on Time? Here Are the Best VPNs With Obfuscation in 2023
ExpressVPN — Best overall obfuscated VPN with military-grade encryption and a super-fast global network to access worldwide content without buffering. You can try it risk-free, thanks to a 30-day refund policy.
Private Internet Access — High-grade Shadowsocks obfuscation protocol to prevent deep packet inspections and firewalls.
NordVPN — Obfuscated servers to avoid ISP speed throttling, but some websites aren't accessible when Threat Protection is enabled.
What Does "Obfuscated VPN" Mean?
An "obfuscated VPN" refers to a VPN that can disguise your encrypted traffic as a regular internet activity. Providers often use proprietary names for obfuscation, such as OpenVPN scramble, stealth technology/VPN/mode, obfsproxy servers, traffic obfuscation, or VPN cloaking technology.
Connecting to a VPN routes your data via an encrypted channel to protect your web activities and IP address. However, information from your device travels in data packets. Certain online services can recognize encryption patterns in these packets to block you (typically with a "proxy error" or "access denied" message). This may create extra security gaps for hackers and also let your ISP see what you do online.
Also, OpenVPN (the default protocol for most VPNs) adds a distinctive signature that advanced deep packet inspection can detect. Obfuscation protocols replace metadata in encrypted data patterns to hide the traces of encryption. So, your VPN connection appears as typical online traffic (HTTPS, TCP, or UDP). VPN obfuscation typically assigns port number 443 to the data packet to further mask it as HTTPS traffic
Even though it looks complicated, it's very easy to use. VPN providers usually mark obfuscated servers so you can access them quickly. You might find obfuscation tech especially useful in countries where internet restrictions are often implemented during important political events or to censor sensitive content. ISPs and governments spy on users' traffic and block certain websites.
Obfuscate Your Traffic With ExpressVPN Risk-Free
Popular VPN Obfuscation Techniques
VPNs use obfuscated servers, protocols, and proprietary technologies to scramble your encoded traffic. Obfuscation techniques are mostly supported by 2 protocols — OpenVPN and WireGuard. Some of these methods are more effective than others at shielding your activities. So, let's focus on the most reliable VPN obfuscation techniques.
1. OpenVPN Scramble (XOR Scramble)
This technology changes the VPN signature in your data packets into a random code, masking the encrypted traffic. The tunneling protocols appear as HTTPS and UDP data, hiding the fact you're using a VPN. OpenVPN (XOR) Scramble is the default technology for most VPNs with OpenVPN tunneling protocol.
Unfortunately, some malware developers use XOR Scramble to hide malicious code in applications and executable files. Besides, its cipher is relatively simple and can be cracked, making XOR obfuscation not the most reliable tool for bypassing geoblocks. However, XOR and OpenVPN together give decent encryption that makes up for XOR's weak security.
2. Shadowsocks (SOCKS5 Proxy)
The Shadowsocks proxy forwards your VPN traffic via a secure server to disguise it as a regular internet activity. This protocol is an open-source SOCKS5-based proxy project and works similarly to the SSH tunnel because it makes VPN-encrypted traffic look like HTTPS.
It masks your web traffic with AEAD cipher (SOCKS5 doesn't encrypt data, that's why these 2 proxies are used together). Shadowsocks encryption isn't the strongest, but it works well when paired with OpenVPN.
This proxy also integrates with a WireGuard security protocol, an industry standard for premium VPNs. Shadowsocks was mainly created to circumvent China's Great Firewall and other heavily regulated internet environments.
3. Obfsproxy
Obfuscate proxy (also known as obfsproxy or obscure proxy) protocol wraps your traffic in an extra encryption layer. This technique is an umbrella term for Pluggable Transports — traffic alteration mechanisms — such as obfs2, obfs3, obfs4, meek, and Scramblesuit. The last 3 are best for bypassing censorship, as obfs2 and obfs3 are outdated and easily detected by DPI.
Obfsproxy is primarily used for TOR browsers, but some VPNs utilize it to hide OpenVPN tunneling too. It was created in response to blocking Tor traffic in countries like China, Iran, Syria, and Russia. To make the obfuscation proxy work, it has to be configured on both the VPN app and the server.
Its encryption uses a handshake that has no recognizable byte patterns. However, the more advanced DPI technology can detect it and not let the encrypted traffic through. Obfsproxy is lightweight and uses less bandwidth, which can be useful but also makes it less secure.
4. OpenVPN Over SSL/TLS (Stunnel)
Stunnel is open-source software that disguises your VPN activity as HTTPS traffic. It adds a Secure Sockets Layer (SSL) or Transport Layer Security (TLS) encryption to your OpenVPN connection. They're both commonly used by VPNs; however, SSL is quite outdated, whereas TLS 1.3 was updated in 2018.
Some providers can safeguard your data packets with an additional Secure Socket Shell (SSH) encryption — but it's not as popular as SSL and is mainly used in business.
One thing to note is that Stunnel isn't a good choice for streaming or torrenting, as it severely reduces your speeds. Plus, setting up Stunnel isn't easy and must be done on the user's and the server's end, so most VPN companies don't provide it by default.
Why Do You Need an Obfuscated VPN?
Many VPNs don't offer obfuscation technology. Besides, it may even be inconvenient for every online activity, as it might affect your speed. Still, there are some cases where you'd want to obfuscate your traffic with a reliable provider like ExpressVPN. It might reduce the speeds due to encryption, but it's not enough to affect the quality of its performance.
1. Avoiding Deep Packet Inspections
VPNs divide your traffic into encrypted data packets (blocks). These blocks contain metadata — descriptive information that can reveal that you're routing your traffic via an encrypted server. ISPs and network administrators for websites, schools, and offices often use deep packet inspection (DPI) to identify and block VPNs. Thankfully, services with reliable obfuscation avoid DPI methods, effectively hiding that you're using a VPN.
2. Improving Online Privacy
A VPN obfuscation obscures your encryption traffic from ISPs, ad networks, and hackers. You basically hide that you're safeguarding your web activities and IP address with a VPN. This adds another security layer against websites that want to sell your data and cyber criminals who are after your sensitive information. Many torrenters, journalists, activists, and politicians find this feature helpful.
3. Bypassing Firewalls in Restricted Environments
Obfuscated servers are especially useful for people who live in highly-restrictive countries. ISPs in China, UAE, and Russia stop you from accessing websites and apps via a VPN. Some other restrictive countries include Iran, Egypt, Turkey, and Pakistan. They also attempt to block ports used by popular tunneling protocols like OpenVPN (port 1194).
But the best VPNs with obfuscation work against the toughest firewalls, including the Great Firewall of China and North Korea's blocks. This lets you freely access international apps like WhatsApp, Facebook, Twitter, and YouTube, no matter where you are.
4. Accessing Streaming Platforms With Anti-VPN Blocks
Obfuscation techniques also help avoid VPN blocks used by popular streaming platforms, including Netflix US, Disney+, and Amazon Prime Video. For example, trying to watch Hulu with a VPN results in an error message. However, obfuscating your traffic allows you to watch films and shows from your accounts as normal.
Platforms like Hulu and BBC iPlayer are known for detecting and blocking IP addresses that belong to VPN providers. They use methods such as DPI, IP blacklisting, and port blocking.
5. Preventing ISP Throttling to Improve Speeds
ISPs may intentionally reduce your internet speeds if you frequently engage in high-bandwidth activities, like UHD streaming and online gaming. They also throttle P2P connections and tethering (mobile hotspot) traffic. Some providers automatically slow speeds for VPN traffic, knowing you may use it for data-heavy activity. However, an obfuscated VPN masks your traffic to let you avoid throttling.
Bear in mind that you can't prevent throttling if you've exceeded your ISP's monthly data limits or soft caps. However, a VPN prevents discrimination against particular types of internet traffic, like downloading large files and UHD live streaming.
Note: Bear in mind that using a VPN to unblock geo-restricted content can go against streaming platforms' terms of service. VPN use is also banned or restricted in some countries (like Russia and China). It's a good idea to stay updated with the rules and regulations of using a VPN in your location, as they can change.
Try ExpressVPN's Obfuscation Without Risk
Best VPNs With Obfuscation — Full Analysis (Updated in 2023)
Every VPN on my shortlist conceals your encrypted traffic with sophisticated obfuscation techniques. I also made sure they come with industry-leading security features to protect your data from anyone. Additionally, their fast global networks can help you access local and international online services while maintaining outstanding speeds.
You can install these VPNs on most operating systems and simultaneously use them on several devices. They all offer reliable money-back policies to try them without risking your money.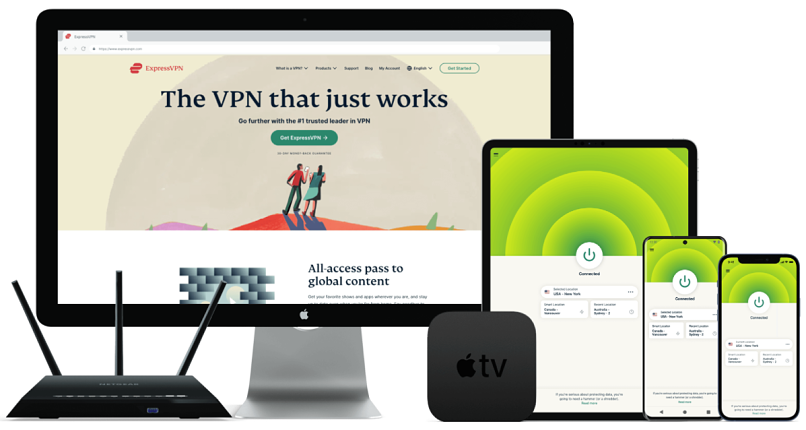 Editor's Choice
Editor's Choice

Tested February 2023
Try Risk-Free for 30 Days
Available on:
Chrome
Router
Smart TV
More
www.ExpressVPN.com
| | |
| --- | --- |
| Security & Obfuscation | Built-in obfuscation and AES 256-bit encryption to secure your traffic on any server |
| Speeds | Fastest VPN tested on this list with minimal speed loss for HD streaming |
| Servers | Vast network of 3,000 servers across 94 countries to bypass local and international geoblocks |
| Can access | Netflix, Disney+, Amazon Prime Video, BBC iPlayer, HBO Max, Hulu, ESPN+, Vudu, and more |
Network-wide obfuscation helps ExpressVPN avoid strict firewalls and VPN blocks. You don't need to tamper with settings — obfuscation is activated automatically whenever the service detects a DPI. I accessed my Google and Netflix accounts while testing ExpressVPN's obfuscated servers in China without issues. So, you can use VoIP apps like WhatsApp and access your streaming platforms' accounts anywhere.
ExpressVPN has a generous server network that works with most streaming platforms and online services. I had zero problems watching shows on my Amazon Prime Video, Disney+, and Vudu accounts while on vacation. So, you can watch Shameless (US) with your Netflix US subscription while traveling as if you've never left your country. Similarly, it's easy to access your BBC iPlayer and ITV Hub accounts outside the UK.
Connecting to a far-away Chicago server decreased my speeds by only 16% — from 89Mbps to 75Mbps. Just 25Mpbs is enough to stream 4K videos buffer-free. So it's possible to stream UHD videos, play online games, and enjoy other high-bandwidth activities.
The P2P traffic support lets you safely torrent the files you want on all servers. ExpressVPN comes with unlimited bandwidth for streaming and torrenting without limits. Besides, you can set up port forwarding on a VPN router and increase your online connection speeds.
Your traffic is safeguarded with top-grade tunneling protocols like Lightway and OpenVPN. Both protocols are obfuscated, but Lightway is faster — ideal for playing Call of Duty: Warzone matches. The slightly more secure (and still fast) OpenVPN is my choice for safe browsing on public WiFi hotspots. Plus, ExpressVPN uses military-grade encryption for scrambling your online traffic.
Thanks to IP/DNS/WebRTC protection, my actual location wasn't revealed. Your information is secured from accidental exposure with a Network Lock (kill switch). It terminates your internet connection if your link to a VPN server breaks unexpectedly. This feature safeguards my data during power outages when my phone automatically switches to a mobile network.
TrustedServer technology (RAM-only servers) regularly erases your browsing history and search queries. And the audited no-logs policy means this VPN doesn't store, collect, or share your confidential data. Besides, the provider is based in the British Virgin Islands, outside the 5/9/14 Eyes Alliances — intelligence-sharing agreements.
All mobile and desktop apps are beginner-friendly. Although there are plenty of tutorials on the official website, there's also 24/7 live chat and email support that can walk you through the settings of this VPN. I usually connect to the fastest obfuscated server with a single click on the Smart Location icon. Plus, you can use split tunneling to automatically assign specific apps to a VPN connection (while others use regular internet).
This VPN is quite expensive, with the lowest plan starting at $6.67/month. However, you can use it simultaneously on up to 5 devices from a single account. Even better — ExpressVPN frequently offers generous discounts. I signed up for 12 months with 49% off and got 3 extra months for free.
I made sure the 30-day refund policy works as advertised. If you're not fully satisfied, you can quickly get your money back. I spoke with support via live chat for a few minutes to cancel my subscription. Just 2 days later, my money was back on my credit card.
Try ExpressVPN's Obfuscation Risk-Free
| | |
| --- | --- |
| Security & Obfuscation | Shadowsocks obfuscation protocol that works against tough firewalls, and customizable encryption |
| Speeds | Impressive speeds and option to choose protocols to balance security and activities like streaming |
| Servers | 29,650 servers across 84 countries for a nice pool of geoblock-busting IPs |
| Can access | Netflix, Disney+, Amazon Prime Video, BBC iPlayer, HBO Max, Hulu, ESPN+, Vudu, and more |
PIA's Shadowsocks obfuscation protocol safeguards your encrypted traffic against DPIs. It lets you access your social media accounts (like WhatsApp and Facebook) in China, UAE, and other restrictive countries. You can choose between two encryption levels: AES 256-bit for maximal security or 128-bit for better speeds.
I use the Multi-Hop to transfer my traffic via two encrypted servers against the strictest firewalls. The obfuscation technique applies to this mode too, so it's nearly impossible to identify that you're using a VPN. Additionally, I had no IP/DNS leaks while testing PIA's obfuscated mode. Besides, there's a kill switch feature for extra protection against data exposure.
It's possible to choose between several high-end tunneling protocols. There's industry-standard OpenVPN, but I prefer WireGuard, as it was designed with obfuscation in mind.
The MACE feature blocks trackers and ads on websites like Yahoo News and Wired. Plus, a zero-logs policy protects your personally identifiable data from prying eyes, such as ISPs and ad networks.
Accessing geoblocked online services is easy with PIA's extensive server list.I didn't encounter any blocks while watching The Mandalorian on my Disney+ account (on vacation). Likewise, you can bypass geo-restrictions for BBC iPlayer, HBO Max, and Hulu from anywhere.
My speeds were fast, even if not as impressive as with ExpressVPN. I averaged 69 Mbps — enough for seamless 4K streaming and lag-free online gaming.You also get unlimited bandwidth and P2P support for unrestricted file-sharing.
Unfortunately, the apps aren't very intuitive for newcomers because the customization settings are extensive. However, you can quickly get started using pre-configured profiles and use the service on up to 10 devices. Enabling Shadowsocks obfuscation takes a few clicks in the settings, too. There's also a library of guides on the website and a 24/7 live chat (if you need extra assistance).
All subscriptions are affordable — starting at $2.19/month. The 2-year plan is my choice, saving me the most money in the long run.
You can try PIA for free during its 30-day money-back guarantee period. I applied for a refund from the Client Control Panel on the website and confirmed it via online chat. In 4 days, I received my full payment back to my PayPal wallet.
| | |
| --- | --- |
| Security & Obfuscation | Obfuscated servers and encryption to hide your VPN traffic and prevent ISP-imposed slowdowns |
| Speeds | Decent speeds for everything from smooth gaming to swift P2P transfers |
| Servers | 5,384 servers across 60 countries to help access services from anywhere |
| Can access | Netflix, Disney+, BBC iPlayer, HBO Max, Hulu, ESPN+, Vudu, and more |
You can avoid speed throttling with NordVPN's obfuscation. This mode masks the VPN connection that's routed via leading AES 256-bit encryption and tunneling protocols (including OpenVPN and proprietary NordLynx). So, your provider can't analyze your traffic and reduce your speeds for certain activities. I mainly used the obfuscation tech on my smartphone, as my ISP throttles mobile hotspots.
My base speeds dropped by 32% on the US servers with the obfuscation on, which wasn't noticeable. So, you can watch NBA streams on your ESPN+ account at top quality. The VPN also supports P2P connections and a SOCKS5 proxy for fast torrenting. Downloading a 5GB file took me about 14 minutes. Similar to PIA, it doesn't restrict your bandwidth. NordLynx was the fastest NordVPN protocol I tested.
Ample worldwide servers reliably give you a new IP address. So nothing stops you from watching Euphoria on your Hulu account with an alternative IP. I viewed my Netflix US and Disney+ accounts without trouble.
Using this service is quite easy, even if you're new to VPNs. It takes only a few seconds to turn on the obfuscation mode. Plus, you can contact 24/7 live chat support or use step-by-step tutorials on the official website if you ever get stuck.
One drawback is that I couldn't access YouTube with the Threat Protection feature on. However, this issue goes away when you switch it off. Threat Protection detects malware and blocks infected URLs. Additionally, your information is safeguarded with IPv6/DNS leak protection, a kill switch, and a no-logs policy.
It's possible to get NordVPN for as low as $3.49/month. All subscriptions share the same features, so I chose the most wallet-friendly 2-year plan.
Besides, getting a refund is hassle-free with the 30-day money-back policy. It took me a few minutes to apply for it on the website's dashboard. My credit card was reimbursed just 5 days later.
Quick Comparison Table: Obfuscated VPN Features
Quick Guide:
How to Obfuscate Traffic With a VPN in 3 Easy Steps
Get a reliable VPN. I suggest ExpressVPN for its built-in obfuscation that protects your data, and vast network of servers to avoid geoblocks. You can try ExpressVPN risk-free (it's backed by a 30 money-back guarantee).
Connect to a server. The obfuscation is usually enabled by default, so connect to a server in a location that matches the content you want. For example, choose a US server to get a US IP address.
Start browsing. You're all set to browse, stream, and play games while obfuscating your VPN activities.
Note: VPNs may use different obfuscation technologies that you need to enable or select in settings. You might need to experiment with configurations to bypass sophisticated firewalls and improve your speeds. Additionally, you can use the China Firewall Test to check what sites are blocked in China.
FAQs on Using Obfuscated VPNs
What is an obfuscated server, and how does it work?
Obfuscated VPN servers mask your encrypted connection as ordinary internet traffic (HTTPS, TCP, or UDP). It's not just servers — some of the best VPNs use different obfuscation techniques to safeguard your data. Popular solutions include OpenVPN Scramble, Shadowsocks, Obfsproxy, and Stunnel. Additionally, there are several other less common obfuscation technologies:
V2Ray/VMess — This protocol routes your VPN traffic via a third-party server to avoid restricted environments.
SoftEther — OpenVPN-supported technology that bypasses firewalls with an Ethernet over an HTTPS tunnel.
Secure Socket Tunnel Protocol — This protocol is used for secure data transmission in some Windows-native applications.
SSTP — It was created to replace the outdated and vulnerable PPTP protocol, and it's supported on Windows, Linux, Android, and a variety of routers. SSTP is closed-source and has dubious links with the NSA, established by Edward Snowden in 2013.
These technologies replace identifiable VPN metadata in data packets with random information, making it difficult to detect a VPN connection. So, you can more reliably bypass ISP throttling and strict VPN blocks.
Can VPN obfuscation technologies help me access Netflix US?
VPN obfuscation can help bypass strict firewalls used by sites like Netflix US, but encryption and global network are more important. Actually, the best VPNs with military-grade encryption and worldwide servers can reliably avoid geoblocks even without obfuscation. The obfuscation does help, though. It wraps your VPN traffic in an extra security layer, increasing your chances of getting around advanced firewalls.
What is the difference between obfuscation, encryption, and double VPN?
Obfuscation isn't the same as encryption or double VPN, but it complements these technologies. Using an obfuscation mode hides encryption patterns, so no one can detect your VPN traffic. As for the encryption, it transports your data packets via secure VPN servers to safeguard your actual location and browsing information. Double VPN (Multi-Hop) routes your data via two servers for additional protection.
What to do if the VPN obfuscation doesn't work?
Select another server or change your connection settings to solve your issues. You may need to switch your provider — a VPN with advanced obfuscation can bypass geoblocks in a few clicks. If this doesn't help, here are the solutions that might:
Change to another tunneling protocol or obfuscation mode (if possible) in the VPN settings.
Try activating and deactivating the kill switch and other security features to see if you can establish a connection.
Update or reinstall your VPN app, as your version may be outdated or incorrectly installed (especially if you installed it using Android APK).
Disable your antivirus software (firewall); if this works, add the VPN to the list of trusted apps.
Configure your router and network settings (you may need to contact your ISP for extra information).
Check your connection for IP/DNS leaks — the obfuscation might not work if your VPN exposes your data.
Connect to a server nearest to your physical location. For example, try the servers in Hong Kong or Taiwan if you're in China.
Contact the VPN customer support service for quick troubleshooting.
Do obfuscated servers slow down my internet connection speed?
Yes — obfuscation technology uses algorithms to disguise metadata in encrypted data blocks to hide traces of VPN activity. This can increase the data travel time between servers. However, the best VPNs have top-grade protocols that conceal your encrypted traffic with minimal speed losses. Obfuscation can even improve your internet connection by preventing your ISPs from throttling your connection for certain activities.
Is it safe to use obfuscated VPN servers?
Yes, but obfuscation doesn't guarantee 100% online privacy — you still need a VPN with advanced security features. Simply connect to an obfuscated VPN with AES 256-bit encryption to safeguard your data. You can further enhance your security with a reliable kill switch and a strict no-logs policy. Plus, using a VPN with obfuscation is legal almost everywhere, as long you do it for lawful purposes.
Can I make my traffic obfuscated with free VPNs?
Unlikely — most free VPNs lack high-grade obfuscation techniques and security features. It's much more reliable to get a premium VPN with a trustworthy money-back guarantee. Free services tend to have small networks that can't bypass popular streaming platforms and subpar speeds for streaming. Besides, these VPNs can sell your data to advertisers, as they usually don't have strict no-logs policies.
Free proxies and Tor browsers are bad alternatives, too. A proxy service doesn't encrypt your traffic, leaving you vulnerable. Tor protects your traffic at the cost of speeds, so you can't reliably stream or torrent. Some providers substitute obfuscation for Onion over VPN — it encrypts your data and routes it through the Tor network. However, this mode makes your speed painfully slow and can still expose your VPN signature.
Get the Best Obfuscated VPN Now
Get the Best Obfuscation VPN Today
The best obfuscated VPNs can deal with refined geo-restrictions and ISP throttling. They also wrap your encrypted traffic in another level of security, letting you browse, stream, and torrent in privacy, even from restrictive locations.
ExpressVPN is my top obfuscation VPN. The obfuscated mode is available on its entire network to effortlessly access your favorite apps and streaming platforms anywhere. Plus, its military-grade encryption, tunneling protocols (Lightway and OpenVPN), and strict no-logs policy provide robust online protection. You can try ExpressVPN without risk since it's backed by a 30-day refund policy.
To summarize, here are the best VPNs with obfuscation
Privacy Alert!
Your data is exposed to the websites you visit!
The information above can be used to track you, target you for ads, and monitor what you do online.
VPNs can help you hide this information from websites so that you are protected at all times. We recommend ExpressVPN — the #1 VPN out of over 350 providers we've tested. It has military-grade encryption and privacy features that will ensure your digital security, plus — it's currently offering 49% off.