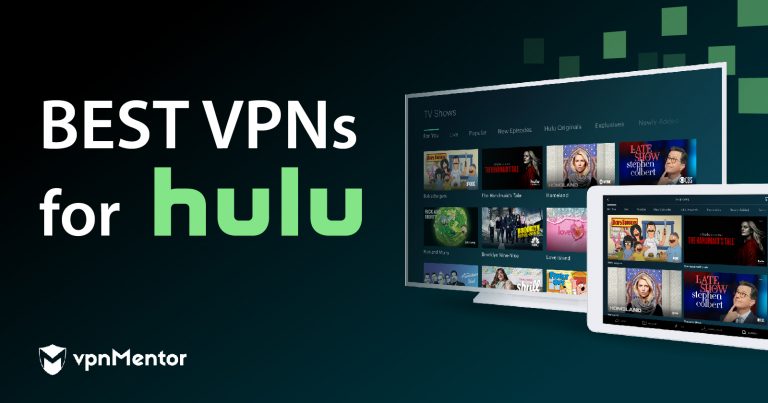 8 Best VPNs for Hulu in 2021 (Unblock Hulu Home Location)
Updated on 9th May 2021
Finding a VPN that works with Hulu is difficult. Most of them can't even get around the streaming service's tough geo-restrictions. Others are just so slow they make you sit through endless buffering or have data caps that limit how much you can watch.
I spent months testing over 300 VPNs to determine which work consistently with Hulu. My favorite is ExpressVPN for its super-fast speeds and dedicated Hulu page, but you can't go wrong with any of the options below.
I made sure that ExpressVPN and many others on this list could also unblock Netflix and BBC iPlayer. Why not get all the BBC shows for free with your VPN, too?
How Hulu Blocks You From Watching
Hulu may not be as popular as Netflix, but it doesn't cut corners when it comes to proxy or VPN users. In fact, Hulu's anti-VPN technology is more powerful than Netflix's firewall.
Like many streaming services, Hulu only allows its content to be viewed from within the US and Japan. This is because networks impose copyright restrictions that dictate where the movies or TV shows can be broadcast.
This means that if you're in Australia, China, the UK, or any country other than the US, you'll see the dreaded "Hulu video not available in this location" error message:
"We're sorry, currently our video library can only be streamed within the United States. For more information on Hulu's international availability, click here. If you're inside the United States and believe you've received this message in error, please click here."
And then if you're not using a powerful enough VPN that can get around the toughest geo-restrictions, you may see error messages like:
"It looks like you're using an anonymous proxy or VPN. You'll need to disable it to watch Hulu."
"Error playing this video. You appear to be using an anonymous proxy tool."
"Based on your IP address, we noticed you are trying to access Hulu through an anonymous proxy tool. Hulu is not currently available outside the US. If you're in the US, you'll need to disable your anonymizer to access videos on Hulu."
To get around these geoblocks, you need to make it seem as if you're streaming from within the US. This is where a VPN helps.
High-quality VPNs have reliable US servers that mask your real location and technology that hides the fact that you're connecting from a VPN.
Quick Guide –
How to Unblock Hulu with a VPN
Select a VPN with servers in the United States that can get around Hulu's geoblocking. My top recommendation is ExpressVPN for its speed, reliability, and security features.
Download and install the VPN on your device, and then connect to a US server.
Go to Hulu, and sign in or sign up. Start streaming! You will need a US payment method, to sign up for Hulu. You can get a giftcard from MyGiftCard Supply
The Best VPNs for Hulu – Full Analysis (Updated May 2021)
Accessing Hulu from outside of the United States requires a VPN that works consistently. After months spent testing 300 VPNs, here are my top picks. They all offer the reliability and speed you need.
Consistently unblocks Hulu from around the world
25 fast server locations across the US, plus a built-in speed tester
Connect up to 5 devices at once with unlimited data and bandwidth
24/7 live chat and 30-day money-back guarantee
Works with: Hulu, Netflix, Amazon Prime Video, BBC iPlayer, SBS on Demand, Disney+, and more
Compatible with: Windows, Mac, iOS, Android, smart TVs, Linux, Chrome, and Firefox
ExpressVPN is a service you'll often see us recommend. That's because it's among the fastest and most reliable VPNs in all the tests we put it through. It proves itself again by being a top VPN for Hulu.
ExpressVPN has over 3,000 servers in 90+ locations, including over 20 major American cities. It also regularly refreshes its IP addresses to stop it from being blocked by Hulu's anti-VPN technology.
ExpressVPN's servers are fast, too. Even when you connect from a faraway location, you'll still enjoy super-quick speeds. I connected from all the way in Australia to several US servers, and I found my location didn't impact my speed much at all.
| | | | |
| --- | --- | --- | --- |
| Connection | Ping | Download Speed | Upload Speed |
| Base speed | 25 ms | 62.3 Mbps | 55.4 Mbps |
| Quick Connect US | 80 ms | 58.1 Mbps | 49.3 Mbps |
| Manual US server | 85 ms | 57.5 Mbps | 47.1 Mbps |
From my base speed of 62.3 Mbps, I only lost 20% of my speed, which is much less than I expected, so my TV show binge wasn't affected. You'd usually suffer at least a 50% speed loss over this level of distance.
In fact, through our rigorous testing, we found that ExpressVPN is among one of the fastest VPNs out there. Our team members in Cuba, Korea, and Australia, streamed their favorite Hulu shows in HD with no lagging or buffering issues, so you have reliability all over the world.
For extra convenience, ExpressVPN offers a quick-connect feature. I found this a welcome addition to the app and it made streaming completely hassle-free. Just click the button, and you'll be linked to the fastest server in the location of your choice.
ExpressVPN can easily bypass tough geoblocks—our researchers tested Hulu from 20 different countries with great speeds, so no matter where in the world you are, you'll see that it works well for you.
You can connect up to 5 devices at the same time, which means you can share your subscription with a friend and stream your favorite shows on Hulu together.
Keen to experience ExpressVPN's speedy streaming? It offers a 30-day money-back guarantee so you can test it out for yourself, risk-free.
Want to know more? Explore our ExpressVPN review to see the full results of our research and testing.
14 US servers in 9 locations reliably unblocked Hulu
Unlimited data and up to 6 simultaneous connections
7-day free trial and 30-day money-back guarantee
Works with: Hulu, Netflix, BBC iPlayer, HBO, and Amazon Prime Video
Compatible with: Windows, macOS, iOS, Android, browsers, and routers
PrivateVPN is dedicated to a good customer experience, making it a reliable and easy-to-use VPN. Every time we test Private VPN, we can't fault its level of customer service and support.
From the start, it offers live chat and free remote assistance to help with setup. I tried both, and the representatives were very helpful. It only took a few minutes to get the software up and running, and I was able to connect to a US server and begin streaming in seconds.
Labeled servers make it quicker to find what you need. Look for Hulu-optimized servers for the best speeds and reliability. I saw my speed increase while using one of these servers, rather than just manually finding a US connection. This also improved the quality of my stream as there was very little buffering.
| | | | |
| --- | --- | --- | --- |
| Connection | Ping | Download Speed | Upload Speed |
| Base speed | 25 ms | 62.3 Mbps | 55.4 Mbps |
| Hulu-optimized server | 73 ms | 45.6Mbps | 36.9 Mbps |
| Manual US server | 101 ms | 39.7 Mbps | 20.5 Mbps |
PrivateVPN has modest server coverage with connections in nine US cities. Even though it has a smaller network, I had no trouble accessing Hulu and rewatching The Masked Singer while connected to servers in all nine locations.
If you're on the fence about PrivateVPN, take advantage of its 7-day free trial — you can try with absolutely no commitment. It doesn't hold back on features during your free trial either, as I could still access all its servers and make the most of the 6 simultaneous connections on offer.
There's also a 30-day money-back guarantee, which means you can test it risk-free for longer.
Want to know more? Explore our PrivateVPN review to see the full results of our research and testing.
Our exclusive deals will help you save!
Access Hulu with servers in eight major US cities
Dynamic server switching and Chameleon protocol to bypass geoblocks
Connect up to 5 devices simultaneously
24/7 live chat and 30-day money-back guarantee
Works with: Hulu, Netflix, Disney+, BBC iPlayer, Amazon Prime Video, Apple TV+ and BBCiPlayer
Compatible with: Windows, macOS, iOS, Android, smart TVs, and some routers
Our extensive testing of VyprVPN proves that even a smaller network can be powerful when it's got solid, reliable connections. It has high-speed servers in 8 US cities, and 700+ servers abroad. 
While I was testing it, I discovered that VyprVPN provides access to many popular streaming services, including Hulu and Netflix, with quick and consistent speeds. I tried servers in all eight cities with access to Hulu every time.
| | | | |
| --- | --- | --- | --- |
| Connection | Ping | Download Speed | Upload Speed |
| Base speed | 25 ms | 62.3 Mbps | 55.4 Mbps |
| New York | 85 ms | 49.8 Mbps | 42.1 Mbps |
| Miami | 80 ms | 40.4 Mbps | 35.7 Mbps |
What's unique about this VPN is that it employs server clusters and dynamic server switching to keep your connection fast and steady. If a server you're connected to goes down or becomes overcrowded, the VPN automatically moves you to another server in the same area.
I only experienced this once during testing, and it moved me from Miami to San Francisco. I didn't have any interruption while streaming – I actually only noticed because I was monitoring my server connection throughout the test. So you have uninterrupted, high-definition streaming no matter what.
VyprVPN was made for fighting censorship and overcoming tough geo-restrictions. Its Chameleon protocol scrambles your OpenVPN metadata, which hides the fact that you're using a VPN. Combined with regular IP refreshing, this allowed our researchers to sneak around Hulu's VPN detection software, from anywhere in the world.
Another benefit of the Chameleon protocol is that it hides the fact that you're using a VPN from your ISP and helps you avoid throttling and congestion. When I connected to a nearby VyprVPN server, my connection speed actually increased.
Have multiple devices and want to stream Hulu on them all? Or, maybe you want to keep everyone else in your house occupied so you can stream in silence? VyprVPN allows you up to 5 simultaneous connections.
Should you run into any issues, you can reach out to the VPN's 24/7 live chat support. You can also give all of VyprVPN features a try risk-free with its 30-day money-back guarantee.
Want to know more? Explore our VyprVPN review to see the full results of our research and testing.
Save on your subscription now
Over 700 US servers
Auto-reconnect for uninterrupted streaming
Up to unlimited devices to connect simultaneously
Connects with: Hulu, Netflix, BBC iPlayer, CNN, and Amazon Prime Video
Compatible with: Windows, macOS, iOS, Android, Fire TV, and routers
Fast servers, the ability to smash through geoblocks, and extra-helpful customer support make IPVanish an easy choice for anything you need, including access to Hulu.
In terms of performance and reliability, IPVanish has won my approval. It has 700+ US servers, so there's tons of coverage. I tested 100 of them, and I found good speeds with little buffering, no matter what time of day I connected to stream Hulu.
Its auto-reconnect feature is convenient for streaming junkies. If your connection is interrupted, the VPN will automatically get you back online so you can pick up where you left off. I purposely disrupted my connection to see how well it works, and it successfully reconnected me to another server. My stream paused and played again automatically as I moved from one server to the other.
Customer service is pretty good. I noticed it has video and image tutorials to help with setup on various devices and a live chat option. When I connected to live chat, an agent was with me in under a minute.
Another feature I really love is that you can connect up to unlimited devices at the same time with a single subscription. Have a large household? Addicted to electronics? With so many connections, you can stream Hulu on just about every device you own.
IPVanish offers a 30-day money-back guarantee, so you can try it out to see if it meets your streaming needs.
Want to know more? Explore our IPVanish review to see the full results of our research and testing.
Streaming-optimized servers in the US
Automatic WiFi protection
Unlimited data and bandwidth
Works with: Hulu, Netflix, BBC iPlayer, Sling TV, HBO Now, Sky Go, Amazon Prime Video
Compatible with: Windows, Android, macOS, iOS, FireTV, routers, and browsers
SaferVPN always creeps up my list of recommended VPNs when it comes to streaming and accessing the internet without restrictions.
There are no limits with SaferVPN – you can stream Hulu as much as you'd like, with no slowdowns, thanks to unlimited bandwidth and data.
I steered clear from ISP throttling with SaferVPN. I usually see a decrease in speeds around peak times at 6 p.m. when I don't use a VPN, but my connections stayed steady with no loss.
SaferVPN has servers on both the east and west coasts of the United States for reliable access no matter where you're located. It also has streaming-optimized servers that I found fast and steady so you don't have to worry about annoying buffering.
You can even tag your favorite servers so they're within easy reach when you're ready to stream – this made firing up the VPN and connecting to an available server much quicker during my tests.
I tested servers on both coasts to see if I could spot issues, but I have none to report. My speeds were consistent, so I was able to catch up on Brooklyn Nine-Nine with no interruptions.
The VPN supports all major devices, including routers and gaming consoles, with custom apps. I tried the app for Windows and the Chrome plugin – both set up within minutes.
SaferVPN's automatic WiFi protection is perfect for streamers on the go. When you connect to public WiFi, the VPN automatically activates to protect your connection from hackers who want to steal your personal info.
Ready to dive in? Check out our SaferVPN coupons page to save some cash on your subscription. You're backed by a 30-day money-back guarantee, so try it risk-free. You also have 24/7 live chat to support you along the way.
Want to know more? Explore our SaferVPN review to see the full results of our research and testing.
Don't pay too much: Check out these savings
Servers in 25+ American cities
Excellent speeds and unlimited bandwidth and data
User-friendly with minimal settings
Works with: Hulu, Netflix, BBC iPlayer, Amazon Prime Video, HBO GO and more
Compatible with: Windows, macOS, iOS, Android, and browsers
Hotspot Shield is another premium service that we've found can unblock almost anything with great speeds – something hundreds of VPNs can't do.
Hotspot Shield has servers in over 25 US cities, so flying past Hulu's geo-restrictions is as easy as clicking Connect. I tested servers in Atlanta, Miami, Phoenix, and Tampa to be sure, and I experienced fast speeds and crystal-clear streaming on all of them.
Hotspot Shield's unique Catapult Hydra Protocol is the winner here. It's designed for improving connection speed over long distances, letting you stream Hulu US from all corners of the globe. It's this feature that bumped my download speeds for better streaming – it actually increased my speeds by 12% from my base speed.
With this service, you can stream Killing Eve, Homeland, Grey's Anatomy, and other Hulu shows for hours on end. That's because it includes unlimited bandwidth and data with your subscription, whereas lots of other VPNs will cut you off once you hit their limit.
Hotspot Shield's support area is filled with helpful guides so you can get set up quickly. There's also a live chat feature, but note that you need to create an account before you can reach out. Once that's done, though, agents are happy to help and quick to respond. They always answer any queries I have.
If you're curious and want to give this service a go, know that you're protected by a 45-day money-back guarantee, which is one of the more generous ones I've found. We also have Hotspot Shield coupons to help you save.
Want to know more? Explore our Hotspot Shield review to see the full results of our research and testing.
You won't find these savings anywhere else
Servers throughout the US with fast, consistent speeds
Unlimited bandwidth and data
Works with: Hulu, Showtime, and Amazon Prime Video
Compatible with: Windows, macOS, iOS, Android, browsers, and routers
Private Internet Access has an extensive server network, making it easy to unblock Hulu from anywhere. Out of its 35,550 servers, over 11,000 are in the US. This means that overcrowding a server is almost impossible. I tested 15 of its US servers, and I could unblock Hulu every time.
Its speeds are not the fastest out there, but I still had the minimum 5 Mbps required for HD streaming. During my tests, I could easily watch Hulu and Amazon Prime shows without lag or buffering. However, the distance from the server made a difference — its local servers are a lot faster than the international ones.
Private Internet Access has unlimited bandwidth and no data restrictions, so you can watch as many movies and shows as you want. This means that you don't need to worry about being left without protection after using the VPN for a while.
Its apps are straightforward and easy-to-use, so you won't have any problems setting it up. I only needed 5 minutes to install the client and connect to a server, and I could start streaming immediately.
If you want to try it first, you can take advantage of its 30-day money-back guarantee. The support team is prompt, and you can always reach out if you encounter any problems.
Check out the Private Internet Access review and see more of what it has to offer.
Try Private Internet Access Now!
More than 150 US servers
Unlimited bandwidth
10 simultaneous device connections
Works with: Hulu, Netflix, BBC iPlayer, Amazon Prime Video, and more
Compatible with: Android, Windows, macOS, iOS, Linux
ProtonVPN's growing network of servers extends across 54 countries, including locations in the US. The US servers have demonstrated a reliable connection to not just Hulu, but Amazon Prime Video, Netflix, BBC iPlayer and many others.
While the Fast Connection feature did connect me to a US server that could bypass Hulu's geoblocks, the speeds were painfully slow, which indicates a very congested server. Streaming with Hulu in HD was almost impossible thanks to endless buffering.
When selecting a US server manually, you can see how much traffic is on each one. By choosing a US server with low traffic, my speeds improved dramatically, which significantly improved the quality of my stream. However, I did experience some lag while waiting for the next episode of Castle Rock to load.
Still, I didn't need to worry about dropped connections as ProtonVPN offers unlimited bandwidth.
Unfortunately, ProtonVPN doesn't have live chat customer support, but the support ticket and email service were friendly and helpful, although it did take almost a full day to get a response. However, you're likely to get all the help you need from the knowledge base of guides and tutorials on the ProtonVPN website.
Try everything that ProtonVPN has to offer before making a commitment with a 30-day money-back guarantee. If it's the vendor for you, get the best deal by checking out our ProtonVPN coupon page.
Want to know more? Explore our ProtonVPN review to see the full results of our research and testing.
See today's exclusive savings!
Popular VPNs That Don't Work With Hulu
After testing over 300 VPNs, I found the vast majority cannot unblock Hulu. That includes these VPNs, which may have worked at one time, but no longer do.
TunnelBear
TunnelBear is another VPN that I like a lot, but it's not a reliable option for Hulu or most other streaming services. Where TunnelBear does excel, though, is security. It's a smart option for protecting your personal data every time you go online. Read our full TunnelBear review to find out more.
ZenMate VPN
ZenMate VPN was unblocking Hulu until recently, but it's not working anymore. It is still a good option for other streaming services, especially Netflix. Read our full ZenMate VPN review to find out more.
Research Methodology
I tested the strengths and capabilities of over 300 VPNs to determine which have the best reliability for streaming Hulu. I tested each service on several devices, including a MacBook Pro, a Windows desktop, a Chromebook, an Android phone, and an iPhone. Here's what I looked for:
Large server networks with lots of US connections to ensure accessibility to the Hulu US library and less crowded servers that might impact speed
Consistent ability to bypass Hulu's tough geo-restrictions to allow access from anywhere in the world, even in restricted locations like China
Quick and reliable speeds to stream in HD without any buffering or lagging issues
Unlimited data and bandwidth so there are no caps on streaming movies or TV shows
Helpful customer support options that can provide the guidance you need to get up and running
FAQs
Does Hulu block VPNs?
Yes, it does. Hulu uses geolocation technology to block proxies and VPNs, preventing you from accessing its content from outside the US. It does this by regularly checking your IP address against a list of known VPN connections. The VPNs on my list use a Hulu location trick—they regularly refresh their IP addresses to avoid this detection, and they all work with Hulu.
Check out this article to learn more about VPN blocks and how to bypass them.
Where is Hulu available?
There are currently only two Hulu libraries: Hulu US and Hulu Japan. Note that the libraries are entirely separate with almost no crossover. In order to access the American and Japanese libraries, you have to be in the respective country or use a premium VPN like ExpressVPN or one of the others on this list.  At this time, there is no Hulu UK, Hulu France, or Hulu Australia—if you want to stream, you'll need to access the US or JP sites.
Can I use a free proxy or a free VPN for Hulu?
Most free VPNs and free proxies can't bypass Hulu's geoblocks—they're just not powerful enough.
However, we do have an ExpressVPN hack that will let you use the service free for a limited time so you can binge-watch a series or check whether Hulu is the right streaming service for you.
Do I need a VPN to access Hulu?
Yes, if you live outside the United States, you need a VPN to access Hulu US. Even if you're a US resident on vacation or traveling for business, it doesn't matter—if you don't have a US IP address, Hulu is off-limits.
The VPNs I recommend above use anti-geoblocking technology and a network of US servers to mask your real location so it looks like you live within the US. As soon as Hulu "sees" you're in the US, it opens up its library to you.
Why is my VPN not working with Hulu?
Are you seeing a message that says something like, "you appear to be using an anonymous proxy tool"? If you're using one of my recommended VPNs above, it could be that you've simply connected to a blocked server. It happens—Hulu and other streaming services are aggressive when it comes to geo-restrictions.
Should this happen to you, all you have to do is disconnect from your current server and try another. In most cases, this will solve the problem. If it doesn't, try clearing your cookies/cache, restarting your device, and trying again.
If you're using a VPN that isn't on my list, that VPN most likely doesn't have the ability to get around Hulu's geoblocking. In this case, there's nothing you can do, except switch to a VPN that does work.
Can I unblock Hulu if the VPN is on my router?
Yes. If you install your VPN on your router you'll be able to unblock Hulu on any device connected to your router without having to install a VPN app on each device. Using your VPN with your router also means you'll be able to connect an unlimited amount of devices and won't be affected by the VPNs device limits. This is ideal for large families as everyone can stream their own shows.
The Bottom Line
I thoroughly researched and tested over 300 VPNs to find the best VPNs for Hulu. It took a lot of work, but my recommendations offer the fastest speeds, large server networks, and the ability to consistently bypass Hulu's blocks. They can also unblock other popular streaming sites like Netflix and BBCiPlayer.
Of them all, ExpressVPN is my top pick for Hulu because its network never failed me and I always had amazing speeds for streaming Hulu in HD.
If you've already decided on a VPN, don't subscribe until you first check out our latest discounts and coupons—you could save a lot of money.
To summarize, the best VPNs for Hulu in May 2021 are…
Privacy Alert!
Your data is exposed to the websites you visit!
The information above can be used to track you, target you for ads, and monitor what you do online.
VPNs can help you hide this information from websites so that you are protected at all times. We recommend ExpressVPN — the #1 VPN out of over 350 providers we've tested. It has military-grade encryption and privacy features that will ensure your digital security, plus — it's currently offering 49% off.