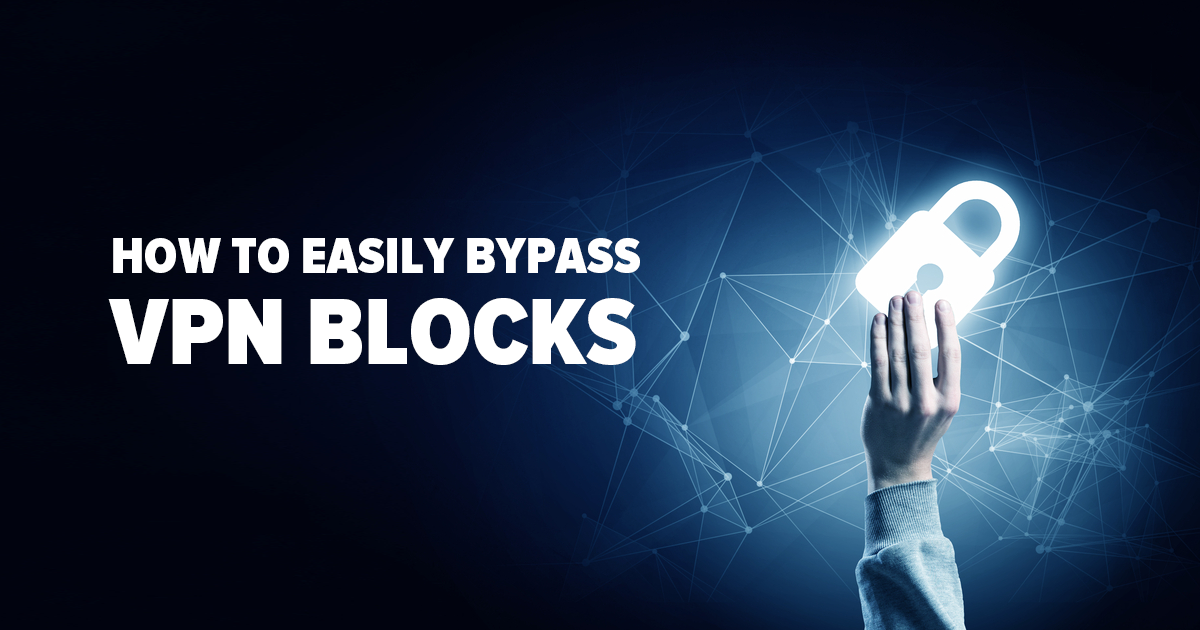 How to Bypass Netflix VPN Blocks in 2023 — Quick & Easy Fixes
Updated on 23rd January 2023
Netflix consistently upgrades its VPN blocking mechanisms. Many VPNs that used to work well can no longer access region-locked titles, or are being blocked by the platform altogether. This makes it hard to access your country's regional Netflix library when you're traveling. However, there are a few easy ways to help you bypass Netflix VPN blocks.
The best way to avoid Netflix VPN blocks is to use a VPN that's known not to have issues with it. But if that still doesn't work, there are multiple fixes you can try, which I'll be covering below.
Overall, ExpressVPN is my top recommendation for bypassing Netflix VPN blocks. It has a massive server network that can consistently access 20+ Netflix libraries without being detected. Plus, its superfast speeds let you stream without slowdowns. You can try ExpressVPN risk-free as it's backed by a 30-day money-back guarantee. If you're not satisfied, it's easy to get a full refund.
Access Netflix With ExpressVPN
Quick Guide:
How to Bypass Netflix VPN Blocks in 3 Easy Steps
Get a reliable Netflix VPN. I recommend ExpressVPN because it consistently works with over 20+ Netflix libraries without getting blocked. Plus, it offers lightning-fast connections for a smooth streaming experience.
Connect to a server. Select a country whose library you want to access. For example, if you want to access Netflix Australia, connect to an Australian server.
Bypass Netflix VPN blocks. Open Netflix and start watching your favorite shows!
Best VPNs for Bypassing Netflix VPN Blocks — Full Analysis (Updated in 2023)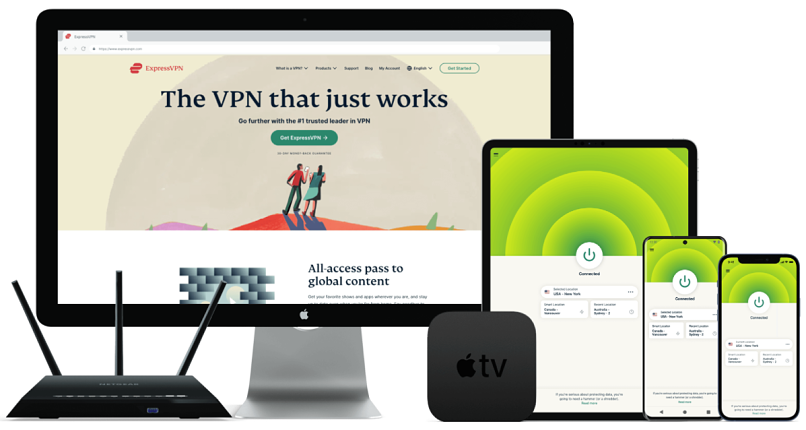 Editor's Choice
Editor's Choice

Tested February 2023
Try Risk-Free for 30 Days
Can access:
Netflix
Disney+
APV
HBO Max
Hulu
BBC iPlayer
Sky
More
www.ExpressVPN.com
3,000 servers in 94 countries to easily bypass Netflix VPN blocks
Ultra-fast speeds and unlimited data for uninterrupted high-quality streaming
5 simultaneous device connections
Works with: 20+ Netflix libraries, BBC iPlayer, Amazon Prime Video, Disney+, Hulu, DAZN, and more
Compatible with: Windows, Android, macOS, iOS, Linux, smart TVs, routers, and more
ExpressVPN is the most consistent VPN when it comes to bypassing Netflix's tough geoblocks, thanks to its extensive server network. During my tests, it gave me access to every Netflix library I tried, including the US, the UK, Canada, Japan, Brazil, and Australia. I could access all region-locked titles without running into frustrating errors — Netflix never detected that I was using a VPN.
Its impressive unblocking capabilities can be partly attributed to its regular server maintenance and IP updates. Whenever Netflix, or any other streaming platform, detects an ExpressVPN IP and blocks it, ExpressVPN already has many more working IPs waiting for you. Plus, ExpressVPN's robust leak protection and Private DNS means it's super unlikely you'll be met with a block due to your true IP being leaked.
You can easily unblock Netflix on devices like FireStick, Apple TV, gaming consoles, and smart TVs. It has a native app for Fire devices and its MediaStreamer service lets you access US Netflix on devices not normally compatible with VPNs. It took me 5 minutes to alter my network settings in my PS5 with the provided MediaStreamer code and US Netflix loaded instantly, without issues.
What's more, ExpressVPN has super-fast speeds to let you stream without interruptions. It offers its proprietary Lightway protocol, which is much faster than OpenVPN and just as good at unblocking platforms. I tested its servers in Amsterdam and Rotterdam (using Lightway) and recorded an average download speed of 58 Mbps (only a 4% drop from my base connection). This let me watch Hacksaw Ridge in HD without interruption on Netflix Netherlands.
The only minor problem with ExpressVPN is that it's slightly more expensive than other VPNs. However, it offers generous discounts throughout the year. With its yearly plan, I saved 49% on my subscription. Short-term plans offer the same features but at a higher price. So, I recommend the yearly plan because it offers the best value.
You can try ExpressVPN completely risk-free as it's backed by a 30-day money-back guarantee. If it's not for you, it's easy to get a full refund. To see how reliable the guarantee is, I reached out to support via 24/7 live chat and requested a refund. The agent asked why I wanted to cancel and quickly approved my request after I gave my reason. I got my money back in 2 days.
Access Netflix with ExpressVPN
9,753 servers in 91 countries to get past Netflix geoblocks
Fast speeds and unlimited data to stream without lag
7 simultaneous device connections
Works with: 15+ Netflix libraries, BBC iPlayer, Amazon Prime Video, Disney+, Hotstar, and more
Compatible with: Windows, Android, macOS, iOS, Linux, routers, and more
CyberGhost offers dedicated streaming servers for over a dozen Netflix libraries. These make it super easy to access your favorite library no matter where you are. When I tested its specialized Netflix servers in Canada, France, and India, I had no problem accessing content exclusive to viewers in each of these countries. Plus, these servers were reliable — I never experienced VPN blocks on any location.
Its speeds are also good, so you can stream your favorite region-locked Netflix titles in HD. During my tests on its nearby servers, I experienced an average speed of 52 Mbps (a 14% drop from my baseline connection). This is over 10 times what's required for HD streaming. I didn't experience any buffering while I watched Brooklyn Nine-Nine on Netflix Canada.
That said, CyberGhost isn't as fast as ExpressVPN, especially for long-distance connections. When I tested its servers in Australia, my download speeds dropped to 45 Mbps. It's a sizable drop in speed, but you won't even notice the difference with a fast baseline connection.
CyberGhost is super easy to use with Netflix, even if you're new to VPNs. Upon expanding the menu, you'll see the list of all available servers. You can either choose your preferred location from the list or select one of the dedicated profiles for streaming. I could connect to its Netflix UK server with just a few clicks.
Subscriptions are affordable — you can sign up for as low as $2.19/month. It also offers a dedicated (personal) IP add-on at an additional cost, which can circumvent one of the methods Netflix uses to detect VPN use (multiple users all using the same shared IP address).
It's backed by a generous 45 money-back guarantee, so you can technically try CyberGhost for free. If you don't like it, you can get a full refund. After using the service for 21 days, I requested a refund over 24/7 live chat. The chat agent asked for some brief feedback and then approved my request immediately. I had my money back in 3 days.
Access Netflix with CyberGhost
29,650 servers in 84 countries to access multiple Netflix libraries
Fast speeds and unlimited data for HD streaming
10 simultaneous device connections
Works with: 7+ Netflix libraries, BBC iPlayer, Disney+, Hotstar, and more
Compatible with: Windows, Android, macOS, iOS, Linux, routers, and more
Of all the VPNs I tested, PIA has the largest server network. There are more IPs than Netflix can deal with, so there are always multiple working servers to choose from. During my tests, it worked seamlessly with multiple Netflix libraries, including Canada, Japan, Sweden, and the US. While it couldn't unblock as many libraries as ExpressVPN or CyberGhost, I still had reliable access to the popular ones.
With PIA's fast speeds and unlimited data, you'll be able to watch Netflix for hours in top quality without buffering. I wanted to see how fast it really is, so I connected to its Toronto server and got a speed of 48 Mbps. This let me binge-watch the region-locked Kim's Convenience in HD on Netflix Canada with zero lag. Plus, it never took more than 2 seconds for each episode to load.
I found its split-tunnel feature really convenient. It lets you choose which apps use the VPN connection and which ones don't. This allowed me to watch region-locked Netflix titles while other apps were using my normal high-speed internet.
On the downside, PIA has so many customization options that it can get a bit overwhelming. However, it comes pre-configured in a working state so you don't have to change any settings if you don't want to.
Of all the VPNs on this list, PIA offers the cheapest long-term pricing if you're willing to commit for 3 years. You can subscribe to its longest plan for just $2.19/month. You'll also get 3 months of free service if you commit to this plan, sweetening the deal further.
All the plans are backed by a 30-day money-back guarantee. You can get a full refund if you're unsatisfied with the service. To test this, I reached out to support via the 24/7 live chat option and asked for my money back. The support agent did try to get me to stay but approved my refund request after I refused. Within 5 days, the money was back in my account.
How to Bypass Netflix VPN Blocks: The Ultimate Guide
If Netflix detects you're using a VPN, you may see a variation of the following error code (M7037-1111 or M7111-5059) and be temporarily blocked from accessing the service:
Whoops, something went wrong…
Streaming Error
You seem to be using an unblocker or proxy. Please turn off any of these services and try again. For more help, visit netflix.com/proxy.
Error Code: M7111-5059
Or, it's possible that you may not see an error at all but a library filled with Netflix Originals (shows that are available in almost every location).
However, these errors can easily be fixed with the right VPN. If you've chosen a reliable Netflix VPN that has suddenly stopped working with the platform, it's likely a minor issue that can be easily fixed. You should try the following.
1. Switch to a Different Server
It's possible that Netflix has blacklisted the IP address of the server you're connected to. In that case, you can try switching to a different location within the same country. As long as the new server isn't blacklisted as well, you should regain access to the country's Netflix library.
ExpressVPN ensures consistent access to Netflix because it constantly updates its IP addresses – if a few are detected and blacklisted, it already has many more working ones available. ExpressVPN's strong IP leak protection and Private DNS also work to minimize the risk that any given IP address will be blacklisted in the first place.
2. Clear Your Cookies and Cache
Many websites use tracking cookies to collect user data, like your browsing habits and even your geographical location. Netflix can use this information to determine that you're using a VPN and block access.
However, this can be easily prevented by clearing cookies and cache in your browser. To do that on Google Chrome, follow these steps:
Open Privacy and Security settings. Click the 3 dots next to your profile, select Settings, and choose Privacy and security.
Open browsing data options. Click on Clear browsing data, then in the popup, set the time range to All time. Then, tick browsing history, cookies and other site data, and cached images and files.
Click Clear Data. Chrome now doesn't have any of your past browsing data stored.
Reload Netflix. Try to load Netflix again to see if this did the trick.
In Safari, go to Preferences > Privacy >  Manage website data and type "Netflix" in the search bar. Click "Remove" and restart Safari.
3. Disable IPv6 on Your Device
Not all VPNs can protect you from IPv6 leaks. As such, this can expose your true location and Netflix will know you're using a VPN. However, you can prevent this by choosing a VPN that offers IPv6 leak protection. Incidentally, all the VPNs on my list automatically prevent IPv6 leaks from occurring.
Alternatively, you can disable IPv6 on your device. To do that on a Windows device, follow the steps below:
Open Network and Internet settings. Open the search function on your Windows device and type "Control Panel". Open it and select your Network and Internet settings.
Go to Network and Sharing Center. Then click "Network and Sharing Center".
Choose Change Adapter Settings. You can find this option in the left column.
Open your network properties. Right-click on the network you're using and click Properties.
Disable IPv6. Uncheck Internet Protocol Version 6 (TCP/IPv6) and click OK.
Reload Netflix. Connect your VPN to the location you want and load Netflix in your browser.
On Mac, simply go to System Preference > Network, and click "Advanced". Click the TCP/IP tab, then next to "IPv6", choose "Off" in the dropdown menu. Apply the changes.
4. Change VPN Protocol
Some VPN protocols are better at accessing geo-restricted content than others. I personally prefer WireGuard, IKEv2, and ExpressVPN's own Lightway. I found them effective at unblocking Netflix, and they're all fast enough for streaming.
You can experiment with all available protocols until you find something that works. However, I do not recommend PPTP, because it's not as secure and may put your privacy at risk.
Access Netflix With ExpressVPN
5. Use a Smart DNS Service
Many VPNs offer Smart DNS, which replaces the DNS address provided by your ISP with one for a different server. To accomplish this, your DNS queries are routed through a specialized proxy server that's located within a different country. This leads Netflix into believing that you're actually in that country, so you're able to access region-locked titles.
Smart DNS is usually designed with streaming in mind, so is maintained to provide reliable access to streaming sites. Plus, it's a bit faster than a standard VPN connection as there is no encryption in place.
All the VPNs on this list offer Smart DNS (ExpressVPN calls it MediaStreamer). However, be aware that these services are usually limited to just a few countries – usually the US and the UK. For a larger selection of Netflix libraries, you will have to use a regular VPN server.
6. Watch Netflix on Your Computer
If Netflix doesn't work on your mobile device, game console, or smart TV, you can try watching it on your computer. That's because the Netflix app may force your device to use the DNS provided by your ISP, especially if you're using Android or iOS. If your VPN provider allows custom DNS configuration, make sure that you're using the VPN's DNS servers.
In addition, mobile devices store a lot more location information than desktops do. For example, if your GPS is showing your physical location in one place, and your IP in another, you're more likely to face a VPN block. You can try to turn your GPS and Locations settings off.
However, if none of this works, then watching Netflix in a desktop browser will easily fix the problem. Alternatively, you can set up the VPN on your router instead of your streaming device or phone.
7. Ask Customer Support for the Right Server
It's best if your VPN offers 24/7 live chat support, but email should be available at the very least. The customer service representatives usually have the most up-to-date list of working servers per location.
I contacted ExpressVPN's 24/7 live chat support just to see if they could actually help me. In under 5 minutes the rep sent me a list of US server locations that were known to be working with Netflix (I tested them all and they all worked).
Access Netflix With ExpressVPN
FAQs on How to Bypass Netflix VPN Blocks
How does Netflix detect VPNs?
There are different ways Netflix can detect VPN use. Some of the most common methods are:
Shared IP addresses. Netflix always keeps an eye out for shared IP addresses. When you use a VPN, you could be on the same IP address as thousands of other VPN users. This means that a single IP is accessing Netflix from multiple accounts, which makes it easy for Netflix to see that it's a VPN IP and blacklist it. The VPNs in this list regularly rotate their IP addresses, so they're not easily blocked by Netflix.
IP and DNS mismatches. As mentioned, the Netflix app may override your DNS setup. If Netflix recognizes the mismatch between your DNS and IP servers, it may block you from using the service.
GPS and Location data. Especially on mobile devices, if your GPS coordinates are in a different location than your IP address, it's easy for Netflix to see you're using a VPN and block you.
The VPNs on this list provide strong protection against Netflix's common detection methods, so you won't have any problem accessing your favorite library.
Why is my Netflix only showing Netflix Originals?
If you're only seeing Netflix Originals, then it's possible that Netflix knows you're using a VPN. However, you can access region-locked titles by using a VPN that is not easily detected by Netflix.
Instead of blocking you, Netflix sometimes chooses to show you Original content when it detects VPN use. Netflix Original content are titles to which the company usually owns global distribution rights, so they can be viewed in every Netflix library.
Why does Netflix block VPNs?
Netflix blocks VPNs to prevent viewers from streaming content that isn't available in their country. For many shows and films, Netflix only holds distribution rights for a few select countries. However, you can easily bypass these blocks when you choose a reliable VPN that consistently works with Netflix.
The reason Netflix works so hard to fight VPN use is due to pressure from copyright holders. Put simply, copyright holders don't receive any revenue when their content is streamed from an unlicensed location. So, Netflix uses geoblocks and anti-VPN mechanisms to uphold licensing deals.
Is using a VPN with Netflix legal or will I get banned for using one?
It's legal, but it's a bit complicated. While using a VPN with Netflix is not illegal, the company's ToS states that the user should primarily access Netflix content within the country they have established their account. However, it doesn't say anything about VPN use.
Plus, we haven't heard of a single instance where a user's Netflix account was banned just because they were using a VPN. That's because Netflix doesn't ban user accounts. Instead, it goes after the VPN providers and blocks their IP addresses.
The only exceptions are restrictive countries (like China and Saudi Arabia) where VPN use is heavily regulated or banned altogether. It can be illegal to use one in such countries. We don't condone illegal activities, so please check your country's local laws regarding VPN use to avoid facing any consequences.
Can I bypass Netflix VPN blocks with a free VPN?
It's possible, but I do not recommend using a free VPN for Netflix. It's better to use a low-cost premium VPN that comes with a trustworthy money-back guarantee.
Free VPNs often fail to unblock Netflix. Even the ones that sometimes work often have a limited server network, so you can't really access many libraries. In addition, they usually have slow speeds and data restrictions (usually only 1 or 2 GB per month), making it impossible to stream Netflix for long.
On top of this, many free VPNs can be dangerous — some have untrustworthy privacy policies, while others have weak security because they don't have the means to upgrade their software often enough. Free VPNs have also been known to come packaged with malware that can harm your device.
Access Netflix With ExpressVPN
Bypass Netflix VPN Blocks Today
There are many ways to bypass Netflix VPN blocks. Thankfully, all of them are easy to do — by following my guide, you should be back watching your favorite shows in no time. However, you first and foremost need a VPN that can consistently access the platform.
ExpressVPN is my top choice for bypassing Netflix VPN blocks. It always works with the platform without issues, has superfast speeds, and offers a worldwide server network to access more than 20 libraries. Plus, it's even backed by a 30-day money-back guarantee, so you can try ExpressVPN completely risk-free. If you don't like it, you can get a full refund.
To summarize, the best VPNs to bypass Netflix VPN blocks are…
Privacy Alert!
Your data is exposed to the websites you visit!
The information above can be used to track you, target you for ads, and monitor what you do online.
VPNs can help you hide this information from websites so that you are protected at all times. We recommend ExpressVPN — the #1 VPN out of over 350 providers we've tested. It has military-grade encryption and privacy features that will ensure your digital security, plus — it's currently offering 49% off.