Are VPNs Worth It? Do You Need to Use One in 2020?
Updated on 26th December 2019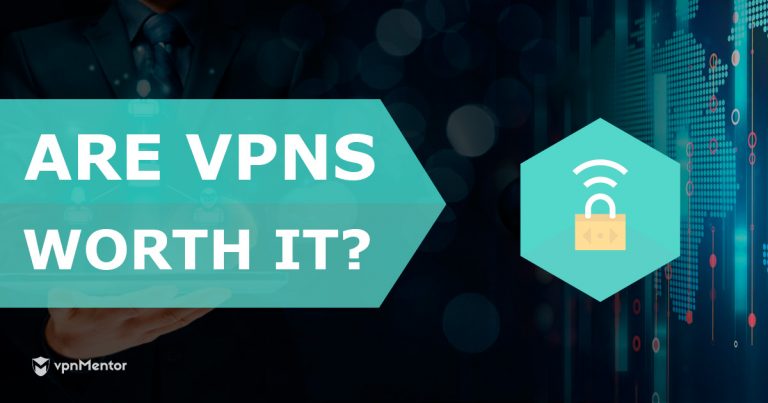 If you value your privacy online, want to keep your data safe, or you need a way to bypass geo-restrictions or censorship, a good VPN is the answer.
But should you use a free VPN or pay for a subscription? Is a subscription worth it? And do you even need to use a VPN at all?
Here's everything you need to know about when to use a VPN and how to choose between free and paid services.
What is a VPN?
A VPN or, Virtual Private Network, offers you a secure and private way to browse the internet.
It does this by encrypting your data and redirecting it through a private server. This effectively masks your IP address and allows you to browse the internet with near complete anonymity.
The encryption offered by a VPN also obstructs anyone from accessing sensitive personal information, such as your online activity or your location.
A good VPN is helpful in several different situations. For example, protecting you from hackers while using a public network, keeping your data private while you browse at home, or allowing you to access geo-restricted content.
Do I Need a VPN?
As we become ever more aware of the importance of information privacy, the benefits of using a VPN speak for themselves.
VPNs will keep your personal information safe from tracking. This is useful if you value internet privacy and want to avoid monitoring by your Internet Service Provider, advertisers, social media companies, or even government. It also gives you an added layer of protection against hackers.
The safety and security offered by a VPN are especially important if you want to access the internet via a public network.
Public networks, such as any open shared or guest wi-fi you can access in a public space, are notoriously insecure. They use unencrypted connections that leave them, and you, vulnerable to hacking, malware, and identity theft.
A VPN provides you with a secure connection when using a public network, keeping your data safe from these threats.
Do I Need a VPN at Home?
VPNs are not just helpful when using public networks, they offer all the same protections for your home network too. They are especially beneficial if you live in a country with strict censorship or if you want to access content that is geo-restricted.
VPNs mask your IP address by routing your data through a private server in a different location. This allows you to bypass censorship and geoblocking by essentially tricking websites into thinking you are located in a different country.
For example, if you live in China and want to access Facebook, you can use a VPN to bypass the country's strict firewall. Similarly, if you want to access entertainment from outside your home country, you can choose a VPN with servers in an unrestricted country to get around geo-restrictions and quickly and easily stream your favorite show.
Lastly, VPNs offer excellent protection for torrenting from home. Torrenting sites can often be blocked in many countries to prevent copyrighted materials from being illegally downloaded. Some ISPs also use throttling – deliberately slowing down your connection – as soon as they recognize that you are torrenting.
In masking your IP address and encrypting your data, a VPN will prevent your ISP from detecting torrenting, allowing you to upload or download with ease.
It is important to note that not all VPNs are suitable for torrenting. You will need to find a VPN that allows P2P connections and offers unlimited bandwidth and speeds that are fast enough to cope with torrenting.
Security is also vital. Make sure that your chosen VPN has a strict no-logs policy and a kill switch with DNS leak protection. This will make sure you're not left open to detection should you lose connection at any point. We recommend ExpressVPN for its unrivaled speeds and outstanding security.
Is a VPN Worth it?
To judge whether it is worth purchasing a VPN, it is important to get an idea of how much they cost to use.
The good news is that it's possible to get world-class protection for as little as $3 a month. With our constantly updated deals and offers, you can get access to the world's best VPNs for even less.
Ask yourself how much you value your privacy or the ability to access content and services that might otherwise be unavailable in your country. If the answer is more than $3 a month, it seems like a VPN is definitely worth paying for!
You can find out more about the best cheap VPNs here.
Can't I Just Use a Free VPN?
Of course, another option would be to use a free VPN or online proxy instead of a paid service.
While free VPNs do exist, they have many disadvantages in comparison to subscription-based VPNs. Many free VPN services deliberately reduce connection speeds and put a limit on data usage. Some will prevent you from streaming or torrenting entirely.
It's also important to consider how free VPNs make money without charging for their services. Some do so by including annoying pop-up ads or by logging and selling your data to third parties. Free VPNs also lack the security of their paid alternatives, leaving you vulnerable to hacking, malware, and tracking.
Conclusion & Further Reading
While free VPNs might be okay for casual use, a paid-for VPN is worth it if you want a reliable, fast, and secure service – and if you take your privacy and safety seriously.
A good VPN will allow you to bypass geoblocking and censorship, protect you from monitoring and tracking, and make sure your private data stays private. All while keeping you safe from malware, hacking, and identity theft.
If you're convinced by these benefits, take a look at our list of the best overall VPNs to find out which VPN offers the best fit for your needs.
Need some more help selecting the right VPN to suit you? Find out how to choose the best VPN.
Want to try out a VPN without committing to payment straight away? Check out our list of the best VPNs with free trials.