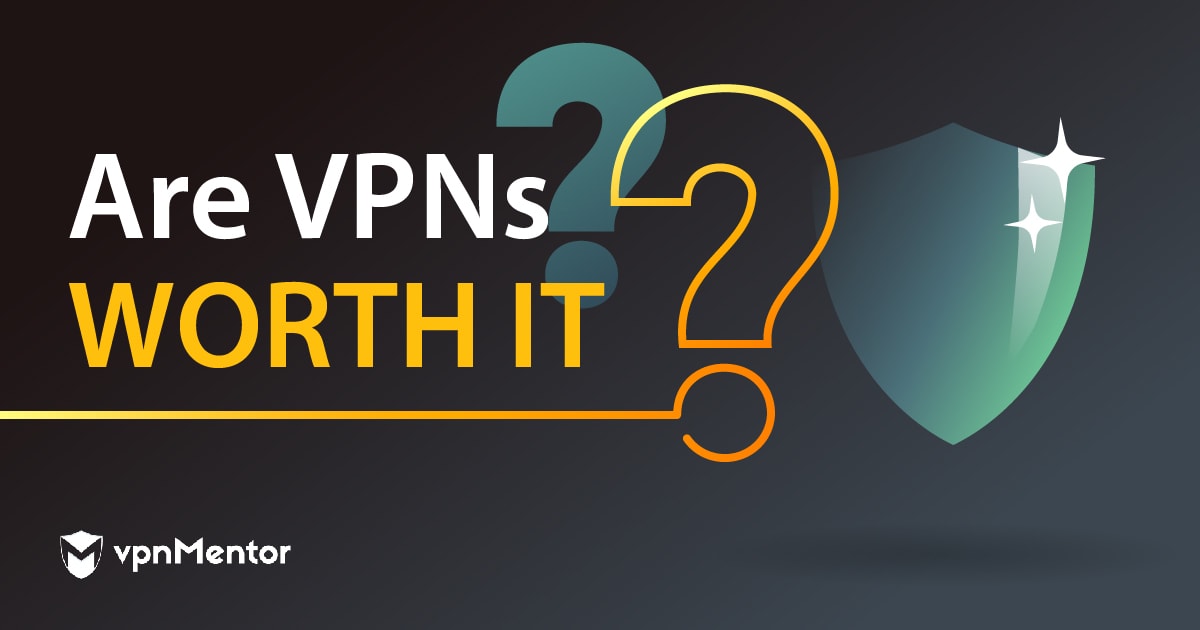 Are VPNs Worth It? Do You Need to Use One in 2023?
Curious about VPNs but don't know if you really need one? You've come to the right place. I've been researching VPNs for years, so I understand all the benefits—from staying safe and anonymous online to streaming global content. Let's weigh the pros and cons of VPNs, and I'll help you decide whether you need one.
I'll also show you what to look for when buying a VPN, as well as some of my favorites. Hint: My absolute #1 choice is ExpressVPN—it's fast, easy to use, and super secure. And you can try it out for 30 days risk-free with its money-back guarantee.
Try ExpressVPN Risk-Free for 30 Days!
How Can a VPN Help You?
VPNs let you unlock everything the internet has to offer, all while keeping you safe and secure. Whether you want to make the most of your streaming services or are worried about your digital footprint, they're the ideal solution.
Bypass Geoblocks and Stream Without Restrictions
Lots of websites and streaming platforms lock down their content to specific regions. This is called geoblocking, and it prevents you from accessing content from around the world.
This is why viewers outside of the UK can't watch BBC iPlayer and streamers in Australia, Europe, and even Canada can't take advantage of Netflix's massive US catalog.
A VPN helps you get around these unfair restrictions by letting you connect to a server in a different country. When you do this, you'll get a temporary new IP address that makes it look like you're in another country.
With a new IP address, you can access movies, TV shows, and websites that were previously off-limits.
Better yet, your online activity is also hidden from your internet service provider (ISP). This means that you don't have to worry about your ISP slowing down your connection whenever you do resource-heavy activities like streaming and torrenting.
Start Streaming With ExpressVPN!
Keep Your Data Safe and Secure
When you use a VPN, your traffic travels from your device to its destination in an encrypted tunnel. The encryption that premium VPNs like ExpressVPN use is so sophisticated that it's virtually impossible to break.
That means no one can see the data you send or receive—not your ISP, government officials, or even hackers and identity thieves. When you use a VPN, it's almost as if you're invisible while online.
The benefits of this protection touch nearly everything you do on the internet, from online banking and shopping to checking email and accessing social media. Your credit card numbers, passwords, sensitive files, and other personal information are shielded, even if you connect to the internet from an unsecured public network, like the free WiFi at your favorite coffeehouse.
Avoid Monitoring and Tracking
You may be surprised to know that lots of entities follow your every footstep when you're online. ISPs monitor your traffic and throttle it if you're using too much bandwidth; marketers use cookies and other trackers to see what you do on the internet so they can try to sell you more stuff, and hackers and identity thieves set up traps and malware in an effort to steal your personal info.
Worse, some companies and websites set up detailed profiles about you, cataloging your behavior, age, location, gender, interests, and more—just by spying on your browsing habits. They then sell the data to other sites.
A VPN helps you avoid monitoring and tracking by anonymizing your online presence. Some VPNs, like CyberGhost, also include additional ad, tracking, and malware blockers to protect you from malicious sites, viruses, and other online threats.
Avoid Government Censorship
In many countries, internet restrictions are intense. The Chinese government, for example, heavily limits the sites you can access when you're within its borders, effectively banning services like Google, WhatsApp, YouTube, and all streaming platforms. They even regulate the use of VPNs, and these rules apply to both residents and visitors.
In these countries, a quality VPN is vital because there are often heavy fines if you're found accessing something you're not supposed to.
The best VPNs come with obfuscation technologies that hide the fact that you're using a VPN, fooling ISPs into thinking you're just a regular internet user. This means you can combat government censorship and access the content you want to see.
Combat Internet Censorship With ExpressVPN!
How Do You Know If a VPN Is Worth It?
There are hundreds of VPNs out there, and they're not all built the same. It's important to do some research to actually find one that's effective and worthy of your money. Why pay for a service if it can't break through geoblocks or doesn't adequately hide your online traffic?
Likewise, it can be tempting to sign up for a free VPN—why pay when you can get all these benefits for nothing? Unfortunately, free VPNs don't work that way.
While you may not pay out of pocket for a free service, you'll pay in other ways, usually in terms of your online security—the exact thing a VPN is designed to protect.
Free VPNs also come with other frustrating restrictions, like limited server access, poor speeds, and data caps. Most of the time, they can't even unblock popular streaming sites.
Here are some factors to consider when considering a premium VPN:
High-level encryption: Keeps your data secure—most VPNs offer 256-bit AES encryption, the strongest protocol available.
No-logging policy: Guarantees that VPNs won't store your data or browsing habits so you and your activity stay anonymous.
Fast speeds: Even over long distances, you'll enjoy quick browsing, fast downloads, and high-quality streaming.
Servers in your desired location: Stream from anywhere you want. For example, if you want to unblock Netflix US from the UK, you need a VPN that has quality US servers.
Reliability for unblocking sites: Top VPNs can unblock popular streaming providers like Netflix, Hulu, BBC iPlayer, Sling TV, and Disney+.
Automatic kill switches, ad blockers, and DNS/IP leak protection: These features add extra layers of online protection.
Wide compatibility: Use your VPN on all popular platforms and devices, from Windows computers to Apple phones.
Unlimited data: You don't want that TV show or download to stop halfway through due to data caps.
The Best VPNs - Full Analysis (Updated February 2023)
I'm constantly testing and retesting hundreds of VPNs, carefully evaluating their features, performance, and reliability. The VPNs on this list are affordable and worth the investment because they offer the best features with guaranteed performance, no matter why you need a VPN.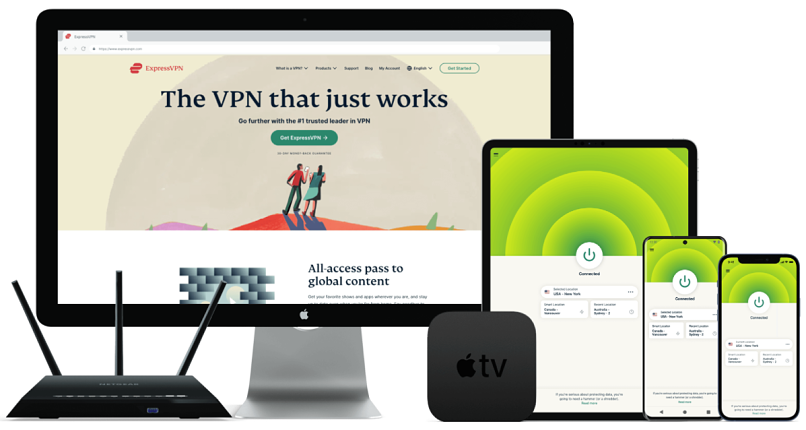 Editor's Choice
Editor's Choice

Tested February 2023
Try Risk-Free for 30 Days
Can access:
Netflix
Disney+
APV
HBO Max
Hulu
BBC iPlayer
Sky
More
www.ExpressVPN.com
MediaStreamer for streaming on games consoles
Advanced encryption and automatic kill switch
Superfast speeds for quick browsing, downloading, and streaming
Split tunneling for increased flexibility
3,000 servers in 94 countries
30-day money-back guarantee
Works with: Netflix, Hulu, Disney+, HBO, BBC iPlayer, Amazon Prime Video
Compatible with: Windows, Android, iOS, macOS, Chrome, Linux, Firefox, routers
I like ExpressVPN because it has great speeds, is reliable for bypassing tough geoblocks, and offers extra features like split tunneling and MediaStreamer to give you extra flexibility.
You get top online protection with ExpressVPN's security suite. It includes tough AES 256-bit encryption, multiple security protocols, and even RAM storage. It's impossible for RAM to hold on to your personal information or browsing history, so you're completely anonymous.
I examined its no-logs policy closely, too. I found that there's no data trail, whether you're streaming, torrenting, surfing, or just calling your friends on Skype—nothing traces back to you.
For even more protection, ExpressVPN offers Network Lock, an automatic kill switch that cuts internet traffic if the VPN connection is lost. It's not available for mobile devices, but it worked perfectly on my Windows laptop. It stopped my downloads on BitTorrent for 20 seconds while reconnecting to a server.
ExpressVPN is a great choice for streaming. It defeated every geoblock I tried, including those of Netflix, BBC iPlayer, and HBO. My fellow researchers tested the VPN from eight different locations, and they all saw the same pleasing results. Plus, with MediaStreamer, you can even stream from your game console. I downloaded the ExpressVPN app to my Xbox One and was accessing Netflix US within seconds.
You have more flexibility with ExpressVPN's split tunneling feature. Use this to send certain apps through the encrypted VPN tunnel and leave others to access your local connection. Split tunneling worked great for transferring money using my online banking app with the VPN, while streaming Netflix over my regular connection. I like that this feature is available on both mobile and desktop.
ExpressVPN has impressive global coverage, with 3,000 servers in 94 countries. All servers offer reliable performance with super-fast speeds—just check out my results.
| | | | |
| --- | --- | --- | --- |
| Connection | Ping - ms | Download Speed - Mbps | Upload Speed - Mbps |
| Base speed in the UK | 11 | 55.73 | 11.88 |
| Quick connect UK server | 13 | 51.70 | 11.08 |
| Manual connect UK server | 13 | 51.64 | 10.55 |
| Quick connect US server | 148 | 44.83 | 7.09 |
| Manual connect US server | 103 | 39.85 | 9.75 |
| Quick connect FR server | 32 | 42.13 | 11.09 |
| Quick connect BR server | 198 | 40.94 | 6.46 |
| Quick connect AU server | 287 | 36.97 | 6.44 |
I only lost 33.66% of my speed connecting from the UK to Australia, which is seriously impressive. It means I could stream in Ultra HD with no lagging whatsoever. At most, my upload speed dropped to 6.44 Mbps, more than fast enough for HD Skype calls and sending large attachments via Gmail.
I was able to use any of ExpressVPN's servers for torrenting. Often, VPNs limit which servers you can use for P2P, meaning it can be tricky to find one close by. I tested UK, US, and New Zealand servers with great download speeds across all.
My colleagues tested ExpressVPN from China, the UAE, and Turkey, also with great success. They easily bypassed government censorship, and no one has been blocked throughout our months of testing.
You get 5 simultaneous connections with your subscription. I tested streaming and gaming on my Android mobile device, Xbox, and Windows laptop at the same time with no dips in performance. And all the apps are easy to use and really quick to download—I was set up in under five minutes on each device.
If you do run into issues, there are loads of FAQs and step-by-step guides to help you with anything you need. There's also 24/7 live chat for instant support.
Tempted? Take advantage of ExpressVPN's 30-day money-back guarantee so you can try out all its features, risk-free.
Want to know more? Explore our ExpressVPN review to see the full results of our research and testing.
Claim your discount before this deal ends
256-bit AES encryption and DNS/IP leak protection
WiFi protection for unsecured networks
Set up in under two minutes
9,753 servers worldwide, with streaming-optimized options
45-day money-back guarantee
Works with: Netflix, Hulu, Disney+, HBO, BBC iPlayer, Amazon Prime Video
Compatible with: Windows, Android, iOS, macOS, Chrome, Linux, Firefox, routers
CyberGhost is a firm favorite of mine because it's really easy to use, so it's ideal for VPN newbies. It also has optimized streaming servers for specific platforms to make bypassing geoblocks quick and easy.
It has the best server coverage of any VPN I've tested, with 9,753 servers in 91 countries.
It has servers that are optimized for various streaming platforms, including Netflix, BBC iPlayer, Disney+, HBO Now, and ESPN+. I tested all of these with impressive results. It easily unblocked all sites and delivered HD quality throughout.
CyberGhost offers another feature I love - automatic WiFi protection. I actually configured the app to ask me whether I want the VPN to connect whenever I use an unsecured WiFi network. You can also configure protection on a secure home network.
You have a built-in ad, online tracking, and malicious website blocker. It stopped me from accessing a link to an unsecured website through an email I received. And the online tracking blocker means no relevant ads on any news websites I visited.
AES 256-bit encryption, an automatic kill switch, and DNS/IP leak protection combine to provide you with total anonymity online. To be sure, I ran leak tests on 237 of CyberGhost's severs—no leaks discovered.
I appreciate the transparency of CyberGhost's logging policy—you don't need to worry about it retaining any identifying data. You can even pay with cryptocurrency to hide your email address and payment information, too.
I found CyberGhost's speeds steady and reliable, but I did notice a dip in performance in some places. If you want to stream, stick with the streaming-optimized servers, because my speeds increased by 23% using the optimized Disney+ server compared to connecting to a random US server.
I still had a steady download speed of 10.18 Mbps in the US (you only need 5 Mbps for HD streaming). And when torrenting, I was able to seed files quickly in most places, apart from Australia, where downloads buffered for a while.
| | | | |
| --- | --- | --- | --- |
| Connection | Ping - ms | Download Speed - Mbps | Upload Speed - Mbps |
| Base speed in the UK | 11 | 55.73 | 11.88 |
| Quick connect UK server | 17 | 37.53 | 10.95 |
| Manual connect UK server | 11 | 17.90 | 10.85 |
| Quick connect US server | 191 | 10.18 | 8.19 |
| Manual connect US server | 151 | 20.61 | 10.51 |
| Quick connect AU server | 510 | 6.72 | 2.55 |
| Quick connect FR server | 38 | 28.93 | 11.35 |
CyberGhost took only two minutes to set up, and the apps were easy to use on every device I tried.
You're allowed 7 simultaneous connections, so it's smart choice if you're a multi-device user. There's 24/7 live chat if you need any support setting up.
CyberGhost gives you a longer money-back guarantee of 45 days compared to most competitors, as long as you commit for 6 months or more. Otherwise, it's 14 days—but either way, it's risk-free.
Want to know more? Explore our CyberGhost review to see the full results of our research and testing.
Limited time deal - act quick!
256-bit AES encryption and DNS/IP leak protection
WiFi protection for safer connections while on the go
SOCKS5 proxies available for faster torrenting
Ad, tracking, and malware blocker to protect you from online threats
29,650 global servers
Works with: HBO, Amazon Prime Video, Showtime, CBS All Access, Crunchyroll
Compatible with: Windows, Android, iOS, macOS, Chrome, Linux, Firefox, routers
Private Internet Access is one of my top choices, especially if you're a regular torrenter like me. It offers strong P2P support and reliable, fast connections. Plus, it's really secure.
Private Internet Access keeps you secure wherever you are, whether that's at home or while connected to an unsecured public network. It offers AES 256-bit encryption and various security protocols. I always recommend OpenVPN for maximum security and high speeds, especially on public WiFi.
There's also a SOCKS5 proxy available, which is useful for P2P sharing. I use this to increase my speed. It's also good for bypassing tough restrictions—it worked in Turkey and the UAE without issue, but unfortunately wasn't powerful enough to bypass The Great Firewall of China.
I was pleased to see that the VPN offers DNS/IP leak protection, which prevents your traffic or location from being exposed. It passed all of my leak tests over months of testing. There's also an automatic kill switch and a zero-logging policy for total anonymity.
The ad, tracking, and malware feature is a nice extra, too. I'm used to seeing hundreds of ads on my local news websites, but it blocked them all.
I tested various streaming sites with Private Internet Access and wasn't stopped by any geoblocks. I even asked my colleagues in India and Iran to test HBO and Amazon Prime Video—they didn't have any trouble either. They were able to stream in HD the entire time as well. We couldn't unblock Hulu, though.
Its speeds are steady and reliable, which means you can use Private Internet Access for HD streaming, quick P2P downloads, and fast browsing. Worldwide, there are 29,650 servers from which to choose.
It even worked well with WoW, if you don't connect to a server that's too far away. My ping of 334 ms in Australia made online gaming a bit difficult with more buffering, but it wasn't impossible.
| | | | |
| --- | --- | --- | --- |
| Connection | Ping - ms | Download Speed - Mbps | Upload Speed - Mbps |
| Base speed in the UK | 11 | 55.73 | 11.88 |
| Quick connect UK server | 38 | 42.34 | 9.76 |
| Manual connect UK server | 44 | 43.23 | 9.89 |
| Quick connect US server | 203 | 22. 14 | 5.75 |
| Manual connect US server | 215 | 19.87 | 4.68 |
| Quick connect AU server | 334 | 12.96 | 1.43 |
| Quick connect FR server | 192 | 34.67 | 6.89 |
Private Internet Access offers a generous 10 simultaneous connections—ideal for those with loads of devices. I was able to stream in HD on Amazon Prime Video, even with eight devices connected at once.
For any support queries, you can use its 24/7 live chat. There's also a 30-day money-back guarantee so you can try it out risk-free.
Want to know more? Explore our Private Internet Access review to see the full results of our research and testing.
More discounts for long-term deals
Try Private Internet Access Today!
FAQs
Are VPNs legal?
VPNs are legal in most locations around the world. There are some countries that restrict the use of VPNs, though, including China, Turkey, and Russia. In these countries, even accessing a VPN's website is difficult, nevermind using one.
Remember, even if VPN use is permitted in the country you're in, it's still illegal to use it for illegal activity.
Do I need a VPN at home?
A VPN isn't only designed to protect you while you're on the go. While they provide protection on public WiFi networks, they also offer many benefits even in the security of your own home.
Using a VPN from home can help you bypass tough geoblocks so you can stream another Netflix library from your laptop, for example. And they still protect your online security, keeping you safe from hackers, ads, tracking, and any other snoopers looking to get a hold of your information.
A VPN also hides your IP address, which means no one can find out your home location.
Should I leave my VPN on all the time?
It depends where you are and what you need your VPN for. I recommend leaving your VPN on if you're somewhere like China, because you can't risk forgetting to switch it on and leaking which sites you're trying to access.
If you regularly take your device on the go and connect to public networks, it's a good idea to leave your VPN switched on so you have extra protection from hackers.
A lot of VPNs, including ExpressVPN, offer split tunneling so you can still use certain apps with your local IP address—meaning you get the best of both worlds without having to switch off your VPN.
Can't I just use a free VPN?
I wouldn't recommend a free VPN. There are some somewhat reliable ones out there, but they can't compete with premium services. A free VPN never offers the complete package—even the better ones limit your available servers, restrict bandwidth, and employ data caps. But that should be the least of your worries, because there are a lot of free VPNs that suffer from poor security and encryption, putting you at risk of leaks.
It's also important to consider how free VPNs make money without charging for their services. Some do so by including annoying popup ads or by logging and selling your data to third parties.
You can find plenty of affordable, premium VPNs that cost as little as $2 a month, and they don't restrict you in any way. You're guaranteed full service with no limits, and you know you're always secure. If you're still unsure, take advantage of a money-back guarantee—it's just like getting a free trial.
What's the best VPN?
I'm constantly testing hundreds of VPNs to find you the best service. I have a few firm favorites that always pass my stringent testing, but my top choice is ExpressVPN. Not only is it super secure, fast, reliable, and powerful enough for unblocking any site you need, but it offers plans at incredibly low prices, too.
The Bottom Line
High-quality VPNs allow you to bypass geo-restrictions so you can stream from the most popular platforms. They can also help you combat online censorship, protect you from monitoring and tracking, and ensure your sensitive data stays private. They do all this while keeping you safe from malware, hacking, and identity theft.
While there are several premium VPNs that I'm happy to recommend, my favorite is ExpressVPN because it offers the best combination of functionality and price.

Get Started With ExpressVPN Now!
To summarize, here are the best VPNs in 2023...
Privacy Alert!
Your data is exposed to the websites you visit!
The information above can be used to track you, target you for ads, and monitor what you do online.
VPNs can help you hide this information from websites so that you are protected at all times. We recommend ExpressVPN — the #1 VPN out of over 350 providers we've tested. It has military-grade encryption and privacy features that will ensure your digital security, plus — it's currently offering 49% off.