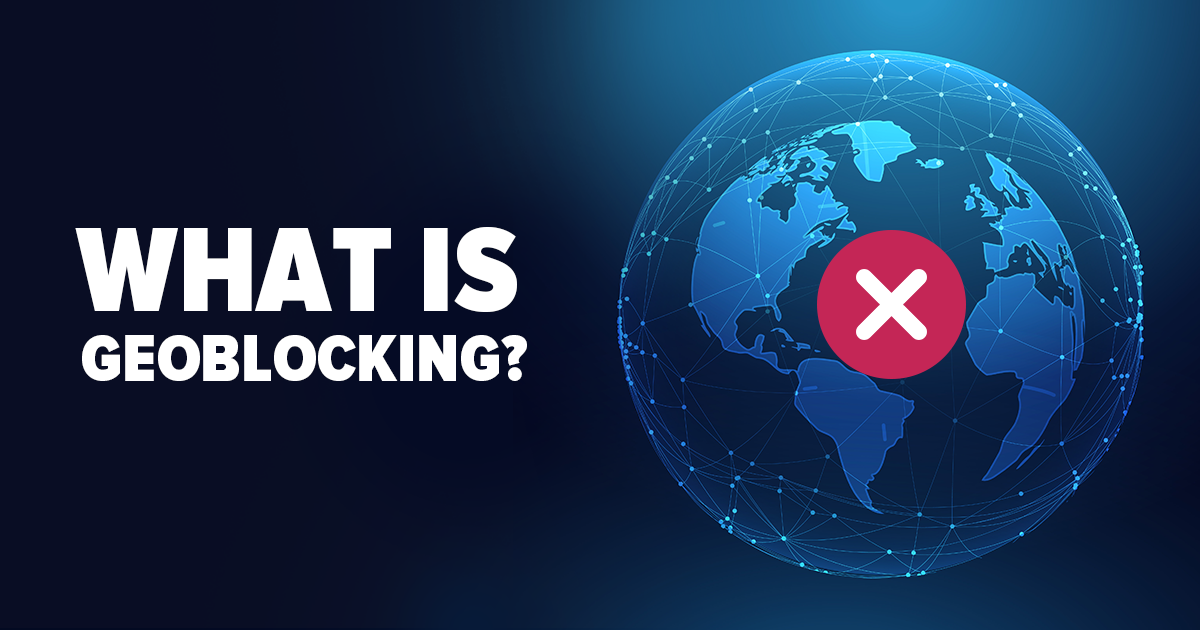 Everything You Need to Know About Geoblocking in 2023
Geoblocking is a way platforms and websites restrict access to their content and services (mainly videos, shows, movies, or music) based on your location. If you've ever tried to watch a video or access a site only to see it is not available in your current location, then you've come across geoblocking. For example, platforms like Netflix, Hulu, and Pandora use it mostly due to licensing and broadcasting agreements. This goes not just for streaming services and music platforms, but also for banking apps, online shops, or social media sites.
 A VPN helps you avoid these limitations by making it appear like you're somewhere else, i.e. in a location where the content is permitted. These websites can find out where you are by looking at your IP address, which is essentially your digital fingerprint. With a VPN, you can connect to a server in a country of your choice, which gives you a matching IP address.
However, not all VPNs are created equal. I've tested 35+ VPN providers to find out which ones can bypass geoblocks reliably. My #1 choice is ExpressVPN because of its lightning-fast speeds, unparalleled unblocking capabilities, and extensive network of servers. It also comes with a 30-day money-back guarantee, so you can try it risk-free.
Access More Content With ExpressVPN Today
Quick Guide:
How to Bypass Geoblocking From Anywhere in 3 Easy Steps
Get a VPN. I recommend ExpressVPN because it's the fastest and most stable option I've found for accessing content from around the world.
Connect to a server in a country of your choice. For example, to access the Netflix US library, you should connect to a US server that gives you a US IP address.
Access the website you want. Now you can watch your favorite TV shows, listen to music, or watch live or on-demand videos from around the world, even while traveling.
What Is Geoblocking and What Is It Used For?
Geoblocking is the practice of denying or restricting access to content or service based on your geographical location. It's generally used for limiting access to streaming or music platforms. This happens mostly because of licensing and copyright agreements that the platforms have with content holders.
Also, it's important to note that there is a difference between geoblocking and censoring content.
Censoring content means that a certain country has put up a firewall that restricts access to websites or apps that they deem illegal or inappropriate. A common example is China with its Great Firewall, which blocks the use of websites (like YouTube) and apps (like WhatsApp) that would otherwise be available there if it wasn't for the firewall. Another example would be the UAE, which blocks porn and gambling sites.
Geoblocking (or geo-restricting), as mentioned before, is based solely on your geographical location and it has no relation to your country limiting access to certain content. For example, BBC iPlayer is only available in the UK, and you are blocked if you try viewing its content from anywhere else. Similarly, you can only watch Sling TV in the US. If you're from the US and try watching its shows from abroad, you get an error message saying the site isn't available in your location.
Another common example of this is Netflix. Its content library in the US contains almost 2,000 TV shows, but if you're accessing it from Malaysia, let's say, you can only watch about one-third of that.
Streaming platforms and websites can pin down your location by tracking your IP address. IP addresses are unique identifiers that are assigned to computers and other devices using the internet. Think of it as your return address. When you want to send mail, you need to give your return address (e.g., the zip code of your hometown). Similarly, your internet-connected device passes its IP address along to the websites you want to visit. Based on your IP address, the sites you go to can determine where you are. That way, some sites can tailor their content based on the location they see from your IP address.
There are 3 major reasons why these platforms use geoblocks (or georestrictions):
Protecting licensed or copyrighted content. Streaming platforms only own the original content they produce. If they want to provide additional content for their viewers, they need to negotiate a deal with the content's copyright holder. Each of these deals can have different requirements for how the content can be used and distributed. As a result, streaming services use geoblocking to ensure that they don't breach the licensing agreements.
Market segmentation. It's the process of dividing a market into consumer groups with similar needs and wants. For example, some shows on Netflix Japan might not be available on Netflix France because they are deemed irrelevant to French viewers. It can also be used to promote a piece of content. By premiering it in some markets first, the streaming platforms can create a sense of anticipation.
Price discrimination. It's the practice of charging different customers different prices for the same product or service. Geoblocking facilitates this by preventing you from signing up for a service in a marketplace of a country where the service is cheaper. For example, if you signed up for Netflix Turkey, you would pay less than for Netflix US.
Access More Content With ExpressVPN
Why You Need a VPN to Bypass Geoblocks
Some websites and streaming platforms employ geoblocks. If they see that your IP is from an unsupported region, they restrict you from viewing their content. A VPN hides your IP address and replaces it with another one from a country of your choosing. That way, it appears as if you are browsing from that region.
However, not all VPNs can get past the sophisticated geoblocking technology. To bypass georestrictions, a VPN must have enough IP addresses to go around. However, many low-quality VPNs only have a limited number at their disposal.
As a result, the same IP address can be assigned to multiple users. This can lead to a website getting an unusually high amount of traffic from one IP address. When this happens, the website can easily spot VPN users and blacklist those IP addresses.
To stay competitive in the market, a VPN has to constantly replace the blacklisted IP addresses with new ones. That way, it can prove reliable in unblocking geo-restricted sites. However, not all can keep up. Only premium VPNs have enough resources to do this.
First-rate VPNs also have excellent connection speeds, and plenty of servers worldwide. This lets you access your favorite content from back home without interruptions while traveling.
After testing numerous VPNs, I found 3 that delivered on all of these fronts. They helped me unblock my streaming and banking accounts while I was abroad. Also, their speeds were fast, so I didn't experience any interruptions.
Access More Content With ExpressVPN Now
Best VPNs to Bypass Geoblocks From Anywhere in 2023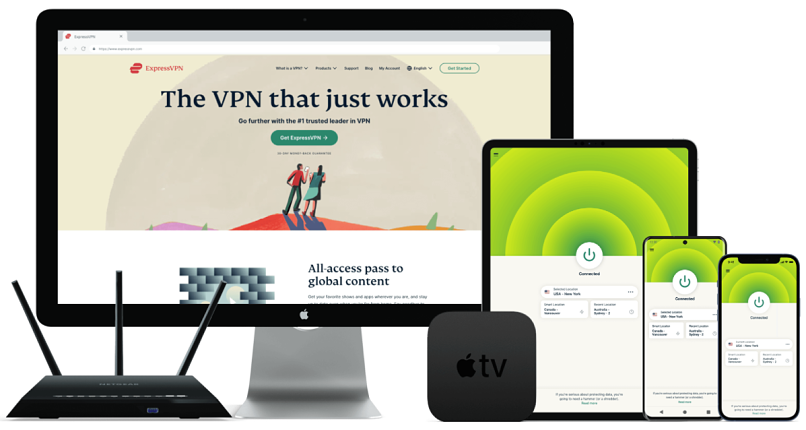 Editor's Choice
Editor's Choice

Tested February 2023
Try Risk-Free for 30 Days
Can access:
Netflix
Disney+
APV
HBO Max
Hulu
BBC iPlayer
Sky
More
www.ExpressVPN.com
Blazing-fast speeds for bufferless streaming
Kill switch (Network Lock) that keeps your IP hidden at all times
AES 256-bit encryption to safeguard your data
Can unblock: Netflix, Disney+, HBO Max, Hulu, BBC iPlayer, Vudu, Pandora, and more
Compatible with: Windows, Mac, iOS, Android, Linux, routers, Apple TV, and more
ExpressVPN has it all: lightning-fast connection speeds, a huge network of servers across the globe, and, most importantly, reliable unblocking capabilities. That way, it easily gets past the VPN-blocking technologies that most sites use, so you can access your country's content even while traveling.
I was really impressed with ExpressVPN's speed performances. This is largely due to its proprietary Lightway protocol, which is one of the fastest and most efficient ones at the moment. My initial speed without a VPN was 49 Mbps. I wanted to see how well it performs at long distances, so I chose UK, US, and Tokyo servers to try. When I tested ExpressVPN's faraway servers, the speeds averaged 45 Mbps, with only about 8% loss. If you use it on servers that are closer to you, your speeds will be even better.
Its server infrastructure is equally impressive, with over 3,000 servers in 94 countries. It's good to have a large network because if one server can't access the georestricted website, you can always fall back on another one. Aside from that, ExpressVPN's servers are particularly good at unblocking sites because they all use obfuscation technology. That means they can hide the fact you're using a VPN, which makes bypassing geoblocks easier. I had no issues accessing any of the streaming platforms I tried.
ExpressVPN has one drawback: its price. Its subscription is a bit pricey compared to the industry standard, starting from $6.67/month per month. If you come across one of its discounts, though, you can save up to 49%.
Additionally, it is backed by a 30-day money-back guarantee, which means that you can test ExpressVPN risk-free. If you're not 100% satisfied with it, you can request a full refund, no questions asked. I tested out its refund policy by contacting its customer support through the company's 24/7 live chat. My money was back within 3 days via PayPal.
Access More Content With ExpressVPN
Reliable servers in 91 countries, including streaming-optimized locations
Strong encryption to keep you data and activity private
7 simultaneous device connections
Can unblock: Netflix, Disney+, HBO Max, Hulu, BBC iPlayer, Vudu, and more
Compatible with: Windows, Mac, iOS, Android, Linux, routers, Apple TV, and more
CyberGhost offers streaming-optimized servers for unblocking specific streaming sites and libraries from different countries. It has designated servers for both US and foreign streaming platforms, including Netflix, Disney+, Hotstar, Hulu, Rai Play, Canal+, and many more. I regularly used its Netflix US and Sling TV-optimized servers to access my accounts from back home. The streaming was flawless, and I enjoyed my favorite shows even while on the road.
Its connection speeds were very stable and reliable so I could surf and stream without interruptions. When I tested CyberGhost's speed using its UK servers, it averaged around 35 Mbps, which means the loss was a little bigger than with ExpressVPN. But I didn't really notice any slowdown at all. I streamed Chewing Gum on Netflix UK in HD quality without ever experiencing buffering whatsoever.
I was really impressed with CyberGhost's dedicated IP feature. This means you can get a unique IP address only you can use, which makes the sites harder to detect you're using a VPN and block you. Even though this is an add-on, I found the price of only a few dollars inexpensive yet useful for avoiding detection.
The cost of CyberGhost's monthly subscription is a bit on the expensive side, and it comes with a shorter money-back guarantee. Its long-term plans are more affordable, starting from $2.19/month. Additionally, CyberGhost often offers generous discounts, so you can save up to 84% on the subscription cost.
Its long-term plans come with a 45-day money-back guarantee. That gives you enough time to test CyberGhost out properly without worrying about any hidden catches. I wanted to see if its refund procedure was as simple as advertised, so I contacted its customer support through email. The process was easy, and I received the total amount on my account after only 4 days.
Access More Content With CyberGhost
A lot of servers worldwide, so you can unblock content from anywhere
10 simultaneous device connections
Customizable automatic kill switch that keeps your connection and personal data secure at all times
Can unblock: Netflix, Disney+, HBO Max, Hulu, BBC iPlayer, Vudu, and more
Compatible with: Windows, Mac, iOS, Android, Linux, routers, Apple TV, and more
PIA's greatest strength is undoubtedly its large network of servers across the globe. It has 29,650 servers in 84 countries. This means that, in case of server downtime, you can always switch to another server and continue binge-watching your favorite TV show. All the servers I tested easily bypassed the geoblocks on different sites.
It can give you access to many platforms. I tested it out on a number of popular streaming services, and I was always able to get past their sophisticated VPN-blocking technologies. Some of the streaming sites I managed to unblock are Netflix US, Amazon Prime Video, YouTube TV, Paramount+, Rai Play, Disney+, and more.
PIA's speeds were a bit slower than ExpressVPN's and CyberGhost's. My tests showed that the speed of PIA's US servers averaged around 32 Mbps. Still, I haven't noticed a big change even while streaming Schitt's Creek on YouTube TV. And since you only need 5 Mbps to stream in HD, I doubt that you will either.
PIA's subscription plans are inexpensive overall. There are both short- and long-term options available, and the prices start at $2.19/month. They can even drop by 83% for its longer subscriptions.
It also comes with a 30-day money-back guarantee, so you can try PIA out risk-free. And if you're unhappy with it for whatever reason, you can claim a full refund. I had no issues getting my refund after about 2 weeks of using it.
Which Websites Can VPNs Unblock?
A good VPN can unblock everything from geo-restricted streaming services to social media platforms and news articles that are blocked in a certain country. You have to make sure that your VPN has good server coverage so you can appear as if you're browsing from the country of your choice. Aside from that, it's important it has solid connection speeds, so you don't experience lag or freezes. I recommend ExpressVPN because it fits these criteria perfectly.
There are some countries that completely block (or censor) certain websites and apps. On the other hand, some streaming platforms are geo-restricted to 1 or more locations, so you can't access your accounts while traveling abroad unless you use a VPN. Here's a list of some of those websites, apps, and platforms:
Streaming platforms and/or online cable providers:
YouTube TV, Netflix, Sling TV, Hulu + Live TV, HBO Max, Paramount+, Showtime, Amazon Prime Video, fuboTV, Disney+,

Foreign video services ― RaiPlay, Digi Online, Mediaset, TV4 Play, BBC iPlayer

Social media platforms:
Facebook, Instagram, Twitter, TikTok,
Sports streaming websites:
Fox Sports Go, ESPN, Live Soccer TV, Cricfree, SonyLiv, CBS Sports
Messaging apps:
WhatsApp, Viber, Telegram, Signal, Facebook Messenger
Dating sites:
Tinder, Bumble, Hinge, Grindr
Gambling sites:
BetOnline, Bovada, El Royale
News sites:
NY Times, WGN, Los Angeles Times, Chicago Tribune
FAQs on Bypassing Geoblocks With a VPN
How can I avoid geoblocking while traveling?
You can easily avoid geoblocking while traveling by using a VPN. If the streaming platform you watched back home isn't available where you are now, you can just connect to a server in your home country and log in to your platform's account. That way, you'll appear as if you're home and the platform will give you access as it normally would. Examples of platforms that are geo-restricted are BBC iPlayer (available only in the UK), Sling TV (available only in the US), or Netflix's various content libraries, which differ from country to country.
Can I use Tor, proxy servers, or Smart DNS to unblock georestricted content?
It's possible. However, these 3 methods do not work as well as a VPN.
Tor
Tor, which stands for The Onion Router, is open-source software for private communication on the web. It works by routing your internet connection through a series of nodes before it reaches its destination (for example, a website). This makes it difficult for websites to identify your location.
However, using Tor to unblock content may end up being slower than normal. This is due to the process of sending traffic through all of the nodes, which slows down the speed of information processed. That said, I don't recommend it for streaming.
In addition to this, you can only access Tor through its own browser, and the setup can be complicated.
Premium VPNs, like ExpressVPN, allow you to use Tor with a VPN (known as "Tor over VPN") in order to achieve added security and privacy protection.
Proxy servers
A proxy is a "middle-man" between you and the website you want to access. It handles all of your requests in order to make your browsing activity appear as if it's actually coming from the proxy server's IP address.
However, unlike VPNs, there is no guarantee of privacy when using a proxy server. Once your data leaves your network and goes through the proxy server, it could be intercepted before ever reaching its intended destination.
Smart DNS
Smart DNS works like a proxy service. It doesn't protect your data, but it will allow you to appear as if you're browsing from another country.
However, since it doesn't encrypt your traffic, it offers less security than a VPN.
Only a top-class VPN can access geoblocked content and protect your privacy at the same time. I tested all 3 VPNs on this list to ensure that they can reliably do all of that.
Can free VPN bypass geoblocks?
It's very unlikely.
To begin with, free VPNs are rarely able to bypass sophisticated VPN-blocking technologies that most websites use. Instead, I recommend getting a premium VPN, like the ones on my list, which come backed by a 30-day money-back guarantee, so you try them risk-free.
Unfortunately, free VPNs simply do not have enough resources to add new IPs at the rate they are being blocked, so many of their IP addresses are already blacklisted. If you somehow manage to bypass geoblocks imposed by streaming services, you will still have trouble streaming anything. Their connection speeds are usually slow, and the servers are overcrowded.
And even if you didn't mind all the buffering and low video quality, they often cap the data you can use. You probably won't be able to finish watching a single episode before it runs out.
What's more, free VPNs have server locations in only a small number of countries. This makes them highly unlikely to access foreign content libraries and platforms.
And lastly, they might sell your data to third parties, making them highly unsafe.
Access More Content Now
Geoblocking prevents you from accessing certain websites or services based on your location. It is a practice employed by content-sharing platforms to honor various broadcasting and licensing agreements they have with content holders.
The good news is that a VPN can change your virtual location and make you appear as if you're somewhere else.
I recommend using ExpressVPN because of its unparalleled unblocking capabilities, excellent speeds, and server infrastructure worldwide. This allows you to access all the sites you want, so you can enjoy all the content even while traveling.
Additionally, ExpressVPN is backed by a 30-day money-back guarantee, so you can see for yourself how well it works, completely risk-free.
To summarize, the best VPNs for bypassing geoblocks are…
Privacy Alert!
Your data is exposed to the websites you visit!
The information above can be used to track you, target you for ads, and monitor what you do online.
VPNs can help you hide this information from websites so that you are protected at all times. We recommend ExpressVPN — the #1 VPN out of over 350 providers we've tested. It has military-grade encryption and privacy features that will ensure your digital security, plus — it's currently offering 49% off.