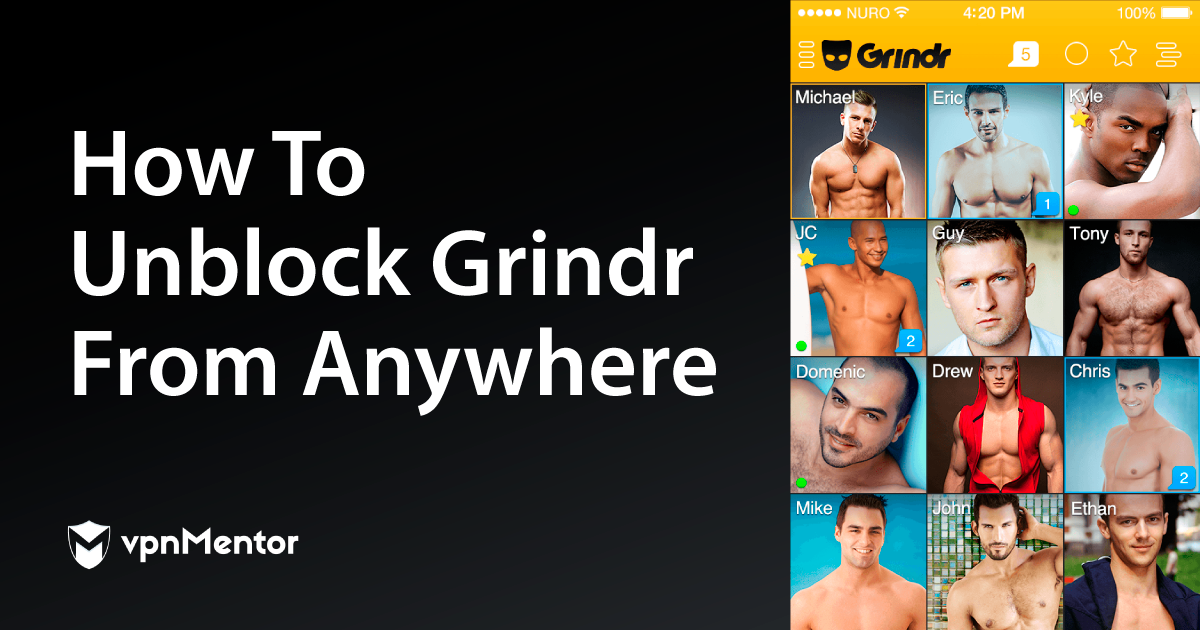 How to Unblock Grindr in 2023 — Works in Banned Regions
Updated on 23rd January 2023
Grindr makes it easy to meet new people. But unfortunately, some countries enforce laws that ban the app (and homosexuality) altogether. Even if you're just traveling and already have a Grindr account, these blocks can prevent you from using it.
A VPN can help overcome this. It's a simple app that makes Grindr think you're in a different location, so it won't block you. It also hides your activity from prying eyes, so you have privacy as you swipe right.
After testing 45+ VPNs with Grindr, my top recommendation is ExpressVPN. It protects your data with top-grade privacy features and offers a wide range of servers to easily overcome bans. You can test ExpressVPN risk-free since it offers a 30-day money-back guarantee. If you're not happy with it, you can easily get a refund.
Unblock Grindr With ExpressVPN
Important! The team at vpnMentor doesn't condone using a VPN to break the law but does believe every person should have access to a free internet. Accessing Grindr in a country where it's banned may lead to serious repercussions, although, there are no reports of tourists being persecuted. I recommend reading up on the country's laws and please make sure you're on the safe side.
Quick Guide: How to Unblock Grindr From Anywhere in 3 Easy Steps
Download a VPN. I recommend ExpressVPN for its strong privacy protection and extensive server network that lets you unblock Grindr anywhere. Plus, ExpressVPN comes with a solid 30-day money-back guarantee.
Connect to a server. Choose a server in a location where Grindr is available, like the US.
Start using Grindr. Create or access your Grindr profile and start making connections.
Why You Need a VPN to Unblock Grindr Safely
Grindr is banned and inaccessible in several countries where homosexuality is criminalized, including Turkey, Iran, Iraq, Egypt, and the UAE. This makes it impossible to use the app from these locations, even if you're just a tourist.
A VPN masks your IP and connects you with a new one, so it looks like you're using Grindr from another location. This way, you won't be blocked from the app if you visit a location where it's banned. Don't worry, since Grindr locates you through GPS, you'll still be able to connect with people locally while connected to the VPN.
VPNs also encrypt your data, so prying eyes (even your ISP) can't track your Grindr activities. Even in countries where Grindr is legal, it can present additional dangers. Dating apps are often targeted by hackers trying to obtain personal data, like your location and identity. However, a VPN can help prevent this.
Best VPNs to Unblock Grindr From Anywhere — Updated in January 2023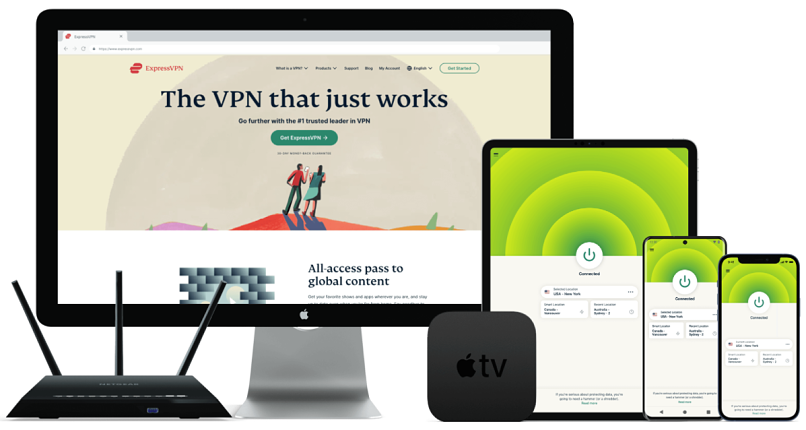 Editor's Choice
Editor's Choice

Tested January 2023
Try Risk-Free for 30 Days
Available on:
Chrome
Router
Smart TV
More
www.ExpressVPN.com
TrustedServer technology keeps your sensitive data secure
3,000 servers in 94 countries let you unblock Grindr from any region
5 simultaneous device connections
Works with: Grindr, Bumble, Tinder, Plenty of Fish, OkCupid, Hinge, Her, Scruff, Chappy, and more
Compatible with: Windows, Mac, iOS, Android, Linux, browsers, routers, and more
ExpressVPN's entire network offers obfuscation, so you can easily access Grindr. By scrambling your metadata, obfuscation disguises your VPN connection as regular traffic. This allows it to get past tough firewalls — it can even access Grindr in strictly-censored countries, like the UAE and China. I tested 3 US servers, 2 in the UK, and 2 in Australia on my Android tablet, and it unblocked Grindr with all of them.
It uses TrustedServer technology to safeguard your Grindr activities. These are RAM-based servers that wipe your data on every reboot. It couples this with a strict no-logs policy, that's been verified by a top security firm. As an added assurance, ExpressVPN is based in the British Virgin Islands, where there are zero data-retention laws.
ExpressVPN's security features ensure your personal data and location aren't exposed. This includes 256-bit encryption — plus DNS/IP leak protection and a kill switch as backup in case you run into connectivity issues. I tested 4 servers for IP leaks, and there were none. This way, you know no one can see your online movements or personal data.
The only drawback is ExpressVPN's relatively hefty price tag. The long-term plan is the cheapest overall, starting at $6.67/month. However, ExpressVPN usually offers money-saving coupons. For instance, I got 49% off when I signed up, making it more affordable.
Since it offers a 30-day money-back guarantee, you can try ExpressVPN out with Grindr risk-free. If you find that it isn't for you, it's easy to get a refund. I tested out its refund policy after using the VPN for 2 weeks. Within a few minutes of reaching out to the 24/7 live chat, my request was approved. I received my money back in my bank in 3 days.
Unblock Grindr With ExpressVPN
NoSpy servers and DNS/IP leak protection ensure your data is protected while using Grindr
9,758 servers in 91 countries let you choose your preferred region
7 simultaneous device connections
Works with: Grindr, Bumble, Tinder, Plenty of Fish, OkCupid, Hinge, Her, Scruff, Chappy, and more
Compatible with: Windows, Mac, iOS, Android, Linux, browsers, routers, and more
CyberGhost's proprietary NoSpy servers ensure that you're safe while using Grindr. These are located in Romania, which is outside of the 5, 9, and 14 Eyes jurisdiction. Only CyberGhost has access to them. All of its servers are RAM-based, and it has a strict no-logs policy, 256-bit encryption, and leak protection so you know there's no record of your online activity.
Its worldwide server network makes it easy to find a connection that unblocks Grindr. I tested 8 servers between the US, Spain, and the UK — each one let me access the app and gave me good speeds. Both the desktop and mobile apps connected quickly (in less than 10 seconds), so you can quickly get back to browsing profiles.
CyberGhost also features automatic WiFi protection, which is perfect for securing you while traveling. With this enabled, it auto-connects whenever it detects a new public WiFi connection, so you're always using Grindr privately. The apps are easy to navigate and set up, so you can customize your preferences without hassle. It even offers a Block Content feature to prevent malicious ads from infecting your device.
A slight issue is that CyberGhost doesn't work reliably in China or other countries with strict censorship laws. However, CyberGhost is still a great option to add a layer of privacy and bypass less serious Grindr blocks (like at work or school).
You can get CyberGhost for just $2.19/month with a long-term subscription. There are also short-term plans available, but they are more expensive and only include a 14-day refund period.
However, CyberGhost comes with a 45-day money-back guarantee with its long-term plan. I tested its refund policy by reaching out to customer service via 24/7 live chat after testing for 3 weeks. I just had to answer a few short questions, and they were quick to process my refund — the money was returned to my bank account in 5 days.
Unblock Grindr With CyberGhost
MACE ad-blocker and firewall protect you while browsing Grindr
An extensive network of speedy servers lets you access Grindr from any location
10 simultaneous device connections
Can unblock: Grindr, Bumble, Tinder, Plenty of Fish, OkCupid, Hinge, Her, Scruff, Chappy, and more
Compatible with: Windows, Mac, iOS, Android, Linux, browsers, routers, and more
Private Internet Access offers MACE to block ads and malware on Grindr. The free version of Grindr is notorious for pop-up ads, but MACE blocks them entirely. It also protects you from ads containing malware or phishing scams. I tested this with my Android tablet and didn't face any annoying ads, even in my other apps.
You can unblock Grindr with PIA's network of 29,650 servers in 84 locations. With so many servers, you always have alternatives to choose from in case a server is slow or blocked. I tested 6 of its servers (in the US, Canada, and Germany), and could browse profiles, read messages, and edit my Grindr profile with ease.
PIA is also strong on the security front, offering 256-bit encryption, obfuscation, and firewall-based DNS/IP leak protection. Its kill switch is even customizable — the "Advanced" option protects you from leaks even when you're not connected to a VPN. This way, you know your Grindr activity won't be exposed to third parties.
It may be a privacy concern to some that PIA is headquartered in the US, since this country is one of the founding members of the 5/9/14 Eyes alliance. However, PIA has a no-logs policy that has been proven in court multiple times, so rest assured your data will stay private.
There are multiple plans, including short-term and long-term. Each plan offers the same features, but the best value is the long-term plan. With this, you can sign up for just $2.19/month. When I subscribed, I got a discount of 83% as well as one free year of encrypted cloud storage, so it was well worth it.
You can test Private Internet Access risk-free with its 30-day money-back guarantee. If you're not totally happy with it, it's no hassle to get a refund. When I tested this, I used the 24/7 live chat, and the agent processed my request after a couple of quick questions. Within 6 days, the money was returned to my bank account.
How to Download and Sign Up for Grindr With a VPN
This method works as long as the Grindr app is available in your local app store. If you're in a location where Grindr is unavailable, the app won't show up in your app store. In that case, follow the next set of instructions for changing your app store region.
However, if the Grindr app is available in your region, take these steps to download it privately:
Download a VPN. I recommend ExpressVPN as it unblocks Grindr without hesitation while keeping your sensitive information secure.
Connect to a server. Use a VPN server in your home country, or anywhere Grindr is available (like the US).
Download Grindr. Go to the app store on your device, search for "Grindr", and click "Install". If the app doesn't show up, you can use the guides below to access it.
Create an account. If you already have one, simply sign in. Otherwise, fill in your name, email address, and phone number. You can also log in with a Facebook/Google account or Apple ID.
Start using Grindr. Connect with people in your area. You can sign up for Grindr's premium subscriptions (Xtra or Unlimited) using a credit card, or a prepaid gift card for added privacy.
Pro tip: While a VPN does prevent prying eyes from seeing that you're accessing Grindr, your personal details can still be compromised if Grindr gets hacked. To avoid this, I recommend using a pseudonym and a secondary email address while signing up.
How to Change Your App Store Region to Download Grindr
The following steps will help you download the Grindr app if it's not available in your app store. Regardless of the device, you'll need a reputable VPN to help you get past geoblocks.
If you want, you can also use Grindr on your Windows or Mac device by downloading an Android or iOS emulator and following the steps below. I recommend BlueStacks (Android emulator) and Corellium (iOS emulator).
I used ExpressVPN while testing these methods — it provides enhanced privacy features and reliable unblocking abilities, so you can download Grindr safely and easily.
On iOS:
Connect to a VPN server. I used one of ExpressVPN's US connections since I know the app is available there.
Create a new Apple profile. Head to the US Apple sign-in page and click "Create Apple ID".
Enter your details. When prompted, select the US as your country of residence. When you're asked for your phone number, use your real number and area code — this won't affect your place of residence.
Provide the verification code. Apple will send you this through email and text message. Enter it in to verify your new account.
Log into your new account. Head to Settings and Click Apple ID > iTunes and App Store. Then, log out of your existing Apple account and back in with your new one.
Search "Grindr" in the App Store. Then click Get > Review so you can read the Terms and Conditions. Click "Agree" when you're ready, then "Next". Sign in with your new Apple ID if prompted.
Choose "None" for Payment Methods. Grindr is a free app. However, if you wish to pay for its premium features, you can pay for it with gift cards or make a purchase with your credit card.
Enter an address. I used the address of a US hotel here. Click "Continue" and download the app.
Use Grindr. You can now use the app to make new connections in your area.
On Android:
Connect to a VPN. I used ExpressVPN's New York server since Grindr is accessible in the US.
Open Google Play Store. Head to the Google Play Store > Click on your username in the top right.
Add another account. Select "Add Another Account" and click "Create Account". Follow the steps and provide your personal credentials whenever prompted. Remember to choose your location as the US.
Use Grindr. Look up "Grindr" on the Play Store search bar and hit install. When the installation is done, you're ready to use Grindr.
Unblock Grindr With ExpressVPN
FAQs on Unblocking Grindr With a VPN
Why does Grindr ban accounts?
Grindr bans accounts that violate their Terms of Service or Community Guidelines. This includes criminal activity such as selling drugs, solicitation, harassment, hate speech, nudity, and so on.
This ban is often automated but also reviewed manually. It's different from a country-wide ban, such as those employed by Turkey, Pakistan, or Dubai. A VPN can help you access your Grindr account in locations where it's banned, but it won't restore a banned account. Grindr bans can be temporary or permanent, depending on the severity of the violation. In some cases, you can get unblocked on Grindr by sending an appeal.
Does Grindr encrypt my private messages?
Yes, but it may collect and store messages, audio, and photos. Its privacy policy clearly states this. Using a screen name, a secondary email, and a VPN can help keep you safe while using Grindr. This way, you're reducing the amount of personal data they have access to.
To be on the safe side, you shouldn't send anything that you don't want to be recorded and potentially exposed in the event of a hack.
What do I do if my VPN isn't working with Grindr?
If your VPN isn't working with Grindr, try these troubleshooting tips to fix it:
Changing servers. It's possible that the server you're connected to is currently blocked. Most reputable VPNs offer large enough server networks that you'll have plenty of alternatives that should work instead.
Use obfuscation. Highly secure VPNs (like ExpressVPN) have advanced security features like obfuscated servers, which make your encrypted internet traffic look like regular traffic. This allows the VPN to work in strict countries like China, or to bypass firewalls set by school or work networks.
Choose a reliable VPN. Not all VPNs test their servers regularly to ensure they bypass all types of blocks. So if you've tried everything and your VPN won't work with Grindr, you may need to consider trying a more reliable VPN.
Is using a VPN to access Grindr illegal?
No, but there's more to it. While it's completely legal to use Grindr with a VPN in most countries, it's against the law in others. Certain governments enforce strict laws against homosexuality and as a result, ban Grindr completely. In most cases, these countries also ban VPNs to prevent people from accessing censored content.
While the team at vpnMentor believes everyone has the right to internet freedom, we don't want anyone to get in trouble for using a VPN where it could be illegal to do so. So we recommend you read up on local laws to inform yourself.
Unblock Grindr With ExpressVPN
Unblock Grindr Now
Due to censorship, Grindr is blocked in a number of countries. This can make it difficult to meet new people or keep your connections while you travel. However, a highly secure VPN can help you unblock Grindr safely and privately.
I recommend ExpressVPN for its large server network and robust security features to access Grindr privately. You can test it out with Grindr risk-free since it comes with a 30-day money-back guarantee. If you feel like it isn't for you, you can claim a refund without hassle.
To summarize, the best VPNs to unblock Grindr are…
Privacy Alert!
Your data is exposed to the websites you visit!
The information above can be used to track you, target you for ads, and monitor what you do online.
VPNs can help you hide this information from websites so that you are protected at all times. We recommend ExpressVPN — the #1 VPN out of over 350 providers we've tested. It has military-grade encryption and privacy features that will ensure your digital security, plus — it's currently offering 49% off.