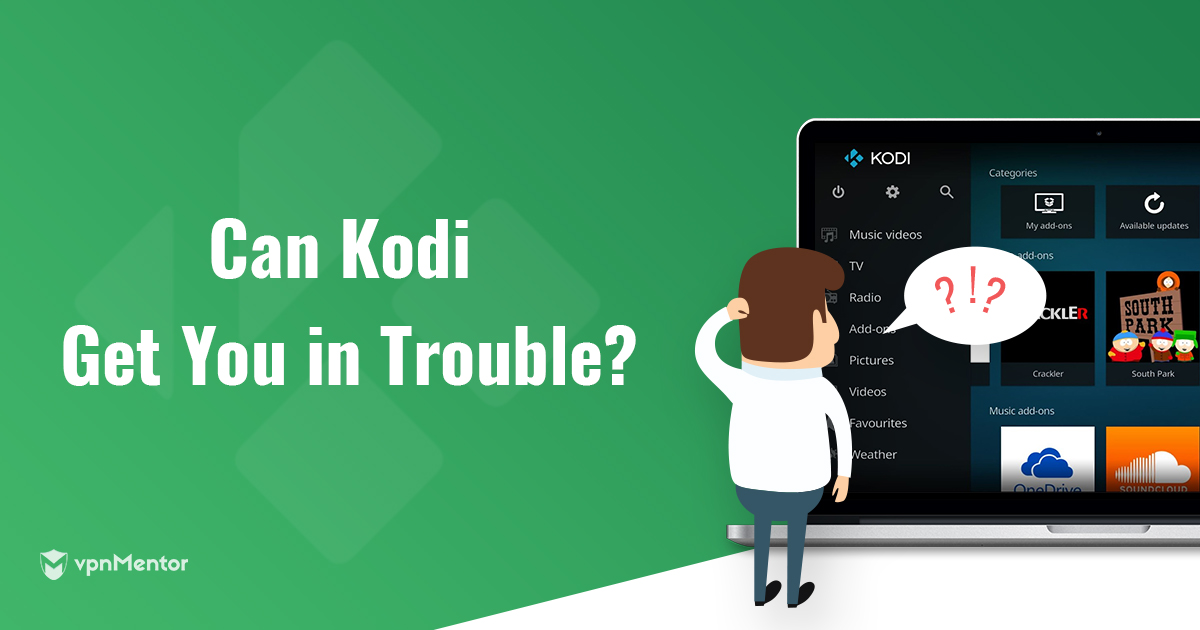 Is Kodi Legal and Safe to Use? Here's How to Use It With a VPN
Kodi instantly turns your favorite devices into a media center, but it doesn't come without risks. Using 3rd party add-ons, including pre-loaded TV boxes and Fire Sticks, exposes you to multiple legal and cyber threats. While some add-ons are perfectly safe, some host pirated content and you could get into legal trouble for using them. And since Kodi isn't regulated, you never know whether malicious files might be embedded in a 3rd party add-on.
The best way to protect yourself on Kodi is with a VPN. A VPN is a simple app that hides your online activity, so even if you accidentally use an add-on that hosts illegal content, you'll be protected. Some VPNs even come with built-in malware blockers that can prevent your devices from becoming infected.
After testing 40+ VPNs, I recommend ExpressVPN. It comes with superfast speeds to improve your streaming quality and bank-grade security, ensuring you are safe while using Kodi. You can try ExpressVPN risk-free. It comes with a 30-day money-back guarantee, so if you find you don't like it for any reason, you can get a full refund.
Important! Note that Kodi is completely legal. However, using 3rd party add-ons to watch copyrighted content is not. My team and I don't condone illegal streaming, so be sure to thoroughly check all Kodi add-ons and their content to ensure it fully adheres to the law of your country.
Quick Guide: How to Safely Use Kodi With a VPN in 3 Easy Steps
Get a VPN. I recommend ExpressVPN for its fantastic speeds and world-class security features that keep you safe on the Kodi network.
Connect to a server. Once the VPN is connected to a server on the device of your choice, you will be fully protected as you watch.
Start streaming on Kodi! That's it — you can safely use Kodi.
Is Kodi Legal? Is it Safe to Use?
Kodi is completely legal, and it comes with a vast range of fully lawful add-ons. You can stream Netflix and Amazon Prime via the PlayOn Browser and get access to huge catalogs of movies and shows with FilmRise, Big Star Movies, and USTVNow. There is a wide range of free legal add-ons, including YouTube, Crackle, SoundCloud, Vimeo, Dailymotion, and BBC iPlayer. You can use it with all major device platforms, including Windows, macOS, iOS, Android, and Linux. Keep in mind, however, that pre-loaded Kodi boxes are illegal. Using and distributing them can get you in legal trouble.
The difficulty is that there are several illegal add-ons available that are almost indecipherable from the official releases, which can get you into a lot of trouble. Downloading and streaming copyrighted content is illegal in most countries and can cost you dearly in fines and even criminal charges.
To keep yourself safe when you watch Kodi, always double-check the add-ons before you choose them, and connect to a quality VPN such as ExpressVPN.
Why You Need to Use Kodi With a VPN
When you use Kodi, it can be difficult to tell which add-ons are legal and which are not. It's also hard to tell which may have malware and other malicious software attached. Since it's an open-source project, anyone can create and distribute add-ons without a central entity to regulate them.
The types of threats Kodi add-ons may expose you to are:
MITM attacks — This stands for Man-in-the-Middle attacks, whereby a hacker infiltrates the connection to your Kodi account. This may give them access to your personal information, such as payment details.
DDoS attacks — A DDoS attack floods a server with malicious traffic, forcing you out of the application. Hackers can find backdoors to your system when this happens and access your private data.
Hacks and Scams — Popular open-source platforms attract hackers because it's so easy for them to introduce malicious coding into the add-ons. There are even dangers associated with using subtitles, as some hackers have devised a way to take control of your Kodi devices by manipulating 3rd party subtitle repositories. Using pre-loaded Android boxes and FireSticks can put you at additional risk, as they are often crammed with damaged and unsafe add-ons.
ISP Monitoring — When you don't use a VPN, your ISP can see everything you do online. If you accidentally stream movies with an unofficial streaming add-on, you may receive a fine if your ISP reports your activity.
Because of this, I highly recommend using a VPN while you stream with Kodi. A VPN routes your connection through its servers instead of your home network, hiding your information. It also uses military-grade encryption, which makes your data impossible to decipher.
While a VPN will protect you from the dangers associated with illegal add-ons, always be sure to check the add-on you want to use before you select it and only use those that are legal.
Best VPNs for Kodi — Updated in February 2023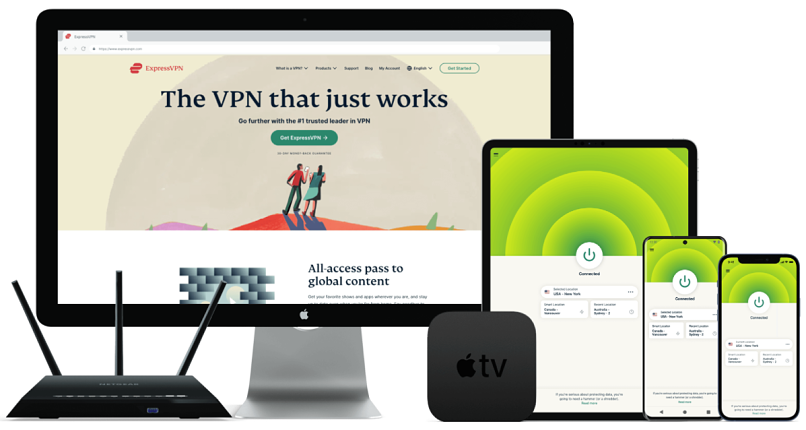 Editor's Choice
Editor's Choice

Tested February 2023
Try Risk-Free for 30 Days
Can access:
Netflix
Disney+
APV
HBO Max
Hulu
BBC iPlayer
Sky
More
www.ExpressVPN.com
Excellent speeds
3,000 servers in 94 countries
5 simultaneous device connections
Works with: Kodi, Netflix, BBC iPlayer, Crunchyroll, Prime Video, Fubo, and more
Compatible with: Windows, Mac, Linux, Android, iOS, smart TVs, routers, gaming consoles, and more
ExpressVPN has ultra-fast speeds, which makes it perfect for streaming movies without any buffering. During my tests, I had speeds of around 50 Mbps, which is twice the amount you need to stream in 4K quality. Considering I was connected to a server that's thousands of miles away from me, this was impressive. You'll be able to watch all your favorite shows and movies on Kodi without lag ruining your experience.
It has an extensive server network, allowing you to watch your favorite titles from anywhere. There are multiple servers in each location, so you don't have to worry about low performance or disconnects. If the server you need isn't working for any reason, you can quickly switch to another. Plus, its SmartLocation feature can connect you to the best-performing server immediately if you don't have a location preference.
I found it easy to install ExpressVPN on my router, so I could also watch Kodi on my smart TV. I followed the instructions on its website, and I had it up and running in under 10 minutes. This means that you can watch Kodi on any WiFi-enabled device, even if it doesn't usually support VPNs.
Thanks to ExpressVPN's world-class security features, you don't need to worry about malware, DDoS attacks, or hackers. It has 256-bit encryption, a kill switch, and secure protocols to keep your devices and data safe from cyberattacks. I tested it for DNS and IP leaks, and my data was protected at all times. This means that you can use Kodi add-ons without having to worry about hackers, trackers, and malware.
One downside is that ExpressVPN is a bit pricey — its prices start at $6.67/month. However, when I signed up, I got a special offer of 49% off the price. Plus, I got 3 whole months of free service thrown in.
You can try ExpressVPN out risk-free. If you're not completely happy with it, you can get a full refund since it's backed by a 30-day money-back guarantee. The refund process is quick, and its customer support is friendly. I spoke to one of the reps via live chat and let them know I wanted to cancel on day 28. They asked why I wanted to cancel and if there was anything they could do to help, but soon approved my refund. My money was back in my account within 3 working days.
9,753 servers in 91 countries
Fast speeds
7 simultaneous device connections
Works with: Kodi, Netflix, BBC iPlayer, Crunchyroll, Prime Video, Fubo, and more
Compatible with: Windows, Mac, Linux, Android, iOS, routers, and more
CyberGhost's streaming-optimized servers always connect you to the correct location for Kodi. It was simple to navigate the server menu during my tests, and I was connected to fast, secure servers in no time. Because this VPN chooses the best option for you, you can keep on watching your favorite shows without having to worry about interrupted streams, lag, or buffering.
Like ExpressVPN, the server network is vast, allowing you to access geoblocked content from anywhere. During my tests on its US locations, I successfully accessed US Netflix, Hulu, and Disney+ through Kodi, and I didn't experience any issues. The platforms didn't identify the VPN, so I could watch Criminal Minds and Supernatural even though they're not normally available where I am.
This VPN has top security to protect you from any malicious 3rd party Kodi add-ons. Features include 256-bit encryption, kill switch technology, and protection against DDoS attacks. CyberGhost's servers use robust protocols which are both fast and secure. You can set it up on your home router, so you're always protected, no matter which device you choose to stream Kodi with.
There's one slight downside to this VPN: the expensive monthly plan. However, you can get a long-term plan for only $2.19/month, which is excellent considering all the premium features you get with CyberGhost.
Try CyberGhost by using its money-back guarantee. If you don't like it, you can cancel before the generous 45 days are up and get a full refund. I asked the customer support rep to cancel my auto-renewal and give me a refund to test this promise. They asked why I wasn't happy with the VPN but didn't try to make me stay — all it took was a 5-minute chat, and my request was approved. I got my money back in my account 4 days later.
29,650 servers in 84 countries
Fast speeds
10 devices per subscription
Works with: Kodi, Netflix, BBC iPlayer, Crunchyroll, Prime Video, Fubo, and more
Compatible with: Windows, Mac, Linux, Android, iOS, routers, and more
Private Internet Access (PIA) has a huge server network that gives you reliable connections for streaming with Kodi. Thanks to its hundreds of locations around the globe, you'll be able to watch shows and movies no matter where you are. I tested both local and distance servers and was impressed with the fast connections. The servers offer stable connections, so you don't have to worry about frustrating disconnects while you stream.
This VPN gives full protection against malware, trackers, DDoS attacks, and other malicious activity. Like CyberGhost, its servers have military-grade encryption, a kill switch, and modern protocols to ensure your IP is protected while you use Kodi. I checked for DNS/IP leaks and found that my information was kept completely private. You get 10 simultaneous device connections under one subscription so that you can watch Kodi securely with all your favorite devices.
There is one downside to PIA — it's located in the US, where data sharing laws are very strict. This means that the VPN is obligated to hand over user information in the event the government requests it. However, PIA has a solid no-logs policy, so there would probably be nothing to show if it was asked to present information about your activities.
You can get PIA for only $2.19/month with its latest discounts. All its plans offer the same features, but I found the long-term plans to have the best value.
PIA also offers a 30-day money-back guarantee, allowing you to test it for free. Canceling the subscription was pain-free. I messaged the support team and asked for a refund. The agent asked why I wanted to leave and offered me a better deal, but he eventually approved my request. I had my money back within a week.
The Ultimate Guide:
How to Install and Use Kodi With a VPN
There are 2 ways to install and use Kodi with a VPN.
Use a VPN App
This is the most straightforward way to use Kodi with a VPN, and it only takes a few minutes to get it up and running. However, you can only use it on devices that have native support for VPN apps. If your smart TV or gaming console doesn't support VPNs, I recommend choosing the second method below.
Download a VPN. Just go to the website, install the VPN, or get the app directly from Google Play or Apple Store. I recommend ExpressVPN because it's perfect for streaming and compatible with all major devices.
Log in to the VPN. Once it's all installed, simply log in using your user credentials and bring up the VPN interface. There, you'll be able to choose your desired server location.
Connect to a server. My recommended VPNs have accessible apps that make connecting to a server simple. Usually, all it takes is the click of a button.
Go to Kodi and start watching. Once you are connected to a VPN server, your device is fully covered and has the great speeds and security you need for streaming on Kodi.
Configure the VPN on Your Router
This is a more complicated way to get a VPN for Kodi, but it also lets you use the VPN on devices that aren't normally compatible, such as games consoles and smart TVs. To set it up, you need to:
Get a VPN. Make sure the one you choose has the option for router configuration. ExpressVPN is my favorite choice for Kodi because of its fast speeds and extensive router compatibility.
Go to the router configuration guide. You'll find this on the VPN's website. Simply search for "Router," and the guide will appear.
Follow the steps. The guide will take you step-by-step through the process of configuring the VPN to your router. It can seem a little complicated, but if you follow each step, you should have your VPN hooked up to your router and running within around ten to fifteen minutes.
Connect your device to the router. Open the network settings on your device and connect to the router.
Bring up Kodi and start watching! That's it — you can enjoy all your favorite shows and movies with Kodi.
Tips on How to Choose a VPN for Kodi
When I'm choosing the right VPN for watching Kodi, I look at the following areas:
Lightning-fast speeds — Fast servers mean that you don't have to worry about frustrating interruptions caused by buffering or lag. A superfast download speed also allows you to watch in 4k.
Huge server network — The best VPNs have huge server networks that cover multiple countries across the globe. You'll also find numerous servers in each location, reducing congestion and maintaining steady connections no matter where you are in the world.
High-class security features — Because of the risk of malware and other cybersecurity issues associated with Kodi add-ons, you need to use a VPN with top-class security measures. All of the VPNs I shortlisted come with military-grade encryption, up-to-date protocols, and extra features like a kill switch, which cuts your internet connection if your VPN malfunctions.
No-logs policy — Good VPNs respect user privacy and don't keep tabs on the websites you're accessing while using the VPN. A no-logs policy ensures that not only is the provider not monitoring your daily activities, it also doesn't keep any of your personal information, such as your IP address. If you accidentally download copyrighted content, a solid no-log policy stops the activity being traced back to you.
Multi-device compatibility — The great thing about Kodi is that it turns all of your devices into a media player, so you need a VPN that can match its compatibility. The top VPNs aren't just compatible with all the major platforms such as Mac, iOS, Android, and Windows — they can also be configured to your router, so you can set them up on smart TVs and games consoles too.
Use Kodi With ExpressVPN Today!
FAQs on Using Kodi with a VPN
Can I use Kodi on my smart TV?
Yes, you can use Kodi on your smart TV, but you still need a VPN to secure your connection. The VPNs I shortlisted are compatible with smart TVs, so you'll be able to set it up in no time.
Is Kodi safe to use?
Kodi is completely safe — the problem is with its third-party add-ons. Since Kodi is an open-source project, anyone can create add-ons for it. However, this doesn't mean that all of them are legal and secure. A VPN will keep your personal information safe from prying eyes, stop malware and DDoS attacks, and will give you better speeds for streaming without interruptions.
Can I use a free VPN with Kodi?
You could, but I don't recommend it. Free VPNs don't give you the protection and privacy that top VPNs give you as standard. You may be exposed to all kinds of malicious software that a VPN should protect you from and make yourself vulnerable to legal issues should you accidentally download copyrighted content.
Start Using Kodi Today!
You don't have to be afraid of malicious add-ons when you use Kodi, so long as you have a great-quality VPN. A VPN will stop malware in its tracks and keep your information private if you accidentally download copyrighted material.
The VPN I recommend for Kodi is ExpressVPN. It has superfast speeds, a huge network of servers, and military-grade security, so your devices and identity will be protected. You can give ExpressVPN a try risk-free. It comes with a 30-day money-back guarantee, so if you decide it's not right for you within that time, you can get a full refund.
To summarize, the best VPNs for Kodi are…
Privacy Alert!
Your data is exposed to the websites you visit!
The information above can be used to track you, target you for ads, and monitor what you do online.
VPNs can help you hide this information from websites so that you are protected at all times. We recommend ExpressVPN — the #1 VPN out of over 350 providers we've tested. It has military-grade encryption and privacy features that will ensure your digital security, plus — it's currently offering 49% off.