12 Best Torrent Sites for February 2023 That Are Safe and Working
Updated on 31st January 2023
Finding a working torrent site is not only tricky but can also be dangerous. Even the most reputable torrent sites sometimes get taken down for copyright infringement. Plus, searching for a working site via Google often displays fake sites containing dodgy links and irritating ads instead of the actual torrent site.
My team and I tested 50+ torrent sites and shortlisted the top 12 that still work and have good, longstanding reputations. Plus, each one verifies torrents for added safety. That said, even my recommended sites aren't immune to the occasional hacker or malicious link, so I recommend using a powerful VPN for safe torrenting.
A VPN hides your IP address with military-grade encryption to keep you safe and anonymous. My favorite is ExpressVPN because of its robust security features and fast speeds for torrenting. It's also backed by a money-back guarantee so you can test it risk-free. If you're not impressed, you have 30 days to claim a full refund.
Important! Torrenting itself is not illegal in most countries, but the file you torrent MAY be if it is still under copyright. My team and I don't condone illegal torrenting, so be sure to check the rules and regulations in your country before you download anything that might be protected under copyright.
The Best Torrent Sites That Still Work in February 2023
1. The Pirate Bay — The Most Well-Established Torrent Site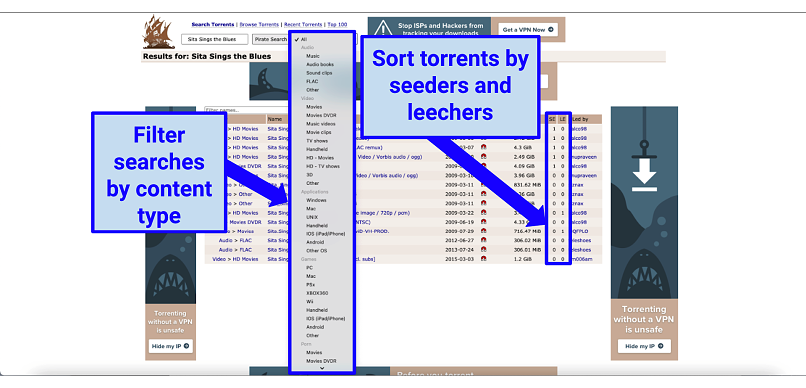 Year founded: 2003
Mirror sites/alternate URLs: thepiratebay.org, tpbpirateproxy.org, proxybay.xyz, thepirate-bay.org, thepiratebay10.org
Banned locations: United Kingdom, Spain, Portugal, Greece, Singapore, Brazil, Argentina, Netherlands, Malaysia, Australia, Austria, Norway, Finland, Sweden, China, Denmark, France, Iceland, Italy, India, Qatar, Saudi Arabia, Indonesia, Iran, Ireland, Kuwait, Russia, Sri Lanka, Germany, Turkey, United Arab Emirates, Romania, and Belgium
Instant download support: Yes
The Pirate Bay is one of the best-known torrent sites globally, with up to 60 million visitors a month. It is available in 35 different languages, and has held the title for the world's best torrent site since 2018. Even though it was temporarily shut down in early 2020, it's still thriving and has avoided numerous takedown attempts over the years. The exact number of torrenting files on the site is estimated to be in the millions.
What I liked most about The Pirate Bay was the site's focus on safety. It verifies uploaders and indicates whether torrents are trustworthy or not. While you can't guarantee protection from malware and spyware, this verification reduces the likelihood of infection. I also liked its filtering system, too, where I could specify torrents by file format, quality, and console. This saved me a lot of time when searching for Sita Sings the Blues.
Another benefit is that most torrents have at least a few seeders for faster downloads due to the large community (including even old and obscure torrents). In addition, The Pirate Bay has a simple, easy-to-navigate interface. When I searched for a torrent, I could filter my searches by file format, quality, and gaming console (for games), which meant that I didn't need to assess each torrent individually to find the right one.
A minor con of The Pirate Bay is that it displays a few ads on the site. But you can always use a trusted ad blocker, or even better, protect yourself while downloading torrents with a VPN that comes with an ad blocker built in.
2. 1337x — Huge Torrent Library With Great Variety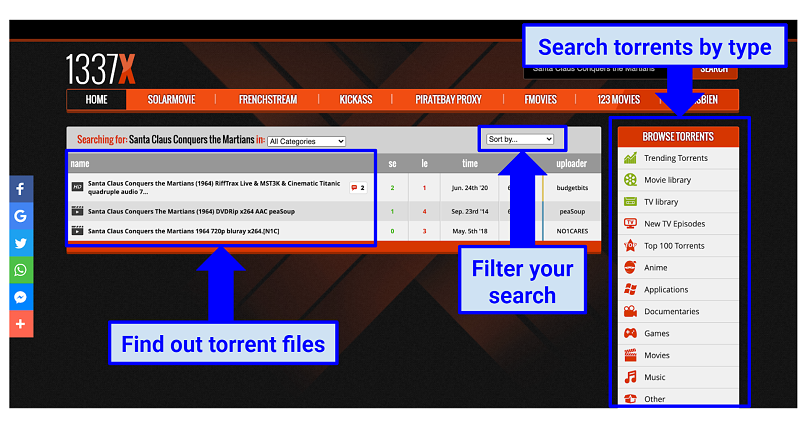 Year founded: 2007
Mirror sites/alternate URLs: 1337x.st, x1337x.se, x1337x.ws, 1337x.to, x1337x.eu, 1337x.unblockit.app, 1337x.unblockninja.com
Banned locations: The UK, Bulgaria, Brazil, Portugal, Italy, Denmark, Romania, Morocco, Turkey, Saudi Arabia, Qatar, Pakistan, India, Belgium, Greece, Iran, Australia, Indonesia, Finland, China, Oman, United Arab Emirates, Ireland, Spain Norway, and Russia
Instant download support: Yes
1337x is a well-known torrent website with over 53 million monthly visitors and a vast selection of high-quality torrents. Most of its torrents are movies, TV shows, and music, although it has several games as well. It has been around for a long time and its community is very active, meaning that its torrents are regularly updated every few hours.
I found its user interface is simple and informative, as it includes the technical details of each torrent and other useful information. For example, it'll display whether a show or movie has been nominated for an award or not, and the number of times it's been downloaded (this can tell you whether it's a good quality torrent or not). This is a massive improvement compared to a few years ago when the user interface was slow and clunky.
1337x has very few ads and it shows some dedication to protecting your privacy — it only makes money through Bitcoin donations, for example.
That being said, it can only do so much to protect you — you're still at risk of third parties spying on your online activity when browsing any torrenting site. A VPN will add another layer of security by hiding your IP address and encrypting your traffic, so your online movements remain anonymous.
3. RARBG — Verifies All Torrents to Ensure High Quality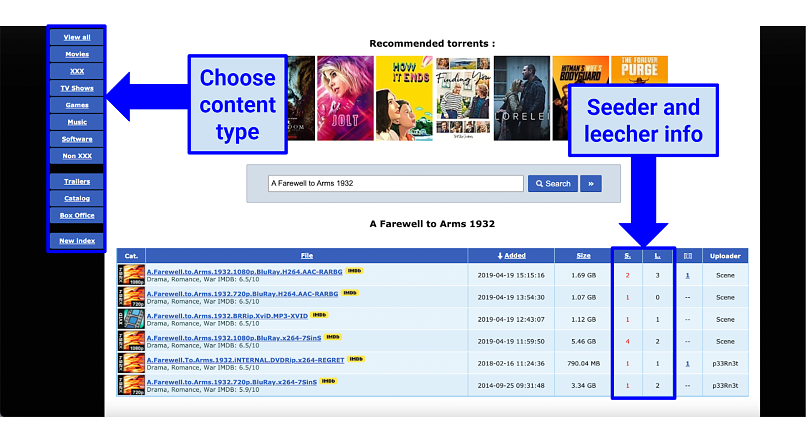 Year founded: 2008
Mirror sites/alternate URLs: rarbgprx.org/index70.php, rarbgmirror.com, rarbgmirror.com/index70.php, rarbgmirror.org/index70.php, rarbgaccess.org/index70.php
Banned locations: The UK, Bulgaria, Brazil, Portugal, Italy, Denmark, Romania, Morocco, Turkey, Saudi Arabia, Qatar, Pakistan, India, Belgium, Greece, Iran, Australia, Indonesia, Finland, China, Oman, United Arab Emirates, and Ireland
Instant download support: Yes
RARBG is known for high-quality torrents, thanks to its group of moderators and active community. The site verifies each torrent that gets uploaded to weed out all the bad ones effectively. But this also means that its library is smaller than other sites, even though it gets updated regularly.
Thanks to its personalized user experience, I found it easy to find and assess torrents. Once I found a torrent, I could hover over the file to see some screenshots, album art, and posters that popped up. I could also filter torrents by size, date added, or the number of seeders and leechers by clicking on the respective icons in each category. Although it does have an unnecessary amount of pop-up ads, so it's a good idea to use an ad blocker. The easiest solution is to use a VPN with ad blockers built-in to protect your downloads and block all the ads at once.
The site also displays the top ten rankings for each category, and users can add reviews to torrents, too — so you know the files are legitimate. It also lets you use the site as a guest or as a registered member, which makes it a hybrid between a private and a public torrent site.
But since the site verifies all torrents, it has caught the attention of many authorities, which have tried to shut it down. Luckily, no attempts have succeeded.
4. YTS — Best Torrent Site for High-Quality Movies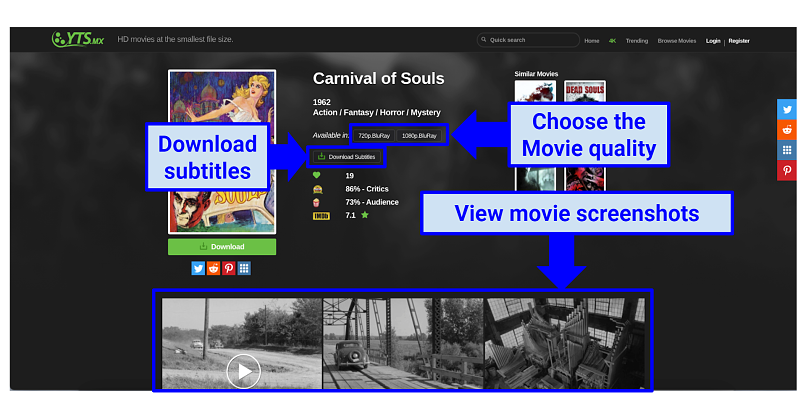 Year founded: 2011
Mirror sites/alternate URLs: yts.mx, yts.pm, yts.unblockit.app, yts.lt, yts.unblockit.buzz
Banned locations: The UK, Bulgaria, Brazil, Portugal, Italy, Denmark, Romania, Morocco, Turkey, Saudi Arabia, Qatar, Pakistan, India, Belgium, Greece, Iran, Australia, Indonesia, Finland, China, Oman, United Arab Emirates, Ireland, Spain Norway, and Russia
Instant download support: Yes
YTS (sometimes known as YIFY) is arguably the best torrent website for high-quality movies, with over 75 million users worldwide. The site contains almost 30,000 titles, many of which come with subtitles and are available in 1080p. Its files are small and don't compromise quality, so it's excellent for all bandwidth levels.
It also has a clear and simple interface that reminds me of Netflix. When I searched for the film Carnival of Souls, it provided the tech specs, synopsis, and IMBD ratings of the film, along with a list of similar films and film pictures. But the site has been the target of several copyright infringement lawsuits recently, which raises concerns.
Since YTS specializes in movies, it lacks other types of content, so you'll need to go elsewhere for music, games, or software. Also, it has annoying pop-up ads, which can jeopardize your privacy. However, the amount of ads has reduced over the years. If you would like to avoid ads altogether, I suggest using a reliable ad blocker. I use a VPN that comes with a built-in ad and malware blocker (CyberGhost). That way I don't have to endure the ads and I'm anonymous while downloading torrents at the same time.
5. Torrentz2 — Optimized Torrent Search Engine With a Focus on Music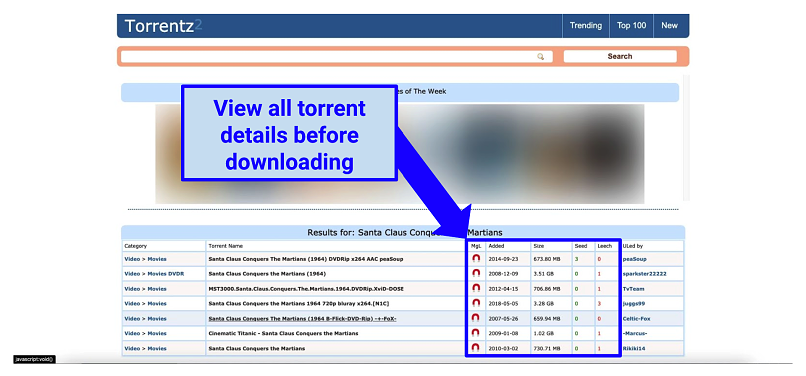 Year founded: 2016
Mirror sites/alternate URLs: torrentz2eu.org, utorrentz.in, 2torrentz2eu.in, sitenable.ch/o.php?u=http://torrentz2.eu
Banned Locations: India, United Kingdom, Canada, Italy, Denmark, The Netherlands, Finland, Ethiopia
Instant download support: No
Torrentz2 (formerly known as Torrentz) is a torrent search engine that uses your search query to index torrents from over 90 torrent download sites. From your search results, you can go to one of the sites to download your torrent by clicking on the magnet link. If your favorite torrent site doesn't have the file that you're looking for, then Torrentz2 is a great alternative.
Even though you can download all kinds of torrents on Torrentz2, it's mainly used for music. It gives you access to an extensive music library with an impressive choice of genres but isn't great for other media types. When I tested it, I had to spend a few minutes looking for the file I was after because the site lacks filtering options. However, you can filter torrents to see if they're verified or not, which is convenient.
Torrentz2 used to have a lot of pop-ups with fake and misleading links but, its most recent update has fixed a lot of bugs to make the site safer.
This offers a degree of protection, but your torrenting activity can still be exposed to prying eyes. However, a VPN will enhance your safety by encrypting and rerouting your traffic through a different IP address.
6. NYAA.si — Specialized Site for Asian Content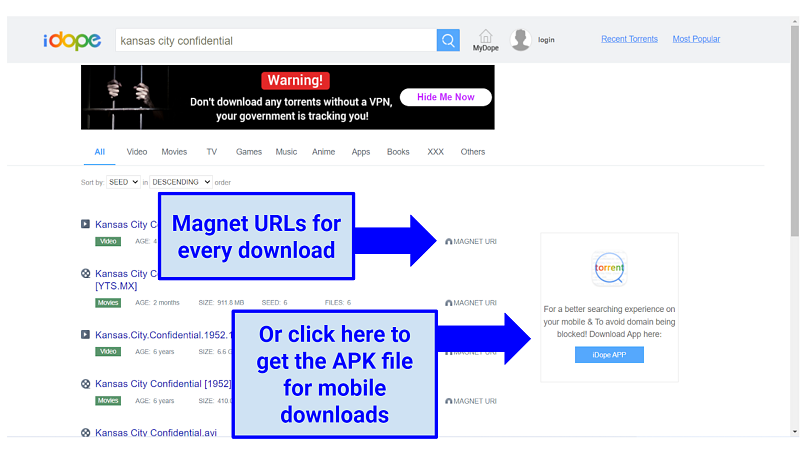 Year founded: 2005
Mirror sites/Alternate URLs: freeproxy.io/nyaa-proxy/, nya.iss.one/, freeproxy.io/o.php?u=https://nyaa.si/, freeanimesonline.com/o.php?u=https://nyaa.si/
Banned locations: The UK, US, Japan, South Korea, and Australia
Instant download support: Yes
NYAA.si is a specialist site for Asian content, particularly from Japan, China, and South Korea. Its main focus is on anime series, but I also found music and software. The site is a resurrection of the anime torrent site NYAA.
What I liked about NYAA.si is its simplistic interface, which makes it easy to access the files you're after. Just keep in mind that it's quite intrusive with its pop-up ads, so you might want to use an ad blocker, or a VPN that comes with an ad blocker built-in.
7. EZTV — Great Torrent Site for TV Shows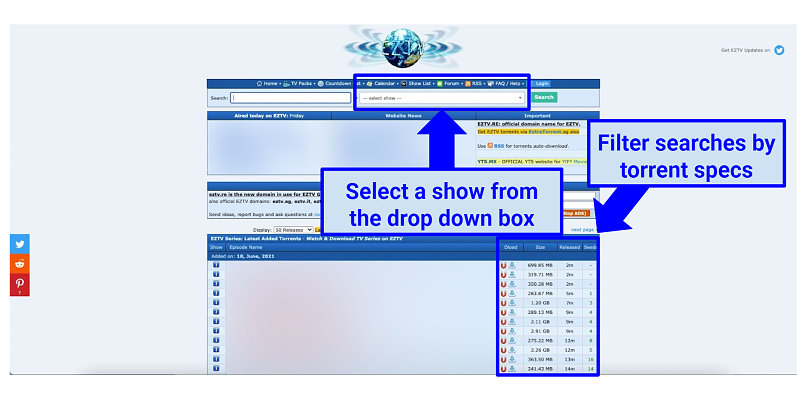 Year founded: 2015
Mirror sites/alternate URLs: eztv.unblockninja.com, eztv.unblockit.name, eztv.tf, eztv.yt, eztv.ag, eztv.re/
Banned Locations: Italy, the Netherlands, the UK, Ireland, Canada, the US, Argentina, Sweden, Bulgaria, Denmark, Indonesia, India, and Australia
Instant download support: Yes
EZTV is known for its selection of TV shows, which are in HD or 1080p. It may not have an extensive library like The Pirate Bay or 1337x, but that's what happens when you specialize in a particular type of content. It has a convenient "live countdown" list for new releases and a large collection of TV shows, with more old shows than new ones.
Just be aware that new releases tend to be under copyright, so downloading them is illegal and can land you in serious trouble. I strongly advise against it. EZTV also copies content from other torrent sites, which could get you in trouble unknowingly.
That being said, EZTV has a handy drop-down search box — no matter what I searched, I always got results. However, its interface is pretty old and unappealing, and the large number of ads were intrusive.
Also, I found it pretty annoying that you can't download full seasons in one go. You need to download episodes separately, which is very time-consuming. And if you're using a VPN for added security while you torrent, it might slow your downloads down even more. Luckily, I could download episodes at top speeds with ExpressVPN. It's lightning-fast, so I didn't notice any effect when I tested it with EZTV.
8. Limetorrents — Huge Torrent Library With Tons of Variety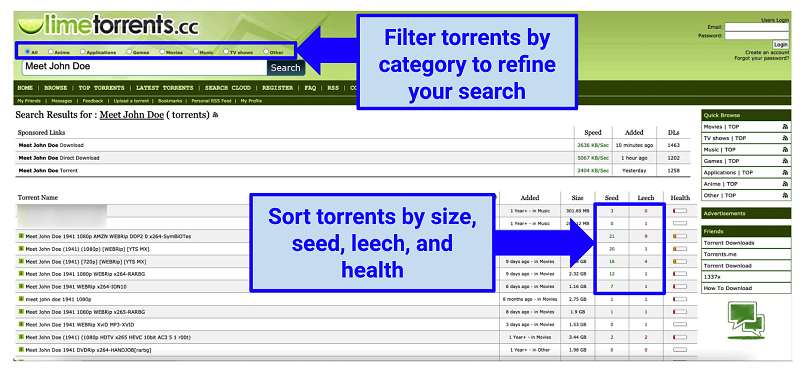 Year founded: 2009
Mirror sites/alternate URLs: limetorrents.co, limetorrents.asia, limetor.com, Limetorrents.info, limetor.pro
Banned Locations: India, France, Australia, the UK, Spain, the Netherlands, the US, Portugal, Denmark, the UAE
Instant download support: Yes
Limetorrents boasts a massive torrent library with over 10 million torrents across all media types, and attracts more than 20 million users every month. Searches on the site always yield plenty of results so you won't be disappointed. Its library is even larger than The Pirate Bay's library, which is very impressive.
You can download torrents of movies, games, music, apps, and TV shows, and the site shows the top 100 torrents available for each category. This top 100 list focuses on newer releases — which means most of them are under copyright and illegal to download — so be careful when using this list to make sure you're not breaking any laws.
Otherwise, Limetorrents has tons of other files which are in the public domain that you can download safely. I also found its interface to be sleek and visually pleasing and liked being able to filter torrents by their health or verification status.
But having millions of torrents has its drawbacks, as quite a lot of them are fake. Also, irritating ads are pretty common on the site.
9. Torlock — Good Site for Safe Torrent Downloads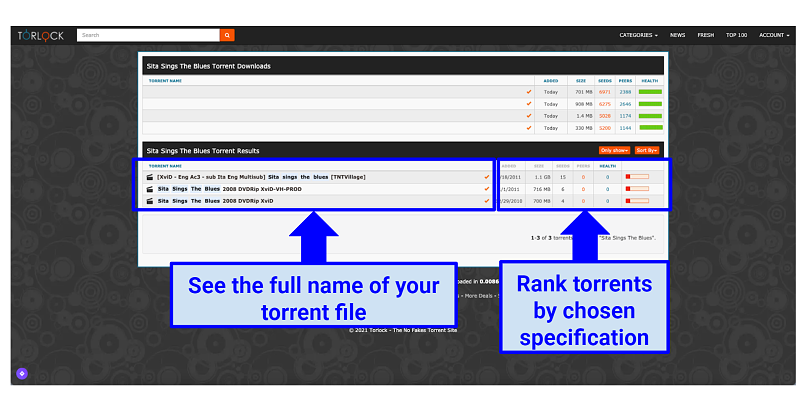 Year founded: 2010
Mirror sites/alternate URLs: torlock.unblockit.ist/, www.torlock2.com/
Banned locations: the UK, India, Finland, Australia, Italy, Denmark, the Netherlands, and Portugal
Instant download support: Yes
If you're concerned about downloading unsafe torrents, then consider using Torlock. The site pays its users $1 for every fake torrent reported, which shows its commitment to your safety. It's also one of the few torrent sites that still uses its.com domain name, which means it's well established. In particular, it has a lot of music, eBooks, and anime series in its library.
Its homepage displays the most recent and popular torrents for each category. However, new releases are usually under copyright, which means downloading them is illegal — so beware. I liked that the site also displays all the file specifications for each torrent, including the file size, upload date, seeders, and health. When you search for a torrent, the site will also display torrents containing all of your search terms.
10. IPTorrents — Private Torrent Site That's Safe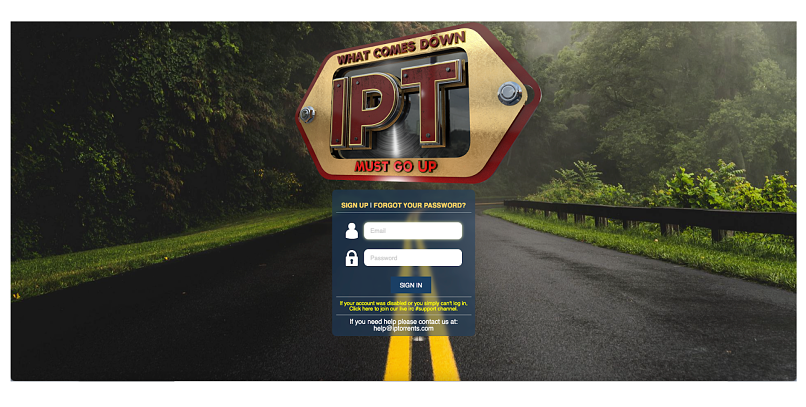 Year founded: Unknown
Mirror sites/alternate URLs: iptorrents.eu, iptorrents.me, ipt.lol, iptorrents.us, nemo.iptorrents.com
Banned locations: the UK, Australia, Norway
Instant download support: Yes
Unlike the other sites on this list, IPTorrents is a private torrent download site with over 7 million monthly visits. This means you can only use it if you get invited and make a donation. But once you're in, you'll get access to a big library and an active community — without any pop-up ads. It's also safer because it's much harder for people to spread spyware or malware since not just anyone can use it.
Another benefit of IPTorrents is that its download speeds tend to be faster because members need to comply with seeding quotas. Its only downside is that you'll need to pay a donation of $20 to get in, which is quite high. Without this donation, you won't be accepted.
11. Demonoid — Well-Established Torrent Site With Many Media Types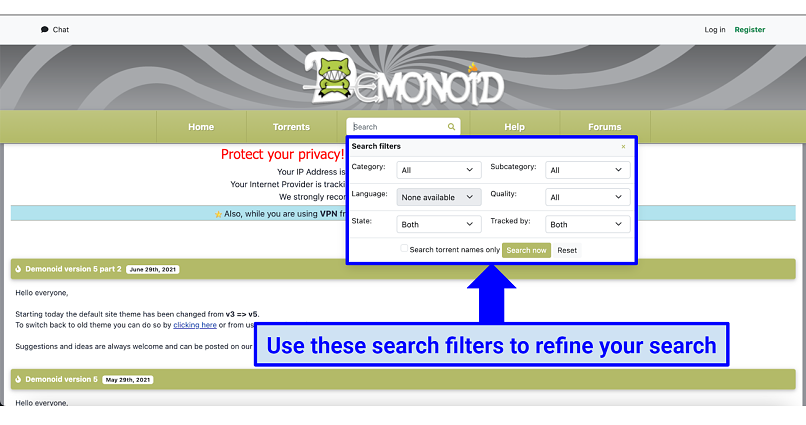 Year founded: 2003
Mirror sites/alternate URLs: demonoid.to/, sitenable.pw/demonoid-proxy/, sitenable.co/demonoid-proxy/, filesdownloader.com/demonoid-proxy/
Banned locations: China, Taiwan, Italy, Ukraine, the UK, the Netherlands, Brazil, and Iran
Instant download support: Yes
Demonoid is one of the original torrent sites that's still active today. The site once struggled due to increased political pressure to get it taken down but now has over 10 million users and 1 million torrents. You can find a great variety of media types on Demonoid, including movies, TV shows, music, games, and more. Movies and TV shows are especially popular on the site.
In the past, you needed to create an account to use the site, and registration was only open to those who received the invite. However, this doesn't seem to be the case anymore. I was able to download Night of the Living Dead without signing up.
12. iDope — Best Torrent Site for Mobile Downloads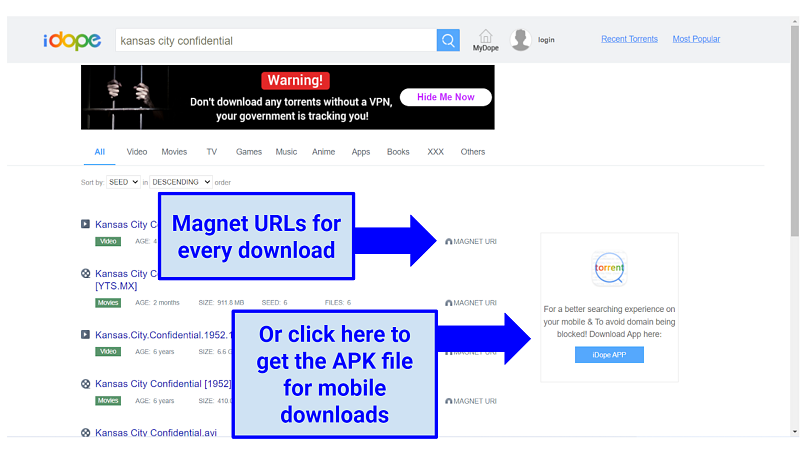 Year founded: 2016
Mirror sites/alternate URLs: idope.cyou, freeproxy.io/idope-proxy/, freeanimesonline.com/idope-proxy/, filesdownloader.com/idope-proxy/, sitenable.co/idope-proxy/
Banned locations: Denmark, Australia, India, and the UK
Instant download support: No
iDope's free mobile app lets you download torrents on the go. The app's download link is available on iDope's site as an APK file for ultimate privacy. It's sleek and simple, guaranteed (by iDope) to never contain ads or viruses.
Like the mobile app, the desktop interface is user-friendly and doesn't display popups or ads. It has a Google-like appearance that gives a sense of familiarity with how it functions — even if you've never used the site before.
To protect your privacy, iDope doesn't track you — which it clearly states on its homepage. Plus, every torrent download is available as a magnet link to speed up the process.
On the downside, it doesn't support instant downloads. Plus, there's no iOS app — but that's to protect your privacy since app store downloads are easily tracked.
Tips on How to Choose the Best Torrenting Sites
Torrent sites can be dangerous places: a lot of the sites aren't regulated, so they can contain fake links with viruses, tracking software, or malware.
Therefore, choosing a trusted torrent site is crucial in minimizing the risks involved. But to be fully protected, I recommend that you use a trusted VPN (my favorite is ExpressVPN) while browsing any torrent site. It will keep your data safe and can protect you from malicious links.
When choosing a torrent website, I strongly suggest making sure the site you use has some (if not all) the following:
Security features — Choose a site that has been around for at least 5 years, doesn't have many ads, and verifies its torrent files. But keep in mind that no torrent site is 100% safe because they can leave your data and activity exposed to third parties. To increase your safety when torrenting, I recommend using a VPN.
Lots of variety — Make sure your site's library has a wide mix of different content types. If you're after a particular type of content, such as movies, then consider specialist sites too.
Well established — The established year of the torrent site indicates its reliability. If the site has been around for 5-10 years or more and has never been shut down, then that's a good sign.
High popularity — Choose a website that has a high number of engaged users. Specifically, look for a site with a lot of comments. Comments from past users on torrent files are very useful because they can help you find out whether a file is fake or not.
High seeder/leecher ratio — A high ratio of seeders to leechers indicates a high level of sharing and results in faster downloads.
As few ads as possible — Intrusive pop-up ads are an inevitable feature of many torrent sites. Avoid sites that bombard you with ads or use a VPN with an ad blocker instead.
Availability in your region — Some regions block torrent sites more than others, so make sure you can access the site in your area.
How to Stay Safe and Avoid Fake Torrent Sites
Staying safe while torrenting goes beyond choosing a reputable site. Anytime you use P2P file-sharing software, your personal data is exposed to anyone else seeding or leeching the same file. To prevent your info from being exposed, I recommend using a highly secure VPN like ExpressVPN.
When you use a VPN, it encrypts your torrenting traffic and hides your IP address from prying eyes. As a bonus, some VPNs offer built-in ad and malware blockers to protect you in case you encounter a malicious file.
These additional steps will also help you stay safe:
Inspect every torrent — Unverified torrents are often filled with malware. Make sure any torrent you download has been verified, and check its seeder to leecher ratio, user comments, and the uploader's history.
Use a private search engine — Mainstream search engines like Google hide the URLs of many torrent sites due to the DMCA (Digital Millennium Copyright Act), and display dangerous fork sites instead. A private search engine like DuckDuckGo won't hide URLs and will keep your searches private.
Use a safe torrent client — A good torrent website on its own isn't enough to stay safe and protected. Using a reliable torrent client like uTorrent or qBittorrent will add further protection against viruses, malware, and spyware.
Check files for malware — Check files like RAR, TAR, and ZIP for malware. Pay close attention to EXE files and stay away from WMA, WMV, and password-protected files because they're outdated and can be dangerous.
Look out for copycat sites — Strange-looking URLs, numerous pop-up windows, and registration demands are all signs of dangerous copycat sites that can expose you to malware and hackers.
Beware of These Torrent Sites — Some Are Fake
Some torrenting sites might be popular but could expose your activity and infect you with malware. Here are a few torrent sites that I recommend avoiding:
KickAssTorrents — KickAssTorrents (KAT) was once the most popular torrent site globally, only to be taken down for good. Its founder, Artem Vaulin, has been on the run from US authorities due to numerous charges of copyright infringement. Several copycat sites look similar but require you to install browser extensions to use them, which is a huge red flag.
SUMOtorrent — This site always asks you to download its torrent client to access its library. It's usually best to stay away from sites that request this because it's not common and therefore suspicious.
PassThePopcorn — This site is an invite-only site that requires a login and password to use. There's nothing wrong with invite-only sites, but since you can't register properly, it's best to avoid it.
Torrent Galaxy — Torrent Galaxy is a fake version of 1337x and attracts over 8 million users each month. However, it bombards you with ads to no end, so it warrants a mention.
TorrentFunk — A site that was once decent is now full of unwanted ads that are highly intrusive. Its library is pretty small too.
Quick Guide:
How to Use Torrent Sites Safely in 3 Easy Steps
Get a VPN. I recommend ExpressVPN — it offers military-grade encryption, DNS/IP leak detection, and a kill switch to keep you safe. Plus, it's superfast and lets you download torrents quickly.
Connect to a server. I usually use the Smart Location feature to find the fastest connection to keep me safe. The closest server to you will usually be the best for fast downloads, too.
Start torrenting! Go to a reputable torrent site (like TPB), find the torrent you want, and begin downloading safely.
Why Do I Need a VPN for Accessing Torrent Sites?
Most torrent websites explicitly warn you to use a VPN before downloading anything – and there's a good reason for that. Even the most reputable torrent sites and clients come with inherent dangers. It's easy for cybercriminals to steal your IP address, monitor your connection, and even upload malware-infected torrents.
A reliable VPN keeps you safe while you're browsing a torrent website. It sends your data through an encrypted tunnel while rerouting your traffic to one of its private servers. As a result, your real IP address isn't connected to your torrenting activity, so no one can see what or from where you download. That way, you're protected against hackers and prying eyes while you torrent.
Another benefit of using a VPN is that it prevents your ISP from throttling your connection, which it might do if it notices excessive downloading activity on your end. When you use a VPN, your ISP can't see what you're doing online, which means you could get faster torrenting speeds.
Best VPNs for Accessing Torrent Sites Safely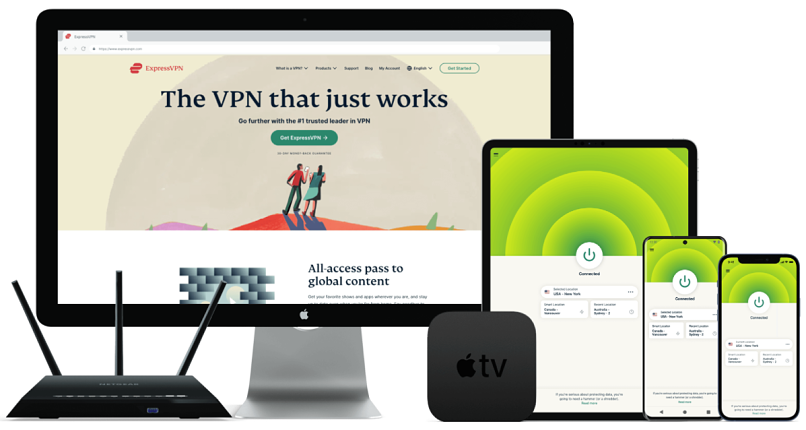 Editor's Choice
Editor's Choice

Tested February 2023
Try Risk-Free for 30 Days
Available on:
Chrome
Router
Smart TV
More
www.ExpressVPN.com
Superfast speeds, port forwarding, and unlimited bandwidth for ultra-fast downloads
Based outside the 14 Eyes Alliance, perfect forward secrecy lets you torrent privately
Reliable torrenting with 3,000 servers in 94 countries that all support P2P traffic
5 simultaneous device connections
Compatible with: Windows, Mac, iOS, Android, Linux, browsers, routers, and more
ExpressVPN's superfast speeds are ideal when downloading torrents from torrent sites. During my tests, I downloaded the film Carnival of Souls from YTS and my download speed reached 45.6 Mbps. Another factor that contributed to my fast speed was that my activity was hidden from my ISP, which meant that it couldn't throttle my bandwidth. Wherever you are, you can quickly download torrents with ExpressVPN.
Its robust security features keep you well protected when torrenting. AES-256 bit encryption is the strongest encryption level available and ensures that hackers can't intercept your traffic. Meanwhile, its kill switch — called "Network Lock'' — cuts off your connection if it unexpectedly drops, so your data can't be exposed accidentally. In short, your data won't fall into unwanted hands while using torrent sites.
If you only want to encrypt part of your traffic, you can do that with ExpressVPN's split tunneling feature. Split tunneling allows you to choose which apps will be routed through your VPN and which ones will be routed through your ISP. This means you can conserve your bandwidth, as only a part of your internet traffic will go through the VPN. For example, you could use split tunneling to encrypt your torrenting activity while using your banking app with no encryption.
With TrustedServer technology and a strict no-logs policy, ExpressVPN protects your privacy while you torrent. While most VPNs store your data on hard drives, TrustedServer automatically erases your info by using RAM-only servers. In doing so, it helps prevent third-parties from spying on your torrenting activity.
The only minor con I noted is that it's a bit more expensive than some VPNs, with plans starting at $6.67/month. However, ExpressVPN usually offers discounts and coupons; when I signed up, I got it for 49% off plus 3 free months of service. Short-term plans are also available, offering the same features. However, this option will end up costing you more, so you're best off going with its long-term subscription.
You can test ExpressVPN risk-free since it offers a 30-day money-back guarantee. If you find it's not for you, claiming a refund is easy. I requested my money back after 27 days of testing using its 24/7 live chat feature — the process was pretty simple. The agent asked me a couple quick user-satisfaction questions, then approved the return. I saw the money back in my account after just 2 days.
Built-in ad blocker prevents annoying popups on torrent sites
Perfect forward secrecy and based outside the 14 Eyes alliance for ultimate privacy
Split tunneling and port forwarding let you boost torrenting speeds
7 simultaneous device connections
Compatible with: Windows, Mac, iOS, Android, Linux, browsers, routers, and more
CyberGhost's built-in malware blocker (called Block Content) protects your device while using torrent websites. With just one click, it prevents ads containing malware from compromising your safety.
Even better — when I tested it in conjunction with CyberGhost's own Private Browser, it also blocked pop-up and banner ads, not just ads containing malware. This was especially helpful while I visited sites like YTS, RARBG, and 1337x, which are usually riddled with these types of annoyances. This is great for privacy, too, because third parties won't be able to target you with ads based on your browsing activity.
Although you can use any of CyberGhost's 9,753 servers for torrenting, it has connections in 60+ countries that are optimized specifically for P2P. These servers are designed to keep you safe when torrenting and maximize download speeds. When I tried a couple of its torrenting servers, I noticed a significant increase in speeds compared to the regular ones.
With its advanced protocols offering 256-bit encryption, you'll be well-protected on torrent sites. The world's leading security agencies use 256-bit encryption to protect sensitive data since it's almost impossible for hackers to breach. CyberGhost offers different protocols, like OpenVPN, WireGuard, and IKEv2. However, WireGuard was my favorite protocol — It's highly secure and optimized for speed, so I had superfast downloads.
You can be confident your torrenting activity will be kept private by CyberGhost's strict no-logs policy. In addition, it offers NoSpy servers which are located in Romania, outside of the 5/9/14 Eyes jurisdictions. Since they are owned, operated, and accessed only by CyberGhost employees, NoSpy servers help prevent third-party meddling.
One downfall I encountered was that a couple of CyberGhost's long-distance servers were not the fastest. This noticeably slowed my torrent speeds down. Luckily, it has a huge network of servers across the globe, so I had no problem finding a faster alternative.
You can get started with CyberGhost for $2.19/month with its long-term plan, which is its best value. When I signed up for its 2-year plan, I even got 2 free months included. There are also monthly plans which offer the same features, although they will end up costing you more overall.
The long-term plan also comes with a trustworthy 45-day money-back guarantee. When I requested my refund (after 28 days), I used the 24/7 live chat option. The agent wasn't pushy, and only asked why I wanted to cancel. Then, they issued the refund, which I saw in my bank account after 3 days.
29,650+ servers in 84 countries, all support P2P for fast and reliable torrenting
Court-proven no-logs policy ensures your privacy is safeguarded
Split tunneling and port forwarding help keep your downloads high-speed
10 simultaneous device connections
Compatible with: Windows, Mac, iOS, Android, Linux, browsers, routers, and more
Private Internet Access (PIA) offers 29,650+ servers in 84 countries to ensure you'll be protected with a superfast torrenting connection. This helps prevent overcrowding and slowdowns that can occur due to limited servers. During my tests, I allowed the app to choose the fastest server based on my location — this connected me to "US West". Using this, I recorded download speeds of 43.7 Mbps while browsing on The Pirate Bay.
It offers strong security to keep you safe from online threats while browsing torrents. This includes an automatic kill switch and DNS/IP leak protection. I tested 3 servers using an online tool — it didn't detect any leaks, whatsoever. There's even a built-in ad and tracker blocker (called MACE) that prevents hackers from stealing your data and annoying popups on torrent sites.
The app provides tons of customization options to give you high-speed torrent downloads. For instance, you can switch to 128-bit encryption or use its SOCKS5 proxy to give your speeds a boost. Keep in mind, these settings are less secure than using a 256-bit encrypted VPN connection. It also supports port forwarding — this allows you to directly connect with peers for faster downloads.
One minor con is that PIA is based in the US, which is part of the 5 Eyes Alliance. If you're concerned about privacy, you might want to consider alternative VPNs that are outside of this alliance (like CyberGhost or ExpressVPN).
You can sign up for just $2.19/month with a long-term subscription. Sometimes you can even get additional months for free with this plan. There are also short-term options available, offering the same features. However, they're a bit more pricey overall.
Included with the plans is PIA's 30-day money-back guarantee. This policy is one you can rely on. I tested it myself after 25 days and had no issue getting my refund. Using its 24/7 live chat I made my request and answered a couple of questions. I received the money in my account in 4 days.
Tips on Choosing the Best VPN for Torrent Sites and Torrenting
Always make sure to look for the following features when choosing a VPN for torrenting:
Military-grade encryption — This level of encryption is impossible to penetrate, which means that third parties can't intercept your connection and exploit your data. It's used by leading security agencies and takes several lifetimes to decrypt.
Strict no-logs policy — Some VPNs are known to sell your data to third parties, which is far from ideal when torrenting. Therefore, it's best to use a VPN that has a proven track record of not keeping logs and has been independently audited.
P2P optimized servers — Choose a VPN that has either specialized servers for torrenting or enables P2P sharing on all its servers. This ensures that you can download torrents without any limitations.
Leak protection — the safest VPNs for torrenting offer protection against DNS/IP leaks to ensure your real IP address isn't exposed to hackers or prying eyes. I tested all of my recommended VPNs with an online tool to ensure their leak protection works.
Automatic kill switch — This acts as your last line of defense if your VPN connection suddenly drops. This means your private information is protected while torrenting, even if your VPN stops working momentarily.
Advanced protocols — Choosing the right protocol for torrenting is essential for both safety and speed. I recommend OpenVPN, as it offers excellent protection while hardly affecting your speeds. WireGuard is also a good choice due to its high-speed encryption. In fact, it can even boost your speeds while torrenting. However, keep in mind that it's a new protocol, so it's still undergoing testing.
Visit Torrent Sites Safely Today!
Quick Comparison Table: Best VPNs for Accessing Torrent Sites Safely
A VPN's features can impact your download speeds and privacy protection when you use torrent sites. Fast speeds prevent delayed download times. A SOCKS5 proxy can be used as a faster alternative to a VPN connection — although it's less secure since it doesn't offer encryption.
Ad and malware blockers also prevent interruptions, as they block popups and risky links from infecting your device.
If you're privacy-concious, look for a VPN based outside of the 14 Eyes Alliance to ensure your data is protected from prying eyes. In addition, RAM-only servers give you an added layer of assurance, as they automatically wipe your data upon each reboot.
Below is a comparison of the essential torrenting features offered by my listed VPNs:
FAQs on The Best Torrent Sites
What are some of the best torrenting sites?
It depends — the type of content offered by my recommended sites varies. If you're looking for the best torrent sites for a particular form of content, then refer to the list below:
Movies — YTS. It has a wide range of high-quality movies. The files are also small without compromising picture quality, so you can download them quickly.
TV Shows — EZTV. Extensive collection of TV shows in either HD or 1080p. It has mostly old TV shows.
Music — Torrentz2. Unrivaled selection of music.
Games — The Pirate Bay. Good selection of both PC and console games.
Applications — 1337x. A wide selection of apps for macOS, Windows, Linux, iOS, and Android devices.
Warning! These sites host illegal files that are protected under copyright, and the team at vpnMentor doesn't condone downloading content illegally. That being said, there are plenty of public domain and open source files available on them, too. So please adhere to your local law and download responsibly to avoid facing legal consequences.
What is the best torrenting client?
The best torrenting clients are uTorrent and qBittorent. Both of them are compatible with most of the major operating systems, are easy to use, ensure high levels of security and trustworthiness, and have unique features. All of this improves your torrenting experience. Best of all, they're both free. To protect your personal data while downloading, make sure to use one of the VPNs on this list, which are all compatible with uTorrent and qBittorrent.
Are torrenting sites blocked in India?
Like most parts of the world, certain torrent sites are blocked in India. Some of these include The Pirate Bay, Torlock, and Torrentz2. India, in general, has pretty strict rules about torrenting, so you should always be careful. While it's a good idea to use a top-quality VPN to protect your personal online safety while torrenting, using one to access blocked sites in India could get you in trouble. Make sure to check the laws and regulations in place there and access torrenting sites that haven't been blocked.
Do I need to use a VPN for torrenting sites?
I highly recommend using a VPN on torrent sites, but it's not 100% needed. No torrent website is completely safe and a reliable VPN will keep you protected with military-grade encryption, an automatic kill switch, and DNS leak protection. These features ensure that all of your online activity is private, anonymous, and won't leak in case the VPN fails. A VPN with a verified no-logs policy won't record your online activity either, which means your torrenting activity will be hidden from third parties like online snoopers, hackers, and trackers.
Another benefit of using a VPN is that your ISP can't throttle your bandwidth. Some ISPs will cap your download speeds if they see you're performing high-bandwidth activities (like downloading large files). A VPN prevents this by hiding what you're actually doing, so you can overcome speed caps and download torrents quickly.
Can I use a free VPN with a torrenting site?
I strongly advise that you avoid free VPNs. While you can use one with a torrenting site, free VPNs are full of risks. They've been caught selling private user data and browsing activity to advertisers for profit, which is a huge breach of privacy. They also don't have the funds to keep their software and encryption protocols up to date, which means you can't rely on them to keep you anonymous since leaks are common. Some of them are even packed with viruses and malware meant to harm your device.
On top of all that, even trustworthy free VPNs will enforce data caps and restrict your speeds, both of which are a massive handicap for torrenting.
Instead of a free VPN, I recommend using a top-tier VPN that comes with a money-back guarantee. You'll need to pay for a subscription upfront, but this essentially allows you to use a high-quality VPN for free for a limited time. If you're not satisfied with the service, you'll be able to get your money back as long as you cancel within the timeframe.
Are torrenting sites safe?
This depends on what torrent site you use. Some torrent sites like RARBG, 1337x, and The Pirate Bay are safe to use and verify their torrents to ensure they aren't fake. This reduces the risks of accidentally downloading malware-infected files onto your device. Other torrent sites aren't regulated and contain a number of fake links and pop-up ads, which can seriously jeopardize your privacy and damage your computer.
On top of choosing a torrent site that is considered safe, it's best to add another layer of safety by using a quality VPN, like CyberGhost. It has powerful measures to keep you secure while torrenting. Its ad and malware blocker will prevent malicious links from infecting your device, and its AES 256-bit encryption and advanced protocols will protect your private data.
How do I use a torrent website?
You'll need to install a torrent client to fully use a torrent site. This reads the metadata on your torrent file (that you get from the torrent site) and pairs it with other users, so you can download the file from them.
No torrenting site or activity is 100% safe, so I highly advise torrenting with a VPN. VPNs encrypt your traffic and protect it with strong security features, so your data stays private and anonymous. To use torrent sites safely, take the following steps:
Get a VPN. I recommend torrenting with ExpressVPN, since it has advanced security features and superfast speeds for downloading.
Connect to a server. Choose a privacy-friendly country, where torrenting sites aren't blocked, like Switzerland
Download a torrenting client. I recommend uTorrent or qBittorrent.
Start torrenting. Visit the torrent site of your choosing. To find your desired file, use the torrent site's search bar. You can download the file and open it from that location. Or use a magnet link to automatically open the file in your bittorrent client.
Which torrenting site is the fastest?
Torrenting speeds depend on your internet plan, ISP, device performance, location, and your VPN provider. However, something to look out for on torrenting sites is a high number of seeders, because the more sources there are, the faster the files will download. In addition, private torrent sites often offer faster download speeds than public ones, because their regulations require that anyone who downloads a file has to seed it back. This increases the number of seeders, so download speeds will be faster, too.
However, if you want high download speeds while also staying safe, I recommend using a powerful VPN that has servers optimized for P2P activity. They make it easy to find the server closest to your location, which will usually give you the fastest speeds for torrenting because your data doesn't have to travel far.
Why are some torrenting sites blocked?
Some torrenting sites are blocked because of government actions. Since most torrenting sites host copyrighted material, it's common that governments and ISPs block them because sharing and downloading them is illegal. On some occasions you might even see a warning sign from a security agency on the site that states that the site has been taken down. That was the case when the US government took down KickAssTorrents.
In addition to being blocked, torrenting sites can also be very hard to find using a regular search engine like Google. Google hides torrent sites from search results because of the potential legal ramifications. Some extensions like Chrome's Ad Block will block you from seeing these sites as well.
If you want to access a torrent site safely, then it's best to do so with a reliable VPN. However, you should always be careful when accessing blocked sites since they're usually inaccessible for legal reasons. It's always a good idea to research the rules and regulations in your location first and check to see if any torrenting sites have been blocked there.
Are torrent download sites legal?
This depends on the torrent site and the location you're in. Torrenting itself is legal in many countries, but it becomes illegal anywhere as soon as you download copyrighted or licensed content. Downloading copyrighted material has legal repercussions in many countries, resulting in torrent sites being taken down and users receiving hefty fines. The most famous example is KickAssTorrents, where US authorities arrested the founder after taking down the site.
For this reason, I don't condone illegal torrenting. Even if you download something that you think is legal (but isn't), you can still get in trouble in the open domain. Be sure to check the rules and regulations in your country before you torrent.
In addition to the risks involved in downloading copyrighted content, torrent sites often attract hackers looking to steal your personal information, and contain links that might infect your device with malware. To stay safe on torrent sites, I recommend using a top-tier VPN that offers robust security features, like ExpressVPN.
How can I access the best private torrent sites?
You can access the best private torrent sites by either making a donation or receiving an invite (depending on the site). The way to receive invitations is to go to sites like Reddit and 8chan, which have anonymous messaging boards for torrenting. Here, invitations are either given out randomly or by request, so it pays to be persuasive. If you're looking for a good private torrent site, I recommend IPTorrents.
Stay Safe on Torrenting Sites With a VPN
Unfortunately, it's difficult to find good torrenting sites on Google without running into annoying ads and dangerous links. I shortlisted the best torrent sites after much testing and research. These sites have a reliable history behind them and take measures to keep you secure.
However, even the safest torrenting sites come with some inherent dangers and could compromise your privacy. To stay anonymous and make sure your data is 100% protected when torrenting, it's best to use a reliable VPN like ExpressVPN. It offers robust security features to keep you protected and has really fast speeds for downloading. You can test ExpressVPN out completely risk-free, as it's backed by a 30-day money-back guarantee. If you're not satisfied, you can easily get a full refund.
To summarize, the best VPNs for torrent sites are…
Privacy Alert!
Your data is exposed to the websites you visit!
The information above can be used to track you, target you for ads, and monitor what you do online.
VPNs can help you hide this information from websites so that you are protected at all times. We recommend ExpressVPN — the #1 VPN out of over 350 providers we've tested. It has military-grade encryption and privacy features that will ensure your digital security, plus — it's currently offering 49% off.