5 Best VPNs for Binance — Tested & Still Working In 2023
You can't access Binance.com from the US or countries like Italy, Japan, and the UK without a VPN. Some US states allow trading on Binance.US, but it's a very limited version that only lists around 120+ cryptocurrencies (in comparison to the 350+ on the main site). Other states — including New York, Vermont, and Texas — have banned Binance entirely, leaving traders in these regions without any options.
My team and I tested 50+ VPNs to shortlist services that work seamlessly with Binance. Each one has servers in countries where the full version of Binance is available. They're also super secure and fast for safe, real-time trading.
ExpressVPN is my top recommendation due to its vast network in Binance-friendly countries. It's lightning-fast and packed with security and privacy measures for accessing your Binance account safely. You can confidently test out ExpressVPN yourself since it's backed by a 30-day money-back guarantee.
Get the Best VPN for Binance Now
Disclaimer: You may need to comply with a KYC request if you're a new Binance customer. Using a VPN to bypass Binance geo-blocks can go against the platform's terms and conditions and may lead to your account being restricted. You should also check the rules on accessing Binance in your location first.
Short on Time? Here Are the Best VPNs for Binance in January 2023
Best VPNs for BBC Binance — Full Analysis (Updated in 2023)
My shortlisted VPNs all have servers in Binance-friendly countries and deliver fast speeds for trading. Each one also has strong security and privacy measures so you can securely access your Binance account on multiple devices.
In addition, the below recommendations offer help via live chat and work on all major operating systems. You can also test any of these services without risk — each comes with a trustworthy money-back guarantee. If you don't like the VPN, it's easy to get a refund.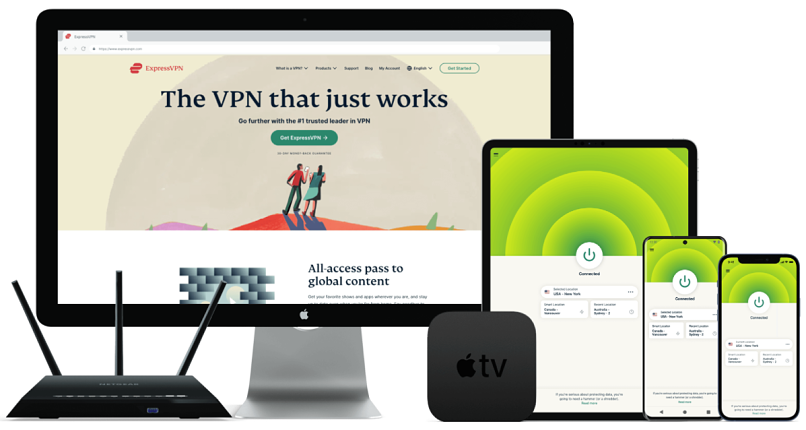 Editor's Choice
Editor's Choice

Tested January 2023
Try Risk-Free for 30 Days
Available on:
Chrome
Router
Smart TV
More
www.ExpressVPN.com
3,000 servers in 94 countries, including 20+ countries where Binance is fully accessible
The fastest VPN I tested for smooth trading on Binance
Allows 5 simultaneous connections to let you easily trade on different devices
Can unblock: Binance, Netflix, Disney+, Hulu, BBC iPlayer, Amazon Prime Video, and more
Compatible with: Windows, Mac, iOS, Android, Linux, routers, Amazon Fire TV, and more
This VPN has thousands of servers in Binance-friendly countries including Mexico, France, and Canada. During my tests, ExpressVPN proved reliable for bypassing geo-blocks. I accessed my Binance crypto portfolio while in the US to avoid margin trade losses. Also, it was much easier to hedge my crypto investments since I had access to Binance's full list of over 350 assets.
You get unlimited bandwidth and ultra-fast connections on the servers too. My 50 Mbps base connection was only reduced by 6% (to 47 Mbps) while using the Canadian servers. The speeds remained steady throughout, allowing me to instantly trade on my smartphone. Plus, my connection was fast enough for torrenting and watching UHD videos on my streaming subscriptions at the same time (4K streaming only requires 25 Mbps).
Split tunneling lets you choose which apps route through the VPN and which apps use your normal IP address. I found this useful as it let me unblock Binance while connecting to my banking app without triggering account alerts. You can also use it to access Binance with a VPN IP but get local search engine results at the same time.
The VPN's super-fast Lightway protocol gives you a safe connection without compromising speed. You can also choose OpenVPN for maximum security. All your online activity is hidden with military-grade encryption. Hackers can't see what's in your wallet, get hold of your private key, or even see you're using a VPN (thanks to obfuscation).
The kill switch (Network Lock) cuts your traffic if the VPN goes down, ensuring your real IP or online activity aren't exposed. I tested the network for further IPv6, DNS, or WebRTC leaks and couldn't find any. So you can safely use Binance on public WiFi hotspots while traveling abroad.
The VPN runs a strict no-logs policy that's been independently audited by third parties like Cure53 and PwC. So, your location or browser activity data aren't recorded or stored. The no-logs policy is backed by TrustedServer tech, which regularly deletes your data each time the RAM-only servers are rebooted. Plus, ExpressVPN is based in the British Virgin Islands, outside the 5/9/14 Eyes Alliances (countries that share their citizens' data).
It only took a few minutes to start using the simple apps on my Windows laptop and Android smartphone. ExpressVPN is compatible with other devices too, including Mac, iOS, browser extensions (Chrome, Firefox, or Edge), and smart TVs like Android TV or Amazon Fire TV. Customer support is also provided 24/7 on live chat for timely assistance.
One drawback of the VPN is its pricey plans — the subscriptions start from $6.67/month. On the positive side, ExpressVPN regularly has giveaways and discounts. I got 49% off and 3 months for free when I subscribed to the yearly plan. You can also pay with Bitcoin, Ethereum, XRP and PAX, BUSD, USDC, and GUSD stablecoins for enhanced privacy.
A 30-day money-back guarantee backs the VPN. So, you can get a refund if it doesn't meet your expectations. I easily got my subscription fee back after canceling via chat. The money was back in my PayPal wallet within 2 days.
Robust encryption safeguards your Binance activity against being hacked or watched by snoops
9,758 servers in 91 countries for unblocking Binance anywhere without problems
Supports up to 7 simultaneous connections, so you can use it with all your devices
Can unblock: Binance, Netflix, Disney+, Hulu, BBC iPlayer, Amazon Prime Video, and more
Compatible with: Windows, Mac, iOS, Android, Linux, routers, Amazon Fire TV, and more
CyberGhost has automatic WiFi protection, so you get instant security when accessing Binance on unsecured public hotspots. The feature launches the VPN when it detects any unknown network and it covered me when I forgot to switch on the service while traveling. You can also set smart rules about when and how the VPN launches.
AES 256-bit encryption secures all communications to and from your device against hackers and spies. I was able to choose from secure and fast protocols like OpenVPN, IKEv2, and Wireguard. Plus, my information wasn't exposed when I tested CyberGhost for IPv6 and DNS leaks. If your connection abruptly drops, the kill switch further helps to protect your online activity and IP address.
The VPN doesn't keep logs either and publishes yearly transparency reports. Your activity isn't recorded or shared with third parties (like ExpressVPN, CyberGhost is based in a privacy-friendly country — Romania). Built-in blockers also guard against trackers, dodgy ads, and malicious websites to keep you safe while you browse. You can add (for a fee) a dedicated IP address, NoSpy servers, or a Security Suite with antivirus and antimalware features.
Unblocking Binance is hassle-free with the server network across 91 countries. I did tests from the US and accessed my account using the French servers. Other server locations you can use with Binance include Malta and Brazil. As a bonus, there are servers optimized for accessing your accounts on popular streaming sites like Netflix US and Hulu.
I got super-fast speeds of up to 44 Mbps on the French servers, which is only a 12% drop. This enabled me to make transactions smoothly on Binance and get the latest trading updates without delays. I could also stream 4K videos at the same time.
The user interface on the apps is very intuitive. I quickly installed the VPN on my Macbook, and the Chrome and Firefox extension addons worked with Binance too. There are also native apps for iOS, Android, Windows, and more. Live chat customer support is available 24/7 if you need any help setting up.
Subscribing to the monthly plan is quite expensive, and you only get a 14-day money-back guarantee. However, you can get the super-affordable extended plans from only $2.19/month (my recommendation is the 3-year subscription). Several methods of payment are supported, including cryptocurrencies like Bitcoin Cash.
You can also test CyberGhost for free since the long-term plans come with a 45-day money-back guarantee. I asked for a refund by sending an email to support. The process went smoothly and I received the funds on my credit card within 4 days.
Reliable speeds to support smooth trading on Binance and get the most recent crypto updates
29,650 servers in 84 countries, including Binance-friendly locations like Germany and Mexico
Up to 10 devices can be simultaneously connected to trade at the same time
Can unblock: Binance, Netflix, Disney+, Hulu, BBC iPlayer, Amazon Prime Video, and more
Compatible with: Windows, Mac, iOS, Android, Linux, routers, Amazon Fire TV, and more
PIA delivers fast speeds so you don't miss profitable trades on Binance. While connected to the German servers from the US, I analyzed real-time Binance charts to make important trade decisions. I only encountered 18–20% speed drops on the German and Mexican servers.
Thanks to the unlimited bandwidth, I easily used the VPN for other heavy browsing activities at the same time. For example, I didn't experience any buffering while testing PIA for streaming. I was also able to torrent simultaneously without interruptions.
The server network in 84 countries gives you many alternatives for unblocking Binance. I accessed my account using the servers in France, Austria, and Vietnam. It's easy to find a working IP address to get better trading pairs for your portfolio and enjoy lower transaction fees.
AES 256-bit encryption and protocols like OpenVPN and WireGuard provide ample online security for safely using Binance. There's a kill switch and DNS/IPv6 leak protection to prevent accidental exposure of your identity and location as well. MACE (PIA's ad and tracker-blocking service) also stops third-party domains from tracking your activity or displaying troublesome ads.
The VPN can't share your browsing data, thanks to a strict no-logs policy. The policy has been tried and tested on 2 occasions when the US government requested info from PIA and the VPN had nothing to give. If you're extra cautious about privacy, you can subscribe with cryptocurrency options like Bitcoin Cash, Litecoin, and Ethereum too. That way, you don't leave any trace of your financial information on the platform.
There are native apps for most popular operating systems, including Android and iOS. Desktop apps are available for Mac, Windows, and Linux. The 24/7 live chat and email support is very responsive as well.
If you're fairly new to VPNs, one issue is that the complex security settings can be tricky. However, the app's default security settings are decent so you don't have to worry about too much configuration. Just remember to change your encryption from 128-bit to 256-bit if you want maximum security.
You can subscribe to the service for as low as $2.19/month. Longer subscriptions offer the best value for money (I recommend the 3-year plan).
There is also a 30-day money-back guarantee, so you can try PIA for free. It's easy to get a refund if you change your mind. My credit card was reimbursed 5 days after filling out the contact form on the support page.
Try Private Internet Access Today
Unlimited connections to effortlessly trade from multiple devices all at the same time
2,000 servers in 75 countries give you thousands of IPs to access Binance from anywhere
Good speeds help you make smooth transactions and stay up-to-date with trading in real-time
Can unblock: Binance, Netflix, Disney+, Hulu, BBC iPlayer, Amazon Prime Video, and more
Compatible with: Windows, Mac, iOS, Android, Linux, routers, Amazon Fire TV, and more
IPVanish lets you trade on Binance on an unlimited number of devices. It's compatible with most major operating systems too, including macOS and Windows. While testing IPVanish, I simultaneously connected my iOS smartphone, Android tablet, and Macbook with no performance drops. All of the apps were easy to use, making finding a Binance-friendly server simple. Customer support can also be reached 24/7 on live chat and email.
IPVanish has good server coverage across 75 countries. Servers in places like France and Argentina can easily unblock Binance's full service. I got fast speeds on the French servers, ranging between 36 and 38 Mbps — just a 24–28% reduction. You can also trade as much as you like (and stream high-quality videos at the same time) because of the unlimited bandwidth.
Strong AES 256-bit encryption, reliable protocols (OpenVPN and WireGuard), and a kill switch provide safety for trading. The DNS and IPv6 leak protection feature works well to hide your identity — none of my info was exposed when I tested for leaks. The VPN also owns its entire physical server network to avoid third-party tampering. Plus, there's a zero-logs policy so your data isn't monitored or shared.
A big letdown is that the service doesn't support cryptocurrency payments. However, you can subscribe using other popular options like PayPal and credit cards.
IPVanish subscriptions start from as low as $3.99/month. I highly recommend going for one of the longer plans — like the yearly subscription — as they tend to save you the most money.
There's a trustworthy 30-day money-back guarantee, so getting a refund is easy if you're not satisfied. I signed in to my account and clicked the ''I wish to cancel my subscription" button to request a refund. The money appeared on my credit card after 5 days.
Simple user interface allows you to quickly find servers to unblock Binance from anywhere
200 servers in 63 countries including several that can access the full version of Binance
Allows 10 simultaneous connections to use your Binance account on multiple devices
Can unblock: Binance, Netflix, Disney+, Hulu, BBC iPlayer, Amazon Prime Video, and more
Compatible with: Windows, Mac, iOS, Android, Linux, routers, Amazon Fire TV, and more
PrivateVPN's apps are user-friendly — great if you're trading with a VPN for the first time. They come with a "Simple" mode as default, which lets you connect to servers with one tap. I got prompt assistance from VPN developers too, while testing PrivateVPN's features. You can ask questions on live chat or email, and they also offer remote app installation.
The Simple mode comes with strong default security to protect your Binance account. However, you can configure advanced settings if you want to. Like PIA, I was able to choose between 128-bit and 256-bit AES encryption (128-bit is both fast and secure, but 256-bit provides the best security for trading).
The VPN has a kill switch and leak protection to ensure your location and activity remain hidden. There's also a no-logs policy and the VPN owns its whole network, so no third parties can monitor what you do online either. Plus, you can subscribe with Bitcoin for additional privacy and sign up with a throwaway email.
I didn't encounter any connection interruptions during my tests. The VPN's speeds remained steady and fast, clocking in at 35 Mbps on most servers (only a 30% drop from my base connection).
A slight drawback of PrivateVPN is its small number of servers. However, the network provides servers in plenty of Binance-friendly countries like France, Bulgaria, and Argentina. Once I connected to the French servers, I unblocked the full Binance version while in the US.
Subscriptions start at $2/month and you save more money the longer you sign up. I went for the annual plan to maximize savings.
You can also test PrivateVPN risk-free because it's backed by a 30-day money-back guarantee. If you aren't satisfied with the service, getting a refund is easy. When I submitted a support ticket, my bank account was refunded within 7 days.
Quick Comparison Table: Binance VPN Features
Quick Guide:
How to Access Binance With a VPN (in 3 Easy Steps)
Download a VPN. I recommend ExpressVPN because of its extensive server network in more than 20 Binance-friendly countries, plus lightning-fast speeds for making quick trades. You can try out ExpressVPN risk-free since it's backed by a 30-day money-back guarantee.
Connect to a server. Pick a country where the full Binance version is supported, like Germany.
Sign into your Binance account. You can now safely trade on Binance from anywhere.
Tips on Choosing the Best VPN for Binance
I shortlisted and ranked my recommended VPNs based on their ability to unblock Binance safely and easily. However, feel free to use my criteria as a guide if you want to do your own tests.
Servers that can unblock Binance. Your VPN must have servers that work reliably in the locations or countries where the full version of Binance.com is accessible. That way, you can access and trade hundreds of crypto pairs and assets without restrictions.
Strong security features. High-end military-grade encryption ensures no one can snoop on or hack your Binance transactions. Other safety measures to consider are a kill switch, DNS/IP leak protection, and a no-logs policy.
Good speeds. Go for a VPN that doesn't drop your usual speed by more than 50%. That way, you can swiftly trade on Binance and get real-time information from the exchange. Unlimited bandwidth also lets you trade as much as you like without hitting caps.
Easy-to-use apps. The apps provided should be compatible with your devices and simple so you can quickly connect to servers that unblock Binance. Round-the-clock customer support should also be available on live chat and the VPN should support multiple simultaneous connections.
Reliable money-back guarantee. Look for VPNs with a tested refund policy that allows you to try the service risk-free and get your money back if it's not right for you.
FAQs on VPN for Binance
Will I get banned from Binance if I use a VPN?
It's unlikely Binance will ban you for using a VPN, but it does go against its guidelines. VPNs are primarily a security tool, so it's highly advisable to get a VPN to secure your Binance account information against hackers.
However, going against Binance's terms and conditions can lead to account restrictions. Make sure you have read and understood the site's terms of service first.
Is using a VPN with Binance illegal?
It's legal to use a VPN with Binance. However, there are some 'dos' and 'don'ts'. Using a VPN to protect your information from snoops while trading on your Binance account is okay. However, using a VPN for illegal activities — like fraud — amounts to a criminal offense, and can still lead to prosecution.
You should check the rules for using Binance itself in your location.
Why is Binance banned in the US?
Because the site didn't meet US financial market requirements. There is a compliant Binance.US version but it's quite limited, only available in some states, and charges higher fees. So you need a VPN if you want to access the full version of Binance no matter where you are.
US regulators stopped Binance trading in 2019 because some assets on the site were not licensed by the CFTC. Also, the United States Department of Justice and Internal Revenue Services accused the platform of allowing US citizens to trade illegally.
The US version of the site is available in 44 states but is blocked in Hawaii, Idaho, Louisiana, New York, Texas, and Vermont.
Which country servers can I use with Binance?
Mexico, France, Canada, Germany, Greece, Belgium, or the Czech Republic — all of these are Binance-friendly countries. To get an IP address that lets you unblock Binance.com, simply launch your VPN and connect to a server in any one of these locations.
Binance is banned or restricted in the following places:
| | | | | | |
| --- | --- | --- | --- | --- | --- |
| Albania | Belarus | Bosnia | Burma | Canada | Central African Republic |
| Deomocratic Republic of Congo | DPRK | Côte D'Ivoire | Crimea | Croatia | Cuba |
| Herzegovina | Hong Kong | Italy | Iran | Iraq | Japan |
| Kosovo | Lebanon | Liberia | Libya | Macedonia | Malaysia |
| Moldova | Netherlands | Serbia | Somalia | Sudan | South Sudan |
| Syria | UK | USA | Venezuela | Yemen | Zimbabwe |
Why is my Binance VPN not working?
You may have encountered a server or software issue. If you come across a VPN server that's down or an IP address that's blacklisted, simply switch servers until you find one that works with Binance.
Some antivirus software, firewalls, and routers can also clash with VPNs. Try disabling any conflicting software and updating your router settings to make sure it works with VPN tunneling protocols.
If none of these solutions work, try clearing your browser cookies and cache, to make sure Binance isn't using those to see your location.
Why do I need a VPN for Binance?
A VPN lets you access your Binance account safely. That is if you choose one with secure features. The best VPNs use tough encryption to scramble your Binance data, making it hard for hackers to steal your critical account information like username and password.
Also, Binance.com is restricted or blocked in some countries like the US, the United Kingdom, and Italy. In the US, for example, you can only use a limited Binance version (Binance.US). This platform lists around 120 cryptocurrencies as opposed to 350+ in the full version. States like New York, Texas, and Hawaii have banned Binance entirely.
A VPN can give you unrestricted access to the full version of Binance by letting you borrow an IP address from a country where the platform isn't blocked. VPNs reroute your traffic through a secure "tunnel" that passes through a server in a different location. This masks your real IP address with one from another country, making it look like that's where you are.
If you connect to a server in a country where Binance is available, the exchange thinks you're really there and gives you access.
Can I use a free VPN with Binance?
No, it's not recommended to use Binance with a free VPN. Free services can have limited security or even sell your data and infect your device with malware. So your account information or financial data can easily end up in the hands of hackers. It's much safer to use a premium VPN with a money-back guarantee. That way you get the strongest encryption and privacy measures to keep your wallet safe.
Features like servers and speed are also often restricted on free VPNs. So, you're not guaranteed reliable servers to unblock Binance. You might even miss out on trades because of connection slowdowns.
Get a Reliable VPN for Binance Now
The Bottom Line
It's easy to trade on your Binance account from anywhere with a VPN. If you're in the US, using a VPN also gives you access to the full version of Binance (rather than Binance.US, which has limited crypto trading pairs). However, only a few VPNs are fast enough and safe enough for the job.
ExpressVPN is my top recommendation for unblocking Binance. It offers an excellent network of ultra-fast servers for unrestricted trading, plus solid online protection. You can test ExpressVPN without risks, thanks to a 30-day money-back guarantee.
To summarize, here are the best VPNs for Binance
Privacy Alert!
Your data is exposed to the websites you visit!
The information above can be used to track you, target you for ads, and monitor what you do online.
VPNs can help you hide this information from websites so that you are protected at all times. We recommend ExpressVPN — the #1 VPN out of over 350 providers we've tested. It has military-grade encryption and privacy features that will ensure your digital security, plus — it's currently offering 49% off.