5 Best VPNs for ChatGPT — Easy Access From Italy in 2023
ChatGPT is a valuable AI technology tool but it isn't widely available. The chatbot is blocked in certain countries like Italy, Russia, and China due to privacy concerns or censorship laws. Some schools in the US, France, and India have also prohibited and blocked the use of ChatGPT to prevent any potential negative impact on students.
Luckily, you can access ChatGPT from anywhere using a VPN. It hides your browsing activity from ISPs and network administrators, allowing you to bypass the blocks. However, not every VPN service works on restrictive networks, and many don't have a server network that's reliable for accessing ChatGPT.
My team and I tested 40+ VPNs to find the best one for ChatGPT, and ExpressVPN is my top recommendation. It has a vast worldwide network of automatically obfuscated servers to easily access the chatbot anywhere. Plus, it's the fastest VPN I tested and offers robust privacy features. Thanks to a 30-day money-back guarantee, you can also try ExpressVPN risk-free. Getting a refund is easy if the VPN doesn't meet your standards.
Important: OpenAI recently agreed to Italy's terms on data sharing and user verification, and ChatGPT may now be accessible in the country. However, this is subject to change and we still highly recommend a VPN to access ChatGPT regardless of where you are, so that your data can be kept secure and private. Also, please keep in mind that while VPN use is legal in many countries, it is restricted or banned in others. Please inform yourself of your local laws and regulations regarding VPN use and ChatGPT before attempting to use either.
Short on Time? Here Are the Best VPNs for ChatGPT in 2023
Here's why you can trust vpnMentor
All our reviews are written by experts who test and compare dozens of VPNs on a weekly basis - and we're fully transparent with the results.
Find out more about how we test.
Best VPNs for ChatGPT — Full Analysis (Updated in 2023)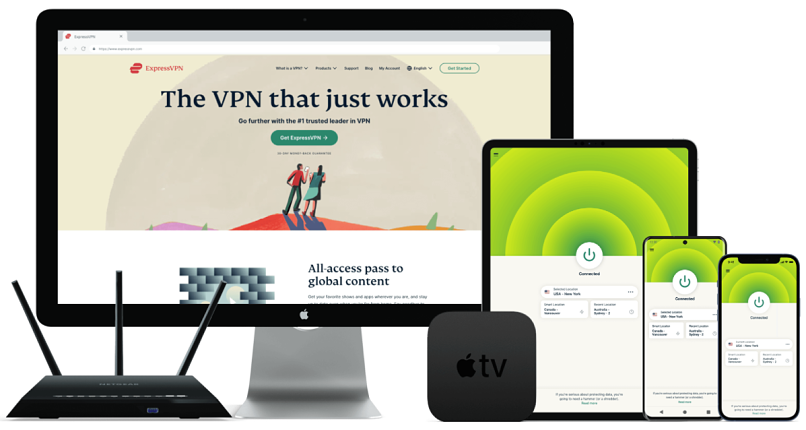 Editor's Choice
Editor's Choice

Tested May 2023
Try Risk-Free for 30 Days
Available on:
Chrome
Router
Smart TV
More
www.ExpressVPN.com
| | |
| --- | --- |
| Best Feature | Automatic server obfuscation to easily access ChatGPT in restrictive locations |
| Average Speed | 94Mbps (6% drop) |
| Security and Privacy | Military-grade encryption and Network Lock (a kill switch) to keep your online activity private |
| Server Network | 3,000 servers across 94 countries for reliable access to ChatGPT |
ExpressVPN disguises all your VPN traffic as regular internet activity since all connections are obfuscated by default. This means the VPN can bypass blocks imposed by your ISP or network administrator, letting you access ChatGPT undetected and unrestricted. In fact, during mine and my colleagues' tests, ExpressVPN was the most reliable VPN for accessing ChatGPT in countries where it's blocked, such as China, Iran, Italy, and more.
Thanks to ExpressVPN's excellent speeds, I used the AI chatbot without interruptions. Each chat loaded almost instantly, and I had no slowdowns or extensive loading time. During my tests, ExpressVPN's US servers delivered fantastic results. My speeds only dropped to 94Mbps, which is just 6% slower than my base connection (most VPNs reduce your speeds by over 40%).
ExpressVPN keeps your ChatGPT activity private and secure. It provides military-grade encryption that ensures ISPs, government snoops, and cybercriminals can't intercept your data while you use the chatbot. The VPN also follows a no-logs policy which has been audited and verified by independent firm PwC, meaning your data (like conversations with ChatGPT) isn't stored or shared with third parties.
One drawback is that the subscriptions are quite costly. Luckily, ExpressVPN frequently offers generous deals and promotions. I got 49% off and 3 extra months of service for free by opting for the long-term plan. This gave me a final price of just $6.67/month. If you're not fully satisfied, getting a refund is a breeze since ExpressVPN is backed by a 30-day money-back guarantee. I applied for it via 24/7 live chat, and my bank account was reimbursed only 2 days later.
Useful Features
Lightway protocol. ExpressVPN's proprietary Lighway protocol is lightweight, fast, and highly secure. This means you can access ChatGPT with minimal impact on your speeds and without compromising your online privacy. Independent auditors have assessed Lightway twice for safety, and it's passed both times.
Private DNS. This VPN runs its own private DNS on every server, which processes your web requests to avoid DNS filtering employed by your ISP. So you can access ChatGPT while on vacation in Italy.
Headquartered in a privacy-friendly country. The VPN is based in the British Virgin Islands, which is outside the 5/9/14 Eyes Alliances (intelligence-sharing agreements between several countries that Italy is a part of). This means ExpressVPN doesn't have to share any data with the government.
RAM-based servers. All ExpressVPN servers are RAM-based, meaning that any data regarding your online activity is inaccessible and regularly wiped with every server reboot.
| | |
| --- | --- |
| Best Feature | Privacy-focused NoSpy servers so no one can monitor your ChatGPT sessions |
| Average Speed | 88Mbps (12% drop) |
| Security and Privacy | AES 256-bit encryption to keep your sensitive information safe |
| Server Network | 9,388 servers across 91 countries to access ChatGPT with good speeds from anywhere |
CyberGhost's exclusive NoSpy servers keep your ChatGPT conversations private. While other VPN providers often rent server space in shared facilities, CyberGhost's NoSpy servers are kept under its direct ownership and management. They're also located in privacy-friendly Romania, outside the scope of the Eyes Alliances. This means neither government agencies or other unknown third parties will have access to the physical VPN servers, preventing them from monitoring your ChatGPT activity.
Thanks to its impressive speeds, the service loads ChatGPT almost instantly. I connected to a US server and recorded an average download speed of 88Mbps (a 12% drop from the base speed). When testing CyberGhost's NoSpy servers, they were marginally slower, but that's expected due to my distance from Romania. That said, I had no problems using ChatGPT with either of them.
Installing CyberGhost on your preferred device is easy. The VPN also comes with several handy automation options. For example, Smart Rules let you auto-connect on startup and open the browser you use for ChatGPT. If you experience any difficulties, 24/7 live chat support is always available to assist you.
The only downside is that the monthly plans are pricey and come with a reduced refund period (only 14 days). However, long-term subscriptions are more affordable (starting at just $2.11/month) and provide an extended money-back guarantee. This means you can test CyberGhost for 45 days risk-free.
Useful Features
No-logs policy. CyberGhost comes with an audited no-logs policy, which means your IP address, DNS queries, or browsing records are never stored. So you can use ChatGPT without worrying about your personal info being possibly shared with third parties.
URL exceptions. The Smart Rules feature also allows you to define certain URLs to ignore the VPN tunnel. This can be useful — for example, I could download software from Microsoft's site at maximum speed on my normal connection while using the secure VPN tunnel to chat with ChatGPT in another tab.
Beginner-friendly apps. CyberGhost's user-friendly apps make it easy for complete VPN beginners to use the service. Connecting to a server just takes a couple of clicks, and it's easy to find the fastest one for ChatGPT — just click "Best server location" on the main menu.
Kill switch. This feature ensures your ChatGPT activity is kept private even if the VPN tunnel drops by automatically disabling your internet connection.
| | |
| --- | --- |
| Best Feature | Multi-Hop setup keeps your ChatGPT activity private |
| Average Speed | 84Mbps (16% drop) |
| Security and Privacy | Leak protection to prevent exposure of your location |
| Server Network | 29,650 servers across 84 countries, offering you plenty of options for accessing ChatGPT |
PIA's Multi-Hop and obfuscation functionality is designed to effectively bypass ChatGPT blocks in Italy and elsewhere. Enabling this feature directs your connection through a Shadowsocks or SOCKS5 proxy before the VPN server. This process effectively masks that you're using a VPN, allowing you to bypass ISP firewalls that may block VPN traffic (and therefore, access to ChatGPT).
During my PIA tests, I opted for the AES 256-bit encryption and OpenVPN protocol for enhanced online privacy while using ChatGPT. However, if you prioritize faster speeds over security, consider AES 128-bit encryption and the WireGuard protocol. PIA's apps provide plenty of customizability, giving you more control over your VPN experience.
I was disappointed to see that this VPN is based in the US — the heart of Eyes Alliances. However, PIA follows an audited no-logs policy and has never complied with any data requests from the authorities.
You can get PIA for as low as $2.03/month. Every plan comes with a reliable 30-day money-back guarantee, so getting a refund is hassle-free.
Useful Features
Unlimited simultaneous connections. With one subscription, PIA lets you and your family use ChatGPT on all your devices simultaneously.
MACE blocker. This prevents trackers from monitoring your ChatGPT usage. It also automatically blocks domains linked with malware or scams — such as the many phishing websites disguised as ChatGPT.
An extensive server network. PIA offers a huge network of 29,650+ servers across 84 countries, giving you plenty of closeby servers to choose from wherever you are. Because of this, you'll never be stuck with an unreliable or slow long-distance server.
| | |
| --- | --- |
| Best Feature | Intuitive and easy-to-install apps that are ideal for new VPN users |
| Average Speed | 81Mbps (19% drop) |
| Security and Privacy | An audited no-logs policy and RAM-based servers for private ChatGPT sessions |
| Server Network | 5,699 servers across 60 countries, along with various special servers for added security and privacy |
NordVPN is an excellent choice for new VPN users thanks to its intuitive app designs. The world map interface lets you simply click the location you want to connect to — no trawling through a long server list. Plus, installing NordVPN on my Windows and Android devices took me just a few minutes, and everything was preconfigured for secure and fast speeds on ChatGPT, Playground, and other OpenAI products.
It also comes with specialty servers — for example, you can use NordVPN's Double VPN servers for extra security. This feature routes your internet traffic through two VPN servers, meaning your data receives two layers of AES 256-bit encryption. Though be forewarned that this will significantly impact your speeds.
My only gripe is that the built-in ad-blocker and malware scanner (Threat Protection) prevented access to my ChatGPT account while active. Thankfully, the Lite version doesn't have this issue and it's easily enabled, so I used that instead.
Subscription plans start at $3.29/month. For the best value for money, I recommend the 2-year option. You can also try NordVPN for free using its 30-day money-back guarantee.
Useful Features
Based in Panama. NordVPN is based in Panama, which is known for having strong privacy laws and not being a member of any intelligence-sharing alliances. This means NordVPN isn't legally obligated to respond to requests for user data, so your activity on ChatGPT will be kept private.
Onion over VPN servers. NordVPN also offers an Onion over VPN service, which allows you to access ChatGPT through the Tor network. This routes your connection through several servers throughout the world with a new layer of encryption being applied at each one — offering you maximum security and privacy protection.
| | |
| --- | --- |
| Best Feature | NoBorders and Camouflage Mode to get around ISP blocks and access ChatGPT from Italy |
| Average Speed | 80Mbps (20% drop) |
| Security and Privacy | AES 256-bit encryption to scramble your online activity and a kill switch, so no one can intercept your private information |
| Server Network | 3,200 servers across 100 countries to bypass ChatGPT blocks from anywhere |
Surfshark's Camouflage Mode (obfuscation) lets you easily access ChatGPT from restrictive countries. It hides your online activity and bypasses the firewalls enforced by ISPs in Italy and other countries blocking ChatGPT. Additionally, Surshark's NoBorders mode gives you a select list of servers that work best under network restrictions whenever it detects any on your network.
Surfshark provides unlimited device connections, allowing you to access ChatGPT on all your devices. I successfully connected my Android smartphone, iOS tablet, Linux, and Windows laptops without problems. Surfshark's performance remained stable across all the devices I tested. Even when using multiple devices simultaneously, I didn't experience any slowdowns while using ChatGPT.
While it may not be among the fastest VPNs on the list (especially when connected to a remote location), Surfshark delivers suitable speeds for ChatGPT usage. I measured a 20% drop, which isn't enough to noticeably slow the chatbot.
Subscriptions are fairly priced — you can get Surfshark's long-term plan for just $2.30/month. I recommend the 2-year option to save the most money. If you're not 100% happy with the VPN, a money-back guarantee allows you to request a refund within 30 days.
Useful Features
An audited no-logs policy. You don't have to worry about Surfshark sharing your ChatGPT convos thanks to its strict no-logs policy, which has passed an independent audit by firm Deloitte.
Cleanweb. This feature blocks trackers so that your ChatGPT activity isn't monitored by any advertising companies. It also automatically blocks domains associated with malware, including fake ChatGPT sites.
Quick Comparison Table: ChatGPT VPN Features
If you're having difficulty selecting a VPN, the following side-by-side comparison table can assist you in finding the best VPN for ChatGPT.
In my assessment, I prioritized obfuscation tech and speeds, as both are crucial factors for whether you can smoothly use ChatGPT from any location. I also included how many devices can be connected simultaneously to each VPN, so you know how many people in your household can securely access the chatbot at the same time.
Tips on Choosing the Best VPN for ChatGPT
All the VPNs on my list offer impressive features for ChatGPT. However, if you wish to run your own tests, you can use my checklist:
Obfuscation. It makes your VPN connection look like regular internet traffic, so that you can bypass VPN-blocking firewalls and access ChatGPT on restrictive networks.
Robust security and privacy features. For secure and private ChatGPT usage, your VPN should provide critical security features such as AES 256-bit encryption, a no-logs policy, a kill switch, and IP/DNS leak protection.
Fast speeds. To use ChatGPT seamlessly, it's essential to choose a VPN that doesn't significantly impact your internet speed. Otherwise, you may run into long wait times when using the chatbot.
Vast server network. Choose a VPN with numerous servers across the world. This minimizes the likelihood of server congestion and guarantees a wide selection of reliable servers for accessing ChatGPT.
Device compatibility. Ensure your VPN is compatible with the devices you intend to use for ChatGPT. Top VPN providers offer user-friendly apps for all popular operating systems, such as Windows, Mac, Android, iOS, and Linux.
Reliable customer support. Look for a VPN who offers 24/7 support that can promptly address any queries you may have.
Trustworthy money-back guarantee. A VPN with a reliable money-back guarantee ensures you can receive a complete refund if dissatisfied with the service.
Quick Guide:
How to Use ChatGPT With a VPN in 3 Easy Steps
Get a VPN. I recommend ExpressVPN for its fast, reliable, and obfuscated server network, which is ideal for accessing ChatGPT from anywhere. You can try ExpressVPN without risk  (it's backed by a 30-day money-back policy).
Connect to a server. Pick a country where ChatGPT is officially available, like the UK or US.
Start using ChatGPT. Enjoy having private access to the AI chatbot, even on restrictive networks.
FAQs on VPNs for ChatGPT
Is it legal to use ChatGPT with a VPN?
Using ChatGPT with a VPN is legal in most countries. You can use any VPN on this list to safely access and use ChatGPT.
However, this isn't the case for all countries. VPN use is restricted by law in some locations, for example. It's important to check your country's laws and regulations regarding VPN usage and ChatGPT before using either tool.
Where is ChatGPT restricted?
The service is restricted or banned in several countries, including:
Italy
China
Russia
Belarus
Iran
North Korea
Hong Kong
Egypt
Venezuela
Afghanistan
To access the service in these locations, you need a VPN that's proven to work under restrictive networks. It's also worth mentioning that ChatGPT usage is restricted in some schools and workplaces (such as Amazon, Verizon, and JP Morgan). Countries like the US, France, Australia, and India apply these restrictions, but they aren't nationwide.
What are the privacy concerns surrounding ChatGPT?
ChatGPT collects a lot of user data. This includes the content of conversations, metadata, and other information. This data is allegedly used to improve the model's performance and provide a better user experience, but it still represents a large privacy concern — it's possible these datasets could be a prime target of cyberattacks, or could even be sold on to third-parties in the future.
That's why it's recommended to get a VPN with robust security and privacy features — this can, at least, prevent any data logged by ChatGPT from being linked to your real IP address. I'd also recommend signing up for ChatGPT with a burner email address that isn't linked to your social media accounts or any other sites that may be used to identify you.
Italy banned ChatGPT over data privacy concerns. According to the Italian data privacy regulator, ChatGPT violates several rules — it doesn't inform users their data is collected, it can provide information about people that is inaccurate or even untrue, plus there is no legal basis for collecting individuals' personal information massively to train ChatGPT.
What can I do if my VPN is not working with ChatGPT?
There are a few possible solutions if you still receive a message that ChatGPT is not available in your country. First, make sure you're using a quality VPN that's proven to work with ChatGPT. Many VPNs fail to unblock the service in restrictive networks.
If you're definitely using a good VPN and you're still having issues, here are a few other things you can try:
Change VPN server. The one you are connected to could be experiencing issues that may leave it unable to unblock ChatGPT.
Ensure your VPN is up to date. You may be running into a bug that has been fixed in the latest update — install any that are pending and try again.
Disable your firewall and antivirus. These may be flagging your VPN as malicious and blocking its proper functionality. Try either disabling this software or whitelisting your VPN in their settings.
Contact customer support. If none of the above options work, reach out to the customer support service for your VPN. They may be able to help you troubleshoot and rectify the issue.
Can I use a free VPN with ChatGPT?
Yes, but it's not recommended. Free VPNs typically can't unblock ChatGPT — even if you find one that can, free VPNs are notorious for slow connection speeds and poor security. Many free VPNs even collect and sell user data to third parties. You're better off using a quality VPN with a trustworthy money-back guarantee to ensure reliable and private access to ChatGPT.
Get the Best VPN for ChatGPT
ChatGPT is an exciting tech that can be used to boost productivity in various ways. However, you can't use this AI chatbot in Italy and several other countries. Using a VPN can overcome such ChatGPT restrictions, but not all VPNs are suitable for the job. Some lack essential security features, or have slow speeds that can significantly slow down the chatbot.
ExpressVPN is my top recommendation. It has impressive speeds, automatically obfuscated servers, and robust privacy features to use ChatGPT securely from anywhere. It's also backed by a 30-day money-back guarantee, meaning you can test ExpressVPN risk-free. Getting a refund is hassle-free if you're not entirely impressed with the service.
To summarize, these are the best VPNs for ChatGPT...
Privacy Alert!
Your data is exposed to the websites you visit!
The information above can be used to track you, target you for ads, and monitor what you do online.
VPNs can help you hide this information from websites so that you are protected at all times. We recommend ExpressVPN — the #1 VPN out of over 350 providers we've tested. It has military-grade encryption and privacy features that will ensure your digital security, plus — it's currently offering 49% off.