5 Best VPNs for WhatsApp in 2023 – Call on iOS and Android
There are many services promising to give you great coverage and the ability to bypass firewalls, but this isn't always true. While some of them don't provide you with the security you need, others may record and sell your personal data to make an income.
I tested 30+ VPNs, and shortlisted the ones that allow you to use WhatsApp from anywhere. My selections offer impressive speeds, servers in multiple locations across the globe, and strong security features to keep your chats secure. These VPNs are also compatible with all the main platforms, so you can get WhatsApp on your computer and your mobile phone — no matter which OS you use.
My top recommendation is ExpressVPN. It has superfast speeds and a huge server network so you can keep up with your group chat threads without any interruptions. You can give ExpressVPN a try risk-free. It has a 30-day money-back guarantee, so you can get a full refund if you don't like it.
Short on Time? Here Are the Best VPNs for WhatsApp in 2023
Best VPNs for WhatsApp — Full Analysis (Updated in 2023)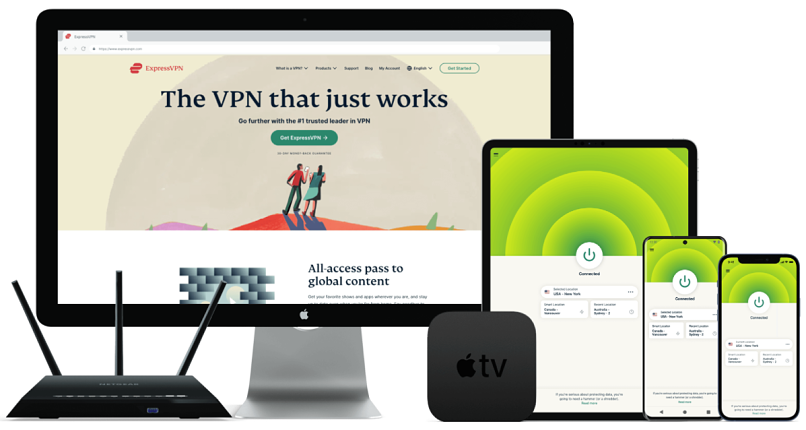 Editor's Choice
Editor's Choice

Tested January 2023
Try Risk-Free for 30 Days
Available on:
Chrome
Router
Smart TV
More
www.ExpressVPN.com
Excellent connection speeds
3,000 servers in 94 countries
5 simultaneous device connections
Also works with: Meta, Instagram, TikTok, Snapchat and more
Compatible with: Windows, Mac, Linux, Android, iOS, AppleTV, gaming consoles, routers, and more
ExpressVPN has incredible speeds so you don't have to worry about your video chats being interrupted by irritating lag. During my tests, my average speeds were around 60 Mbps, so I had zero interruptions when I called family on its UK servers. The minimum speed for video calling is 8 Mbps download and 3 Mbps for upload, so I had more than enough. I chatted for a couple of hours without any buffering, even though I was on holiday miles away.
It has a large server network with countries across the globe. I tested its servers in Spain, the US, the UK, and Australia, and I had fast, stable connections. This is great for accessing WhatsApp from anywhere as you won't miss a single message. If you like to catch up with friends or family at the same time each week, you can still join the chat even when you're abroad. When I was travelling I managed to connect while I was in China, Saudi Arabia, and Egypt, keeping me up to date with family and friends across the globe.
The VPN protects your data and devices with the highest security and privacy features. With 256-bit encryption, a kill switch, and the most up-to-date protocols, your devices are protected from cyberattacks and prying eyes. All of its servers passed my DNS and IP leak tests, which means that my ISP and website I access couldn't tell where I was chatting from. This is useful, as you won't be locked out of WhatsApp when you travel.
One downside of ExpressVPN is the price, which is quite high at $6.67/month. However, I got a 49% discount when I signed up, so the price was considerably lower overall.
You can try all of ExpressVPN's features risk-free since it's backed by a 30-day money-back guarantee. The refund process is quick and easy. I spoke to a rep on the live chat to let them know I wanted to cancel on day 29. They asked why I wanted to leave and if I had a good experience with the VPN, but they swiftly approved my refund — it only took 15 minutes. I had all my money back within 2 days.
Use WhatsApp With ExpressVPN Now!
Military-grade security features
Lightning fast speeds
7 simultaneous device connections
Also works with: Meta, Instagram, TikTok, Snapchat and more
Compatible with: Windows, Mac, Linux, Android, iOS, Xbox, PlayStation, and more
CyberGhost has state-of-the-art security features, which include 256-bit encryption, a kill switch, and DDoS attack protection. You won't have to worry about your messages being hacked since all of CyberGhost's servers I tested showed zero DNS and IP leaks. Every connection is covered by secure protocols that ensure your messages stay between you and your chat members.
Similar to ExpressVPN, CyberGhost's server network is extensive, covering hundreds of countries across the world. Wherever you travel to, you can connect to a server in your home country and continue to post in your favorite chat groups. I tested its Thailand, Italy, Spain, and Australian servers and had steady connections within moments. You can chat for hours in high-traffic group chats without poor connections making you fall behind and miss responding to your WhatsApp messages.
This VPN's speeds are great, and I never had less than 30 Mbps, even when I accessed its UK server from a location thousands of miles away. Since WhatsApp only needs 8 Mbps for video calls, this was almost 4 times as much as I needed. You'll be able to answer your latest chat posts without having to wait with these speeds, and keep your friends updated while you travel.
A small downside is the expensive monthly plan. However, you can get its long-term plan for only $2.19/month which comes with 3 months of free access.
Its long-term plans also come with an extensive 45-day money-back guarantee, which allows you to try it free. I asked the support rep to cancel my subscription on day 40. They asked why I wanted to leave, but didn't push me to stay — the entire chat only took 10 minutes and my request was approved. The refund was with me in 4 days.
Use WhatsApp With CyberGhost Now!
29,650 servers in 84 countries
High speeds
10 simultaneous device connections
Also works with: Meta, Instagram, TikTok, Snapchat and more
Compatible with: Windows, Mac, Linux, Android, iOS, Xbox, PlayStation, and more
Private Internet Access (PIA) has servers in 84 countries, making it easy to access WhatsApp from anywhere. No matter where you travel, you'll always be able to join your regular family and friend video and message chats. During my tests, my connection never dropped out, and I joined my monthly quiz chat and played for hours without any issues.
It has fast speeds, so you won't have to deal with interruptions during your WhatsApp calls. I had an average of 28 Mbps during my tests, which is more than enough for video calls. Since it's sometimes hard enough to answer comments on a busy group chat before the conversation moves on, PIA lets you fire your comeback replies without annoying buffering.
You are fully protected against cyberattacks, since PIA's security features are top class. Its servers are covered by 256-bit encryption, giving you full protection against prying eyes and hackers. Plus, its kill switch assures that no one can intercept your personal information if the server you use malfunctions. You can relax and enjoy the conversation knowing there are no secret members eavesdropping on your chat.
One negative with PIA is that the company is based in the US, which is in the 5-Eyes Alliance. However, this VPN doesn't keep any data logs, so in the event that a government body asked for information, it likely wouldn't have anything to give.
Get PIA for the great price of $2.19/month thanks to its latest discounts.
If you're still undecided, try it free with its 30-day money-back guarantee. I told the support team I wanted to cancel my subscription on the 28th day. After explaining why I didn't need the VPN anymore the agent approved my request — the entire process only took 15 minutes. My money was back in my account within 4 days.
Use WhatsApp With Private Internet Access Now!
Unlimited simultaneous device connections
2,000 servers in 75 countries
Military-grade encryption
Also works with: Facebook, Instagram, TikTok, Snapchat and more
Compatible with: Xbox, PlayStation, Windows, macOS, Linux, Android, iOS, and more
IPVanish gives you unlimited device connections. This is super handy as it means you can use the VPN on your mobile devices, laptops, and PCs, so you're covered every time you go on WhatsApp. I tested it by using WhatsApp on 6 different devices simultaneously, and there were no interruptions to my connection.
There is first class security on all of its servers, so you're fully protected from hackers and cyberattacks. I tested for DNS and IP leaks using an online tool on servers located around the world and all of them kept my identity fully private. You're protected by the latest protocols, a kill switch, and 256-bit encryption on all its connections so you can rest assured your messages can only be seen by the intended recipients.
One issue with IPVanish is that its server network is quite small. But I didn't experience any congestion in the locations I tested, and many of the countries I needed for WhatsApp were covered.
You can grab a yearly plan for only $3.99/month. The long-term plan is better value than the short-term subscription, so I recommend you sign up for the full year.
If you're still undecided, you can try IPVanish with its 30-day money-back guarantee. It's quick and easy to get a refund — just click into settings on the website and cancel your account. I didn't even need to give a reason for leaving, and my request was accepted in no time. After 3 days, I had my money back in full.
Use WhatsApp With IPVanish Now!
Fast speeds
200 servers in more than 63 countries
10 simultaneous device connections
Also works with: Meta, Instagram, TikTok, Snapchat and more
Compatible with: Xbox, PlayStation, Windows, Mac, Linux, Android, iOS, and more
PrivateVPN has extremely fast servers and unlimited bandwidth, so you can chat all night without worrying about screen-freeze or lag spoiling your fun. My tests gave me consistent speeds of around 40 Mbps on nearby servers. These fast results mean that you can relax and enjoy your chats without annoying interruptions.
All of your comments and conversation are kept safe with 256-bit encryption, DNS leak protection, and up-to-date connection protocols. This means that you don't have to worry about becoming the victim of a cyber attack while you share information with your friends. The encryption is so advanced it's impossible to force, even if a hacker tried for a hundred years.
There's a relatively small network of servers — 200 servers in 63 countries. However, the servers I have used connected quickly and its location distribution covered the countries I needed to access WhatApp.
Though PrivateVPN isn't too expensive to begin with, you can subscribe now for only $2/month with its latest deal.
It's backed by a 30-day money-back guarantee, so you can try it for free. I asked for my money back on day 25, and the representative who joined the chat was very friendly. I was asked about my user experience and my reason for wanting to cancel, but he didn't pressure me to stay — I had my refund in 5 days.
Use WhatsApp With PrivateVPN Now!
Quick Comparison Table: WhatsApp VPNs Features
To choose the best VPNs for WhatsApp, I considered data encryption, device compatibility, server countries, and the best value. This way, you'll be able to use WhatsApp on all your devices and connect to hundreds of locations around the world.
Tips on Choosing the Best VPNs for WhatsApp
There are 4 main areas I focus on when I'm choosing a VPN to use WhatsApp:
Security — All the VPNs I shortlisted use military-grade encryption and multiple security protocols. This way, all of your chat contents will be fully protected.
Server network — You need a VPN with servers all around the world. This way, you'll be able to access WhatsApp from anywhere.
Speeds — Fast speeds take the frustration out of online conversations so you can talk without interruptions. The VPNs on my list offer impressive connections so you can use WhatsApp without lag.
Device compatibility — All of my top choices are compatible with major devices, so you use WhatsApp at home or on the go.
WhatsApp not Working? Try These Tips
If you follow the steps above but still find you can't access WhatsApp, follow these troubleshooting techniques to get back into the conversation:
Check the country server you're connected to. Go into the VPN app and double-check which server country your device is using. Some countries block access to WhatsApp completely, so be sure to select a country such as the US, Australia, or the UK, where WhatsApp is readily available. You must click the connect button on your VPN before it will work, so be sure you've made the connection before you open WhatsApp.
Check for DNS leaks. If you use one of my recommended VPNs, it's highly unlikely that you'll experience an IP or DNS leak. But if a particular server isn't performing as well as it should, it is possible that WhatsApp will have access to your real location and activate its blocks. You can switch to a different server in this case, and the problem should resolve.
Ask your VPN provider for assistance. Occasionally, your ISP will put a general block on a number of servers from VPN providers in order to discourage use. If this is the case, you can contact the VPN and ask them to tell you which servers haven't been blacklisted. All of my recommended providers have 24/7 chat services, so it's easy to contact them and get your issues resolved in no time. If WhatsApp has blocked a particular port, they will also be able to help you to access an alternative port to get you back into the chat.
Get Started With ExpressVPN Now!
FAQs on the Best VPNs for WhatsApp
In which country is WhatsApp banned?
WhatsApp is completely banned in 13+ countries. These include Bangladesh, Brazil, China, Egypt, Ethiopia, Jordan, Kazakhstan, Saudi Arabia, Montenegro, The Gambia, Turkey, Uganda, and Zimbabwe. In the following locations, you can use WhatsApp but will not be able to access its voice call feature (VoIP): Azerbaijan, Bahrain, Morocco, UAE, Uzbekistan.
Keep yourself safe while you use WhatsApp — choose a quality VPN with great security features, such as my top recommended choice, ExpressVPN.
Can I use a free VPN with WhatsApp?
You can, but I recommend against it. Free VPNs don't have the same level of security and privacy protection that premium VPNs have as standard. They also make money selling your data to 3rd parties. Instead, make sure your private conversations stay private by using one of my recommended VPNs when you're using WhatsApp.
Is it illegal to use WhatsApp with a VPN?
It's mostly legal, but it depends on the country you're in. If you are traveling in a country such as the UAE, you are not allowed to use WhatsApp because the government has banned it. Make sure to check the rules and regulations of the countries you're visiting, so you don't end up breaking the law.
Use WhatsApp With ExpressVPN Now!
Get the Best VPN for WhatsApp Today
It can be hard to access WhatsApp while you travel due to geo restrictions. A good VPN helps you to keep up with your family and friend chats and let everyone know how you're doing while you're away.
My favorite choice is ExpressVPN because it has amazing speeds, a huge network of global servers, and first-class encryption and security features with each subscription. You can get it now for just $6.67/month and try it risk-free. If you don't like it, you can get a refund if you cancel within 30 days.
To summarize, the best VPNs for WhatsApp are...
Privacy Alert!
Your data is exposed to the websites you visit!
The information above can be used to track you, target you for ads, and monitor what you do online.
VPNs can help you hide this information from websites so that you are protected at all times. We recommend ExpressVPN — the #1 VPN out of over 350 providers we've tested. It has military-grade encryption and privacy features that will ensure your digital security, plus — it's currently offering 49% off.