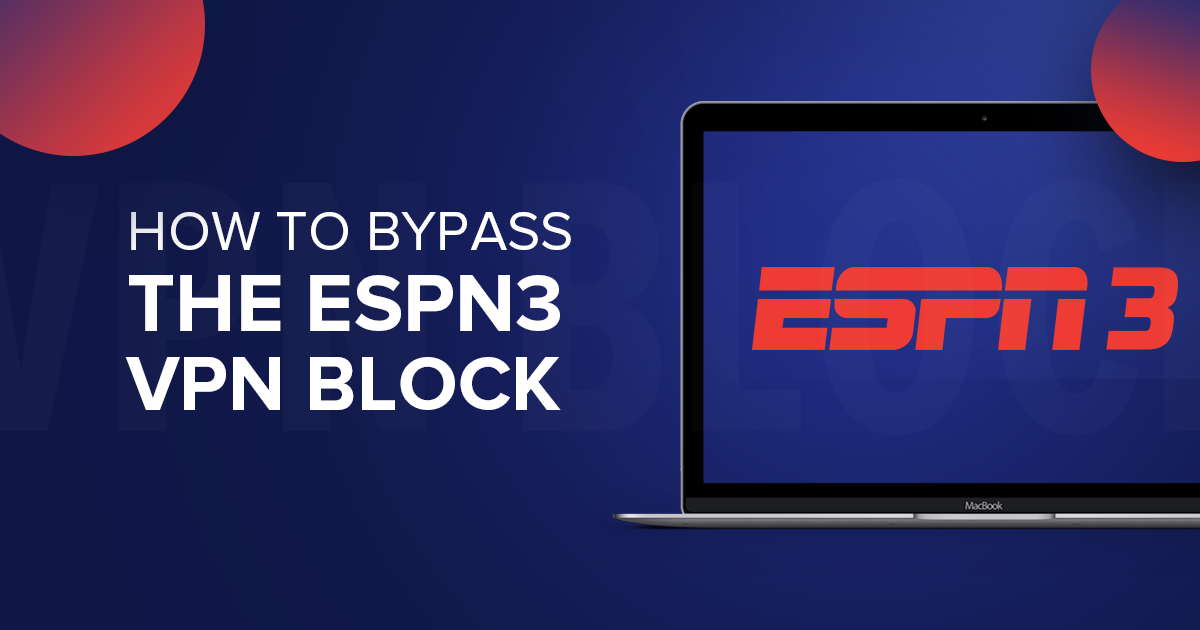 How to Bypass ESPN3's VPN Block in January 2023 (Easy!)
ESPN3 offers exclusive broadcasts and camera angles of sporting events that you can watch online through your ESPN app or the Watch tab at ESPN.com. But the sad news is, if you travel outside the US, you can't access ESPN3 due to geo-restrictions. Even if you're inside the US, you may also be blocked from watching some shows due to blackouts.
The best way to watch ESPN3 from anywhere is by using a virtual private network. A VPN is a tool that makes the platform "think" you are accessing it from a different location since you are assigned a new IP address.
But not all VPNs are made equally. After trying more than 15 VPNs, I recommend ExpressVPN as it proved to be the best at unblocking ESPN3. I was able to watch sports events seamlessly and in HD. Plus, you'll have 30 days from the start of your subscription to ask for a refund if you are not completely satisfied with it.
Quick Guide:
How to Watch ESPN3 From Anywhere in 3 Easy Steps
Download a VPN. I recommend ExpressVPN because you can watch ESPN3 with lightning-fast streaming speeds.
Connect to a server in the US located in a blackout-free region. To find out where local blackouts are, check your local listings or the sports league's website.
Start watching ESPN3. Go to the ESPN app or WatchESPN.com website and log in. You can now watch live or replays of sports events on ESPN3.
Why You Need A VPN to Watch ESPN3
WatchESPN (also known as ESPN3) restricts your viewing by imposing geo-restrictions and blackouts. It is not available to anyone outside the US. However, you may still encounter playback errors due to blackouts even if you are in the US. Blackouts happen because content owners (sports leagues) and distributors (TV and streaming services) limit broadcasts.
Each league has its reasons for blackouts, such as encouraging ticket sales for the actual event. You can check your local listings and the sports league's official website to find out whether the event is blacked out.
To access ESPN3 from anywhere, you need to make your IP address look like you're in the US, where there are no blackouts or restrictions. You can do that by using a virtual private network. A VPN is a tool that changes your real location by assigning you a new IP address. It sends your traffic through a server in a different location, making it seem like you are accessing websites and channels from there.
If you use the right VPN, you'll be able to watch all the ESPN3 shows you want. The VPN will make it look like you are in a place with no restrictions. Even if a show is blacked out in your current location in the US, you can use a VPN to connect to a server from a different state. To make it easier for you, I've listed down the best VPNs to use when streaming ESPN3.
Best VPNs to Watch ESPN3 From Anywhere in 2023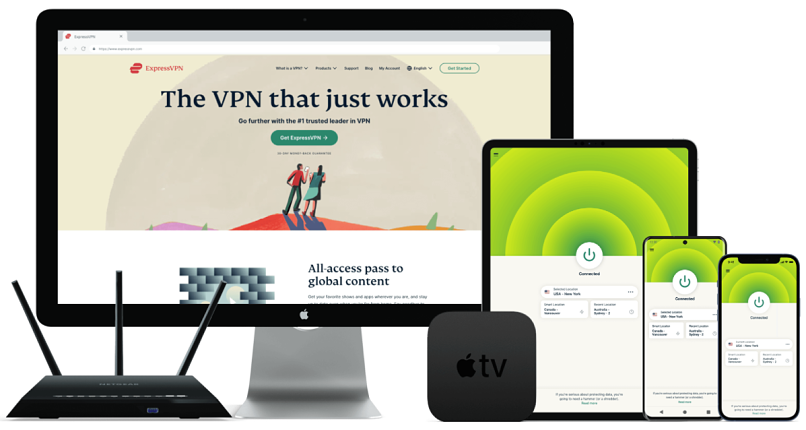 Editor's Choice
Editor's Choice

Tested January 2023
Try Risk-Free for 30 Days
Available on:
Chrome
Router
Smart TV
More
www.ExpressVPN.com
Blazing-fast speeds
3,000 servers in 94 countries
5 devices per license
Can unblock: ESPN3, ESPN, Netflix, Disney+, HBO Max, Hulu, BBC iPlayer, Vudu, and more
Compatible with: Windows, Mac, iOS, Android, Linux, routers, Apple TV, and more
ExpressVPN is my top choice. Its lightning-fast speeds allowed me to watch ESPN3 live sporting events and videos in HD without any problem. Other VPNs were so slow on interstate servers that the videos buffered a lot.
The second great thing about ExpressVPN is that it has 24 US-based servers. And because it offers city-level server selection, it's easier for you to pinpoint a server in a US city that can unblock ESPN3 for the event you want to watch. So even when I'm in Los Angeles, I can watch the LA Lakers' home court game without a problem. I tested dozens of ExpressVPN's US servers, and they worked perfectly — no blackouts stopped me from watching ESPN3 from anywhere.
ExpressVPN's very own Lightway Protocol lets you connect to a server faster. Lightway is a next-generation protocol that is fast, reliable, secure, and doesn't use as many resources. As a result, switching between servers happens in a split second.
While ExpressVPN is the best out there, it is pricier than most VPNs, with subscriptions starting at $6.67/month. Thankfully, I got a good deal when I signed up because it offered 49% off.
ExpressVPN has several plans with the same features that vary only on the subscription length. However, when you sign up for the longer ones, the price will be in the same range as other VPNs.
What's great about ExpressVPN is that it stays true to its no-questions-asked 30-day money-back guarantee. I sent a message through the live chat saying I wanted a refund. While other services force me to troubleshoot and exhaust all means, ExpressVPN did none of that. The customer representative processed my request, and I got my money back within 5 days.
Special streaming servers
11 servers in the US only
Great speeds
Can unblock: ESPN3, ESPN, Netflix, Disney+, HBO Max, Hulu, BBC iPlayer, Vudu, and more
Compatible with: Windows, Mac, iOS, Android, Linux, routers, Apple TV, and more
CyberGhost has an extensive server network that includes optimized servers specifically for ESPN. These servers are guaranteed to bypass geoblocks on ESPN3 and ESPN+. I connected to a streaming-optimized server immediately by typing the word "ESPN" in the search bar of the "For Streaming" tab within the app.
It has a total of 9,753 servers in 91 countries, of which 11 are in the US. With that many servers in the US alone, you'll be able to unblock ESPN3 shows and games with ease wherever you go. I tested several of CyberGhost's US servers and never had any problem watching the ESPN3 shows I wanted.
CyberGhost doesn't have speed caps, making it perfect for streaming ESPN3 shows and games in HD. I watched NFL PrimeTime without annoying buffering issues — it's as if I was watching from home.
It is an excellent VPN service, but it has a minor con: its short-term plans are slightly more expensive and come with a shorter money-back guarantee. However, CyberGhost's longer-term plans are reasonably priced and come with a 45-day money-back guarantee, which is more than the industry standard.
It has different pricing tiers that vary based on the length of the subscription. Prices start at $2.19/month.
When it comes to getting a refund from CyberGhost, you're in luck — the process is quick and easy. All you need to do is contact the 24/7 live chat team and request a refund. The representative I chatted with processed my refund quickly, without any questions. Its support team told me the money would be in my account in 5–10 business days, but I got it even earlier than promised.
Intuitive app design
Fast speeds
2,000 servers in 75 countries (17 servers in the US)
Can unblock: ESPN3, ESPN, Netflix US, ESPN, YouTube TV, Hotstar, SlingTV, and more
Compatible with: Linux, macOS, Windows, Chromebook, Android, iOS, and more
IPVanish's VPN app has an excellent user interface that anyone can operate easily. It is beginner-friendly — I could connect to a US server with just a few clicks. By default, the app organizes the servers by location, but you can sort the list by favorites, so a few are always on top.
Thanks to IPVanish's fast speeds, I was able to watch game playbacks without any lag. While ExpressVPN is clearly the winner when it comes to speed, IPVanish is good enough for buffer-free binge-watching.
Another great benefit of using IPVanish is that it has a large number of servers, with 17 of them in the US. With this number of servers in the US, you're guaranteed to have a backup server if one doesn't work. But in my experience, I never had to try more than 2 servers.
While IPVanish does have great features, it does have one minor flaw — it doesn't unblock all streaming services. Thankfully, when I tested IPVanish, I was able to watch ESPN3 without issues.
IPVanish offers different packages. The first plan includes the VPN alone and costs $3.99/month per month when paid annually. The second plan offers VPN plus encrypted cloud backup. I subscribed to the first plan because I didn't need the backup feature. And I didn't hesitate to sign up as IPVanish was offering a 66% discount at that time.
IPVanish has a 30-day money-back guarantee. To qualify for a refund, you must: 1) be a new subscriber, 2) have a yearly plan, and 3) cancel before the last day of your subscription. I went directly to its website to cancel my account, and it processed my refund within 3 business days. I didn't even have to contact the support team for help.
Where Can I Watch ESPN3 Online?
You can watch ESPN3 through the ESPN app. The app is available for Android and iOS devices, as well as Apple TV, Amazon Fire TV, Roku, and Xbox One. The app allows you to watch live sporting events and on-demand content. You can also stream the games on your computer or tablet by going to WatchESPN.com.
Aside from the main app and website, here's how you can watch ESPN3 without cable:
Hulu + Live TV
Hulu + Live TV offers over 75 platforms, including ESPN3, ABC, and NBC. Just like ESPN's app, you can use Hulu on various devices, including Apple, Android, Amazon, PlayStation, Xbox, Roku, and more. You can also use the same account to stream on 2 devices simultaneously.
YouTube TV
YouTube TV is YouTube's paid-for service that offers more than 85 channels, including ESPN3. With YouTube TV, you can record games for later viewing with no storage limitations, and you can share the account with up to 5 other members of your household. You can try YouTube TV with its free trial to test it out.
fuboTV
You can watch ESPN, ESPN2, and ESPN3's live sporting events in 4K if you subscribe to fuboTV. It provides access to several other sports channels, including Root Sports, NBA League Pass, and FS1. Your subscription will also allow you to watch on 3 devices simultaneously. Finally, it also comes with 250 hours' worth of DVR cloud storage for recording shows.
Sling TV
Sling TV is the most affordable way to watch ESPN3 shows if you don't have cable. You can get the Sling Orange package, including ESPN3, ESPN, HGTV, AMC, A&E, and more. Sling TV does not require a contract, so you can subscribe as needed. You can also record up to 50 hours.
Vidgo
Vidgo offers its users access to over 95 channels, including ESPN3. You can watch shows on Vidgo on iOS, Android, Roku, and Amazon Fire TV.
FAQs on Watching ESPN3 With a VPN
Can I watch ESPN3 for free?
No, you cannot watch ESPN3 for free. You can subscribe to a TV provider that includes ESPN3 in its plan or subscribe to one of the many streaming services that offer ESPN3 as part of their package. These services are Sling TV, Hulu + Live TV, YouTube TV, fuboTV, and Vidgo.
If you're looking for a more affordable way to watch ESPN3 without cable, Sling TV's Orange Package is your best bet.
How do I bypass ESPN3's live blackouts?
If you're trying to watch a game not available in your area, first, you need to know where the event is not blacked out. To find that out, you can check your local listings and the sports league's official website.
Once you determine the blackout-free zones, you can use a VPN to virtually change your location and bypass the blackouts. By connecting to a server in a non-blacked-out area, you'll be able to watch the game as if you were there.
All of the VPNs that I've listed above have servers in different areas across the US. You'll be able to connect to a server from a different location, bypass the blacklisting, and watch ESPN3 shows.
Can I watch ESPN3 outside the US?
ESPN3 is restricted not only outside the US but often even in some parts of the US due to blackouts.
Since ESPN Streaming is only available through US domestic providers, using it internationally is not going to work. However, there is a way you can watch ESPN3 even while you're outside of the US. All you need is a VPN.
A VPN will assign you a new IP address allowing you to bypass geo-restrictions. This way, you can keep up with your favorite shows from anywhere in the world.
How can I watch ESPN3 without a TV provider?
ESPN3 is not a channel, it's a streaming service included in a package of either TV providers or other streaming platforms.
You need to subscribe to any streaming service that offers ESPN3 as part of its package. These services are Sling TV, Hulu + Live TV, YouTube TV, fuboTV, and Vidgo.
How much does it cost to stream ESPN3?
ESPN3 is not a standalone channel; instead, it is part of a package of other TV providers or streaming sites. In that case, the price depends on whether you're streaming from Vidgo, Hulu + Live TV, Sling TV, or some other provider. The cost depends on the service that you use to watch ESPN3.
For example, if your TV provider includes ESPN3 in its package, you won't have to pay for anything extra. If your TV provider does not provide ESPN3, you would have to subscribe to a streaming service that offers ESPN3 first.
Start Watching ESPN3 Now
After testing more than 15 VPNs, my top choice for unblocking ESPN3 is ExpressVPN. It is an excellent option for anyone looking to watch their favorite sports shows when traveling or overcome blackouts when at home.
I used it wherever I went, and the connection speeds were lightning-fast, which meant HD quality streaming. It also offers with a 30-day money-back guarantee, so you have nothing to lose if things don't work as expected.
To summarize, the best VPNs for watching ESPN3 are…
Privacy Alert!
Your data is exposed to the websites you visit!
The information above can be used to track you, target you for ads, and monitor what you do online.
VPNs can help you hide this information from websites so that you are protected at all times. We recommend ExpressVPN — the #1 VPN out of over 350 providers we've tested. It has military-grade encryption and privacy features that will ensure your digital security, plus — it's currently offering 49% off.