How to Get A CyberGhost Lifetime Subscription in 2023
Some spammy sites try to tell you that you can get a lifetime subscription to CyberGhost by buying their 5-year subscription plan and renewing it for free once the initial subscription is up. The problem is CyberGhost doesn't offer a lifetime subscription, it doesn't even offer a 5-year subscription.
Don't worry, you can still get a safe, long-term subscription to CyberGhost that comes with a 45-day money-back guarantee; something most lifetime VPNs don't offer. Read on to find out why CyberGhost doesn't offer a lifetime subscription and why that's a good thing.
Get A Safe, Long-Term Subscription to CyberGhost Today!
What Is A Lifetime Subscription, Why Do VPNs Offer Them?
Lifetime VPNs include paying a large sum of money all at once, usually several hundred dollars, in exchange for getting a lifetime of VPN coverage. So, what is a lifetime? The truth is it can mean just about anything including a set number of years, your lifetime, the VPNs lifetime, or something else entirely.
Most VPNs offer them because it means getting large sums of money immediately, which at first glance seems like a foolproof plan. The problem is unless they offer a monthly plan as well, the VPN has no real way to sustain revenue. Even if they did offer a monthly plan, the fees would have to be extremely high to make up for the loss of long-term revenue caused by the lifetime option. Eventually, monthly subscribers are going to get tired of footing the bill for upgrades, adding servers, and developing new features, and look elsewhere.
The result is the VPN service becomes riddled with security holes or outdated because there isn't any money to fix issues, leaving your devices and personal information at risk. Of course, that's if the VPN even manages to stay in business until you get your full value out of the subscription.
Get Started With CyberGhost Now!
What Are The Problems With A Lifetime VPN?
There's a good reason that CyberGhost doesn't offer a lifetime VPN subscription, it cares about network stability, user privacy, and security. It knows that creating app patches for security and adding and maintaining servers isn't cheap. While a lifetime VPN seems tempting because you only have to pay once, there are some major issues with this type of subscription plan.
Defining A Lifetime
The term lifetime is relative when it comes to VPNs, as there is no industry-standard definition of what that means in terms of a subscription. One VPN may define it as a 10-year or 5-year period, while others mean the lifetime of your device or the company itself.
Account Cancellation
There is an increased chance of account cancellation with lifetime VPN subscriptions in comparison to monthly, yearly, or even 3-year options. The main reason is if the VPN wants to stay in business, the lifetime subscription isn't a great business model to use, and most end up removing the option from available plans. In that case, your account could get canceled or at best transferred over to the longest plan the VPN now offers. That said, there is no guarantee it will offer you any type of reimbursement or alternative plan if it does cancel the account.
Outdated Service
A quality VPN that cares about its server network, privacy and security features, and building reliable apps, is very expensive to maintain. Without steady revenue, VPNs can fall into disrepair quickly becoming susceptible to virus and malware attacks, as well as server outages. You will rarely find a lifetime VPN offering the latest protocols, privacy features, or intuitive apps for most popular devices. The server networks also tend to remain the same throughout the life of the VPN.
Compromised Privacy
A server without regular maintenance develops security holes quickly and hackers are all too willing to take advantage of it. Using an outdated service puts your privacy at risk, including any saved passwords, your browsing history, and even your true location.
What Length CyberGhost Subscription Should I Buy?
While it may be tempting to choose the monthly plan, as it's the most affordable in terms of immediate payment, you'll only get a 14-day money-back guarantee. The 1, 2, and 3-year plans offer the best long-term deal and value though, plus each one comes with a 45-day money-back guarantee. That way, you'll have longer to test all of its amazing features and find out if it's a good fit for you.
Okay, No Lifetime Plan - What Does CyberGhost Offer?
CyberGhost offers plans that start as low as $2.25/mo for the 3-year and reach as high as $12.99/mo for the monthly subscription. The best deals are available on the long-term plans, which are billed all at once.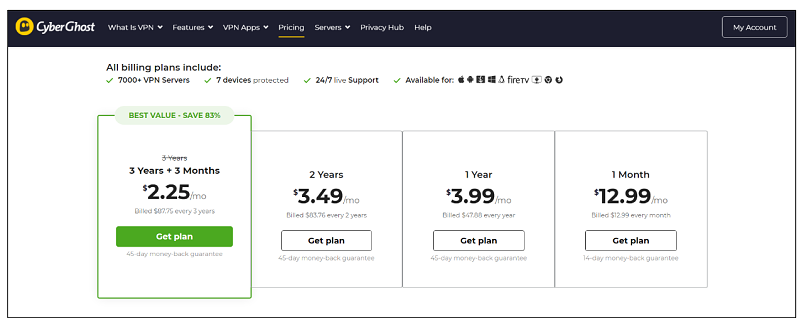 Is CyberGhost Worth the Subscription Price?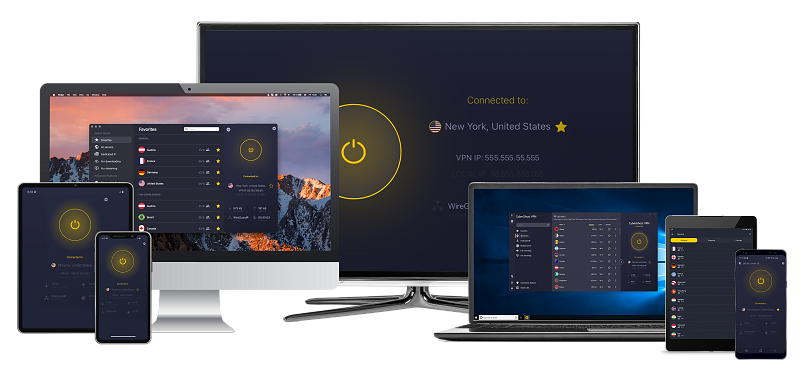 Editor's Choice
Editor's Choice

Tested February 2023
Try Risk-Free for 30 Days
Available on:
Chrome
Router
Smart TV
More
www.cyberghostvpn.com
9,753 servers in 91 countries
7 devices per license
45-day money-back guarantee
Works with: BBC iPlayer, Netflix, Sky Go, Eurosport, and more
Compatible with: Windows, iOS, Mac, Android, Linux, routers, Chrome, and Firefox
CyberGhost has over 9,753 servers in 91+ countries, more than enough to access your favorite streaming accounts from almost anywhere in the world. That includes services with notoriously strong anti-VPN technologies like Netflix and BBC iPlayer.
It uses industry-standard OpenVPN protocol for more stable connections and 256-bit AES encryption for secure data transfer between servers. CyberGhost also has a strict no-logs policy and is based out of Romania, away from the 5, 9, and 14-Eyes Alliances. That means your data will never be collected or shared with anyone, even the government.
Dedicated streaming and P2P servers make accessing streaming and torrenting sites quick and painless, regardless of where you travel. CyberGhost offers WireGuard protocol for faster streaming speeds, and the No-Spy servers are great for protecting your anonymity while torrenting. Plus you get up to 7 simultaneous device connections per license.
The service offers 24/7 customer support via live chat and email, and 1-3 year plans are covered by a 45-day money-back guarantee.
Get Started With CyberGhost Risk-Free Now!
The Bottom Line
Lifetime VPN subscriptions are a bad idea, most legitimate VPNs don't offer them anymore. A monthly or yearly fee may seem like a hassle but those fees pay to add privacy and security features, stabilize servers, and expand the network.
In terms of increasing your online privacy, a shorter 1-3 year subscription with a provider like CyberGhost, which offers a 45-day money-back guarantee, is a much safer option.
Stay Safe in 2023 with CyberGhost
FAQs
Why don't premium VPNs offer lifetime subscriptions?
Premium VPNs like CyberGhost and ExpressVPN know you "get what you pay for." While each offers affordable plans, lifetime subscriptions aren't an option because these VPNs know what it costs to maintain large, stable server networks that are free of IP leaks and other security holes.
Are lifetime VPNs safe?
Some lifetime VPNs start safe but usually end up riddled with safety issues. Without regular subscription fees to update or add security, lifetime VPN servers will be easier for seasoned hackers to breach. So while the VPN may be safe now, it's only a matter of time before your data and privacy are at risk.
Which premium VPN offers the best overall value?
There are plenty of safe, premium VPNs like CyberGhost that offer incredible privacy and security features with affordable price tags. That said, my go-to is ExpressVPN, it's fast, packed with security features, and comes with a risk-free 30-day money-back guarantee.
If you want more options, check out our best VPNs for 2023.
Privacy Alert!
Your data is exposed to the websites you visit!
The information above can be used to track you, target you for ads, and monitor what you do online.
VPNs can help you hide this information from websites so that you are protected at all times. We recommend ExpressVPN — the #1 VPN out of over 350 providers we've tested. It has military-grade encryption and privacy features that will ensure your digital security, plus — it's currently offering 49% off.