CyberGhost vs NordVPN Comparison: Which is Best for You in 2020?
Updated on 24th April 2020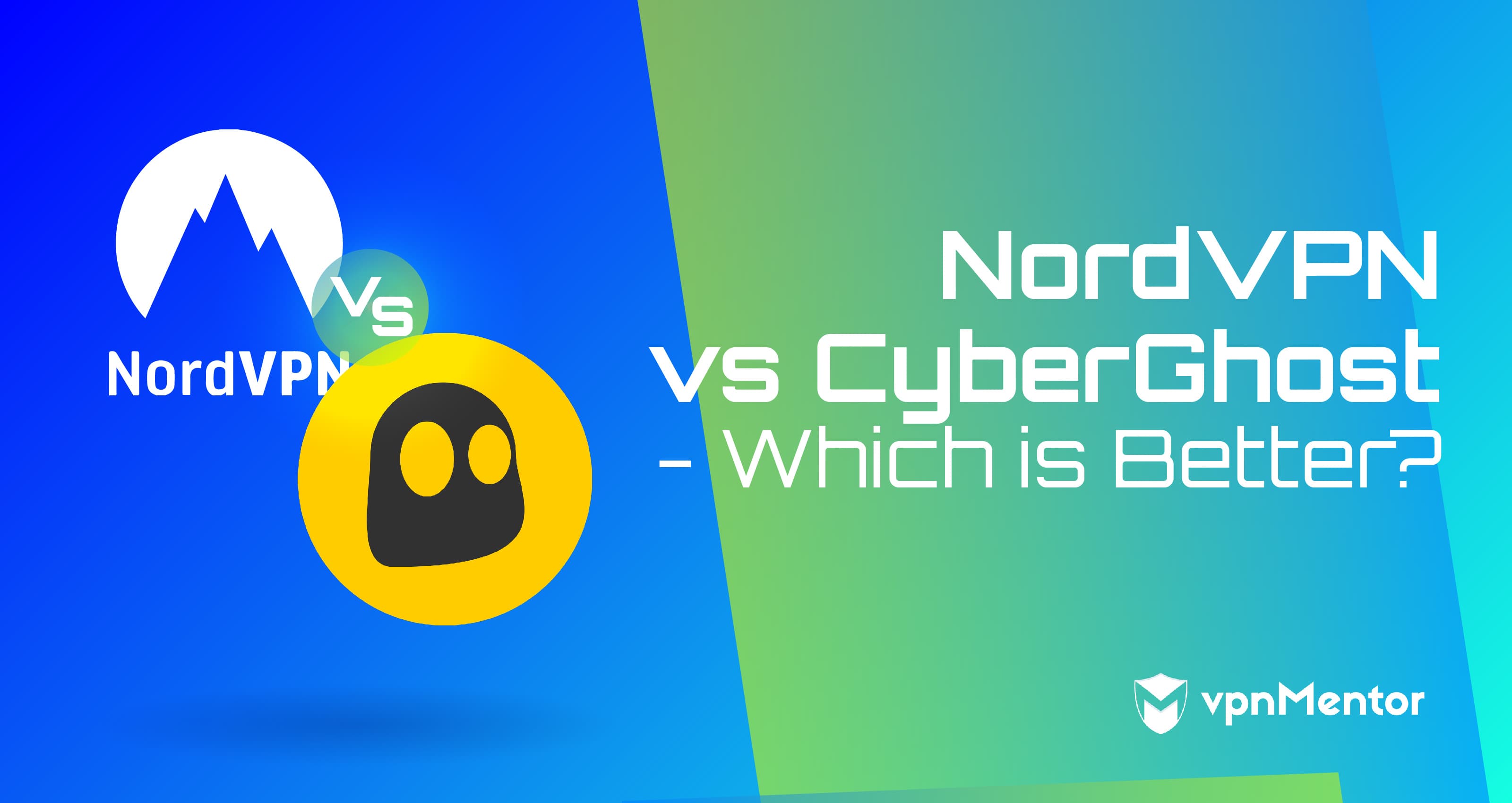 It's no surprise that CyberGhost and NordVPN are often stacked up against each other – they're natural competitors.
With both consistently placing in the top three on many online lists – including our best overall VPN rankings – the battle between them is fierce. At first glance, NordVPNhas the advantage in raw numbers and extra features, but CyberGhostisn't far behind, with its own massive network and feature-packed apps.
Are they really that close, or can one VPN take the other in a decisive sweep? You'll get the answer to this question (and many more) in this in-depth comparison of CyberGhost and NordVPN.
We're going to take a deeper look at how each VPN fares in the ways that matter most. That said, keep in mind that we can't cover absolutely everything here. For the full scoop on these two leading VPN services, make sure to check out our detailed CyberGhost review and NordVPN review.
CyberGhost vs. NordVPN – the Categories
Before we dive into the comparison, let's look at the eight key categories it's based on.
The first two are streaming and torrenting, where we'll see how well CyberGhost and NordVPN work with geo-restricted content and the BitTorrent protocol.
Next, we'll compare price tags and interface. The cost and ease of use sections are where you'll find which VPN has better deals and offers a more intuitive experience.
If you're here to see how well CyberGhost and NordVPN work with your device, or you're curious about network numbers and performance, don't miss the compatibility, speed, and server network categories. We've prepared thorough lists for you – from overall platform support and speed test results to a full breakdown of each VPN's currently available servers and locations.
Last but not least, we'll see which VPN offers better privacy and security. Interested in the finer details of privacy policies, encryption, protocols, and security features? If so, this category is a must-read for you.
Now it's time to get down to business. Let's see whether CyberGhost or NordVPN takes the lead!
1. Streaming
A reliable VPN can help you stream your favorite movies, shows, and other content from anywhere, without any geographical restrictions in your way.
The key word here is "reliable." Not every VPN is ideal for hassle-free streaming – but fortunately, both CyberGhost and NordVPN have a lot to offer in this category.
When it comes to Netflix, our extensive tests revealed that NordVPN is an absolute champion for streaming this popular service. We could enjoy the catalogs from the US, UK, Canada, France, Japan, and Brazil – in other words, NordVPN gave us close to global Netflix access.
There are two main reasons for these excellent results – special streaming features and a huge choice of servers.
SmartPlay is a proprietary NordVPN extra, which automatically optimizes your connection when you're trying to access content that's typically blocked in your location. This makes NordVPN super easy to use for streaming virtually anything you want.
NordVPN offers an impressive server variety, with 1,600+ servers in the US alone – so whatever US-based website or service you're after, chances are you'll quickly find a suitable option. Other notable locations include the UK (680+ servers), Canada (420+ servers), Germany (230+ servers), Australia (220+ servers), France (180+ servers), and Japan (110+ servers).
This winning combination allows NordVPN to work consistently with Hulu, HBO, Showtime, BBC iPlayer, Amazon Prime Video, and many other streams.
Can CyberGhost match, or even beat this versatility? It looks that way at first, thanks to the dedicated streaming profile. This VPN has special servers optimized for a variety of popular and not-so-familiar streams. The best part is you can see them straight from the app.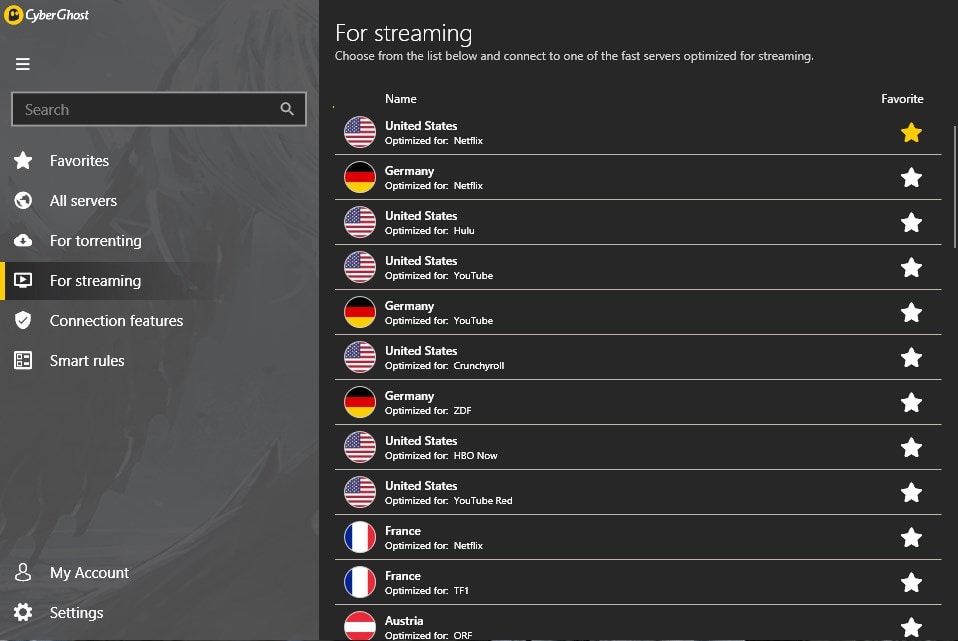 CyberGhost doesn't lie – we were able to watch US and German Netflix with no issues, although our success on Netflix France was only moderate, due to shaky speeds.
Like with NordVPN, you can count on CyberGhost to access Netflix, BBC iPlayer, and Amazon Prime Video. The streaming profile provides working servers for a variety of other platforms as well.
That said, CyberGhost is slightly less flexible for Netflix, and it struggles to offer equal server variety in some countries. For example, numbers in the US (680+ servers) and the UK (300+ servers) are great, but still far behind those of NordVPN. The trend continues with Australia (60+ servers) and Japan (30+ servers), but CyberGhost does pull ahead in Germany (600+ servers) and France (320+ servers).
2. Torrenting
Torrents are very popular, and also a big security risk if you don't protect yourself. Using a VPN is a quick and easy way to do that, but again, you'll need one that actually does the job.
The good news is that both CyberGhost and NordVPN support P2P traffic – so you won't be in for a nasty surprise when you try to download a torrent. And there are a lot more similarities here:
Both VPNs allow P2P connections on specific servers, as opposed to the entire network. Worry not – you still get plenty of choice.
CyberGhost gives you P2P-friendly servers in over 25 countries, separated in a neat torrenting profile. NordVPN also comes with a dedicated P2P tab, which is part of the specialty server categories. Here, you can choose from more than 40 countries, for a total of 4,400+ torrenting servers.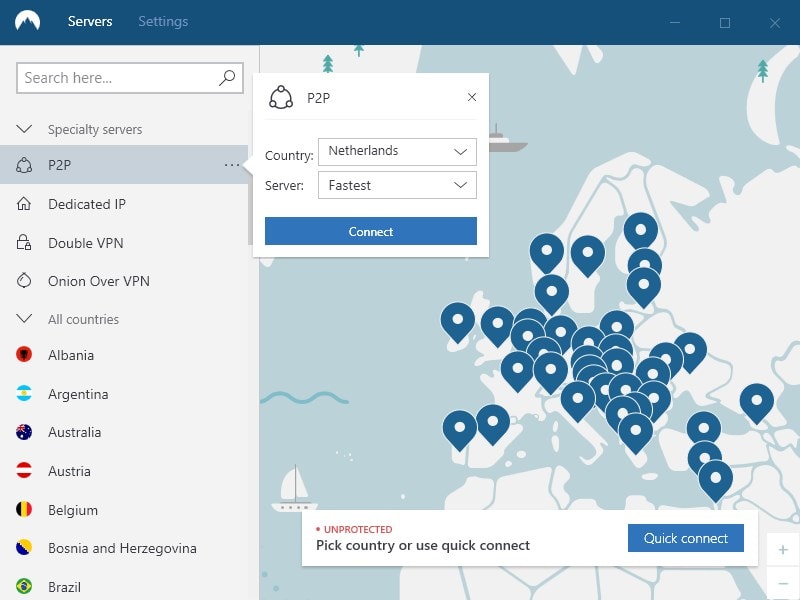 With NordVPN, you can connect to suitable P2P servers in plenty of locations – including the US, Singapore, and Hong Kong. Currently, you won't find these countries in CyberGhost's torrenting profile. Canada and Japan are the closest for users in the Americas and Southeast Asia, respectively.
Again, versatility is much better with NordVPN. But precision is the bigger advantage in this category. NordVPN lets you select a specific P2P server from the list, whereas CyberGhost only allows you to pick the country, with servers chosen automatically for you.
SOCKS5 proxies are another feature you'll find in NordVPN, but not CyberGhost. NordVPN offers SOCKS5 proxies as part of your subscription – you can configure them in your torrent client and use them as a standalone service, or together with your VPN for an extra layer of protection.
3. Cost
When it comes to pricing, CyberGhost and NordVPN are almost identical.
You won't find a difference in the number or length of subscriptions. Both VPNs currently come with monthly, yearly, two-year, and three-year plans. You get the full package regardless of your choice – that means all servers and features. The only exception is dedicated IPs – an optional (and rather pricey) extra with either VPN.
Discounts on CyberGhost and NordVPN are also very similar. Both VPNs start off on the higher end for their monthly plans, with big savings on longer ones. If you aren't comfortable with a long-term subscription, one month of NordVPN is approximately 11% cheaper than CyberGhost.
Bargain hunters should definitely start from the yearly plans, though. You'll be paying around 56% less for a year of CyberGhost compared to its one-month offering, and it only gets better: Two- and three-year plans are 73% and 80% cheaper, respectively.
NordVPN isn't bad either. Like with CyberGhost, you get a sweet discount on yearly (41% cheaper) and two-year (66% cheaper) plans. Even better, you can shave 70% off your NordVPN subscription if you redeem one of these special coupons during your purchase.
The only significant difference between CyberGhost and NordVPN is in the refund policies. CyberGhost is the winner on paper, with a whopping 45-day, money-back guarantee – but this is a little misleading. It only applies only to one-year and higher plans, while the monthly subscription is covered by a 14-day refund period. NordVPN, however, comes with a 30-day, money-back guarantee across the board.
4. Ease of Use
We've all been there – launching a fresh, new VPN only to find a difficult interface that's clunky and hard to navigate. Do CyberGhost and NordVPN save you from this headache, and if so, which one does a better job?
As you'd expect from two of the leading services on the market, ease of use is a priority for both contenders. CyberGhost is particularly impressive – let's take a closer look.
We've already mentioned CyberGhost's dedicated profiles for streaming and torrenting – without a doubt, two notable features in this VPN's apps. But there's more. What's great about CyberGhost are the many options the interface gives you:
Do you like to keep things compact? Then you'll appreciate the intuitive little menu that pops up when you first open the VPN.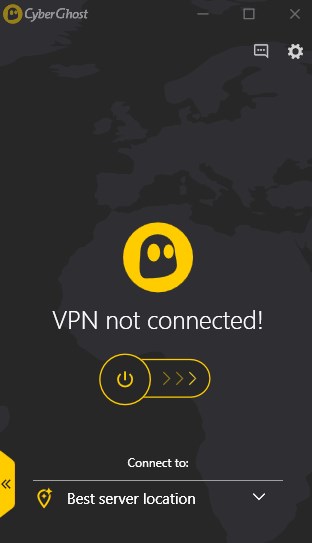 Want a little more depth? No problem – simply expand the interface and you'll get the full server list, along with helpful information on distance and load. You'll also find the dedicated profiles here.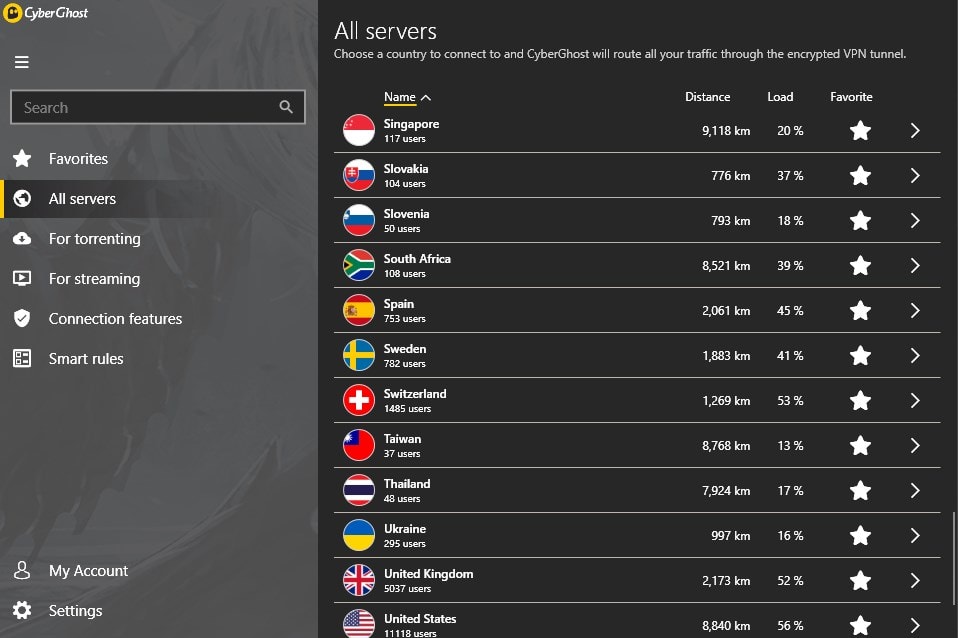 Beginners will have a great time with CyberGhost, and not just because it's easy to follow. This VPN provides in-depth descriptions of pretty much every setting and feature. Not many other services tell you why, how, and when to use their various tools in such detail.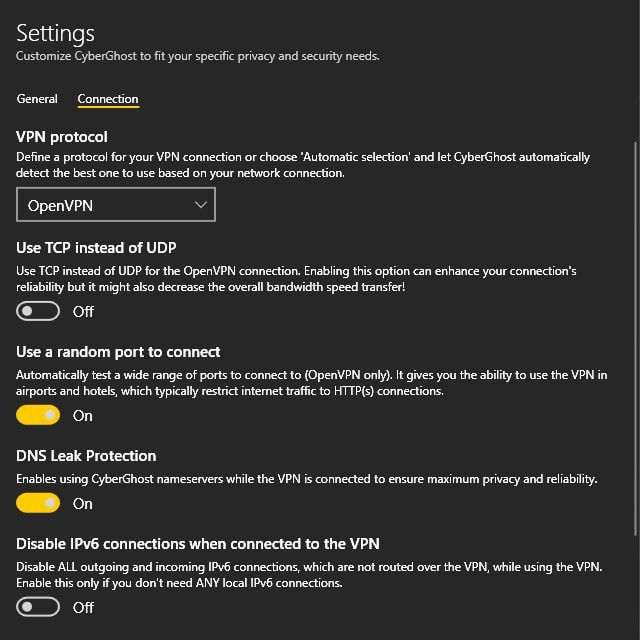 If you think CyberGhost is only suitable for new users, however, you'd be mistaken. There's a whole arsenal of advanced features and rules you can utilize – but more on that later.
NordVPN has to cover a lot of ground if it wants to take the win here. Let's see how it fares:
Right from the start, you'll notice a cleaner design with less available info. NordVPN definitely has a more minimalist interface – which isn't necessarily a bad thing.
On desktop, this VPN can also be compact or detailed, much like CyberGhost. Right-clicking the app icon in your system tray will bring up the smaller VPN panel, where you can quickly connect to current and recent servers.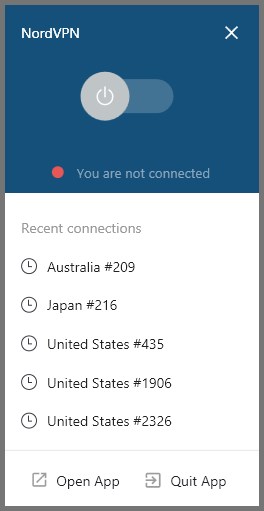 The full-scale menu is also a joy to use. Access to the server list is effortless, and you can easily avoid the crowds with the added server load info.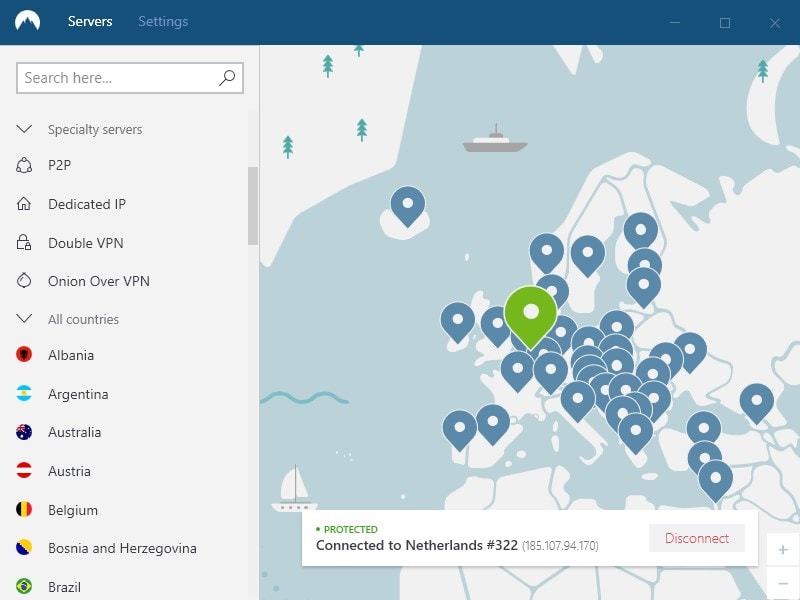 Unlike CyberGhost, you can choose specific servers in the various specialty tabs.
NordVPN also describes its features and settings where necessary, but it doesn't go into the same detail as CyberGhost. Still, settings are easy to find and shouldn't give you trouble, even if you're just getting into VPNs.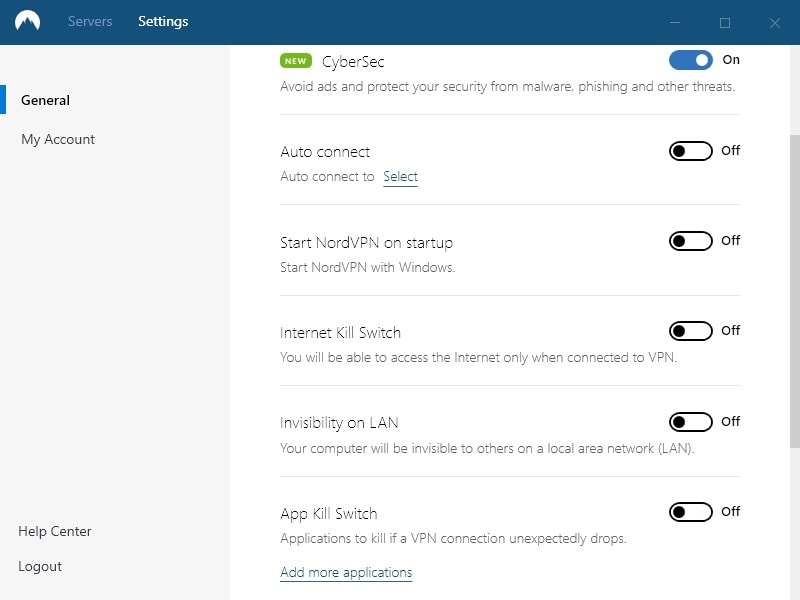 If you'd rather run your own custom configuration, both CyberGhost and NordVPN provide the raw OpenVPN files on their websites.
5. Compatibility
If you're using a bunch of different devices daily, the overall compatibility of your VPN is crucial.
CyberGhost and NordVPN are well aware of this, which is why they both can be installed on a wide array of platforms and devices. Both are flexible when it comes to simultaneous connections too – you get up to 7 with CyberGhost, and 6 with NordVPN.
Yet again, we'll need to look at the details to find the winner in this category:
Windows
CyberGhost and NordVPN offer extensive support for both old and new versions of Windows. You can use either VPN on anything from XP and Vista to the latest Windows 10.
Mac
NordVPN has a slight lead here – you can use the app on any macOS version from Yosemite (10.10) and above. CyberGhost requires at least macOS Sierra (10.12).
Android
Both VPNs work with a variety of recent and more dated Android versions. The apps can also be installed on your Android TV, and they're decently optimized for use with a remote.
If you want to get the Android apps straight from the source, both VPNs have the APK files readily available on their websites.
iOS
To run CyberGhost on your iPhone or iPad, make sure your iOS version is no older than 9.3. NordVPN is slightly more flexible, with iOS app support starting from version 9.0.
It's worth noting that CyberGhost's number of simultaneous connections is reduced to 6 devices per Apple ID if you purchase the VPN from the App Store. NordVPN offers 6 simultaneous connections by default, and this remains unchanged on iOS.
Linux
CyberGhost claims to work on Ubuntu (16.04, 18.04) and Fedora 29. This isn't the widest range of Linux distributions, but it's still better than NordVPN's offering, which currently covers support only for Debian.
Routers
CyberGhost and NordVPN work with a variety of router firmware. Helpful tutorials are also available if you want to configure a VPN router by yourself.
You can also find either VPN in a pre-flashed router from third-party vendors.
Some VPNs also come with a dedicated router app – sadly, neither NordVPN nor CyberGhost offer this at the moment.
Other Platforms
CyberGhost works on the following additional platforms:
Browser extensions (Chrome, Firefox)

Chromebook

Windows Phone (version 8.1)

Media and gaming consoles (Amazon Fire TV, Roku, Chromecast, PlayStation, Xbox, and more)

Kodi
NordVPN supports the following additional platforms:
Browser extensions (Chrome, Firefox, Opera, Safari, Internet Explorer)

BlackBerry

Kodi

Media and gaming consoles (via router)

Smart TVs (via router)
6. Speed
VPN encryption has many benefits, but it comes at a cost – slower speeds.
To offset this, you need a fast VPN. Make no mistake – we aren't talking about improving your connection quality (although it's possible if you're being throttled by your ISP). In most cases, a "fast" VPN is one that has such a small impact on your average speed that you won't feel the difference.
The best way to gauge a VPN's performance is to run some thorough speed tests on servers around the world. And that is exactly what we did.
Below, you'll see the speeds that CyberGhost and NordVPN achieved on servers in 10 different locations. Our tests were conducted from Eastern Europe, with the following benchmark results (no VPN):

Here are the speeds for each VPN:
Server
Download speed (Mbps)
Upload speed (Mbps)
CyberGhost
NordVPN
CyberGhost
NordVPN

Auto (closest)

68.56
70.05
32.66
32.61

Romania

61.82
55.90
31.41
34.15

Germany

67.05
63.95
31.61
34.53

United Kingdom

30.28
53.72
34.33
24.44

Portugal

47.18
33.93
6.31
30.00

Israel

52.98
34.52
25.02
11.62

US (New York)

32.86
54.35
8.75
27.61

US (Los Angeles)

23.48
51.12
15.23
7.77

Japan

18.78
28.09
1.97
2.02

Australia

20.34
24.56
1.55
1.97
As you can see, both VPNs deliver excellent results across the board. Compared to our benchmarks, CyberGhost and NordVPN barely make a dent on nearby servers in Europe.
CyberGhost takes a convincing win in Portugal. It is also slightly faster in Romania and Germany, but the difference is negligible. NordVPN is better in the UK.
Download speeds are very important as they determine how fast you'll open a website or load a video. Neither VPN drops the ball here, but CyberGhost quickly starts losing ground to NordVPN as the distance increases.
With much better results on the New York and Los Angeles servers, NordVPN proves the faster VPN for browsing, streaming, and downloading in the US. CyberGhost isn't necessarily slow here, but it obviously takes a bigger toll on your connection. This may lead to buffering issues if you have several streams opened at the same time.
The trend continues on the most distant servers in Japan and Australia. NordVPN delivers higher speeds here, but CyberGhost isn't too far behind.
7. Servers and Network
CyberGhost and NordVPN are known for their massive server networks, and both are off to a promising start in this category.
The number of available countries is almost the same – 90 for CyberGhost, and 60 for NordVPN. CyberGhost also has servers in Belarus, Colombia, Kenya, and Pakistan, whereas NordVPN includes Cyprus, Egypt, Georgia, Latvia, and Turkey.
What really stands out here are the raw server numbers. CyberGhost has over 5,700+ – not a bad roster at all. However, NordVPN completely trumps that with its own enormous network of 5,100+ servers.


It's true that CyberGhost's server count includes special-purpose options for streaming and torrenting. But NordVPN is able to beat that as well, with five separate specialty categories. Here's a full breakdown:
4,600+ Standard servers (4,400 of which allow P2P)
460+ Obfuscated servers
30 Double VPN servers
3 Onion-over-VPN servers
70+ Dedicated IP servers (optional extra)
We talked about the advantages of server variety in the Streaming section above. It's not that CyberGhost is bad here – NordVPN is just too good.
8. Privacy and Security
If you're looking for the highest levels of privacy and security, CyberGhost and NordVPN are two services that won't let you down.
There are several reasons for this – including military-grade encryption, excellent protocol support, and a long list of useful security features. More about these below:
Logging Policy
Zero logging is a policy shared by both VPNs, and this is backed up by a crucial factor – jurisdiction.
CyberGhost and NordVPN are based in Romania and Panama, respectively. Neither of these countries has mandatory data-retention laws. This puts both providers in a very favorable position, as they aren't legally required to collect sensitive information on their users.
What's more, Romania and Panama aren't members of the 5/9/14 Eyes alliance, which means they aren't part of any agreements between government surveillance agencies. More good news for the privacy-conscious.
That said, NordVPN has one advantage over CyberGhost here – an independent security audit by a Big Four company, which confirms the provider's privacy claims. CyberGhost can't offer the same peace of mind, as it has yet to undergo a third-party audit.
Encryption and Protocols
The default (and only) encryption standard in the CyberGhost and NordVPN apps is AES-256, which is considered extremely secure, and impossible to crack. They both also offer Perfect Forward Secrecy and dynamic encryption keys for extra protection.
The big difference here is protocol support:

The CyberGhost desktop apps, in addition to the industry-standard OpenVPN protocol, also work with IKEv2 and L2TP. Even better, you can easily switch between them.

For iOS, CyberGhost uses the native IPSec protocol.
NordVPN focuses solely on OpenVPN for its Windows, Mac, and Android apps. IKEv2/IPSec is your only option on the iOS app, but you can set up the OpenVPN protocol manually on your iPhone or iPad with a third-party interface.
Security Features
When it comes to security, both VPNs are packed with the essentials, as well as an impressive array of advanced tools.
CyberGhost divides its features into three different areas, with most of them located in the Connection features tab.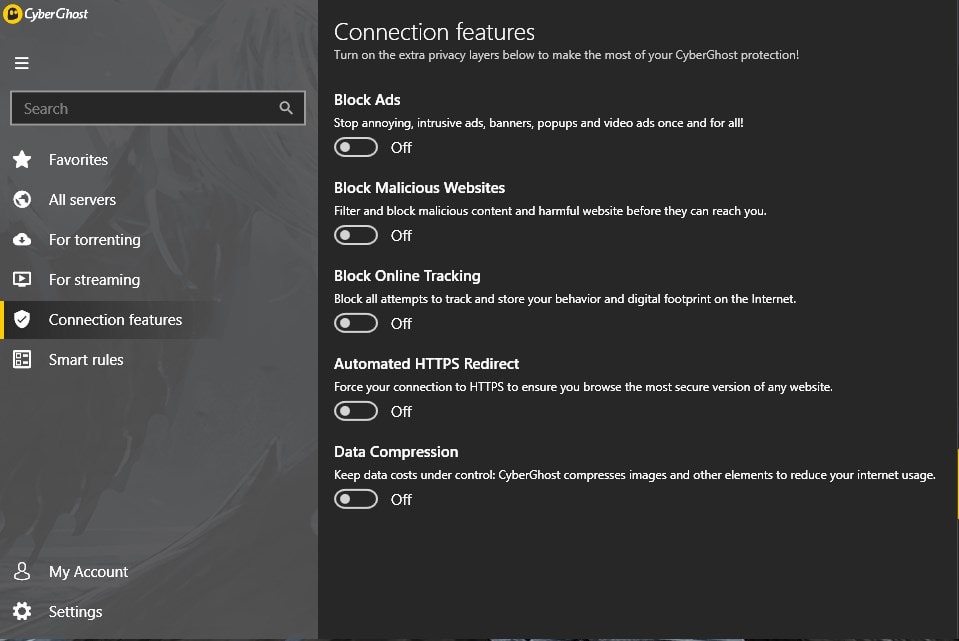 Here, you'll find the ad blocker and anti-malware protection. (NordVPN also offers these in its proprietary CyberSec suite.)
CyberGhost provides anti-fingerprinting as well. This feature keeps your browsing activity and habits safe from tracking. You may wonder why you aren't seeing the must-have automatic kill switch. Don't worry, it's there – CyberGhost puts it in the General tab, under Settings.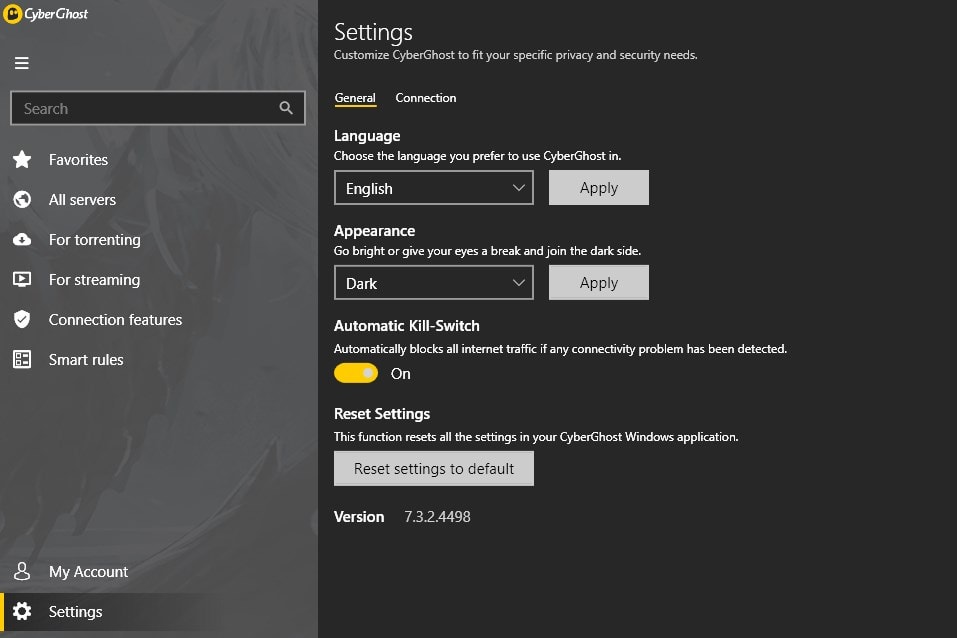 NordVPN offers the extra functionality of two kill switches; in addition to the regular kill switch for your entire connection, you get another one that stops selected apps from leaking data in emergency cases.
This VPN is the more thorough service when it comes to DNS leak protection, too. While CyberGhost includes this security measure, you can only use the provider's secure DNS addresses. NordVPN also lets you type in custom DNS addresses if you prefer using your own.
NordVPN also has the right tool for the job when it comes to stealth settings for reliably getting past strict internet censorship. It's called Obfuscated servers, but in reality, it's an entirely separate VPN mode.
In Obfuscated mode, you only have access to the 460+ special servers, until you turn it off. This mode is what makes NordVPN one of the crowd favorites for bypassing the Great Firewall of China, but you can use it in other censorship-heavy countries as well.
Unfortunately, CyberGhost isn't a dependable choice for China at the moment.
9. Final Verdict
NordVPN wins in seven out of eight categories, and even the eighth – cost – can easily swing the other way. This must mean CyberGhost is much worse, right?
Not at all. We've used the phrase "both VPNs" over 20 times for a reason – CyberGhost and NordVPN are that close to each other.
CyberGhost may not claim the victory in most sections, but it still has plenty to offer. Whether streaming, torrenting, or security is at the top of your list, this affordable VPN has the speeds, servers, and features for excellent accessibility and robust protection – and all of this wrapped in outstanding apps.
NordVPN, however, proves better in all of these aspects, at almost the same price. It offers the more complete package, if only slightly. For those who'll only settle for the very best, this VPN is it.