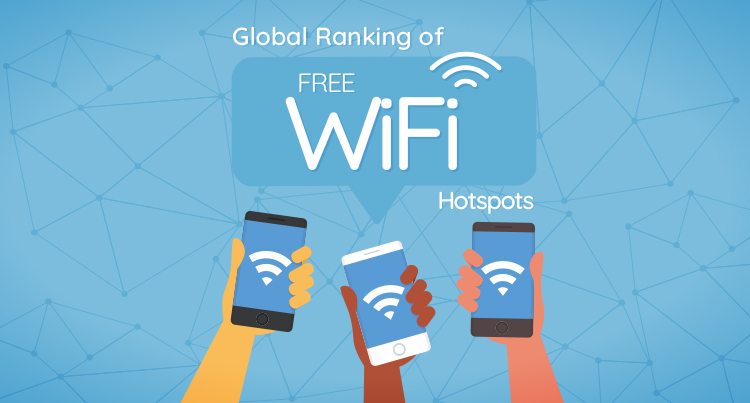 Research: Global Ranking of Free Wifi Hotspots in 2023
Introduction
Being able to connect to the internet with ease via free Wifi has become an essential factor for the modern traveler, freelancer, and digital nomads when deciding their next destination.
Whether you're in one of these groups, or just constantly running out of mobile data, not having access to the internet when you want or need it, is beyond frustrating.
Get ready to wave goodbye to those frustrations for good. We researched the countries and cities around the globe to provide information on the number of free Wifi hotspots, including in major cities, so you'll never get caught without a connection.
It's not just the number of hotspots that matter, but also how likely overcrowding of the free networks is. That's where our research comes in. We've estimated how many people there are to each Wifi hotspot and the lower the number the better, and the more likely you are to get a stable connection.
We've even included some tips on how to find your nearest free Wifi hotspot, as well as essential advice for staying safe every time you connect to a public network.
What is A Free Wifi Hotspot?
Free Wifi hotspots are internet access points that allow you to connect to a Wifi network using your device, while you're away from your home or work network.
These hotspots can help you access faster internet connections than you would with your mobile network, particularly in areas where you have poor signal coverage. Plus, when you're connected to a free Wifi hotspot, you don't use up any mobile data.
Even the smallest towns and cities are sure to have businesses and zones with free Wifi as it is such a draw for customers and travelers. Plus, in several countries, some cities will offer municipal Wifi, which means there is free public Wifi across an entire city or district.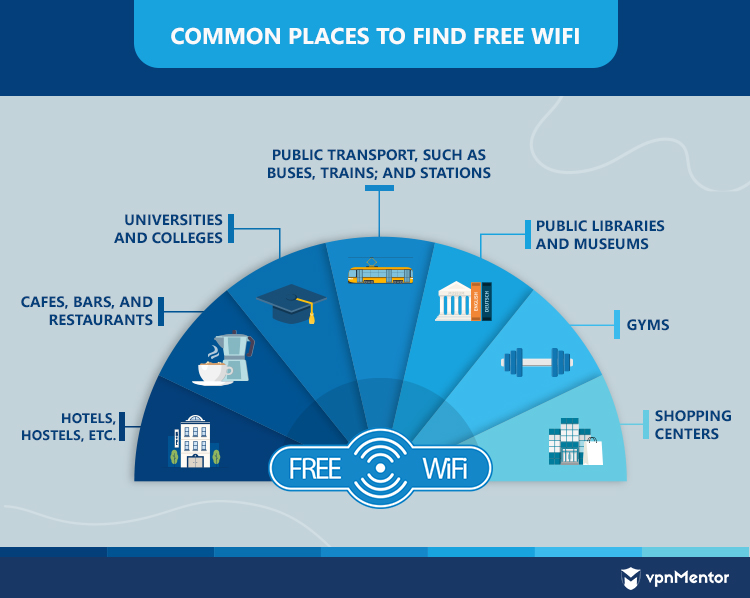 Countries Ranked With the Most, Free Wifi Hotspots - Stay Connected Anywhere
As of 2022, there are approximately 549 million Wifi hotspots worldwide. However, these hotspots are not distributed evenly.
In some countries, the limited number of hotspots means access is not always readily available. Plus, each connection could be overcrowded with users, bringing down internet speeds to a slow crawl.
For other countries, it's a completely different story, with great coverage of Wifi hotspots and a strong saturation compared to the population. So, how do you know which country has bountiful free Wifi and which country will be an internet dead zone?
Just take advantage of our extensive research to discover the best places to get online on your next adventure.
How We Ranked The Countries
There were several important factors we researched when determining the countries with the most, free Wifi hotspots, including:
The number of Wifi hotspots – We researched the total number of free Wifi hotspots in almost 50 countries. As well as, the number of hotspots in several of the country's larger cities.
The average area for each hotspot – By determining the area of a country, we could work out the average area in km2 covered by a single Wifi hotspot. This value is particularly useful for evaluating Wifi hotspots in cities, helping to determine how likely there is to be free internet nearby when you're exploring and sightseeing. The smaller the area, the more likely you're to be able to find free Wifi close by.
The average no. of people per hotspot – Using population estimates, we could determine the average number of people per Wifi hotspot. Again this is a useful stat to know for popular tourist cities as it may indicate if a free Wifi network is likely to be overcrowded with users. Therefore, the fewer people per Wifi network the higher your chance of a quality connection.
While the figures for our research were accurate at the time of writing, coming from crowdsourced apps with data from real users, considering the dynamic nature of the Wifi market, the information is subject to change.
Plus, some countries and cities may have more free Wifi hotspots than indicated by our research, as they haven't been uploaded to the crowdsourced platform. With that being said, we believe that our research offers an excellent representation.
Europe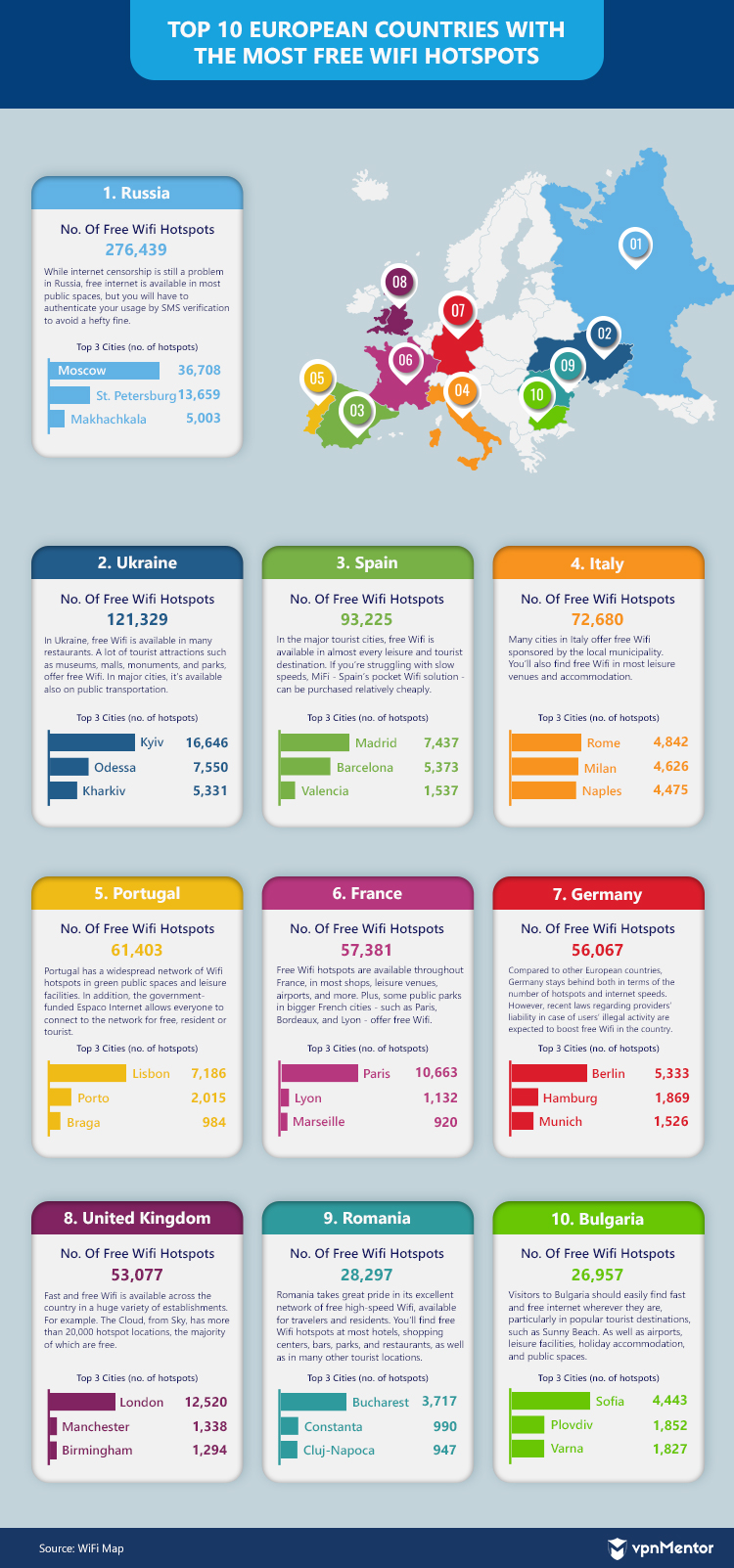 In Europe, it's safe to say that some countries are better than others when it comes to public Wifi. During our research, we made some interesting discoveries.
There is a lack of internet freedom in Russia. Recent laws and regulations expanded the authorities' already significant capacity to censor and block internet content automatically.
However, Russia certainly isn't short of free Wifi hotspots, with over 275,000 public networks available. But, if you do find yourself in Russia, looking to take advantage of the extensive public Wifi, you will need to invest in a VPN. This will enable you to beat the country's excessive online censorship that might otherwise prevent you from accessing your social media accounts or streaming your favorite shows.
Lithuania has one of the fewest Wifi hotspots in Europe with just over 4,000, which ranks it 24th out of 26 counties. However, it's consistently ranked number one worldwide for the fastest public Wifi speeds with an average download speed of 15 Mbps – more than fast enough for HD streaming. According to Newsweek, this is thanks to "heavy investment and prioritization of free public Wifi".
When it comes to speed, the top 10 countries with the fastest Wifi speeds are all in Europe. So, if you're a traveler or digital nomad who wants to be able to stream your favorite shows wherever you go – without the dreaded buffering – it's worth considering a trip to Europe.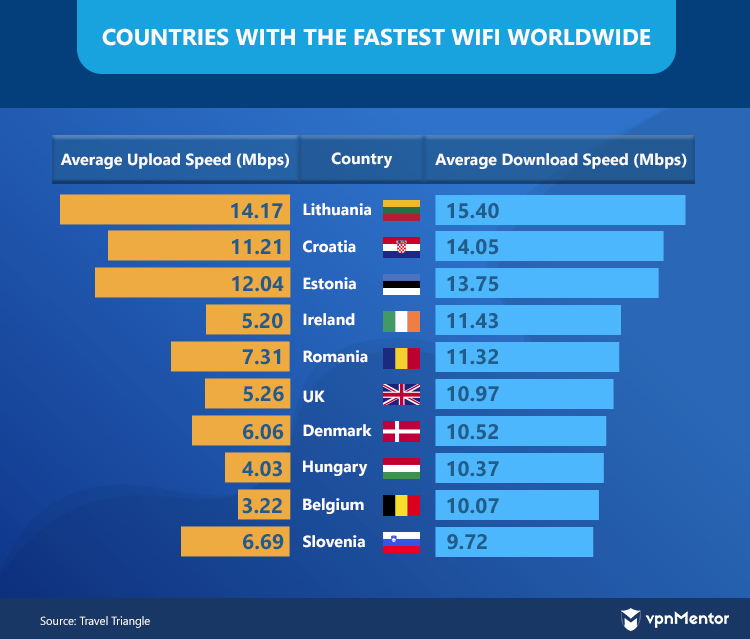 Of course, speed is not the only important factor when you're looking to get online on the move. Perhaps more important is knowing you're going to be able to find a reliable connection close by.
Good indications of this are the average no. of potential users per hotspot and the average area covered by each Wifi hotspot, as it gives an idea if you are likely to be close to free, as well as how busy it may be. The lower the numbers the better.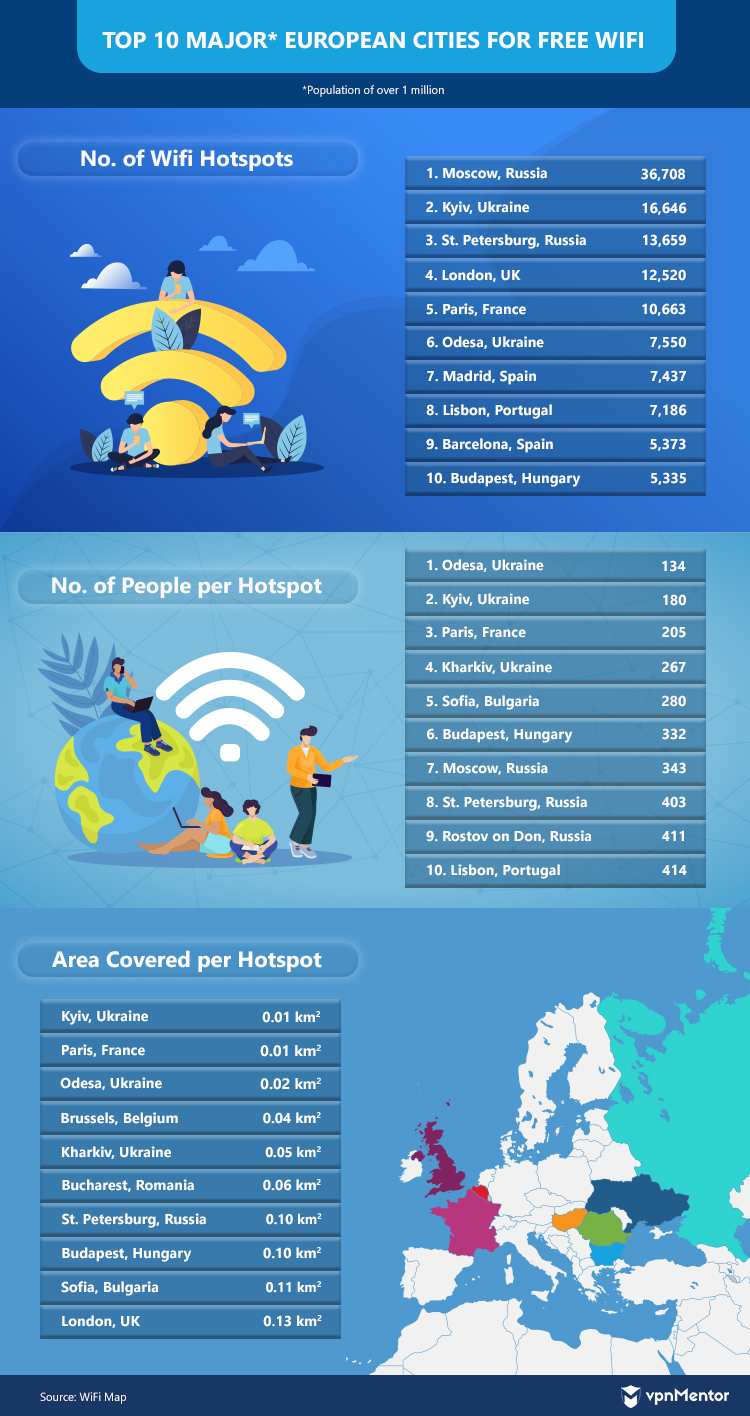 North America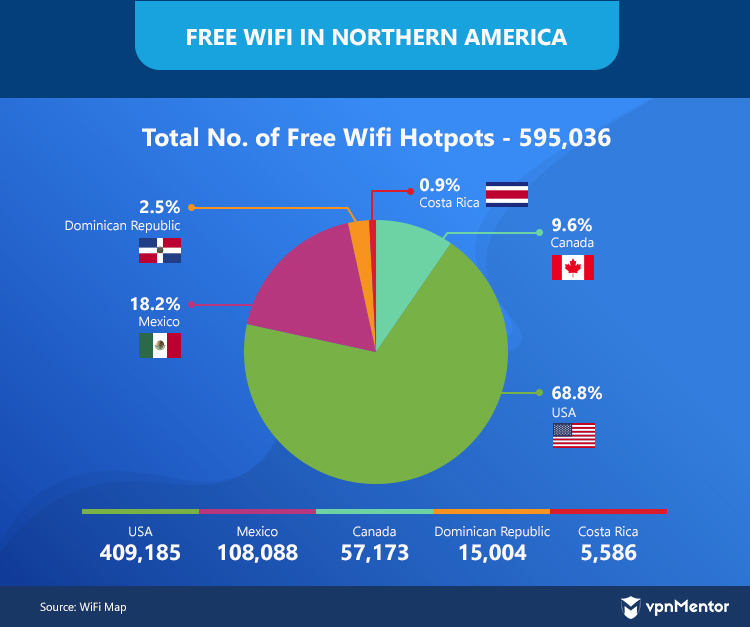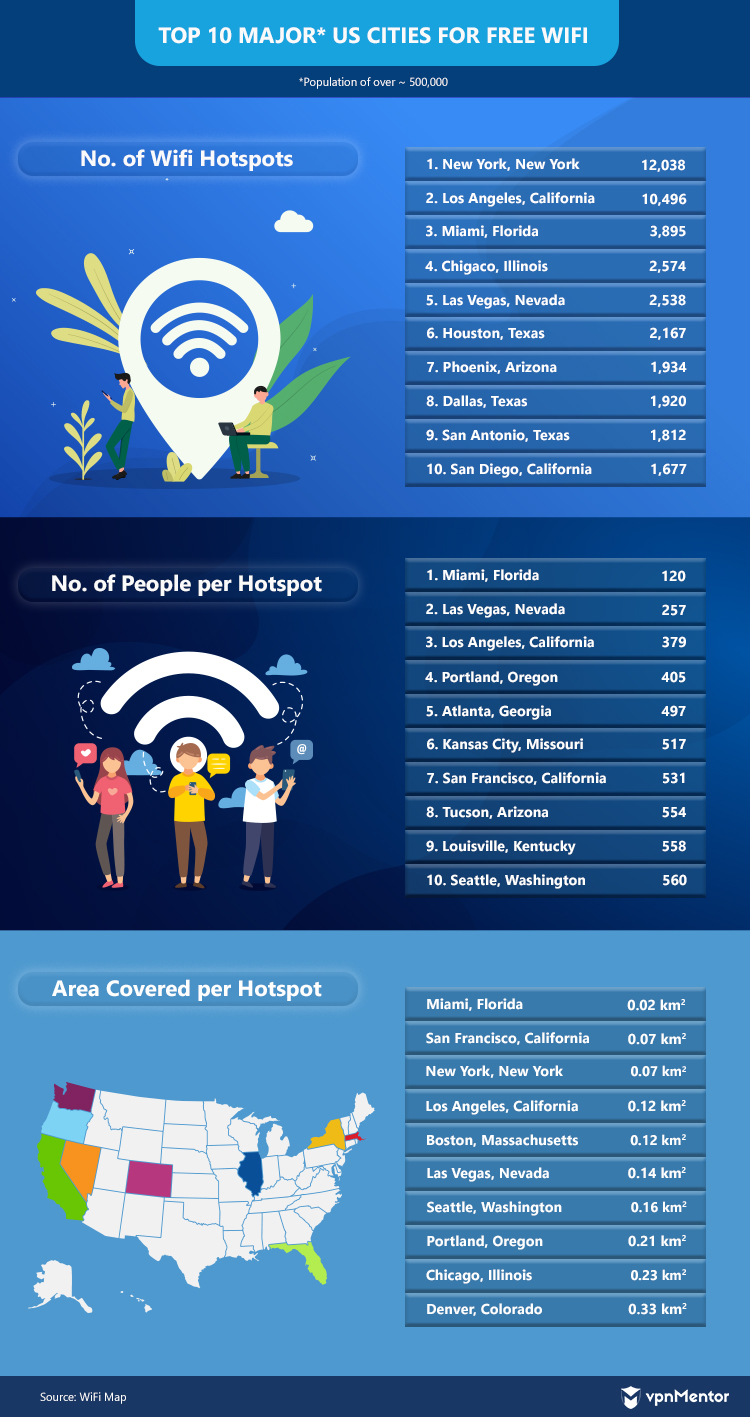 What About The Rest of North America?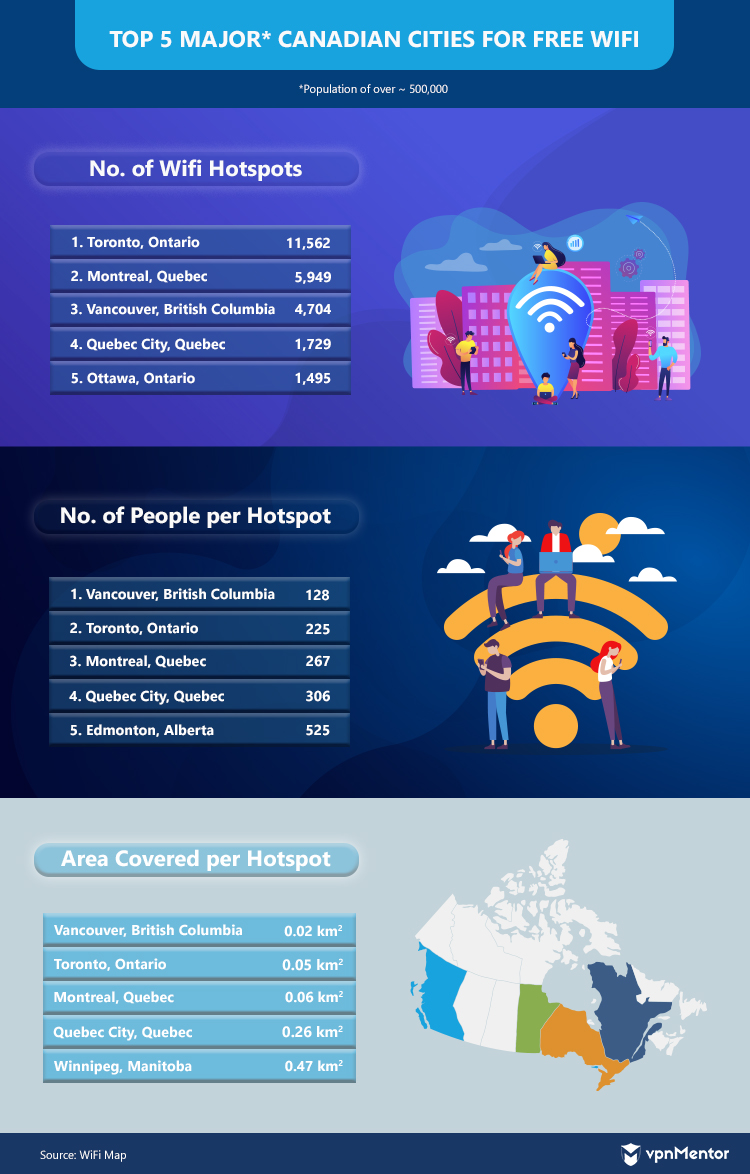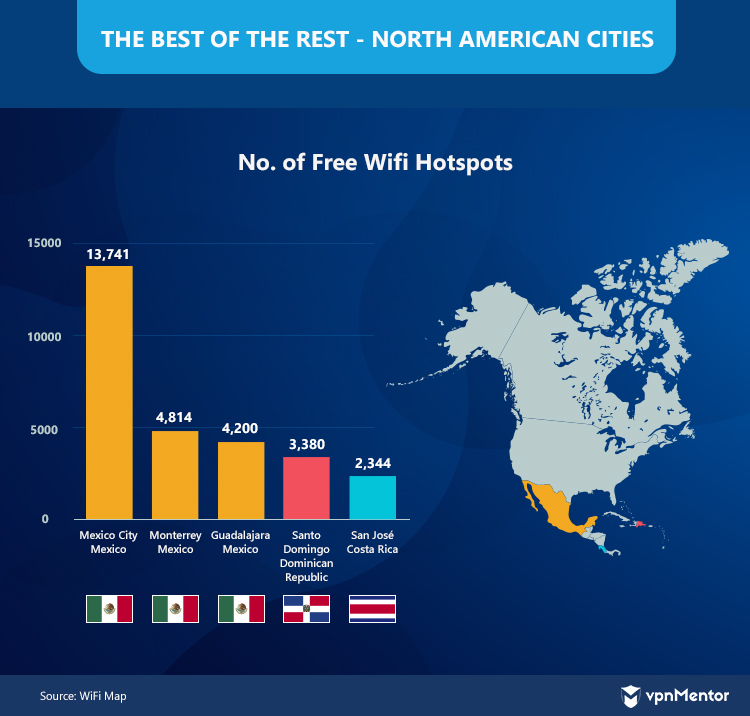 You'd be forgiven for thinking it would be major North American cities like New York or Toronto that would have the highest number of free Wifi hotspots. They're ranked second and third behind Mexico city, which has a whopping 13,000+ free Wifi hotspots.
However, as Mexico city has such a huge population (over 23 million), you may struggle with connection speeds, with an average of 1,655 people to each free Wifi hotspot – not including the vast number of tourists who visit the city each year.
Miami and Vancouver are great choices for a guaranteed connection that is less likely to be crowded with users. There are less than 150 people to each Wifi hotspot. Plus, each Wifi hotspot covers an average of just 0.02 km, meaning there's a good chance you'll always be near a free internet connection.
In some Northern American cities, we discovered that you won't necessarily need to rely on public Wifi hotspots in leisure facilities and accommodation, thanks to municipal Wifi networks. They work by providing broadband internet to large parts or all of a municipal area. Northern American cities with free municipal Wifi include:
Quebec City, Quebec
New York City, New York
Alburquerque, New Mexico
Boston, Massachusetts
Chicago, Illinois
Houston Texas
San Jose, California
Minneapolis, Minnesota
Guadalajara, Mexico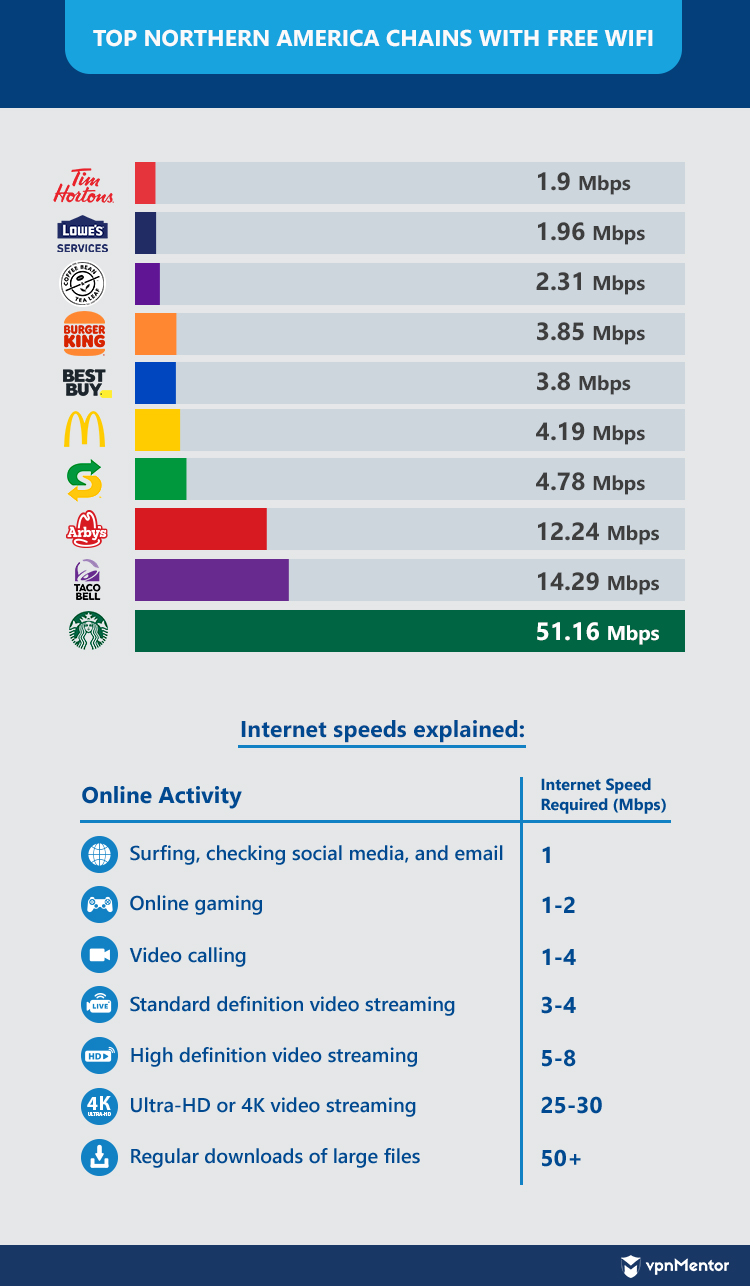 South America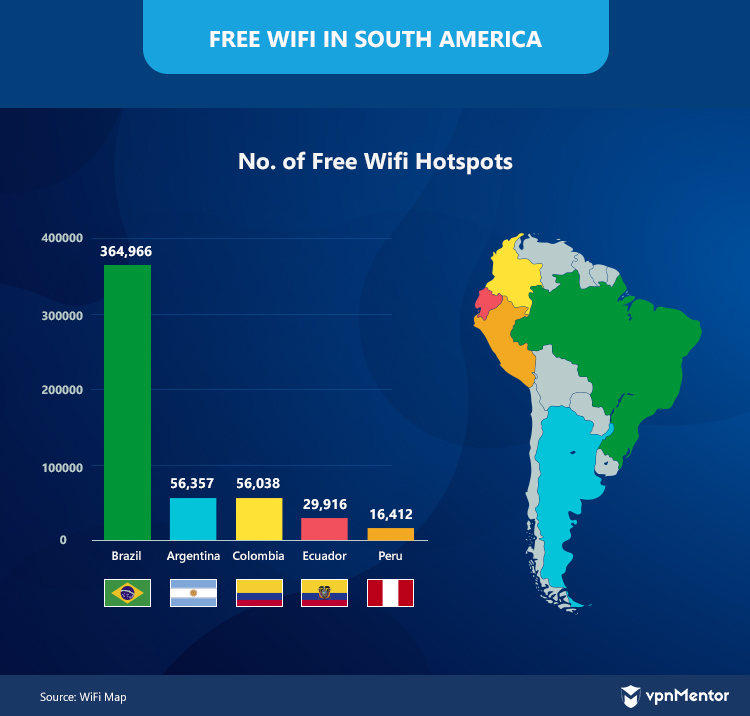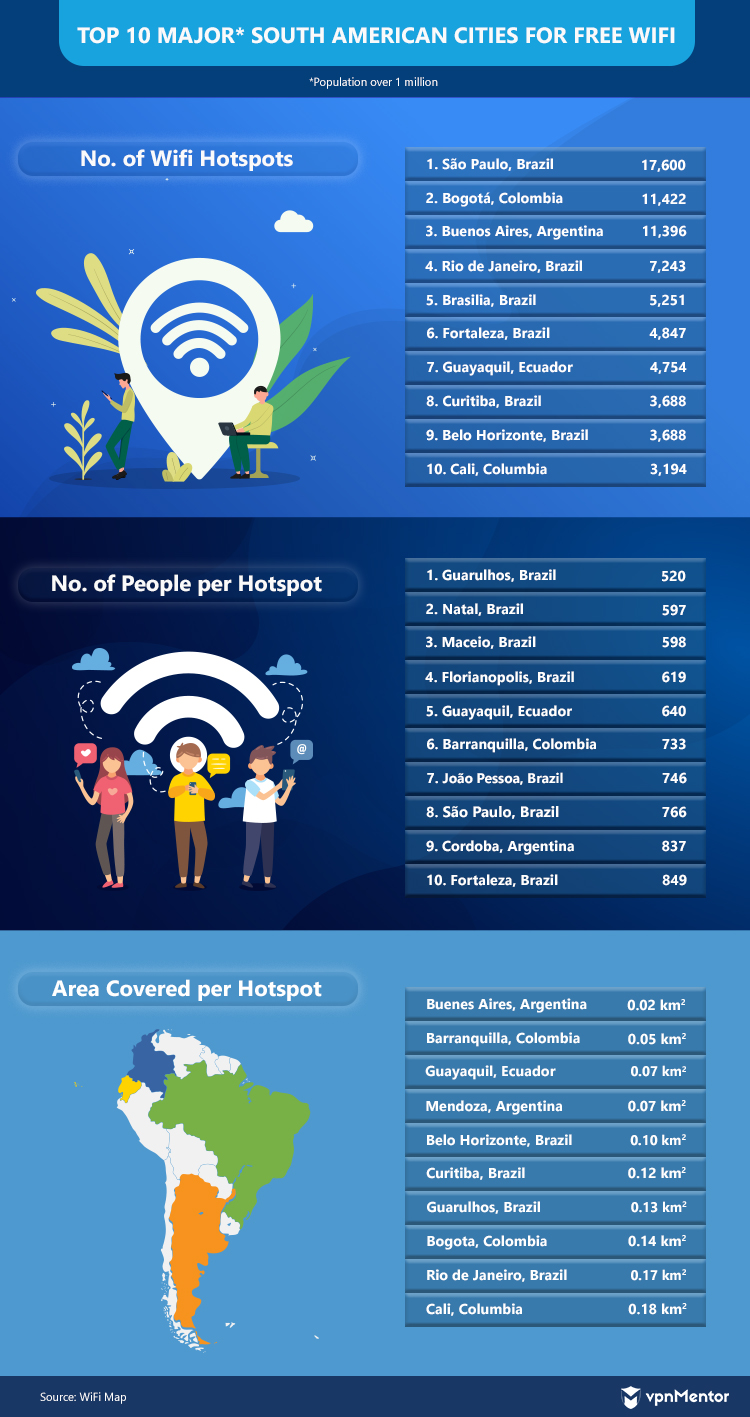 Six out of the top ten cities in South America with the highest number of Wifi hotspots were in Brazil, so you may think that it's the place to go for a reliable internet connection. However, Brazil is also the South American country with the most internet users at over 160 million and the largest population at 170 million inhabitants. This may increase the likelihood of overcrowded Wifi networks particularly in built-up cities like São Paulo and Rio de Janeiro.
If Brazil is your destination of choice, Guarulhos or Brasilia are likely to have the best internet connection with less than an average of 600 people sharing a Wifi hotspot.
If always being near a Wifi hotspot is a priority for you when traveling, Argentina is our top choice of South American countries. The public Wifi speeds – according to Nomad List – are poor, but in Buenos Aires, the average distance covered by each Wifi hotspot is just 0.02 km2. Plus, Buenos Aires has free municipal Wifi in 120 hotspots.
Overall, the speeds of free public Wifi in South America rank poorly. Venezuela has the slowest public Wifi in the world, with Paraguay, Bolivia, Panama, Argentina, and Ecuador, all ranking near the bottom.
Asia & Oceania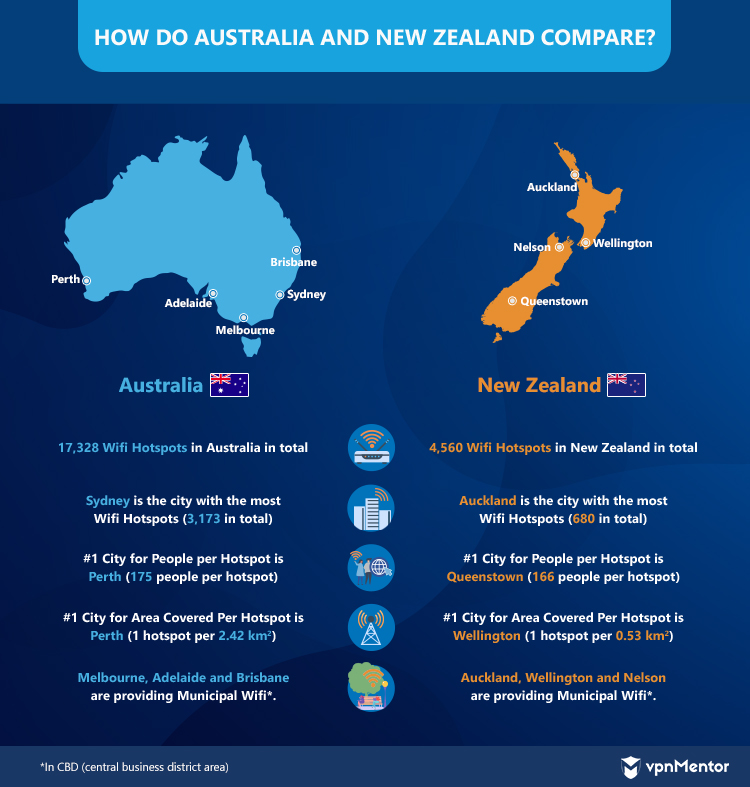 Australia offers free municipal public Wifi throughout the central business districts of most major cities. The country's capital Canberra has the largest free municipal Wifi network with over 400 hotspots. Plus, you're likely to find free Wifi at your accommodation, in cafes and restaurants, at tourist attractions, and popular chains including KFC and McDonald's.
In New Zealand, free Wifi hotspots are generally found in main cities only and sporadic in more rural areas and smaller towns. Thankfully, free Wifi is available in all of New Zealand's public libraries, and free municipal Wifi is available in central Auckland, Rotura, Wellington, and Dunedin, amongst others. Plus, you'll find free Wifi in every Mcdonald's restaurant, Mobile Service Stations (40MB per day), and Starbucks if you buy a coffee.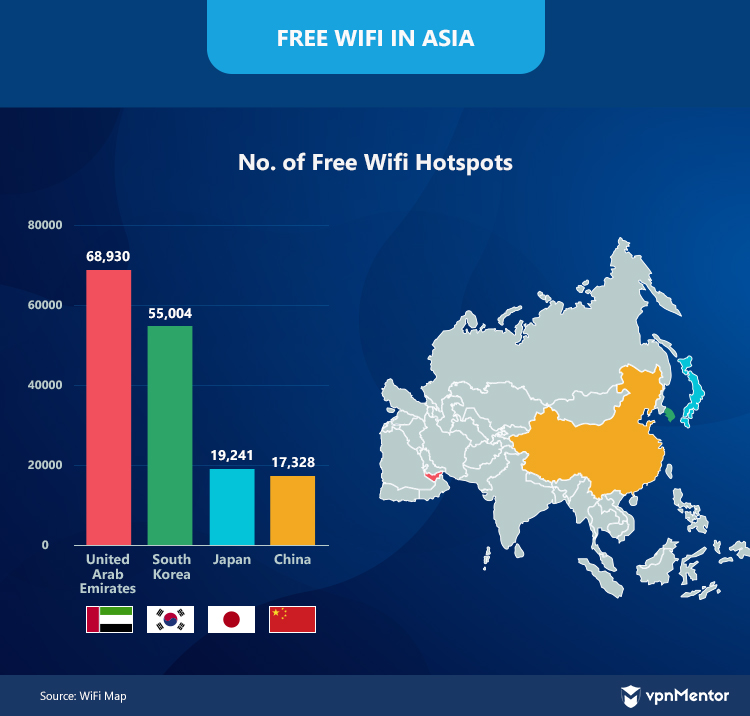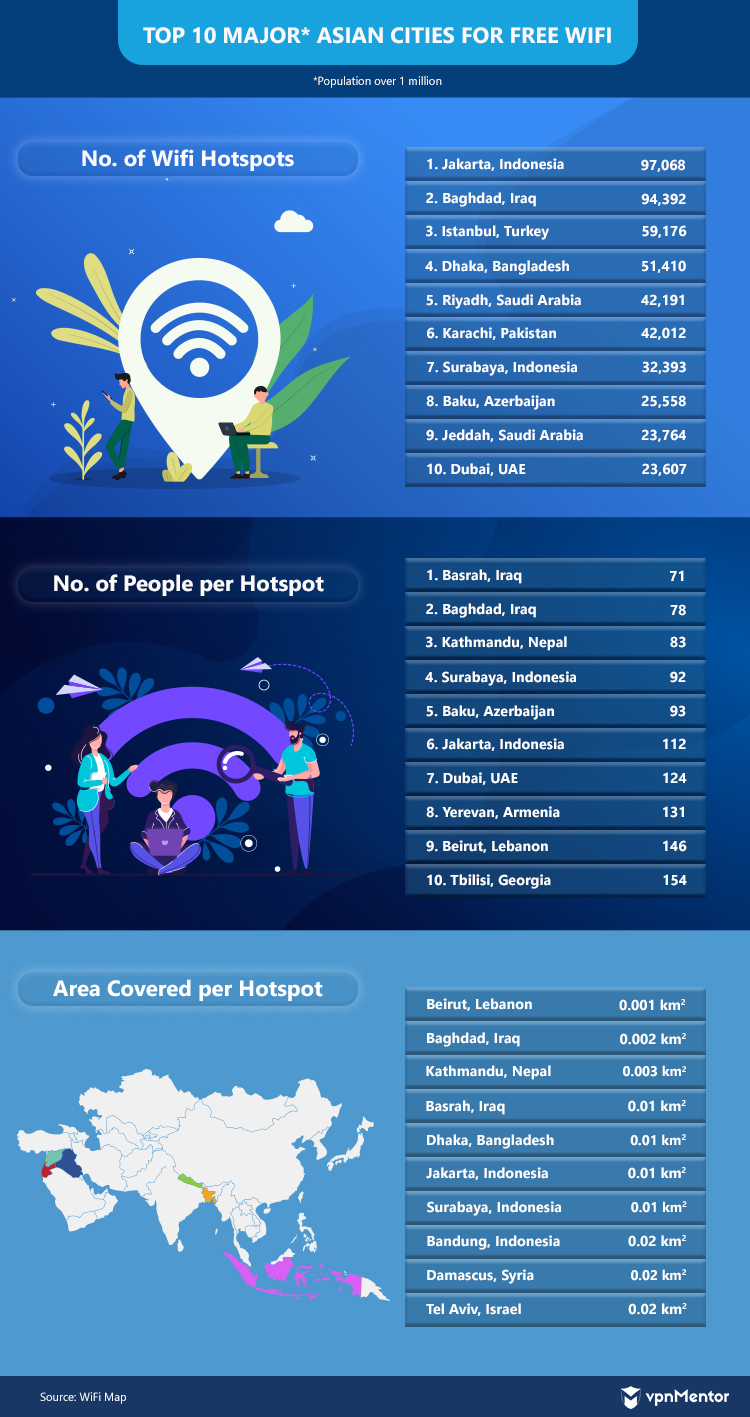 China's internet censorship is more sophisticated and comprehensive than any other county. The government blocks thousands of websites – such as those for social media and non-Chinese news outlets – via the infamous Great Wall of China. Thankfully, if you're planning a trip to China, you can get around these restrictions, especially with a little forward planning.
Asia is home to some of the cities with the highest populations in the world. As of 2020, Tokyo has the largest population of any city with over 37 million residents, Shanghai is the third most populated with more than 27 million living within the city, and Beijing is 8th on the list with a population of over 20 million.
In such densely populated cities, it's a reasonable assumption that the public Wifi networks are likely to be overcrowded, meaning you could have difficulty connecting in the first place, and when you do, speeds could be painfully slow. So, what cities in Asia should you maybe avoid if you want a reliable internet connection.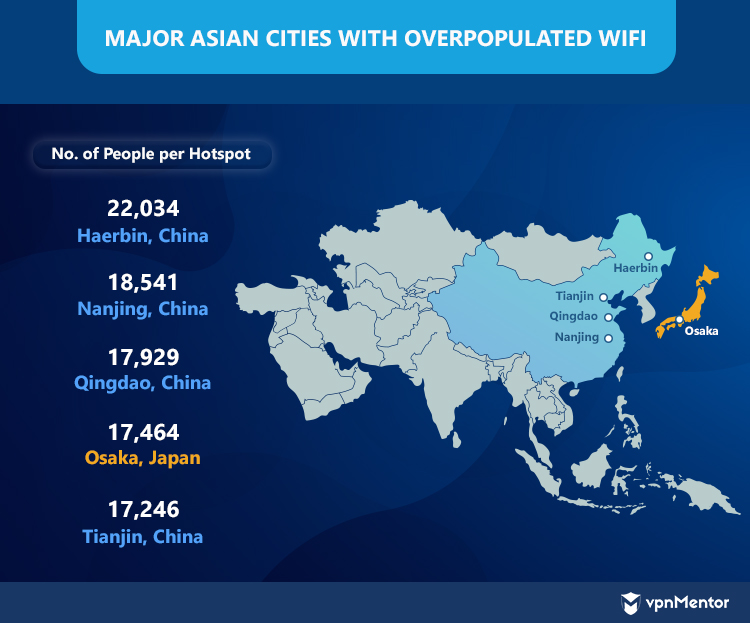 Africa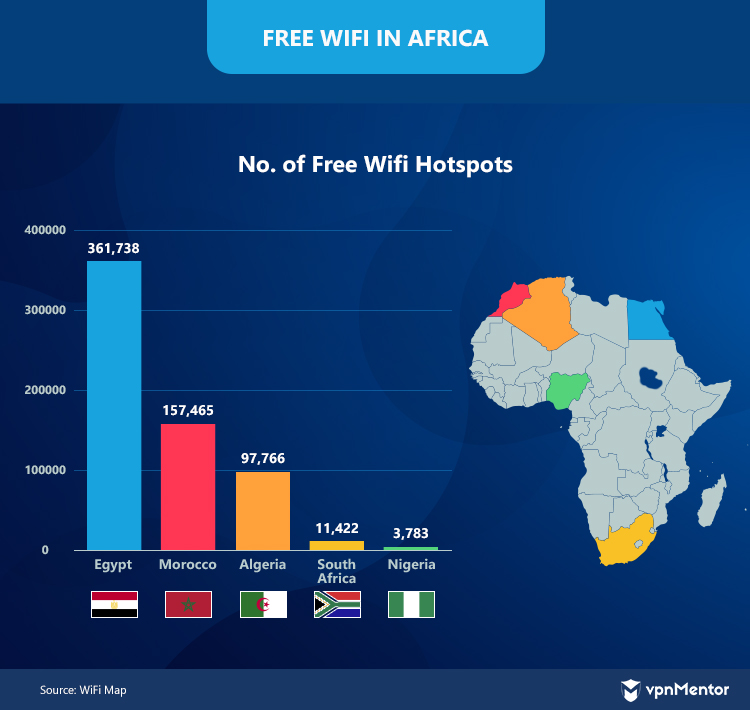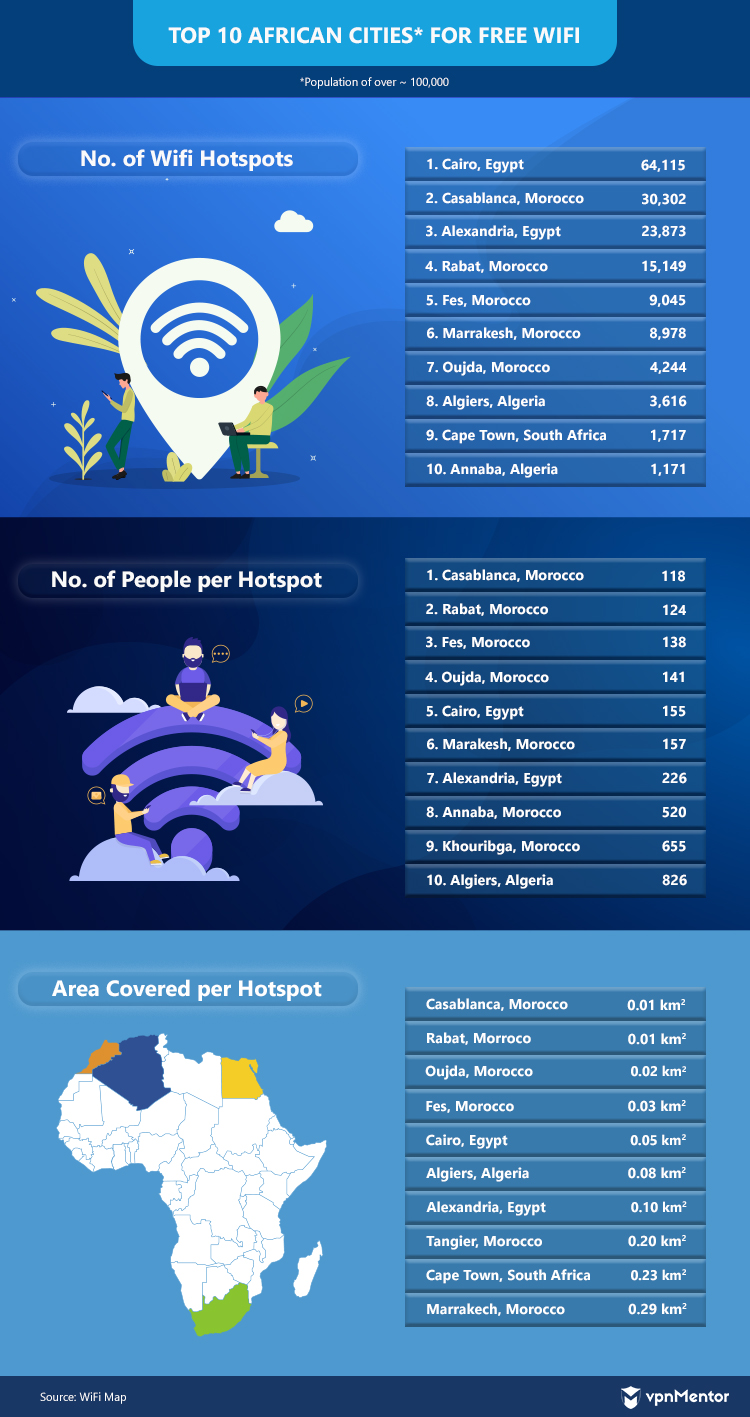 How to Find Free Wifi Anywhere in the World
You could head to areas you suspect you may find free Wifi, such as the nearest coffee shop or public library. Or you could know for certain where the nearest hotspot is by using one of many apps that help you find free Wifi anywhere. Our top choices are:
Featuring a handy map so you can find the nearest Wifi hotspot, Wifi Map can tell you the location of over 100 million free Wifi networks across 200+ countries. For example, we discovered that Wifi Map can tell you the location of over 53,000 free hotspots in Istanbul alone.
As the information is crowdsourced, most networks have been tested by real users, who've verified the login details. The app is updated in real-time, so you'll always have the most up-to-date information.
A paid plan is available for access to all of the features of the app.
Main Features
Available on iOS and Android
Crowdsourced by an active community of 100 million users
Downloadable maps to see hotspots and login details while offline
Share your internet connection with Facebook friends
Track how much mobile data you've saved
2. Wifi Finder - Verified Networks Only
Wifi Finder's map contains only verified hotspots as many Wifi scanners are overcrowded with private or outdated hotspots. With each hotspot, you'll learn the type of venue and the speed. You can filter the Wifi map by venue type e.g. hotel, cafe, bar, etc.
The map features coded symbols so you know what each hotspot can be used for, including browsing, email, video chat, streaming, or gaming. Therefore, you'll know that you'll experience a quality connection and fast internet speeds when you need them.
Main Features
All hotspots are verified and speed tested
Crowdsourced by 10 million users
Ability to share your network
Download maps to view offline
Hotspots in 50,000 cities worldwide
3. Free Wifi from Wiman - Great for US Users
This app is easy to use and will help you find free Wifi wherever you are in the world, with over 120 million hotspots across 150 countries. You'll know the reliability of each hotspot thanks to real user reviews…no more connecting to a dud network.
You can download free Wifi maps of cities, to avoid data roaming charges or to have them handy when you have no internet connection. However, it's unfortunate that his hotspot app is currently only available for Android users.
Main Features
Available for Android devices
Offline free Wifi maps
5 million hotspots in the US alone
Wifi passwords verified by the Wiman community
500,000+ hotspot reviews
The Dangers of Public Wifi
While there are major benefits to public Wifi, it doesn't come without its dangers. The traffic that flows through an open Wifi network is usually unsecured and unencrypted.
This makes public Wifi an easy target for hackers to snoop on your online activity and get their hands on your sensitive information.
For example, you connect to a nearby cafe's free Wifi for just a few minutes, during which you log in to Facebook and purchase bus tickets for your next destination. You've just sent your credit card details and passwords over an unsecured network, which makes you vulnerable to the prying eyes of hackers and other malicious cyber threats.
This vulnerability exists for all public networks no matter where you're connecting from, whether it's at an airport, on public transport, in a hotel, or at a coffee shop. However, many people are still underestimating the risks of public Wifi.
You may assume that a Wifi network is safe and/or private as you need to enter a password to access the internet. But the truth is if you don't have complete control over who can connect to a network, that network is public.
How to Stay Safe Using Public Wifi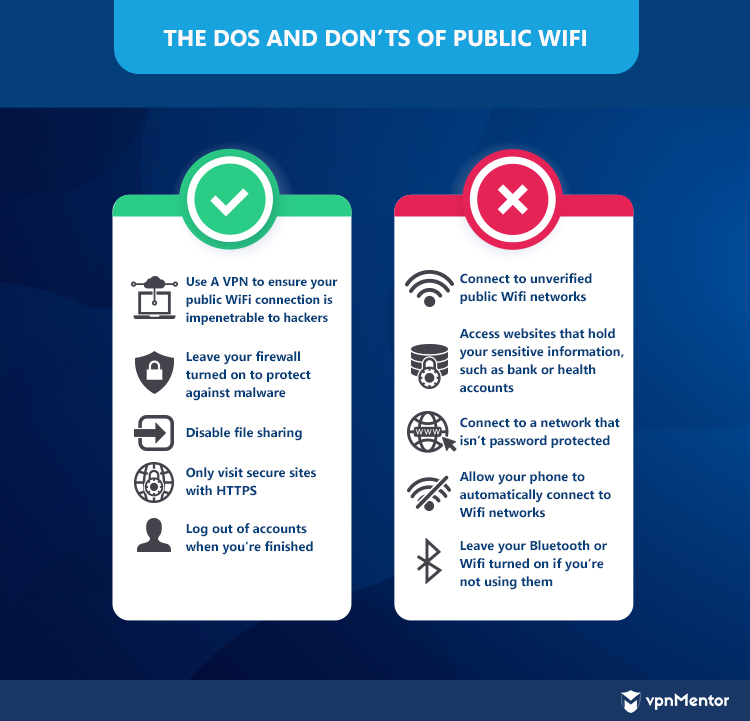 There are several ways you can stay safe when connected to any public Wifi network. Here are our top tips.
Use a VPN
A Virtual Private Network, i.e. a VPN, is a software program that protects your online privacy and makes things difficult for hackers, by anonymizing your traffic and location.
When you're connected to a VPN server, the big providers have servers worldwide, your sensitive data and traffic are encrypted, meaning that they are protected from the prying eyes of hackers.
Furthermore, many VPNs have built-in malware and adware blockers, which prevent your devices from being infected by viruses, etc.
Free VPNs are available, but they're often limited in features and have a lower level of encryption. For a secure and reliable VPN, you're better off with a paid provider, many of which offer free trials or risk-free money-back guarantees, ideal for using public Wifi safely in the short term.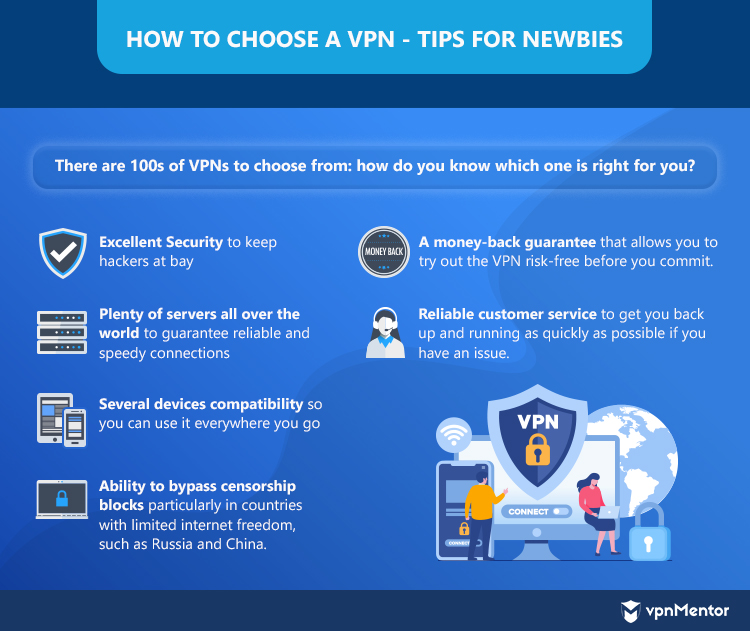 Only Connect to Verified Networks
Hackers are known to set up their own fake public Wifi networks in public places, hoping for users like you to connect, so they can steal sensitive information. Usually, these networks have names that sound legitimate, referencing nearby locations, such as "Free-Airport-Wifi' or 'Starbucks_Wifi'.
Before you connect to a free public Wifi network, verify with a member of staff that you're connecting to the right one. Plus, make sure you turn off your sharing references each time you connect to a public Wifi.
Another step you can take is to disable auto-connect on your devices, which will prevent you from automatically connecting to fake networks when you're in range. You should also disable file sharing on your devices to be safe.
When you have finished, log out of all of your accounts and click 'Forget Network' to prevent auto-connections in the future.
No Sharing Sensitive Information
Speaking of sharing, you should always avoid sharing sensitive information when connected to public Wifi. Although it can be tempting, if you're not connected to a secure VPN, never carry out internet transactions while using a public network.
Also, avoid keeping files or images on your mobile devices that contain sensitive information – such as passwords, account numbers, and PINs – as you can never be too safe when it comes to your personal details.
If you really need to share personal information, we advise waiting until you have access to a private network.
Visit Secure Sites Only
If you're not using a VPN, at least make sure you're only visiting websites that have URLs that begin with "HTTPS" or have the padlock icon before the website address in your browser.
The "HTTPS" means that whatever information is transmitted between your browser and the server you're connected to will be encrypted.
Keep Your Firewall On
A firewall prevents your device from being attacked by data-based malware. It works by checking all data transmitted to your device via the public Wifi network to ensure it's safe, stopping a malware attack before it even starts.
Therefore, if you're a digital nomad that is in the habit of connecting to free public Wifi, it's wise to always keep your firewall on.
Troubleshooting Free Wifi Tips
Not all free WIfi hotspots are created equal. Sometimes public Wifi hotspots are in locations that have a spotty signal strength at best. This can result in you being connected to the public network, but unable to access any website.
Plus, if you are accessing public Wifi on the move, such as walking around a city or on public transport, you could experience dropped connections as you move between different hotspots. This can be a real problem if you have turned off automatic connections to protect your online security.
Then there is the issue of network speeds. Connect to a busy public Wifi hotspot and the speed could be so slow that even loading a simple webpage can seemingly take forever. So, if you're having speed and connection issues with free Wifi, what can you do?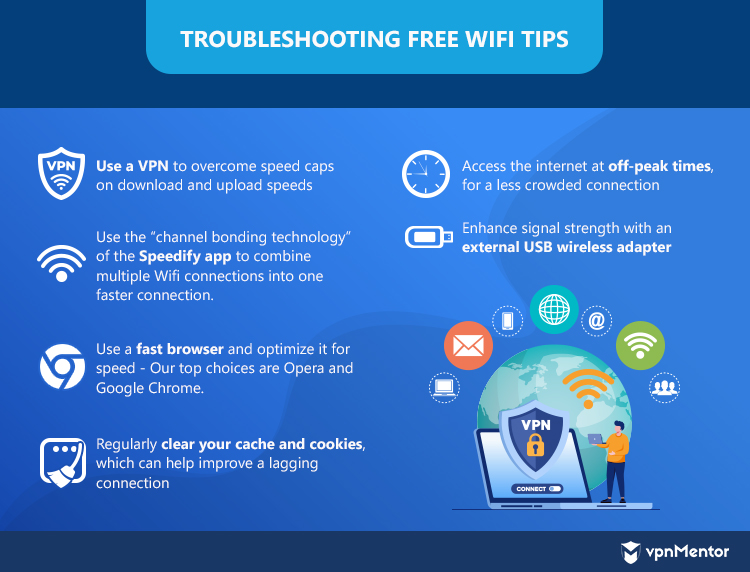 The Bottom Line
Being able to connect easily to free Wifi is a must for the modern traveler and digital nomad. Thankfully, there are over 500 million free Wifi hotspots across the world, allowing you to get online wherever you are.
However, some countries and cities have better free Wifi networks than others. There are several apps – including Wifi Map and Wifi Finder – that can tell you the number of free Wifi hotspots in thousands of cities.
Just because your free Wifi connection is reliable, it doesn't mean that it's safe. Public WIfi networks are easy targets for hackers and cybercriminals, so we recommend using a trustworthy VPN every time you go online. Also, it's a good idea never to share sensitive information over public Wifi and only ever connect to secure networks.