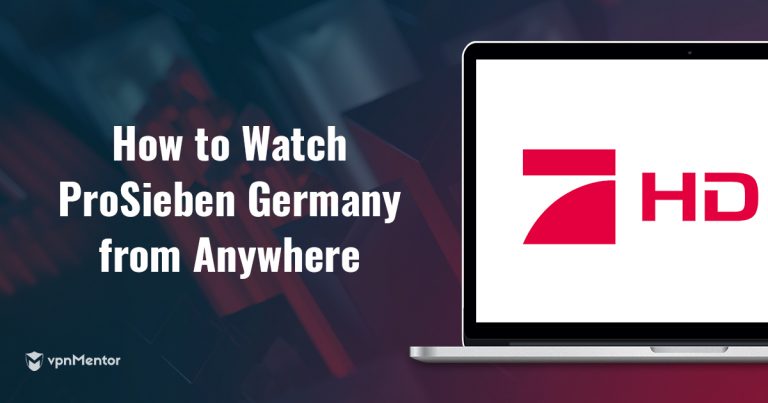 How to Watch ProSieben Germany From Anywhere in 2022
Updated on 1st June 2022
I have to admit that my guilty pleasure is the glitz and glamour of Germany's Next Topmodel on ProSieben. However, when traveling in the UK, I use a VPN to make sure I can keep up with my favorite show.
ProSieben blocks viewers outside Germany by checking their IP addresses. Your IP address tells the platform where you are. To continue watching ProSieben outside Germany, you must have a German IP address. The solution is simple: you just need a VPN.
A VPN is a simple app that gives you a German IP by connecting you to a server in Germany. But not all VPNs are up to the job. Some don't have servers in Germany; others can't unblock ProSieben. After testing 30 VPNs to find the best for watching ProSieben, I found a clear winner: ExpressVPN.
My tests showed ExpressVPN effortlessly unblocks ProSieben. Its rapid speeds let me stream in HD with no buffering. Try it out for yourself — if you're not satisfied, you have 30 days to claim a full refund.
Start Watching ProSieben Today
Quick Guide:
How to Watch ProSieben From Anywhere in 3 Easy Steps
Download a VPN. I recommend ExpressVPN. Its lightning-fast speeds are ideal for streaming, and it easily unblocks ProSieben from anywhere.
Connect to a server in Germany. That gives you a German IP address that makes it look like you are still there.
Start watching ProSieben. Head over to ProSieben and start watching your favorite shows.
Why You Need a VPN to Watch ProSieben
ProSieben is available to watch only if you're in Germany. Austria and Switzerland also have their own version of ProSieben. Streaming services like ProSieben implement geo-blocking, a technique for making certain content exclusively available to a particular country or region. For example, to protect the copyright of its own shows like Joko & Klaas gegen ProSieben, or of hit US shows like Grey's Anatomy and Brooklyn Nine-Nine.
To find out where you are, the platform checks your IP address and blocks anyone outside Germany. However, you can change your IP by using a VPN. A VPN can help you bypass detection by masking your actual location. By using a VPN, you can connect to a server in Germany that gives you a German IP address. The VPN sends all your traffic through one of its servers and gives you a new IP which makes it look like you're accessing ProSieben from Germany.
That way, when ProSieben checks your IP, it sees it as a local one and lets you access all its content. With a VPN on, you are free to watch ProSieben wherever you are.
Best VPNs to Watch ProSieben From Anywhere in 2022
Unrivaled at bypassing geo-restrictions
Servers in Frankfurt and Nuremberg
5 simultaneous device connections
Can unblock: ProSieben, ZDF, ARD, Netflix, Disney+, DAZN, Showtime, Hulu, HBO Max, APV, BBC iPlayer, and more
Compatible with: Windows, Mac, iOS, Android, Linux, routers, Apple TV, and more
ExpressVPN is a great all-around VPN that unblocks streaming platforms like ProSieben with ease. When I tested VPNs for unblocking ProSieben, I was around 900 miles from its base in Munich. Using ExpressVPN, I was able to browse its library of shows just like I did in Germany.
I had excellent speeds using ExpressVPN. I was staying in a busy area with pretty slow download speeds. Still, I was able to watch ProSieben in HD with a drop-off of just 15.2% from my base speed. That's easily fast enough to stream in 1080p HD, the highest resolution available for streaming ProSieben.
The app is intuitive and user-friendly. Simply choose Germany from the location list and hit connect. You can also choose the city location — Frankfurt or Nuremberg. Now go to the ProSieben website to watch whatever you want.
If you need help, you have 24/7 customer support at your disposal. During testing, I had to resolve a minor technical issue. ExpressVPN's 24/7 customer care responded to my live chat request within seconds.
ExpressVPN is not the cheapest, as you might expect from a premium service. Its shortest plan is the most expensive on my list (by a small margin). However, you can save significantly by subscribing to its yearly plan. I even got 49% off when I signed up. A yearly plan works out at $6.67/month — a fair price given its features.
All of ExpressVPN's plans are backed by a 30-day money-back guarantee — not just its long-term plans. Try it risk-free — if it's not the right service for you, you can ask for a refund. I tested this for myself — when I'd finished writing this article, I contacted ExpressVPN's customer support to request a refund. After a polite chat, they agreed. The money was back in my account by the end of the week.
Watch ProSieben With ExpressVPN
Special servers for streaming
Over 1000 servers in Germany
Can unblock: ProSieben, ZDF, Zattoo, ARD, Netflix, Disney+, HBO Max, Sling TV, BBC iPlayer, and more
Compatible with: Windows, Mac, iOS, Android, Linux, routers, Apple TV, Fire TV Stick, and more
CyberGhost offers regular servers as well as ones for streaming, which are optimized for a certain platform. It doesn't have one specifically for ProSieben, but my tests showed that the optimized servers access it with ease anyway. I tested its optimized servers for ARD, YouTube, Zattoo, and ZDF, and they all effortlessly unblocked ProSieben. Streaming servers are an advantage because they are designed for fast streaming speeds so that you can watch TV without lag. CyberGhost also ensures that streaming services do not block the IP addresses of these servers.
CyberGhost has over 1000 servers in Germany in 3 locations: Berlin, Dusseldorf, and Frankfurt. More servers equal a less crowded network, which can enhance your speed and streaming quality. That's great for watching ProSieben, which is why my speeds never dropped, even when many users were online. You can choose which one to connect to or let CyberGhost automatically connect you to the fastest. Frankfurt was the fastest location I tested. I got a drop-off of 18.3% from my base speed — easily fast enough to watch The German Masked Singer in HD. They weren't as fast as ExpressVPN's but still good enough for buffer-free streaming.
CyberGhost has 24/7 customer support, but it was sometimes down during my testing. You can email its support team; they usually reply within a few hours. In my experience, their answers were helpful and thorough.
A minor quibble — its short-term plan is pricey, and it only has a shorter money-back guarantee. I don't think that's long enough to test out all your devices and platforms. Instead, I recommend a yearly plan starting at $2.29/month. Plus, I was lucky enough to get a 82% discount at the time.
I can vouch for CyberGhost's money-back guarantee because I tested it. After around 5 weeks, I contacted customer support to ask for a refund. After a brief chat, they agreed, and the money was back in my account within 3 days. Try it for yourself, risk-free. If you're not entirely happy, you've got 45 days to claim a full refund.
Watch ProSieben With CyberGhost
Great server coverage with plenty of German VPN IPs
Solid speeds
10 simultaneous device connections
Can unblock: ProSieben, ZDF, ARD, BBC iPlayer, Netflix, Hulu, HBO Go, Showtime, Disney+, DRTV, and more
Compatible with Mac, Windows, Linux, Android, iOS, Roku, gaming consoles, and more
PIA made it on my list because it has a good server network with 2 server locations in Germany — Frankfurt, and Berlin. Its representative also told me it has multiple VPN IPs in each server location, so streaming platforms like ProSieben don't detect you're using a VPN. During my PIA testing, whenever I connected to either of these 2 servers, they gave me instant access ProSieben without issues.
Annoying ads can really kill my mood for watching anything online, which is why I find PIA's built-in ad blocker especially useful. PIA's MACE feature blocks ads, trackers, and malicious websites. You don't have to pay anything extra for this — it's included for free inside the VPN.
You just need to turn the feature on manually because it is not enabled by default. Also, if you're watching ProSieben on your mobile device, with MACE active, it might even reduce the battery drain so you can watch for a longer time.
One thing I've noticed is that PIA doesn't have the most user-friendly VPN app (like ExpressVPN) because there are many customization options. But still, it does come pre-configured, so you don't have to change much if you don't want to.
Its long-term plan starts at only $2.19/month. Plus, I even got 82% off when I signed up.
All of PIA's plans have a 30-day money-back guarantee, so you can try it with zero risk. If it's not right for you, you can get a refund. I tested and canceled my subscription before it expired, and had my money back in 5 days.
Limitless device connections
Good speeds
Dozens of servers in Germany
Can unblock: ProSieben, ZDF, ARD, Joyn, Sling TV, Zattoo, DRTV, Hulu, Disney+, and more
Compatible with: Windows, Mac, iOS, Android, Linux, routers, Apple TV, and more
IPVanish offers unlimited device connections on a single subscription, making it a good choice for a large household. Just connect all your devices at the same time, and you're good to watch without having to log in and out each time. I used it on all my mobile devices and my laptop with no issues.
IPVanish has over 50 servers in Germany. This is more than enough for reliable and consistent streaming with no buffering. You can connect to a server yourself or simply let IPVanish automatically choose the best. I used this feature and watched The German Masked Dancer on a ProSieben live stream in faultless HD. Also, IPVanish is set to the WireGuard protocol by default, which gives you good speeds for streaming.
On the downside, unlike other VPNs, IPVanish can't unblock the BBC iPlayer or Netflix Germany. That might make it less appealing to some, but it did unblock ARD, Joyn, and ZDF when I tested it. It even unblocked Zattoo, which offers a network of channels including German Comedy Central and many others.
IPVanish also has short and long-term plans. If you want to save in the long run, you should choose the annual plan, which starts at $2.50/month. On top of that, I got my subscription when it was offering 77% off, plus ransomware and malware protection.
If you opt for a yearly plan with IPVanish, you get a 30-day money-back guarantee.That means you can try it out risk-free, and if you're not completely satisfied, you can simply claim a refund. I've tested this out for myself, and the friendly support team agreed to a full refund with no problems.
FAQs on Watching ProSieben With a VPN
How can I unblock ProSieben Live TV outside Germany?
To continue watching ProSieben live TV outside Germany, you need to change your IP address. Streaming platforms like ProSieben limit who can view their content due to broadcasting and licensing agreements. When you travel abroad and try to access ProSieben from anywhere outside Germany, the platform blocks you. It sees where you are by checking your IP address.
To overcome this, you can use a VPN to connect to a server in Germany that gives you a German IP address. But not all VPNs work for ProSieben, though. Only a VPN that has reliable servers in Germany helps you bypass these restrictions and watch ProSieben live TV. My team and I tested 30 VPNs and came up with the best 4. The 4 VPNs on this list are the most consistent and reliable for watching ProSieben.
How can I watch ProSieben in the US/UK?
If you try accessing it while you're in the US or UK, only a small number of clips are available to watch. Due to licensing and broadcasting agreements, you won't be able to view full episodes. ProSieben blocks you as soon as it detects you are accessing it outside Germany.
To watch full episodes and ProSieben live TV while in UK or US, you need a VPN. This simple app allows you to connect to a server in Germany, giving you a German IP address. That makes it look as if you are still in Germany, and the platform gives you access to all of its content.
Can I watch ProSieben for free?
Yes. ProSieben is free to watch; you just need to sign up for an account. However, due to broadcasting restrictions, you can watch ProSieben only if you are in Germany.
Even though you can access your ProSieben account outside Germany, you only see a small number of clips from shows and not full episodes. If you manage to load a show's page, you won't be able to play the episode.
That happens because ProSieben geo-blocks its content outside Germany. If you are abroad, you won't be able to watch ProSieben. To continue watching, you need a German IP address which you can get with a VPN.
I've tested many VPNs and shortlisted the ones that reliably unblock ProSieben and have a legitimate money-back guarantee. My top choice for watching ProSieben is ExpressVPN, which also offers a 30-day money-back guarantee.
Start Watching ProSieben Now
A trip away from Germany doesn't mean you should miss out on your favorite shows. With a VPN, you can watch ProSieben live or catch up on whole box sets from its library — whenever you choose.
ExpressVPN is my top recommendation for watching ProSieben from abroad. I was super satisfied with its lightning-quick speeds, effortless unblocking capabilities, and user-friendly interface. You can try it yourself since it offers a 30-day money-back guarantee. If you're not 100% satisfied, you can claim a full refund.
To summarize, the best VPNs for watching ProSieben are…
Privacy Alert!
Your data is exposed to the websites you visit!
The information above can be used to track you, target you for ads, and monitor what you do online.
VPNs can help you hide this information from websites so that you are protected at all times. We recommend ExpressVPN — the #1 VPN out of over 350 providers we've tested. It has military-grade encryption and privacy features that will ensure your digital security, plus — it's currently offering 49% off.