How to Get a German IP Address from Anywhere in 2020 [+VIDEO]
Updated on 8th May 2020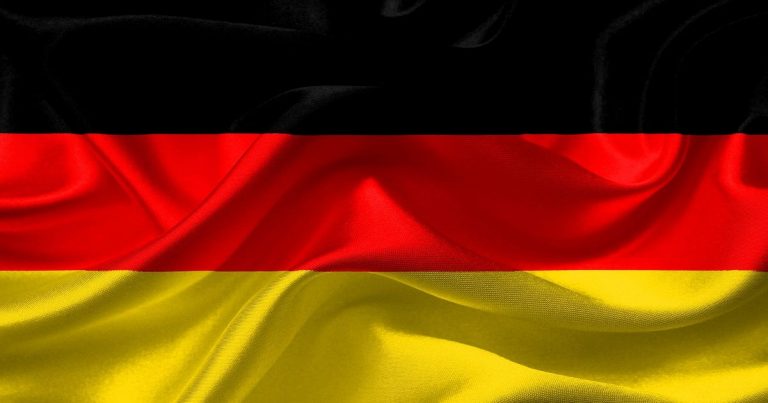 If you're outside Germany, you might have trouble watching shows on ZDF or Das Erste. Websites read your IP address to determine where you're browsing from. If they don't see a German IP, some sites limit or block your access.
With a foreign IP, you could even be locked out of your German bank account.
The way around this problem is to change your IP address without changing your actual location. This might sound like a tricky thing to do, but it's actually very simple.
All you need to get an IP address in Germany is a high-quality VPN (virtual private network). We'll talk you through the steps involved. We'll also share some advice from our VPN pros on how to choose the best VPN for you.
Quick Guide: How to Get a German IP Address with a VPN
Choose a VPN with servers in Germany. CyberGhost VPN is our #1 choice.
Install the VPN and connect to a server in Germany.
Check your new German IP address using our special tool.
Table of Contents
How a VPN Can Get You a German IP Address
A good VPN gives you access to secure servers around the world. Your internet traffic travels through the server you choose before going to any website. That means the website sees the server's IP address instead of yours.
So if you choose a server in Germany, your browsing is associated with a Germany IP address. Websites you visit will have no way to know that you're not really inside the country.
As long as your VPN has a few crucial features, you'll have unrestricted access to whatever German content you want.
Being able to mask your location is a great benefit of using a VPN, but it's not the only one by any means. A quality VPN can do much, much more.
A VPN Also Keeps You Safe & Lets You Stream Almost Anything
Every time you go online, no matter where you are, you are vulnerable to hacking, DoS attacks, and spyware. These risks become far greater if you use public wi-fi or shop, access bank accounts, or do business online.
High-quality VPNs protect your privacy and secure your connection. They use military-grade encryption to keep your device and data safe at all times. VPNs were actually invented as online security tools, and they still perform that function brilliantly today.
By unblocking geo-restricted websites, a good VPN lets you stay up to date with local news and your favorite German TV series from abroad.
You can master the German language by reading German news sites and watching popular shows like Stromberg and Dark. You can also access regional social networks and search results, a huge advantage if you're exploring business markets in Germany.
It's possible to get a German IP address with a free VPN or proxy, but you'll give up security, performance, or both. Most free IP changers use weak encryption and don't guard your connection against cybercrime.
If that wasn't bad enough, many free VPNs harvest and sell your data to third parties. They are also notoriously slow. Even if a free VPN gives you access to Bundesliga matches (and most of them won't), you'll be dealing with endless buffering.
The best VPNs have global arrays of high-speed servers, so you'll never struggle with network slowdowns. They can also get past VPN-screening software to give you smooth access to Netflix, the BBC iPlayer, and everything you need in Germany.
What to Look For in a VPN
Servers in Germany: You need at least one to get a German IP address.
Reliable Security: Choose a VPN that has AES encryption and added safeguards like a kill switch and DNS leak protection.
Unblocking Capabilities: A VPN with a history of bypassing the geoblocks on US Netflix and Hulu will also give you access to RTL and ProSieben in Germany.
Speed: Look for VPNs with large global networks and fast servers so you can enjoy smooth streaming of football matches and F1 races.
No-logs Policy: Germany is part of the Fourteen Eyes Alliance. A VPN that doesn't keep records of user activity is your best option to avoid surveillance.
The Best VPNs to Get a Germany IP Address
Overall Rating: 4.8 – The Best-Value VPN for Germany/Intuitively Designed Interface for Instant Streaming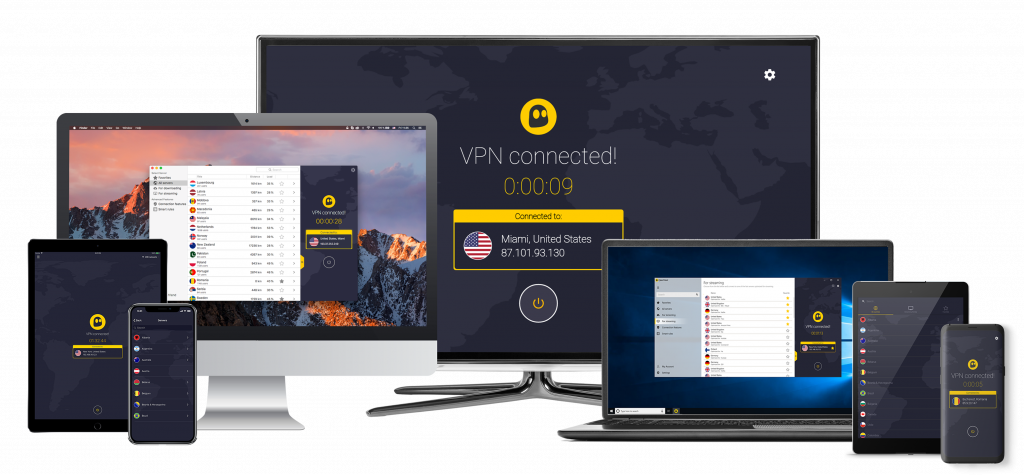 For a Limited Time ONLY – Get 73% OFF CyberGhost NOW!
CyberGhost gives you a huge range of choices for a German IP with 576 servers in Germany, and over 5,700 worldwide. Users enjoy CyberGhost's high speeds and unlimited bandwidth, which let you stream any German content smoothly.
Although the provider is based in Romania, the VPN was developed by German engineers. It uses the strongest encryption methods available and a host of advanced features, including a kill switch, leak protection, and ad and malware blocking.
All that protection is hidden behind one of the industry's most user-friendly interfaces, available in apps for all major devices. You can launch many common VPN uses (e.g. streaming, torrenting, wi-fi protection) with one click.
You can also connect as many as 7 devices at the same time. And if you ever want to learn more about how to get the most out of the service, CyberGhost offers reliable, 24/7 customer support.
You can try CyberGhost free for 24 hours on many devices. If you like what you see, you can subscribe with a 45-day money-back guarantee.
Need More Info? Here's our detailed expert review of CyberGhost.
Overall Rating: 4.9 – The Fastest VPN We Tested for Germany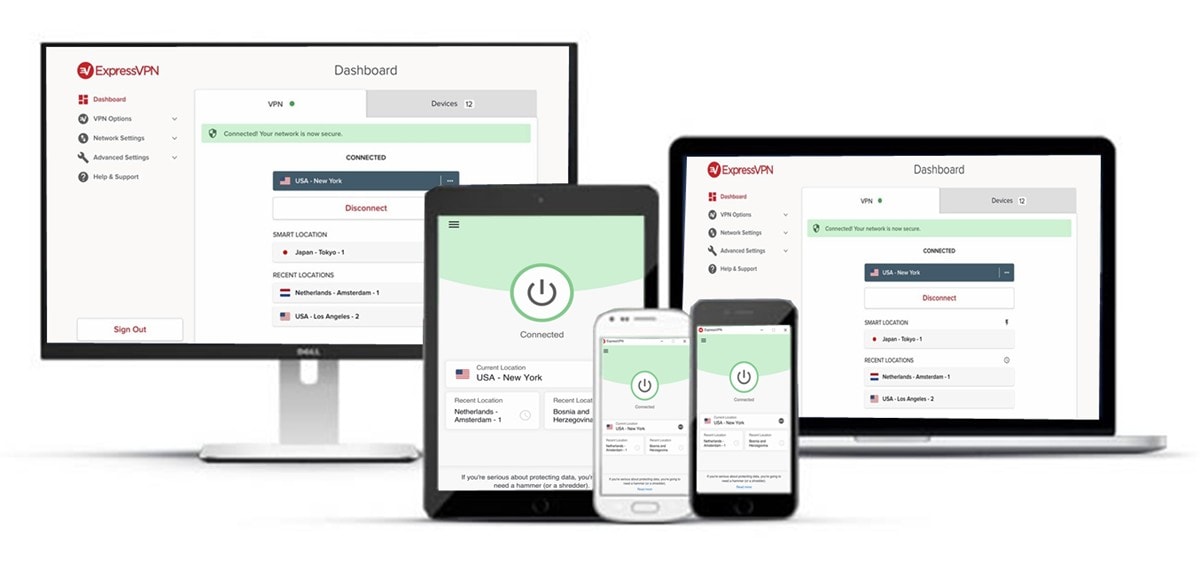 Don't Miss It: Get 49% off the fastest VPN & try it for 30 days risk-FREE!
ExpressVPN is admired by users and experts alike for its lightning-fast speeds and unblocking capabilities. You can easily bypass geoblocks to enjoy your favorite German TV channels in high quality.
ExpressVPN has 148 server locations, with multiple options for IP addresses in Germany. AES-256 encryption protects your data, while DNS leak protection, split tunneling and a kill switch give you total control over your privacy.
ExpressVPN costs a little more than most VPNs, but it is a premium service in every sense. You can try it for yourself risk free with a 30-day money-back guarantee.
Need more info? Here's our detailed expert review of ExpressVPN.
Overall Rating: 4.9 – Our Overall #1 VPN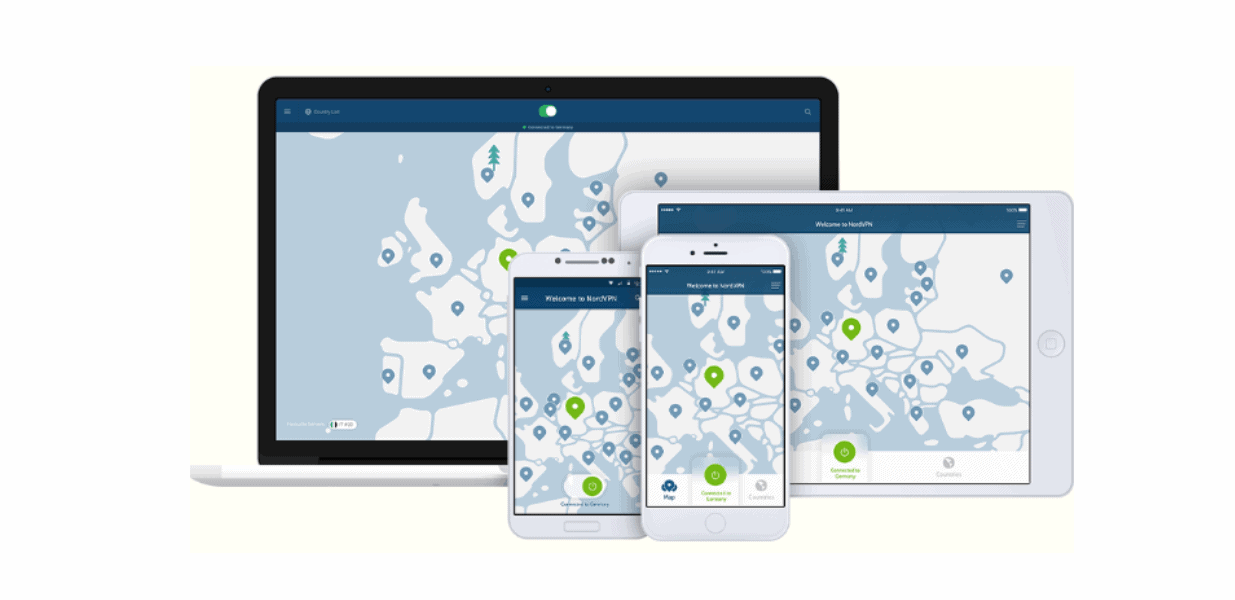 SPECIAL OFFER: GRAB YOUR 70% DISCOUNT to Get a German IP Address with NordVPN NOW!
NordVPN has all the cutting-edge security features you'd expect from a premium VPN and more. The Double VPN protocol adds an extra layer of encryption, and a kill switch ensures there are no data leaks, even if your VPN connection fails.
With fast speeds and over 5,200 servers worldwide, NordVPN gives you lots of choices for smooth streaming. With 257 NordVPN servers in Germany, you'll be watching the latest Mord mit Aussicht in no time.
Enjoy great long-term subscription prices with the peace of mind of a 30-day money-back guarantee.
Need more info? Here's our detailed expert review of NordVPN.
Overall Rating: 4.7 – Top Ten VPN for Speed, Value, and Security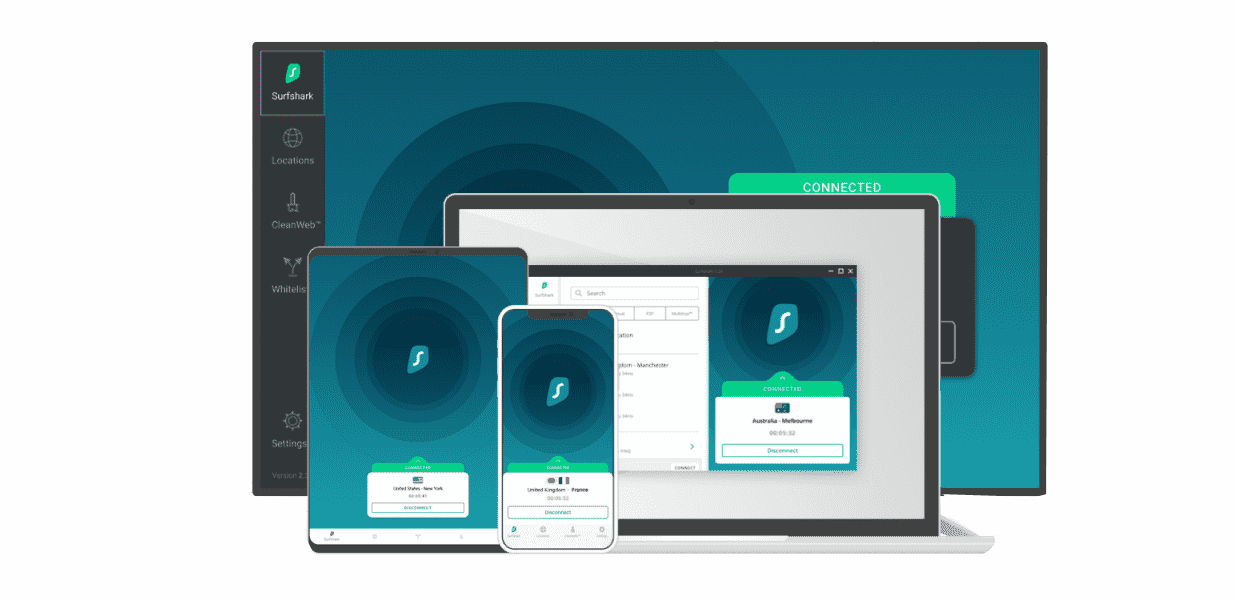 Surfshark VPN has 500+ servers worldwide, with a Frankfurt location that gives you an IP in Germany. This relatively new provider is rapidly winning users over with its fast servers and ability to bypass tough geoblocks.
You get the same level of security with Surfshark as you do with more established VPNs. High-grade encryption and features like private DNS and a double VPN chain ensure that your information is always for your eyes only.
You also get features you would only find with a new provider looking to build a customer base, including unlimited device connections with a single account. That means outstanding value for your money.
Use the 30-day money-back guarantee to see for yourself if Surfshark has what it takes to become the next big player in the VPN market.
Need More Info? Here's our detailed expert review of Surfshark.
Further Reading
Have a look at our deals page for all the latest VPN offers.
If you spend time both inside and outside Germany, check out our experts' rundown of the best VPNs for Germany to make sure you choose a service that serves your needs everywhere.
Find out how you can watch TV Now Germany from anywhere using a VPN.