How to Get Cheap Flights With a VPN in 2023 (& 10 More Tips)
Updated on 23rd January 2023
Airlines and booking sites show you prices based on your location — so you could be paying way more for flights than someone in another country looking at the exact same ticket. Costs can also escalate depending on your browsing history.
A VPN lets you shop online from a virtual location of your choice. This allows you to find better prices for flights because you can browse different markets. It can also keep your browsing private to stop travel sites from tracking your data and raising its prices based on your browsing history.
After testing 40+ VPNs, I found the best service for getting cheaper flights. My top choice is ExpressVPN, since it has servers in 94 countries that you can use to access travel sites worldwide. You can even try ExpressVPN completely risk-free since it offers a 30-day money-back guarantee.
Get Cheap Flights with ExpressVPN
Quick Guide:
How to Get Cheap Flights With a VPN in 3 Easy Steps
Get a VPN. I recommend ExpressVPN since it has servers in 94 countries for accessing global travel sites and military-grade encryption to prevent trackers from hiking your prices.
Connect to a server in another country. Simply choose a country from the app's dropdown list. Lower-income countries like Bulgaria, Turkey, and Malaysia often have the cheapest airfares, but not always.
Start booking cheaper flights! Try a few locations to find the best deals.
Best VPNs to Get Cheap Flights in 2023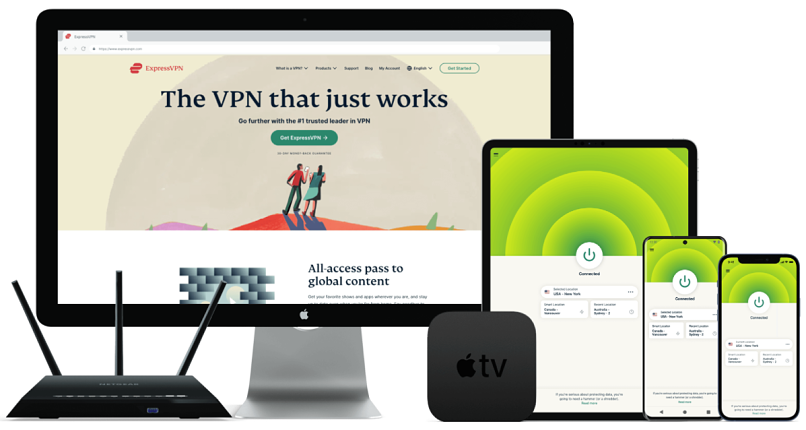 Editor's Choice
Editor's Choice

Tested January 2023
Try Risk-Free for 30 Days
Available on:
Chrome
Router
Smart TV
More
www.ExpressVPN.com
Huge network of 3,000 servers in 94 countries for easy access to global markets
Easy-to-use apps that let you change locations with 1 click
5 simultaneous device connections
Works with: Kayak, Google Flights, Skyscanner, Travelocity, Expedia, Travelzoo, OneTravel, and more
Compatible with: Windows, Mac, iOS, Android, Linux, Chrome, Firefox, routers, and more
ExpressVPN lets you access virtual locations, allowing you to browse flights in global markets. While testing the app, I searched for a flight from London to Melbourne from a UK server. Skyscanner gave me the cheapest price of $1,144.06. Next, I connected to ExpressVPN's US - New York location and got the same flight for $647. By switching server locations, I saved nearly $500. I could also save shortcuts to my favorite travel sites in the app for quicker access.
The app is easy to navigate and I could change my location with 1 click. All you have to do to browse global markets with ExpressVPN is pick a country from the list and click the connect button. To save a favorite, click the star next to the country's name. I connected to Malaysia, India, and Italy to compare flights — all within a few minutes.
Military-grade security keeps your credit card details safe and stops travel sites from tracking your browsing. After months of testing, I didn't see a single 'artificial price increase' when revisiting flights. Your actual location is kept hidden with automatic leak protection and a kill switch, so travel sites won't know you're in another country.
A minor drawback with ExpressVPN is that it's not the cheapest compared to other top VPNs. Short-term plans are particularly pricey. However, you can make significant savings by signing up for a long-term plan, with prices starting at $6.67/month. When I subscribed, I was able to get a 49% discount since it was offering a promotion. If you're a frequent traveler then a long-term plan offers the best value.
You can try ExpressVPN for yourself risk-free, since it offers a money-back guarantee. If it's not for you, you've got a full 30 days to claim a refund. I tested this out by using the 24/7 live chat to request my money back. The agent replied instantly, didn't ask any questions, and didn't push me to stay. My refund was issued, and my money was back in my PayPal account 2 days later.
Get Cheap Flights with ExpressVPN
Added security from trackers with Block content feature, plus leak protection and a kill switch to hide your real location
9,753+ servers in 91 countries for easy access to worldwide travel markets
7 simultaneous device connections
Works with: Kayak, Google Flights, Skyscanner, Travelocity, Expedia, Travelzoo, OneTravel, and more
Compatible with: Windows, Mac, iOS, Android, Linux, routers, Apple TV, and more
CyberGhost's Block content feature stops annoying ads when you're shopping for cheap airfares. It prevented websites from hiking my prices when revisiting a flight, and also blocked the banner and sidebar ads on Expedia. During my tests, the pages on travel comparison sites were ad-free, making it easier to compare prices.
CyberGhost's simple interface made it easy to browse for cheap flights. When I tried it out on my macOS, the app's simplified view was fixed to my menu bar, so I always knew where to find it. I could disconnect and choose another country in 3 clicks. When you select a location, it automatically connects you to the fastest server, so I never had slowdowns.
Speeds on local servers are fast for quick loading times. From the UK, I could access Sweden, Romania, and Spain and compare airfares with no issues. Compared to ExpressVPN, CyberGhost's speeds when connecting to faraway servers weren't as impressive. I visited Jetstar using the New Zealand location and the homepage took 10 seconds to load, which was a bit annoying.
I think CyberGhost's subscriptions are fairly priced. There's a range of plans available, and prices start from as little as $2.19/month. The monthly plan is expensive and only offers a 14-day money-back guarantee, whereas the longer plans offer a generous 45 days.
Either way, you can try CyberGhost with confidence — the money-back guarantee is legit. If you're not totally satisfied, claiming a refund is really easy. I made sure by contacting its 24/7 live chat. After a brief conversation, my refund was granted. My money landed safely back in my account 3 days later.
Get Cheap Flights with CyberGhost
Top-notch security to protect your browsing on public WiFi and keep you safe abroad
Military-grade encryption, a kill switch, and leak protection keep your true location hidden at all times
10 simultaneous device connections
Works with: Kayak, Google Flights, Skyscanner, Travelocity, Expedia, Travelzoo, OneTravel, and more
Compatible with: Windows, Mac, iOS, Android, Linux, routers, Apple TV, and more
Not only does Private Internet Access (PIA) get you cheaper flight prices, but it's great for staying secure on public networks while traveling. Public WiFi hotspots often don't require authentication, making them vulnerable to hackers. While testing PIA on my iPhone, I automated my WiFi settings. When I enter a public WiFi hotspot, PIA now connects me to a secure server, hiding all my data, including sensitive info like payment details.
PIA has 29,650 global servers offering reliable speeds on airline sites. Such a vast network is advantageous when shopping for flights because you get fewer users per server, so pages load quickly and checkouts don't time out. I connected to Macau, part of China but not subject to its highly censored internet firewall. I booked a flight from Chongqing to Beijing for $17 cheaper than my local prices.
MACE, PIA's highly effective ad and tracker blocker, kept my flight browsing ad-free. It removed the sidebar and panel ads on Kayak, leaving only a floating ad for the site's own price alert tool. It also blocks malicious sites and content for added security.
If you're new to VPNs, PIA's vast array of settings could be overwhelming. The expanded view of the app contains statistics, buttons, and graphs that make it seem pretty complicated to use. But if you're into tech, being able to play around with these features is a bonus.
PIA offers a range of plans, and you can get a plan for as little as $2.19/month. Long-term plans offer far better value and come with a year of free Boxcryptor encrypted cloud storage.
All plans come with a hassle-free 30-day money-back guarantee. I tried this out myself to make sure it's reliable. My refund was issued without a problem, and I was impressed to get my money back the next day — quicker than most VPNs. I'd advise subscribing through the website. If you go through Apple, PIA won't be able to process your refund directly.
10 More Tips to Get Even Cheaper Flights
1. Clear cookies and go incognito
Clearing your cookies often prevents booking sites from tracking you and raising ticket prices accordingly. Cookies are pieces of data stored in your browser based on your internet use. Websites analyze cookies to create a digital profile of you and determine your location — this information affects the price of your flights.
It's easy to clear your cookies and it only takes a few seconds. In Chrome, I found the option under Chrome > Clear browsing data, which also pulled up the option to clear cookies. In Safari, just click History > Clear History. This prevents travel sites from using cookies to raise fares.
You may have noticed that the more you revisit a site to look at a flight, the higher the fare becomes. This is because travel sites use your history to analyze your browsing habits and see which flights you're interested in. Raising prices creates a sense of urgency and pressures you to book immediately before fares go up higher. Even a simple page refresh can cause the price to increase.
To avoid fluctuating rates, I advise browsing in Incognito (Chrome) or Private mode (Safari). Opening an Incognito or Private window allows you to browse sites without them analyzing your previous internet use. Though doing this offers you a degree of privacy, it won't hide your geo-location or fully protect your data. For this reason, I recommend using a VPN to completely block trackers.
Get Cheap Flights with ExpressVPN
2. Check flight comparison sites
Some of my favorite flight comparison sites include Skyscanner, Kayak, and Expedia. They're easy to use; just enter the details of when and where you're flying, and you'll be presented with fares. This lets you compare price, layover times, stops, etc.
Other popular sites to check out:
Remember that each flight comparison site offers different deals, so I'd recommend comparing a few before booking. For instance, Skyscanner offered a roundtrip ticket for Finnair between Stockholm and Moscow for $245, while Kiwi listed it for $306.
3. Consider budget airlines
You'll usually find flights for much cheaper with budget airlines. These are sufficient for short, quick flights as they typically don't include many amenities like meals, seat selection, or baggage check. Popular budget airlines from across the world include:
| | | |
| --- | --- | --- |
| US | Canada | East Asia/ Russia |
| Southwest | Swoop | Air Asia |
| Frontier | Flair Airlines | JeJu Air |
| Spirit | Porter | Peach Air |
| Allegiance Air | Air Canada Rouge | Scoot |
| JetBlue | WestJet | Aeroflot |
| Virgin America | Sunwing | Lion Air |
| Sun Country Airlines | Air Transat | Nok Air |
| | Jetlines | ThaiVietAir |
| Europe | | Cebu Pacific |
| EasyJet | Australia/ New Zealand | Hong Kong Express |
| RyanAir | JetStar | Spring Airlines |
| German Wings | Virgin Australia | T'Way Airlines |
| Air Baltic | | AirBaltic |
| Wizz Air | Middle East | SkyExpress |
| Vueling | SpiceJet | |
| | Air Arabia | Africa |
| Latin America | Jazeera Airways | FastJet |
| VivaAerobus | FlyDubai | FlyAfrica |
| Volaris | Flynas | FlySafair |
| GOL | | |
You can stay on top of their latest deals by signing up to receive regular notifications. These alerts are usually sent through social media and email. Whenever budget carriers offer a last-minute or seasonal discount, you'll be the first to know.
When I was looking for a trip from Berlin to Mallorca, I found booking with Ryanair was much cheaper. Not only that, but the flight was direct and quicker than the one offered by Air France.
Budget airlines use money-saving methods which are easy to overlook if you're not careful. A few points to consider when booking budget airlines:
Baggage. Avoid unexpected costs by reading the terms and conditions of your trip. Look to see if checked baggage is included or if there's a separate charge. Be sure to follow the airline's exact measurement guidelines for the dimensions of your baggage — otherwise, you're likely to face heavy fines.
Airport location. Sometimes, budget airlines fly in or out of smaller airports located further out of town. Be sure to check airports to avoid inconvenience.
The fine print. Budget airlines have to make their money somehow, and they usually do it with fees and extra charges. For instance, if you forget to check in online and have to do it at the airport, Ryanair will charge you extra.
Get Cheaper Flights with ExpressVPN
4. Be flexible on times, dates, and destinations
Choose a flight during a time when most people won't want to travel. Consider flying on holidays, weekdays, and low seasons for your destination. Plane tickets for these dates prove to be significantly lower than those during the more desirable travel days (weekends, Christmas break, etc.).
Off-peak hours also have the lowest prices. Most travelers try to avoid super early flights, between 5 a.m. and 7 a.m. The same goes for overnight or "redeye" flights departing after 8 p.m.
Unfortunately, there is still some inconsistency in this and it can be difficult to predict when flights will be the cheapest. However, I found that some flight comparison sites will give you a broad overview of the cheapest dates to fly.
You can save even more on travel expenses if you're flexible on your destination. Peak seasons vary from one location to another. So if you're not set on your destination (for work or family reasons), you can begin by checking the best available deals for the time you want to travel — then plan your trip accordingly.
Kiwi makes this process easy — Entering "Anywhere" in the destination box, I searched for the the best deal from my location for May 13-20. I found out that the cheapest place for me to travel during these dates was Cancun for a $247 roundtrip.
5. Know when to book
Airlines have created a fluctuating price system based on the specific timeframe in which you book tickets. Reserving tickets too far in advance can sometimes end up costing you almost as much as waiting last minute. According to a study conducted by CheapAir, there's a "Prime Booking Window," for domestic travel which is the ideal time to purchase your low-cost ticket. The research suggests that the perfect time to buy a domestic plane ticket is between 20 and 115 days before departure.
However, for international travel, it's advised to purchase your ticket between 2.5 and 6 months in advance. Additionally, when booking trips around holidays, it's best to buy your ticket far in advance — I advise booking an additional month or two in advance as demand for these dates is going to be much higher.
When traveling to a destination during off-season, you can find the best savings by booking your ticket closer to the departure date. During these times of low tourism, airlines are usually left with a lot of empty seats — so, they drop rates significantly at the last minute in an attempt to get more sales.
6. Purchase tickets individually
Booking flights for groups can cost you more money than booking tickets separately. Airlines typically give the same ticket price for every seat in the group, even if some are cheaper than others. For instance — if I reserve 3 tickets: a window seat ($300), middle ($200), and aisle ($250) — I'd most likely be charged $300 for all 3 tickets since it has the highest price point.
You can easily get around this by purchasing individual tickets and choosing your seats afterwards. However, you can't book individual tickets for children, as they require an accompanying adult to fly.
But if you're booking a multi-leg journey, I recommend getting all of the legs on one ticket — this ensures that you're not liable for rescheduling expenses for your remaining trip, should one of the legs fail.
7. Use airline booking ploys
There are a few loopholes that can save you money when booking a flight. I recommend checking that you don't breach your contract and that you consider any penalties you may incur. This isn't always an issue, as some airlines have failed to include information regarding booking ploys in their carrier agreement.
These 2 loopholes are pretty straightforward and difficult for airlines to penalize:
Throwaway Tickets
Usually, you can get a roundtrip ticket for significantly cheaper than one way. This is a major money-saver if you plan to move abroad or will be staying in another country for an extended period. All you have to do is book a roundtrip fare and "throw away" your return ticket.
Hidden City Tickets
With this method, you book a flight with a layover in your desired destination and end your trip there. Since ticket prices vary on the popularity of the destination, there are times this can save money. Plus, it's almost impossible for airlines to penalize this because travelers regularly miss flights. Just note that it doesn't work with checked baggage, since your luggage will end up at the final destination.
Skiplagged automatically finds these deals for you when you enter your departing city and desired destination. For example, I looked at a trip from Seattle to Dallas. Skiplagged showed me that booking a ticket from Seattle to Phoenix with a layover in Dallas was cheaper. I compared the same trip on Kiwi, but with Dallas as the endpoint of this journey it turned out to be $62 more expensive.
Get Cheaper Flights with ExpressVPN
8. Use points to fly for free
As one of the most uncomplicated ways to save money, you can sign up for rewards programs that earn you free trips. These programs are typically offered by airlines, as well as some credit cards.
As an example, Southwest Airlines has a program called Rapid Rewards that gives you points each time you fly. These points never expire; when you've collected enough, you can convert them into free flights!
9. Plan your own layover
Making multiple-day layovers can sometimes save you hundreds on roundtrip flights. This is a great money-saver if you're flexible with time and are interested in combining multiple destinations into one vacation.
Keep in mind — this method saves money on flights only — you'll likely accrue additional costs for accommodation, food, and other travel expenses.
10. Look for error fares
You can often find error fares on social media, forums, and websites like Secret Flying. These are mistakes made by booking sites and airlines which offer incredibly low prices — usually due to human error. It's helpful to bookmark a few of these pages to ensure you'll never miss a deal. When you spot an error fare, it's best to act immediately as companies catch these mistakes quickly. It's possible that after booking, your flight is canceled and refunded due to them catching the error before take off.
Get Cheap Flights with ExpressVPN
FAQs About Getting Cheaper Flights With a VPN
Which countries have the cheapest flights? Which are the most expensive?
Lower-income countries like Mexico, India, and Italy tend to have cheaper fares — although this can be inconsistent and depend largely on the destination of the trip. The biggest price drop I found was when I used ExpressVPN's server in Vietnam to look at flights to and from Vietnam. On the other hand, Vietnam was the most expensive when booking international flights not connected to it.
Flights were usually cheaper when I connected to a server in the country the airline is based in. For example, trips with Lufthansa were significantly cheaper when I connected to a German server since Lufthansa is based there.
I also noticed that the UK tends to see significantly lower-priced flights, especially when one of the destinations is within their borders. I tested this by checking prices for a flight between London and Miami. When I compared fares from 5 different servers, the UK had the cheapest rates, even though the airline (United) is American-owned.
Why are flights cheaper in some countries?
Several factors influence ticket prices, including:
The overall wealth of a country
The current popularity of a flight in your region
Holidays or significant dates
Political changes or recent events
If you're located in the same country as your chosen airline (some airlines offer cheaper prices in their home countries)
With these points in mind, you can more easily narrow down which country might have the cheapest prices at any given time and choose a VPN location accordingly.
How do airlines and booking sites know exactly where I'm located?
Airlines use your IP address to identify your location among other tracking techniques. But, you can mask your IP address with a VPN so airline sites won't be able to see your true location. This way, you can browse other markets to find cheaper airfares.
Some other ways booking sites know your location include:
Cookies — data collected through your browser, giving details of your internet activity
Browser history — lets sites know from which location you browse from
WiFi permissions — travel sites can track your location based on your WiFi connection; you can reject permission when the site prompts you for this information
GPS — if you're using a device with GPS enabled (like a smartphone), this is an easy way for sites to find out your location
HTML 5 — a code specifically generated by the geolocation of your device while you use it
How else can a VPN help me when I'm traveling?
VPNs are useful during travel for a couple reasons — online security and maintaining access to your local accounts. Using public WiFi poses a number of privacy risks and a VPN's encryption and IP masking overcomes those. A VPN also helps to overcome bandwidth caps or network firewalls which are commonplace on shared public WiFi networks.
In addition, you might find that many of your local online services aren't available while abroad. Connecting to a VPN server in your home country allows you to access all of them no matter where you are. For example, your Netflix login will still work in most other countries, but oftentimes, you won't be able to access all the same content you usually see. That's because Netflix varies its content from region to region for rights reasons.
Is it illegal to use a VPN for finding cheap flights?
VPNs are not illegal in most countries. You can use a VPN to get cheaper flights from overseas markets without breaking any laws, as long you live in a country that doesn't ban VPNs. A few countries like China, United Arab Emirates, Iran, and Russia prohibit or heavily regulate the use of VPNs. It's best to read up on the most up-to-date local laws surrounding VPNs just to be safe.
Can I use a free VPN to get cheap flights?
It may be possible to use a free VPN to get cheap flights, but I strongly advise against it. The best way to get cheap flights is with a VPN that offers good speeds over distance, has plenty of global servers, and an easy-to-use app.
Free VPNs have limited locations and rarely have servers in countries that offer cheap flights such as Malaysia, Bulgaria, or Turkey. Since their networks are usually tiny, servers tend to be crowded, which causes lag and slow load times. Add data caps to this and you're unlikely to get much use out of a free VPN (most free VPNs only let you use a couple of gigabytes per month).
Inconvenience is the least of your worries, really. Some free VPNs are dangerous and have been known to track and sell your data to third parties or infect your device with malware. You're always better off opting for a low-cost premium VPN instead.
Get Cheap Flights with ExpressVPN
Get Cheap Flights With a VPN Today
Some flights will be cheaper in other countries, no matter where you live. Accessing those flight deals isn't difficult with the right VPN. But not all VPNs are up to the task. Some don't have servers in countries with cheap flights. Some don't mask your IP address the whole time, and some don't have great speeds over distance.
After running many tests, I found that the best VPN to book cheap flights is ExpressVPN. Its speeds over distance are exceptional, its server network offers global access to travel sites, and it can allow you to browse privately abroad. Try it out for yourself — if you find it's not your ideal service, you'll have a full 30 days to claim a refund.
To summarize, the best VPNs for saving money on flights are…
Privacy Alert!
Your data is exposed to the websites you visit!
The information above can be used to track you, target you for ads, and monitor what you do online.
VPNs can help you hide this information from websites so that you are protected at all times. We recommend ExpressVPN — the #1 VPN out of over 350 providers we've tested. It has military-grade encryption and privacy features that will ensure your digital security, plus — it's currently offering 49% off.