How to Get Unbanned From Twitch Chat in No Time (2023)
Updated on 7th December 2022
You can get banned from Twitch chat for several reasons, ranging from community guideline violations to a mod mistakenly shutting you down. Some bans can be appealed, but the process is lengthy and not guaranteed to work in your favor.
A VPN gets you back on Twitch chat in the shortest time possible. VPNs let you borrow a different IP address, so you can instantly rejoin your favorite streams as a new user. Neither Twitch nor individual streamers can see your real identity because the VPN hides it.
My team and I tested 50+ VPNs and shortlisted the best services for bypassing Twitch chat bans. Each of my recommendations gives you access to plenty of fresh IP addresses for using with Twitch. They also offer strong encryption to mask your online activity — so you get enhanced privacy at the same time.
ExpressVPN is my top choice. Its vast network of secure servers offers you multiple IP addresses to easily avoid Twitch chat bans. It's also more than fast enough to watch streams in the highest quality. You can try out ExpressVPN risk-free because it's backed by a 30-day money-back guarantee.
Disclaimer: If you use a VPN to continue violating a channel's guidelines, your new account will simply be banned too. My team and I don't condone using a VPN to circumvent bans based on inappropriate behavior, or to harass/troll streamers, their mods, or their communities.
Get Unbanned from Twitch Chat Now
Quick Guide:
How to Get Unbanned from Twitch Chat with a VPN in 3 Easy Steps
Download a VPN. I recommend ExpressVPN due to its many reliable and speedy servers for safely accessing Twitch chats from anywhere. Testing ExpressVPN is risk-free thanks to its 30-day money-back guarantee.
Connect to a server. Pick a server in any location to get a new IP address (the closer the server is to your real location, the faster your speeds will be).
Access Twitch Chat. Open a new Twitch account with a unique username and rejoin chats on your favorite Twitch channel. If you experience further problems, try clearing your cache and cookies.
Why You Need a VPN to Get Unbanned from Twitch Chat
Twitch is a popular Amazon-owned streaming service with a major focus on gaming. The chat service is a big part of this, bringing fellow gamers together while watching games like CoD and WoW in action. When a mod boots you from a channel, Twitch uses your IP address and account info to enforce chat bans. Streamers can share lists of accounts they've banned — it might take time to rebuild your reputation once you're on the watchlist.
A VPN helps you access Twitch chats instantly by letting you create a new account with a borrowed IP address. VPNs mask your real IP address with one from your chosen location. All you have to do is connect to a VPN server in a different country and you get an IP from that region. That way, you can create a new username and start chatting with your favorite Twitch community within minutes.
VPNs also improve your online security, so you can access Twitch safely and privately. When you connect to a VPN server, your traffic is rerouted through that server via an encrypted tunnel. This means your online activity is hidden from snoops — which is great if you want to protect your financial info when paying for subs (especially if you're logging in on unsecured public WiFi).
Get Back on Twitch Chat With a VPN
Best VPNs for Bypassing a Twitch Chat Ban: Full Analysis (Updated in 2023)
My recommended VPNs offer reliable servers to easily get around Twitch chat bans. They deliver good speeds for streaming and strong security features to protect your privacy.
All the shortlisted VPNs have a trustworthy money-back guarantee too, allowing you to confidently test each service. It's easy to get assistance on live chat if you encounter any problems.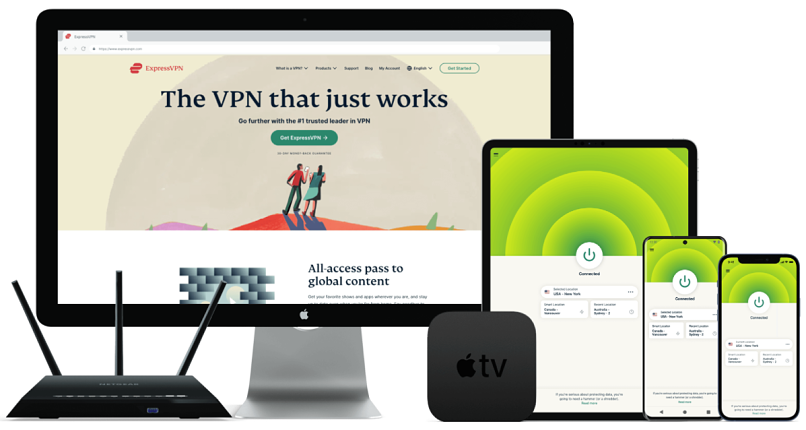 Editor's Choice
Editor's Choice

Tested February 2023
Try Risk-Free for 30 Days
Available on:
Chrome
Router
Smart TV
More
www.ExpressVPN.com
Runs 3,000 servers in 94 countries, so it's easy to find a new Twitch IP address
Impressive speeds to access Twitch chats and watch smooth, high-quality streams
Leak protection to prevent your IP address details from being leaked to Twitch
Can unblock: Twitch, Netflix US, Amazon Prime Video, YouTube TV, Hulu, and more
Compatible with: Windows, Mac, iOS, Android, Linux, routers, Smart TVs, and more
With ExpressVPN's excellent global server coverage, you can quickly unban yourself from Twitch chat. The network of 3,000 servers offer a vast pool of IP addresses to choose from. These servers are obfuscated too, meaning Twitch can't detect that you're using a VPN. This helps to protect against "shadowbanning" — where Twitch can reduce your comment visibility if it thinks you're getting around a chat ban.
I got impressive speeds when I tested ExpressVPN's servers. Connections in the US and UK ranged between 45.50 and 48Mbps, which is just a 4–9% drop from my 50Mbps base connection. The ultra-fast speeds enabled me to watch Symfuhny play CoD smoothly — you only need 7Mbps for full HD streams (1080p). Plus, I streamed content on my Netflix US and Amazon Prime Video accounts in UHD without slowdowns (4K requires 25Mbps).
Unlimited bandwidth means there are no caps on how much you can stream and chat on Twitch, even if you have multiple devices connected via router. There's custom firmware for routers, too, so you can set up your PS5, XBox, and any other device that doesn't support the native app.
Military-grade encryption scrambles all traffic to and from your device, securing it against hackers. A built-in kill switch, Network Lock, also blocks internet access if the VPN connection is accidentally lost (though this never happened during my tests). The kill switch, together with IPv6/DNS/WebRTC leak protection, prevents your real IP address from being leaked to Twitch. That means the platform can't detect your real identity and block you from chats.
Your privacy is enhanced via a transparent no-logs policy independently audited by reputable third parties, like Cure53. TrustedServer tech also deletes any information in the servers during regular reboots. That means ExpressVPN can't record or store your browsing activity. The service is based in the privacy-friendly British Virgin Islands, which isn't in the 5/9/14 Eyes Alliances (countries that share their citizens' internet data).
The VPN is user-friendly and provides 24/7 live chat assistance. It's compatible with most devices, including Android and iOS smartphones. If you prefer watching Twitch in-browser, you can install the extensions for Chrome, Firefox, or Edge. Plus, configuring the service on a router lets you use it with devices that don't usually support VPNs, like games consoles.
A minor con of the service is its pricey plans; subscriptions start from $6.67/month. However, ExpressVPN frequently offers generous discounts. I got 49% off and 3 months for free with a longer-term plan — the annual plan is recommended for the best discount. Multiple payment methods are supported, including Bitcoin.
There's also a trustworthy 30-day money-back guarantee backing the VPN. So, you can easily get refunded if you change your mind. It only took 2 days for the funds to appear in my PayPal account after I sent a message to the helpful reps on chat.
Straightforward apps for conveniently accessing Twitch chats from all your devices
Privacy-friendly features to protect your sensitive information as you chat on Twitch
9,753 servers in 91 countries for quickly getting back on Twitch after a ban
Can unblock: Twitch, Netflix US, Amazon Prime Video, YouTube TV, Hulu, and more
Compatible with: Windows, Mac, iOS, Android, Linux, routers, Smart TVs, and more
CyberGhost's intuitive apps make it easy to access Twitch chats even if you're new to VPNs. The app design looks similar on any operating system, so you can conveniently locate important features or settings. I was able to connect to a server and get a new IP for Twitch with one click of the power button. Plus, there's 24/7 live chat support if you need help.
During my tests, I effortlessly set up CyberGhost on my laptop and mobile devices (up to 7 connections). The VPN is router-compatible too, allowing you to cover all your devices at home. This let me game on my Xbox (which doesn't usually support VPNs) without worrying about DDoS attacks. Windows users can also pay extra for a Security Suite that comes with antivirus protection and a password manager.
Ample servers in 91 countries offer a nice pool of IPs to quickly get unbanned from Twitch chat. It took me just a few minutes to access Twitch stream chats after connecting to servers near me. I also used the gaming-optimized servers to smoothly play Fortnite Battle Royale while on chat.
My speeds were more than fast enough to watch Cloakzy in 1080p. I clocked 40–44Mbps on most servers, representing only a 12–20% reduction from my base speeds. This enabled me to watch Twitch streams on my Amazon Fire TV without any buffering or lag. Router connections are still fast enough after a manual setup.
DNS/IP leak protection and AES 256-bit encryption hide your real identity, so you can get around Twitch chat bans. There's also a kill switch to instantly turn off internet access if your traffic isn't tunneling through the VPN. It's safe to access Twitch on public hotspots too, thanks to WiFi Protection. This feature automatically turns on the VPN if you connect to an unknown network.
Like ExpressVPN, CyberGhost's no-logs policy is audited (by Deloitte) for transparency. This means the VPN doesn't record anything you do online, so it can't sell your data or hand it over to third parties. Plus, the service is based in privacy-friendly Romania, outside of strict data retention laws.
It's a bit expensive to subscribe to the service monthly (plus you only get a 14-day money-back guarantee). However, longer subscriptions are super-affordable, starting from just $2.19/month. The 3-year plan is especially pocket-friendly.
You can try out CyberGhost for free thanks to the 45-day money-back guarantee. It's straightforward to get a refund from the service. I emailed the support team and my credit card was reimbursed within 3 days.
Lets you bypass Twitch chat restrictions on 10 devices at the same time
Good connections for simultaneously chatting and watching live streams
29,650 servers in 84 countries to easily get yourself unbanned from Twitch chat
Can unblock: Twitch, Netflix US, Amazon Prime Video, YouTube TV, Hulu, and more
Compatible with: Windows, Mac, iOS, Android, Linux, routers, Smart TVs, and more
PIA lets you connect up to 10 devices at once, so you can chat on Twitch however you like. I hooked up my laptop, tablet, and smartphone and was able to watch ESL_CSGO, Syndicate, and xQc at the same time. There was no lag or buffering, even though I had 3 devices connected and streaming..
Finding a new IP address for Twitch is easy, thanks to the ample server coverage in 84 countries. I tested multiple PIA servers and they all helped me access Twitch chats without any issues. It was just as easy to bypass geo-restrictions on my other accounts too, like Netflix US on my Android TV.
You can also choose 128-bit AES encryption to get the best speeds for watching Twitch streams. This level of encryption is still secure, but prioritizes speed for 1080p viewing without buffering. Most servers I tested reached 40Mbps, dropping my usual connection by only 20%. However, you can also switch to 256-bit AES encryption if you want maximum online privacy.
Like ExpressVPN, PIA uses obfuscation (Shadowsocks) to hide the fact you're using a VPN from Twitch. 256-bit AES encryption also conceals your online activity, while leak protection and a kill switch stop Twitch from detecting your real IP address. Also, the MACE ad-blocker feature lets you chat on Twitch without bothersome ads. The VPN follows a zero-logs policy too, so your sensitive data isn't collected.
Because of PIA's many settings, it can be quite tricky to customize if you're new to VPNs. However, all the apps come preconfigured, so you don't need to tweak anything beforehand unless you want to. Responsive reps are on standby 24/7 live chat to answer any questions you may have.
You can subscribe to PIA for as low as $2.19/month. Extended plans, like the 3-year subscription, offer the best value for money.
The VPN is supported by a 30-day money-back guarantee — allowing you to get reimbursed if the service isn't satisfactory. I effortlessly got refunded after submitting a support ticket. The funds were back on my debit card within 4 days.
Try Private Internet Access Today
Tips on Choosing the Best VPN for Getting Unbanned on Twitch Chat
With a VPN, it doesn't take long to get back on Twitch chat. However, the service you choose should have these essential features:
Many servers in multiple locations. You need lots of different IP addresses to choose from. This gives you a better chance of finding one that hasn't been blacklisted by Twitch. Also, services like DIsney+ can restrict content based on your IP.
Good speeds and unlimited bandwidth. You need at least 7Mbps to watch Twitch in decent quality. Look for a service that doesn't drop your speeds by any more than 50%, and offers unlimited bandwidth so you can stream gameplay as much as you like.
Strong security features. Choose a VPN with high-end military-grade encryption, a kill switch, and IP/DNS leak protection to hide your identity. A strict no-logs policy is also necessary to keep your chatting activity private.
Easy-to-use apps. Look for intuitive apps available on a range of platforms, allowing you to simultaneously connect to servers on multiple devices. Live chat support should also be reachable at any time.
Reliable money-back guarantee. Make sure you can genuinely get a refund if it's not for you.
Try ExpressVPN for Twitch Chat Risk-Free
FAQs on How to Get Unbanned from Twitch Chat
Why have I been banned from Twitch chat?
You might have accidentally violated Twitch's terms or a channel's community guidelines. You can appeal the ban (if it's not permanent), but it's much easier to unban yourself from Twitch chats with a VPN.
The following are common reasons for getting banned on Twitch chat:
Infringing copyrights
Impersonating others
Sharing explicit or pornographic content
Harassing community members
Promoting violence
Using foul/toxic language
Collecting private information of other people
Making requests or unsolicited offers to others
Conducting illegal activities on the platform
You may be banned by a mod without even writing anything, if for example, the stream is for subscribers only. We at vpnMentor don't condone any online behavior that may be offensive or harmful to others.
How does Twitch ban users from chatting?
Twitch bans users by blocking their IP addresses and accounts. Luckily, a VPN lets you borrow a new IP address to set up a new account for Twitch. You just need to choose a different username to prevent mods from recognising your account. That way, you can get back to chatting with your favorite streamer in no time.
How do I know if I'm banned from Twitch chat?
You can't see or access the chat section of the channel. Once a mod blocks you, Twitch shadowbans your IP address so you can no longer chat, follow, whisper, or gift subs for that streamer. Also, the streamer's name disappears from your "following" list. You can opt to use a VPN to quickly get back on Twitch chat or make a ban appeal (though it can take a long time to resolve bans or suspensions).
It's also possible to see if you're banned from a channel by visiting Twitch Insights, and entering your username.
Can I appeal a chat ban on Twitch?
Yes, by sending an "unban" request to the channel or Twitch moderators. You won't be able to directly contact the channel owner. Simply take the following steps:
Log in to the Twitch Appeals Portal.
Choose the relevant ban/enforcement from the list.
You can then see the information justifying your ban, and write an appropriate response. Remaining polite, concise, and clear is the best way to approach this.
Send off your appeal. Look out for an acknowledgement email.
You might get no response if the ban is permanent. If that's the case, then get a reliable VPN and open a Twitch account with a different username to return to the chat. However, you should adhere to the community guidelines this time to avoid getting banned from the chat again.
It has been the case that certain popular users have been unbanned despite controversial activity on Twitch (causing upset among Twitch fans). This could be for a variety of unknown reasons, including a public apology, but it's also likely that revenue comes into play in some instances.
How long does it take to get unbanned from Twitch chat?
Removing a ban can take 1-30 days, but using a VPN is instant. Individual channel moderators have their own cooldown periods, which can vary in length. However, a VPN can help you get around a chat ban whenever you like. You simply need to connect to a reliable server, set up a new account, and you're ready to go. This method works even if you're permanently banned.
It's worth noting that you should carefully consider your new username when you create an account. If it looks too similar to your old (banned) one, you may end up getting banned all over again. Avoid just adding words to the end or beginning of a previously used username.
Are Twitch chat bans permanent?
You can get a temporary or indefinite (permanent) Twitch chat ban; it all depends on the seriousness of your violation. Some moderators can permanently ban you without the option to appeal. Getting a new IP address and user account with a VPN can be the only way to get back on Twitch chat.
Temporary suspensions, however, are resolved within 30 days or more. So you can wait it out or get back on Twitch chat right away with a VPN.
Is it legal to use a VPN to get around a Twitch chat ban?
Yes, VPNs are legal in most parts of the world. You can safely use a VPN to access chats on Twitch without worrying about your account being banned. Just make sure to choose a VPN that's powerful enough to hide your real IP address (and fast enough to watch streams without lag).
That said, it's important to note that VPNs are banned or restricted in certain countries like China, Russia, and Belarus. Make sure you follow the laws in your country regarding VPN use to avoid getting in trouble.
It's also worth noting, that it may go against Twitch guidelines to intentionally circumvent a ban, especially if the ban was a result of inappropriate behavior.
Will a free VPN help me get unbanned from Twitch chat?
No; it's risky to use a free VPN because your IP address might leak. Many free services don't integrate vital privacy features like a kill switch or leak protection — so Twitch can easily identify you. Instead, try a premium VPN with money-back guarantee to get secure IPs for Twitch chat risk-free. You can then unban yourself and browse without worrying about getting caught
Most free VPNs also restrict features like speed and bandwidth, meaning you can't reliably watch high-quality streams. Some have even been known to collect your private data and sell it to marketers. Worse still, some free VPNs also install malware and trackers on your device, exposing you to cyber threats.
Get a Reliable VPN for Unblocking Twitch Chat
Get Unbanned on Twitch Chat Now
There's no need to wait for your Twitch chat ban to elapse, or to undergo the long appeals process. A VPN lets you get back on Twitch chat in the shortest time. You can easily get unbanned by your favorite streamer and start chatting with a VPN IP address and a new account.
My recommended service is ExpressVPN. Its obfuscated servers in many locations offer you a quick way to get around Twitch chat restrictions. Lightning-fast speeds also allow you to watch live streams and chat without buffering or lag. You can confidently try out ExpressVPN since it's backed by a 30-day money-back guarantee.
To summarize, here are the best VPNs to Get Unbanned from Twitch Chat
Privacy Alert!
Your data is exposed to the websites you visit!
The information above can be used to track you, target you for ads, and monitor what you do online.
VPNs can help you hide this information from websites so that you are protected at all times. We recommend ExpressVPN — the #1 VPN out of over 350 providers we've tested. It has military-grade encryption and privacy features that will ensure your digital security, plus — it's currently offering 49% off.