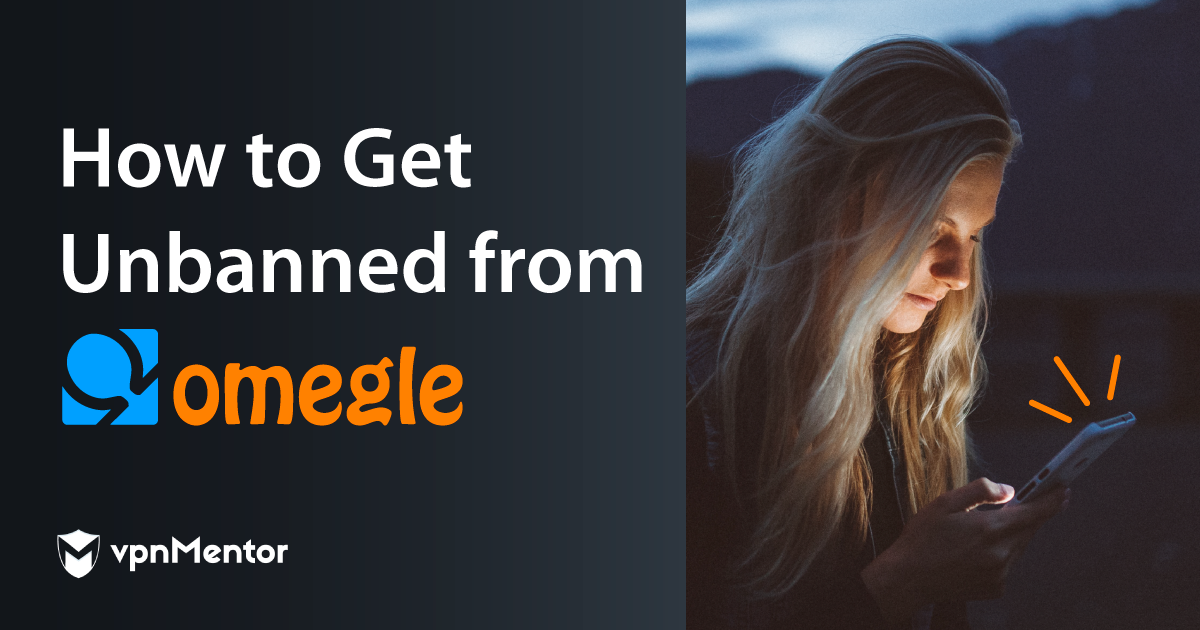 How to Get Unbanned From Omegle Easily (Updated in 2023)
Updated on 20th January 2023
Omegle can be dangerous, which is why the anonymous chat platform has an automated banning system in place. But Omegle's banning system can block you from the site for what seems like no reason. Even worse, Omegle doesn't tell you why you were banned or how long it will last.
The easiest way to beat an unfair Omegle ban is with a VPN. A VPN is a simple app that changes your online location and gives you a different IP address. If you choose an IP address that hasn't been blocked by Omegle, you can get around your unfair ban. The thing is it's also tough to find a VPN that isn't blocked by Omegle, so you may also face the "Error connecting to server" block.
After testing more than 45 VPNs, I found ExpressVPN is the best for getting past annoying Omegle bans. Its extensive network is consistently updated with IPs that work. Plus, its security features keep you safe while chatting. You can also test ExpressVPN out for yourself risk-free since it's backed by a money-back guarantee. If you're not happy with it, you can get a full refund within 30 days.
Get Unbanned From Omegle Today
Important! Omegle is blocked (and illegal) in some countries because governments can't monitor communications on the site. This page is intended for Omegle users who wish to bypass an unfair ban. The team at vpnMentor does not condone illegal activity. If Omegle is blocked where you are, please research the rules and regulations in your location to avoid breaking any laws.
Quick Guide:
How to Beat Unfair Omegle Bans in 3 Easy Steps
Get a VPN. ExpressVPN's extensive network makes it easy to bypass unfair Omegle bans. Plus, you can test ExpressVPN out for yourself risk-free (if you're not satisfied, you have up to 30 days to claim a refund).
Connect to a server. You'll get the fastest connection with a nearby server — but as long as it's not your IP address, it'll unblock Omegle.
Start chatting on Omegle! Navigate to Omegle and your ban will be gone.
Why You Need a VPN to Get Unbanned From Omegle
Omegle puts bans in place to prevent bad behavior. The platform has been used by dangerous people with ill intent before — while the banning system is meant to prevent this, you might get banned from Omegle unfairly or for no reason. For example, I got banned multiple times with the "your computer is banned for possible bad behavior" error. As far as I could tell, it was just because my internet connection kept cutting out.
When you get blocked on Omegle, your IP address is banned. A VPN temporarily assigns you a new IP address, so you can easily overcome this. VPNs also overcome network blocks, so access to Omegle will open up if it's blocked on your network, or you're located in a country that bans the site.
In addition, VPNs also work as a way to protect yourself on the chat platform — your true location is hidden and all your internet activity is encrypted. So if you're ever matched with someone shady, they can't access this personal information (or use it against you).
Best VPNs to Bypass Omegle Bans in 2023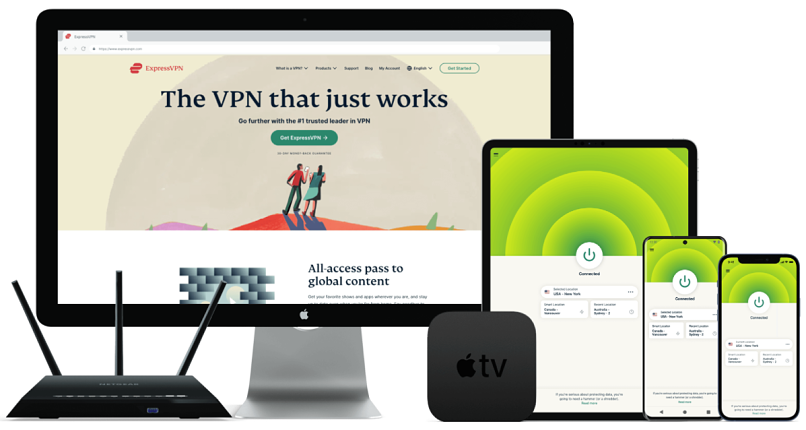 Editor's Choice
Editor's Choice

Tested February 2023
Try Risk-Free for 30 Days
Available on:
Chrome
Router
Smart TV
More
www.ExpressVPN.com
3,000 servers in 94 countries so you can easily unblock Omegle
Superfast speeds for smooth video and voice chats and seamless texting
24/7 live customer support always has a list of Omegle-friendly servers on hand if you face an issue
5 simultaneous device connections
Compatible with: Mac, iOS, Windows, Android, Linux, Chrome, Edge, Firefox, routers, and more
ExpressVPN has 3,000 servers in 94 countries, so you have a lot of options to access Omegle. When I tested its servers in the UK, Germany, and the Netherlands, not only did I bypass my ban, but I could load video chats within seconds. I had average download speeds of 46.7 Mbps (only a 5% drop from my base speed) and my upload speeds often increased. You only need 10 Mbps down speeds and 3 Mbps up speeds for live video chats, so these were way more than enough.
Omegle is serious about its bans, so every VPN will have servers that get blocked. Even with ExpressVPN I had to try a few servers before it worked. But ExpressVPN offers a 24/7 live chat and staff on-hand with a list of working servers if you have any problems. I was really impressed with how quickly I could chat with a support agent (email support is also available). When I needed a new IP, I received a list of Omegle-friendly servers in less than 2 minutes.
On top of that, its security features protect your data when chatting on Omegle. These include military-grade encryption, leak protection, several security protocols (including its own superfast Lightway), and split tunneling. All of these features hide your browsing activity and keep your connection private. It also comes with a kill switch. This automatically disconnected me from the internet every time I switched servers, so I knew my real location was never exposed.
The VPN has automatic obfuscation on all its servers, too. This hides the fact that you're using a VPN. So, ExpressVPN works in countries with internet censorship, such as the UAE, Turkey, and China. ​​Not many VPNs have this capability, so this is another stand-out feature.
A small downside is that its subscriptions are a bit more expensive than other VPNs (its cheapest plan costs $6.67/month). However, ExpressVPN regularly offers discounts and free months of service. I recommend signing up for its long-term plan as it offers the same features as the monthly one but costs less overall.
Plus, you can try ExpressVPN risk-free since it's backed by a 30-day money-back guarantee. You can always get your money back if you're not happy with it. I tested its refund policy and asked for my money back with its live chat feature. My refund was approved after a short chat. The process was easy, and I had my money back in 3 business days.
Unblock Omegle With ExpressVPN
Dedicated IPs available in 10 countries for easier access to Omegle
24/7 live chat offers round-the-clock assistance if you have any problems
9,753 shared servers in 91 countries also unblock Omegle
7 simultaneous device connections
Compatible with: Mac, iOS, Windows, Android, Linux, Chrome, Firefox, Chromebooks, routers, and more
CyberGhost offers dedicated IP addresses, which make it easier to access Omegle. These help to avoid future Omegle bans since you're the only one using the IP you're assigned. When services like Omegle notice a lot of people using the same IP (like with regular VPN servers), it will ban that IP address. So using a dedicated IP means you won't have to worry about VPN blocks on Omegle.
Having a dedicated IP address also means that you'll have faster speeds. During tests with mine, I had an average speed of 44.3 Mbps, which was about 10% faster than the speeds I got using CyberGhost's shared servers. This was also just an 8% drop from my base speed, so it wasn't even noticeable.
While CyberGhost's shared network also works to unblock Omegle, I did run into a few VPN blocks while using them. However, CyberGhost offers a responsive 24/7 live chat. Like ExpressVPN, its agents helped me find a working server location to access Omegle (Lichtenstein, Venezuela, and Andorra). It took a bit longer to get a response, but I still never had to wait more than 5 minutes. You can also check the "Announcements" page on its site to see if any servers are broken and avoid using them.
Using CyberGhost with Omegle means you're well-protected, too. Its kill switch and IP/DNS leak protection keep your data protected. I also like its WiFi protection feature. This prevents you from connecting to an unsecured network unless the VPN is connected, so you won't accidentally leave yourself vulnerable.
On the downside, CyberGhost doesn't work in countries with heavy internet censorship, like China. That means you might not be able to access Omegle with it if you live there. However, you can still use it in a few other countries with strict censorship (like Iran and Turkey).
You can get a CyberGhost subscription for only $2.19/month. Dedicated IPs are reasonably priced compared to other VPNs, but they cost more per month with shorter subscriptions. So I recommend getting a long-term plan, which will keep your dedicated IP to the minimum $4.25/month extra.
It also offers an impressive 45 day money-back guarantee with long-term plans. This gives you plenty of time to try CyberGhost with Omegle risk-free. To make sure the policy's trustworthy, I asked for a refund via its 24/7 live chat after 39 days. The chat agent only asked me a few questions before approving my request. All of the money was returned in 4 days.
Unblock Omegle With CyberGhost
29,650 servers in 84 countries gives you tons of IPs to unblock Omegle
Fast speeds for video, voice, and text chats on Omegle
24/7 live chat to help you find a working IP address to bypass unfair bans
10 simultaneous device connections
Compatible with: Mac, iOS, Windows, Android, Linux, Chrome, Firefox, Opera, and more
Private Internet Access (PIA) has a massive network of 29,650 servers in 84 countries to help you get around unfair Omegle bans. This makes it easy to find a reliable server. It's also easier to find a working location nearby to optimize your speeds, since nearby servers are usually the fastest. When I tested 3 of its local servers, I got an average download rate of 39.6 Mbps — not as fast as ExpressVPN, but still more than fast enough for lag-free video calls.
PIA protects you on Omegle with strong security features. My real location was always hidden during my leak tests, and its kill switch blocked my connection every time I changed servers, so you know your real information isn't visible. Plus, PIA comes with an ad-blocking feature called MACE which was handy to have.
A minor con is that its 24/7 live chat support isn't always responsive. If no one answers, the live chat window closes, and you'll have to send an email using its ticketing service. However, when I reached customer support through live chat, they provided me with an Omegle-friendly server in a few minutes (DE Berlin).
You can get PIA's long-term plan for only $2.19/month. I recommend signing up for its longest commitment because it lets you get a dedicated IP for $3.75/month. Plus, it gives you the best price for PIA's antivirus software as an add-on.
There's an option to try PIA for free with its 30-day money-back guarantee. I asked for my money back after 29 days. I had to email customer service because you can't request a refund in its live chat. After waiting 4 hours, I was approved and got my refund in 5 days.
Fast speeds for seamless video chatting on Omegle
200 servers in 63 countries to help bypass unfair bans
24/7 live chat support to troubleshoot connection issues
10 simultaneous device connections
Compatible with: Mac, iOS, Windows, Android, Linux, Chromebooks, routers, and more
PrivateVPN is super easy to use, so you can access Omegle without any hassle. Simple mode lets you connect with the click of a button. Plus, the advanced view is there if you want to change settings. I also like the Stealth Mode. This hides your VPN use, so you can use it on restricted networks (like at school or work) or in restrictive countries (like China).
Its security features keep you safe on Omegle. My leak tests showed me my IP was always hidden from anyone on Omegle. It also comes with military-grade encryption and a kill switch.
One negative is its small server network. However, this isn't a big issue since PrivateVPN has a 24/7 live chat that can help you find the best servers to access Omegle. When I tested its US Las Vegas server (recommended by the support team), it instantly unblocked the Omegle site. I was also able to unblock Omegle with the Cyprus location, but many other servers were blocked.
You can get a PrivateVPN subscription for only $2/month. That's the most affordable plan on this list. Its short-term plans are a great deal too, so this is a good option if you don't want an extended commitment and want to save a bit of money.
PrivateVPN also has a 30-day money-back guarantee. This means you can always get a refund if you're not happy with it. When I asked for my money back, the chat agent told me I needed to write an email about why I was canceling. It took 24 hours to get approved, but I received my refund in 8 days.
Unblock Omegle With PrivateVPN
Scramble feature (obfuscation) to access Omegle on restricted networks
2,000 servers in 75 countries to unblock Omegle from any country
Unlimited simultaneous device connections
Compatible with: Mac, iOS, Windows, Android, Linux, routers, and more
IPVanish's Scramble feature (obfuscation) allows you to unblock Omegle on restricted networks. The feature is available in OpenVPN settings and makes your VPN connection look like a regular internet connection. That means you can use it on networks that block Omegle or in countries with internet censorship.
The VPN offers decent customer support that helped me find the best servers for Omegle (they recommended using its US - Dallas, UK - London, and UK - Glasgow servers). When I tested the recommended servers, I could video chat on Omegle without annoying interruptions. The only problem with its 24/7 support is you start with a bot, and it takes longer than I'd like to get in touch with a live agent. It's also one of the few VPNs that offer phone support.
When using Omegle, you don't have to worry about your personal information being compromised. It offers top-tier encryption, an automatic kill switch, multiple protocols (including Wireguard), and WiFi protection. I know it always hid my real IP because I didn't discover any leaks during my tests.
It was disappointing that I had to try a lot of servers before one worked and its Scramble feature was quite a lot slower than PrivateVPN's Stealth Mode (my connection slowed down by 34%). However, my obfuscated speeds were still fast enough to use Omegle with minimal lag. When I connected to its US, France, and UK servers, my speeds averaged 27.8 Mbps.
IPVanish's cheapest plan is only $3.33/month. This is a long-term plan that comes with ransomware & malware protection thrown in (VIPRE antivirus software).
You can also test IPVanish for free with its 30 day money-back guarantee. If you're not happy with it, you can always claim a refund. After 27 days, I could simply submit a request via my account. It only took 2 hours to receive an email saying that my refund was approved. My money was returned in one week.
Tips on How to Choose the Best VPN for Beating Omegle Bans
An extensive server network and responsive customer service are the main features that help you get past unfair blocks on Omegle. But there are several other important factors to keep in mind. Look out for the features in this list to help you choose which Omegle VPN is best for you:
Large and reliable server network – A VPN with a large server network usually has more IP addresses, meaning it's less likely you'll encounter a VPN block on Omegle. Plus, the top VPNs constantly update their server network with new IPs. All the VPNs in my list offer an extensive network with reliable servers that can get past unfair Omegle bans.
Responsive customer support – Omegle is constantly banning IPs, so your VPN should have reliable customer support to help you find working servers. The best VPNs have knowledgeable support staff that answer your questions in minutes. All the VPNs in my list have responsive 24/7 live chats and have a list of Omegle-friendly servers on hand.
Fast speeds – To video chat on Omegle without lag, you need at least 10 Mbps download speeds and 3 Mbps upload speeds. I performed speed tests with all the VPNs I shortlisted and each maintains fast enough speeds for smooth video chats on Omegle.
Strong security features – You'll need solid encryption to protect your personal information from dangerous users on Omegle. I made sure that all the VPNs on my list come with military-grade encryption, kill switches, and leak protection so no one can spy on your private information.
Easy to use – It should be easy to use a VPN with Omegle, even if you've never tried one. Each VPN in my list has a simple setup process and lets you connect in a few clicks.
Good device compatibility – Your VPN won't help you if it doesn't work on the device you use with Omegle. All the VPNs in my list are compatible with the most commonly used operating systems and offer browser extensions for convenience.
Legit money-back guarantee – If you don't like how the VPN works with Omegle, you should have no problem getting a refund. Every VPN in my list offers a money-back guarantee that I've tested, so I can verify they're trustworthy.
FAQs About Getting Unbanned From Omegle
Why did Omegle ban me?
Omegle has the right to ban you at any time, without giving any reason. If you're unfairly banned on Omegle, all the VPNs on this list will regain your access to it safely. Omegle's Terms & Conditions mention that it "may…terminate, suspend or ban your access to and use of the Services at any time, without notice, for any reason in its sole discretion." Although this helps to protect you against dangerous users, it can also result in unfair bans.
The most common reasons for an Omegle ban are:
Being reported — Even if you haven't done anything wrong, other Omegle users have the right to report you on the website for any reason. The goal is to protect you from abusive people; unfortunately, inaccurate reports do happen.
Getting dropped too often — When several people quickly drop out of your chats, Omegle's algorithm flags you as a troll. If you drop other individuals too frequently, you can also get banned.
Violating terms and conditions — Omegle specifies a number of actions that can get you banned. Some examples are using software to start conversations automatically, distributing explicit content, trying to sell a product or service, and abusive behavior. You can also get banned for loud background, which could happen for reasons beyond your control.
How long does a ban on Omegle last?
Depending on the circumstance, an Omegle ban can last between a few days and a few months or be permanent. After I was banned from Omegle for getting dropped too often, the VPNs on this list allowed me to access the site. I had no idea how long my ban would be because Omegle won't give you a time frame.
Is Omegle safe to use (will Omegle track me)?
You can use Omegle safely if you know how to protect yourself. I recommend staying safe on Omegle by connecting to a VPN. You never know who you're connecting to, and there have been cases of dangerous people using the site to take advantage of innocent users. Using a VPN will hide your real location, adding extra protection to the data on your device. However, you should still never reveal any personal information during your chats on Omegle.
And yes, Omegle does track you. It records every conversation you have and stores it on its servers. Plus, it logs your IP address and keeps it for 4 months. It also takes screenshots of your video conversations in an effort to monitor what happens on the platform and to prevent any criminal activities.
Why is Omegle not working with my VPN?
Since Omegle can detect most VPNs, you'll need a VPN that consistently updates its servers to unblock Omegle. If Omegle sees your VPN, you'll get an error code that states: "Error connecting to server. Please try again."
Another way to unblock Omegle is with a VPN's dedicated IP. This is an address that only you use. A dedicated IP is very unlikely to be blocked because no one else uses it but you. Lastly, you can clear your cookies and cache in your browser or switch your VPN's protocol to have a better chance at accessing Omegle.
Which devices work with Omegle?
You can use Omegle on any device that has a browser (including Windows PC, Mac, Android, and iOS devices). On any device, you'll want to keep your data protected on Omegle by using a VPN. You never know who Omegle will connect you to, so it's never a good idea to start chatting without protection. A VPN will mask your location, hiding it from whoever you're connected to. Omegle doesn't have a dedicated app, so you'll have to open the browser version no matter what device you use.
Can I get unbanned from Omegle for free?
Yes. If you appeal your ban through Omegle's support system, you don't have to pay anything. The problem with this is it takes a long time and you never know whether it will be approved or not.
You could try a free VPN, but I couldn't access Omegle with any of the free VPNs I tested. It's better to use a low-cost premium VPN that comes with a vast server network that's constantly updated. This way, you can instantly bypass an unfair ban without the hassle and have customer support at your fingertips. Free VPNs generally don't offer 24/7 support and don't update their servers with new IPs very often, so just don't work with Omegle. Many of them have weak security features and can even put your privacy at risk.
Unblock Omegle With ExpressVPN
Get Unbanned From Omegle Today
While Omegle's automated banning system is put in place for good reason, it definitely has its issues. It's super common to get banned from the site when you've done nothing wrong. I found the best way to overcome an unfair Omegle ban is to use a VPN.
ExpressVPN is my top choice for accessing Omegle safely. It has a vast server network, 24/7 live chat support, excellent security features, and fast speeds for smooth video chats. You can even try ExpressVPN risk-free because it comes with a 30-day money-back guarantee. If you decide it's not what you want, you can easily claim a full refund.
To summarize, the best VPNs for getting past Omegle bans are…
Privacy Alert!
Your data is exposed to the websites you visit!
The information above can be used to track you, target you for ads, and monitor what you do online.
VPNs can help you hide this information from websites so that you are protected at all times. We recommend ExpressVPN — the #1 VPN out of over 350 providers we've tested. It has military-grade encryption and privacy features that will ensure your digital security, plus — it's currently offering 49% off.