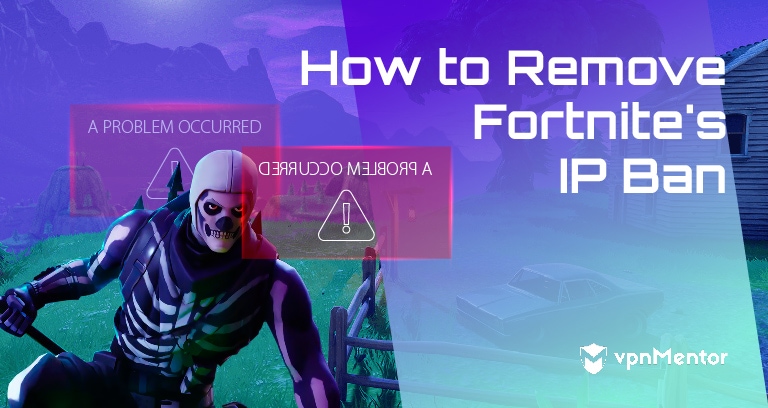 How to Remove the Fortnite IP Ban - Get Full Access in 2022
The last thing that any Fortnite gamer wants to deal with is an IP ban. Players have been banned for allegedly violating the game's terms of service. Although an IP ban can be discouraging, users can bypass these blocks with a VPN.
When you connect to Fortnite, Epic Games (the company behind the game) identifies you through your IP address. Your IP address is a unique signifier which identifies your device online. If you violate the terms of service of Fortnite, Epic Games can ban your IP address and block you from connecting to the Fortnite servers.
VPNs work by creating a secure connection from your device to a VPN server in another location (often in another country altogether). This process changes your device's IP address. This way, even if your IP address has been banned, you can continue to access the Fortnite servers.
In this article, we'll show you how to use a VPN to bypass a Fortnite IP ban.
Quick Guide:
Removing the Fortnite IP Ban
Choose a VPN. ExpressVPN is our top choice for gaming.
Install the VPN and connect to a server in your target location.
Turn on Fortnite and get back to gaming!
How a VPN Helps You Remove Fortnite's IP Ban from Anywhere
Fortnite IP bans work through a process called geoblocking. Epic Games identifies each player by their IP address. Players that break the rules can then have their IP address banned, which prevents the player's device from connecting with the Fortnite servers.
Epic Games generally only bans individual gamers' IP addresses. However, some gaming companies use geoblocking to prevent downloads of their game in a particular country or even an entire region.
With a VPN, you can bypass geoblocking and access Fortnite from anywhere, even in a country or region where the game is not available. With a VPN, you can also get around an IP ban by changing your IP address when you connect to a VPN server.
Premium VPNs offer you a wide range of other features, including powerful encryption that keeps you safe online. Without a VPN, third parties could learn your IP address from your Fortnite account and then spy on the rest of your web surfing.
Many VPNs also now provide anti-virus features. CyberGhost comes with a built-in feature, which protects your device from malware and phishing attacks.
Detailed Guide: How to Remove the Fortnite IP Ban
1. Choose a Top-Rated VPN
You can bypass the Fortnite IP ban by changing your device's IP address. This all starts with choosing a top-rated VPN. We recommend ExpressVPN because of its powerful security features and its unlimited bandwidth, which prevents lag from becoming an issue while gaming.
2. Install the VPN on Your Device
Once you've chosen a VPN, the next step is installing it on your device.
With ExpressVPN, this is as simple as visiting the website, selecting the plan you want, and entering your payment information.
You can then download and install the software on your device. Installation is usually quick and simple, but you can contact customer support if you run into any problems.
With ExpressVPN, as with other premium VPNs, you can try out the service with a 30-day money-back guarantee.
3. Connect to a Server
After your selected VPN is installed, connect to a server in your desired region.
The server that you've connected to will provide your device with a new IP address which allows you to get past the IP ban.
For most Fortnite IP bans, simply changing your IP address will be enough to start playing again. However, there is a more serious kind of ban that could make things a bit more difficult. The second type of Fortnite IP ban works by banning your username in addition to your IP address.
You can bypass the second type of IP ban and keep playing by changing your username in addition to using a VPN to change your IP address. However, you will lose access to all of the items you have won or bought that are tied to your original username.
Generally, this second type of IP ban is only issued in rare cases.
4. Start Playing Fortnite
That's it! You have bypassed the IP ban and can start playing Fortnite immediately.
The Best VPN for Removing Fortnite's IP Ban
Our top VPN for gaming is ExpressVPN. ExpressVPN offers top-of-the-line encryption, unlimited bandwidth, and a vast network of 3,000 servers in 90 countries.
With ExpressVPN you can easily access geo-restricted content. You can even play multiplayer games in every region! The service's encryption also keeps your device and personal data protected from hacks and DDoS attacks from third parties.
Latency and lag are huge issues for gamers, and unfortunately, some VPNs can actually slow down your online gaming experience. Not ExpressVPN. With ExpressVPN, you'll enjoy a fast, smooth, and secure gaming experience.
If you have friends or family who want to play Fortnite on their devices, ExpressVPN has you covered. The service allows up to 5 simultaneous device connections under one account.
Summary and Further Reading
If you've been hit with a Fortnite IP ban, then you can get back into the game by using a VPN. ExpressVPN is our top choice and a firm favorite with users.
ExpressVPN protects you with its military-grade encryption, and its unlimited bandwidth ensures that you won't deal with lag or latency issues.
ExpressVPN is accessible from virtually every device, which makes it a no-brainer for Fortnite gamers on the go. Download ExpressVPN and stop worrying about losing access to your favorite online game.
Further Reading
Learn more about the best VPNs for gaming.
Who's the fastest of them all? Find out which VPNs are ahead of the game when it comes to speed.
To summarize, the best VPN to remove Fortnite's IP ban is...
Privacy Alert!
Your data is exposed to the websites you visit!
The information above can be used to track you, target you for ads, and monitor what you do online.
VPNs can help you hide this information from websites so that you are protected at all times. We recommend ExpressVPN — the #1 VPN out of over 350 providers we've tested. It has military-grade encryption and privacy features that will ensure your digital security, plus — it's currently offering 49% off.