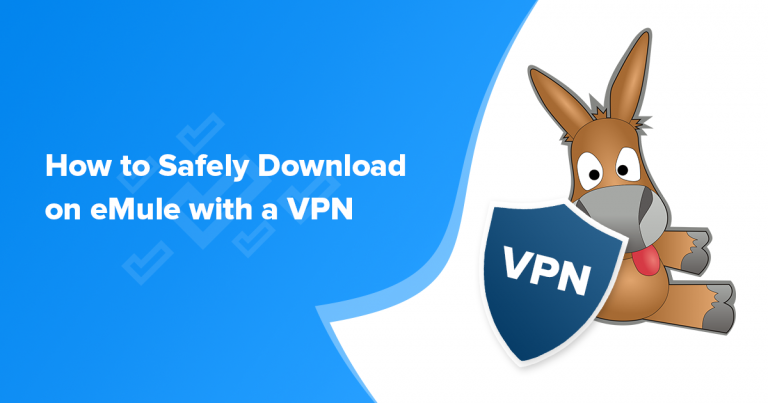 How to Safely Download on eMule with a VPN
Updated on 17th May 2021
P2P or peer-to-peer has become a common term now.
If you've downloaded your favorite movie or the latest episodes of Game of Thrones on torrent, you have already used P2P. While P2P has several applications, it is most commonly used for sharing files and computing resources such as disk storage, network bandwidth, and processing power.
When it comes to P2P, modern day users are mostly aware of BitTorrent and websites such as RapidShare. If you've been around for a few years, you'd remember some other big names in file sharing such as LimeWire and Kazaa.
While many old applications don't exist today, there is still an app that was popular years ago and is still the preferred choice among millions of users – eMule.
Below we show you how to safely download files on eMule with a VPN.
What's eMule?
eMule is a P2P application that lets you quickly find text, audio, video, or other files. With eMule, you can even find files with rare content.
The best thing about eMule is its high transfer speed. Thanks to its high speeds, you can quickly distribute popular files.
As more people connect and start to upload and download a particular file, it gains speed and each node benefits from it. Unlike many other P2P systems, eMule transmits data in compressed form and saves your bandwidth.
And if high speeds are not enough to impress you, you'll be happy to learn about the credit system on eMule that rewards frequent uploaders. If you upload popular files on their system, you will gain credit points and you'll have lower download waiting time than the others.
How eMule downloads files
The two most popular file-sharing methods these days are file hosting websites and BitTorrent clients. To use them, you'll need links or.torrent files. eMule is a little different. It's more like the old-school P2P applications.
Once you're connected to a server on eMule, you can enter the file details on their search tab and start downloading. This method helps users find files that don't have torrents.
However, the problem with eMule is that like in all P2P sources, it needs a lot of users for the system to be successful. As more people use BitTorrent, eMule files will have fewer sources. And with only a few sources, a file cannot be considered reliable.
Why is eMule still popular?
While there are newer methods of file sharing, eMule is still popular. Thanks to its high speeds, simplicity of use, and an upload credit system, it has many loyal users who don't want to leave this application.
eMule is open source and safe to use. It doesn't come with any hidden viruses or adware. With its shared files directory and search features, eMule is loved by those who like file sharing with ease.
The problem with eMule
While it's easy to download and share files on eMule, every time you connect to the network, your IP address is visible to your ISP or anyone who tracks you. This means your identity is exposed wide open.
In countries where torrenting and P2P file-sharing is illegal, you can be fined or even sent to jail if your ISP discovers you torrenting.
If you don't want a lawsuit from your ISP over sharing files, it's best to stay hidden. When you connect to eMule, your computer sends out information about the file you're currently downloading, how much data you have received, and your location.
Protect Yourself with a VPN
It's easy to hide your footprints while using eMule. You can do it by connecting to a VPN. A VPN or a virtual private network works by encrypting your data and assigning you another IP address. This way, your ISP cannot track your activity or see that you're downloading shared content.
Be aware, not all VPNs allow torrenting and file-sharing on their servers. If you want to stay safe – and not have your VPN subscription revoked – choose a VPN that allows torrenting on their servers.
This list shows you which VPNs have dedicated servers to P2P and file-sharing.
How to Use eMule with a VPN Tutorial
Downloading and using eMule with a VPN is no different than doing it without a VPN. The only difference is that with a VPN, your details will be hidden from your ISP and the government when you download or upload content on a P2P network.
Downloading eMule through a VPN is really easy. To begin with, you need to connect to a VPN. There are several good VPN companies out there, so you should read reviews before purchasing one. These VPNs are our most recommended.
Most VPN companies provide apps to connect to their servers, which makes things very easy. Once you install and connect to the VPN, you can proceed to download eMule.
Visit http://www.emule-project.net/home/perl/general.cgi?rm=download and download the latest Installer. It will take you to Sourceforge and your download will start automatically.
Open the downloaded file. This will start the installation process. Follow the instructions given in the installer (Setup Wizard).
When the installation is complete, launch the program.
Click on Connect on the top left corner.

You will be connected to the servers in a few seconds.

Go to the Search tab from the toolbar and enter the term you want to search. In this example, I searched for Batman.
You will see a number of files that match your search criteria. The search results window will display their names, type (audio/video), size, and other parameters.
From these files, you can select the one you want and click on the Download button given in the bottom left corner.
Once you click on Download, it will start downloading the file on your device. As you can see, the basic functions of eMule are pretty easy to use.
If you're a torrent user and are unable to find a specific file on torrents, you can try eMule because it can access some rare content as well. Just keep in mind that no matter which P2P application you choose, it's important to cover your tracks with the help of a good VPN.
To summarize, the best VPNs to Download on eMule from anywhere in 2021 are…
Privacy Alert!
Your data is exposed to the websites you visit!
The information above can be used to track you, target you for ads, and monitor what you do online.
VPNs can help you hide this information from websites so that you are protected at all times. We recommend ExpressVPN — the #1 VPN out of over 350 providers we've tested. It has military-grade encryption and privacy features that will ensure your digital security, plus — it's currently offering 49% off.