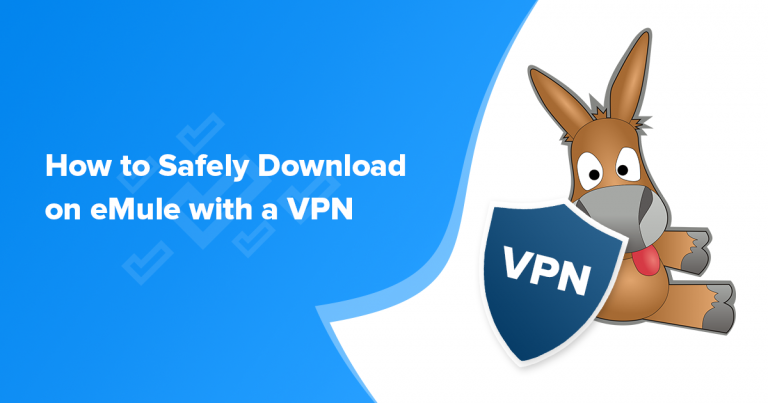 How to Safely Download on eMule with a VPN in 2022
Updated on 12th April 2022
Whenever you're using eMule, the peers in your swarm can see vulnerable information about you, such as your actual location and IP address. Hackers and copyright trolls can then use this information to target you specifically.
The best way to protect yourself is by using a virtual private network. A VPN hides your real IP address and browsing activity, so your ISP (internet service provider) cannot see that you're using eMule, and peers can't see your IP or location. However, not all VPNs are up for the task — some aren't secure enough to keep you protected.
Together with my team, I've tested over 30 VPNs to see which ones are best for eMule. The results showed that ExpressVPN is the best VPN for eMule due to its lightning-fast speeds and robust security features. It also comes with a 30-day money-back guarantee, which means that you can try it risk-free.
Quick Guide: How to Safely Download on eMule in 3 Easy Steps
Download a VPN. I recommend ExpressVPN because it's the fastest VPN for eMule, which allows you to download at the best possible speeds.
Connect to a server that's close to your real location. A nearby server will give you the best speeds.
Start downloading on eMule. With the VPN turned on, you'll stay safe while using eMule.
Why You Need a VPN for eMule
The problem with eMule is that anyone who's downloading or uploading the same file as you can see your IP address and actual location. Data brokers, hackers, and copyright trolls may use this information in various money-extortion schemes.
Another problem is that ISPs can see everything you do online, including torrenting. When your ISP detects that you're using eMule, it most likely throttles your internet connection.
VPNs protect you from this. They mask your IP address and location, so that you remain anonymous while you're torrenting. VPNs also encrypt your connection, ensuring that your ISP cannot see your browsing data (for example, that you're torrenting).
Not all VPNs are great for eMule, though. Some don't allow torrenting altogether or have slow download speeds, and others keep logs of your browsing activity. A VPN also needs to allow port forwarding to get fast download speeds on eMule. I tested multiple VPNs to see how well they work with eMule, and down below, I've listed the best ones.
My team and I don't condone torrenting copyrighted material. Torrenting is banned in some countries, so you should check your local regulations before using eMule.
Best VPNs for eMule in 2022
Torrenting allowed on all servers
160 servers
TCP and UDP Port forwarding allowed on routers
Also works with: BitTorrent, uTorrent, qBittorrent, Deluge, Transmission, and more
Compatible with: Windows, Mac, iOS, Android, Linux, routers, and more
I got the best download speeds on eMule with ExpressVPN. Without a VPN, my download speed averaged at 310 Mbps, and when connected to ExpressVPN, it changed to 265 Mbps (loss of 15%). I've noticed that with lower-quality VPNs, only some servers are fast, and the connection speeds are inconsistent throughout the day. This isn't the case here. With ExpressVPN, you can download on eMule with blazing-fast speeds.
ExpressVPN is one of the most secure VPNs out there. It has 256-bit encryption, a strict no-logs policy, and a built-in kill switch, which ensures that you are truly safe while torrenting. Its no-logs policy is backed up in its Privacy Policy, and I confirmed that its kill switch is working correctly by testing it myself.
Another thing that I like about ExpressVPN is that it comes with split tunneling, which basically lets you use it only on certain apps, such as eMule. From my own experience, split tunneling is most useful when I want to use a VPN while torrenting, and at the same time, access local websites, which wouldn't be possible with a VPN turned on.
The only downside is that ExpressVPN allows port forwarding only on supported routers. This means that you'll only be able to use it with eMule if you set up ExpressVPN on your home router. That said, it's a fairly straightforward process — you can get it up and running in about 5 minutes.
Although ExpressVPN is somewhat pricey, when I signed up, I got 49% off the total subscription price. If you get its yearly plan, which starts at just $6.67/month, it ends up fairly affordable.
ExpressVPN also comes with a 30-day money-back guarantee, which means that you can try it risk-free. After using it for 2 weeks, I contacted its support through online chat, and within minutes, I got a full refund. I received my money back into my account after 3 business days.
Download on eMule With ExpressVPN
Very fast download speeds
29,650 servers
TCP port forwarding allowed on all apps
Also works with: BitTorrent, uTorrent, qBittorrent, Deluge, Transmission, and more
Compatible with: Windows, Mac, iOS, Android, Linux, routers, and more
Private Internet Access (PIA) comes with advanced security features that will keep you protected while downloading on eMule. For example, in addition to a regular kill switch, PIA also offers an advanced kill switch, which blocks your connection if PIA suddenly stops working. I tested this, and I automatically disconnected from the internet when I closed PIA through the task manager.
My testing showed that Private Internet Access has very fast download speeds. Without a VPN, my connection was about 310 Mbps. With PIA turned on, it changed to 190 Mbps (loss of 39%). With PIA, I could download movies on eMule almost as fast as with ExpressVPN.
I also tried using it in the evening, when servers usually become overcrowded due to many people downloading simultaneously. Still, I didn't notice any differences in speed with PIA.
Although PIA does offer port forwarding on most of its servers, you cannot select which ports you want to forward. For example, I couldn't get the UDP port to work. I got port forwarding working only for the TCP port, which allowed me to get a "high ID" for downloading on the eD2K network. One plus for PIA is that port forwarding is very easy to turn on — you can do it with a single click in the settings.
You can get PIA starting at just $2.19/month. I was lucky enough to get 82% off when I signed up for it.
If you aren't sure which VPN you want to go with, you'll be happy to know that PIA offers a full 30-day money-back guarantee, which means that you can try it with confidence. I tested this myself by contacting its support after 10 days of using it, and I got my money back within 5 days.
Competitive download speeds on all servers
200 servers
TCP and UDP port forwarding allowed on all apps
Also works with: BitTorrent, uTorrent, qBittorrent, Deluge, Transmission, and more
Compatible with: Windows, Mac, iOS, Android, Linux, routers, and more
With PrivateVPN, I was able to easily port forward TCP and UDP ports on all of its apps. This means that it's especially great for eMule because, without port forwarding, I was getting roughly 80-90% slower download speeds. However, PrivateVPN doesn't offer port forwarding on all of its servers, so you have to spend a bit of time switching between different servers until you find one that works.
Although PrivateVPN isn't as fast as ExpressVPN, it offers very competitive download speeds, fast enough for torrenting. Without a VPN, my average download speed was 310 Mbps, and with PrivateVPN turned on, it changed to about 167 Mbps (44% loss).
Similar to ExpressVPN and PIA, PrivateVPN also allows torrenting on all of its servers. Although it offers dedicated IP servers for torrenting, it seems that none of them offer port forwarding. This means that you'll have to use its regular Shared IP servers, which are supposedly slightly slower. However, I didn't see any major differences in speed when I tested it myself.
PrivateVPN is the smallest VPN mentioned in this list. Compared to PIA and ExpressVPN, it offers fewer server locations and apps for fewer devices. Still, it offers enough locations to find a fast nearby server for torrenting, and it works on all major devices. All the server locations and devices I tried it on worked for me well.
You can get PrivateVPN starting at $2/month. It's reasonably priced when paid for on a short-term basis (monthly subscriptions). This means that it's especially good for people looking for a short-term commitment without having to pay for years ahead. It happened so that it was offering a 85% discount when I went for it.
PrivateVPN also comes with a 30-day money-back guarantee, so you can try it out first. If you want your money back, just contact its support through live chat, and you'll get a full refund in a few days. I got mine just 3 days after contacting its support team.
Download on eMule With PrivateVPN
How to Set up Port Forwarding for eMule
Get a VPN. I recommend ExpressVPN because it has the fastest connection speeds for downloading on eMule, and it allows port forwarding on routers.
Turn on port forwarding for your VPN and copy the port numbers. Some VPNs allow you to do this through their apps, and others let you do that only through their website. Once you've turned on port forwarding, copy the 5-digit numbers for TCP and UDP ports.
Switch to open ports on eMule. Open eMule, go to the "options" tab, click on "connection," uncheck "Use UPnP to Setup Ports," then paste the open TCP and UDP ports from your VPN, and finally click "apply."
Ensure that port forwarding is working. Click on the "Test Ports" button in the connection settings to see if you have a "high ID." You can also look at the globe icon with 2 arrows at the bottom of the window: yellow arrow indicates "low ID" and green "high ID" (only works when connected to a server).
If you still have a low ID, disable your firewall. This will most likely fix any issues, but you could also try disabling your antivirus.
FAQs on Downloading on eMule with a VPN
Can I use a free VPN with eMule?
No, the free VPNs I tested didn't work with eMule. Usually, their connection speed is very slow, which means that it takes much longer to download the same file than with a good VPN. In addition to that, free VPNs also aren't as safe and reliable.
Instead, I would recommend getting a premium VPN, such as ExpressVPN, because it is much faster and more reliable.
What makes a VPN good for eMule?
Your VPN needs to be fast to ensure the best possible download speeds on eMule. For eMule specifically, it needs to allow port forwarding because, without this, it limits your download speed by roughly 90%. In the best-case scenario, it should also allow torrenting on all of its servers.
There are a few other important features to look out for, such as DNS and IPv6 leak protection. If a VPN is leaking your IP address, your peers will be able to see your real location.
I tested multiple VPNs, and I concluded that ExpressVPN is currently the best VPN for eMule.
Is eMule safe to use?
eMule is an open-source application, which means anyone can find security flaws and update them. I scanned its installation files for malware, and I didn't find any. It's not unusual for my antivirus to block torrenting clients due to malware risks, but I didn't get any warnings when installing eMule.
That said, torrenting in itself can be dangerous. To stay safe, you need to download files with many sources (peers), and before opening a downloaded file, scan it with your antivirus. In addition to that, you should also use a VPN to hide your IP address so that other people downloading the same file as you can't see your IP and location.
Why did I get low ID on eMule?
eMule sorts its users into "low ID" and "high ID" based on their ability to upload torrents. If you can't upload torrents, eMule will put you in the "low ID" category, and your download speeds will be about 80% to 90% slower.
This usually happens due to firewalls blocking TCP and UDP ports, which are needed to upload on eMule. Open TCP and UDP ports are considered security threats, so firewalls block them. That's why getting a "high ID" on eMule isn't necessarily a good thing if you're concerned about security.
Usually, disabling your computer's firewall will fix this issue. However, if you're using a VPN, it has an additional NAT firewall, which can't be disabled. Instead, some VPNs offer port forwarding, which opens up specific ports to bypass the NAT firewall. So, if you want to get a "high ID" while using a VPN with eMule, get a VPN that supports port forwarding.
Start Downloading Safely on eMule Now
If you want to download safely on eMule without being monitored by your ISP and copyright trolls, you need to use a VPN. And not just any VPN because it needs to allow port forwarding to get fast download speeds on eMule.
I tested over 30 different VPNs, and my tests revealed that ExpressVPN is the best one for downloading on eMule. When I set up its port forwarding on my router, I got the fastest download speeds of all the VPNs I tried. From my experience, it's also the best VPN for other torrenting clients, not just eMule.
To summarize, the best VPNs for downloading on eMule are…
Privacy Alert!
Your data is exposed to the websites you visit!
The information above can be used to track you, target you for ads, and monitor what you do online.
VPNs can help you hide this information from websites so that you are protected at all times. We recommend ExpressVPN — the #1 VPN out of over 350 providers we've tested. It has military-grade encryption and privacy features that will ensure your digital security, plus — it's currently offering 49% off.