How to Unblock Porn Sites From Anywhere in 2023
Updated on 23rd January 2023
Porn sites are restricted on some networks and in highly-censored countries that deem it illegal or inappropriate. In these places, internet service providers (ISPs) and local networks may have firewalls that block porn sites. The good thing is that I found a couple of solutions for these hiccups.
The easiest and most reliable way to watch porn from anywhere is with a VPN. A VPN is a simple app that changes your virtual location to one of your choice. That way, you'll appear as if you're in another country where porn isn't blocked. On top of that, it protects your privacy from online threats and prying eyes.
After testing 40+ VPNs, the one I recommend the most is ExpressVPN. Its robust security features and large server network give you instant access to porn websites. You can test ExpressVPN out completely risk-free as it's backed by a 30-day money-back guarantee. If it isn't for you, you can easily get a full refund.
Important! This article is for educational purposes only. My team and I do not condone the violation of country-specific laws. Always be sure to adhere to your government's laws and exercise caution when accessing websites. This article contains adult content — if you are under 18 years of age, please click out of this page immediately.
Quick Guide:
How to Unblock Porn Sites From Anywhere in 3 Easy Steps
Get a VPN. I strongly recommend ExpressVPN because it's consistently fast and reliable at unblocking porn on any network.
Connect to a server. If you're traveling to a country where porn is blocked, connect to the most nearby server where porn is allowed to get the best speeds.
Sit back and enjoy. You can now access porn from anywhere and watch it safely.
Why You Need a VPN to Unblock Porn Sites From Anywhere
Many ISPs, local networks, and highly-censored countries today have firewalls that block porn sites. With these restrictions in place, you can use the internet for other purposes, but you can't access porn. However, a VPN can get around any network block.
A VPN works by directing your traffic through its private servers, which assigns you a new IP address. With it, you appear to be accessing porn content from an unrestricted location or network. Plus, premium VPNs (like the ones on my list below) come with special obfuscation features to hide the fact that a VPN is in use. This makes it possible for the VPN to unblock adult content in countries that censor it.
Additionally, a VPN encrypts your sensitive information, preventing ISPs and other third parties from getting hold of it or spying on what you're doing online.
With a VPN with lots of high-speed servers and robust security features, you'll access any porn website from anywhere and watch it in great quality.
6 Other Methods to Access Porn From Anywhere
1. Use an Alternative DNS Server
Your ISP monitors your DNS requests and can use this technology to prevent access to certain sites, including porn. However, you can stop your ISP from doing so by connecting to another DNS server using a tool such as DNS Jumper.
Although we see easy-to-read domain names, every website is initially identified by an IP address instead of a domain name. The Domain Name System (DNS) matches domain names like www.porn.com to the website's IP address. Without this system, you'd have to memorize IP addresses, that contain random numbers, to visit your favorite websites.
To prevent your ISP from blocking URLs to porn sites, you can set up a different DNS server prior to accessing porn, keeping your activity private. It's also possible to change your DNS server manually through your settings, but I advise against this because it's complicated and time-consuming.
Changing your DNS server isn't as secure or private as using a VPN. Third parties can still snoop on your activity and see your real location because it doesn't mask your IP or protect you with encryption.
2. Use Google Translate
Google Translate can also be used as a tool to access porn sites from anywhere. Just visit translate.google.com and paste the URL of the blocked porn site into the left-hand box. Google automatically turns that information into a clickable link on the right. Now, click the link to access the site and watch the videos you like.
When you use Google Translate, there is a lower chance that your ISP will be able to track the sites you're accessing. This is because ISPs will see the Google Translate link rather than the URL of the porn site. Since the name of the porn site will only show at the end of the very long link, it's unlikely it will be detected.
Alternatively, you can use Google WebLight as a proxy to quickly unblock porn sites on Android devices if Google Translate doesn't work for you. Simply use this URL pattern "http://googleweblight.com/?lite_url=[your_website_url]" and replace "[your_website_url]" with the web address of the porn site you want to view. For example, to access "camsoda.com," your new URL will be — http://googleweblight.com/?lite_url=https://www.camsoda.com/.
Be aware that these methods don't encrypt your connection, meaning prying eyes can see what you're doing online. So I still suggest using a VPN if privacy and security are a top priority when accessing porn websites.
3. Unblock Porn With a Proxy
When you use a proxy to unblock porn, your network/ISP only sees the proxy's address. It doesn't see that you're accessing porn, so it can't block your connection.
To use a proxy to unblock porn, copy and paste the URL of your favorite porn site into the platform's address box. Then connect to a server close to your location (in a country where porn is legal). This will give you the best speed for buffer-free streaming.
Using a proxy isn't as secure as a VPN because only 1 tab is protected at a time. Whenever you want to change sites and open a different tab, you need to re-establish the proxy connection. Plus, lots of firewalls block proxies. That's why I recommend using tried-and-tested VPNs instead. They have special features that unblock sites reliably and keep your activity private no matter how many tabs you have open.
Try ExpressVPN Risk-Free Today
4. Use a URL Shortener
Changing the porn site's address with a URL shortener can get around your ISP's firewall because the new (shortened) URL isn't blocked. Free URL shorteners, such as RB.GY and cutt.ly are easy to use. Just paste the link into the text box and click the "Shorten URL" button. Then copy the shortened URL and paste it into a new tab.
There is 1 snag with this method — sometimes, the shortened link automatically reveals the real URL, so you may still be blocked by your ISP. Plus, this only works if your ISP is using weak blocking techniques. So, I suggest using a VPN with robust unblocking capabilities to safely access porn websites from anywhere.
5. Watch Porn on the Tor Network
The Tor browser unblocks porn sites by rerouting your traffic through multiple encrypted servers. This secures your connection, making it impossible for your ISP to see the sites you're visiting. As a result, it bypasses any network restriction in place and unblocks porn without exposing your online activity.
I recommend downloading the Tor browser from the official Tor website to protect yourself from malware. It's compatible with most popular devices except the iOS ones. However, you can use the Onion Browser (an alternative to the Tor Browser) to connect to Tor on your iPhone or iPad. Note that Onion Browser doesn't offer the same level of privacy protection as Tor Browser. Apple requires browsers on iOS to use WebKit, which makes it challenging to have all of the Tor Browser's security features on the Onion Browser.
If you choose to use Tor to access porn, I strongly advise you to connect to a quality VPN before you do. ISPs can see that you're using the Tor Browser because its servers' IPs are public. This may result in your ISP flagging you for suspicious activity since Tor is often used to access the dark web. A VPN prevents ISPs from seeing you're using Tor by assigning you a new IP address and encrypting your connection.
The dark web has all kinds of content, so tread carefully when accessing it to watch porn as you may accidentally stumble upon disturbing or illegal content. My team and I do not condone criminal activity and suggest you always ensure you have the correct URL. If you go onto the dark web without knowing your destination, you could click on the wrong links that could put you, your data, and your device at risk.
6. Use the Wayback Machine
You can use the Wayback Machine's archived snapshots to access porn sites — even if they were taken offline a while ago.
Retrieving snapshots from the Wayback Machine is easy. Simply enter the URL of your chosen site into the platform's search bar and select a date in the calendar when the site was live to access the archived version. That way, it bypasses network blocks because your ISP only sees the Wayback Machine's URL, so it can't block your connection.
Unfortunately, this method doesn't work all the time. During my tests, most snapshots failed to play, so you might also face the same challenge. You can try using keywords to search for porn sites. They worked for me — and I accessed a few sites — but I wouldn't recommend them because it's tedious. Overall, this is a hit-and-miss method.
On top of that, you can't access the Wayback Machine in restriction-heavy countries like India, China, and Russia. To gain access while you travel there, you need to get a reliable VPN, such as ExpressVPN. This app encrypts your connection and reroutes it through private servers making it look like you're accessing sites from unrestricted locations.
Best VPNs to Unblock Porn Sites From Anywhere in 2023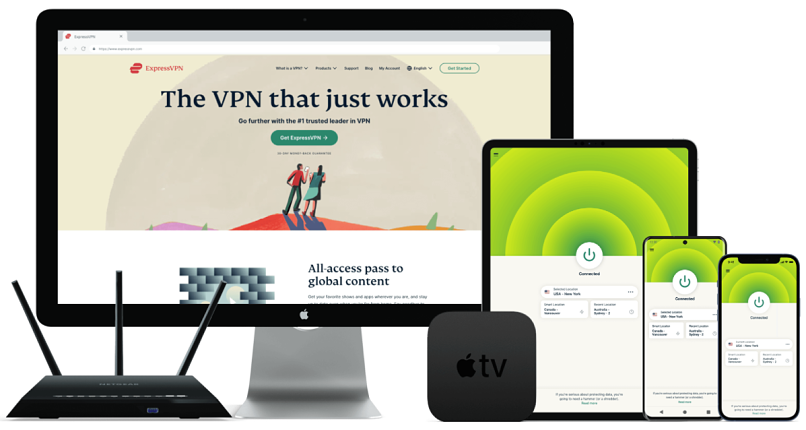 Editor's Choice
Editor's Choice

Tested January 2023
Try Risk-Free for 30 Days
Can access:
Netflix
Disney+
APV
HBO Max
Hulu
BBC iPlayer
Sky
More
www.ExpressVPN.com
Excellent speeds to watch porn in crystal-clear quality
3,000 servers in 94 countries to access porn from any location
5 simultaneous device connections
Works with: Pornhub, RedTube, Literotica, Thumbzilla, Tube8, YouPorn, and more
Compatible with: Windows, Mac, iOS, Android, Linux, routers, Apple TV, and more
All of ExpreeVPN's 3,000 servers are obfuscated when the protocol is set to Automatic, which means they can get around network restrictions. Obfuscation provides an extra layer of security by making your VPN traffic look like regular browsing. That way, it bypasses firewalls and restricted networks in places like China and the UAE. I tested several of its servers and my connections remained stable — I didn't experience any sudden drops while streaming.
Additionally, its TrustedServer technology, together with the no-logs policy, ensures that your data and activity are never stored on ExpressVPN's servers. So, you can access porn sites without worrying that your activity and personal data will be ever accessible to third parties.
ExpressVPN has outstanding speeds, which means you can enjoy watching porn videos without buffering. During my tests, I tried 4 of ExpressVPN's servers and averaged around 27.6 Mbps — only an 8% loss. This is great since it's normal for a VPN to slow you down by 15 to 20%. You only need 5 Mbps for HD streaming, so with results like these, you won't have issues with the quality while watching.
Its AES 256-bit encryption, kill switch, and DNS/IP leak protection make it possible to access porn sites without anyone knowing. The encryption hides your activity, while the leak protection and the kill switch prevent sudden exposure of your online identity (your IP). When I tested several of the VPN's servers, no IP/DNS leaks were detected, so my identity remained private while accessing porn sites.
The split tunneling feature comes in handy if you want to encrypt part of your traffic. You can choose to use the VPN traffic only for certain apps or websites, and for the rest, you can use your regular ISP connection. This means you can conserve your bandwidth, as only a part of the traffic is encrypted. In my test, it was easy to access my local bank account with no encryption while visiting porn websites securely through the VPN.
One downside is that its pricing plans are a little more expensive than other VPNs — subscriptions start at $6.67/month. However, you can take advantage of the latest discounts. I managed to get 49% off of my subscription and 3 months for free when I signed up for the long-term plan.
You can also try ExpressVPN without any risk — it's backed by a 30-day money-back guarantee. If you're not satisfied, you can easily get a refund. To test this out, I reached out to the support team via its 24/7 live chat. The agent I spoke with only asked me why I was leaving but didn't pressure me to stay. I had all the money back in my bank account in 2 days.
Great security to protect you while you access porn websites
9,758 servers in 91 countries to watch porn from anywhere
7 simultaneous device connections
Works with: Pornhub, RedTube, Literotica, Thumbzilla, Tube8, YouPorn, and more
Compatible with: Windows, Mac, iOS, Android, Linux, routers, Apple TV, and more
CyberGhost has excellent security features, including AES 256-bit encryption that protects you while accessing porn sites. Encryption masks your browsing activity from your ISP (or any other third party) so that it can't see you're watching porn. There's also DNS leak protection and a kill switch to shield you from leaks that reveal your IP. I tested CyberGhost using ipleak.net and didn't detect any DNS or IP leaks.
The VPN also boosts your privacy while accessing porn with a strict zero-logs policy. This means your sensitive information, like browsing history won't be collected or shared with third parties.
CyberGhost's speeeds can't quite compete with ExpressVPN's, but I still had great results during all of my tests. While connected to local servers, I had speeds of around 26.4 Mbps (a 12% drop from my base speed), which easily gave me HD quality streaming. This means that you can watch hours of porn content without being disturbed by buffering.
Finding your way around the app is easy, thanks to CyberGhost's user-friendly interface. It was effortless to set it up on my Windows laptop and connect to a server — it only took me about 4 minutes. You can connect to servers by expanding the app's view and choosing the "All servers" tab. After that, just type your preferred country and double-click on the location to connect.
A small issue is that it doesn't work in China and the UEA. However, it works well in other countries and unblocks porn restricted by ISPs.
It's fairly priced with the long-term plan offering the best value. You can get CyberGhost for only $2.19/month, along with an extended refund period. For just a small fee, you can also get its NoSpy servers, which are owned and operated by CyberGhost in its Romanian headquarters. These servers are privacy-friendly and make your data practically untraceable.
You can test CyberGhost risk-free by taking advantage of its long-term plan's 45 money-back guarantee. If you find you don't like it, you can easily claim a full refund. I tested its refund policy by canceling my subscription through live chat. The rep only asked some basic questions about my experience. They approved my request within 4 minutes, and I got my money back on my credit card in 4 days.
Multi-hop and obfuscation technique to make your VPN traffic appear normal
29,650 servers in 84 countries to access porn websites using different IPs
10 simultaneous device connections
Works with: Pornhub, RedTube, Literotica, Thumbzilla, Tube8, YouPorn, and more
Compatible with: Windows, Mac, iOS, Android, Linux, routers, Apple TV, and more
Private Internet Access (PIA) has a Multi-hop and obfuscation feature that makes your VPN traffic look normal. This adds a layer of protection by also rerouting your VPN traffic through a proxy. That way, it becomes possible for this VPN to access porn sites in places where they're blocked. Best of all, it's easy to find this feature and turn it on — I enabled it in just a few clicks from the Settings menu.
It safeguards your privacy while you access porn sites with AES 256-bit encryption and 2 kill switches. The regular kill switch disables your internet connection if the VPN unexpectedly drops — the advanced one won't let you use the internet until you turn PIA on. My real IP address remained hidden while testing this service.
With plenty of servers across the globe, you can access porn sites using different IPs to keep your activity private. During my tests, I tried over 10 of its servers — my connections were stable, and I never experienced any drops.
Its speeds can be inconsistent at times. But even though they fluctuated, I still had more than enough speed to watch porn in HD without buffering, so it wasn't a big deal. My download speed averaged 25.5 Mbps, only slightly slower than CyberGhost.
You can take advantage of the latest discount to bring PIA's cost down. Currently, you can get a long-term PIA subscription for just $2.19/month. All of its plans have the same great features, so you won't miss out on anything when you pick the best value.
If you're still uncertain, you can try it with its 30-day money-back guarantee before you commit and see if you like it. I requested a refund by completing the "Contact Us" form on the website and was impressed by the quick response. My money was safely returned to my PayPal wallet before the week was out.
FAQs on Unblocking Porn Sites With a VPN
How can I stay private on my devices while I watch porn?
You can stay completely private while you watch porn on your device by using a VPN. A quality VPN with strong security features keeps your data and identity out of reach of third parties when you watch porn. So, consider getting a VPN that comes with high-end features such as a kill switch, AES 256-bit encryption, and DNS/IP leak protection.
Is it illegal to watch porn?
It depends on where you are, but in most countries, it's legal. As long as the content you access is lawful in your country, you should be able to watch porn safely. So, make sure that you check your country's laws beforehand. For additional privacy and security, especially while you travel, you can use a VPN when you watch porn. The best VPNs for watching porn sites have world-class security features, apps for most devices, and fast and reliable servers across the globe.
How can I watch porn on my iOS or Android devices?
You can watch porn on your iOS or Android device by using your phone's browser to search for your desired porn site. To make sure you access porn safely and privately on your iOS or Android devices you can use a VPN. This app hides your IP and activity while you watch porn. Fortunately, most VPNs have native apps for Android and iOS that are easy to use and install.
You can even watch adult content on other devices, including Windows and macOS computers, and streaming devices like Fire Stick.
Where and why are porn sites restricted around the world?
Different countries have varying laws, with some, like Iran and China, heavily restricting online pornography. Others, such as Australia, don't allow uploading adult content but allow watching it for personal use (except child pornography, of course). The UK takes this a notch higher by requiring porn sites to verify the age of people who wish to view their content.
It's recommended to keep yourself protected with a VPN whenever you want to watch porn to avoid getting in trouble, especially if you travel a lot. A VPN can help you access porn sites if you're visiting a country with restrictions. But be mindful of the county's laws before you access this content. My team and I don't condone using a VPN for any illegal activities.
Will using Incognito mode on my browser let me watch porn anonymously?
No, using Incognito mode on your browser will not let you watch porn anonymously. It will hide your browsing search history, but your IP address will still be visible to the sites you access and to your internet service provider. The only way to stay anonymous when you access porn content is by using a quality VPN. It's a simple app that masks your real IP and assigns you a new one in your desired region.
Access Porn Sites Safely Now
Security and privacy are the last things you want to think about while you're trying to enjoy porn. But you can take the distractions out of your relaxation time by using a quality VPN every time you access your favorite porn sites.
I recommend ExpressVPN because it doesn't compromise speed and comes with strong security features to keep you safe when you visit porn sites. Its huge network of global servers means you can easily tune into your desired porn channels, even while you're traveling. You can get it now for just $6.67/month and try it risk-free since it comes with a money-back guarantee. If you don't like it, you can get a full refund within the first 30 days of signing up.
To summarize, the best VPNs to access porn sites from anywhere are…
Privacy Alert!
Your data is exposed to the websites you visit!
The information above can be used to track you, target you for ads, and monitor what you do online.
VPNs can help you hide this information from websites so that you are protected at all times. We recommend ExpressVPN — the #1 VPN out of over 350 providers we've tested. It has military-grade encryption and privacy features that will ensure your digital security, plus — it's currently offering 49% off.