How to Use IPTV to Watch Live TV From Anywhere in 2023
Updated on 13th December 2022
You may be unable to access live broadcasts through your IPTV subscription abroad due to licensing restrictions. However, there's a simple solution to keep up with your favorite live TV channels and shows while traveling. The easiest way to access your IPTV account is through a virtual private network (VPN).
A VPN changes your IP address and replaces it with one from a country of your choice. All you need to do is connect to a server location where your IPTV provider is available so that you can access your account. For example, connecting to a US server gives you access to US IPTV providers such as Xumo, Sling TV, Pluto TV, or Hulu + Live TV.
But not all VPNs are reliable. After testing over 50 services, my top recommendation is ExpressVPN. Its high-speed servers worldwide make it a breeze to bypass geoblocks and enjoy uninterrupted live streams. You can try ExpressVPN risk-free since it comes with the 30-day money-back guarantee. If you're not satisfied, you can get a full refund.
Quick Guide:
How to Set Up IPTV to Watch Anything in 3 Easy Steps
Get a VPN. I recommend ExpressVPN because it has blazing-fast speeds that allow for bufferless streaming and an extensive server network, so you can unblock IPTV from anywhere.
Connect to a server. Choose a server in a country that has the IPTV provider you need. For example, to access your US IPTV services, pick a server in the US to get an American IP address.
Start watching live TV. Once you've downloaded an IPTV player app, you can access your IPTV subscription and stream live TV anywhere.
Why You Need a VPN for IPTV
Even though it should be technically available everywhere, IPTV differs by country due to broadcasting rights and copyright deals with different content holders. Similarly to on-demand streaming platforms, IPTV providers can only stream live TV in licensed regions. So, if you're traveling abroad, your account might be blocked.
The quickest and safest way to overcome these limitations is to use a VPN. It can make it appear like you are accessing the platform from a location of your choice. A VPN changes your IP address by rerouting your traffic through its private servers. This allows you to bypass geoblocks, and watch your favorite shows and live TV. Just connect to a server in the UK, US, or wherever you got your IPTV subscription and stream as you normally would.
Try ExpressVPN Risk-Free Today
Best VPNs for IPTV to Watch Live TV From Anywhere in 2023
All the VPNs on my shortlist are great for accessing IPTV anywhere and provide the best speeds for live streaming without buffering. On top of that, they're easy to set up and use on various devices simultaneously.
Importantly, they all come with a reliable money-back guarantee, so you can test the service risk-free. You can always claim a full refund if it doesn't suit your needs.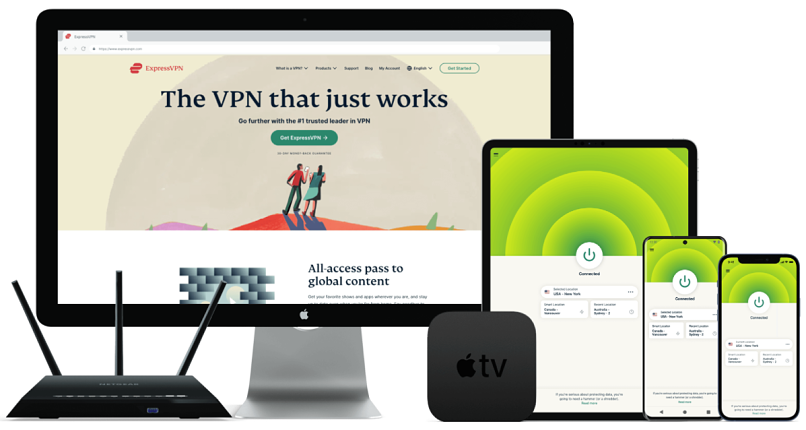 Editor's Choice
Editor's Choice

Tested February 2023
Try Risk-Free for 30 Days
Can access:
Netflix
Disney+
APV
HBO Max
Hulu
BBC iPlayer
Sky
More
www.ExpressVPN.com
Lightning-fast speeds for buffer-free IPTV video streaming
Huge global network with 24+ US server locations
Use IPTV on up to 5 devices simultaneously
Can unblock: DirectTV, Xumo, Hulu + Live TV, Sling TV, Falcon TV, USTVNow, fuboTV, Comstar, Netflix, and more
Compatible with: Firestick, Windows, Android, iOS, Mac, Roku, routers, Xbox, and more
Thanks to ExpressVPN's super-fast speeds, you can live stream in UHD buffer-free. The average speed loss with a VPN is 20%, but my speed remained almost the same. I used its proprietary Lightway protocol because it is the fastest, perfect for streaming. My download speed dropped by only 7.85% during my tests — to 141.43 Mbps from a baseline of 153.48 Mbps. This means you can easily watch live TV using IPTV in 4K quality.
With over 3,000 servers in 94 countries, it also allows you to access your IPTV account from anywhere. Having enough servers is crucial since streaming services are country-specific. My subscription is from the US, so I tested different US locations to see if I could access my account while traveling. Each one I used (DC, NY, LA, etc.) let me access my IPTV provider, and I could enjoy my favorite live channels.
Plus, you can use the VPN on virtually any device, thanks to its compatibility with all major operating systems. You can even install it on your router to connect all WiFi-enabled devices, like those that don't support VPNs, such as smart TVs and gaming consoles. It took me less than 10 minutes to install it on my Asus router and log in to my IPTV account to watch live TV on my LG smart TV.
Despite the excellent performance, the VPN has one minor con — plans are pricier than expected, starting at $6.67/month. However, ExpressVPN regularly has great deals that help you save. I got 49% off my 12-month subscription and a few extra months for free. While all plans provide the same features, you get the best value for money with long-term options.
Additionally, it comes with a 30-day money-back guarantee, so you can try ExpressVPN with IPTV risk-free. If you're not completely satisfied, you can get a full refund. To check how easy it is to cancel your subscription and get a refund, I contacted support via the 24/7 live chat. The agent approved my request immediately without asking any probing questions. The money was back in my bank account 3 days later.
Intuitive apps, suitable for first-time VPN users
Dedicated streaming servers for accessing your IPTV subscription with ease
9,753 servers in 91 countries to access IPTV wherever you are
Can unblock: Direct TV, Xumo, Hulu + Live TV, Sling TV, Falcon TV, USTVNow, Comstar, and more
Compatible with: Firestick, Windows, Android, iOS, Mac, Roku, routers, Xbox, and more
CyberGhost is straightforward to install, and navigating settings is simple, no matter the device you're using — apps look and function almost identically. It took me only 10 seconds to launch the VPN and unlock my IPTV account. Plus, by clicking the "For streaming" tab in the expanded app view, you'll conveniently be provided with a list of servers optimized for specific country/streaming platforms. I accessed my United States/Sling TV account in just 2 clicks during testing. You can also create a favorites list of servers by clicking the star icon. That way, you don't have to search for your preferred ones.
You can simultaneously use the VPN on up to 7 devices. I connected it to my Android phone, 2 Windows computers, my smart TV, and an iPad at the same time. But despite the multiple connections, I didn't notice any loss in streaming quality.
CyberGhost's speeds are second-best only to ExpressVPN, so you can use it with IPTV to watch live TV without buffering. Its servers in Europe, the US, and Asia gave me an average speed of 37 Mbps, around 25% slower than my baseline. The minimum speed requirement for streaming in HD is 5 Mbps, and for UHD, it's 25 Mbps. With CyberGhost, you won't miss a second of the live-action.
I found the monthly plan very expensive with only a 14-day money-back guarantee. However, a long-term subscription is available at only $2.19/month and provides a generous money-back guarantee. Since all plans have the same features, I chose the 3-year one as it's the cheapest.
Its extended money-back guarantee lets you use CyberGhost with IPTV free for 45 days. To test how straightforward the refund process is, I canceled using its 24/7 live chat. I only had to briefly explain why I wanted to end my subscription, after which the agent approved my request. Within 4 days, the full amount was back in my PayPal account.
29,650+ servers in 84 countries to easily find a server for IPTV when abroad
Unlimited data and fast speeds for watching IPTV without delays
Up to 10 connections to access IPTV on all your devices at once
Can unblock: Direct TV, Xumo, Hulu + Live TV, Sling TV, Falcon TV, USTVNow, and more
Compatible with: Firestick, Windows, Android, iOS, Mac, Roku, routers, Xbox, and more
PIA has an impressive global network, with 53 US server locations. No matter where you are, you'll be able to access your IPTV account. Having so many servers also means it's less likely to become congested due to overcrowding, meaning you can rely on stable and fast connections. I tested over 20 PIA US servers and easily accessed my subscription on USTVNow every time — watching Two and a Half Man on FOX 8 was seamless.
There's also a proprietary built-in ad-, tracker-, and malware blocker called MACE. This feature is really useful since it blocks annoying (potentially malicious) ads while you use IPTV to stream. It also prevents malware and trackers from collecting your data. This feature is automatically switched on, so you don't have to worry about configuring anything.
Plus, PIA can be used on up to 10 devices simultaneously and is compatible with almost all operating systems. It took me only 5 minutes to set up on my Windows laptop and stream various live sports events using IPTV. My connection remained stable, and there was only a minor speed drop with far-away servers.
I found only one minor con — the app is not a perfect choice for inexperienced VPN users because of its many customization options. But, it comes pre-configured, so you can stream using IPTV without changing any settings.
The VPN is very budget-friendly. With the current discounts, a long-term subscription will cost you only $2.19/month. PIA also offers monthly plans, but they cost more without additional benefits, so I prefer the 2-year option.
It's also backed by a 30-day money-back guarantee, so you can test PIA with IPTV risk-free and decide if it meets your needs. Getting a refund is simple if you're not completely happy with it I used the 24/7 live chat to contact support — the agent approved my request in minutes. The money was back on my credit card after 5 days.
How to Use IPTV Apps on Any Device
You can set up IPTV apps on most streaming devices. It is relatively straightforward, especially if you follow the setup guides for that device. First, you need to install a streaming app such as IPTV Smarters or Smart IPTV.
They're all similar, mostly differing in layout and device compatibility. IPTV Smarters is a video streaming player that allows you to access channel playlists from multiple IPTV subscriptions (works both for Apple and Android devices). Smart IPTV is an app that works on Android-based and Amazon devices such as LG, Fire TV Stick, or Samsung TV.
The apps alone do not provide any IPTV services or host any playlists of their own. You need to have an existing subscription for an IPTV service provider to stream.
How to set up IPTV Apps on Amazon Fire Stick and Fire TV
First, you need to get the Downloader app that allows you to install the IPTV streaming app. Some verified IPTV applications are, for example, IPTV Smarters or the Smart IPTV app.
Download a VPN to your device and connect to a server that has the IPTV service you want. I recommend ExpressVPN since it has native apps for Amazon Fire Stick and Fire TV.
Launch your Amazon device and go to "Apps" to get the "Downloader" app.
Go back to settings, then "My devices," and open "Developer Options," then "Install from unknown apps" to allow the installation.
Click "OK" or "Go". Enter firesticktricks.com/smarter, and confirm again.
Click to install the app. It might take a minute or 2. Once completed, the Downloader app should automatically run the APK file, and the installation will begin.
Click "Done" and choose to delete the APK files. This should take you back to the main menu, where you can delete the APK.
Now, go to your apps and find the IPTV app on your Fire Stick device or Fire TV.
You can now stream live TV using IPTV.
How to set up IPTV on iOS or Android devices
There are many IPTV apps available on the App Store and Google Play Store — IPTV Smarters, Smart IPTV Lite, and Pro, Perfect Player IPTV, etc.
On both platforms, the process is more or less similar:
Get a VPN and connect to a server in your chosen location. My top pick is ExpressVPN because of its user-friendly apps for Android and iOS.
Search for an IPTV streaming app on your device's app store. Download and install it.

Not all IPTV streaming apps are free (like GSE SMART IPTV PRO)

Click "Open" and accept the terms and conditions.
Log in with the credentials from your IPTV provider by filling in your M3U details.
Start watching your favorite IPTV content.
How to set up and use IPTV on Roku
One of the easiest ways to set up IPTV on Roku is to use the Android mirroring option. However, make sure that your Android device has cast support. You need to set up IPTV on your Android device to use this setup method.
Install a VPN of your choice on your Android device. I suggest using ExpressVPN for its native app.
Make sure your Android device and Roku are connected to the same WiFi.
Go to settings, then "System" to enable the screen mirroring option.
Download Smart IPTV to your Android device. Launch it, and sign in with your IPTV subscription.
Enable casting on your Android device — go to settings and open "Connection and Sharing," and select "Cast". Choose Roku from the list of nearby devices connected to the same network. Now, your TV should display the contents of your mobile screen.
Open the Smart IPTV app on your Android device.
Start watching IPTV on your big screen TV.
How to set up IPTV on Chromecast
To use IPTV on Chromecast, you need an IPTV app with cast support, such as IPTV Smarters Pro, VLC Media Player, Smart IPTV, or Perfect Player IPTV.
Get a VPN and connect to a server where your IPTV subscription is available. I recommend ExpressVPN because it's the fastest and most reliable one for accessing IPTV from anywhere.
Connect your device and Chromecast to the same WiFi.
Install an IPTV app such as VLC Media Player on your device.
Log in with your IPTV account or use the M3U URL.
Find the "Cast" function.
Select Chromecast from the list of devices.
You can now stream your favorite IPTV content on your TV.
How to set up IPTV on Sony, LG, or Samsung smart TVs
Get a VPN. I recommend ExpressVPN because if your smart TV isn't natively compatible with VPNs, you can use its custom router app to stream from any WiFi-enabled device.
Install and open the IPTV app from your TV's app store (e.g., Smart ITPV).
After launching it, your MAC address will be displayed on your TV screen. Write it down somewhere cause you'll need it in the next steps.
Go to https://siptv.app/about/ on your computer or smartphone.
Open the Activation tab and enter the MAC address in the field.
Open the "My List" tab and enter the MAC address displayed on the TV and the M3U URL you received from your IPTV provider.
Restart your app.
As soon as the channels load, you can start using IPTV on your smart TV.
Install and Use IPTV on Xbox One
Open the Microsoft Store to get myIPTV Player to your Xbox.
Once in the app, go to settings to add a new playlist and EPG source.
Find "Remote channels" to enter the M3U link from your IPTV provider.
If you have the EPG source link for your provider, go to the Program Guide (EPG) section, and type in the EPG source or the playlist name.
Navigate back to settings, click "Select Playlist" in the channel playlist section and choose the playlist name you created in the previous steps.
Go to the EPG source section and select the EPG Source link. Move to the Channel and EPG settings and enable the options listed below.
Go back to the home page and click the Channels tab, and start watching. All the content from your IPTV provider should display on the screen.
All the VPNs on this list are compatible with Xbox, but the easiest VPN to set up and use is ExpressVPN.
Start Watching IPTV With ExpressVPN
How to Know You're Using Verified IPTV Streaming Platforms
To make sure you are using verified IPTV services, always sign up on the provider's website and download apps from official app stores (Google Play, Amazon App Store, or iOS App Store). While IPTV technology is entirely legal, it still has to abide by copyright law and licensing. As a result, some IPTV services may be unavailable depending on the country you're in.
Unverified IPTV services, on the other hand, are available to download only via third-party websites. Since it's hard to check if an unverified IPTV service follows broadcasting laws, it's better not to use them. While you can't get in trouble for watching, these unregistered platforms are often streaming pirated content. As a result, they are often taken down, and you'll lose access to your account.
Either way, it's a good idea to use a VPN with IPTV to protect your data from snoops and hackers.
Try ExpressVPN with IPTV Risk-Free
Best IPTV Service Providers for 2023
There are numerous IPTV streaming platforms that offer free and paid subscriptions and access to hundreds of channels and live and on-demand content. Some of the best platforms to choose from are:
DirectTV — It provides live and on-demand content, with a mix of 140+ live channels and 65,000+ on-demand titles. Access to Showtime, Starz, Cinemax, HBO Max, and more are included for the first three months. All plans come with a free trial.
Falcon TV — Affordable service with a variety of subscription plans. Offers 4,000+ channels and 40,000+ on-demand titles, plus PPV channels. You get access to NBC, CBS, Fox, Comedy Central, Discovery, and more. Plans come with a 3-day free trial.
Xumo — A choice of 180+ channels for free. A TV login or monthly subscription is not required. You get access to news, movies, TV, and sports channels, including NBC News, Fox Weather, CBS News, and more.
Peacock TV — You can choose between on-demand content and live channels, including TNBC, Telemundo, E!, and more. Choose between the free and premium plans. Both subscription options ( Premium and Premium Plus) offer a 7-day free trial.
Sling TV — You can get a paid subscription plan with 40+ sports, family, entertainment, and news channels. Plus, all the channels are available on Sling Free. All plans are really affordable, but there's no free trial. Cloud DVR is included in the subscription.
Hulu + Live TV — Get access to the entire Hulu Streaming library and around 100 TV channels, including ABC, Animal Planet, Fox News, ESPN, Disney+, and much more. There's only one subscription plan and no free trial.
fuboTV — Get access to 100+ channels, live and on-demand, and cloud DVR storage. You can watch ABC, Fox, FX, NBC, ESPN, and more. There is a 1-day free trial, several different monthly plans, and available add-ons.
USTVNow — Provides you with access to free TV channels and movies. Or you can upgrade to a paid plan and get HD streaming, DVR, and access to Animal Planet, ABC, Fox News, PBS, CW, and more. All plans have a 5-day free trial.
Comstar TV — A premium provider that offers 10,000+ channels from around the world. Plus over 8,000 on-demand movies and TV shows, and PPV events. You can choose between monthly or yearly plans. You can use the 48 hours free trial to test it.
Xtreme HD IPTV — Watch 20,000+ live international TV channels and on-demand content. Subscription plans range from monthly to lifetime. All plans come with anti-freeze technology. There's a 36 hours paid trial.
FAQs on Watching IPTV With a VPN
Can I use a free VPN for IPTV?
Perhaps, but I wouldn't recommend it, as free VPNs aren't great for streaming. They limit server networks and suffer from overcrowding, resulting in slow speeds and connection drops. Top-tier VPNs with a global network of fast servers are a more reliable option to enjoy your favorite live TV shows without interruption.
Also, free services don't provide the security features to keep you safe online. Some even sell your data to marketers. On the other hand, Premium VPNs have excellent security and privacy measures, so none of your personal data will be exposed. Plus, they come with money-back guarantees, so you can try them without risk.
Can I use IPTV for free?
It's possible, depending on your provider. Many IPTV services, including LiveNet TV, Locast, Pluto TV, and Sling Free, are free to use. However, these platforms usually have more ads, and limited streaming quality and content. Launch your VPN and connect to a server in a country where free IPTV subscriptions are available.
Is it legal to use a VPN for IPTV?
Yes, it's legal to use a VPN for IPTV. Although, a VPN's primary function is to protect your online privacy. Take note that some countries ban VPNs. Also, using a VPN might go against your IPTV provider's T&Cs. So, to ensure you don't break any laws or rules, carefully review your country and providers' stance regarding VPN use.
What devices can I use IPTV on?
You can watch IPTV programming on almost any device you can stream with. That includes Roku, Amazon Fire devices, consoles, smart TVs, etc. Your IPTV service provider may have compatible apps for your device, or you may need to use an IPTV player to access your IPTV subscription. You need to get the respective app from your device's app store, install it, follow the setup guide, and enjoy your favorite channels on IPTV.
How do I set up IPTV on Perfect Player?
You can easily set up IPTV on Perfect Player through M3U or M3U8 links. The process is similar to installing an IPTV app on a Fire Stick
Download and install the Perfect Player app on your Android or iOS device.
Then, go to your IPTV service documents and find the M3U URL and the EPG URL if your service has it.
Next, open Perfect Player, go to settings, click General, and enter the M3U URL in the corresponding field. Optionally, you can add a name for the service.
When you are done, just click "OK." If you have an EPG URL, add that one too.
Now go back to the main control panel. You should see a message that says "Updating."
Your channel menu should load in a few seconds, and you can start using IPTV.
Can I run IPTV on VLC Media Player?
Yes, you can use IPTV on VLC Media Player. However, to stream your favorite Live TV channels on IPTV you need to have an IPTV subscription linked to it. You can set it up in a few steps, similar to using IPTV on Android, and iOS.
In your VLC Media Player, click "Media" or "File" (on Mac) on the top navigation bar and choose "Open Network."
Enter the M3U URL you got from your IPTV provider (e.g., Xumo) and click play.
To open your channel list, go to View, and click Playlist.
Use ExpressVPN With IPTV Today
Start Watching Live TV Using IPTV Now
To access your IPTV account while traveling abroad, you need a VPN with a global network of fast servers. All the VPNs on my list are great at accessing IPTV providers worldwide and are easy to use.
I highly recommend ExpressVPN for watching live TV on IPTV because it's ideal for buffer-free streaming with its super-fast speeds and vast server network. You can even try ExpressVPN risk-free. It is backed by a 30-day money-back guarantee. So, if you find it's not the best fit, you can ask for a full refund.
To summarize, the best VPNs for watching IPTV are…
Privacy Alert!
Your data is exposed to the websites you visit!
The information above can be used to track you, target you for ads, and monitor what you do online.
VPNs can help you hide this information from websites so that you are protected at all times. We recommend ExpressVPN — the #1 VPN out of over 350 providers we've tested. It has military-grade encryption and privacy features that will ensure your digital security, plus — it's currently offering 49% off.