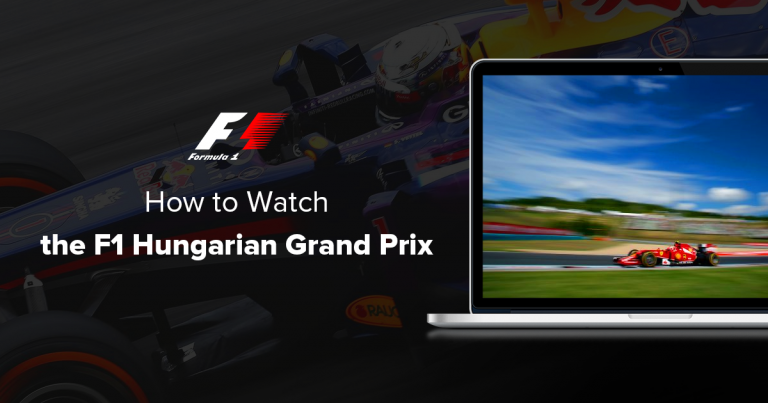 How to Watch the F1 Hungarian Grand Prix for FREE
Updated on 23rd July 2021
The 2018 F1 Grand Prix season has been full of action, and as it moves into the next race at the Hungaroring in Budapest, there are just 8 championship points between the top two drivers.
Historically, the top spot at the 70 lap Hungarian Grand Prix has gone to Lewis Hamilton, who has won the race more times than any other driver. However, much depends on the race strategy of the teams and the potential appearance of the safety car during the race.
Racing starts with Free Practice One on Friday, July 27, with the race itself taking place on Sunday, July 29. But, if you are not lucky enough to have tickets to the event, how else can you watch Sebastian Vettel and Lewis Hamilton battle for track supremacy?
Several major networks will be broadcasting the entire race weekend live – NBC in the US, Sky Sports in the UK, Foxtel in Asia and Australia and BeIN Sports in Africa and the Middle East. But your access depends on where you are situated, and some of these channels are pay-to-view or subscription services.
So, is it possible to watch the F1 Hungarian Grand Prix for free? The answer is yes, it is, if you have access to RTL.
How to Watch the F1 Hungarian Grand Prix with a VPN in 3 Simple Steps
Choose a VPN with servers in Germany and fast speeds for streaming.
Install the VPN and connect to a German server.
Go to RTL, watch, and enjoy the race.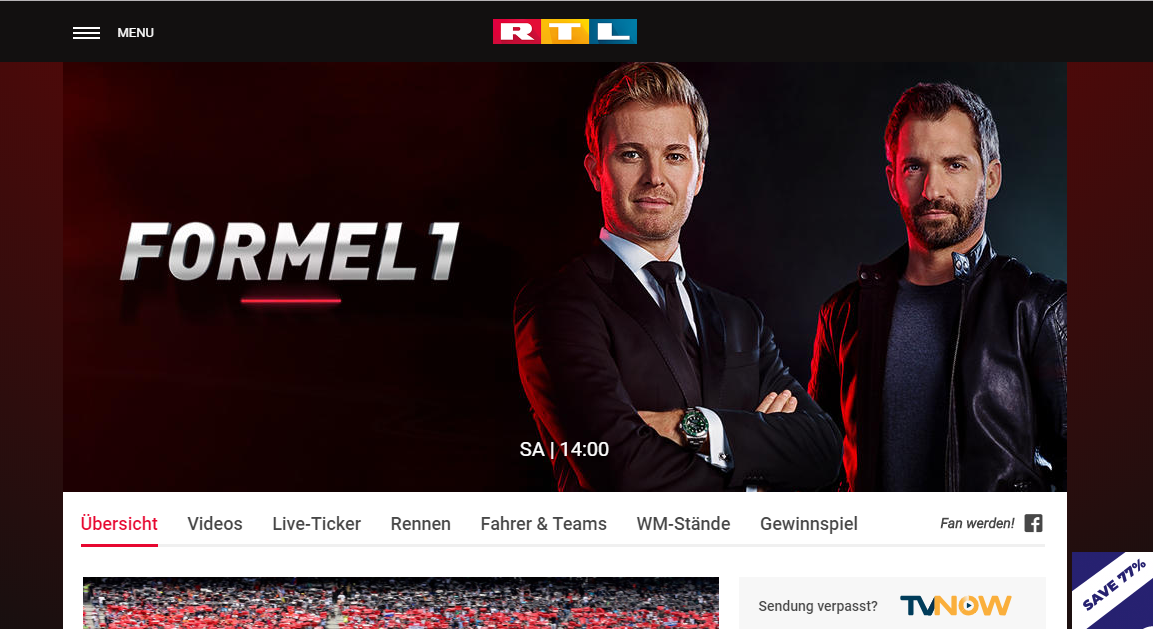 Why You Need a VPN to Watch the F1 Hungarian Grand Prix on RTL
RTL is a German free-to-view channel that is broadcasting the entire F1 Grand Prix season – every practice session, every qualifying lap, and every race. But there's one problem: while you can watch the back catalog from anywhere, if you want to watch live streamed content on the site, you need to be in Germany.
If you try to play live streams from outside Germany, they simply do not work.
Luckily, that is where a VPN can help. A VPN changes your IP address, making it seem like you are in a completely different location. It does this by routing your connection securely through a different server. It also keeps you safe, protecting you from the risk of hacking or data mining.
Whether you want to watch the F1 Hungarian Grand Prix through a paid channel in a different region, or access RTL and watch the race for free, a VPN is the solution.
You need to make sure to choose a VPN that has server locations in Germany and can offer fast enough speeds for streaming content, a stable connection, and excellent encryption. That is why we recommend using CyberGhost, which offer you access to over 300 servers in Germany.
Choosing a VPN (and How to Get a Premium VPN for Free)
A VPN is the perfect way to create a secure and private online connection that allows you to access geo-restricted content and channels, such as RTL. But with so many VPNs available on the market, how do you know which is the best for watching the Hungarian F1 Grand Prix?
It's important to choose a VPN that suits your individual needs. To stream the Hungarian F1 Grand Prix live, you need a VPN that provides a stable connection and good speeds. More importantly, however, you need a VPN that can bypass geo-blocks.
While in theory, all VPNs can bypass geo-blocks, some providers are finding new ways of recognizing when a VPN is being used and blocking the connection. You need a VPN that can keep up with this technology and find new ways to bypass the blocks.
Once you have your shortlist of VPNs, it can be tempting to choose lower costs over quality. While there are some very cost-effective VPNs available that provide excellent value for your money, we always recommend that you avoid free VPNs.
Free-to-use VPNs still need to make money. Unless they charge a subscription fee or rely on generous donations, they'll have to make money from advertising or from using your data. The top free VPNs are open about their data usage policies and their approach to advertising, however, there is still a serious risk to your data.
The good news is that many paid VPNs are quite affordable – and not only that, but in some cases, you can access their high-quality services for free.
Simply choose a VPN that offers either a free trial or a money-back guarantee. With a free trial, you sign up, watch the race, and then cancel before the end of the free trial period. With a money-back guarantee, you take the same approach, but ask to get your money back when you cancel within the allowed time limit.
However, once you experience the improved security and privacy a high-quality VPN can give you, not to mention the easy access to geo-restricted content, you just might want to continue and pay for the subscription. If this is the case, then with most providers, you can reduce your costs further by signing up for a longer subscription period.
You can also check out our deals page to get some great discounts.
Top 4 VPNs for Watching the F1 Hungarian Grand Prix
Here are our top VPNs that can provide access to the F1 Hungarian Grand Prix, while also providing you with great data security and privacy online.
CyberGhost is a stable and reliable VPN that offers good speeds, which can bypass geo-blocks successfully. It has a network of over 7,004 servers, including 303 in Germany.
Additionally, CyberGhost takes security and privacy seriously with 256-bit AES encryption, DNS leak protection, a kill switch, and a no-logging policy. Users also benefit from seven simultaneous connections and a range of protocols, including OpenVPN, PPTP, and L2TP/IPsec.
If you sign up via an Android or iOS device you get a 7-day free trial, but all users have access to the vendor's 45-day money-back guarantee.
Speed is one of the main benefits of using ExpressVPN, along with its ability to circumvent geo-blocks. It has 4 server locations within Germany, offers 5 simultaneous connections per subscription, and a 30-day money-back guarantee.
It's also secure and offers split tunneling, DNS/IPv6 leak protection, 256-bit AES encryption, and a kill switch.
Its stable and secure connections have no bandwidth or download usage restrictions and the vendor has a strict no-logging policy. Plus, ExpressVPN is simple to set up and is ready to use within minutes.
PIA offers reliable speeds, unlimited bandwidth, 10 simultaneous connections, and plenty of configurable settings; making it one of the most user-friendly and affordable VPNs available that can also bypass geo-blocks.
It has over 35,550 servers across the globe, including 35,550 servers across 2 locations in Germany.
Connections are secured with either 128-bit or 256-bit AES encryption, and benefit from IPv6 leak protection, a kill switch and ad blocker, and a strict no-logging policy.
PIA does offer a money back guarantee, but only for 30 days – however, this should be long enough to test the service over the Grand Prix weekend.
For a straightforward and reliable VPN that is easy to navigate and provides the stability, security, and speed you need to stream content, try PrivateVPN. It offers 3 servers in Germany and its connections are secured with 2048-bit AES encryption.
Users benefit from having no download or bandwidth limits, access to a range of protocols, and free remote help.
PrivateVPN offers you 6 simultaneous connections and a 30-day money-back guarantee, but if you request a refund, you'll be asked to give a reason.
The right VPN can offer you a world of possibilities, from better protection from hackers, viruses, and government surveillance, to access to live sports and entertainment from across the globe. If you are still unsure whether a VPN is right for you, visit our guide to VPNs. To explore further VPN options, look at our top 10 picks here.
To summarize, the best VPNs to watch the F1 Hungarian Grand Prix from anywhere in 2021 are…
Privacy Alert!
Your data is exposed to the websites you visit!
The information above can be used to track you, target you for ads, and monitor what you do online.
VPNs can help you hide this information from websites so that you are protected at all times. We recommend ExpressVPN — the #1 VPN out of over 350 providers we've tested. It has military-grade encryption and privacy features that will ensure your digital security, plus — it's currently offering 49% off.