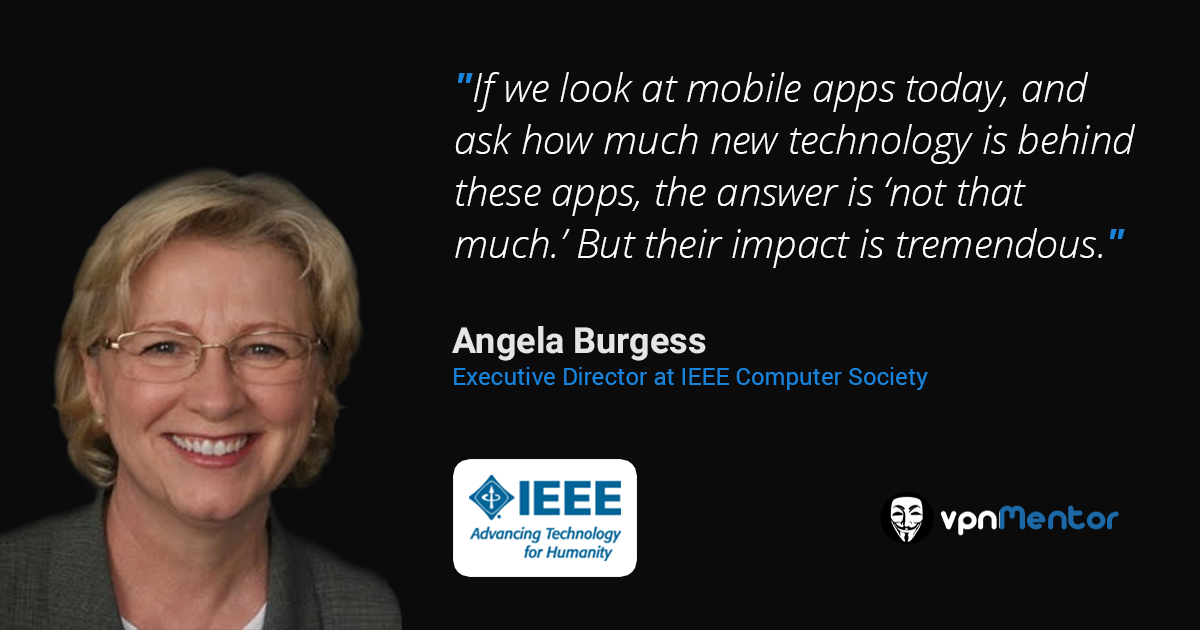 IEEE Computer Society – It is Not Just About the Technology
The IEEE is the world's largest technical professional organization for the advancement of technology and its Computer Society is the largest society within the IEEE. The fields of interest of its members cover all major areas of computing and information technology, including computer hardware, software, multimedia, IT, security, networking, mobile computing, and other areas.
Two areas that have gained significant popularity and importance over the past 15 years are security and privacy. We were fortunate to be able to have a chat with the Executive Director of the IEEE Computer Society, Angela Burgess, to discuss security, privacy, and their impact on the future of technology.
Please tell me a little bit about yourself and your background.
My background and training is in journalism. After only a few years, I joined the IEEE Computer Society and then I became the Executive Director ten years ago.
What exactly is the IEEE? What are its goals? How does the Computer Society fit into that?
The IEEE is the Institute of Electrical and Electronics Engineers. It is the world's largest technical professional society and is a non-profit organization dedicated to directly serving its members. The IEEE consists of many different communities. The Computer Society deals with the community of computing professionals and does so through publications, conferences, and standards.
How many active members do you have today? Where are they mainly located?
The IEEE as a whole has about 425,000 members. The Computer Society is the largest society within the IEEE with about 60,000 members. All of our members are located across the globe.
You were previously very involved in the publications of the IEEE Computer Society, first as the Executive Editor and then as the Publisher. What were your major objectives in those positions?
Yes, I came up through the IEEE organization, starting as the executive editor and then as the overall publisher for the Computer Society. When I started 20 years ago, we felt that we needed to broaden our coverage areas and produce publications in newer areas of technology. The two major publications that came out of that awareness were the ITProfessional and the Security & Privacy magazine. Both of those publications have continued to be very popular with our members. The next big challenge was addressing the digital revolution - specifically, how do we manage online publications. Although we have come a long way in this area, it is still a work in progress.
The IEEE Computer Society sounds like it does a lot of the same things as the ACM (Association for Computing Machinery). Do you see them as competitors?
On one hand, there is certainly some competition between us, but on the other hand, we often partner with them on an opportunistic basis. Some of the activities in which we will work together include:
Conferences
Publications
Curriculum Development (for Computer Science programs)
I think it is fair and accurate to say that in general, the ACM is more academic and more involved in the technologies and details (e.g. algorithms), while the IEEE is more "practical" and focused on building things. After all, our members are engineers.
The IEEE Computer Society has a magazine dedicated to security and privacy. What can you tell me about that publication?
There is a very interesting back story to that publication. It was originally proposed in the year 2000 and was working its way through the approval process. But then, September 11 happened and there was suddenly a much greater sense of urgency. The approval process was accelerated and it actually began its life in 2001 as a supplement to our Computer magazine, just so we could get it out there as quickly as possible. It was formally launched as an independent publication in 2002. The Security & Privacy magazine has consistently maintained a very high level of quality and has turned out to be one of our most popular publications. It covers a broad range of related topics, including security, liability, and patentability. It presents information in various different formats, such as:
Research Papers
Case Studies
Tutorials
Columns
In this way, there is always something for everyone in the magazine.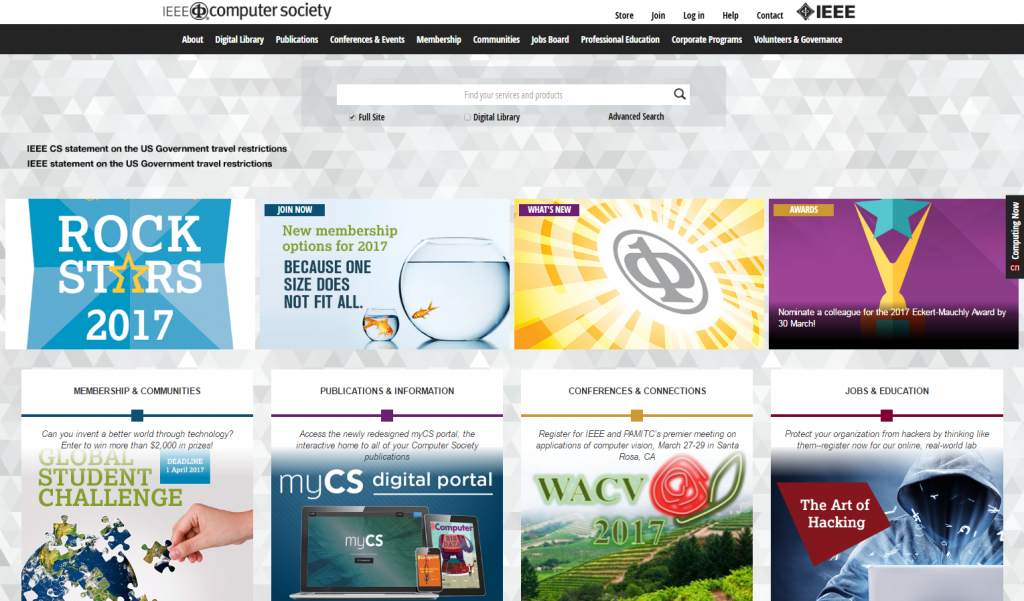 You also have an annual symposium on security and privacy. How many attendees does it usually attract? What specific topics are usually addressed?
The IEEE Symposium on Security and Privacy is really one of our crown jewels in terms of conferences. We have already scheduled and secured a location through 2021. We normally attract (and limit it to) 600 attendees. The conference is considered one of the best places for researchers to publish their work in the fields of malware, usability, cryptology, mobile security, and many other related topics. The acceptance rate for proposed papers/presentations is unusually low – in the teens – due to both the popularity of the conference and the high standard of quality that has been established.
How do you see security and privacy issues and policies evolving in the coming years?
We are very involved in policy issues - not just technology for technology'r sake. This is reflected in the IEEE's tag line: Advancing Technology for Humanity I am very involved in the IEEE's Cyber Security Initiative, which is an umbrella of publications and conferences across all IEEE members. In general, governments have a hard time keeping up with the extremely fast pace of technology, so they will try to focus on the protection of their citizens right now, rather than trying to deal with what will happen next. On the other hand, technology companies must be more active in governance and policies, since they are the ones that are hands-on and do know what is coming in the future. To this end, the IEEE is working to help companies build in security from the very beginning of their designs. For example, we have developed this very practical guidelines document, Avoiding the Top 10 Software Security Design Flaws. At the end of the day, governments and industry must work together on security and privacy.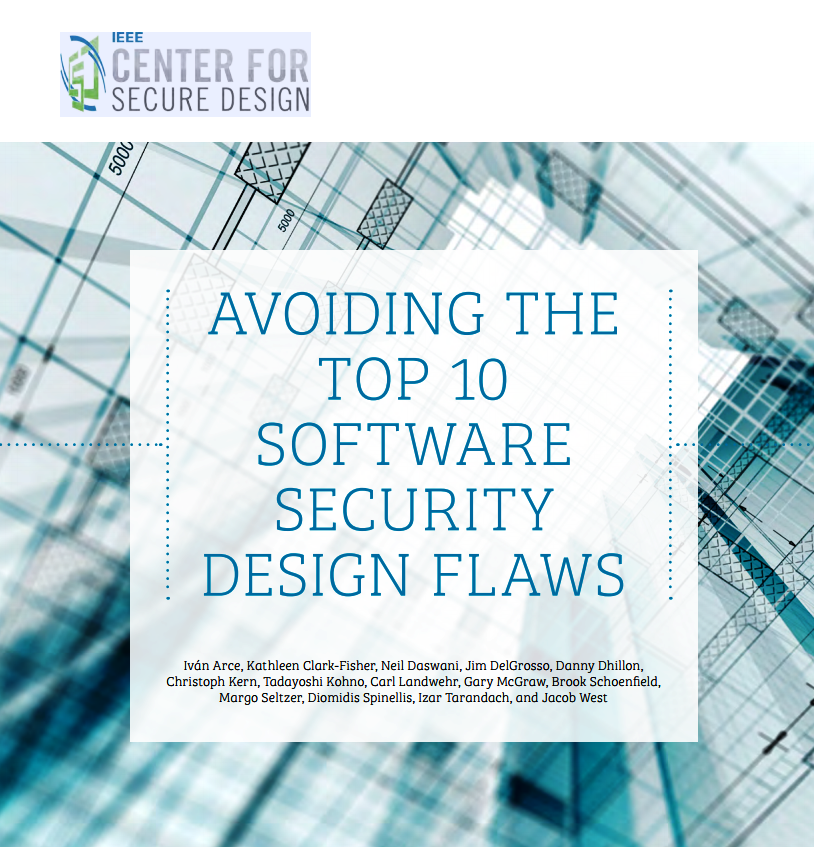 Why effect, if any, is cloud computing having on security and privacy?
Cloud computing essentially comes down to data storage and how different cloud computing elements interoperate. This means that everything in the cloud - just like any other technology - must be wrapped with security and privacy protection. We are working on developing guidelines for building clouds and cloud applications that minimize their vulnerability.
The IEEE places a lot of emphasis on students and education. If you were asked to give the graduation address to the class of 2017, what would be your message to them?
I really love this question! I spend a lot of time talking to students, all around the world. I emphasize the importance of ethical design in the future. It is not just about the technology. The questions we need to be asking going forward are not just about the technologies or what can the software can do. We need to be asking what should the software do and how should it do it. If we look at mobile apps today, and ask how much new technology is behind these apps, the answer is "not that much." But their impact is tremendous. The same is true about future technologies and developments. The real issues are with the impact, not with the technologies. Today's graduating engineers, unlike any other previous generation, will be working and living in a global community and economy and will be required to think beyond their local community.
How many hours a day do you normally work? What do you like to do when you are not working?
I usually work 10 hours a day and sometimes a little bit over the weekend. I love spending time with my husband and pets (at least as much as my husband...). My husband and I enjoy travelling together and are fortunate to be able to do quite a bit of it.