How to Get An IPVanish Lifetime Subscription Deal (2023)
Lifetime VPN subscriptions look like a phenomenal deal, one fee for a lifetime of secure online access. So, does IPVanish offer users this amazing option? No, it doesn't and with good reason.
If it seems too good to be true, that's because it is. Lifetime subscriptions come riddled with issues, the least of which is just defining what a lifetime deal means.
A premium VPN like IPVanish is too responsible to offer a lifetime subscription. Keep reading to see how IPVanish offers you better security, server selection, and stability without a lifetime subscription.
Get A Safe, Long-Term IPVanish Subscription
What Is A Lifetime Subscription, Why Do VPNs Offer Them?
A lifetime subscription includes paying often hundreds of dollars to get a VPN that you can use for the rest of your life without ever paying another premium.
It seems like a bad deal for the VPN, so why do services offer this type of plan? Well, in short, the VPN company gets a lot of money right away, effectively destroying its opportunity for long-term revenue.
While that's great for the VPN short-term, it can lead to bankruptcy for the company and account cancellation for the user. At the bare minimum, the VPN goes without crucial updates, new server locations, or even general maintenance.
Get Started With IPVanish Now!
What Are The Problems With A Lifetime VPN?
A lifetime VPN subscription isn't common anymore, most legitimate VPNs either never offered one or quit offering one. The lifetime offer meant users could pay a more expensive subscription fire, in exchange for lifetime use of the VPN. It sounds great right? Not so much, there are several pitfalls to keep in mind when it comes to lifetime subscriptions to VPNs.
Defining A Lifetime
One of the main issues with lifetime VPN subscriptions is that lifetime can mean anything depending on which service you choose. It can mean the life of the VPN service, user lifetime, a set amount of time determined by the company, there is no set standard.
Account Cancellation
A VPN can choose to end the lifetime subscription option and may not offer a refund or allow you to roll that payment into a new plan. That leaves you without a VPN, and out the money you spent on the subscription.
Outdated Service
If everyone buys the lifetime subscription, how will the service maintain itself? Eventually, that money runs out and you'll have to go looking for a new VPN or deal with the ill-maintained version of the one you subscribed to.
Paying a monthly subscription fee may seem like a pain and yearly and 3-year plans can cost a significant amount but those fees pay to upgrade, update, and do general maintenance on the service. That includes adding more server locations, new security features, and even innovative new protocols and technologies that help protect your privacy. Without those subscription fees, you could end up with a VPN with unstable servers and security holes.
Compromised Privacy
Without the updates and security patches that keep a VPN operating smoothly, it's vulnerable to malware and phishing attacks. Servers will become easier to compromise and that can put your private data at risk. Even if the lifetime VPN you chose had a no-logs policy, a lack of maintenance could put your email, true location, or payment information up for grabs.
Choose A Safe Subscription Plan From IPVanish!
What Length IPVanish Subscription Should I Buy?
IPVanish offers monthly and yearly options for its VPN and VPN + Storage plans. Both the yearly VPN and the VPN + Storage plans come with a 30-day money-back guarantee for first-time users, so you can purchase risk-free.
One-year plans give you the best price and are the most popular, mainly because those plans are backed by a money-back guarantee. That said, the monthly plan can be a great option for those of you who may only need a VPN for a short period.
Okay, No Lifetime Plan - What Does IPVanish Offer?
IPVanish has several available plans, suitable for a variety of users. All plans come with unlimited data, speed, and bandwidth. Monthly and yearly plans can be canceled at any time and support is available 24/7 if you have questions regarding the service, plans, or money-back guarantee.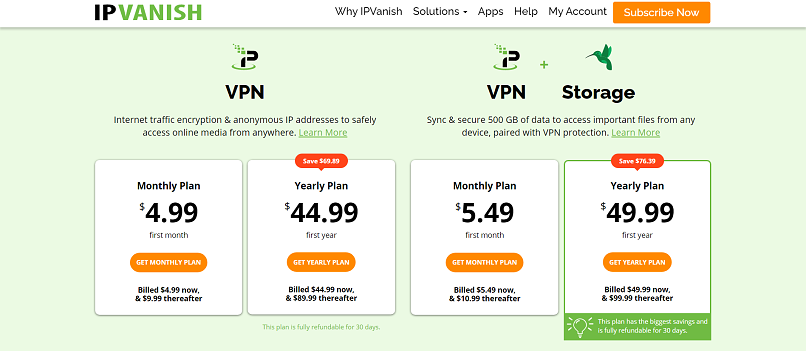 Is IPVanish Worth the Subscription Price?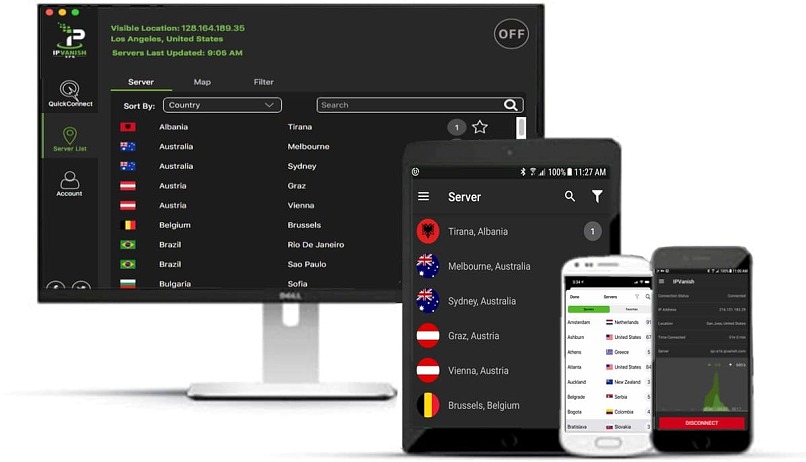 Editor's Choice
Editor's Choice

Tested February 2023
Try Risk-Free for 30 Days
www.IPVanishVPN.com
2,000 servers in 75 countries
Unlimited devices per license
30-day money-back guarantee
Works with: Ziggo GO, DAZN, Netflix US, Vudu, HBO, Hotstar, SlingTV, and more
Compatible with: Windows, iOS, Mac, Android, Linux, Chrome, and more
IPVanish offers 2,000+ servers in 75 countries, great for accessing local content abroad. It can help you bypass georestrictions and get access to your Netflix, Sling TV, and Hulu accounts from virtually anywhere in the world.
It uses 256-bit AES encryption to protect your data as it travels over the internet and OpenVPN protocol to offer both speed and security for streaming. IPVanish also includes DNS leak protection to prevent snoops from accessing your DNS requests and a kill switch that disconnects you from the internet if the VPN fails.
IPVanish offers online storage through SugarSync for an extra fee, which makes it easy to organize, store, share, and even delete documents and photos from anywhere. No need to carry around a memory stick, card, or external HD while on vacation either, you get 500GB of storage to work with.
You can use one license on up to Unlimited devices simultaneously and it covers most major devices, including Fire TV. First-time yearly subscribers also get a risk-free 30-day money-back guarantee, so you can see why IPVanish is a reader favorite.
Get Started With IPVanish Today!
Bottom Line
Lifetime VPN subscriptions aren't the "great deal" they appear to be, you could be putting your security and privacy at risk. You would be much better off using a monthly or yearly IPVanish subscription. That way you'll know that critical security updates and server maintenance are being performed regularly, so your devices and privacy are protected.
FAQs
Does IPVanish VPN have the fastest server speeds?
No. While IPVanish offers fast speeds and reliable servers, it isn't the fastest on the market. Our current favorite for blazing-fast speeds is ExpressVPN. Its new protocol Lightway offers both speed and security for streaming, giving you a stronger and more reliable connection.
What happens if I contact support for a refund outside the 30-day guarantee window?
It depends, IPVanish decides those instances on a case-by-case basis. There is no guarantee that it will offer you a refund if you go outside of the guarantee window. The best thing to do is contact customer support and give a detailed explanation of why you want a refund outside the window, and be prepared to hear no if the reason isn't app function related.
Why isn't there a money-back guarantee for the monthly subscription?
While some premium VPNs do offer a money-back guarantee on monthly plans, the monthly IPVanish subscription is already extremely affordable at under $5.
If you still want a deal, you can check out our IPVanish coupon page for the latest discounts on monthly plans.
Privacy Alert!
Your data is exposed to the websites you visit!
The information above can be used to track you, target you for ads, and monitor what you do online.
VPNs can help you hide this information from websites so that you are protected at all times. We recommend ExpressVPN — the #1 VPN out of over 350 providers we've tested. It has military-grade encryption and privacy features that will ensure your digital security, plus — it's currently offering 49% off.