Opera VPN Not Working in January 2023? Try These Quick & Easy Fixes
Opera VPN is known to have several problems. I've come across connection dropouts, slow speeds, security issues, and servers that are blocked by many online platforms (like Netflix US).
Tired of all these problems, I found out how to fix the most common issues with Opera VPN — and found alternative VPNs that are more reliable. So, if none of the solutions work for you, you have some other VPNs to choose from. Unlike Opera VPN, all of my recommended services easily bypass global geo-restrictions and keep your private data safe.
ExpressVPN is the best substitute for Opera VPN. It offers a vast network of lightning-fast servers to let you access worldwide content from anywhere. Plus, it can safeguard your data with advanced security features. You can try ExpressVPN without risk (it's backed by a trustworthy 30-day money-back guarantee).
Get the Best Opera VPN Alternative
How to Get Opera VPN to Work on Your Device
Diagnosing connection problems with Opera VPN is often tricky. You can't contact 24/7 live support to fix your issues, as with other reliable VPNs like ExpressVPN. However, here are some things you can try if Opera VPN isn't working.
1. Switch the VPN on and off
Restarting the VPN is the first thing you should do, as this can fix some connection issues. Just toggle "Enable VPN" on and off. You can also try refreshing the browser or quitting Opera entirely, relaunching it, and then turning the VPN back on.
Note: If you're using Opera (including the VPN Pro version) on an Android device, the same applies. Relaunching the Opera app may help resolve any problems.
2. Test your network or restart your router
Check your internet connection is working by accessing the internet on different devices and browsers. If websites don't load, the problem might be with your network. Sometimes it helps to disconnect and reconnect your devices to the internet. You may also restart your router to get Opera VPN to work or run a speed test to make sure your base connection isn't slow.
3. Try other server locations
Switching to a different server can help as you may have come across an Opera VPN server that's faulty or undergoing maintenance. Sometimes, servers can slow down or stop working if they get too overcrowded. I've found that choosing countries far from your real location can also make your speeds too slow to maintain a stable connection.
If you're using the free version of Opera's built-in VPN, it doesn't offer a server list like other VPNs (you can only select regions unless you upgrade to the paid Pro plan). In this case, try switching between different regions several times to find a working server. If you don't mind which region you connect to, try Opera's "Optimal location" setting to get the best nearby server.
4. Check if you're using multiple VPNs simultaneously
If you have another VPN enabled, it can conflict with Opera VPN. Likewise, some ad blockers create a local VPN that routes all traffic from your network. So, try disabling all VPN apps and ad blockers to get Opera VPN working.
5. Turn off your firewall and antivirus software
Your antivirus or firewall may mistake Opera VPN for malware, blocking it with a "Web Shield" or "Web antivirus" feature. Try temporarily disabling your malware protection, like AVG AntiVirus or Windows Defender Firewall, to see if it's the cause of your connection issues. If that turns out to be a problem, you can disable HTTPS scanning options or whitelist the Opera app for your firewalls or antivirus software. Here's how to whitelist Opera:
Windows firewall:
Open the Control Panel.
Select "System and Security".
Go to "Windows Defender Firewall".
Click on "Allow an app or feature through Windows Defender Firewall."
Check the boxes for "Public" and "Private" next to the Opera app.
Mac firewall:
Open System Preferences.
Select "Security & Privacy."
Go to the "Firewall" tab.
Click on "Firewall Options" (you may need to unlock this option by entering your Mac account credentials).
Press "Add" and select Opera.
Other software:
Third-party antivirus applications usually have an "Exceptions" or "Whitelist" tab in their settings.
Add Opera to the list of trusted apps in the appropriate section.
6. Disable browser extensions
Some browser extensions can conflict with Opera VPN, like the browser's built-in Ad Blocker (which is automatically enabled). I recommend disabling all extensions to see if it solves your problem. If this works, you should then turn each extension off one by one until you find the one that's causing connection issues.
To disable your extensions in the Opera browser:
Click on the "Opera Menu" button.
Under the "Extensions" tab, click "Extensions."
Click "Disable" on the extension.
7. Check your settings
Opera's browser settings may prevent its VPN from working. For example, you may have accidentally activated the mode that enables the VPN only for private tabs. Additionally, you should toggle the Data Savings mode off, as this automatically terminates the VPN connection.
8. Update your Opera browser
It's possible you can't connect due to a bug. So, you should install the latest Opera browser version (and make sure you download it from a verified source). Desktop users can update from the "Update and Recovery" settings, while Android users can download the newest version from the Google Play store. You can also try fully deleting and reinstalling your app.
Alternatively, roll back to the previous version if the VPN stopped working after the latest update. You can find old desktop versions of the Opera browser from the official website.
Android users can find old versions of the app on platforms like APKMirror. Just download an.apk file and click on it to install the app on your device. Always be careful when downloading APKs from unknown sources.
9. Clear cookies and cache
Clearing your cookies can help you access some services. Websites often store cookies on your computer to retain your information for future visits (so you don't have to log in every time, for example). The problem is that cookies sometimes store your location data too, which can help a website see your real location even if you're using a VPN.
To clear your cookies in the Opera browser:
Go to "Settings".
Select the "Privacy & Security" tab.
Find the "Cookies and other site data" tab.
Click "See all cookies and site data".
Click "Remove all".
Clearing cookies from Opera has the additional benefit of making the browser faster and clearing space on your drive.
10. Contact your ISP
ISPs can block some VPN IP addresses. Networks in countries like China or Saudi Arabia specifically block IPs associated with VPNs and proxies.
This is a big problem for Opera's free VPN, as its server network is small, meaning it doesn't have many IP addresses to offer in the first place. If you find yourself repeatedly blocked from certain sites, contact your ISP to check whether it permits Opera VPN traffic on its network.
Opera VPN Issues You Can't Fix
Unfortunately, there's little you can do to get Opera VPN working with most streaming sites. Free users can't choose servers in specific countries, which makes unblocking international content difficult. I couldn't get Opera to unblock Netflix US, or any other region.
Even upgrading to a Pro account didn't help me bypass geo-blocks on many sites. HBO Max, Amazon Prime Video, and Disney+ recognized I was using a VPN and blocked me completely. No amount of tips or hacks could fix the problem.
Even if you happen upon a server that unblocks a streaming site, the VPN's speeds are also usually too slow for streaming. On most of the regions I tested, I experienced huge slowdowns on many Opera VPN servers.
In the America region, Opera VPN reduced my base connection of 94 Mbps to 5 Mbps — that's a 95% decrease. Only the nearby European location gave me adequate speeds. Such unstable results mean that streaming most region-locked content is nearly impossible.
Not only that, but the VPN only covers your browser traffic as well. Unlike VPNs that reroute all your device's traffic via a secure tunnel, Opera's VPN is essentially a browser extension and only protects your browser's web traffic. That means you can't use the Opera VPN to bypass geoblocks in standalone streaming apps or use torrenting clients safely.
While it does have top-grade encryption (AES 256-bit), Opera's browser-based VPN isn't the most secure service either. It doesn't provide advanced tunneling protocols. It also lacks a kill switch feature (this terminates your traffic if the VPN ever drops, preventing your online activity and real location from being leaked). So you can accidentally expose your data while browsing.
Additionally, Opera doesn't have a clear no-logs policy. While the VPN claims not to log your online activity or IP address, the browser is a different story. As written in its ToS, it can share your data with ad networks and other companies for marketing purposes.
Try the Best Opera VPN Alternative
3 Alternatives to Opera VPN That Work and Are Safe to Use
Unlike Opera's VPN service, all these services easily bypass geoblocks thanks to their worldwide networks — and they let you choose specific servers in different countries and cities. They all have super-fast servers to let you stream, torrent, and game without lag or delays.
Each of these services also protects your privacy with advanced encryption, strong security features, and clear zero-logs policies. Plus, they have responsive customer support if you need assistance setting up or using them on your device. What's more, you can try them without risking your money, as they offer trustworthy money-back guarantees.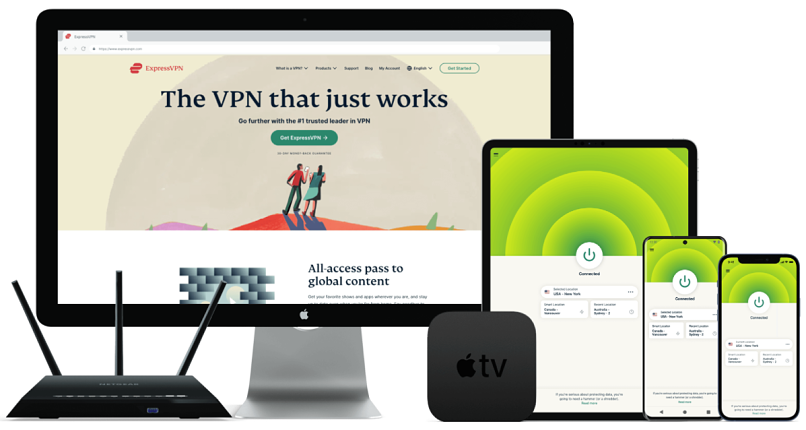 Editor's Choice
Editor's Choice

Tested January 2023
Try Risk-Free for 30 Days
Available on:
Chrome
Router
Smart TV
More
www.ExpressVPN.com
3,000 servers in 94 countries to bypass geoblocks around the globe
Military-grade encryption and RAM-only servers to safeguard your private data
5 connections to cover all your devices
Can unblock: Netflix, Disney+, ESPN+, HBO Max, Amazon Prime Video, Hulu, Vudu, BBC iPlayer, and more
Compatible with: Windows, Mac, iOS, Android, Linux, Chrome, Firefox, routers, and more
Watch your favorite shows without lag, thanks to ExpressVPN's fast servers and protocols. All VPNs can be expected to lower speeds somewhat, as they reroute and encrypt your traffic. However, my speed hardly changed when testing ExpressVPN's US servers — it went from 94 to 79 Mbps. Even on faraway servers, my connection remained above 60 Mbps. These speeds are perfect for UHD streaming (which only requires 25 Mbps).
The vast network lets you access online services in over 94 countries. The obfuscation feature cleverly masks your VPN traffic as regular traffic, so you can bypass even the most sophisticated VPN blocks. I easily streamed Shameless (US) from my Netflix US account from abroad. I was also able to unblock Amazon Prime Video, HBO Max, and Disney+ — something you can't do with Opera VPN.
Similarly, this service works across your device, instead of just protecting your browser traffic. It supports P2P connections, meaning you can safely use it for torrenting clients. Plus, it doesn't limit your bandwidth, allowing you to download as many files as you want.
The split tunneling feature also lets you select which apps go through the VPN tunnel while other apps use your regular IP address. This let me safely download files using the VPN in the background while playing Battlefield 2042 with low ping on my closest game server.
Your traffic is kept safe from hackers with top-grade security protocols, like Lightway and OpenVPN. I use Lightway for streaming, as it offers super-fast speeds while keeping your data safe. OpenVPN gives you even more security, making it perfect for online shopping or managing your PayPal account while on public WiFi. ExpressVPN also protects your privacy with military-grade encryption (AES 256-bit).
Perfect Forward Secrecy changes your encryption keys for every session too, meaning hackers can't decipher all your information even if they steal one key. You're also protected from accidental data leaks by a kill switch (Network Lock). It automatically cuts your internet connection if the VPN goes down (although my VPN connection was always stable during testing). I didn't detect any IP/DNS/WebRTC leaks either.
An audited no-logs policy means the provider doesn't share your private information with third parties. ExpressVPN is headquartered on the privacy-friendly British Islands — outside the 5/9/14 Eyes Alliances (an international intelligence sharing agreement). Your activity logs aren't stored on servers, either. Instead, this VPN has RAM-only servers with TrustedServer technology that deletes your data with each reboot.
All the desktop and mobile apps are beginner-friendly and available in multiple languages. I used the MediaStreamer (SmartDNS) to bypass geoblocks on devices that don't support VPNs, including my PS5. The VPN also has custom software for routers to cover your whole network. The official website has numerous tutorials and troubleshooting guides. Plus, unlike Opera VPN, there's a 24/7 live chat for quick help.
On the downside, the subscriptions are pretty expensive (the most wallet-friendly plan starts at $6.67/month). That said, ExpressVPN frequently offers generous discounts. I got the 12-month subscription with 49% off and 3 extra months for free.
Getting your money back is easy if you're not satisfied, thanks to the 30-day refund policy. I spent less than 5 minutes canceling my subscription via the live chat. In just 2 days, my money was back in my bank account.
Specialized servers that unblock streaming services around the world in UHD
7 simultaneous connections to secure multiple devices
Automatic WiFi protection and built-in blockers to prevent trackers and pop-ups
Can unblock: Netflix, Disney+, ESPN+, HBO Max, Amazon Prime Video, Hulu, Vudu, BBC iPlayer, and more
Compatible with: Windows, Mac, iOS, Android, Linux, Chrome, Firefox, routers, and more
CyberGhost has optimized servers that unblock streaming platforms like Netflix US, BBC iPlayer, Hulu, Disney+, and more. I watched The Capture on BBC iPlayer without problems. Servers are listed according to which platform is unblocks, making it easy to find the right one (rather than relying on Opera's regions). In all, there are 9,758 servers across 91 countries.
I recorded speeds above 70 Mbps on the servers in New York and over 60 Mbps while connected to London. This meant I never experienced buffering while testing CyberGhost's servers. This VPN also has unrestricted bandwidth, meaning you can download and stream without limits. Plus, it supports P2P connections for speedy torrenting.
The built-in ad blocker prevents trackers and dodgy pop-ups on websites, which worked flawlessly on Yahoo News for me. Like ExpressVPN, this provider safeguards your data with AES 256-bit encryption and Perfect Forward Secrecy. It also offers multiple security protocols you won't find with Opera, including the mobile-friendly IKEv2, speed-focused WireGuard, and balanced OpenVPN.
The VPN is based in Romania — outside of the 5/9/14 Eyes Alliances. It also protects your data with a strict zero-logs policy, kill switch, and IP/DNS leak protection. Another helpful feature is the automatic WiFi protection that launches the VPN on unknown networks. It ensures I don't forget to protect my data on public hotspots. For a small fee, you can also use super-secure NoSpy servers managed solely by the VPN team.
Even VPN beginners can easily master CyberGhost's intuitive apps. You can connect to the fastest nearby server with a single click. The guides on the official website help navigate through the advanced security features too. I tested the 24/7 live chat support and received an immediate response.
All subscriptions have the same features, but the monthly ones are expensive and have a limited 14-day refund policy. The long-term plans are the most wallet-friendly at $2.19/month and have an extended money-back guarantee. I signed up for the 3-year option for the best value.
You can try CyberGhost for free with its 45-day money-back guarantee. The refund process isn't complicated — I used email to cancel and my PayPal account was reimbursed 4 days later.
Privately-owned network and a strict no-logs policy protect your private information
29,650 servers in 84 countries for easy unblocking
10 connections to protect your devices
Can unblock: Netflix, Disney+, ESPN+, HBO Max, Amazon Prime Video, Hulu, Vudu, BBC iPlayer, and more
Compatible with: Windows, Mac, iOS, Android, Linux, Opera, Chrome, Firefox, routers, and more
PIA's high-grade encryption and tunneling protocols protect all traffic on your devices. The apps use the fast (but secure) 128-bit AES encryption by default, but you can enable 256-bit AES encryption for maximum security. I used AES 128-bit and WireGuard to torrent, while AES 256-bit and OpenVPN let me securely access my banking apps. The MACE feature also prevents annoying ads and trackers (it works like CyberGhost's blocker).
I ran IPv6/DNS/WebRTC leak tests and PIA passed all of them. Thanks to a reliable kill switch, your data is safe from accidental exposure too. Unlike Opera VPN, the provider also has a strict no-logs policy so your personally identifiable information is never shared. Additionally, the VPN's employees manage its entire network to prevent third-party interference.
Accessing your favorite content is easy. The vast network can bypass geoblocks on all major streaming sites. For example, I watched The Boys on my Amazon Prime Video account while outside the US.
My connection clocked at 62 Mbps on the US servers too. Such fast speeds let you stream in 4K and play online games comfortably. You also get uncapped bandwidth and P2P support, meaning you can torrent as many files as you want.
My only concern about PIA is that its multiple settings can be too much for VPN beginners. Still, the apps offer pre-configured profiles, so you can use them immediately without extra setup. I never had technical issues with PIA, but support is available 24/7 via a live chat if you have any questions. There are also multiple tutorials about the VPN's features on the website.
The prices are very budget-friendly — you can get the most affordable plan for only $2.19/month. I chose the yearly subscription, as it provides the best value for money.
To top it off, you can also try PIA for free with its 30-day money-back guarantee. I used the website's dashboard to cancel and contacted support via live chat for a refund. The process was effortless, and I got my payment back on my Visa card within a week.
FAQs on Opera VPN
Why does Opera VPN keep disconnecting?
You may have connected to a server that's down or that's undergoing maintenance. There are also some more complex Opera VPN issues. Here's a troubleshooting guide to help you fix common connection problems. These include conflicting apps, extensions, network configuration, firewall blocks, cache fixes, browser settings, and ISP policies.
These fixes can be used to address most common Opera error messages — including "Unavailable to connect to Opera server" and "VPN is temporarily unavailable, Opera is working on the problem". If the recommended solutions don't work, you may have an issue with your ISP blocking Opera's built-in VPN. Reach out to your provider to see if it blocks the service.
Can Opera VPN help me access Netflix US from abroad?
No, Opera VPN can't unblock any Netflix regions. The streaming platform can detect the VPN and recognize you're spoofing your location, blocking you from viewing any content. Only a reliable VPN with a global network can help you bypass geoblocks used by leading streaming platforms. Besides, the Opera VPN often reduces your speeds so much you can't stream Netflix anyway.
Does Opera VPN work on iPad, Android, and other mobile devices?
Opera VPN works on Android devices but doesn't support iOS (iPhone and iPad). Unless you have the paid Pro version with device-wide protection, it only protects online activity that takes place within the Opera browser. It's more reliable to use a full VPN that covers all data and apps on your mobile device.
Is Opera browser's built-in VPN secure?
No, Opera VPN isn't very secure. It lacks a kill switch and only encrypts in-browser activities, leaving your app or torrenting traffic unprotected. Even worse, Opera's privacy policy states it can log and sell your personal data to promotional campaigns and advertising networks. A VPN with strong security measures and a strict no-logs policy is a safer bet.
Can I use a free VPN for Opera?
Not if you value privacy or convenience. Like Opera's own VPN, most free VPNs have limited networks that can't bypass geoblocks and are too slow for UHD streaming. It's much more reliable to get a trustworthy VPN with a money-back guarantee.
Free services can also share your personal data with third parties for profit. Plus, they rarely have adequate encryption to protect you from hackers and snoops. Some free VPNs even contain malware and trackers.
Get a Reliable VPN for Your Device
My guide can help you fix most problems that prevent Opera VPN from working. Still, there are lots of Opera VPN issues that are harder to overcome. It only encrypts your browser activity, it can't access popular online services, and it can be painfully slow. That's why sometimes the only solution is to use a different VPN entirely.
ExpressVPN is by far the best alternative to OperaVPN with a lightning-fast server network capable of bypassing sophisticated geo-restrictions. It protects your confidentiality with industry-leading encryption and a strict no-logs policy. Best of all, you can try ExpressVPN risk-free, knowing it offers a 30-day money-back policy.
To summarize, the best alternatives to Opera VPN are…
Privacy Alert!
Your data is exposed to the websites you visit!
The information above can be used to track you, target you for ads, and monitor what you do online.
VPNs can help you hide this information from websites so that you are protected at all times. We recommend ExpressVPN — the #1 VPN out of over 350 providers we've tested. It has military-grade encryption and privacy features that will ensure your digital security, plus — it's currently offering 49% off.