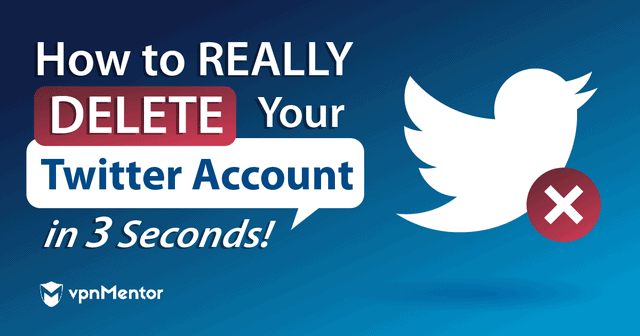 How to REALLY Delete Your Twitter Account in 3 Seconds (2023)
So you've decided that you are no longer comfortable using Twitter, or you have decided that you really do need to halt the spread of that embarrassing Tweet that you posted.
Well, the good news is that it is entirely possible to permanently delete your account.
It's also really simple to do - once you know-how! All you need to do is just follow those steps.
BE AWARE:
Every click, every share, and every download can be and is tracked, stored, and sold by app creators, internet service providers, and telecom companies.
Only a VPN like ExpressVPN can protect you
 and prevent these third parties from collecting and selling your sensitive data.
Get better privacy TODAY with ExpressVPN!
How to Delete Your Twitter Account
Step 1 – Sign into Twitter
To deactivate your Twitter account, sign in through the full site, not the Twitter app, since the app does not provide the deactivation link.
Step 2 – Go to Settings and Privacy
Click on your profile and select the Settings and Privacy option under More, in the menu on the left-hand side of the page.
Step 3- Click on Deactivate my Account
Scroll down to the bottom of the page and click the 'Deactivate my account' link.
Step 4 – Confirm your Decision
At this point, you are redirected to a confirmation page. If you are sure that you want to go ahead with removing your account, then click the big blue Deactivate button at the bottom of the message.
Step 5 – Enter Your Password
You are now taken to a page that double-checks that you really want to delete your account. To confirm that you want to take this action, enter your password and click the Deactivate button.
Step 6 – Uninstall the app
If you have the Twitter app on your phone, tablet, or another device, uninstall the app.
You cannot deactivate your account from the app, but accidentally clicking on the app will reverse the deactivation process within the first 30 days after you have chosen to deactivate the account. So, the best course of action is to remove the app itself.
Step 7 – Don't log into your account for 30 days
You are almost there, but it is crucial to note again that there is a 30-day deactivation period.
If during this time you log into your account, or any apps or services that are integrated with Twitter, you will find that your Twitter account is no longer deactivated. You'll need to go through the process again.
The best way to avoid this is to go through all your apps and services and disconnect them from your Twitter account. Yes, this is time-consuming, but it is necessary to ensure that your deactivation becomes permanent to safeguard your privacy.
Once you complete these 7 steps and avoid logging in for 30 days, your account is gone for good.
This encompasses both your contact list and any direct messages you have sent or received.
However, as with most other services, any information shared on other pages or with other people through Direct Messaging still exists on the receiver's end.
This is important to note, because if you're hoping to wipe all traces of an embarrassing conversation, it may not be possible unless the other person is willing to delete the information or deactivate their account as well.
If you're also interested in deleting your Facebook account, click here.
Privacy Alert!
Your data is exposed to the websites you visit!
The information above can be used to track you, target you for ads, and monitor what you do online.
VPNs can help you hide this information from websites so that you are protected at all times. We recommend ExpressVPN — the #1 VPN out of over 350 providers we've tested. It has military-grade encryption and privacy features that will ensure your digital security, plus — it's currently offering 49% off.
We rank vendors based on rigorous testing and research, but also take into account your feedback and our commercial agreements with providers. This page contains affiliate links.