5 Best VPNs for Omegle That Work — Easy Access in 2023
November 2023 Update: After being active for 14 years, Omegle has shut down. You can use our shortlisted VPNs to protect your privacy and keep your data secure on other similar websites.
It's becoming much tougher to access Omegle with a VPN. While VPN blocks are meant to prevent dangerous users, it also makes it hard to protect yourself against such users. Anyone can see your IP address which reveals your location. Plus, it throws out IP bans like confetti, so most of the time you'll need a VPN to use it anyway.
My team and I tested over 55 VPNs and shortlisted the ones that can consistently access Omegle. This wasn't easy — even the best VPNs have trouble with the site. The key is to use a VPN with responsive customer support that's on top of its working servers. Plus, it should help you bypass tough firewall blocks in schools and colleges.
My top recommendation is ExpressVPN. It offers automatic obfuscation so you can easily access Omegle on restrictive networks without risking a ban for VPN use. Plus, its impressive security features keep you safe on the site and bypass unfair bans. You can try ExpressVPN with Omegle risk-free because every plan is covered by a 30-day money-back guarantee.
Important! Omegle is blocked (and illegal) in some countries because governments can't monitor communications on the site. This page is intended for Omegle users who wish to bypass an unfair ban. At vpnMentor, we don't condone illegal activity. Please research the rules and regulations in your location to avoid breaking any laws.
Short on Time? Here Are the Best VPNs for Omegle in 2023
Best VPNs for Omegle — Full Analysis (Updated 2023)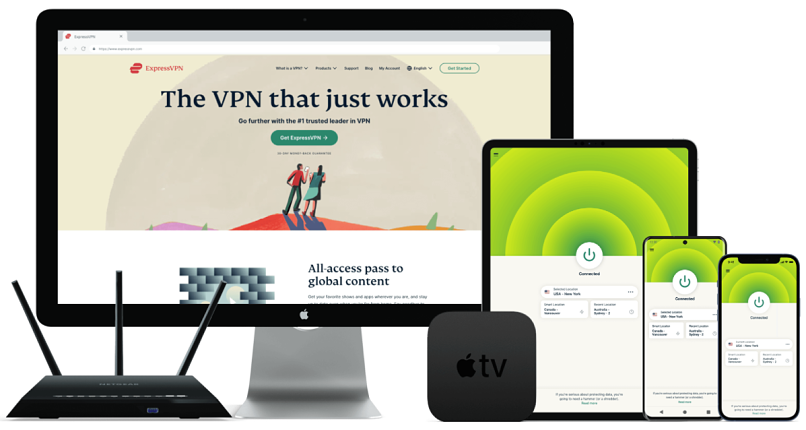 Editor's Choice
Editor's Choice

Tested December 2023
Try Risk-Free for 30 Days
Available on:
Chrome
Router
Smart TV
More
www.ExpressVPN.com
| | |
| --- | --- |
| Best Feature | Automatic obfuscation helps to avoid Omegle's VPN bans and use the platform on restrictive networks |
| Server Network | 3,000 servers in 105 countries |
| Speeds | Extremely fast over short and long distances |
| Security | Military-grade encryption, Network Lock kill switch, built-in leak tests |
ExpressVPN offers automatic obfuscation on every server, helping you to avoid Omegle's VPN blocks. This disguises your connection as regular traffic when it detects data snooping tools. So, it's also great if you want to use Omegle at school, college, or on other restrictive networks, as it'll help you get around network-based VPN bans.
Its servers rotate their IP addresses every 24 hours, so it's easy to find one that works with Omegle. Plus, even if you find a server that's blocked, its 24/7 live chat can always help you find a working location. Customer support gave me servers to try that worked every time I reached out (on 6+ occasions).
Its speeds are among the fastest we've ever tested, ideal for buffer-free video chats on Omegle. I got 104.91Mbps on a UK server <100 miles away, just 4% below my base speed. You only need just over 10Mbps for smooth Omegle video chats. I video chatted on Omegle for over 2 hours and never had any lag or distortion on audio or video.
It is on the pricier side, but you can save money with a long-term deal. You can also try ExpressVPN with Omegle risk-free as it's backed by a 30-day money-back guarantee. When I tried this, I got my money back after 3 days.
Useful Features
Exclusive Lightway protocol. ExpressVPN's Lightway offers lightweight, secure connections. This protocol offered better speeds than WireGuard and OpenVPN in my tests, so it's great for live chatting on Omegle. Plus, because it's not as "heavy" as these other protocols, it drains your battery less – ideal if you use Omegle on mobile devices.
Chrome and Firefox browser extensions. ExpressVPN's browser extensions are easy to use and act as a remote control for the full app. So, not only will the data you're sending through Omegle be safe, but your entire device will be protected too.
Threat Manager. ExpressVPN continuously updates its Threat Manager blocklist, protecting you against ads, trackers and malware. Omegle doesn't have ads, but I've seen plenty of users post links to sites that do. Once enabled, Threat Manager will block ads and dangerous websites before they reach your device.
| | |
| --- | --- |
| Best Feature | User-friendly and secure VPN – no technical knowledge required |
| Server Network | 10,529 servers in 100 countries |
| Speeds | Extremely fast over short distances, average over long |
| Security | Automatic kill switch, private NoSpy servers, robust no-logs policy |
Using CyberGhost's intuitive app, I could start chatting safely on Omegle in under 2 minutes. Its one-click connect button defaults to the fastest available server. Plus, leak protection and kill switch features are built-in and work automatically, so you don't have to configure anything to protect your Omegle sessions.
I could also unblock Omegle with several of its 10,529 servers, but not every server worked. However, any time I struggled, its live chat knew exactly which servers could access Omegle. When the Atlanta server stopped working, it took 2 minutes for the agent to provide a new location that worked instantly.
CyberGhost's local speeds are great for lag-free Omegle chats. In my tests, I connected to 6 UK servers within 100 miles and got an average drop of 6%, which is more than fast enough for video chats on Omegle. I lost a whopping 77% from a server in India, though, so long-distance speeds aren't as impressive as ExpressVPN.
The 45-day money-back guarantee is more generous than most, giving you plenty of time to try the app out with Omegle. Live chat isn't quite as instant as ExpressVPN, but I got a reply within 2 minutes and my money back 5 days later.
Useful Features
Dedicated IPs. For a small additional fee, you can get a private IP address. Since no other user can access the IP, no one else can pick up an Omegle ban. As with most VPNs, you can save money on a dedicated IP by choosing a long-term plan.
Connection test. If you're having problems with your VPN to Omegle connections, the CyberGhost app can run checks on your reachability and internet connection to help identify the source of the problem.
Smart Rules. You can automate CyberGhost to perform certain actions. I set mine to automatically connect to a local UK server and open Brave browser whenever my laptop joins my home network. So, I can start using Omegle safely in no time at all.
| | |
| --- | --- |
| Best Feature | The largest server network on the list, giving you plenty of options for Omegle |
| Server Network | 29,650 servers in 91 countries |
| Speeds | Very fast over short distances, average over long range |
| Security | Adjustable security settings, MultiHop connections, no-logs policy |
PIA has a vast network of 29,650 servers in 91 countries for accessing Omegle. With such a large selection, you have a better chance of finding working servers. Plus, it offers obfuscation through Multi-Hop, routing your data through a VPN and a proxy server for double safety. These servers dropped my speeds a little during my tests, but it's worth it to stay safe.
There are tons of adjustable security settings to keep you safe on Omegle. If your picture is laggy or you're getting sound distortion, you can drop your encryption from 256 to 128-bit for faster connections. Or, you can use WireGuard to balance speed with the safety of 256-bit encryption.
It's not the most beginner-friendly of VPNs, though. While I'm pretty well versed in the world of VPNs, I can see how its customization options can be intimidating if you're new to these tools. That said, you don't have to change any settings if you don't want to. The app comes pre-configured, and I could chat on Omegle with no issues using these settings.
All of PIA's plans come with a 30-day money-back guarantee you can trust. You can't ask for your money back via live chat though, so I had to email customer service. It took about 4 hours to get approval, and I was refunded 5 days later.
Useful Features
Automation. Configure connection rules for all available data sources; useful in countries with strict internet censorship, where it's all too easy to start an Omegle chat without switching on your VPN first.
Split tunneling. Configure some apps and sites to bypass the VPN, freeing up more data for your Omegle chats. I chose Chrome for non-VPN activities like online banking and secure online purchases and then used Omegle with the privacy-friendly Opera browser.
| | |
| --- | --- |
| Best Feature | Threat Protection helps to keep you safe from dangerous links sent during Omegle chats |
| Server Network | 5,974 servers in 60 countries |
| Speeds | Fast on local servers, slow over long distances |
| Security | Threat protection blocker, Double VPN servers, automatic kill switch |
NordVPN's Threat Protection shields you from malware, phishing attacks, and intrusive ads when clicking links on Omegle. It scans every file you download and blocks harmful elements before they reach you. During my tests, it blocked me from opening a malicious webpage and removed all the ads from a Star Trek fan wiki.
Another option is to utilize NordVPN's Double VPN servers for additional privacy. This method directs your connection via two distinct secure servers, greatly concealing your online presence. Considering the ease with which your IP address can be found by chatters, this provides you with double the security.
Unfortunately, Double VPN servers slowed my speeds significantly. While I lost around 8% on standard local servers in the UK, Double VPN connections slowed my speed by an average of 40%. Thanks to my fast base connection, I could still chat over text with no issues, but this speed drop made video and audio calls nearly impossible.
There's no risk in trying NordVPN due to its 30-day money-back guarantee. If you're not satisfied with the service during that time, getting a refund is easy.
Useful Features
Proprietary NordLynx protocol. The NordLynx protocol is based on WireGuard, and uses double NAT technology so every user gets a unique IP. This makes it far less likely for you to find an IP that's already been banned on Omegle.
Refer a friend. When your friend signs up for a long-term plan via a referral link, you'll both receive 3 months of free service. Remember — you can get a ban for selling anything on Omegle, but you can easily share your link on socials.
| | |
| --- | --- |
| Best Feature | Unlimited simultaneous devices to protect the whole family on Omegle |
| Server Network | 3,200 servers in 100 countries |
| Speeds | Fast over short and long distances |
| Security | Military-grade encryption, kill switch, verified no-logs policy |
Surfshark gives you unlimited device connections so you and your friends can all access Omegle simultaneously, regardless of the number of devices in use. I was impressed that, when my friends and I tested this across 8 devices, we could all video chat with no drop in quality.
The service provides both static and rotating IP addresses, allowing you to strike a balance between security and ease of access. In my experience, static IPs ensured more consistent connections on Omegle. While rotating IPs bolster security, there were instances when my Omegle chats were interrupted due to receiving an already banned IP address. Nonetheless, they were effective for standard browsing.
I wasn't happy to see that Surfshark is based in the Netherlands, which is part of the 9 Eyes Alliance. It also stores some anonymized data, like analytics reports. However, it's completely transparent about any warrants it's received and has a fully verified no-logs policy.
You can try Surfshark without risk using its 30-day money-back guarantee. Getting a refund is easy if you'd prefer to try a different VPN with Omegle.
Useful Features
MultiHop servers. Unlike PIA's version, Surfshark's MultiHop routes your data through 2 different VPN servers, so your data will be encrypted twice. You can even create custom combos from the full list of servers.
CleanWeb tracker and ad blocker. Surfshark's CleanWeb is a one-click solution for blocking ads and trackers on all the sites you visit (Omegle uses trackers, plus other sites can use trackers to monitor your Omegle activities).
Quick Comparison Table: Omegle VPN Features
You can use this table to compare the key features of the best VPNs for Omegle. I've listed their essential factors at a glance, such as cost, number of servers, and speed. Dedicated IPs are exclusive to you, so other users can't get you banned on Omegle.
Unique IPs mean you're the only user with that IP currently. With many VPNs, you share an IP with anyone using the same server, which is easy for Omegle to detect and ban. Finally, a VPN with obfuscation can help you beat tough firewalls that prohibit the use of Omegle – and even VPNs.
Tips on Choosing the Best VPN for Omegle
A quality VPN must be able to bypass Omegle's stringent VPN restrictions, so I initially focused on dependable server networks and customer support. The features in the following checklist were the criteria I used for evaluating VPNs for this article. Use this list as a guide to help you choose the most suitable VPN for Omegle:
Extensive server network. The bigger the network, the more IPs there are that Omegle hasn't blocked. All the VPNs in my list offer a large network, so it's easier to find a server that can access Omegle.
Reliable customer support. I made sure that customer support could troubleshoot any issues getting Omegle to work quickly and reliably. Since the site is constantly updating its security measures, this is extremely important. You'll likely have to contact support to ask which servers are working with Omegle, so 24/7 live chat is key.
Robust security features. Quality encryption is essential to ensure your vital information is hidden from other users on Omegle. I ensured that the VPNs I recommended come with solid leak protection and kill switches, so you're not leaving your personal data out in the open.
Fast speeds. If you want to video chat on Omegle without lag, you'll need a VPN with fast speeds. At a minimum, you need 10Mbps download speeds and 3Mbps upload rates. I conducted speed tests with all the VPNs I shortlisted and each is more than fast enough for video chats on Omegle.
Device compatibility. Your VPN won't do you any good if it's not compatible with the device you use to chat on Omegle. Every VPN on my list has apps for all of the most popular operating systems.
Trustworthy money-back guarantee. The best VPNs give you a chance to try out their features and get a full refund if you're not 100% satisfied. All the VPNs in my list have legit money-back guarantees (I tested them all myself), so you can test them out risk-free to ensure they work for you.
Quick Guide:
How to Access Omegle in 3 Easy Steps
Download a VPN. I recommend ExpressVPN because of its huge global network and excellent customer support that'll help you find working servers for Omegle.
Connect to a server. Select a server location from the list and click connect. Choose a local server if you want your connection to be as quick as possible.
Access Omegle. Enjoy chatting with strangers while keeping your online information protected and private.
FAQs on VPNs for Omegle
Why does Omegle ban users?
Omegle bans users for many reasons. I got 2 separate bans while working on this page, and like most users, I had no idea why. I had to use an Omegle VPN to bypass the ban and resume my research!
It makes it challenging when you just want to use Omegle for what it was made for – harmless chat with random strangers. The company mentions that they "may…terminate, suspend or ban your access to and use of the Services at any time, without notice, for any reason in its sole discretion." However, the main reasons for an Omegle ban are:
Getting dropped or dropping others too often. This means that someone abruptly ends the chat. But it can also occur if you're using a VPN and change servers or there's a connection error. Omegle's algorithm sees this as suspicious because it implies that you might be a scammer or troll who's abusing the site.
Violating terms and conditions. As stated on their website, Omegle lists several things that can get you banned without question. These include abusive behavior, sharing adult content, using software to begin chats automatically, and playing music or videos loudly in the background of your chats.
Although Omegle doesn't explicitly state that it blocks VPNs, it does show an error message saying "Error connecting to server. Please try again." when it detects a VPN. This means that your current IP address has been banned. You can dispute any Omegle ban via the email address on its T&Cs.
How long does a ban on Omegle last?
An Omegle ban usually lasts between a few days and a few months, depending on the case. Unfortunately, bans can happen for just about any reason Omegle chooses. The VPNs in this list let me access Omegle during both of my bans.
I never knew if or when my ban would end because Omegle doesn't tell you. For serious violations of their terms and conditions, Omegle may ban you permanently.
Which countries have banned Omegle?
Countries that have banned Omegle include Pakistan, China, Qatar, Libya, Jordan, the UAE, and Oman. Usually, any country that bans VoIP services such as Whatsapp, Skype, and FaceTime will also ban Omegle. Our top VPNs offer obfuscation, which allows them to work in restrictive locations.
That being said, the team at vpnMentor does not condone any illegal activity. This article is only meant for people who use Omegle responsibly. If Omegle is blocked where you are, please research the rules and regulations in your location to avoid breaking any laws.
Which country or location is best for accessing Omegle?
The best country for Omegle is usually the closest one where it's available. The good news is that most countries don't ban Omegle. For example, I live in the UK, so I could use a VPN server in the UK, Ireland, France, or the Netherlands to access Omegle. Because these servers are relatively close to me, I could still get good speeds to support video chatting.
Why is Omegle not working with my VPN?
Omegle doesn't work if it can detect your VPN. You need to use a VPN that keeps its servers up-to-date for reliable access to Omegle. If Omegle spots your VPN, you'll see an error code stating: "Error connecting to server. Please try again."
Another way to make sure your VPN works with Omegle is to use a dedicated IP (an IP only you get to use). These are less likely to get banned since no one else is using them. A common VPN-detection method is to block IP addresses that have multiple users connected.
Lastly, you can clear cookies and cache in your browser or switch your VPN's protocol — these quick fixes worked for me a couple times.
Is Omegle safe to use? Will Omegle track me?
Omegle is safe to use as long as you take the proper precautions. Even though your interactions are meant to be "anonymous", your IP (and therefore your location) is still visible to anyone. Using a VPN will hide your IP, adding a layer of protection against these dangers.
Never share any personal information with anyone on the site. If you're going to use video chat, set up your webcam and check that there are no identifying landmarks or other details a stranger could use. Any information, no matter how minor, could be used by strangers to commit identity fraud or stalk and harass you.
Don't click on links or files sent in Omegle chats unless you're 100% certain they're safe. Strangers can share links to phishing scams and websites that host malware. They may even send malware disguised as legitimate files.
It's worth noting that Omegle also tracks you. It identifies every user by their IP address and a randomly generated "user-code," which gets deleted after 4 months. Plus, it takes screenshots from your video chats to ensure nothing dangerous is going on.
Other data that Omegle gathers includes:
The pages you use on Omegle
The duration of your visit
Your cookie ID
The content of your text chats
How can I access Omegle at school or college?
You can access Omegle from school or college with a reliable VPN. Many places of learning block Omegle along with other platforms they consider unsuitable for educational settings. They generally use the school's firewall to block sites and monitor students' browsing. A VPN encrypts your data so no one can intercept or block it.
However, Omegle can just as easily be used for learning as it can for taking a break from your studies.
Educational uses for Omegle could include:
Social studies. You might be gathering information or conducting an anonymous survey for research purposes.
Languages. You might be chatting in another language to improve your spoken and written language skills.
Creative writing. You might be gathering ideas and getting feedback for a story or essay.
(At least, that's what you can tell your teacher!)
Can I use a free VPN with Omegle?
No, the free VPNs I tested weren't able to access Omegle. You're better off with a low-cost premium VPN because they have larger networks and more reliable servers. With a larger network, you'll have a much better chance of getting past blocks. Plus, they all have live chat support, which is tough to find with a free service.
Free VPNs come with limitations that make it tough to unblock Omegle. They usually have few (and overcrowded) server locations, so if you do find one that works, it'll be slow and laggy.. Plus, they often have data and bandwidth limits, so you can't chat for long. Worse still, many free VPNs have been caught logging and selling data, so in many cases, they're not safe for any purpose.
Get the Best VPN for Omegle
Omegle uses some of the most aggressive VPN blocking techniques we've ever seen, and some of our top-rated VPNs didn't make the grade. After much testing (and more than a little frustration), we can finally reveal the best Omegle VPN on the market.
My no.1 VPN for Omegle is ExpressVPN. Because it uses automatic obfuscation, I never came across Omegle's VPN blocks – and I could use it on my college campus. Plus, its knowledgeable 24/7 live chat can answer your questions in just a few minutes. You can even try ExpressVPN without risk since it has a 30-day money-back guarantee.
To summarize, these are the best VPNs for Omegle...
Privacy Alert!
Your data is exposed to the websites you visit!
The information above can be used to track you, target you for ads, and monitor what you do online.
VPNs can help you hide this information from websites so that you are protected at all times. We recommend ExpressVPN — the #1 VPN out of over 350 providers we've tested. It has military-grade encryption and privacy features that will ensure your digital security, plus — it's currently offering 49% off.
We rank vendors based on rigorous testing and research, but also take into account your feedback and our commercial agreements with providers. This page contains affiliate links.