5 Best VPNs for Omegle – All Working & Safe to Use in 2023
Updated on 20th January 2023
It's becoming more and more difficult to access Omegle with a VPN. While VPN blocks are meant to prevent dangerous users from going undetected, it also makes it hard to protect yourself from these potential dangers. A bad actor can use the connection Omegle creates between your devices to steal your vital information and use it against you. On top of that, Omegle's automated banning system can block you from the site unfairly when you've done nothing wrong.
My team and I tested over 55 VPNs and shortlisted the ones that can successfully overcome an unfair Omegle ban. This wasn't easy — even the best VPNs have trouble accessing the site. The key is to use a VPN with responsive customer support that's on top of its working servers.
My top recommendation is ExpressVPN. It has a vast server network that helps you unblock Omegle and its 24/7 live chat is super responsive. The support staff always knew which servers currently worked. Plus, its strong security features keep you safe on the site. You can try ExpressVPN with Omegle risk-free because it's backed by a 30-day money-back guarantee. If you're not happy with it, then it's easy to get a full refund.
Important! Omegle is blocked (and illegal) in some countries because governments can't monitor communications on the site. This page is intended for Omegle users who wish to bypass an unfair ban. The team at vpnMentor does not condone illegal activity. If Omegle is blocked where you are, please research the rules and regulations in your location to avoid breaking any laws.
Short on Time? Here Are the Best VPNs for Omegle — Tested in January 2023
Best VPNs for Omegle — Full Analysis (Updated January 2023)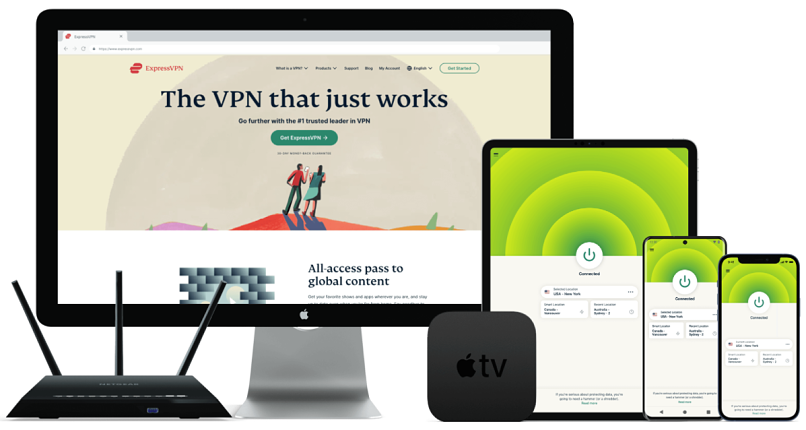 Editor's Choice
Editor's Choice

Tested January 2023
Try Risk-Free for 30 Days
Available on:
Chrome
Router
Smart TV
More
www.ExpressVPN.com
3,000 servers in 94 countries to help you unblock Omegle
24/7 live customer support so you can always find working servers
Proven no-logs policy to protect your privacy
5 simultaneous device connections
Compatible with: Mac, iOS, Windows, Android, Linux, Chrome, Chromebook, Firefox, and more
ExpressVPN has a huge network with 3,000 servers in 94 countries, so it's easy to access Omegle from anywhere. The Cyprus, Marseilles, Japan (Shibuya), and Frankfurt - 3 servers all unblocked Omegle for me. The large network also helps optimize my speeds because there's always a server close by (nearby servers almost always give you better speeds). When I tested its Switzerland and Austria locations, I unblocked Omegle and had an average of 47.6 Mbps, which was only a 4% drop from my base speed. Most VPNs reduce your speeds by more than 15%, so this is impressive.
You only need a 10-25 Mbps download speed for smooth video chats, so ExpressVPN always gave me more than enough speed for video calls. Upload speeds can be half that, and ExpressVPN usually gave me upload rates equal to my base upload speed. So, I never had any trouble setting up buffer-free video calls. Its proprietary Lightway protocol gave me the fastest speeds for video chats — plus, it's super secure — so I recommend using it with Omegle.
ExpressVPN regularly rotates its IPs to prevent blocks. Plus, even if you meet a block, it has 24/7 live chat that can always help you find a working location. Customer support gave me servers to try that worked every time I reached out (on 6+ occasions). They were helpful with any other questions I asked too. For example, they also assured me that ExpressVPN works in China and other restrictive countries.
Its strong security features will keep your data safe while you're chatting on Omegle. ExpressVPN comes with a kill switch (not available on iOS), IP/DNS leak protection, several security protocols, split tunneling, and AES 256-bit encryption (which is the highest encryption level available). I performed leak tests to make sure my real location was hidden, and it passed everyone. Plus, the kill switch always disconnected me when I was switching servers, so I knew my info wasn't leaking during re-connects.
A small downside is that ExpressVPN subscriptions are a bit more expensive than other VPNs (you can buy its cheapest plan for $6.67/month). On the plus side, ExpressVPN regularly has discounts and often comes with free months of service. I recommend signing up for its long-term plan as it offers the same features as the monthly one but for a lower price.
It comes with a 30-day money-back guarantee, so you can try ExpressVPN risk-free. You can always get a full refund if you're not happy with it. I tested its policy to ensure it's trustworthy and asked for a refund using its 24/7 live chat support. After a quick chat with the agent, my refund was approved. The process was easy, and I had my money back in 3 business days.
Dedicated IPs in 10 countries to easily bypass unfair bans
24/7 live chat so you can always find working servers
9,758 servers in 91 countries to help you unblock Omegle
7 simultaneous device connections
Compatible with: Mac, iOS, Windows, Android, Linux, Chrome, Firefox, and more
CyberGhost offers personal Dedicated IP addresses for reliable access to Omegle. Omegle can detect VPN IPs since a single IP address can have multiple users connected. A dedicated IP is one only you use, so you're less likely to face an unfair ban. Since it's not shared, you can also achieve faster speeds — when I conducted multiple tests with my dedicated IP, I didn't record speeds slower than 40 Mbps (about 15% faster than the shared IPs).
I could also unblock Omegle with several of its 9,758 shared servers in 91 countries, including Andorra, Liechtenstein, and Venezuela. Any time I struggled, its 24/7 live chat knew exactly which servers were up and running with Omegle. When the Atlanta server stopped working, it took 2 minutes for the agent to provide a new location that worked instantly.
In addition, it offers a combination of security features that help protect you while using Omegle. It has military-grade encryption and a solid no-logs policy, plus its kill switch, leak protection, and WiFi protection passed all of my tests, so your true location is well hidden. Plus, I was impressed at how well its ad/malware blocker was at removing pop-ups and banner ads.
Unlike ExpressVPN, CyberGhost doesn't work in China. However, you can still use it in a few other countries with strict censorship (like Iran and Turkey).
You can subscribe to CyberGhost's long-term plan for just $2.19/month. The shorter your plan is, the more it charges for dedicated IPs. I recommend going with the 1-year plan because it's the best value overall, with dedicated IPs for just $4.25/month.
It offers a generous 45-day money-back guarantee. This means you have a lot of time to try CyberGhost risk-free. To test the policy, I asked for my money back via its 24/7 live chat after using the VPN for 40 days. The chat agent asked me a few questions about my user experience and quickly approved my request. I had my money back in 4 days.
29,650 servers in 84 countries so you have more ways to unblock Omegle
24/7 live chat to help you find working servers
Strict no-logs policy and military-grade encryption to stay protected on Omegle
10 simultaneous device connections
Compatible with: Mac, iOS, Windows, Android, Linux, Chrome, Firefox, and more
Private Internet Access (PIA) has an impressive network of 29,650 servers in 84 countries to help you bypass unfair Omegle bans. With such a large selection of servers, you have a better chance to find one that works. Plus, it offers obfuscation through a multi-hop connection, which is super safe. Despite its many customization and connection options that let you streamline how your VPN works, I still found PIA's app easy to use.
The 24/7 live chat is very helpful and responsive. In a few minutes, the chat agent told me to use its UK Southampton, DE Berlin, or US Texas servers. These not only unblocked Omegle, but they kept my speeds up too. I tested each of these servers and got an average download rate of 32.5 Mbps. They lowered my speeds by 35%, which isn't the best, but these speeds are still more than fast enough for video chats on Omegle without any interruptions.
It has advanced security features that work well to protect your personal data. My real IP was never leaked during my tests and the kill switch blocked my connection whenever I switched servers. You can choose between 4 protocols (WireGuard, OpenVPN, IKEv2, and IPsec). OpenVPN worked best for me, but I recommend switching to a new protocol if you ever have trouble getting on Omegle.
I found it unique that the browser extension allows you to block your microphone and webcam, which adds a layer of protection if you only want to chat over text. However, the extension doesn't offer full encryption, so it's still safest to use the VPN app.
You can get PIA's long-term plan for only $2.19/month. It also offers dedicated IP addresses for an added fee, which can help you beat unfair bans. The price depends on the length of your subscription the same as CyberGhost, with a 3-year plan offering a dedicated IP for $3.75/month.
All of PIA's plans come with a 30-day money-back guarantee you can trust. After 28 days I requested a refund. You can't ask for your money back through its live chat, so I had to email customer service. It took about 4 hours before it was approved, and I was refunded after 5 days.
Try Private Internet Access Today
Stealth Mode is designed to access blocked sites like Omegle in highly-censored regions
Fast speeds for smooth video chats
200 servers in 63 countries to unblock Omegle
10 simultaneous device connections
Compatible with: Mac, iOS, Windows, Android, Linux, and more
PrivateVPN's Stealth Mode is designed to work in countries with strict censorship where VPNs are banned or regulated (like China). It makes your VPN connection look like regular traffic, so it can also help you bypass firewalls set by your work or school network. I tested it out at my local library where I normally can't access popular torrent sites. With Stealth enabled, The Pirate Bay loaded as normal.
PrivateVPN has "dedicated IP" servers included in its app. I was pretty impressed to see this since you normally have to pay extra, like with CyberGhost or PIA. But its 24/7 customer support confirmed that these aren't personal IPs, just static ones – they're still shared, but only 1 user is connected at a time, so they're not as reliable for accessing Omegle as an actual dedicated IP.
Its server network is also relatively small. However, all of PrivateVPN's servers worked great to access Omegle. When I tested its US Las Vegas server, I unblocked Omegle within seconds. The support rep recommended this server, and I particularly like that PrivateVPN lets you talk directly to developers, not just a customer service agent.
PrivateVPN's security and privacy features will keep you safe on Omegle, too. My leak tests proved my true location was always masked. Plus, it offers a kill switch, multiple security protocols with military-grade encryption, and adheres to a strict no-logs policy.
You can get PrivateVPN for only $2/month, which makes it the cheapest VPN on this list. Its monthly plans are also comparatively affordable, so it's a good choice if you don't want to make a long commitment.
Its 30-day money-back guarantee comes with every subscription. This means you can always get your money back if you're not satisfied. When I asked for a refund, the chat agent told me to send an email explaining why I wanted to cancel my subscription. It did take a full day to get my refund approved, but I had my money back in 8 days.
Military-grade encryption, leak protection, secure protocols, and a kill switch protect you on Omegle
24/7 live chat so you can always find the right servers
2,000 servers in 75 countries to bypass unfair Omegle bans
Unlimited simultaneous device connections
Compatible with: Mac, iOS, Windows, Android, Linux, and more
Your personal details are well hidden with IPVanish, so you have a level of protection should you encounter any shady individuals on Omegle. When I tested 5 of IPVanish's servers on ipleak.net, I didn't find any leaks. IPVanish's no-logs policy has also been audited and it has WiFi protection, which ensures you don't connect to potentially unsafe public networks without activating the VPN.
It comes with an obfuscation feature to hide your VPN connection, similar to PrivateVPN's Stealth Mode. While this feature helps access Omegle if it's blocked on your network, it did slow my speeds quite a lot. When I connected to its US, France, and UK servers, my speeds averaged 27.8 Mbps — video chats were a bit choppy at times, but worked well enough.
Customer support is OK. It takes a little digging to find the 24/7 live chat on its site (you need to click "Help" and then find the chat bar in the lower right). Then, it sets you up with a bot before you can request a live agent. While the agents didn't know much about features, they had a list of working Omegle servers on hand when I asked.
IPVanish's cheapest plan costs only $3.99/month. This is its longest plan, and it also comes with VIPRE antivirus software.
You can even test IPVanish for free with its 30-day money-back guarantee. If you're not impressed, it's easy to claim a refund. After 29 days, I just had to submit a request via my account. It only took 2 hours to receive an email saying that my refund was approved. I had my money back within a week.
Quick Comparison Table: Best Omegle VPNs
You can use this table to compare the key features of the best VPNs for Omegle. Since Omegle's security measures are getting stricter due to legitimate legal and safety concerns, it's important that your Omegle VPN has responsive and helpful 24/7 live chat to troubleshoot any issues you might face trying to overcome an unfair ban. All the VPNs above offer this.
In terms of other features, I've compiled a table to help you compare other important things, including price, how many servers are offered, and speeds for video calls. Lastly, if the VPN offers obfuscation (or Stealth), then it can work in countries or networks that ban Omegle.
Tips on How to Choose the Best VPN for Omegle
A good Omegle VPN needs to get past its tough VPN blocks, so reliable server networks and customer service are what you should look at first. However, there are a ton of additional features that you shouldn't overlook. Consider the features in this list to help you decide which Omegle VPN is right for you:
Extensive server network – The bigger the network, the more IPs there are that Omegle hasn't blacklisted. You should have better chances of getting past an unfair ban this way. All the VPNs in my list offer a large network, so it's easier to find a server that can access Omegle.
Reliable customer support – I made sure that customer support could troubleshoot any issues getting Omegle to work quickly and reliably. Since the site is constantly updating its security measures, this is extremely important. You'll likely have to contact support to ask which servers are working with Omegle, so 24/7 live chat is key.
Robust security features – Quality encryption is essential to ensure your vital information is hidden from other users on Omegle. I ensured that the VPNs I recommended come with solid leak protection and kill switches, so you're not leaving your personal data out in the open.
Fast speeds – If you want to video chat on Omegle without lag and choppiness, you'll have to use a VPN with fast speeds. At a minimum, you need 10 Mbps download speeds and 3 Mbps upload rates. I conducted speed tests with all the VPNs I shortlisted and each is more than fast enough for video chats on Omegle.
Device compatibility – Your VPN won't do you any good if it's not compatible with the device you use to chat on Omegle. Every VPN in my list has apps for all of the most popular operating systems.
Trustworthy money-back guarantee – The best VPNs give you a chance to try out their features and get a full refund if you're not 100% satisfied. All the VPNs in my list have legit money-back guarantees (I tested them all myself), so you can test them out risk-free to ensure they work for you.
Quick Guide:
How to Use Omegle Safely With a VPN
Download a VPN. I recommend ExpressVPN because of its huge global network and excellent customer support.
Connect to a server. Select a server location from the list and click connect. Choose a local server if you want your connection to be as quick as possible.
Access Omegle! Enjoy chatting to strangers while keeping your online information protected and private.
FAQs on VPNs for Omegle
Why does Omegle ban users?
There are a few reasons you can get banned from Omegle (and for what seems like no reason!). This is a result of Omegle trying to prevent predatory users who want to take advantage of the anonymity of the platform.
But it also makes it hard to protect yourself when you just want to use Omegle for what it was made for: harmless chatting with strangers. The VPNs on this list can bypass an unfair ban so you can reconnect.
The company mentions that they "may…terminate, suspend or ban your access to and use of the Services at any time, without notice, for any reason in its sole discretion." However, the main reasons for an Omegle ban are: l
Getting dropped too often — This means that someone abruptly ends the chat. But it can also occur if you're using a VPN and change servers or there's a connection error. Omegle's algorithm sees this as suspicious because it implies that you might be a scammer or troll who's abusing the site.
Being reported — Other Omegle users have the right to report you on the site for whatever reason, even if you've done nothing wrong. The main reason for this is to protect people from online harassment and abuse.
Violating terms and conditions — As stated on their website, Omegle lists several things that can get you banned without question. These include abusive behavior, sharing adult content, using software to begin chats automatically, and playing music or videos loudly in the background of your chats.
Although Omegle doesn't explicitly state that it blocks VPNs, it does show an error message saying "Error connecting to server. Please try again." when it detects a VPN. This means that your current IP address has been banned.
How long does a ban on Omegle last?
An Omegle ban usually lasts between a few days and a few months, depending on the case. Unfortunately, bans can happen for just about any reason Omegle chooses. The VPNs in this list let me access Omegle after I was banned because my internet dropped too often. I never knew if my ban would get lifted because Omegle doesn't tell you how long it will last. For serious violations of their terms and conditions, Omegle may ban you permanently.
Why is Omegle not working with my VPN?
Omegle doesn't work if it can detect your VPN. You need to use a VPN that keeps its servers up-to-date for reliable access to Omegle. If Omegle spots your VPN, you'll see an error code stating: "Error connecting to server. Please try again."
Another way to make sure your VPN works with Omegle is to use a dedicated IP (an IP only you get to use). These are less likely to get banned since no one else is using them. A common VPN-detection method is to block IP addresses that have multiple users connected.
Lastly, you can clear cookies and cache in your browser or switch your VPN's protocol — these quick fixes worked for me a couple times.
Can I use a free VPN with Omegle?
No, the free VPNs I tested weren't able to access Omegle. You're better off with a low-cost premium VPN because they have larger networks and more reliable servers. With a larger network, you'll have a much better chance of getting past blocks. Plus, they all have 24/7 live chat support, which is tough to find with a free service. If I ever found a server that Omegle blocked, I could contact support and they'd let me know which one worked in a couple of minutes.
Free VPNs come with many limitations that make it tough to unblock and use Omegle. They usually only have servers in a few locations, making it difficult to find one that works. These servers are usually crowded, too, so you get slow speeds that can cause laggy video chats. Plus, they often come with data limits, so you can only chat for a short amount of time (especially over video). The worst part is many free VPNs have been caught logging and selling data for a profit, so in many cases, they're not safe to use for any reason.
Is Omegle safe to use (will Omegle track me)?
Omegle is safe to use as long as you take the proper precautions. Even though your interactions are meant to be "anonymous", your personal IP address (and therefore location) is still visible to anyone who wants to see it. There have been cases where predators have used this against innocent victims on the site.
Using a VPN will hide your IP, adding a layer of protection against these unfortunate dangers. Never share any personal information with anyone on the site and remember it's easy to take screenshots of video chats!
As for whether Omegle tracks you, the answer is yes. They identify every user by their IP address and a randomly generated "user-code," which gets deleted after 4 months. Plus, they even take screenshots from your video chats to ensure nothing dangerous is going on.
Which countries have banned Omegle?
Some countries that have banned Omegle are China, Qatar, Libya, Jordan, the UAE, Pakistan, and Oman. Usually, any country that bans VoIP services such as Whatsapp, Skype, and FaceTime will also ban Omegle. Most of the VPNs in this list offer obfuscation, which allows them to work in restrictive locations.
That being said, the team at vpnMentor does not condone any illegal activity. This article is only meant for people who use Omegle responsibly. If Omegle is blocked where you are, please research the rules and regulations in your location to avoid breaking any laws.
Get the Best VPN for Omegle Now
Omegle can ban you for any reason even if you've done nothing wrong. Its VPN bans are also getting tougher as an understandable security measure, but this makes it difficult for responsible users to protect themselves. So, I found some of the only VPNs that still work with Omegle (and can help you get past an unfair ban).
I recommend ExpressVPN for safe access to Omegle. It has a high-speed global network great for video chats, 24/7 live chat support, and excellent security features. You can try ExpressVPN out risk-free (it's backed by a 30-day money-back guarantee). If you decide it's not for you, you can always claim a full refund.
To summarize, the best VPNs for Omegle are…
Privacy Alert!
Your data is exposed to the websites you visit!
The information above can be used to track you, target you for ads, and monitor what you do online.
VPNs can help you hide this information from websites so that you are protected at all times. We recommend ExpressVPN — the #1 VPN out of over 350 providers we've tested. It has military-grade encryption and privacy features that will ensure your digital security, plus — it's currently offering 49% off.