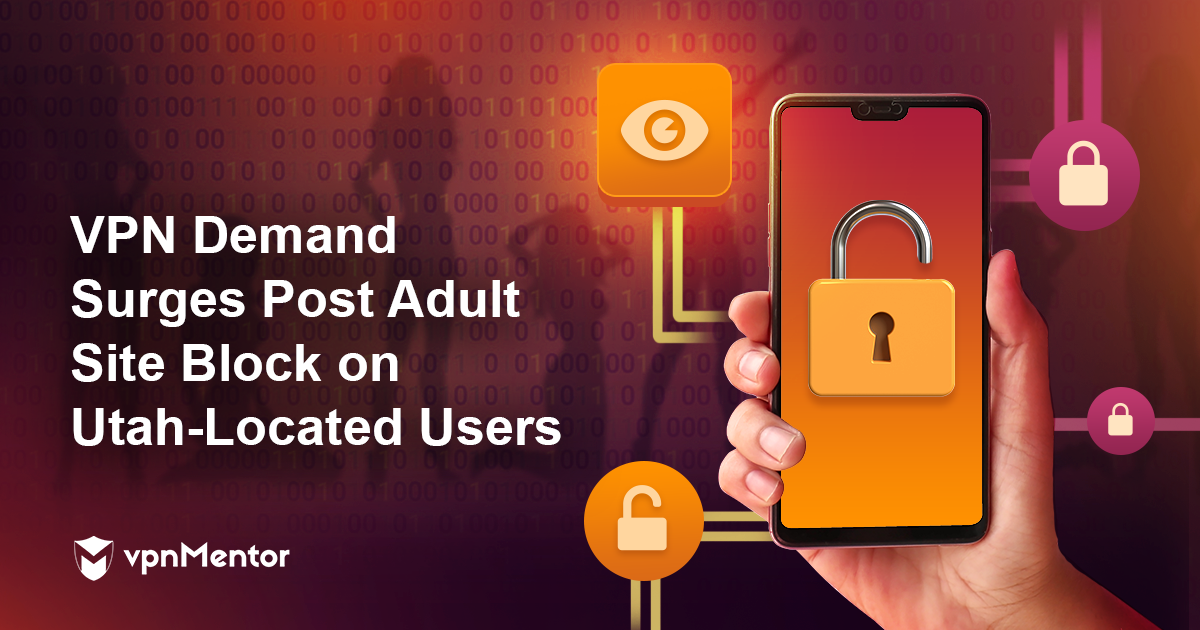 VPN Demand Surges Post Adult Site Block on Utah-Located Users
The demand for VPN services in Utah skyrocketed on Monday, May 1, and Tuesday, May 2, 2023, as the most visited adult website in the United States banned users from the state from accessing their website.
On May 1, 2023, Pornhub enforced a block on all Utah IP addresses, two days before the Online Pornography Viewing Age Requirements law (S.B. 287) took effect on Wednesday, May 3, 2023. The law requires commercial providers of pornographic materials to implement "reasonable" age verification rules. Some cited methods included presenting state-sanctioned digitized identification cards and third-party verification.
S.B. 287 also makes it possible for parents and legal guardians to claim damages against adult websites proven to have made their content accessible to minors.
As a rebuttal, Pornhub opted to show Utah-based users a pre-recorded video message instead of their regular content, objecting to the state's newly introduced law. The video featured an adult actor communicating the website's concerns about the potential privacy issues arising from the mandate for every visitor to present an ID card.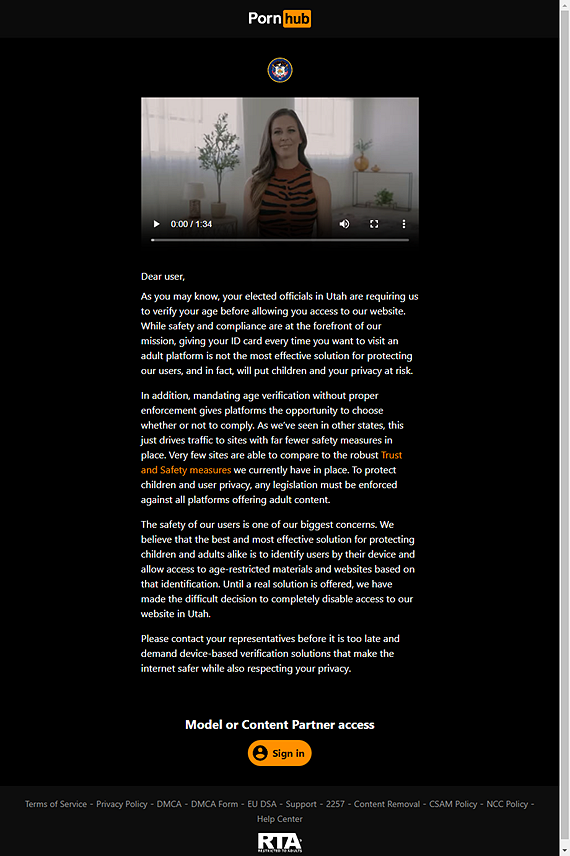 VPN Demand Surge in Utah
Following the geo-block on Utah IP addresses is a dramatic increase in demand for VPN services in the state. vpnMentor's research team analyzed user demand data from Monday and Tuesday and found a 967% upswell in VPN demand in Utah.
The graph below juxtaposes the demand for VPNs during the first two days of May compared with the demand a few days before the adult website's IP block.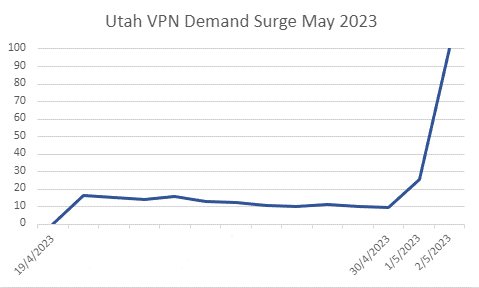 Comparison With Similar Restriction-Driven VPN Demand Growths
This year has seen many similar age-based restrictions on adult content consumption in the United States. On January 1, Louisiana enacted one of the first such laws to pass in the country.
Louisiana's H.B. 142 (now Act 440) required websites with at least 33.33% of pornographic material to conduct age verification. This caused a 200% surge in VPN demand in the first week of January.
Other age restriction bills have been signed into law in Mississippi (S.B. 2346) and Arkansas (S.B. 66). An immediate 72% increase in VPN demand was observed in Mississippi when S.B. 2346 was passed in April. It is scheduled for implementation on July 1.
In contrast with Utah's VPN demand upswell, which is due to Pornhub's ban, the surge in Louisiana and Mississippi can be directly linked to the signing of their respective laws. Evidently, the VPN demand increase linked to the age restriction bills passing is not as high as the surge caused by the Pornhub ban.
One possible reason for this disparity is the continued access to pornographic material through sources other than major adult websites, such as social media platforms.
Additionally, in Louisiana, Pornhub and other adult sites operated by MindGeek (Pornhub's owner) complied with the state's Act 440. Louisiana-based users must verify their age through a state-sponsored mobile app called LA Wallet, which stores a legally binding replica of Louisiana driver's licenses.
In Utah, a similar system has been operational since 2021. However, a spokesperson for Pornhub clarified in an interview with CNN that the program is not yet capable of processing age verifications online because it was only made for presenting electronic driver's licenses at Salt Lake City International Airport, liquor shops, and local credit unions.
More states with outstanding age restriction bills include Texas (S.B. 2021) and Montana (S.B. 544).
Past VPN demand surges related to pornographic content restrictions are not limited to age verification laws. In November 2020, the government in Thailand announced a total ban on Pornhub and 190 other pornographic sites, causing a 644% jump in VPN searches.
vpnMentor neither encourages nor condones using VPNs for illegal activities, such as bypassing laws or regulations.
We rank vendors based on rigorous testing and research, but also take into account your feedback and our commercial agreements with providers. This page contains affiliate links.