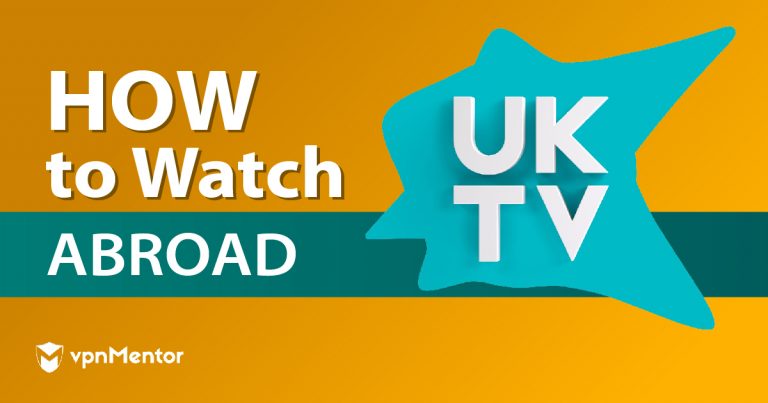 How to Watch UK TV Abroad in 2021: Step-by-step Guide
Updated on 16th February 2021
Stepping foot outside the UK typically means saying goodbye to favorite programs like EastEnders and Top Gear. But why should you leave your TV shows behind when you go on holiday, take a business trip, or even move away?
As UK shows aren't broadcast around the world in a timely manner (or at all, in some cases), your only options for catching up are to fly back home—or invest in a VPN (which is much cheaper.)
With a VPN, you can quickly bypass geoblocks to access streaming services like ITV Hub and BBC iPlayer in the USA, Japan, France, or anywhere else in the world.
Getting started is easy, so you'll never again have to long for home just to watch British TV. Keep reading to learn how to use a VPN for streaming UK TV abroad and see my top recommendations.
How to Watch UK TV From Anywhere in Under 2 Minutes
Choose a VPN service; I recommend NordVPN for its ease of use and unblocking power.
Install the VPN and connect to a server in the UK.
Head over to BBC iPlayer, ITV Hub, or another streaming service; log in to your account; and start watching!
Note: Channels that are free in the UK offer their programming for free online, too, but they do require registration. All require basic info such as name and email address, but some ask for more. For example, ITV Hub requires a postcode, while All 4 needs a full address. Pay channels like Sky offer their content free only to customers who already have a subscription.
How UK TV Services Block You
When you try to access British TV streaming channels from outside the UK, you'll see an error message like this: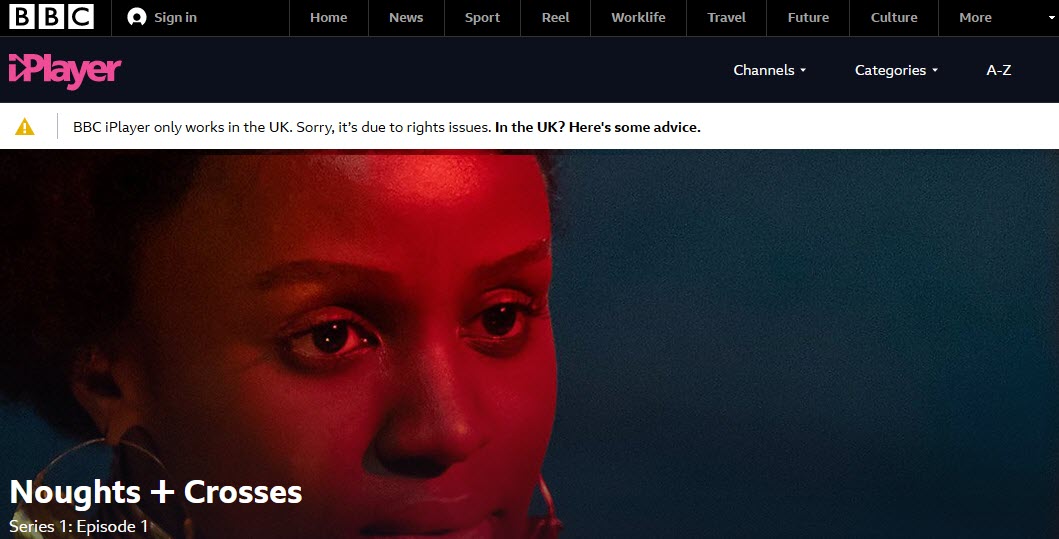 That's because BBC iPlayer, Channel 4, ITV Hub, and Sky Go restrict content based on your location. This is called geoblocking, and it's put in place due to copyright and licensing agreements.
Geoblocks are indiscriminate: If you don't have a UK IP address, you can't access UK streaming services, even if you're a resident who's on vacation or a paying customer.
VPNs help you overcome these restrictions by allowing you to connect to a serverin the UK. When you connect, you'll assume a British IP address, just as if you were in the country. When BBC iPlayer or ITV Hub checks your location and sees the UK, your content will begin streaming.
Finding a VPN that can bypass geo-restrictions isn't always easy. But don't worry—we've spent months testing over 300 VPNs so you don't have to. Keep reading to see our top recommendations so you can stream ITV Hub, Sky Go, and BBC iPlayer in the USA, Australia, and beyond.
The Best VPNs for Watching UK TV Abroad – Full Analysis (Updated March 2021)
Over 5,480 global servers, 550+ in the UK
Lightning-fast speeds
SmartPlay technology for easy streaming
Unlimited bandwidth and data
Streaming-optimized servers
Up to 6 simultaneous connections
30-day money-back guarantee
Works with: All 4, BBC iPlayer, BT Sport, Eurosport Player, ITV Hub, Sky Go, and Netflix UK
Compatible with: Android, Windows, macOS, iOS, Android TV, Linux, Chrome, and Firefox
I've tested 300 VPNs and NordVPN regularly comes out on top, so it's no surprise that the powerful, reliable, and super-fast VPN is my #1 pick for streaming UK TV abroad.
I was impressed to see it has a UK network of over 550+ servers. It's very unlikely you will connect to a congested server that may slow streaming speeds.
Plus, such a large network provides access to a huge number of UK IP addresses. This makes it very difficult for even the toughest anti-VPN technology to detect you're using a VPN. If a streaming service blocks you, all you need to do is quickly switch to another server to bypass it. Although I didn't have this problem during testing, I found it only took about 15 seconds to change servers.
NordVPN's extra unblocking power comes from its SmartPlay DNS. It automatically routes your traffic through the best geoblock-beating server when you're streaming.
SmartPlay is built into the NordVPN app, so you don't need to do anything to activate it. Thanks to this tech, I skipped past geo-restrictions and could easily access ITV Hub, UKTV Play, BritBox, All 4, and the notoriously tricky BBC iPlayer, among others.
NordVPN claims to have the fastest speeds on the market. So, I was excited to put its UK server speeds to the test from my location on the US west coast.
With an impressive download speed of 56.94 Mbps, I lost less than 10% of my starting speed.You only need 5 Mbps for quality HD streaming, so I had no trouble with picture clarity or loading times.
| | | | |
| --- | --- | --- | --- |
| Connection | Ping (ms) | Download Speed (Mbps) | Upload Speed (Mbps) |
| Base Speed US Location | 11 | 61.49 | 18.19 |
| Quick Connect UK Server | 84 | 56.94 | 17.59 |
Whether I was streaming Family Guy on ITV Hub, Taskmaster on UKTV Play, or some Louix Theroux on BBC iPlayer, the picture was super sharp, and there was no buffering or lag. 
I took advantage of NordVPN's unlimited bandwidth by streaming an entire series of DCI Banks on ITV Hub free from any dropped connections. You really can watch as much UK TV as you want with NordVPN.
The family can also stream their favorite British shows as you can connect 6 devices simultaneously with a single NordVPN account. As I found out by streaming on a number of my gadgets at once, using all 6 connections at once won't affect your performance, even if you use the same server.
I found it straightforward to install NordVPN on my router, which gave me unlimited simultaneous connections because it covered every device on my network.
The excellent 24/7 live chat support team guided me through the process step-by-step and I found them to be extremely helpful.
Why not test out the service completely risk-free by using its 30-day money-back guarantee? You can watch all your favorite UK shows while making sure it's the right VPN for you.
Want to know more? Explore our NordVPN review to see the full results of our research and testing.
Stream UK TV Abroad With NordVPN!
3,000+ servers in 90+ countries, including 4 locations in the UK
Works on devices that don't usually support a VPN
Incredible speeds and a free speed tester
No caps on data or speed
Use with up to 5 devices at once
30-day money-back guarantee
Works with: All 4, BBC iPlayer, BT Sport, Eurosport Player, ITV Hub, Sky Go, Netflix UK
Compatible with: Windows, Mac, Linux, mobile phones, streaming sticks, gaming consoles, and routers
ExpressVPN is another great VPN for streaming UK TV from anywhere. It's powerful enough to hurdle over geoblocks and grant you access to all the major UK streaming services.
My favorite feature is MediaStreamer, which lets you stream on some devices that don't support VPNs. I was able to stream new episodes of American Dad through ITV Hub on my non-compatible LG Smart TV. The ExpressVPN website has simple tutorials on how to use MediaStreamer on any device, including game consoles.
ExpressVPN's powerful servers in four UK locations gave me a reliable connection to every UK streaming platform I tried. With ExpressVPN, you're just a few clicks away from the best in British TV.
Geoblocks beaten, next, it was time to test out speeds. Would ExpressVPN live up to its name? My download speeds were slightly slower than those of NordVPN at 55.41 Mbps, but are more than fast enough for buffer-free and lag-free streaming.
There are no caps on bandwidth or data, so that gave me the perfect excuse to start binge-watching Peaky Blinders. I didn't lose my connection once and my speeds were consistently high.
| | | | |
| --- | --- | --- | --- |
| Connection | Ping (ms) | Download Speed (Mbps) | Upload Speed (Mbps) |
| Base Speed US Location | 11 | 61.49 | 18.19 |
| Quick Connect UK Server | 86 | 55.41 | 17.53 |
The built-in speed test for Mac and Windows devices is great for taking the guesswork out of finding a UK server for Ultra-HD streaming, which requires at least 25 Mbps. I easily found a server that gave a beautiful, vivid picture when watching Seven Worlds One Planet on BBC iPlayer. Not a single frozen pixel, and believe me, I looked for them.
I switch on split tunneling during my test to see if I could stream UK TV while still accessing local US content. It was a success! Split tunneling routes selected traffic through the VPN, leaving the rest to your local IP address.
I found it really easy to install the ExpressVPN app on my laptop as well as my phone and Xbox One.
In truth, there aren't many devices that don't support the ExpressVPN app. The VPN is compatible with all the major operating systems, including Android, macOS, iOS, and Windows, as well as set-top boxes, smart sticks, and routers. You can connect 5 of your devices to ExpressVPN at once, which is so easy with the user-friendly app.
If you have questions about the service or need help getting started, you can turn to ExpressVPN's 24/7 live chat or send an email—both are responsive and helpful.
Ready to give the ExpressVPN a try? It also offers a 30-day money-back guarantee so you can take a risk-free test drive.
Want to know more? Explore our ExpressVPN review to see the full results of our research and testing.
Stream UK TV Abroad With ExpressVPN!
400+ UK servers in Berkshire, London, and Manchester
Streaming-optimized servers
Speedy connections for buffer-free streaming
Unlimited data and bandwidth
Connect up to 7 devices at the same time
14- and 45-day money-back guarantees
Works with: All 4, BBC iPlayer, BT Sport, Eurosport Player, ITV Hub, Sky Go, Netflix UK
Compatible with: Windows, Mac, Linux, Android, Chrome, Fire TV, and some routers
CyberGhost is the easiest VPN I've ever tested. The beginner-friendly apps make it really simple to stream UK TV from anywhere. In just a few clicks, you're ready to stream. I didn't need to go through any configuration to get started, but if you're a more experience user, you can explore its advanced settings to really perfect your connection.
Geoblocks are no match for CyberGhost's 6,400+ servers spread across the UK. I tested half a dozen UK servers at random and with each one I could access All 4, ITV Hub, BBC iPlayer, UKTV Play, and more. My favorite part is that they're labeled as to which streaming service they can unblock. All I needed to do was type BBC iPlayer or Netflix UK into the search field, and it automatically found me the best server for each.
I enjoyed smooth viewing with stability and reliable speeds by utilizing CyberGhost's specialized streaming servers for BBC Player, Netflix UK, and Eurosport.
I was very pleased with CyberGhost's unblocking powers, would I be as happy with the UK server speeds? I did see a reduction of 50% of my speed with a download speed of 30.41 Mbps. This may seem like a significant decrease, but it was still more than sufficient for the seamless streaming of The Simpsons on All 4.
| | | | |
| --- | --- | --- | --- |
| Connection | Ping (ms) | Download Speed (Mbps) | Upload Speed (Mbps) |
| Base Speed US Location | 11 | 61.49 | 18.19 |
| Quick Connect UK Server | 111 | 30.41 | 17.27 |
There was no lag or buffering with any show I streamed, and no disruption from irritating dropped connections courtesy of CyberGhost's unlimited bandwidth. Binge on American Pickers on UKTV Play with no dip in performance or speeds.
Like the other VPNs on my list, CyberGhost is compatible with all major operating systems. You can connect 7 devices at once to the VPN. I found it super easy to get going on my laptop, tablet, and smartphone, and could still share CyberGhost with the family.
Everyone in my household found it easy to stream UK TV with CyberGhost, but if you do need a little extra help the live chat and email support are brilliant.
Take advantage of its money-back guarantees to see for yourself why it's such a great VPN for streaming. You've got 14 days to test it out if you choose a monthly subscription and 45 days if you opt for a longer term.
Want to know more? Explore our CyberGhost review to see the full results of our research and testing.
Stream UK TV Abroad With CyberGhost!
FAQs
😀  What else can a VPN do?
VPNs are incredible tools for unblocking streaming content from around the world, but they can do so much more.
Every time you connect to a premium service, your data is carefully encrypted so that no one can see what you're doing. This means you can access just about anything from anywhere, and no one will know. This is especially helpful for combating censorship in countries like China and Iran or hiding your identity when you're torrenting.
Even if you're not trying to get around geo-restrictions, you need to be careful with your data. Connecting to public WiFi networks, for example, can expose your banking information and social media logins. By using a VPN that encrypts your data, there's no chance of hackers or anyone else taking a peek.
😄 Is BBC iPlayer free to use?
BBC iPlayer is completely free to use. You'll need to create an account to get started, but the process is quick and simple. Do note that you'll need to provide a postcode during signup and you'll need to attest to holding a British TV license before you start streaming.
🙂 Where can I watch British TV?
Several UK channels have made streaming services available so you can watch live TV or catch up on missed episodes. Click the links below to access the most popular services:
😊 Why are other countries banned from UK TV?
It all comes down to money. When TV shows and movies are produced, complex licensing agreements are created. In order to make the most money, content producers license out their media for broadcast in other countries. There's no money to be made in ITV, Channel 4, and BBC One live streams outside the UK, so they're blocked.
To get around these geo-restrictions and make the most out of your subscriptions—paid or otherwise—you need to use a VPN that hides your IP address.
The Bottom Line
If you're not physically located in the United Kingdom, you're blocked from accessing free live TV streaming from the UK, including shows like His Dark Materials and Killing Eve. You can wait until these shows are licensed for broadcast elsewhere—if they ever are—but why?
When you use a premium VPN with UK servers—like my favorite NordVPN—you can hide your IP address and location. This means streaming services will think you're in the United Kingdom, and all the British programming you can handle will be yours to watch.
To summarize, here are the best VPNs for watching UK TV abroad in 2021…
Privacy Alert!
Your data is exposed to the websites you visit!
The information above can be used to track you, target you for ads, and monitor what you do online.
VPNs can help you hide this information from websites so that you are protected at all times. We recommend NordVPN — the #1 VPN out of over 350 providers we've tested. It has military-grade encryption and privacy features that will ensure your digital security, plus — it's currently offering 68% off.
Privacy Alert box - content - Popular posts