What is a Proxy Server – How to Set Up and Use One in 2023
A proxy server works as a gateway between your device and the websites you want to access. Instead of connecting directly to a website (which acts as a server), you route your connection through a 3rd party server that has the purpose of protecting your online footprint. That way, you can keep your IP address hidden from any prying eyes.
However, there are multiple types of proxies — and not all of them will keep your connection safe and protect you and your personal information from cyber hazards. I tested 45+ proxies to see which had the best security, speeds, and network connections, and shortlisted the ones offering the best overall performance.
Of all the services I tested, I recommend PIA's SOCKS5 proxy. You can set it up on your phone, computer, and even your router, allowing you to access the internet safely every time. Try it risk-free with its 30-day money-back guarantee to see if you like it as much as I did. You have 30 days to claim a refund if it's not right for you.
Get Private Internet Access Today!
Quick Guide: How to Set Up and Use a Proxy Server in 3 Easy Steps
Get a proxy. I recommend Private Internet Access thanks to its fast speeds and great security features.
Configure it to your device. In your device's Advanced Settings, insert the proxy server address and port number.
Use your proxy! That's it - you can now use the internet with the safety of a proxy.
What is a Proxy and How Does it Work?
A proxy tunnels your internet connection through its own servers, sending web requests on your behalf. It then filters the response from the site server and sends its data to you so you can access the webpage in your browser. With a proxy server, all the data you send — such as your IP address — is changed, while still giving you access to the desired information. You can also set a proxy to blacklist any dangerous web pages, preventing you from being exposed to dangerous scripts.
Whenever you use the internet, your IP address is visible to anyone who has the means to take a look. This means that any time you click on a link that contains malicious coding, you run the risk of infecting your devices or creating backdoors for hackers.
Proxies are useful for:
Bypassing censorship – When you use a proxy, you can bypass geoblocks set by network administrators and websites, allowing you to view content that's not normally available where you are.
Tunneling traffic – You can use a SOCKS proxy to tunnel web traffic to another server through a TCP connection. This way, you can safely send and receive files, even through P2P clients.
Faster speeds – Proxies can boost servers speeds and performance. Since they don't encrypt your connection, you won't see a change in connection speed.
Bandwidth preservation – Since proxies hide your IP address and the destination of your traffic, your ISP won't be able to impose bandwidth limits based on its filters.
Increased security – Because your IP address is hidden by the proxy server and it accesses web pages for you before sending you the information, you get an extra layer of protection.
However, not all proxies are secure. The ones I shortlisted below are renowned for their security and reliability, so you can enjoy safe online sessions.
Get Private Internet Access Today
Best VPNs With Proxies — Full Analysis (Updated in 2023)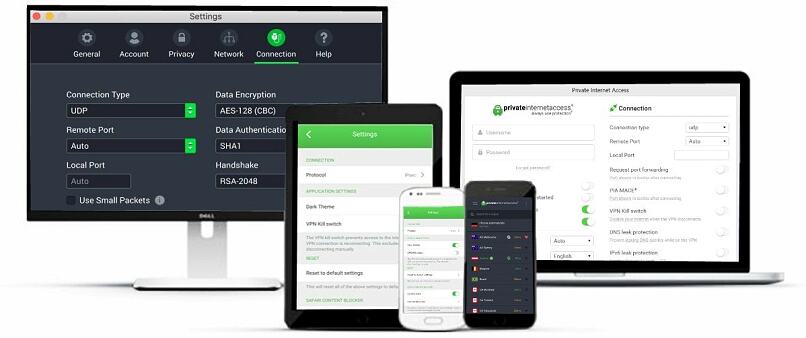 Editor's Choice
Editor's Choice

Tested January 2023
Try Risk-Free for 30 Days
Available on:
Chrome
Router
Smart TV
More
www.PrivateInternetAccess.com
29,650 servers in 84 countries
Fast speeds
10 simultaneous device connections
Works with: Netflix, BBC iPlayer, Amazon Prime Video, Crunchyroll, Eurosport, and more
Compatible with: Windows, Mac, Linux, Android, iOS, Xbox, PlayStation, and more
Private Internet Access includes a free SOCKS5 proxy with all of its subscriptions, so you can take full advantage of both the VPN and proxy. To set it up, you need to access your account's settings and get the credentials for the proxy (the SOCKS5 login is different than the VPN's). Then, you can use it to set it up on the device you need. PIA also offers in-depth setup guides, so you'll have it up and running in no time.
It has superfast speeds, so you won't have to deal with long loading times when you browse, stream, or torrent. During my tests, I had an average of 231 Mbps with the proxy connection, which is more than enough for any online activity (streaming in 4k only requires 25 Mbps). The VPN didn't perform badly either, and I only experienced a 5% drop on local servers.
The VPN has a large server network, so you can use its VPN or proxy to unblock restricted sites around the world. I tested servers in the US, UK, Germany, and Australia, and had stable connections on all of them. Its network is reliable so you don't have to worry about disconnects or server congestion slowing you down.
You can use PIA's SOCKS5 proxy on all major device platforms and it covers 10 simultaneous connections under one subscription. I used the VPN and proxy on my MacBook Air, my PC browser, and 2 mobile phones at the same time and experienced no loss in quality. You can also set it up on your router and use it with devices that aren't normally compatible with VPNs, such as your games consoles and smart TVs.
One downside to PIA is that it doesn't allow torrenting on its US servers. But its vast server network allows you to change your location and switch to a server in Europe if you want to torrent while you're travelling.
Save money with its great subscription deals — get PIA for only $2.19/month thanks to its latest discounts.
It also lets you try it free with its 30-day money-back guarantee to see if you like it. The cancellation was quick and easy. I simply messaged the support team and asked for a refund. The agent asked me a few questions about my experience with the VPN, but approved my request after a 10-minutes chat. My money was back in my account within 3 days.
Get Private Internet Access Today!
Fast speeds
2,000 servers in 75 countries
Unlimited device connections
Works with: Netflix, BBC iPlayer, Amazon Prime Video, Crunchyroll, Eurosport, and more
Compatible with: Windows, Mac, Linux, Android, iOS, Xbox, PlayStation, and more
IPVanish allows an unlimited number of connections under all its subscriptions, so you can use the proxy and VPN on all your devices. This is great if you're on the go a lot — you can set it up on your home PC and router, as well as all of your mobile devices. I tried it by connecting 2 laptops, a tablet, and my iPhone, and all of them worked fine with no disruptions, even when I connected them all to the same server.
It comes with a dedicated P2P SOCKS5 proxy that has extremely simple online instructions. This proxy is a great choice if you want to torrent, and it supports uTorrent, Vuze, Deluge, and more. I ran a few IP and DNS leak tests on its servers and all of them were fully secure. This means that you can keep yourself safe from malicious content and prying eyes.
Like PIA, IPVanish has fantastic speeds which are perfect for streaming, gaming online, and downloading P2P files. When I connected to the SOCKS5 proxy, my speeds increased by 30%, which really impressed me.
One small downside to IPVanish is that it doesn't accept cryptocurrency as a payment method. However, it does accept all major credit cards and PayPal, so there are plenty of other options.
Snap up its yearly plan for the extremely low cost of $3.99/month. I recommend choosing the long-term plan since it's far better value than the shorter term one.
Grab its 30-day money-back guarantee so you can see if you like it. To get a refund all I had to do was access my account setting on its website and cancel my account. I didn't even give a reason and it only took about 5 minutes. Within 4 days, I had all of my money back.
Fast speeds
200 servers in 63 countries
10 simultaneous device connections
Works with: Netflix, BBC iPlayer, Amazon Prime Video, Crunchyroll, Eurosport, and more
Compatible with: Windows, Mac, Linux, Android, iOS, Xbox, PlayStation, and more
PrivateVPN offers superfast servers to keep your streams free from lag or buffering. I had consistent speeds of around 170 Mbps using its proxy, which is more than enough from streaming, torrenting, and gaming. You can enjoy using the VPN for all your internet needs without frustrating interruptions slowing you down.
All of its plans come with a free SOCKS5 proxy. PrivateVPN is known for its proxy security, so there is very little risk of your identity being leaked. Since the proxy doesn't offer full protection, you can also use the VPN. When using the VPN you'll be further protected with 256-bit encryption, DNS leak protection, and state-of-the-art connection protocols. This means that you don't have to worry about being the victim of a targeted attack while you're online.
Its network of servers is quite small, with just 200 in 63 countries available. However, the servers I used connected quickly and its distribution covered all the locations I needed.
This VPN is quite reasonably priced to begin with, but you can get it for just $2/month with its best deal.
You can try the VPN out for 30 days to make sure you like it. After testing it for 20 days I contacted them via live chat to ask for my money back. I just got asked a couple of questions about my experience using the VPN, and the rep was extremely friendly — he didn't pressure me to stay. I had my refund in 3 days.
What Types of Proxy are There?
There are 3 types or proxies available, each with a different purpose.
Reverse
A reverse proxy protects its servers rather than its clients. What this means is that when the proxy accepts a request, it will forward it to one of a network of many servers. That server then passes the results back to the server that processed the initial request. The client communicates solely with the original server (the reverse proxy server), and has no connection to the server that actually handled the request.
SOCKS
SOCKS stands for Socket Secure, and is designed with the ability to route all types of traffic, no matter what the protocol or program. It can communicate with servers through a firewall by directing traffic to a specific client server. You can use this function to maintain your anonymity, for example, while torrenting or web scraping. It is faster than other proxies because it doesn't use encryption — but this does mean it can be less secure.
Transparent
A transparent or inline proxy intercepts the connection between the internet and the origin of the request. It does this without needing to modify any of the request responses, which is why it is known as "transparent". It acts as an intermediary, and is often used by companies who wish to control or block which sites staff are able to access over the company servers. Transparent proxies do not use encryption or hide the originating IP address, and so it isn't recommended for personal use.
Get Private Internet Access Today!
How to Set Up a Proxy
Setting up a proxy is easy, but the process is different for each operating system.
I recommend using Private Internet Access. The proxy comes free with the VPN, making your money go further. It's compatible with all major devices and you can even configure it to your router to use on games consoles and smart TVs. To use the proxy on your devices, you just need the following information:
Host Name/Proxy Address: proxy-nl.privateinternetaccess.com
Port Number - 1080
Proxy Type - SOCKS v5
Mobile Devices
It's quite simple to set up a proxy on iOS. Just go to WiFi in your Settings area and press on the name of the WiFi network you're connected to. Scroll down until you find "HTTP Proxy" and switch to "On". You can manually enter the details of your chosen proxy, or allow it to choose one for you.
With Android devices, there are a few more steps to enable your proxy.
Get a proxy. Access PIA's website, sign up, and get the credentials for the proxy.
Go to Android System Settings on your chosen device. Find "Network and Internet".
Click "Mobile Network". Select "Advanced", and then "Access Point Names".
Select the APN. Just pick whichever one you are currently using.
Enter the proxy details. Get the IP address and port details of the proxy you want to use from its website and enter them into the APN area.
Save your changes. If it doesn't work right away, turn mobile data on and off to kick-start the change.
Desktop Devices
To set up a proxy on Windows or macOS, follow these simple steps:
Get a proxy. My favorite is the one that comes free with Private Internet Access.
Access your network settings. On macOS, look for "Network and Internet," and choose "Proxy." For Windows, access "System Preferences," then "Network," and choose "Proxies" from the "Advanced" tab.
Enter your proxy details. You'll be able to find them on your provider's website.
Apply the settings. Save your configuration and close the window.
Start using your proxy!
Browsers
All the services on this list offer reliable proxy browser extensions, and the setup is easy.
Get a proxy. You can visit PIA's website, create an account, and then download the browser extension.
Pin the extension. Open the "Extensions" menu in the top right corner of your browser, and pin it to the main tab.
Log in. Use your PIA credentials and log in.
Choose a server and connect. All you need to do is select a country, and you're done!
Get Private Internet Access Today!
FAQs on Using a Proxy
Is using a Proxy safe?
That depends. If you use a high quality proxy, you can enjoy the benefits of increased speeds, better security, and privacy. Free or low quality proxies can expose your IP address and put you at risk of online threats.
Will using a Proxy slow down my speed?
Some proxies can actually increase your speeds. Because proxies don't encrypt your data, and use methods such as web page caching to speed up server requests, a great quality proxy like the ones that come free with these top VPNs can boost your speeds.
Can I use a free proxy?
You can, but I don't recommend it. Free proxies don't have the security features and other benefits that using a high quality proxy can give you. They can also sell your details to 3rd parties in order to make back the money. Instead, you can choose a great VPN that comes with a proxy, ensuring you're protected online. All of the recommended proxies on this list come with money-back guarantees and excellent deals, so you don't have to break the bank to stay safe.
What's the difference between a proxy and a VPN?
A proxy only protects the HTTP or SOCKS requests and returns from your browser, whereas a VPN securely encrypts all of your internet traffic. Because of this, it's always wise to use a reliable proxy that comes from a reputable source, such as a VPN provider. I recommend Private Internet Access, which comes with a free proxy and has fantastic security features.
Will a proxy hide my IP address?
It will, but only if it's high quality. Good proxies, such as the ones that come free with these great VPNs, fully protect your IP from any prying eyes.
Start Using a Proxy Today!
Using a proxy makes you safer online, can increase your speeds, and allows you to torrent without revealing your identity. The easiest and safest way to use a proxy is to choose one that comes with a great VPN provider.
I recommend Private Internet Access. You get the proxy free with your VPN subscription, making your money go further. It's compatible with all major devices, including router configuration so you can use it on games consoles and smart TVs. Get PIA's VPN and proxy risk-free with its 30-day money-back guarantee. Simply cancel for a full refund within the offer period if you find you don't like it.
To summarize, the best VPNs with Proxies are...
Privacy Alert!
Your data is exposed to the websites you visit!
The information above can be used to track you, target you for ads, and monitor what you do online.
VPNs can help you hide this information from websites so that you are protected at all times. We recommend ExpressVPN — the #1 VPN out of over 350 providers we've tested. It has military-grade encryption and privacy features that will ensure your digital security, plus — it's currently offering 49% off.