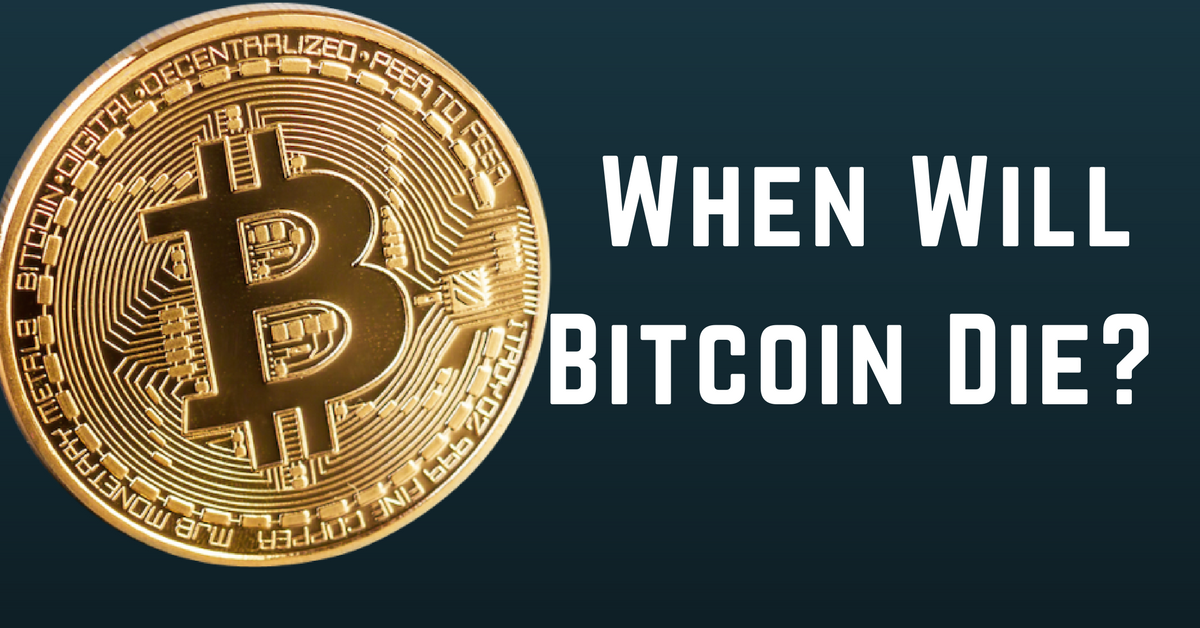 Is Bitcoin Dead? When Will Bitcoin Die? (The Fate of Bitcoin)
Bitcoin is dead…almost.
Since 2018, Bitcoin shot up to $20,000 and plummeted to $7,500. The recent plummet has experts claiming it is the end of Bitcoin and the bubble has finally popped.
But, can Bitcoin really die?
We take a look at the history of Bitcoin, how cryptocurrency has changed over the years, what experts are saying about it, and if perhaps there's a better alternative than the ever-popular Bitcoin.
Bitcoin functions on its own
Bitcoin was invented in 2009 as a peer-to-peer online payment system that does not require a trusted central middleman – such as a bank or payment gateway – to verify and control the transaction.
Because there is no middleman, a system controls double spending to ensure no one spends the same money more than once (remember, anything digital can be copied and reused over and over). The system is the peer to peer network.
Users all over the world are given access to connect their computers to a network and are rewarded with Bitcoins for the amount of processing power they donate to the network. (This is known as Bitcoin mining.)
This network system, also known as blockchain, acts as a public ledger that records all Bitcoin transactions, taking control away from the middleman (banks, cards, PayPal) and giving it back to the person performing the transaction. This results in fewer transaction fees and full control over funds, which means central agencies cannot dictate any transaction limits, freeze any accounts, or reverse payments.
How Blockchain works
Without getting into too much detail, Blockchain is how Bitcoin orders transactions. Using nodes, a verification method that ensures the transaction can be made, the Bitcoin network groups a number of transactions together, called blocks. About every 10 minutes (which is what it takes to verify and confirm the transactions within one block), the network approves a block.
Because of this blockchain, Bitcoin cannot be stopped.
Miguel Cuneta writes:
"The Blockchain doesn't care. There is no plug to pull. It has no feelings. But every ten minutes, it takes a step forward. Every ten minutes, it increases its value and the strength of its network. No person or institution can stop this."
According to him, as long as people have transactions, Bitcoin will continue to grow. But will the value increase again?
The fall and rise of Bitcoin
Ever since its inception by Satoshi Nakamoto in 2009, Bitcoin has had its ups and downs. In 2011, Bitcoin dropped to $2.00 after reaching $31 a few months before. In 2013, when Bitcoin reached $1,000, it plummeted to $300.
So, it only makes sense that when Bitcoin reached nearly $20,000, it dropped back down to $7,500 (at the time of writing this).
Does that mean Bitcoin will rise again?
Most likely.
Ran Neuner, an expert on Bitcoin, told CNBC that he expects the market to hover for a little while and then go back up.
Unfortunately, there's no way to tell if he's correct.
The right time to invest
While many believe Bitcoin will go back up, others who look at cryptocurrency as a whole say to go with another route.
Alternatives to Bitcoin, known as Altcoins, have flooded the market. A lot of them offer variations to Bitcoin, such as different economic models, mining algorithms, and some offer more or less privacy than Bitcoin itself.
In some cases, these altcoins can be more valuable than Bitcoin and are worth the investment.
Where Bitcoin doubled in value in months before losing its gains, Alternative coins such as Cardano were up 30 to 40 fold.
Putting that in perspective, 10,000 USD invested from 1st December 2017 to 31st December 2017 in Bitcoin would yield a little more than $4,000 in profit. That same amount invested in Cardano coin would have over $54,000 in profit.
BITCOIN
Price 01/12/2017 = 10,000 USD
Coins Purchased (10K) = 1 coin
Price 31/12/2017 = 14,235 USD
PROFIT = 4,234 USD
CARDANO COIN
Price 01/12/2017 = 0.11 USD
Coins Purchased (10K) = 90 909 coins
Price 31/12/2017 = 0.71 USD
PROFIT = 54,545 USD
So, while Bitcoin will continue living on, and it might even increase in value, there are more worthwhile options out there to invest in.