Editor's Rating: 4/5
BullGuard VPN – a joint venture between NordVPN and internet security firm BullGuard – promises a high-performance network with easy-to-use apps. But does it deliver?
I tested it for a week to find out if its performance is worth the price.
BullGuard offers a 30-day money-back guarantee, so you can try it without risk. But why do that when I've done all the work for you?
Its greatest strength is speed. BullGuard is fast, even when you're connected to a server on the other side of the world. It can even unblock most streaming services – if that's important to you, keep reading to make sure the service you want to access is covered.
These test results will help you decide if BullGuard VPN meets your needs. And, if it doesn't, I'll recommend some VPNs that might suit you better.
Does BullGuard VPN Unblock Global Content?
I was pleased to discover that BullGuard VPN can unblock almost any streaming service. I could access:
Netflix US, UK, and Canada
Hulu
BBC iPlayer
Amazon Prime Video
I live in Australia and, even though my data had to travel across the world to BullGuard's US server, I was able to stream in high-definition. I didn't experience any buffering, either.
Does BullGuard VPN Support Torrenting?
BullGuard VPN does support P2P connections, but there are no specialized torrenting servers.
However, ExpressVPN is a better choice for torrenting. It has great security features and allows safe torrenting on all its servers without the need for a complicated setup.
BullGuard VPN Speed Tests
You'll always experience a small loss of speed when you're connected to a VPN server. Your traffic has to travel farther to reach the server, and it takes extra time to encrypt and then decode your data.
You'll notice this speed loss the most with free VPNs. If you're using a premium VPN, it should be barely noticeable. 
You'll generally get the highest speeds when you're connected to a local server. BullGuard has servers in only 16 countries, so depending on your location, this may not be possible. Luckily, it has a server in Australia.
Before testing BullGuard's speed, I tested my local internet connection so I could compare my results to my base speed. I turned off YouTube, Spotify, and any other services that might slow my connection down.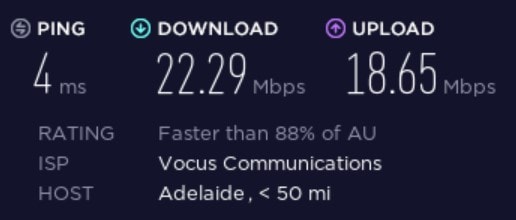 My speed without a VPN was faster than 88% of my country, so I was keen to see what would happen when I connected to BullGuard. I tested the Australian server first: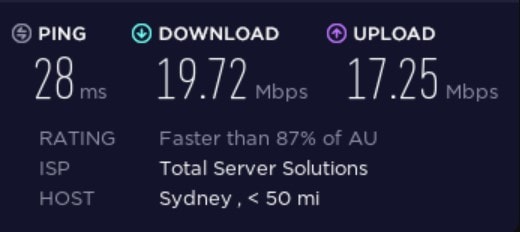 My speed dropped a small amount, but it wasn't noticeable. 19.72Mbps is more than fast enough to stream and torrent.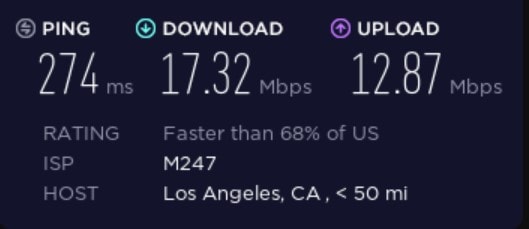 When I connected to BullGuard's US server, I was pleasantly surprised. My connection was still incredibly fast- something I didn't expect to happen while connected to a server so far away.
BullGuard is one of the fastest VPNs I've tested. If you're after a service that's speedy, this is a service you can consider.
However, my ping was high during my tests, so gaming would be impossible. I recommend ExpressVPN if you're looking for a speedy and consistent service.
Security
BullGuard VPN Encryption
BullGuard VPN uses industry-standard 256-bit encryption to protect your internet traffic. It's virtually unbreakable, and the best level of encryption currently available.
Kill Switch
There is an automatic kill switch in the app, but you have to turn it on yourself once you install it. This is a little frustrating because, if you don't know you have to turn it on manually, you could be exposed to data leaks if your connection drops.
However, it's easy to turn on. Just click the slider, and you're protected.
You can use the App Kill Switch to select specific apps to close if you lose your VPN connection. Using this option, your internet will stay connected, but high-risk apps like BitTorrent will close.
Leak Tests and Leak Protection
While I was connected to BullGuard's US server, I ran some DNS and IPv6 leak tests. 
I was happy to find that my DNS request and IP address were not being leaked. The test results show that BullGuard provided me with an IPv4 address and blocked Ipv6 requests. Also, my DNS requests were routed correctly.
Privacy
Location
BullGuard VPN is based in the Philippines, outside the 5/9/14-Eyes Alliance.
Ad Blocker
BullGuard VPN doesn't offer an adblocker – but it is compatible with third-party ad blockers, like AdBlock.
BullGuard VPN's Logs Policy
I checked BullGuard's privacy policy and contacted its customer service team to confirm its no-logs policy. It doesn't log your data, but it does record your payment information.
Additionally, you have to supply your email, full name, and address to sign up.
Server Network
Server Number and Locations
BullGuard operates servers in 16 countries, though it doesn't state how many servers are in each location.
The US
The UK
The Netherlands
Germany
France
Ireland
Norway
Sweden
Singapore
Austria
Spain
Belgium
Australia
Canada
Switzerland
Denmark
I was a little disappointed by its limited server network. Luckily, there was a server near me in Australia. But, if you live outside the network, you'll have to accept slower speeds and connect to an international server. 
ExpressVPN has 3,000+ servers across 90 countries. It's the better choice if you live outside BullGuard's network, or if you want to access streaming services like Hotstar India.
Apps, Browser Extensions, and Compatibility
BullGuard VPN has a relatively small collection of apps. It's only compatible with Windows, macOS, Android, and iOS. There are no browser extensions.
If you're looking for a VPN to install on your router, take a look at SaferVPN or ExpressVPN instead.
How Many Devices Can I Connect With BullGuard VPN?
You can install BullGuard VPN on all of your devices, but you can only connect on up to 6 at a time. 
I recommend IPVanish over BullGuard in this respect because it offers unlimited simultaneous connections.
Support
Bullguard VPN offers comprehensive support via live chat and email. You can access the support team in various languages, too.
Live chat is instant, but there is a bit of a wait during peak times. It takes about 24 hours to get a reply through email.
I wanted to learn more about BullGuard's location and policies, so I opened up the live chat service.
I was connected with Vlad, and after a few moments, Vlad started typing… and typing… and typing. Then, the typing icon disappeared. Vlad, where did you go?
Well, we know where Vlad went. His shift ended. So, I was forwarded to Sorin.
After a short wait, Sorin was able to answer all of my questions. They were polite, quick, and accurate.
I would rate BullGuard's customer service slightly above NordVPN's, in terms of accuracy, as long as you don't mind a short wait to be connected to somebody.
💸

Price
$2.89/month

📆

Money Back Guarantee
30

📝

Does VPN keep logs?
No

🖥

Number of servers
2000

💻

Number of devices per license
6

🛡

Kill switch
Yes

🗺

Based in country
United Kingdom

📥

Supports torrenting
No