OneVPN Review & Test 2020- Keep This in Mind Before Buying
OneVPN is a relatively new VPN service provider that was founded in Hong Kong.
Originally, we thought this VPN had a lot of great features as well as excellent speed. Upon further examination, we realized there are numerous problems with OneVPN's service, especially when compared with top vendors like NordVPN. OneVPN is not a reliable VPN for streaming and I would recommend browsing our best VPNs for Netflix if you want to unblock TV and movies.
Some 0f these difficulties include: the site being down for long periods of time, the constantly offline 24/7 live chat, their slow customer service, error pages where there should be tutorials on the website, and inconsistent server connections.
In the interests of fairness – something we hold dear – we thought it best to revisit this provider and get a better understanding of what was going on.
During this investigation, we noticed that the website was up and working smoothly, however the live chat was offline. To test the speed of the company's response, we tried the offline chat and never heard a response.
Although OneVPN promises as part of their mission statement, "ease of access to online freedom with promising services". In reality, this ceases to be true in regards to their chat and slow customer service.
OneVPN also promises fast and easy speed, however as their servers are inconsistent and there are many errors within their pages, this promise is invalid. Often, you will have to wait for a long period of time or you will not be access their information at all because of the difficulties with the servers and pages.
Despite the servers being inconsistent, OneVPN does provide over 390 servers to choose from across 18 countries, including the US, UK, Australia, Germany, France, Italy, Czech Republic, Switzerland, and the Netherlands.OneVPN also offers PPTP, L2TP, OpenVPN and OpenConnect security protocols, along with 256-bit AES encryption.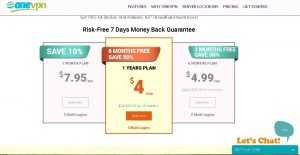 If the previous information regarding speed and customer service did not dissuade you from purchasing OneVPN, there are various packages to choose from, which can be purchased using a range of payment methods, including PayPal, Bitcoin, and debit cards.
Once you choose your package, enter your details, choose a payment method, and you are ready to go. Your login details are sent to you via email and arrive quickly.
Once you have your login details, choose your operating system and click on the link to download. Click Run and then let the Installation Wizard do the rest.
This process has been simplified since our initial review. However, it is still possible to manually install the VPN, and the video resources walk you through this.
Once downloaded, open the app, enter your login details, and choose a protocol and a server location, then press connect.
Please note there is a flaw within the system, and you may receive some error messages while trying to connect.
"L2TP connection attempt failed because the security layer encountered a processing error during initial negotiations with the remote computer"
"PPTP remote connection was not made because the name of the remote access server did not resolve."
We received these messages while trying to connect on L2TP and PPTP. After trying for a while, we finally managed an OpenVPN TCP connection to Austria.
The connection was stable during the test, and the speed was great.
Of course, that's only helpful if that's the connection you want. We were less successful with other server locations with this protocol.
We opened a ticket with the support team to request clarification on the issues, and to see how they could be resolved. We have yet to receive an answer.
For all these reasons provided, we suggest researching other VPNs before purchasing this one. We've done the hard work for you. Check out the most highly rated VPNs with top-of-the-line security features and servers all over the world to help you decide. Or, if you want a VPN specifically for streaming, read why NordVPN is the best VPN for Netflix.
| Features | Details |
| --- | --- |
| Number of countries with servers | 22 |
| Number of servers | 70 |
| Number of IP addresses | 1500 |
| Does VPN keep logs? | No |
| Does VPN include a kill switch? | Yes |
| Number of devices per license | 3 |
Online Privacy and Security against Cyber Criminals
Unrestricted access to foreign content anywhere in the world
7-day money back guarantee
24/7 live chat support system
Cheap pricing plan
Money Back Guarantee (Days) :
7
Mobile app :
Number of devices per license :
3
Watch the short video review and tutorial below of OneVPN
Kamran Ahmadzadeh
It has a lots of issues. I cannot connect to many servers. Using VPN client on router make me lose internet connection frequently. 7 days Money back Guaranty is joke. Even though there are "few servers in Canada", in reality there are 1 or 2.
---
See Plans
Reply to this review
Did you know? We approve all user reviews. Companies can't pay to include or exclude any.
Harley
Affordable & good VPN service
Their prices are very reasonable as compare to other VPN providers, their support was not good at the start but now support is very good I am satisfied now with OneVPN. They are growing with time and continuously progressing. A good start. You guys must try it.
---
See Plans
Reply to this review
John Case
I have got the subscription of OneVPN 2 months ago and suddenly everything gets stopped, after i contacted the support and they told me to have the latest version of OneVPN has been launched 1.07 the support help me out and everything gets fine and better as i required. Contact support your issues might get solved.
---
See Plans
Reply to this review
Compare OneVPN with the top alternative VPNs