For many people, finding the perfect VPN is a top priority. It's understandable; we all are looking to surf the web securely and privately and a good VPN can help us do just that. There are hundreds of VPNs out there at a range of prices, and if having a great VPN is important to you, then you're most likely willing to invest a bit of money into it. However, with all of the options, it's important to do some research and find out which ones are worth your money.
ProXPN is a little known VPN service that has been around for quite some time. But does the age of a VPN service correlate with its functionality? I did some investigating to find out. Unfortunately, I had issues accessing the ProXPN app on my laptop, as it was unavailable in my country. I reached out to their customer service for help, but for the purpose of this review, I scoured the Internet for all the information I could find on ProXPN.
What I found is an overpriced and outdated service that is good for torrenting and, sometimes, streaming from US Netflix. Keep reading for more details of my findings on ProXPN. For more VPN review articles, visit the vpnMentor website.
Short on Time? Here Are My Key Findings
ProXPN Features — Updated in January 2022
7.6
💸

Price
$6.25/month

📆

Money Back Guarantee
30

📝

Does VPN keep logs?
No

🖥

Number of servers
20

💻

Number of devices per license
3

🛡

Kill switch
Yes

🗺

Based in country
Netherlands

📥

Supports torrenting
Yes
Streaming — Unblocks US Netflix
Through my research on ProXPN's capabilities in unblocking popular streaming sites, I found that it is known for its success in unblocking US Netflix without much lagging or buffering. However, attempts to unblock other streaming platforms, such as BBC iPlayer, Disney+, Hulu, Amazon Prime Video,and HBO have not had similar success. Based on the documented slow speeds of the basic ProXPN plan, this definitely is not the best VPN if you are looking to stream. There are many other VPNs that unblock popular streaming sites.
Unblocked: US Netflix
Across my research, ProXPN was consistently able to unblock US Netflix, with minimal buffering or lag. This may be the strongest advantage of this VPN.
Blocked By: BBC iPlayer, Disney+, Hulu, Amazon Prime Video,and HBO
After digging for more information on ProXPN, I found that the VPN is not successful in unblocking other popular streaming platforms, BBC iPlayer, Disney+, Hulu, Amazon Prime Video, and HBO.
Unblock Netflix With ProXPN Today!
Speeds — Slow
From my research, speeds are said to be below average, ranging between 30-45Mbps, and the US and UK servers are, unfortunately, the slowest of them all. With these slow speeds across various servers, it is unlikely for gaming or streaming to be a pleasant experience. However, there are a few accounts of successful Netflix streaming. Even though ProXPN's speeds are said to be fast enough for torrenting, if you're looking for a VPN with the best speeds, you can take a look at our list here.
Are ProXPN's Speeds Fast Enough for Gaming? Probably not
Because ProXPN was unavailable in my country, I was unable to test its speeds on any games. Although, from my research and its reputably slow speeds, I highly doubt that this is the VPN you want to use for gaming specifically. There are plenty of other VPNs that are fast enough for gaming purposes.
Server Network — Not Extensive
According to my research, ProXPN has servers in Canada, USA, Australia, Hong Kong, Costa Rica, France, Iceland, Japan, Netherlands, Singapore, Sweden, and Switzerland; it does not have servers in popular locations, like Russia or Germany. There are 19 servers in just 12 countries, a comparably small amount for VPN providers, especially at ProXPN's price point.
Security — Not Very Secure
From the information given on its webpage, ProXPN has basic security features VPNGuard and encryption. ProXPN uses extremely basic software, that are commonly used for operating systems with DNS and built-in IP leak protection. Additionally, VPNGaurd lets you shut down specific programs automatically if your VPN disconnects, which is definitely a strong point.
ProXPN allows use of three protocols: OpenVPN, PTPP, and IPSec. IPSec is a relatively new protocol that is meant to be comparably reliable in its encryption methods. OpenVPN and PTPP are solid, well-known protocols that have both strengths and drawbacks.
In contrast, its encryption leaves much to be desired. It has a 2408-bit encryption key, meaning it is extremely vulnerable to hackers. If you're looking for a secure VPN, ProXPN may not be right for you.
Privacy — Trust at Your Own Will
ProXPN has a privacy policy listed on its website, however it is extremely short– less than a page long. ProXPN is based in the Netherlands, a well-known country for privacy. They claim to only collect sign up information and nothing more; a standard no log policy, as they do not track any other user information. It does not log any user data, and keeps email addresses, passwords, and payment details private through "standard security measures." Additionally, the service does not require users to provide a phone number. Of course, there is no way for us to test the validity of their privacy claims.
Its privacy policy has not been updated since September 2018, which is of some concern. Yet, this is consistent with the overall running of the ProXPN website, as much of its content is seemingly outdated.
Encrypt Your Traffic With ProXPN Today!
Torrenting — P2P-Friendly
From my research, ProXPN is, surprisingly, a torrent-friendly VPN. ProXPN is great at preventing IP leaks, and includes a killswitch, allowing you to download freely with a secure identity and location. Although speeds are generally slow, ProXPN is said to be a reliable VPN for torrenting.
Does ProXPN Work in China? — Uncertain
Since I am not located in China, there was no way for me to test whether or not ProXPN is strong enough to withstand the Great Firewall. While they have a Hong Kong location for their server, it is unclear whether or not this would work in mainland China. I sent the customer support an email with this inquiry and they provided me a simple response, stating that while they have had client success stories using the VPN in China previously, there is no guarantee that it will work.
Based on my judgement and experience using VPNs in China, ProXPNs encryption is likely too outdated for use in China. China is very strict in recognizing VPN usage, and has blocked the OpenVPN protocol completely. On their Help page, ProXPN suggests using OpenVPN, however, they do acknowledge that certain protocols are blocked in certain Asian and Middle Eastern countries. Additionally, their killswitch is not the most reliable, and there is no stealth protocol, disabling this VPN from bypassing China's DPI, making ProXPN an unreliable VPN for mainland China.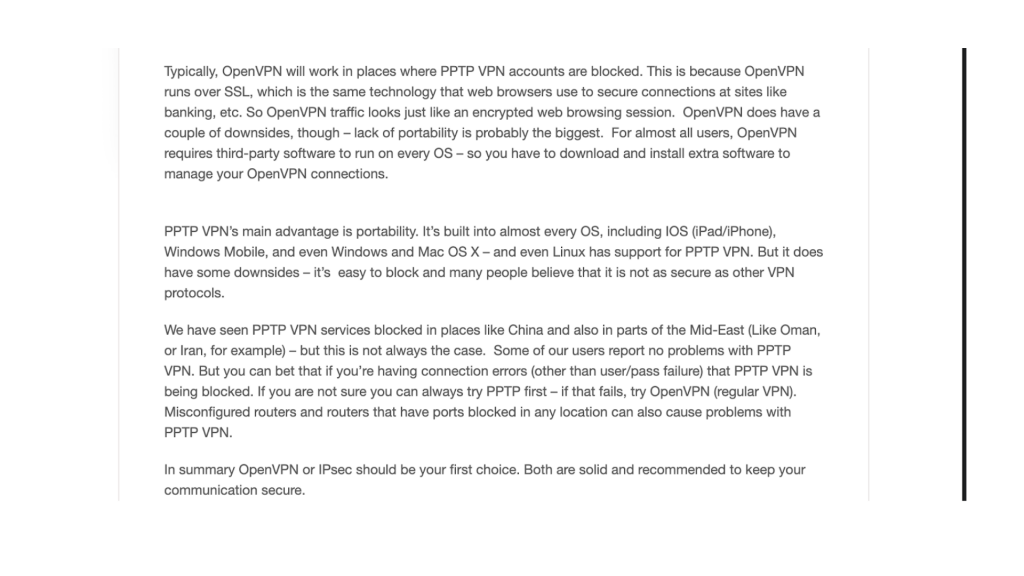 Simultaneous Device Connections — Allows Multiple Connections
On the ProXPN website, they do not give an exact number for how many devices you can connect on one account. But from my research, it seems that you can connect up to four devices simultaneously, but ProXPN suggests connecting different devices to different servers.
You can check this easily by connecting multiple of your own devices at the same time. Check your speeds on different devices to see if any have slowed down due to added connections or if there are any errors occurring.
Device Compatibility — Compatible with a Range of Devices
According to the ProXPN website, its service is compatible with Linux, Windows, Android, Chromebooks, IOS, and Mac. The website has download links that take you directly to the Apple App Store and Google Play Store. However, ProXPN does not offer options for routers, TVs, or gaming consoles.