Despite using a cute baby Thor as a mascot, I doubt the Norse God of Thunder would approve of this VPN. Don't waste your time on Thunder VPN, the only thing it's good for is basic web browsing. You can't stream video, you can't torrent, and it doesn't even use standard VPN protocols.
While it was quick to install and the user interface was easy to navigate, this free VPN is worse than most. Thunder VPN can't unblock Netflix, Hulu, or Disney+, the only video service I could access was YouTube.
Try Thunder VPN's VIP Plan Free for 3-Days!
Short on Time? Here Are My Key Findings:
Download speeds are too slow for streaming.
Uses older encryption protocol and lacks basic security features.
Poor connections and ads between server switching.
Doesn't unblock most streaming services including Netflix, Hulu, and Disney+.
Get Started with Thunder VPN Now!
Speeds — Significant Loss of Download Speed Across the Board
Thunder VPN's speeds are consistent but not in a good way. Each server I tested had consistently poor download and ping speeds, but the upload speeds were oddly better the further I got from my true location. To begin I tested my speeds before connecting to Thunder VPN.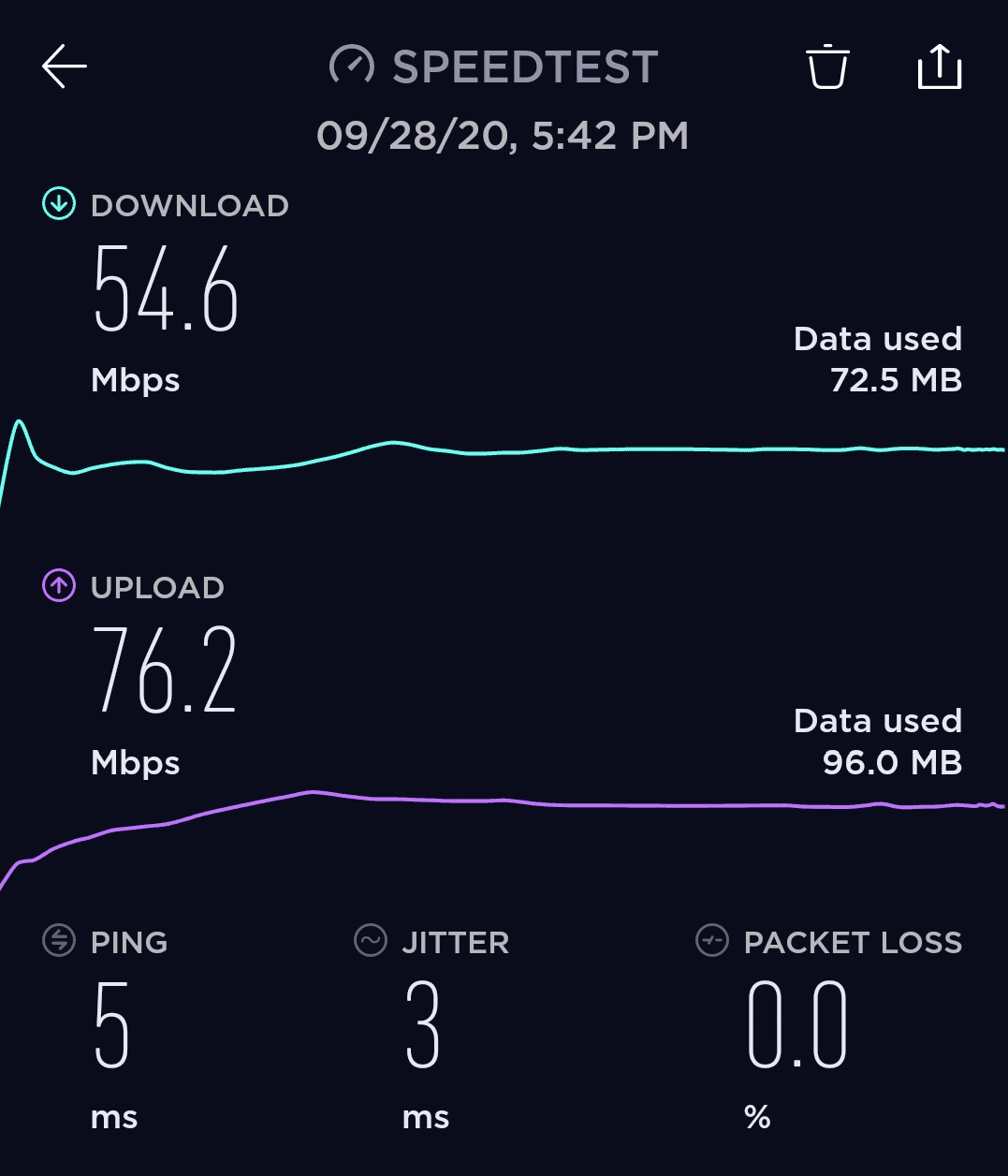 Speeds before connecting to a Thunder VPN server.
Download: 54.6 Mbps
Upload: 76.2 Mbps
Ping: 5 ms
As you can see my speeds are excellent for both download and upload, and the ping-back was fast. Next, I connected to the closest US server, which was supposed to be in Niagra Falls, NY. Instead, despite the US flag marker, I was connected to Niagra Falls, Canada. Not a great start.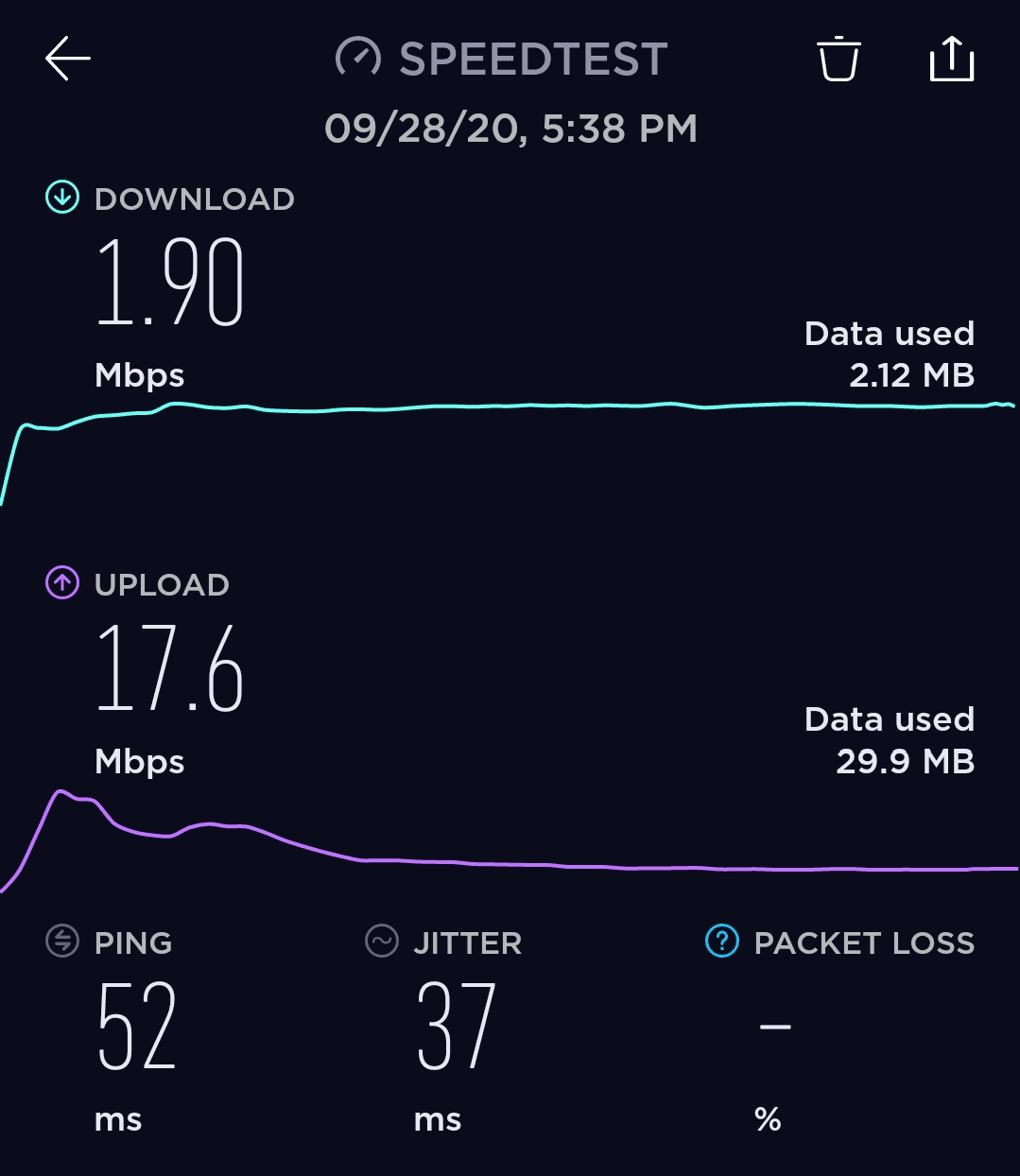 Speed test on a Thunder VPN server in Ontario, Canada.
Download: 1.90 Mbps
Upload: 17.6 Mbps
Ping: 52 ms
Speeds for the Ontario server were disappointing, download speeds dropped by 96.5% and the ping was over eight-times as long.  Upload speeds also suffered, taking a 77% hit.
A drop in speed isn't unusual when you use a VPN, especially the farther your destination server is from your true location. Still, these drop levels are unacceptable.  I'm two states from NY and even closer to Ontario, so it didn't make sense that speeds would suffer so drastically.
Next, I tested speeds for a French server.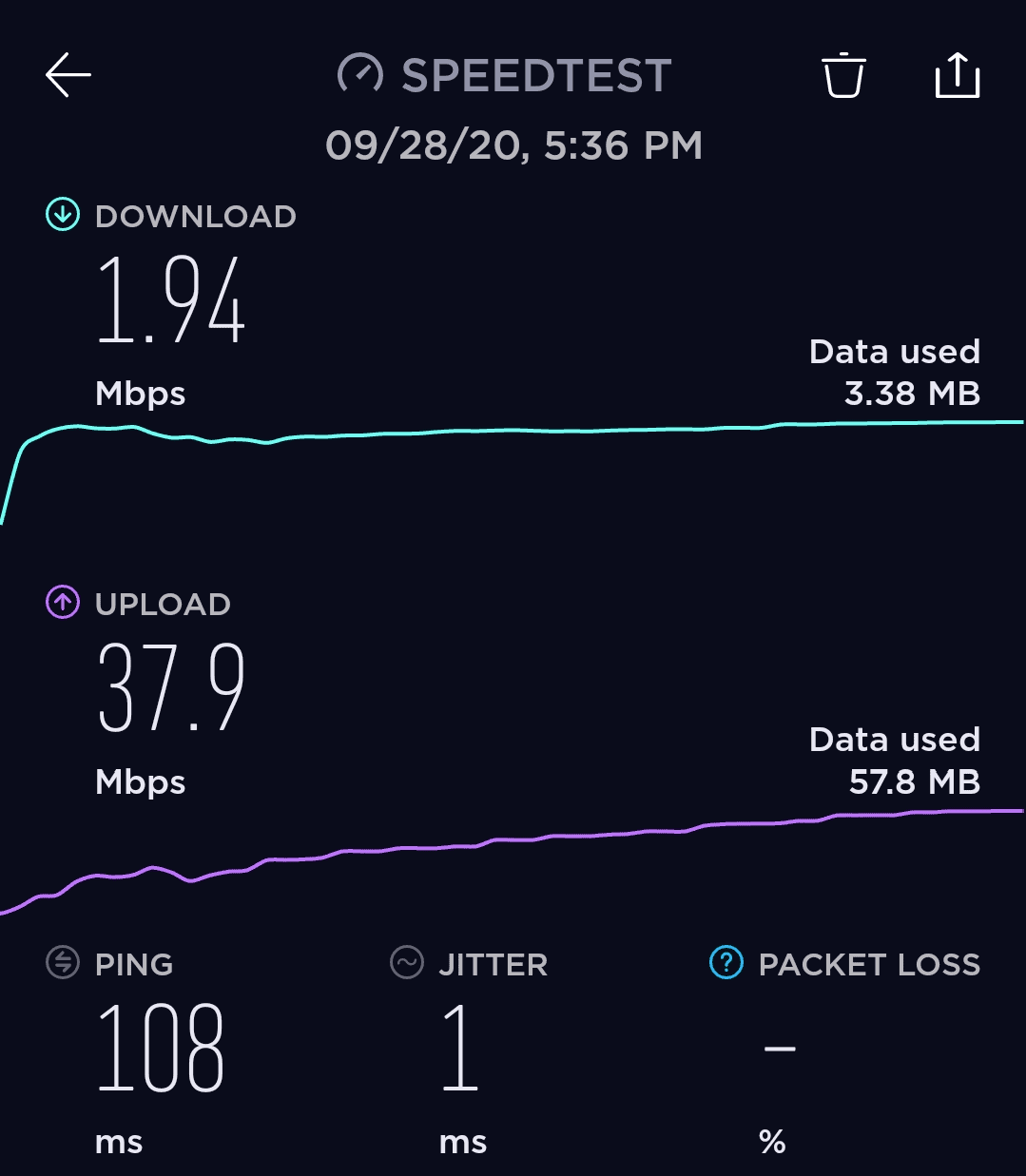 Speeds for a Thunder VPN server in Paris, France.
Download: 1.94 Mbps
Upload: 37.9 Mbps
Ping: 108 ms
Again, the decrease in upload speeds was epic at 96% and the ping only got worse. The download speed was actually much better and was 46.5% faster than the Canadian server, despite being much farther away. The speed results for the German server I tested were just as disappointing.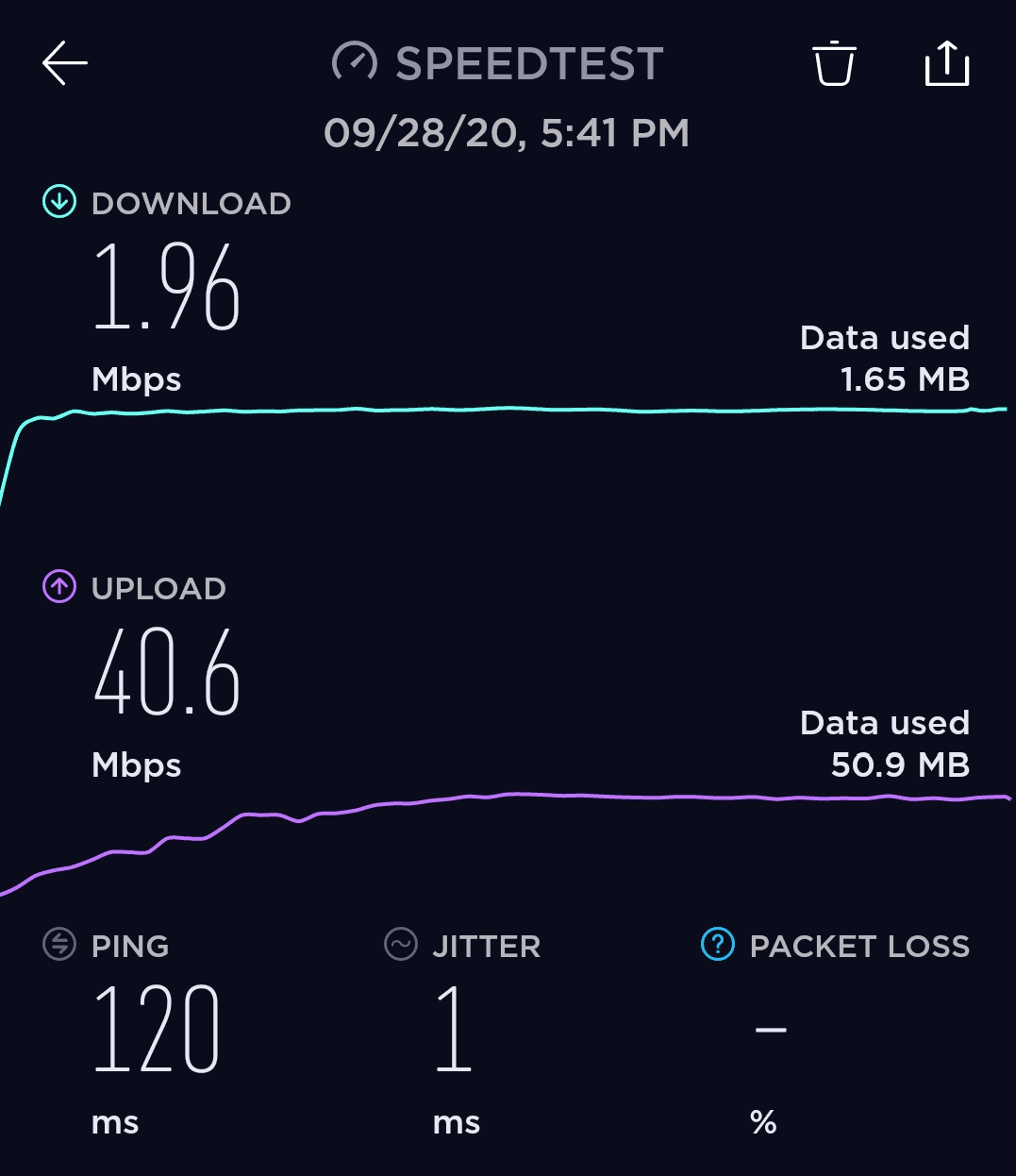 Speed test on a Thunder VPN server in Germany.
Download: 1.96 Mbps
Upload: 40.6 Mbps
Ping: 120 ms
The fourth server I tested was in Hong Kong and I couldn't even connect, I faced timeout after timeout.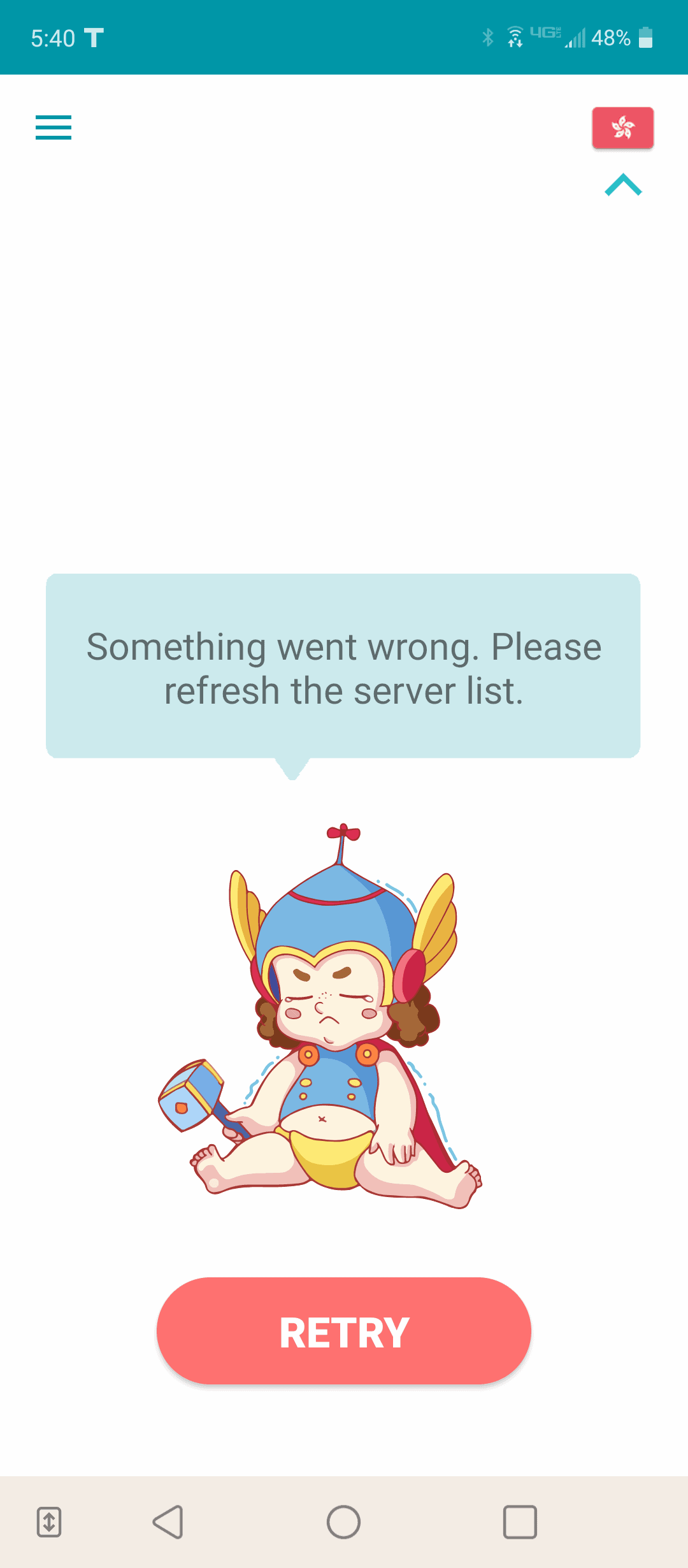 Baby Thor cries when the connection fails.
I felt the baby Thor's pain, I wanted to cry when I saw the speed drop from my server to Thunder VPN's servers. According to the VIP features list, the 9 fastest servers are on the paid plan. I took advantage of the free trial to find out but it didn't produce more impressive speeds.
To be fair, my download speeds were fairly fast to begin with. Still, streaming content uninterrupted, even in SD, requires at least 3 Mbps. The following information includes Netflix's recommended minimum download speeds for streaming content:
SD: 3 Mbps
HD: 5 Mbps
4K: 25 Mbps
This means even if you could manage to connect to a streaming service, you wouldn't even be able to stream buffer-free in SD. I did find the speeds were good enough for watching YouTube videos without freezing.
Can Thunder VPN Unblock Netflix? — No
Thunder VPN couldn't bypass geoblocks for Netflix, Hulu, or Disney. I was able to access YouTube.
If streaming and affordability are big on your list of must-haves while using a VPN, check out our best free VPNs for streaming to get the speeds and security features to help you bypass pesky blocks.
Security — Older Protocols and No Extras
There's no kill switch, firewall, ad blocker, or even industry-standard security protocol on Thunder VPN. SSL encryption protocol is the only protocol offered by Thunder VPN. SSL protocol isn't bad, it's just outdated when it comes to VPN use. IPSec is even preferred over SSL because it's more efficient than SSL which is commonly used for browsers. Since Thunder VPN does offer extensions for Chrome, I can see them offering SSL but it will need to upgrade before it is good enough to even compete with most free VPNs.
One impressive offering from Thunder VPN is split tunneling. The VPN calls it Apps Using VPN, you can find it on the interfaces Main Menu.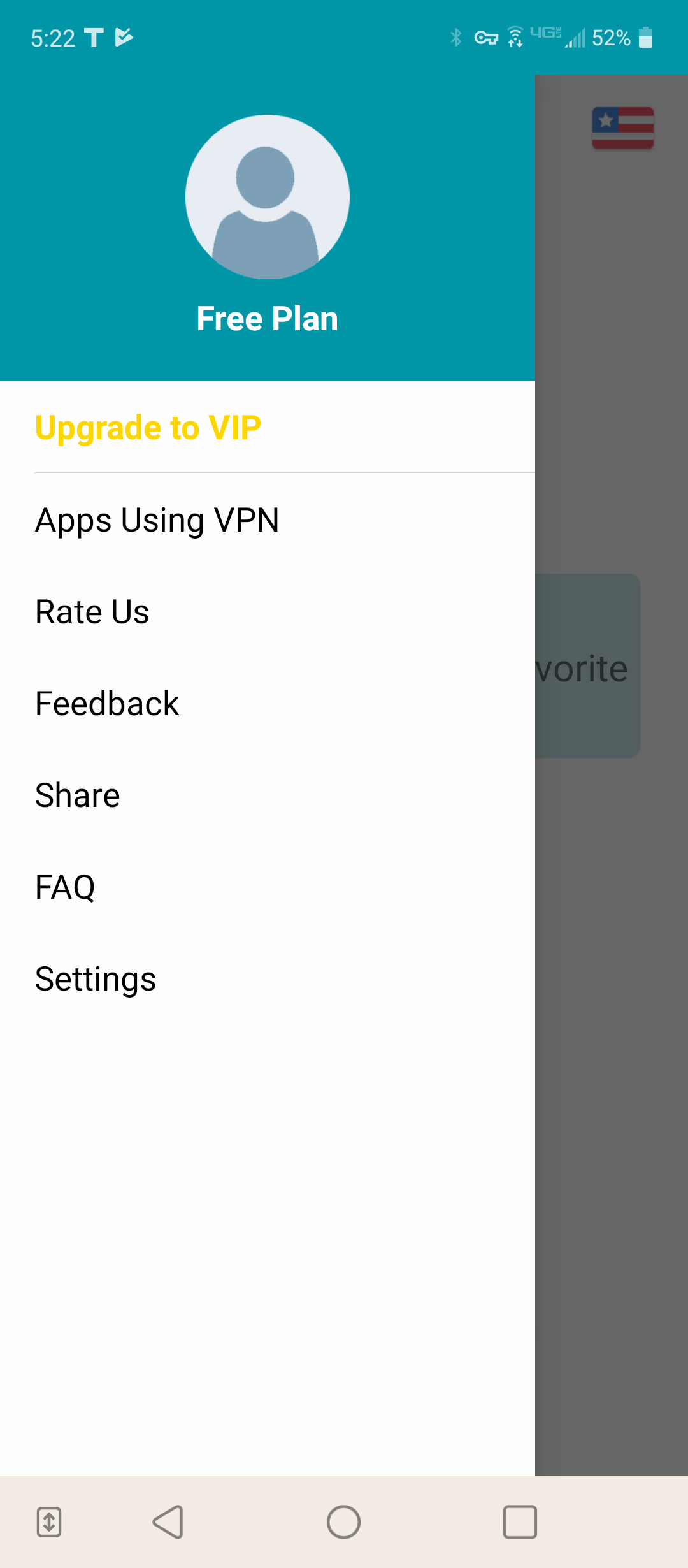 Thunder VPN's split tunneling feature Apps Using VPN
Once you click on Apps Using VPN, it displays a list of all of the apps on your Android device. By default, all off your apps are protected by the VPN. If you want to run only specific apps through the VPN, you can uncheck them all at once and then select the apps you want. You can also just deselect a few that you don't want to run through the VPN. Overall the process is very straightforward.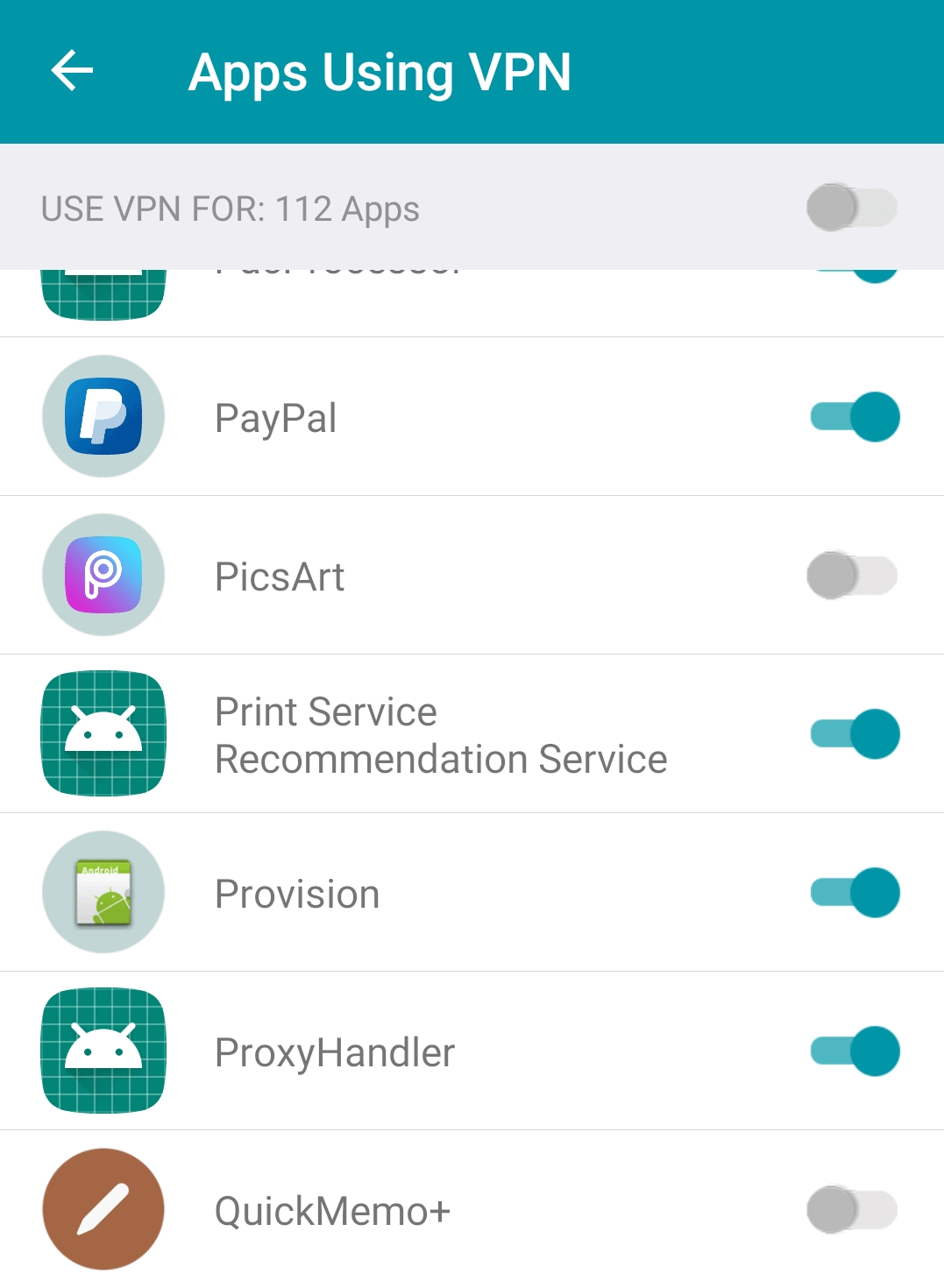 Select which apps use the VPN by toggling the button on/off .
I was expecting disappointment going into the DNS/IP leak test but I was pleasantly surprised.  The test didn't detect any leaks! The server and DNS addresses both showed the Paris server I was connected to.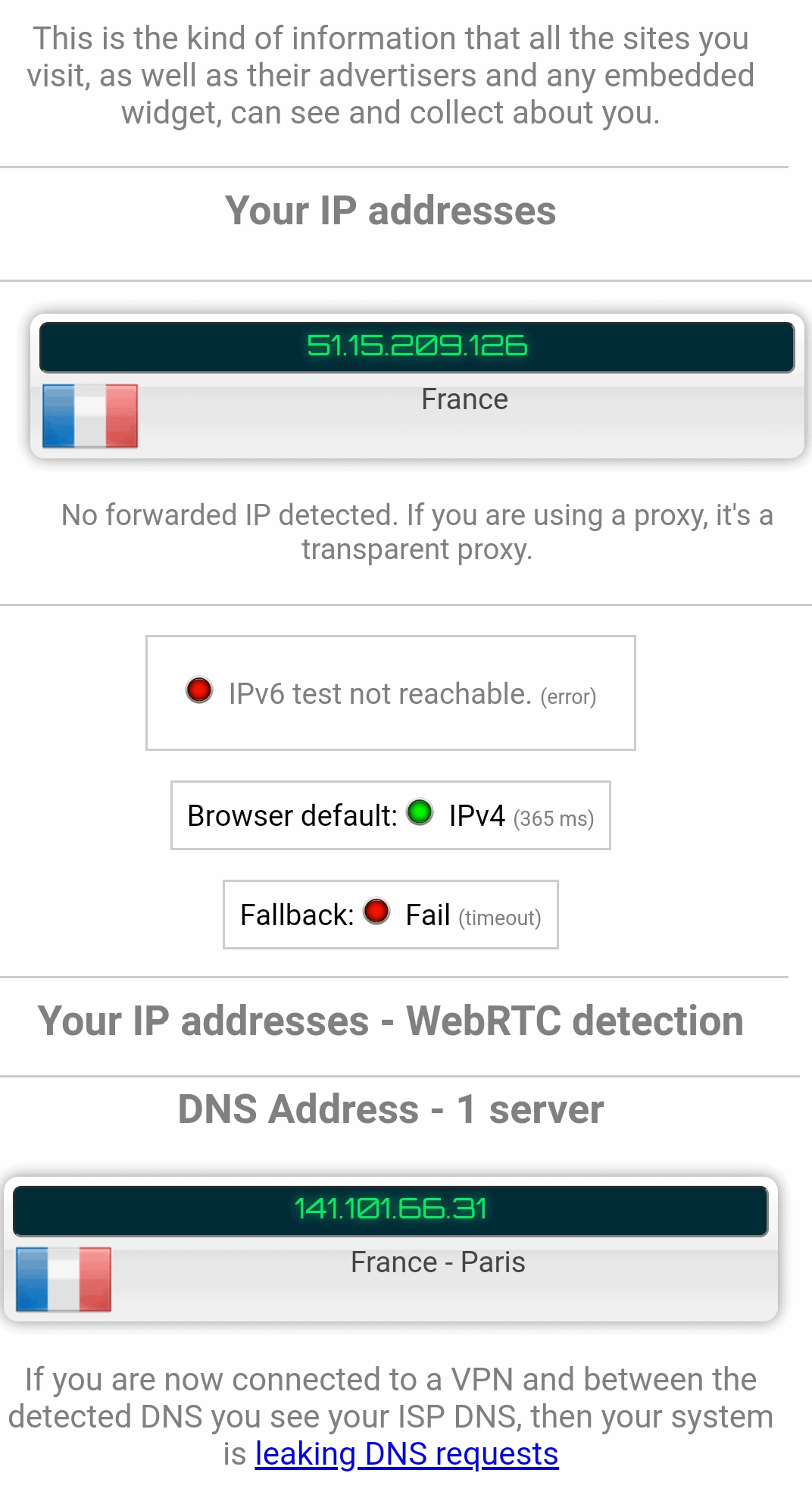 The leak test only showed my DNS and IP address in France.
Even though it didn't leak my IP or DNS address, I can't recommend this VPN for much more then basic internet browsing. The security protocol isn't as secure as IPSec, IKEv2, or OpenVPN and there's no firewall, kill switch, or ad- or malware protection.
Most free VPN's are missing one or all of these features, but the worst part is that none of these features are available on the VIP version either.
Privacy — False No Logs Policy
Every VPN collects some form of unidentifiable data from users, usually to help them make improvements to the services they offer. VPNs with true no-logs policies will never collect your ISP, IP address, location, or any other personally identifiable information. Unfortunately, Thunder VPN's privacy policy doesn't exactly reflect its no-logs statement.

Thunder VPN 's privacy policy.
The policy mentions sending data to third parties more than I'd expect in a VPN with a no-logs policy.  Aside from billing address, email, connection times, and the amount of data you use, it goes on to further mention it may collect IP address, ISP, and user network state. Though it insists the information is never of a personally identifiable nature.
Torrenting — Not Safe for Torrenting
Thunder VPN's encryption protocol is secure for browsers but not the best protocol for an app, plus there's no kill switch. It discourages torrenting and has a list of unacceptable uses, that means if you accidentally download something you shouldn't you could end up in trouble. For these reasons I can't recommend Thunder VPN for torrenting.
Download Thunder VPN for Android
Does Thunder VPN Work in China? — No
Although Thunder VPN has servers in Hong Kong, I was unable to connect to any of them. If you need to access China try one of our best VPNs for China, it even includes 3 free options.
| Features | Details |
| --- | --- |
| Number of countries with servers | 8 |
| Number of servers | 17 |
| Does VPN keep logs? | Yes |
| Does VPN include a kill switch? | No |
| Number of devices per license | 1 |