TotalVPN Reviews 2020 - Why 4.0 Stars?
TotalVPN is going out of business, and the company no longer accepts new customers or extends subscriptions.
The company, however, will remain active for all existing customers until the renewal date.
We spoke with TotalVPN's customer service to confirm this: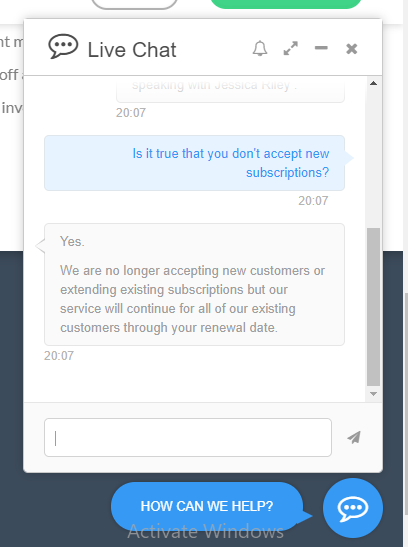 For current customers, we included our original review below.
Looking for a straight-forward VPN service with good network speed? TotalVPN is a good choice. While this provider does not offer the highest number of servers or the highest degree of customer data security, it does enable quality internet access and content streaming for reasonable prices.
TotalVPN offers 60 servers total across six continents (everywhere but Antarctica):
• 21 in North America
• 25 in Europe
• 9 in Asia
• 1 in Africa
• 1 in South America
• 3 in Oceania
In our tests using a Mac in a public Wifi hotspot, the network supported streaming content from YouTube without interruptions or delays. During regular web surfing, images and pages rendered quickly. Overall, the network performed so well it was hard to tell a VPN was running at all.
Offering unlimited data with their premium plan, you can stream videos and browse the internet as much as you want. In addition, they boast a 99.99% uptime, which means that you will almost never be disconnected. And just in case you are disconnected, your information will not be shared until you are reconnected, protecting your personal data and IP address.
They also have VPN routers, if you need one. If you require information on how to use their services for your device, you can find guides on their site to help you.
TotalVPN offers a client for just about every device: Mac OS, Windows, iOS and Android. It does not have a client for the Google Chromebook, but they say coverage for this device is coming soon. For customers paying for the premium plan, they don't cap their bandwidth, so your content doesn't buffer. They use industry-leading encryption with OpenVPN, PPTP, Cisco IPSec, and IkeV2. In case you ever have a problem, they are available twenty-four seven via email or chat, 365 days a year.
To show its dedication to web anonymity, TotalVPN does not log your browsing history. Unfortunately, it does keep a little bit more information than some other service providers. They collect the IP address where you logged in and your username. They also keep authentication logs that include source IP addresses, VPN username, and protocol used.
If you prefer not to pay for a VPN service, then you can sign up for a TotalVPN free plan. However, you are limited to three servers, throttled data transfer and bandwidth, and just one device connection. We don't recommend this at all.
| Features | Details |
| --- | --- |
| Number of countries with servers | 18 |
| Number of servers | 38 |
| Does VPN keep logs? | Partially |
| Does VPN include a kill switch? | No |
| Number of devices per license | 3 |
Using TotalVPN is straight forward. Below, we detail how to install and use the vpn interface for both desktop and mobile devices.
For Desktop Use
After creating an account with TotalVPN and selecting a plan, you follow a few simple steps to download the TotalVPN app your desktop. For our review, we used a Macbook Pro.
Step 1: Click the green "Download Now" button to download the installation program.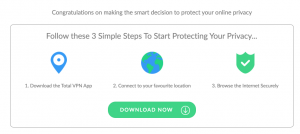 Step 2: Open the installation program and follow the installation instructions. Here's a video on how to install the TotalVPN app onto a Mac.
Step 3: Open the installed app with your email address and password. This video shows how to log into the installed app.
Step 4: Select a server on the left-hand menu, or let the program pick one for you based on your preference of peer-to-peer (P2P), security, or speed.
Step 5: Explore your settings to toggle your encryption protocol. This last video shows how.
For Mobile Devices
Here are the general instructions for launching TotalVPN on a mobile device. For our review, we used an iPhone 6.
Step 1: Download the TotalVPN app from your device's app store.
Step 2: Launch the app and submit your username/password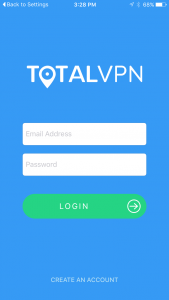 Step 3: Tap "Quick Connect" for fast access to a VPN server or swipe to pick a server from the main list.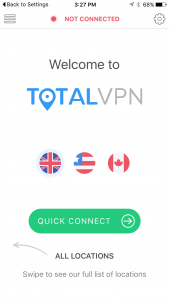 Step 4: Start browsing the internet via this VPN connection.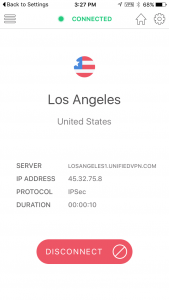 While there are only two plans, the prices are affordable.
The free plan gives you access to 3 server locations and encrypts your data using PPTP, OpenVPN, L2TP/IPSec, and IkeV2 protocols. It does limit bandwidth and data. In addition, the free plan only covers one device.
The premium plan lifts many of the free plan restrictions. For just $4.99/month, you get access to all their server locations with unrestricted bandwidth and data. This plan covers up to three devices and includes a premium proxy connection as well.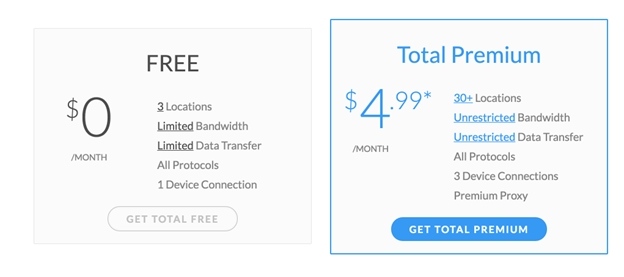 The $4.99/month plan lasts for 24 months. The company also offers a 12-month plan with the same benefits as the Total Premium package for $5.99.
Both the paid plans have a 30-day money back guarantee.
After choosing a base plan, TotalVPN offers multiple upgrades.
Smart DNS to increase proxy loading speed
Supercharged server connections
Priority Support
Additional device coverage
An eBook entitled "Staying Safe Online"
Prices for these upgrades vary. AT the time of this review, the Smart DNS, the Supercharged Servers, and the Priority Support were offered at 50% of their normal prices.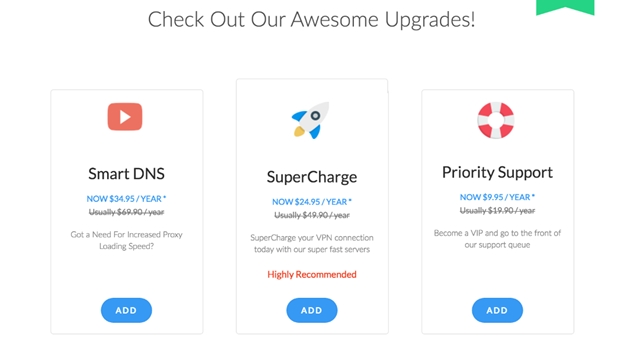 Reliability & Support
4.0 / 5.0
The company boasts a network uptime of 99.99%. In case you ever have a problem, they are available twenty-four seven via email or chat, 365 days a year.
During our review, our initial attempts to log on generated error messages. So, we sent a help request via email and reviewed their online forum information.
In their online help docs, we discovered that our error message could be fixed by re-setting our password. After doing so, we successfully accessed the VPN client. In addition, A TotalVPN customer service rep responded to our email within 24 hours with the correct recommendation.
Detailed logs and a somewhat small server list, but easy setup, uncapped bandwidth and good customer service
TotalVPN is a great choice for those who want easy-to-use VPN protection. It offers straight forward pricing, an easy setup, and a fast launching program. It also boasts 99% uptime, a kill-switch for those concerned with their IP address being exposed in case of disconnection, and unlimited bandwidth and data with their premium plan.
Its main drawbacks include a detailed data logging policy, a short server list compared to several other VPN providers, and a limited number of covered devices. Its free plan does offer VPN service at no cost, but the limitations and advertising also included in that plan are points to consider.
Service on just about any device you own
The option to purchase your own VPN router
A free plan in case you want to try them out or you don't want to pay
On every continent but Antarctica
Money Back Guarantee (Days) :
30
Mobile app :
Number of devices per license :
3