VPN.ht claims to be a leading-edge VPN that helps you stay completely anonymous online. But does it deliver on this promise?
I put VPN.ht to the test and looked closely at all its features to see how it performs. If you're wondering how fast VPN.ht is, what level of security it uses, or whether it can bypass Netflix's geoblocks, you can find it all here.
I even reached out to VPN.ht's customer service team to find out what level of support it offers.
Want to know if VPN.ht is worth your money? Keep reading to see my results.
Streaming – Can VPN.ht Unblock Netflix?
It's not easy to get around Netflix's tough geoblocks. I was to unblock Netflix US on four different servers.
However, VPN.ht is slower than most premium VPNs, so I wasn't able to stream in HD. I also had to wait for episodes to load before I could play. If you want breezy, high definition streaming, I recommend one of our top picks for Netflix instead.
As for other streaming platforms, here's what you can expect:
Hulu: Yes, easy.
HBO GO: Yes, VPN.ht had no problems unblocking HBO GO.
Disney+: Yes.
BBC iPlayer: No, I ran into geoblocks.
ESPN: Yes.
ITV Hub: No.
It seems like VPN.ht is tailored to unblock US-based streaming sites. If you want the full package, ExpressVPN – it flies past any geoblocks in its way (and yes, that includes UK TV).
Speeds – How Fast is VPN.ht?
VPN.ht isn't very fast at all, especially when you connect to its international servers.
I decided to run a speed test to determine how quick my connection was. First, I tested my base speed without the VPN connected so I had something to compare my results with.
Then, I connected to a server nearby in the UK, and my speeds dropped. They were still fast enough for me to browse and stream, though.
If you just want security in your own country, VPN.ht is fast enough. But, if you want to connect to international servers, you'll experience a slow-down. My connection speed dropped by more than 60% when I connected to VPN.ht's US server.
My recommendation? Choose a premium VPN that's fast enough for HD streaming, like ExpressVPN.
How Many Servers Does VPN.ht Have?
VPN.ht has a small network, with just over 95 servers in 22 countries.
It covers the US, UK, Canada, Australia, Singapore, and Hong Kong. There's still some way to go before it can compete with CyberGhost, which offers over 6,200 servers worldwide.
Does VPN.ht Allow Torrenting?
VPN.ht allows torrenting on all of its servers.
You're safe with VPN.ht's high-level encryption and a no-logging policy. When I used it to send some files to friends via P2P, though, I found it to be too slow to use.
Its network was overloaded because all of its users have to connect to the same few servers.
How Secure is VPN.ht?
As far as encryption goes, VPN.ht is up there with the industry-leading providers. It uses the most secure 256-bit AES encryption. It also offers 128-bit and 64-bit on some servers. 128-bit is still secure enough to use and offers high enough performance, but I don't recommend using 64-bit.
You can choose between the OpenVPN, L2TP, PPTP, and IPsec protocols, depending on your needs. Overall, I'm pretty impressed with its security features and choice of VPN protocols.
Does VPN.ht Keep Logs?
VPN.ht doesn't record your browsing activity. Even better, it's based in privacy-friendly Hong Kong, outside the 5/9/14-Eyes Alliance.
If you're after strict no-logs, VPN.ht has you covered.
Does VPN.ht Have a Kill Switch?
No, there's no kill switch available with VPN.ht. If your connection to the server fails, your device will transmit unencrypted data, and you won't be alerted. When this happens, snoopers can see your browsing activity and personal information.
Does VPN.ht Have an Ad Blocker?
No, VPN.ht doesn't have an ad blocker. That means you're still vulnerable to online tracking and profiling. It is compatible with third-party ad blockers, though. You can take a look at our top recommendations to find the best ad blocker for your device.
Does VPN.ht Work in China?
VPN.ht is reliable for bypassing geoblocks, even from inside China.
Since it's based in Hong Kong, you can use it to access Chinese sites from outside China, too. I had no problem accessing Chinese TV channels during my tests.
Is VPN.ht Compatible With my Device?
You can use VPN.ht on the following devices:
Windows
Android
Linux
iOS
VPN.ht isn't compatible with as many devices as most premium VPNs, but you can have up to three simultaneous connections with one subscription.
If you have more than three devices, check out Surfshark instead – it offers unlimited simultaneous connections and it's compatible with a broader range of devices.
Is VPN.ht Easy to Use?
VPN.ht's interface is simple, and it's easy to find and connect to the server you need. Even if you're new to VPNs, you'll find the app straightforward to use.
You can configure VPN.ht to connect to the best server based on your location, which means you get better speeds as it's usually one closest to you.
Connecting to a server was very slow. At some points, I waited longer than 10 minutes for it to connect.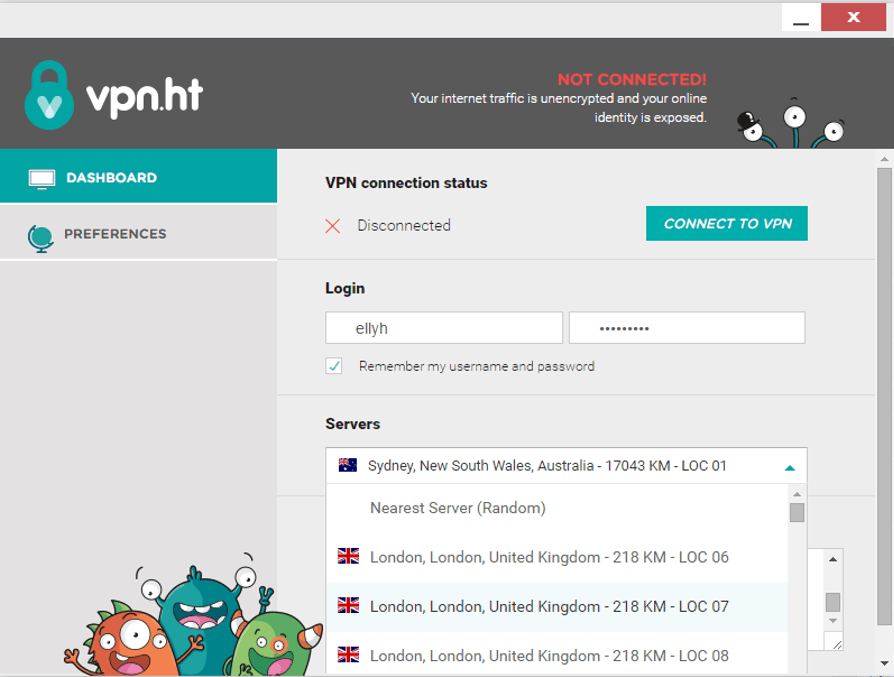 It's dated, and I've definitely seen nicer VPN apps. It has a connection report on the dashboard, but I'm unsure why you'd ever need it.
VPN.ht Customer Service
Customer support is available through a ticketed system on the website, but there's no live chat service.
I tried the ticketed support and received a response in less than 10 hours. Customer support was helpful and resolved my queries. Still, it'd be nice to cut 10 hours to less than 10 minutes with a live chat.
Pricing and plans
VPN.ht offers monthly and annual plans. 
The first month of your service on the monthly plan is heavily discounted. It's a great way to test VPN.ht before committing, but the annual plan is cheapest overall.
Both plans are protected by a 30-day money-back guarantee, too.
Does VPN.ht Have a Free Plan?
No, there's no free plan or trial with VPN.ht.
| | |
| --- | --- |
| Price | $3.33/month |
| Money Back Guarantee | 30 |
| Does VPN keep logs? | No |
| Number of servers | 90 |
| Number of devices per license | 3 |
| Kill switch | No |
| Based in country | Hong Kong |
| Supports torrenting | No |