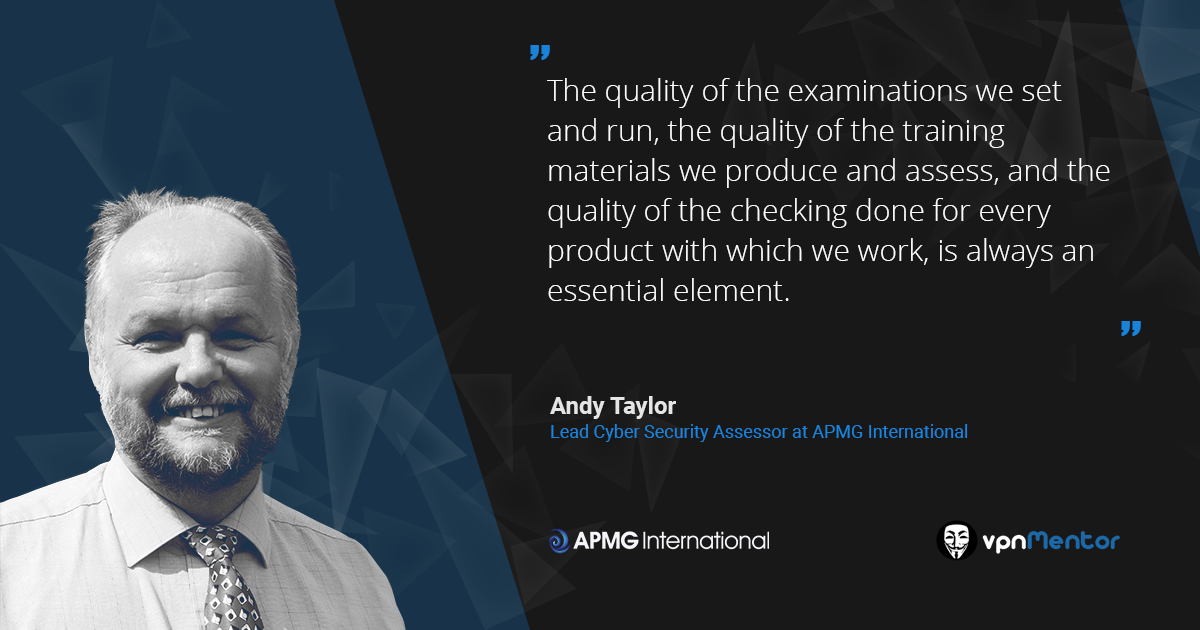 APMG – Providing Certification and Accreditation to Organizations and Individuals
When a company seeks certification or gain accreditation, it is imperative to find an educational institution capable of creating curriculum, courses, and examinations that meet industry standards.  We spoke with Andy Taylor, the Lead Cyber Security Assessor with APMG-International - an award-winning examination institute headquartered in the United Kingdom, about how their processes assist clients worldwide with their accreditation and certification needs.
APMG does more than talk the talk. The company itself is accredited. APMG is certified by the United Kingdom Accreditation Service (UKAS), the independent national authority for quality services.
What does your company do?
APMG is primarily a certification body. An organization comes to us, equipped with a body of knowledge, a handbook, or some other framework of information because they want to be certain people are knowledgeable about the information in question. We then gather experts in the field in question who discuss what a syllabus and exam on the topic(s) might look like.  After that, we create a curriculum of education so there is a path for people to learn the information needed to succeed on the exams.
What types of businesses reach out to APMG for their certification needs?
We have worked with a wide variety of specialty enterprises such as aero engineering, risk and change management, cybersecurity, public and private partnerships via the World Bank, Agile, various governmental agencies and organizations, and the Government Communications Headquarters in England, to name a few.
Who decides what it takes for a person to become certified in the topic in question?
The people with the body of knowledge decide what it takes for people to become certified and then we create syllabuses, courses, and examinations based on what our client needs coupled with suggestions made by our experts.
What does it mean when a person earns a certification through your organization?
There is a certain level of intrinsic value in being certified by us and even more so completing coursework and a certification exam. It is good practice. APMG itself is certified by the UKAS.
How long does the coursework period usually last before an exam is administered?
It depends on the complexity of the topic covered in the examination. It could be a few hours, but usually, it would be a few days or more.
How much does it cost to create a syllabus, coursework and administer an exam?
There are so many variables that I just can't answer that. It all depends on the complexity of the material the client wishes for their employees or vendors to learn and earn certification in. Our International Business Development Managers or Accreditations team would be able to answer this on an individual basis.
How are exams administered?
The certification exam is administered at the end of the training course. They can be face-to-face, online or even blended, meaning partly online and partly face-to-face.
What does APMG do to differentiate itself from its competitors?
The processes we use are certified by the UKAS and we do all our work in accordance with their requirements.  We carry out internal audits on a regular basis to ensure that all processes and procedures are being followed appropriately and we make continual improvements to the systems we use.
If an organization buys into the APMG certification process, they can be assured their needs are being independently verified to the highest quality both internally, by APMG staff, and externally, by our Subject Matter Experts (SMEs). Customer experience is vital for APMG and we will always ensure we make life as easy as possible for the accredited organizations with whom we work as well as for those applying for the certifications we run.
We also ensure consistency.  Maintaining our unparalleled quality of service is a critical part of the certification process.  We ensure that by implementing routine audits and other methods, designed to establish the scheme upon which we operate, we retain appropriately high quality at all times in all aspects.

APMG offers accreditation services in addition to its examination and certification services. Who is the average client seeking to become accredited?
We need to be clear what you mean by accreditation services because in the UK only UKAS can claim to be the single national accreditation service. There is a US equivalent, known as ANSI (American National Standards Institute). However, in some schemes such as Cyber Essentials, (a cyber security certification scheme set up by the UK government to encourage smaller companies to take the basic cybersecurity steps to keep themselves safe from cyber-crime), APMG is the accrediting body with a number of companies offering certification services in the scheme after having been checked by APMG.  The companies with whom we operate in this context are generally smaller companies who want the "badge" of a high-quality certification service like APMG and the freedom to operate their services in a cost-effective way.  APMG tries to provide all the necessary support to enable these companies to operate effectively and profitably.
However, we also operate with the World Bank and others to provide their training and certification services to help countries develop the right documentation for Public-Private Partnership bids for funding from the World Bank – the Certified Public-Private Partnership Practitioner (CP3P).  We worked with the banks to determine what the training should look like, how they would be trained (face-to-face, online, blended, etc.), what "good" looks like in terms of the outcome of the training, to set the examinations to be taken by those completing the training, provide the certification scheme for successful delegates, and so on. See https://apmg-international.com/product/ppp-certification-program as an example of a scheme.
What is the difference between accreditation and certification?
Being certified means a person has cultivated the skills and knowledge necessary to be recognized by employers as a highly competent professional.
A company that is accredited has been recognized for its commitment to delivering exceptional services. APMG accredits training and consulting organizations which recognize them as esteemed Accredited Training Organizations and Accredited Consulting Organizations.
How does APMG fit into the accreditation process?
In general, APMG provides the processes and the assessors while setting standards and other infrastructure to enable organizations to get on with their own jobs, leaving APMG to handle the certification and accreditation side of their business. APMG's client organizations do not want to get heavily involved in certifying training companies, trainers, training materials and examinations but do want to keep their main business developing and growing effectively and cost-efficiently. APMG takes that load off them providing as much support as our clients wish. They can be very closely involved with the certification process if they wish or simply hand it over to APMG for us to run it entirely on the client's behalf.
Initial inquiries are sometimes through invitations to tender, sometimes direct and sometimes through third parties. Perhaps an organization that is already an APMG client recommends us to others.  When we agree to work together, APMG will gather the SMEs to get a full understanding of what the product looks like, what it needs in terms of documentation, and how to achieve it.  It is then developed, with regular input and checking by the client, until a pilot stage is reached and then through final checking to the go-live day.  APMG will then also undertake the marketing of the new product in line with the client's wishes and needs.
Who decides what it takes for a company/organization to become accredited?
It is a combination of UKAS standards, APMG standards, the scheme owners (if different from the client), independent subject matter experts, and the client organization.  These are melded into a single set of standards and procedures with the associated supporting documentation in the form of syllabuses, examination design criteria, trainer assessment requirements, materials requirements, perhaps a set book or body of knowledge, and so on.  These will be used as appropriate and necessary, and all in accordance with the overriding requirements of being certified by UKAS.
Where is APMG headquartered and where are its regional offices located? How many people are employed by the company?
APMG is based in High Wycombe, England, about 20 miles northwest of London. We maintain 13 regional offices in addition to our Wycombe headquarters. A majority of our 100 employees work in our headquarters and the rest are based globally/worldwide.