4 Best NFL Kodi Addons in 2023: How to Watch Live Football
I'm a diehard NFL fan so I always try to catch every touchdown and tackle of the season. However, finding reliable NFL Kodi addons is challenging. Some provide poor quality streams, while others pose a security risk. That's why I evaluated over 40 Kodi addons to identify the top options. My shortlisted NFL addons are safe and provide high-quality coverage of your favorite matches and live football games without a cable subscription.
However, many of the add-ons are geo-restricted, meaning you cannot access them in certain countries — which is why I recommend using a VPN. VPNs allow you to appear as if you're in another country, allowing you to use the best NFL Kodi addons while traveling. They also encrypt your connection, so ISPs cannot track your Kodi activity or throttle your speeds.
My top recommendation for watching NFL on Kodi is ExpressVPN. This VPN lets you watch NFL matches with your preferred NFL Kodi addon from anywhere. It also effectively hides your Kodi activity from your ISP and other snoopers. You can try ExpressVPN risk-free, as it's backed by a 30-day money-back guarantee. Getting a refund is easy if you're not fully satisfied.
Try ExpressVPN for NFL Addons on Kodi
Important: It's important to note that certain Kodi addons might grant access to copyrighted or licensed material without the necessary permissions. The team at vpnMentor doesn't endorse any illegal activities — we highly recommend only streaming NFL games and other content via official licensed sources.
Short on Time? Here Are the Best NFL Addons for Kodi in May 2023
Best Kodi NFL Addons — Full Analysis (Updated in 2023)
Each of the Kodi addons below has been thoroughly tested to ensure it reliably works for streaming NFL games in high-quality. I also checked that each addon was free of malware and spyware. All of the following recommendations can be easily found in the official Kodi repo.
Warning! The latest Kodi version 19 (plus 19.1, 19.2, 19.3, 19.4, and 19.5) uses the programming language Python 3 instead of Python 2. This means that a lot of addons written with Python 2 have stopped working. To maintain access to most NFL Kodi addons, it's recommended to stick with Kodi 18 for the time being.
DAZN is an NFL Kodi addon originally from the UK that has expanded its availability to various countries, including:
| | | |
| --- | --- | --- |
| The US | Italy | Spain |
| Canada | Germany | Austria |
| Switzerland | Brazil | Japan |
The service currently streams every NFL game in HD, both live and on-demand, via NFL Network, NFL RedZone, and the NFL Game Pass. A subscription costs $24.99 a month or $224.99 for an entire year.
Sling is an easy-to-use Kodi addon that allows you to access a variety of channels, including CBS, FOX, ESPN, NFL Network, and NBC — allowing you to stream extensive NFL content.
The addon is compatible with Kodi 19 (and older versions). There are 2 main packages to choose from — Sling Orange and Sling Blue. Both have their own selection of sports channels that show NFL content. For example, Sling Orange offers ESPN while Sling Blue has Fox Sports. Each package costs $35 per month and there's also a combined Sling Orange + Blue plan available for $50 per month.
However, this addon is only available to users in the United States. To access Sling from outside the US, you'll need a reliable VPN like ExpressVPN.
NFL Game Pass Kodi is an official addon that allows you to watch most season games live, as well as preseason matches. It's available in the following countries:
| | | | | | |
| --- | --- | --- | --- | --- | --- |
| Cambodia | Hong Kong | Indonesia | India | Laos | Malaysia |
| Singapore | Taiwan | Thailand | USA | UK | Vietnam |
The addon comes with 2 different plans — NFL Game Pass Essential for $4.99 per month or $49.99 per year and NFL Game Pass Pro for $99.99 per season. By getting the NFL Game Pass Pro plan, you get everything from live pre-season games and documentaries to audio broadcasts of regular season games and replays. The addon is also compatible with Kodi Matrix (Kodi 19.5), though it won't work with older versions like Kodi Leia.
ESPN 3 is an excellent Kodi addon for streaming live sports, including NFL games. The service is available exclusively for users in the United States, so you'll need to use a VPN to access it if you're not based in the US.
With ESPN 3, you can access a wide range of NFL and other sports content to enjoy on channels such as:
| | | | | |
| --- | --- | --- | --- | --- |
| ACCExtra | ESPN | ESPN2 | ESPN3 | ESPNU |
| ESPN News | ESPN Deportes | Longhorn | SEC | SECPlus |
Why You Need a VPN To Watch NFL on Kodi
A VPN can help you access your Kodi streaming accounts when traveling overseas. Lots of streaming platforms on Kodi use your IP address to detect where you are. If you're in a country where the streaming platform isn't permitted to broadcast NFL games, you'll be blocked from accessing the service. This is also how sports streaming services enforce NFL blackouts.
To get around these geo-restrictions, VPNs direct your internet traffic through a server in another country. This conceals your actual IP address with one from a different location. That way, you can unblock your NFL Kodi streaming accounts from anywhere. For instance, by connecting to a server in the USA, you can access Kodi addons like NFL Game Pass outside the US.
VPNs also encrypt your traffic. which prevents ISPs and other snoopers from monitoring your activity. This allows you to enjoy NFL games on Kodi privately. Some ISPs also throttle your connection if they detect high-bandwidth activity, like streaming and downloading. As a VPN encrypts your connection, your ISP will be unable to tell what you're doing — and as such, won't throttle you. You'll be able to watch NFL games on Kodi without sudden slowdowns.
Best VPNs for NFL Kodi Addons — Full Analysis (Updated in 2023)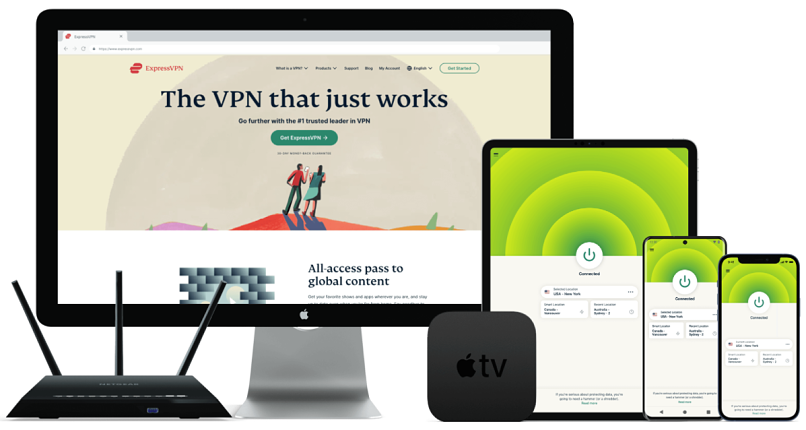 Editor's Choice
Editor's Choice

Tested May 2023
Try Risk-Free for 30 Days
Can access:
Netflix
Disney+
APV
HBO Max
Hulu
BBC iPlayer
Sky
More
www.ExpressVPN.com
| | |
| --- | --- |
| Best Feature | The fastest VPN I tested — ideal for watching the NFL in UHD |
| Server Network | 3,000 servers in 94 countries to access your favorite NFL Kodi addons from anywhere |
| Average Speed | 139Mbps (a 5% drop from my baseline connection) |
| Can Access | DAZN, Sling, Fox Sports, ESPN, NFL Game Pass, Netflix, HBO Max, Hulu, Disney+, BBC iPlayer, and more |
ExpressVPN is the fastest VPN for Kodi I tested, allowing me to watch NFL in 4K without a single instance of buffering. Encryption typically slows down your connection with most VPNs, but ExpressVPN's US servers only dropped my usual speeds by 5%. This resulted in speeds of 139.51Mbps (compared to my standard 147.30Mbps connection) — more than sufficient for seamless UHD streaming.
With an extensive server network spanning 94 countries, ExpressVPN enables you to watch the NFL from almost anywhere (even from within China). While in the UK, I connected to a server in the USA and accessed my Sling account on my Kodi device without any problems.
ExpressVPN also shields your online activities from unwanted attention by employing robust AES 256-bit encryption. This meant my ISP and other snoopers couldn't monitor my activity on Kodi. ExpressVPN also offers a kill switch that automatically cuts off your internet if the VPN connection drops — so you're never left vulnerable online. Plus, thanks to ExpressVPN's robust IP/DNS leak protection, my actual location was hidden across all my tests.
One drawback is that the plans can be somewhat expensive. However, ExpressVPN frequently offers discounts to make it more budget-friendly — I got 49% off, bringing my price down to just $6.67/month. I recommend selecting the 12-month plan for the best overall value.
Useful Features
Strong privacy measures. ExpressVPN has a strict no-logs policy that has been independently audited by the firm Cure53, who proved that it was being upheld. Plus, the service offers RAM-only servers that ensure your online activity is inaccessible and regularly wiped from the servers.
Split tunneling. You are able to choose which apps are routed through the VPN and which aren't. This can be useful — I could stream the ESPN addon on Kodi from outside the US, while accessing my local banking accounts on my browser (which would block me if I tried to access them from a US IP).
Based in a privacy-friendly country. ExpressVPN's HQ lies in the British Virgin Islands, a privacy-haven with strong data protection laws. This means ExpressVPN is under no legal obligation to track what you do online.
30-day money-back guarantee. The VPN also offers a straightforward refund process in case you're not satisfied with the service. In my experience, I received my money back in a mere 3 days after testing the policy.
Try ExpressVPN for NFL Addons on Kodi
| | |
| --- | --- |
| Best Feature | Streaming-optimized servers dedicated to popular NFL streaming services |
| Server Network | 9,388 servers in 91 countries to bypass geo-restrictions |
| Average Speed | 132Mbps (an 11% drop from my baseline connection) |
| Can Access | DAZN, Sling, Fox Sports, NFL Game Pass, ESPN, Netflix, HBO Max, Hulu, Disney+, BBC iPlayer, and more |
CyberGhost offers optimized servers designed for seamless streaming and unblocking. I clicked on the "For streaming" tab in the app and found servers for several popular Kodi NFL addons like Sling and ESPN 3. While testing CyberGhost, I enjoyed NFL football content on my ESPN account without running into any geographic restrictions.
The DNS/IP/WebRTC leak protection features made sure my real IP address stayed hidden while I was streaming. Activating CyberGhost's automatic WiFi protection feature also shielded me from trackers and malware while streaming Kodi on unsecured public WiFi hotspots. Plus, the app comes with an ad blocker, which is handy on some NFL sites.
CyberGhost is also beginner-friendly. All of its apps are really easy to use — as the best servers for each individual Kodi addon are clearly marked, I never had to use trial and error to find a working server. Plus, it only took a few minutes total to install and set up the app across all my Kodi-compatible devices, including my Windows laptop, iPhone, and Mac.
Like ExpressVPN, CyberGhost can be somewhat pricey. Monthly plans are more expensive, and only offer a shortened money-back guarantee period. However, long-term subscriptions are much more affordable (as low as $2.11/month) and let you try CyberGhost risk-free for 45 days.
Useful Features
Fast speeds. The VPN provides speedy connections suitable for streaming — I experienced download speeds of 132.94Mbps. This enabled me to stream NFL games live in 4K without encountering lengthy buffering times.
Audited no-logs policy. Like ExpressVPN, CyberGhost has a strict no-logs policy that has been verified by an independent auditing firm (Deloitte). CyberGhost also ensures your privacy with AES 256-bit encryption and an automatic kill switch.
24/7 live chat support. Customer support is easily accessible whenever you need help. I tried out the live chat feature and received prompt, informative answers to my inquiries.
Try CyberGhost for NFL Addons on Kodi
| | |
| --- | --- |
| Best Feature | Huge server network ensures plenty of working alternatives are always available |
| Server Network | 29,650 servers in 84 countries to unblock your favorite Kodi addons |
| Average Speed | 126Mbps (a 15% drop from my baseline connection) |
| Can Access | Sling, Fox Sports, ESPN, NFL Game Pass, Netflix, HBO Max, Hulu, Disney+, BBC iPlayer, and more |
Thanks to PIA's 29,650+ servers across 84 countries, you'll have plenty of options available to access geo-restricted Kodi addons like DAZN from anywhere. There is little risk of server overcrowding, which is where too many users are on the same server, causing connectivity issues and massive slowdowns. Plus, if you ever run into a server that isn't working for NFL Kodi addons, you'll have plenty of alternatives to choose from.
PIA delivers swift speeds on the majority of its servers, including those in the US. You can even enhance your speeds further by reducing your encryption level to AES 128-bit, which is still secure enough to privately stream NFL in most scenarios. During my tests with PIA, my connection was fast enough for uninterrupted UHD streaming. I recorded an average of 126.03Mbps on the US servers, which made watching NFL games on Kodi a smooth experience.
As PIA is highly customizable, it can be a bit daunting if you're not familiar with VPNs. However, PIA's default configuration is designed for speedy connections without sacrificing security. So, you don't need to worry about messing with the settings if you prefer not to.
PIA is also budget-friendly. Long-term plans start at just $2.03/month. You can also try it risk-free, thanks to PIA's 30-day money-back guarantee. I tested the policy myself and got my money back in just 5 days.
Useful Features
Unlimited device connections. You can stream NFL on Kodi as many devices as you like at the same time, as PIA doesn't limit your simultaneous connections. This means your entire family can stream with Kodi on one PIA subscription.
Dedicated ad blocker. PIA's MACE feature safeguards you from harmful links when downloading Kodi addons. It also blocks intrusive ads and trackers.
Try PIA for NFL Addons on Kodi
Quick Guide:
How to Stream NFL on Kodi in 3 Easy Steps
Download a VPN. I recommend ExpressVPN, due to its fast speeds and reliable servers that let you watch NFL games from anywhere.
Install an NFL addon. Navigate to "Add-ons" on Kodi and download one that shows NFL content. DAZN streams every NFL game.
Enjoy the game. Connect to a VPN server where your NFL addon is available, then run it to watch NFL games in high quality.
FAQs on Using NFL Kodi Addons
Are Kodi NFL Addons safe and legal?
Official NFL Kodi addons are legal and secure to use, but some unofficial addons may not be. Third-party addons are not regulated, leading to instances of hidden malware and spyware. This is why it's recommended to only use official Kodi NFL addons that are proven to be legal and safe.
Some unofficial addons may also host copyrighted content illegally. Accessing copyrighted material in such cases is illegal in most countries, and the vpnMentor team does not endorse such activities. To ensure you stay out of trouble, it's important to use only reputable and official addons that have the correct licenses to stream NFL content.
Can I use unofficial Kodi addons to watch NFL?
You can, but it's not recommended. Third-party Kodi addons are notorious for bundling viruses or malware into their services. Plus, some of them may host NFL content illegally. That's why we always recommend using official NFL Kodi addons.
Below are some unofficial addons that stream NFL content, but please be forewarned that they aren't guaranteed to be safe. We also would highly recommend checking whether these services have legally acquired the rights to stream NFL before using them.
| | | | | | |
| --- | --- | --- | --- | --- | --- |
| Asgard | Ghost | Mad Titan Sports | Pro Sport | Rising Tides | USGoTv |
| Sport HD | SportowaTV | Sportz | The Crew | The EndZone | TvTap/Tap TV |
| Nemesis AIO | The Loop | ApeX Sports | Sportz | NBC Sports Live Extra | LNTV |
Why are my NFL Kodi Addons Not Working?
There might be multiple reasons for your Kodi NFL addons not working. One issue may be that you're trying to access a Kodi Addon that isn't available in your country. In this case, make sure you're using a quality VPN for watching NFL on Kodi, and that you've connected to a server where the service is available.
If that still doesn't work, or you believe that your issue isn't related to georestrictions, try the following:
Clear Kodi's cache files to fix the "Something went wrong" error message.
Install the required dependencies manually.
Update or downgrade your Kodi device to fix the "This addon isn't compatible with this version of Kodi" error message.
Which NFL Addons for Kodi No Longer Work?
NFL Kodi addons that are no longer working at the time of writing include Castaway, cCloud TV, NFL.com, NFL Team Videos, SportsDevil, and more. Many once popular addons have stopped working due to compatibility issues or problems in development. But thankfully, there are still plenty of reliable and regularly updated NFL Kodi addons available.
Where can I watch the NFL regular season live in 2023?
The live NFL 2023 season is available on the following platforms — Sling, DAZN, TV ONE, CBS, NBC, and Fox Sports. These give you access to most, if not all, NFL games in a season. ESPN, YouTube TV, FuboTV, Paramount Plus, Pluto TV, Sky Sports, DirecTV, BEIN Sports, and Hulu with Live TV can also be used to watch some upcoming matches.
However, keep in mind that some of the services above are georestricted. If you're outside the US, you'll need to use a reliable VPN to access such services and stream the NFL on Kodi.
Can I use a free VPN to watch the NFL on Kodi?
Using a free VPN isn't advised. Many free VPNs don't work with NFL streaming services and deliberately restrict your speeds, server options, or available data. Plus, they often lack robust security features to protect your connection while using Kodi. Using a premium VPN with a money-back guarantee is the most reliable choice for watching NFL on Kodi.
Even if you discover a free VPN that doesn't impose limitations on your usage, free services are rarely safe to download. Numerous free VPNs log and sell your data for profit, while some even conceal malware or spyware within their apps.
Get the Best NFL Addons for Kodi
The addons I've suggested stand out as they're safe to use and offer reliable access to NFL matches. That said, it's crucial to use a VPN to protect your Kodi activity from snoopers, even when using the safest addons. Plus, you'll be able to access georestricted Kodi addons for the NFL from anywhere.
My top choice for safely watching NFL on Kodi is ExpressVPN. It provides military-grade encryption and an audited no-logs policy to secure your data. Plus, you get fast speeds and an extensive server network, allowing you to enjoy NFL games in the highest quality. You can try ExpressVPN without risks as it's backed by a trustworthy 30-day money-back guarantee. Getting a refund is hassle-free if you're not 100% satisfied with the service.
To summarize, these are the best VPNs for Kodi
Privacy Alert!
Your data is exposed to the websites you visit!
The information above can be used to track you, target you for ads, and monitor what you do online.
VPNs can help you hide this information from websites so that you are protected at all times. We recommend ExpressVPN — the #1 VPN out of over 350 providers we've tested. It has military-grade encryption and privacy features that will ensure your digital security, plus — it's currently offering 49% off.