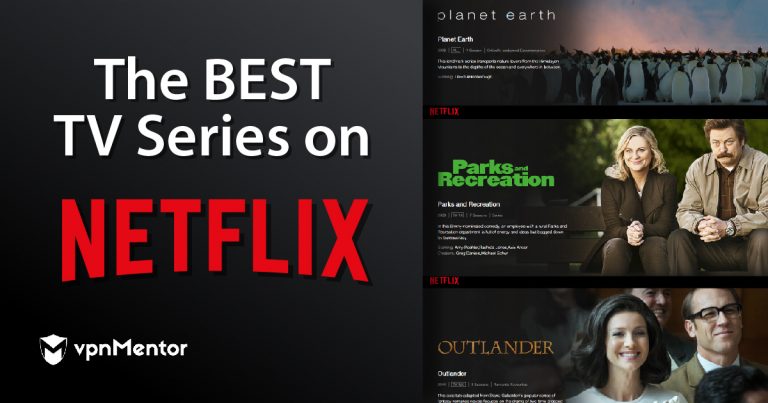 10 Best TV Series on Netflix (Discover What's New for 2021!)
Netflix is adding so many beloved shows to their catalog at such a fast pace that it's easy to miss some of the most binge-worthy series. From old classics to brand-new hits, I've filtered through them all to bring you the gems: the ten best series on Netflix right now. 
But Netflix doesn't want you to watch all of these shows. Some are exclusive to specific catalogs, like Netflix US. But don't worry: even if the show you want to watch is unavailable in your country, it's easy to unblock  it and I'll show you how. 
All you need is a VPN to change your virtual location and gain access to Netflix's international libraries. ExpressVPN is my top choice because it's fast, easy to use, and guarantees you access to any Netflix library.
Quick Guide –
How To Watch Netflix US Anywhere
Choose and download a VPN – I recommend ExpressVPN for its speed and reliability.
Connect to a server that's based in a country where the show you want to watch is available on Netflix. For example, connect to a US server to access Netflix US. 
Head over to Netflix, sign/up log in, and start binge-watching one of these series!
Top 10 Best Original Netflix Series
1. Parks and Recreation
Parks and Recreation is a hilarious mockumentary-style series with an enormous heart. It follows the day-to-day life of perky, ambitious beautocrat Leslie Knope and her coworkers in the local government's Parks department.
You'll fall in love with eccentric townsfolk and get swept up in the political goings-on of the Pawnee City Council. There's also a love story (or three). It soon feels like Leslie's friends are your best friends, too.
It's impossible to stop Parks and Rec once you start—but only Netflix US has all seven seasons. If you're outside the States, just connect to a US-based VPN server, and you'll be on the next bus to Pawnee, Indiana. I recommend using ExpressVPN for this because its SmartPlay DNS makes it easy to overcome Netflix's geoblocks.
2. The Office (U.S.)
Along with his co-workers, The Office portrays the typical lives and interactions of office employees, and all the egotistical behavior, inappropriate humour, and loving friendships that come with it. It'll have you laughing from start to finish – whether at Michael Scott's incompetence, Dwight's lack of social skills, or Pam and Jim's witty remarks.
One thing you should know – The Office (U.S.) is only available on Netflix US. You can't stream any of the nine seasons, unless you have a VPN. Simply connect to your VPN and hop onto a US server, then you can go straight to Netflix US and press play. Again, I'd go with ExpressVPN so you can start watching without delay.
3. New Girl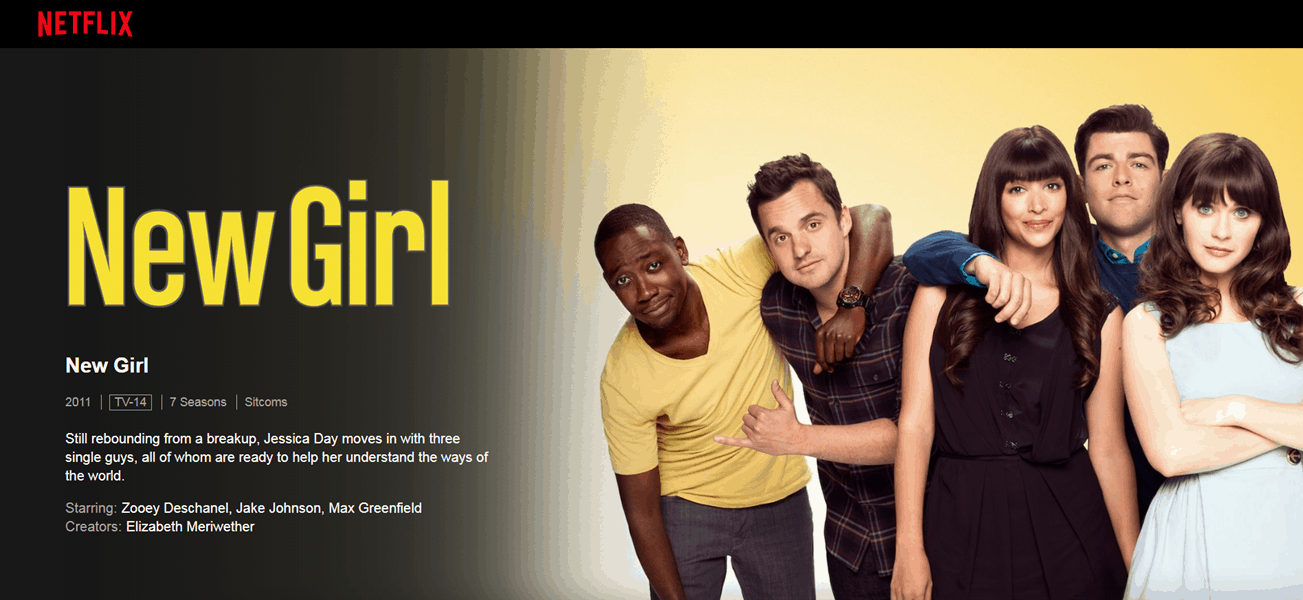 Another exclusive to Netflix US, New Girl follows innocent, sweet Jess after her heartbreak. She moves into a flat that she shares with three guys, starts a new job, and tries to adjust to single life. While her flat mates take some adjusting to living with a female, and find her behavior slightly odd, they soon come to love Jess, and together, form an unlikely bond.
In true sitcom style, there's laughter, tears, fights, and everything in between. And all 146 episodes are ready to watch – just make sure you use your VPN to unblock Netflix US so you don't miss out. I tested several services and found that ExpressVPN comes out on top for Netflix US because it's so fast, you can unblock it from anywhere without lag.
4. This Is Us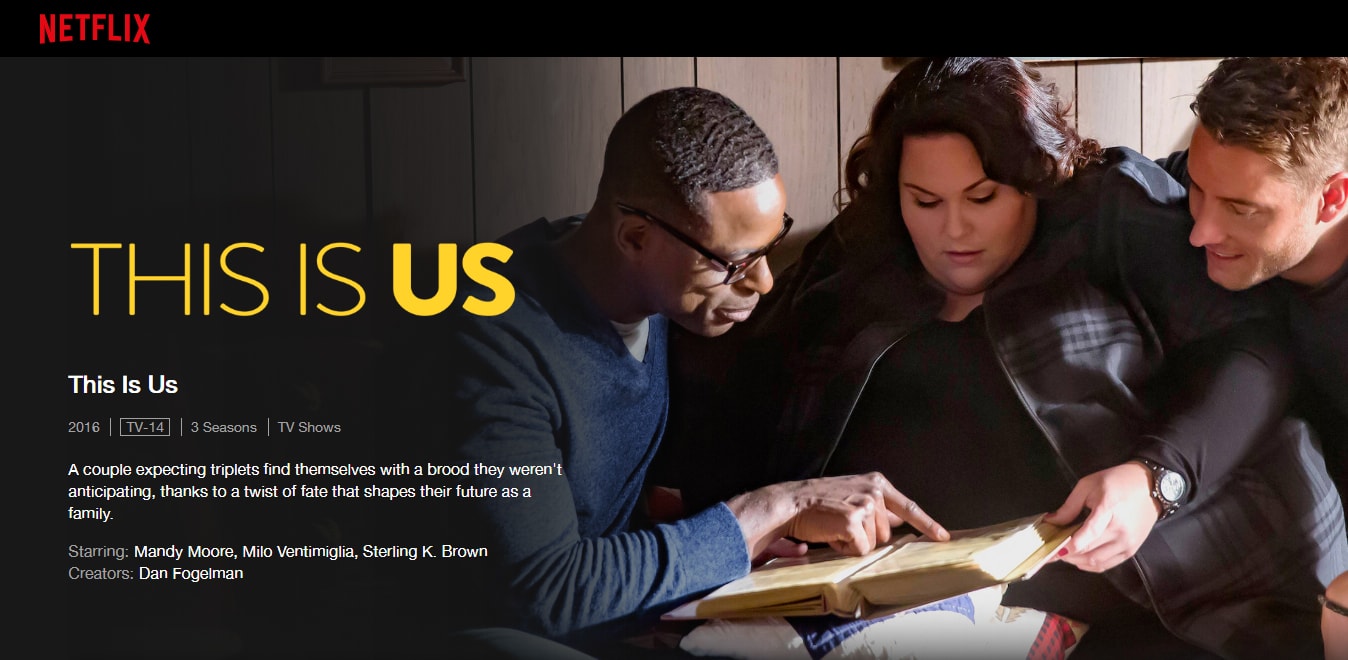 If you like to have your heart strings pulled, This Is Us delivers. It's a heartfelt and sentimental drama that follows the lives of Rebecca and Jack, a couple expecting triplets. But fate has another plan for them, and they end up with a family they weren't expecting.
The show gives you an intimate view into their lives. You'll feel like a member of the family from episode one, and you'll laugh and cry along with them.
This is Us is perfect for when you're after something to dig your teeth into that will make you lose track of time entirely. The first 3 seasons—54 episodes—are available on Netflix Canada. I was able to stream it in high definition from Australia using ExpressVPN.
5. Suits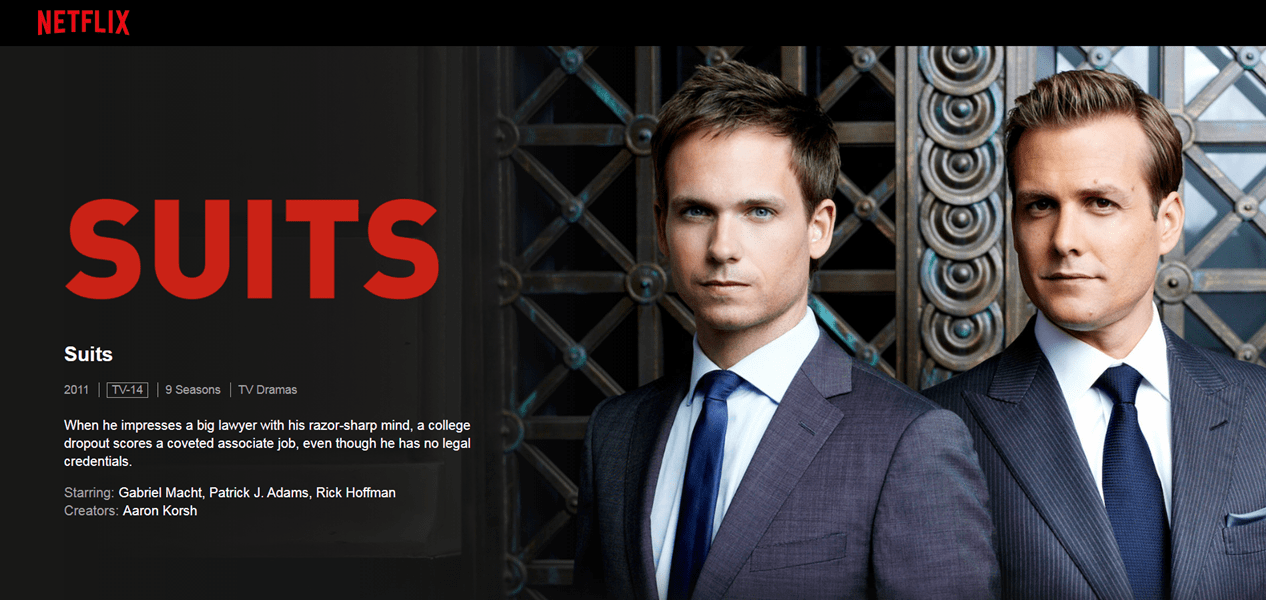 Mike Ross knows plenty about the legal system and he might just be one of the best lawyers you've ever seen, except he isn't actually a qualified lawyer. Not that his superior Harvey Scott or the other members of the law firm know that, though. And when Mike's closing some of New York's biggest and largest cases, does a qualification matter so much?
Can Mike keep his secret? Or will Harvey finally see Mike for the law-school drop-out he is? You have nine seasons to find out, and they're all available on Netflix UK. If you're outside the UK, you can unblock Suits by connecting to ExpressVPN.
6. Community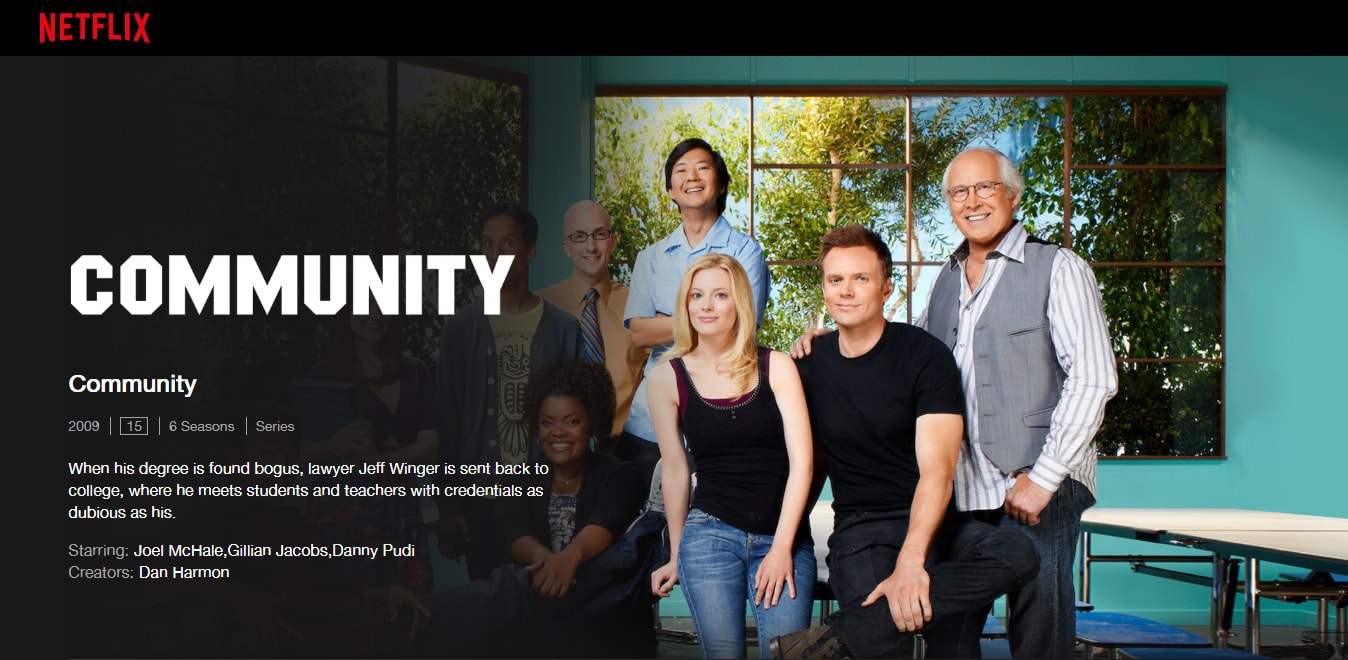 Feel like something a little more lighthearted? Head over to the bizarre Greendale Community College for some classic comedy from a ragtag study group consisting of a millionaire, an ex-drug addict, a former quarterback, a single mom, and a film student.
The group is led by disgraced lawyer Jeff Winger, who was disbarred after a colleague outed him for having faked his college education. Now, he's at Greendale Community College to redeem himself and earn a legitimate degree… and get closer to a certain studymate.
Community is an easy-to-watch barrel of laughs for when you need a pick-me-up—but I'll warn you: It's pretty addictive! As if you need another reason to watch it, you get to see a young, goofy Donald Glover and a pre-Hangover Ken Jeong. All six seasons are available on Netflix US. 
I tested several ExpressVPN servers with this one, and found them all to be fast and reliable for HD streaming.
7. Planet Earth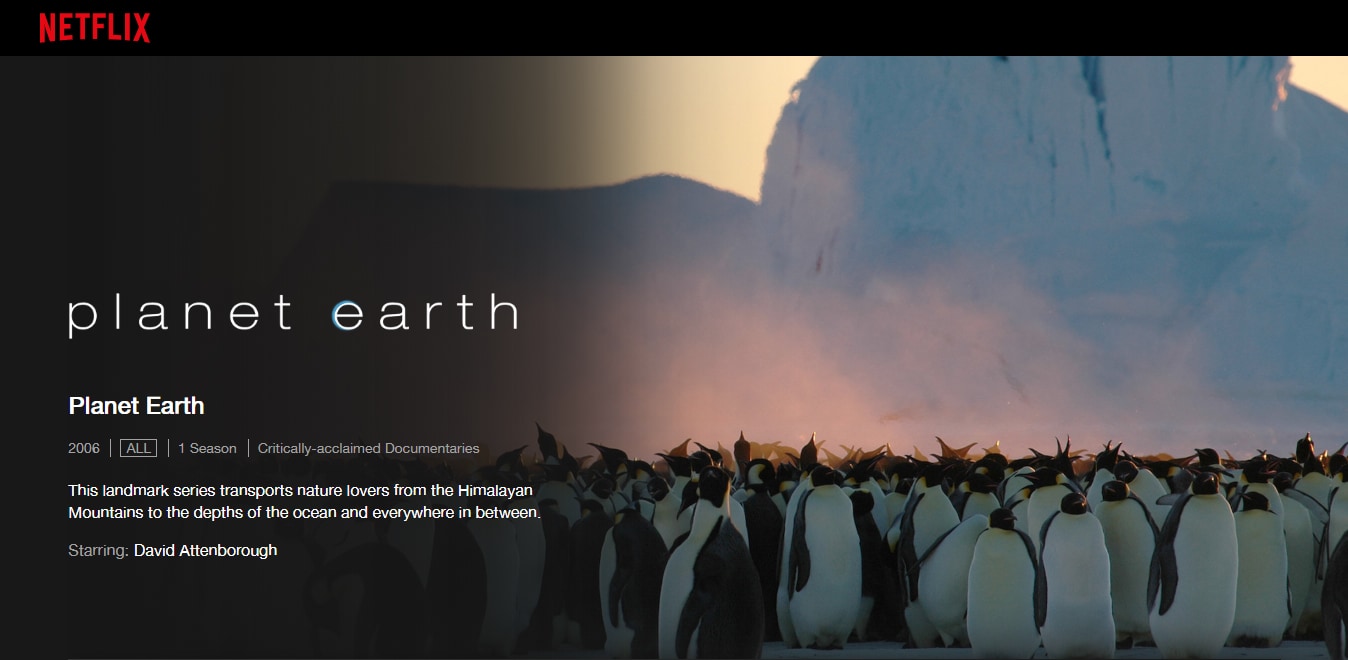 The BBC's Planet Earth is one of the most in-depth, awe-inspiring nature documentaries in history. Its breathtaking, high-definition shots are complemented by David Attenborough's thorough and deeply interesting narration.
It's perfect for getting lost in nature from the comfort of your couch.
Planet Earth is available exclusively on Netflix UK, so you'll need to connect to a British ExpressVPN server if you're abroad.
8. Homeland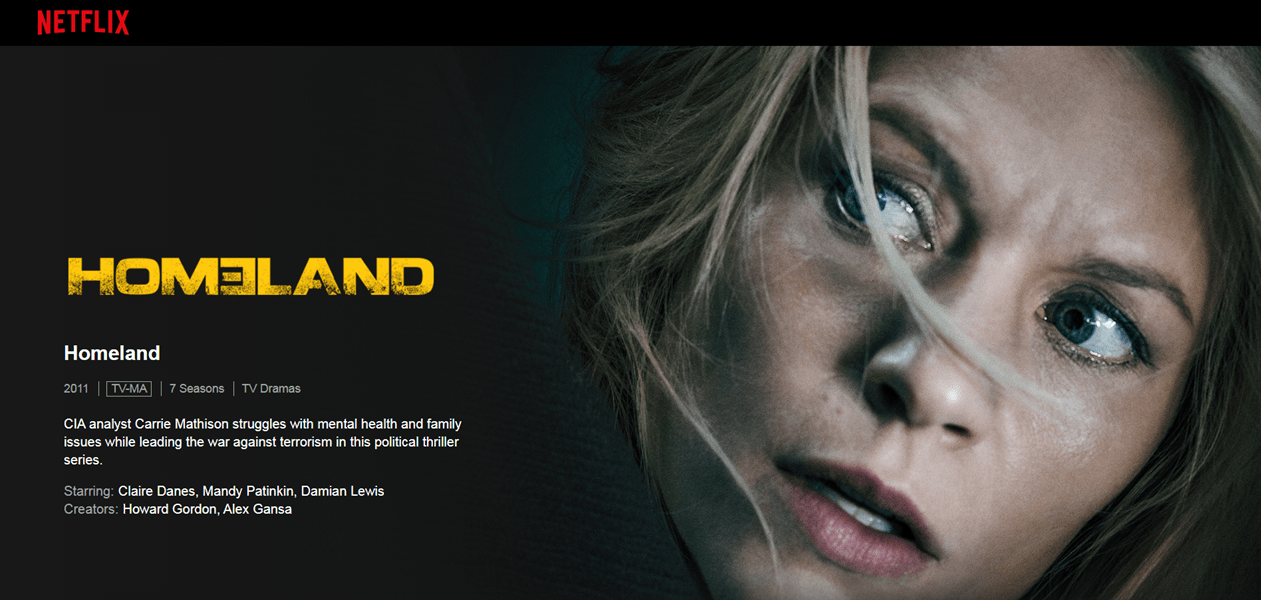 Marine Sargent Nicholas Brody spent eight years in captivity in before he suddenly returns home. While his family and neighbours are ecstatic, CIA agent Carrie Mathison isn't so sure. Convinced that Nicholas has been sent back to carry out a terror mission, she does everything she can to protect the lives of America.
Suspense, crime, and thriller comes in abundance with this series. Make sure you have plenty of free time and remove all distractions – you can't risk missing even five minutes. It's not available in the US, but you can watch it on Netflix Australia with your VPN.
9. Outlander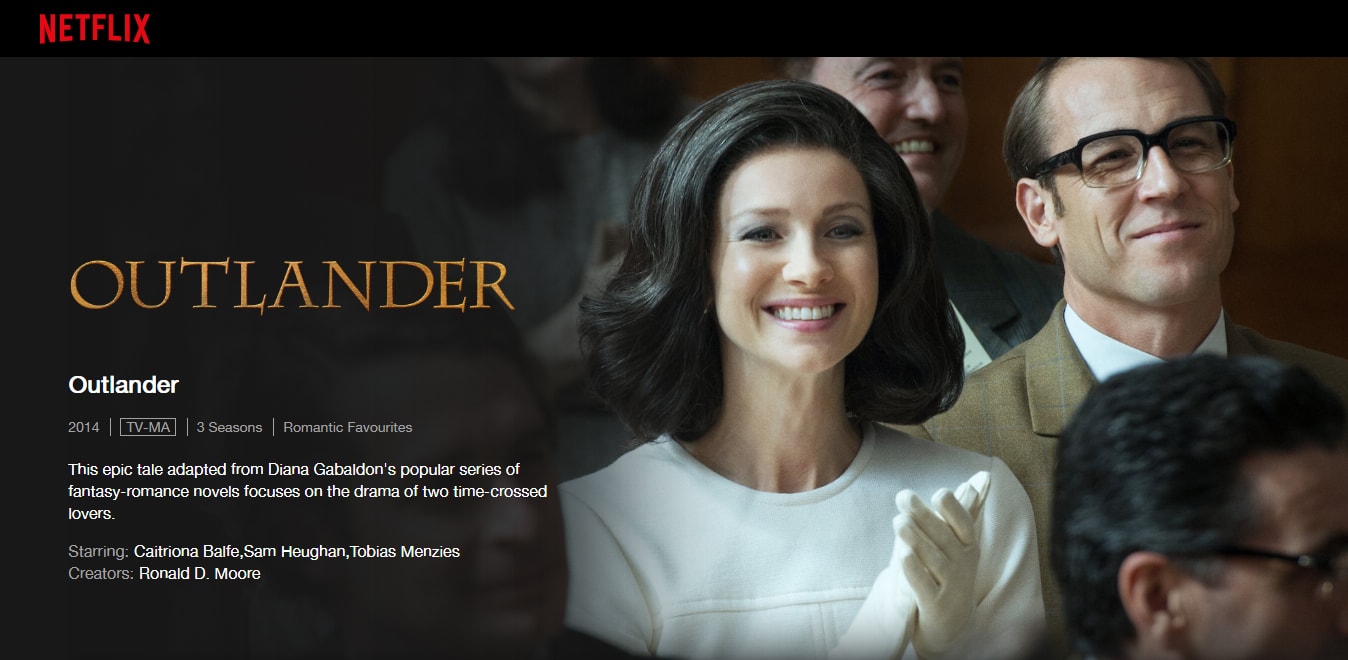 Outlander is wildly addictive, and it'll have you on the edge of your seat. It's a historical drama based on the novel of the same name by Diana Gabaldon.
In it, World War II army nurse Claire is swept back in time to 1743. She lands in a bizarre and mysterious world that threatens her survival.
The first three seasons are available through many Netflix libraries—but you'll need to switch to Netflix France with ExpressVPN to watch seasons four and five (don't worry; it's still available in English).
This one's for you if you like nail-biting adventures and mystery.
10. The Twilight Zone (Original Series)
Each self-contained episode has something for everyone's taste: from fantasy and thriller to SciFi, suspense, and horror. All of its storylines are unique, haunting, and full of twists.
If you're into surprise endings, bizarre alternate universes, and allegories, you'll be thrilled to enter The Twilight Zone. It will be of particular interest to you if you enjoyed Black Mirror, Westworld, or The X-Files.
If you're outside the US, you'll need a VPN for this one, too. Simply switch to a US-based ExpressVPN server, and you'll be ready to go.
FAQs
Why do I need a VPN to watch Netflix?
A VPN is essential if you want to get the most out of your Netflix subscription because it allows you to  unblock exclusive shows from other countries that aren't otherwise available to you. 
Your VPN masks your IP address, making it look like you're streaming from another country. This means you can watch all the titles Netflix has to offer, instead of just those that are available in your country. That's thousands of extra movies and Netflix series.
My colleague will tell you everything you need to know in our Netflix VPN guide.
Can Netflix series be downloaded?
Yes, you can download Netflix series onto your device to watch later offline. In the Netflix app, find the show or movie you want to save. Then, on the description page, tap the download icon. You can find your saved series in the My Downloads section of the app.
This also works if you're using a VPN. I tested it to check, and found out that you can download a show from an international library with your VPN, and then watch it offline later. 
Can I watch these Netflix series for free?
There's good news here, too. Netflix offers a one-month free trial. You need to provide your payment details, but you aren't charged until your free month is over. There's no contract, so you can cancel at any time.
What are the best family-friendly movies on Netflix?
Looking for a flick the family can enjoy together? We give you the rundown in our review of the best family-friendly Netflix films of 2021.
Watch the Best of Netflix, Anywhere and Anytime
It's simple: Netflix is the best streaming platform right now. But, with so many new shows being released in different countries, you're missing out. You aren't getting your money's worth unless you're using a VPN to stream blocked series from outside your region. 
A VPN helps you circumvent this issue by changing your IP address to unblock international Netflix libraries. Ready for the next step? My colleague's easy guide to watching Netflix with a VPN will get you started.
To summarize, the best VPN to watch TV Series on Netflix from anywhere in 2021 is…
Privacy Alert!
Your data is exposed to the websites you visit!
The information above can be used to track you, target you for ads, and monitor what you do online.
VPNs can help you hide this information from websites so that you are protected at all times. We recommend ExpressVPN — the #1 VPN out of over 350 providers we've tested. It has military-grade encryption and privacy features that will ensure your digital security, plus — it's currently offering 49% off.