Top 10 Best Original Series on Netflix (Released in 2020)
Updated on 30th January 2020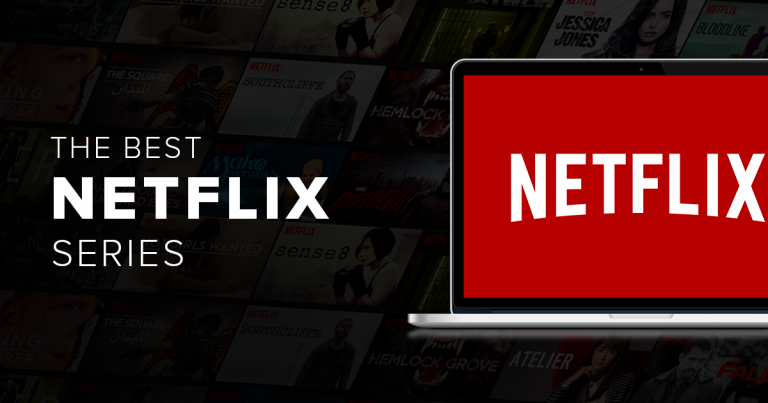 Netflix is releasing so many new shows, and at such a fast pace, you can easily end up missing the boat on some of the most binge-worthy shows. We had our team stream tons of original TV shows and we came up with the Top 10 List of the Best Original Content for Netflix in 2020.
We had to set some guidelines to make things a little more manageable, and so in order to compile this Top 10 list the series either had to premiere in 2020 or have a new season that started in 2020.
We also tried to limit it to TV shows, which meant ignoring all movies and the hilarious stand-up specials from big names like Chris Rock, Kevin James, and John Mulaney. Our feeling was that they just didn't fit in the TV show criteria. We did let Dave Letterman's new show long interview style show sneak onto the list, even though it doesn't have a plot like a TV series, but it does have multiple episodes and Letterman is a TV icon…But it was the topic of a lot of debate.
Get ready to binge on all kinds of Netflix shows, from crime and comedy to the bleak future, as we break it down for you here. We also included some non-English shows as a special mention because we really enjoyed them, and think you should give them a chance even though they aren't in English.
Top 10 Original Netflix Series
1. Jessica Jones – What does a superhero do after quitting the superhero game? For Jessica Jones, the answer is to open her own PI firm.
2. Dear White People – A satirical look at the African American students in a predominately white Ivy League college.
3. Santa Clarita Diet – Joel and Sheila Hammond are your average real estate couple, until Sheila mysteriously becomes undead and gets a taste for human flesh.
4. My Next Guest Needs No Introduction – David Letterman is back with in-depth interviews with some of the biggest names on the planet – and this time with a long beard.
5. Queer Eye – Five gay men help straight with life-changing makeovers.
6. Love – A story about an odd couple who finds what everyone is looking for – love.
7. Lost in Space – Netflix is rebooting the classic 1965 series about a family of space explorers whose ship goes off course.
8. Altered Carbon – In the future we have the technology to save a person's consciousness on a disk and input it into a new body, which means that dying is a thing of the past.
9. Dope – Camera crews bring the viewer into the underworld of drug trafficking from the perspective of the users, dealers, and police offers.
10. Grace and Frankie –  Grace and Frankie make an unlikely pair of friends who start to bond after their husbands leave them for each other.
Honorable Mention
Arrested Development – Season 4 was redone and turned into a "Semi Original Netflix Series" with the Fateful Consequences episodes. It is only available on the US Netflix, and so if you're not located in the US you will need a Netflix VPN to stream these episodes.
International Shows
1. The Rain – Getting caught in the rain has never been so deadly.
2. 3% – In a futuristic world, society is divided between the groups of destruction and progress. Only 3% of the population can successfully go through the process and transition into the better group.
Here are The In-Depth Reviews and Trailers for our Top 10 Original Netflix Shows
1. Jessica Jones
With the release of the second season of the gripping Jessica Jones series, fan sof the small screen MCU can rejoice. Jessica Jones is different from the others Defenders on Netflix: Daredevil, Luke Cage, and the Iron Fist. She is more gritty, swears a lot, and is a total badass with no need for a secret identity. She's been there and it wasn't for her.
If you haven't watched the first season, we recommend you start binge-watching it today because from what we've seen the second season only gets better.
2. Dear White People
Based on a movie with the same name, Dear White People takes on the issue of race on a university campus in America.
The story focuses on a group of African American students in the predominantly black dorm of Winchester University, a fictional Ivy League. Led by Samantha White, host of the campus radio show Dear White People.
The show mixes comedy, drama, and an introspective look at our social norms, which, when combined seems to be the ingredients for a very entertaining show.
Netflix released the second season of Dear White People in May of 2018 and we're already early waiting for the next season.
3. Santa Clarita Diet
Joel, Sheila, and Abby Hammond are your typical Santa Clarita family, until one day Sheila unexpectedly dies, or does she? The family must continue acting normal as Sheila discovers her new needs and desires.
Balancing a real estate career, a family, and now a wife with a taste for blood and murder may just be too much for poor Joel to handle.
But with the help of the neighbor's socially awkward son Eric, Joel and Abby try and find ways to cure Sheila before she loses complete control.
The Santa Clarita Diet is unlike any other zombie TV show that you've seen, and that's a good thing. We found ourselves laughing at the humorous and awkward situations that this family is put into as Joel desperately tries to hold everything together. With an all-star cast of Drew Barrymore and Timothy Olyphant, The Santa Clarita Diet is definitely a binge worthy show, and with the release of the second season in March 2018 we can't wait to see what lies in store for the Hammonds.
4. My Next Guest Needs No Introduction
For over 30 years Americans welcomed David Letterman into their homes as the host of the Late Show with David Letterman. Now after a few years in retirement, Dave is ready to make his return to showbiz, but this time it's on his terms.
Netflix has produced six episodes of My Next Guest Needs No Introduction and is releasing one episode per month. Unlike the Late Show, this show,which is nearly an hour in length, is devoted to doing an in-depth interview of the subject. This includes going back to where they were born, meeting their families, and really interviewing the subject so we can get a better understanding of the person behind the fame, and not just a promo for an upcoming movie.
We really like the format; part of the show is done in front of a studio audience and part is taped on location. It helps the show move along and it doesn't feel like you're watching a 55-minute interview.
In season one, Letterman speaks with Former President Barack Obama, George Clooney, Malala Yousafzai, Jay-Z, Tine Fey, and Howard Stern. Letterman teams up with his old friend Paul Shaffer who does a great job setting the tone with his music.
5. Queer Eye
Netflix brings the once popular Queer Eye reality show back with an all new cast, quickly dubbed the "Fab Five." Each member of the team brings his own unique style and talents to the makeover. Combining their expertise in all things from food and culture to fashion and grooming, they are set to help make men look fabulous.
The first season of the reboot takes place in Georgia. and the group travels to several different cities throughout the 8-episode season.
We quickly fell in love with Jonathan Van Ness, the hair and grooming maven. His enthusiasm and vivaciousness are contagious and really brings the group together. It doesn't take long for the five guys to gel into the perfect team and create an incredible viewing experience.
This rebirth of Queer Eye is a fun watch, and if your not careful you could sit through all 8 episode in one day.
6. Love
When you first meet Mickey and Gus you immediately get the feeling that it won't work out for them. Gus is your stereotypical nerdish guy, creating theme songs for movies that don't have them with his buddies. Mickey is a tough girl, who is dealing with her addictions and trying to change her life.
But something clicks between them and they have great, on-screen chemistry that makes you want to root for this couple. Judd Apatow does a masterful job in developing this show, and it really dives into the ins and outs of love and relationship building.
Netflix released the third and final season of Love in early 2018, and (no spoilers) we really saw the growth and development of all the characters, not just Gus and Mickey. We also get a glimpse into the relationship of Mickey's cute Australian roommate Bertie, who was so good in this show we felt she deserves a spin-off show of her own.
7. Lost in Space
Lost in Space takes place in the not too distant future of 2048, after a meteor crashes into earth and signals the end of humanity. A few lucky families are chosen to go into space and begin setting up a new world.
The Robinsons are one of the families selected to go on the 24th launch, and while on their way, an alien robot (who has turned into quite the internet meme) boards that ship and causes the Robinsons to evacuate and land on a strange new planet.
Netflix has put a lot of money into Lost in Space and so it's reasonable to assume that they will invest in a second 10-episode season as well. We really enjoy watching as the family, who are dealing with a lot of personal family drama, finds a way to stick together to survive.
8. Altered Carbon
In the future, death is preventable, at least for the wealthy. In Altered Carbon people have chips in their neck that saves their consciousness. As long as it's taken out before death, it can be saved and then "Re-Sleeved" into a new body.  The main character, Takeshi Kovacs, is brought back to life to help solve the murder of a wealthy man.
The show spans across several timelines, which can be confusing, but it does help the viewer gain a better appreciation for Kovacs backstory – an imprisoned warrior whose mind was held captive for over 200 years.
IIt's shocking how low critics reviews are for this show. Rotten Tomatoes critics give it 65% but the audience score is a much more respectable at 90%. Altered Carbon is an action-packed science fiction thriller that does a remarkable job with special effects.
Here's hoping that Netflix looks past the negative critics and allows this show to run for a few more seasons.
9. Dope
Dope is docu-series that focuses on the three different perspectives in the drug game in the US and Mexico. Each episode takes place in a different city and you'll get the inside scoop from dealers and cops to users.
This gives us a unique perspective on the war on drugs as we can hear, many of us for the first time, from the drug dealers. How they got into the business, where the product is coming from, and how they behave. At the same time, you'll watch as the police train and plan for their raids in an attempt to take some of the drugs off the street.
Finally, there are the junkies, the important final piece to this drug infused documentary. Their stories seem to be similar from coast to coast, a tale of sadness and losses of life as they got hooked to the dope with no hope for kicking the addition.
There is some speculation on fan boards that this show isn't a true documentary, but instead, they use actors and some scripted materials to recreate true scenes. If that's the case, it's a little disappointing, but they are still doing a great job.
Netflix has released a second 4-episode season of Dope in April, 2018.
10. Grace and Frankie
There aren't a lot of good Netflix sitcoms, but Grace and Frankie is a standout. Their husbands were law partners for years before taking their relationship to a whole other level. While the men come out of the closest in their late 60's and decide to get married, their wives, Grace and Frankie, navigate the single scenes in their golden years.
This hilarious show has been nominated for several Emmy's and a Golden Globe. Grace and Frankie are fun characters and it's easy to connect with them, they have that odd couple vibe about them, with Grace being more proper and uptight and Frankie being more of the c'est la vie, it is what it is, personality.
Netflix released season 4 in January 2018 and are in production for season 5, which is expected to be released in early 2019.
Much like Grace and Frankie, this show has gotten better with age, so kick back, relax and enjoy the show.
Honorable Mention
Arrested Development
Review – With the rerelease of Season 4 on Netflix and a promise for season 5 the Bluth family definitely deserves some love. To put it bluntly the original Season 4 was quite a mess and that's why we were so excited when series creator Mitch Hurwitz corrected some problems and recreated the season to really fit in with the flow of the first three seasons.
Arrested Development, as of May 2018, is only available to Netflix subscribers in the US. If you are not in the US and want to watch the show, we recommend getting a VPN that works with Netflix.
The only reason Arrested didn't make it to the Top 10 is because part of the season was originally released in 2013 and was not a Netflix original show. However, the 5th season is scheduled to be released later in 2018 on Netflix.

Shows from around the World  
There is not a ton of original Netflix shows that aren't in English, but from what we saw, these two stood out, so we decided to include them as well.
1. The Rain
The Rain is a Danish production that takes place in a small Scandinavian town, where the rain is spreading a painful and excruciating virus that is slowly wiping out humanity. The show focuses on two young siblings who are forced to grow up quickly and try and survive.
It's geared towards young adults, but there is enough heart in this story that it can enjoyed by all viewers 16+.
The one thing that you'll have to get used to is reading subtitles if you prefer watching in the original Danish language. Netflix also offers the option to turn on dubbing, but then you have the annoying issue of the mouth and words not syncing up.
Whichever way you prefer, we recommend giving The Rain a chance, its definitely binge-worthy
2. 3%
3% is the first original series on Netflix from Brazil, and in our opinion, they found a great series to start with. Much like with The Rain, you can opt to either dub the show in English or watch it in Portuguese with subtitles.
The 3% looks like it was designed and built on a budget, but perhaps that just adds to the character of the show. It depicts a bleak future for most of the population who are forced to live Inland. However once one reaches the age of 20 they have a shot at improving their lives by going through the Process. The process isn't for everybody and only 3% of those who try will make it through.
There are a few mysteries that will keep you watching, such as what does the Offshore world look like and the many sudden turns and twists that director/producer Cesar Charlone included are a stroke of genius.
The second season of 3% was released at the end of April and if it isn't popping up on shows you should watch, we recommend looking for it. You won't be disappointed.
Watch the Best of Netflix, Anywhere and Anytime
Simply put, Netflix is the hottest streaming platform right now. However, with many Netflix Originals set to release their new seasons on the US version before all others, expats, avid travelers and devoted fans outside of the States may have to wait for a little while before they can join in on the fun. You can always circumvent this issue with the help of a VPN.
By changing your IP address to an American location, you can enjoy the unarguably best version on Netflix, across the globe. Not every VPN successfully accesses Netflix, though, due to their VPN block. Below, you can find our recommended list of VPNs that are guaranteed to unblock Netflix USA and grant you unrestricted access to your favorite shows no matter where you find yourself: