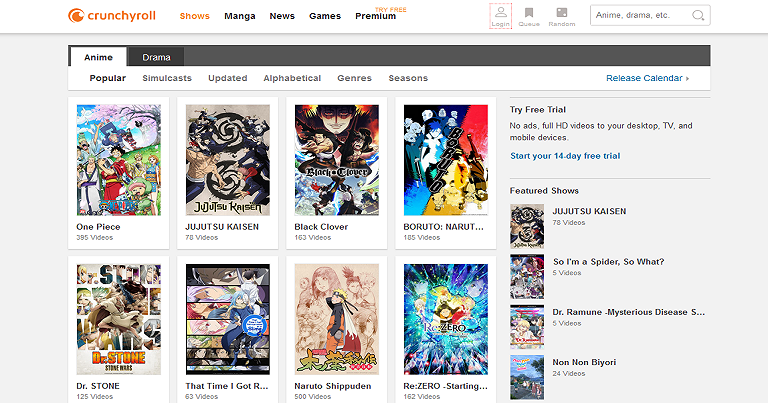 3 Best VPNs for Crunchyroll: Watch from Anywhere in 2023
Although Crunchyroll is available worldwide, certain sections of its library are subjected to geo-blocks, and can only be watched from a few countries. Unless you're using a good VPN, of course.
The problem is that not all VPNs can avoid geo-blocks, and even fewer have the necessary performance to guarantee buffer-free streaming. Quality VPNs can give you an IP address from dozens of countries around the world, and with it, smooth access to geo-blocked sections of Crunchyroll's library.
The best country to get an IP address from is the US, since most of Crunchyroll's catalog is fully available there. I've tested the best VPNs for watching Crunchyroll and compiled a list of the top 3 VPNs for Crunchyroll.
ExpressVPN comes out on top thanks to its fast server speeds, great unblocking features, 30-day money-back guarantee.
Watch Crunchyroll With ExpressVPN Now!
Short on time? Here are the best VPNs to watch Crunchyroll in January 2023
ExpressVPN – A reliable network of US servers with high-quality connections
CyberGhost – Excellent design and user experience at a very competitive price
Private Internet Access – A huge US server network with very good speeds
Watch Crunchyroll With ExpressVPN Now!
The Best VPNs for Crunchyroll (Updated January 2023)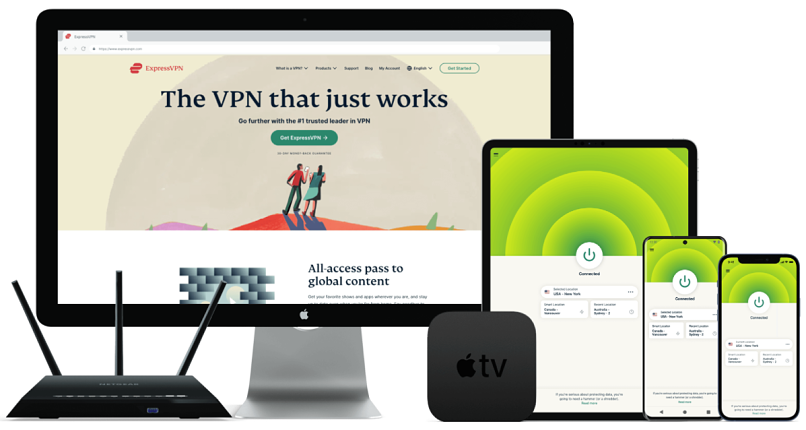 Editor's Choice
Editor's Choice

Tested January 2023
Try Risk-Free for 30 Days
Can access:
Netflix
Disney+
APV
HBO Max
Hulu
BBC iPlayer
Sky
More
www.ExpressVPN.com
3,000 servers in 94 countries, including 32 server locations in the US
Excellent speeds for HD video streams
5 simultaneous device connections
30-day money-back guarantee
Also works with: Amazon Prime Video, Netflix, HBO Max, Hulu, Showtime, and more
Compatible with: Windows, macOS, Linux, Android, iOS, and more
ExpressVPN is another long-standing premium VPN service. It has servers in 32 different locations in the US, making it one of the most reliable options for unblocking US content. That, plus ExpressVPN's fast connections is why it's perfect for watching Crunchyroll.
ExpressVPN's speeds deliver HD video streams, which is crucial if you want to enjoy high-quality anime streams buffer-free. Our ExpressVPN review lays out all the tech details behind its service.
Crunchyroll is one of those streaming platforms that's notoriously difficult for VPNs to get through, and this is one of the few VPNs that give you access to all of Crunchyroll's anime goodness. Moreover, ExpressVPN allows access to 5 devices simultaneously per account, so your friends can also watch their favorite shows.
ExpressVPN comes with a 30-day money-back guarantee, which makes it a risk-free choice for watching Crunchyroll.
Watch Crunchyroll With ExpressVPN Now!
9,758 servers in 91 countries, including over 1,300 servers in the US
Great speeds for all your Crunchyroll streaming needs
7 simultaneous device connections
45-day money-back guarantee
Also works with: Netflix, Disney+, Showtime, Hulu, Amazon Prime Video, and more
Compatible with: Windows, macOS, Linux, Android, iOS, and more
With over a thousand US servers, I had no problems when trying to watch Crunchyroll with CyberGhost. This VPN pretty much guarantees you'll be able to unblock Crunchyroll from anywhere in the world.
CyberGhost's fast speeds are worth a separate mention, as the network is fast enough for uninterrupted HD anime viewings. For all the nerdy details, you can read our CyberGhost review.
The VPN is known for its excellent privacy features - its no-log and no-data retention policies, for example, are great for you and your safety, turning your Crunchyroll account into a "CyberGhost in the shell". And if you like sharing your favorite animes, CyberGhost allows for 7 simultaneous connections.
Lastly, all these features come at a very budget-friendly price and with a 45-day money-back guarantee - a great perk for you to just test the VPN out without any big commitments.
Watch Crunchyroll With CyberGhost Now!
29,650 servers in 84 countries, including over 11,000 servers in the US
Maintains great speeds across all servers
10 simultaneous device connections
30-day money-back guarantee
Also works with: Netflix, BBC iPlayer, Amazon Prime Video, Hulu, Disney+, and more
Compatible with: Windows, macOS, Linux, Android, iOS, and more
Private Internet Access (PIA) is one of the more underappreciated VPN services right now, but it's an excellent choice for watching Crunchyroll. One of PIA's features that stands out the most is the large, US-based server network.
But it's not all about quantity, PIA's many servers are capable of great speeds for streaming, as well as solid unblocking. You can read more about the service in our Private Internet Access review.
When I tested it, Private Internet Access had little trouble going through Crunchyroll's geo-blocks. And you can get all that on 10 devices per account simultaneously, which means you can stream both at home and on-the-go.
PIA's 30-day money-back guarantee makes it a perfectly safe choice for watching Crunchyroll entire library regardless of your location.
Watch Crunchyroll With Private Internet Access Now!
Why You Need a VPN to Watch Crunchyroll
Crunchyroll is the favorite streaming platform of many anime fans around the globe because of its massive library and high-quality content. The platform's geo-blocks can be frustrating, which is why many believe that subscribing to Crunchyroll subscription is just not worth it in some countries.
The solution to all this is simple – a good VPN. With just a few clicks, a VPN app will give you access to an IP address on any of the VPN's servers in a given country. The best country for unlocking most of Crunchyroll's library is the US, and most premium VPNs have plenty of servers there.
The next qualities to look for in a VPN are good unblocking (to get past Crunchyroll's firewalls) and excellent speeds for HD streaming.
Watch Crunchyroll With ExpressVPN Now!
FAQ on Best VPNs for Crunchyroll
What's the best VPN for Crunchyroll?
The one VPN I recommend for Crunchyroll above all others is ExpressVPN. This provider has everything you need to enjoy Crunchyroll's huge library to the fullest.
Its huge server network and excellent unblocking make short work of Crunchyroll's geo-blocks and restrictions. On top of that, ExpressVPN's lightning-fast speeds allow for an uninterrupted and seamless viewing experience.
Add an affordable price tag and great privacy to the mix, and you can see why ExpressVPN is my first choice.
Can I use a free VPN to watch Crunchyroll?
Finding a free VPN that works with Crunchyroll is a challenge. There are some free VPNs that can breach the platform's geo-blocks and firewalls, but few can do so reliably.
Plus, it's difficult to trust a free VPN because most of them don't have the privacy and security features to protect your personal information. Add to that the embarrassingly slow speeds of many free VPNs, and you're unlikely to get the anime-watching experience you want with a free provider.
Which VPN is the fastest?
ExpressVPN is the fastest VPN on the market. I've tested many services, both for Crunchyroll and in general, and none has come close to challenging ExpressVPN for that title.
And speed is of the essence when it comes to watching a streaming platform such as Crunchyroll. The anime genre, as well as most other East Asian music and electronic entertainment, are excellent at keeping the viewer on the edge of their seat. That's the sort of experience you really don't want interrupted by the annoying buffering bar.
How can I get a US IP address?
Getting a US IP address to unlock all of Crunchyroll's vast library is easy with the right VPN. All you need is a VPN with servers in the US that can avoid Crunchyroll's geo-blocks.
Once you've installed and launched your VPN's software, the rest is a matter of picking the US out of a list of countries, clicking on a server, and your new IP address will be ready for streaming anime.
And that's it! You should now be able to view all of Crunchyroll's catalog safely and easily.
Get the Best VPN for Crunchyroll Today
There are many VPNs on the market, but few are good enough for Crunchyroll. Say what you will about this online anime treasury, Crunchyroll does take its geo-restrictions seriously.
If you're as passionate about anime as I am, however, you won't let that stop you. The 3 VPNs I've listed above are all excellent for watching Crunchyroll from outside of the US.
And rising above them is ExpressVPN. This provider's large server base, great unblocking and privacy, not to mention lightning-fast speeds, are everything you need to get the most out of Crunchyroll from anywhere in the world.
Watch Crunchyroll With ExpressVPN Now!
To summarize, here are the best VPNs for Crunchyroll:
Privacy Alert!
Your data is exposed to the websites you visit!
The information above can be used to track you, target you for ads, and monitor what you do online.
VPNs can help you hide this information from websites so that you are protected at all times. We recommend ExpressVPN — the #1 VPN out of over 350 providers we've tested. It has military-grade encryption and privacy features that will ensure your digital security, plus — it's currently offering 49% off.