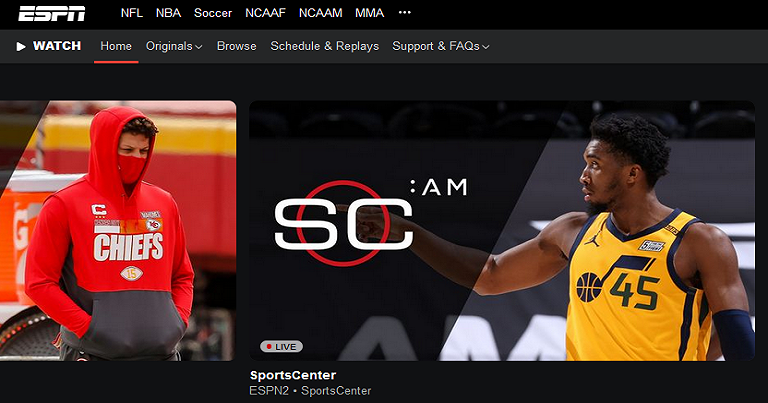 3 Best VPNs for ESPN: Watch from Anywhere in 2023
The online streaming platform for ESPN, ESPN PLUS, and ESPN 3 is only available for viewers in the US. Or rather, for those with a US-based IP address. And to get one of those outside of the US, you need a VPN.
The troubles don't end there, however – the ESPN streaming platform uses anti-VPN technology which most VPNs can't bypass. And of those that can, many are too slow to allow for an adequate HD video stream experience.
I tested the major VPNs out there to find which work best for ESPN and put together the top 3. My #1 pick is ExpressVPN, thanks to its amazing unblocking capabilities and extra fast servers. You can give it a test rick-free before you commit, as it's backed by a 30-day money-back guarantee.
Watch ESPN With ExpressVPN Now!
Short on time? Here are the best VPNs to watch ESPN in February 2023
ExpressVPN – A reliable choice with an excellent server network in the US and fast speeds.
CyberGhost – Fast speeds and lots of privacy features at competitive prices.
Private Internet Access – Reliable US server network with good speeds and excellent privacy.
Watch ESPN With ExpressVPN Now!
The Best VPNs for ESPN (Updated February 2023)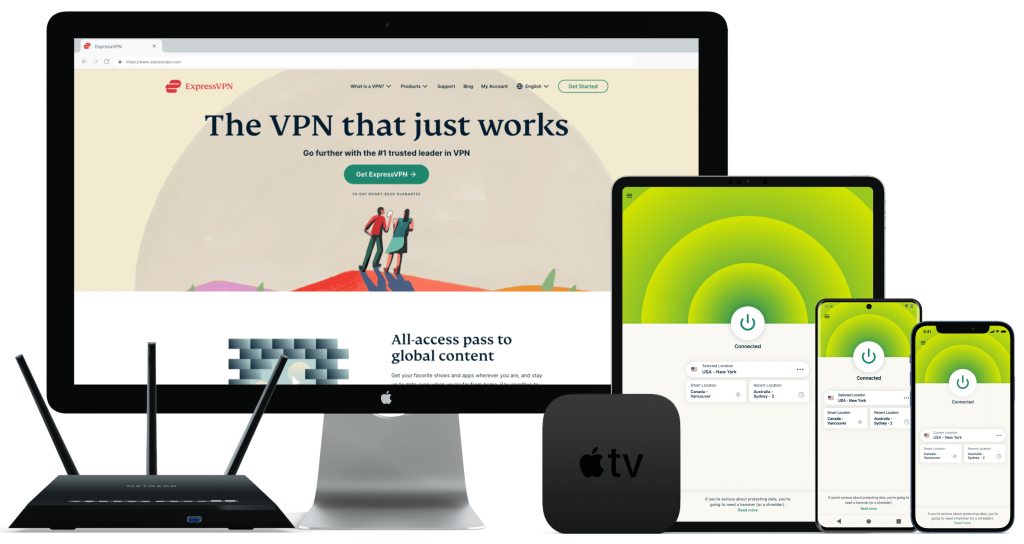 Editor's Choice
Editor's Choice

Tested February 2023
Try Risk-Free for 30 Days
www.ExpressVPN.com
3,000 servers in 94 countries, including 30+ server locations in the US
Excellent speeds for HD video streams from anywhere in the world
5 simultaneous device connections
30-day money-back guarantee
Also works with: Amazon Prime Video, Showtime, Netflix, HBO Max, Hulu, and more
Compatible with: Windows, macOS, Linux, Android, iOS, and more
With 30+ different server locations across the US, ExpressVPN has a wide range of choices for you. All these servers offer great speeds, which is a must if you want to enjoy an uninterrupted UFC match, for instance. You wouldn't want to lose your connection right when one of the fighters is pinned down and ready to give up.
You can check out our detailed ExpressVPN review to find out more about this provider, but we also tested it with ESPN specifically. ExpressVPN gets through ESPN's anti-VPN blocks with ease.
ExpressVPN offers solid security features if you want to maintain your privacy while watching ESPN or browsing the Internet. The provider keeps no traffic logs, its encryption is up to the highest industry standards, and there's an integrated kill switch in case your connection drops.
You can use ExpressVPN with as many as 5 devices simultaneously, and you get a 30-day money-back guarantee. This means you can watch ESPN with ExpressVPN risk-free for a whole month.
Watch ESPN With ExpressVPN Now!
9,753 servers in 91 countries, including 1300+ servers in the US
Offers fast speeds – great for watching HD ESPN streams
7 simultaneous device connections
45-day money-back guarantee
Also works with: Netflix, Disney+, Amazon Prime Video, Showtime, Hulu, and more
Compatible with: Windows, macOS, Linux, Android, iOS, and more
CyberGhost offers 1300+ servers all across the US – a solid fleet that ensures you won't experience any issues or interruptions with this VPN. You can expect great speeds from its network, which is a must if you want to enjoy HD ESPN streams with no buffering issues. We've covered CyberGhost in more detail in our full review.
One of the big selling points of this VPN is its ease of use. CyberGhost's app is intuitive, which makes it an excellent choice if you haven't tried a VPN before.
In addition, you get some of the best privacy and security features in the industry. The VPN's headquarters are in Romania, so CyberGhost isn't subject to any data retention laws. There's also a no-logs policy, great DNS and IPv6 protection, and solid encryption.
CyberGhost is available at a very budget-friendly price and has a generous 45-day money-back guarantee you can rely on to try it out risk-free.
Watch ESPN With CyberGhostVPN Now!
29,650 servers in 84 countries, including 11,500+ servers in the US
Great speeds across all its US servers
10 simultaneous device connections
30-day money-back guarantee
Also works with: Amazon Prime Video, Hulu, Disney+, Netflix, BBC iPlayer, and more
Compatible with: Windows, macOS, Linux, Android, iOS, and more
Private Internet Access offers an impressive 11,500+ servers in the US – the largest US network among the VPNs on this list. It's not all about quantity, though: the network also gives you access to high-speed connections. This ensures a seamless ESPN viewing experience in high quality from anywhere in the world.
We cover this VPN in much more detail in our Private Internet Access review. Private Internet Access allows for 10 device connections simultaneously on the same account. And if you're new to the VPN sphere, PIA's app is very clean, intuitive, and easy to use.
All this comes with a set of proficient privacy and security features that make your viewing and browsing experience 100% safe. And, of course, Private Internet Access also has a 30-day money-back guarantee you can use to get your money back if you want to watch Bubba Wallace make those left turns live.
Watch ESPN With Private Internet Access Now!
Why You Need a VPN to Watch ESPN
When it comes to watching geo blocked streaming platforms like ESPN today, VPNs are very quickly becoming the norm. When a streaming platform gets restricted to a particular geographic region it becomes available only for people with an IP address that's registered in that region.
VPNs help us avoid that by giving us access to their servers within that region. That way, we can get a virtual IP address in a different country and fool the streaming platform into becoming available to us.
However, ESPN is one of those streaming platforms that's especially stubborn and hard to access, so many VPNs still can't get through. The streaming platform keeps upgrading its block list, so you need a truly high-quality VPN if you want to make sure that you'll be able to access it in the future.
I tested all the major VPNs out there and found that the 3 on my list are the absolute best for watching ESPN. They also offer excellent speeds for an enjoyable viewing experience, first-rate privacy and security features, and lots of additional perks.
Watch ESPN With ExpressVPN Now!
FAQ on Best VPNs for ESPN
What's the best VPN for ESPN?
Each of the 3 VPNs above has its benefits and each has something that it's the best at. However, based on its speed, unblocking capabilities, and sheer overall quality, our #1 pick is ExpressVPN.
You won't go wrong with any of the other 2 options either, plus they all come with a money-back guarantee. Still, ExpressVPN ticks all the crucial boxes for watching streaming platforms like ESPN.
Can I use a free VPN to watch ESPN?
Maybe you can, but it's really not a good idea. For one, ESPN's tough restrictions have made it impossible for most free VPNs to gain access to the platform, so you'll have a hard time finding a free VPN that works for ESPN in the first place.
Even if you find such a service, however, free VPNs have very few servers. Their networks can't handle a lot of traffic, have notoriously slow speeds, while security and privacy features are mediocre, to say the least.
Instead, a much better option is to use a high-quality VPN like ExpressVPN. You can try it risk-free because it's backed by a 30-day money-back guarantee. I've tried this myself and the process was smooth and easy – the money was back in my account two days later.
Which VPN is the fastest?
ExpressVPN is definitely the fastest, which is one of the main reasons why it's our top pick for streaming platforms such as ESPN. The other top VPNs also offer satisfactory speeds for HD streaming, but none can match ExpressVPN's servers in that regard.
Since speed is such an important factor when it comes to the quality of your viewing experience, ExpressVPN is our top recommendation. If you'd like to learn more, you can check out our expert ExpressVPN review.
How can I get a US IP address?
Getting a US IP address is very easy with the right VPN. All the VPNss above have plenty of servers in the States, giving you easy access to a virtual IP address.
All you need to do is subscribe to a VPN of your choice, install the app and log in. Then, open a list of the VPN's servers, pick a server in the US, and click "Connect."
That's it! You're now free to go to ESPN and watch whatever you want as if you're within the US. How cool is that?
Get the Best VPN for ESPN Today
There are many reasons to want a VPN, but you'll want to make sure you choose the best possible VPN if you don't want connection or privacy problems down the road.
Only the best VPNs can help you watch ESPN. Not only is this platform outright inaccessible for most VPNs, but even once you've got access to it, you'll want to make sure that your VPN has the necessary speed to ensure a quality viewing experience.
All 3 of the above VPN services work very well for ESPN, but the one that I've found to work the best is ExpressVPN. This provider offers the strongest unblocking capabilities, ensuring that it will always have access to ESPN, it offers the best possible speeds, and the rest of its perks and privacy and security features are top-notch as well.
Watch ESPN With ExpressVPN Now!
To summarize, the best VPNs for ESPN from anywhere in 2023 are...
Privacy Alert!
Your data is exposed to the websites you visit!
The information above can be used to track you, target you for ads, and monitor what you do online.
VPNs can help you hide this information from websites so that you are protected at all times. We recommend ExpressVPN — the #1 VPN out of over 350 providers we've tested. It has military-grade encryption and privacy features that will ensure your digital security, plus — it's currently offering 49% off.