5 Best VPNs For Netherlands – For Safety, Streaming & Speed 2019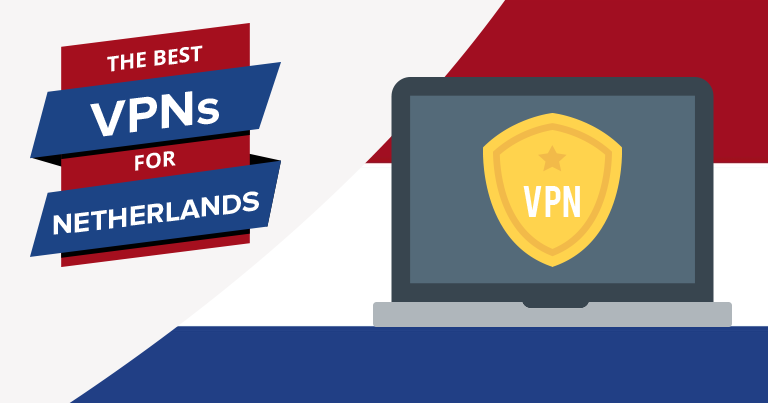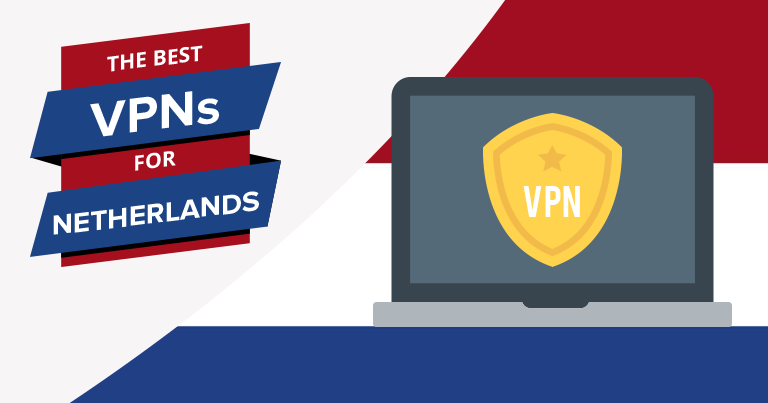 The Netherlands has long been a popular destination to connect to when using a VPN abroad.
There are plenty of reasons to use a VPN within the country, too! Recent changes in Dutch legislation have raised some privacy concerns, and if this trend continues, the previously lax digital surveillance laws may give way to intrusive practices.
Nowadays, having a VPN in the Netherlands is seriously appealing — and almost mandatory if you want to ensure your online presence is protected. But with so many providers around, how do you land on the perfect service for your needs?
Allow us to help you out. We've reviewed hundreds of VPN services to bring you the definitive top-five list for the Netherlands. We'll get to that shortly.
But first, what makes a good VPN for the Netherlands?
Quick List: The Best VPNs for the Netherlands
Start Your Free Goose VPN Trial Now!
What You Should Look for in a VPN for the Netherlands
Before May 2018, the two main purposes of VPNs in the Netherlands were related to unblocking of foreign content and extra protection.
However, the implementation of "Wet op de inlichtingen- en veiligheidsdiensten 2017" can now be added to the list of reasons. In short, this act gave the Dutch government a lot more power for surveillance and data retention. It entered into full force on May 1 2018, and if legislation continues down that road, the Netherlands may transform into an unfavorable location for the privacy-conscious, similar to the UK.
Copyright infringement is another matter institutions have been taking seriously. Now that downloading copyrighted content for your own use is no longer legal, using a VPN for various peer-to-peer activities is advised.
For Dutch expats, VPNs are also handy when it comes to watching national TV abroad. For example, you can unblock all NPO livestreams and enjoy your favorite channels, regardless of your current location.
With that said, here's what separates the great VPNs for the Netherlands:
Robust server network. Having a wide selection of Dutch servers with high speeds, P2P support, and even extra protection is vital for any worthwhile VPN for the Netherlands. As a rule of thumb, don't limit yourself to just one country — the more locations you have available, the better.
Upfront privacy policy. Anonymity and peace of mind are the two principles of every solid VPN service. Even if your VPN doesn't guarantee zero logs, make sure you choose a provider that's transparent and clearly explains what data is gathered, as well as the purposes for it. Still, opting for a VPN with a proven no-logs policy is recommended.
Useful features. VPN providers will always advertise their qualities, but you have to know what's unimportant and what's truly necessary. When looking for a VPN, make sure it has protection — namely a kill switch to prevent any accidental leaks in case your connection drops. Ad-blocking and anti-DDoS features are also useful.
Our top VPN picks for the Netherlands are equipped with all that, and more. Check them out below: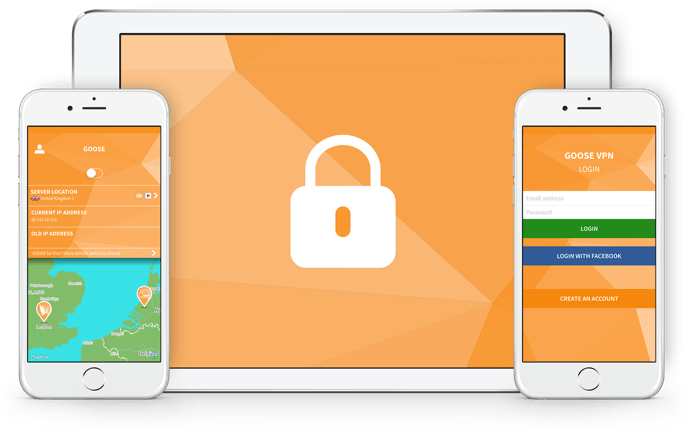 Native Dutch VPN service
Keeps zero logs
Variety of P2P and streaming servers
Free one-month trial
A favorite among Dutch users, GooseVPN is a native provider and the ideal multi-purpose VPN for the Netherlands. With over 95 servers globally (of which 16 in Amsterdam and 1 in Meppel), this service offers diversity where it counts. The P2P and Media servers are tailored for torrents and streaming/unblocking, respectively.
If you're worried about government orders and privacy risks, you can rest easy knowing GooseVPN adheres to its strict zero-logging policy. This provider, in its own words, is "proudly raised in the Netherlands", and it also takes great pride in ensuring its users' complete privacy.
Couple that with friendly, knowledgeable support and excellent apps for desktop and mobile devices alike, and you have the perfect Dutch VPN. The only drawback used to be the lack of a kill switch, but after being implemented in late February, it's no longer a sorely missed feature.
Eager to try it? We don't blame you. What's more, every GooseVPN plan comes with a one-month free trial!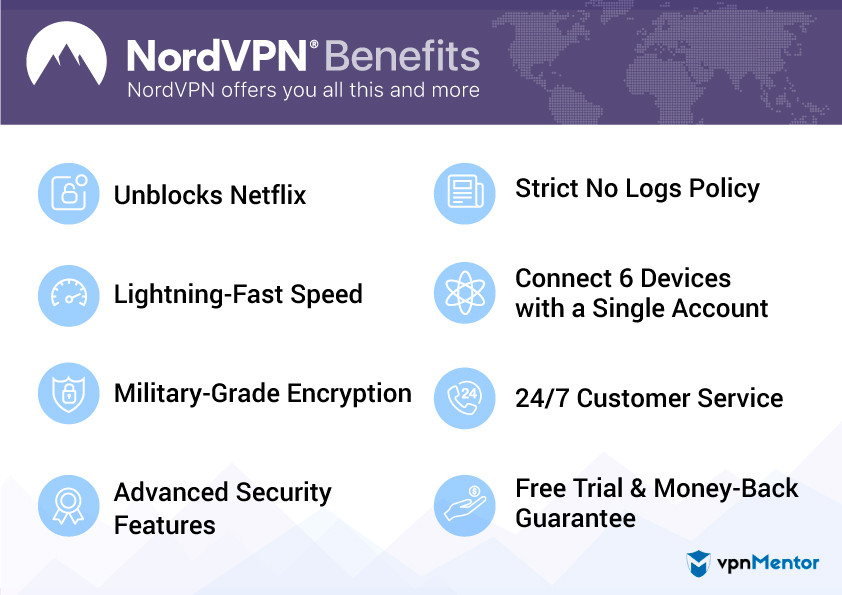 Packed with advanced features
Constant upgrades to server network
Based in Panama, away from the Five Eyes
Try it out and get a refund within 30 days
If native Dutch support isn't a priority for you, NordVPN, always a favorite among users, also offers an excellent package for the Netherlands (and dozens of other countries).
Here's a summary of what you get — 270+ NL servers, many of which support P2P and Onion over VPN. Extra features like Dedicated IP, DoubleVPN, and "obfuscated" servers for anti-censorship purposes are also available, if you opt for them.
Overall, NordVPN is one of the biggest providers on the market, with over 4,400 servers across the world and some serious security benefits. Ad-blocking, anti-DDoS, and much more await you with this VPN.
The regular service updates are a testament to NordVPN's desire to improve. The custom clients are consistently impressive — whether it's Windows or Mac, Android or iOS, Chrome or Firefox.
Such quality comes at a price, but NordVPN often has great deals you can take advantage of. Plus, the 30-day money-back guarantee allows you to get a full refund if you aren't satisfied.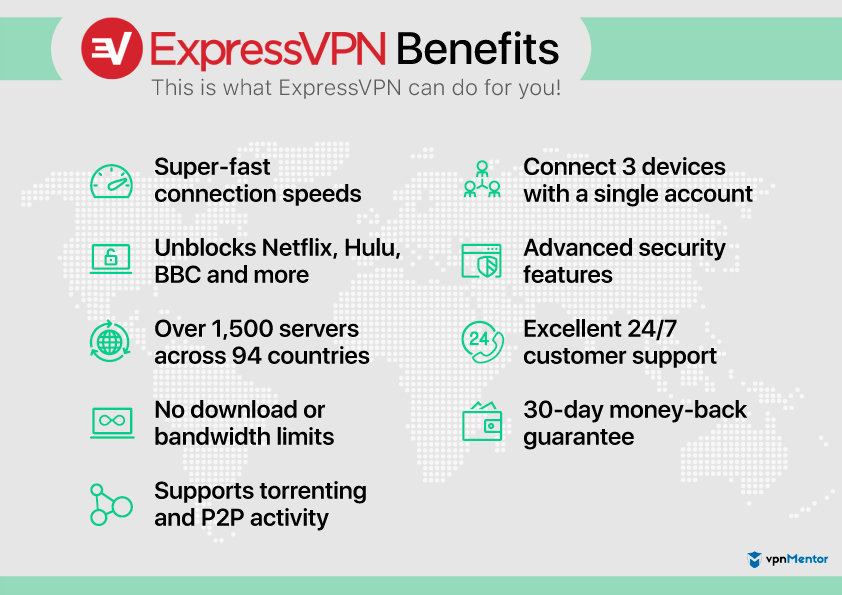 Astonishing speeds
Proven privacy
Host of useful features
30 days to get your money back if you aren't pleased
ExpressVPN's strength is in its name, and we're happy to say it lives up to expectations – and users definitely agree.
Perfect if you want fast speeds for streaming/downloading (or if you're suspicious of your ISP throttling bandwidth), ExpressVPN is known for being quick and reliable. Its Dutch servers are no exception — they're located in Amsterdam, Rotterdam, and the Hague.
You'll also enjoy some seriously handy features, like the "split tunneling". In short, it means you can separate your VPN-protected traffic from the rest, instead of having the entirety of your connection re-routed. Other extras include DNS/IPv6 leak protection, fool-proof apps for all major operating systems, and a kill switch.
With responsive, knowledgeable customer support and a Dutch-translated website, we recommend you give ExpressVPN a shot if great speeds and unlimited unblocking are high on your list. If you change your mind along the road, you're covered by the 30-day refund period.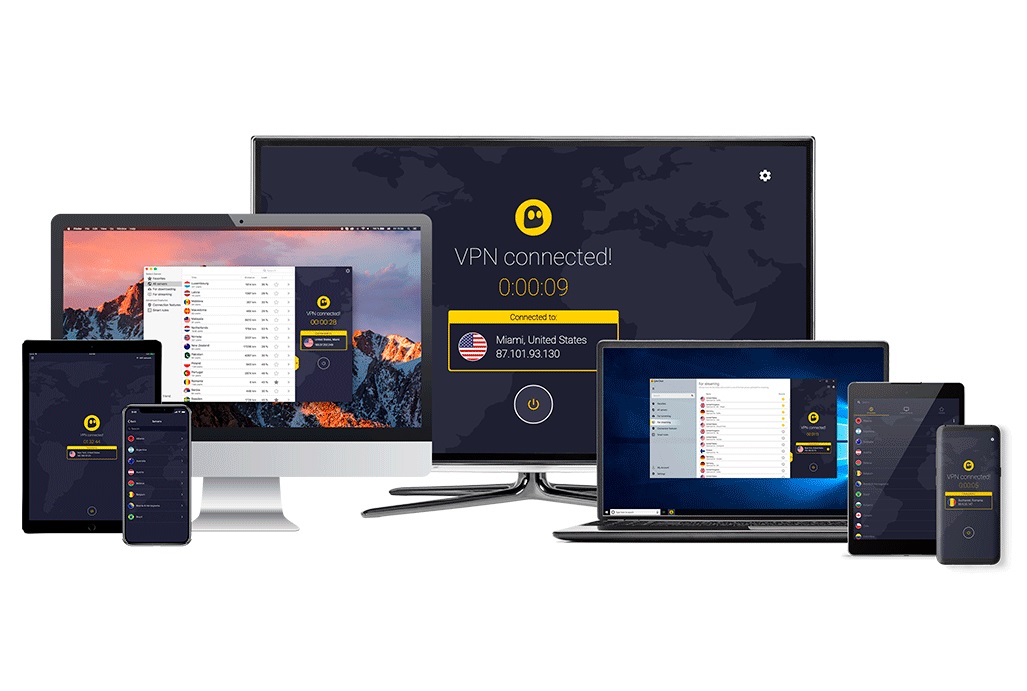 Helpful interface divided in several profiles
Great performance at a reasonable price
Legit zero-logs policy
No Dutch localization for website/apps
CyberGhost, a Romanian VPN service, has a ton to offer to Dutch users.
Out of 1690+ servers, 100 are in the Netherlands. Just recently, 48 new ones were added, and the Netherlands network enjoys over 2,000 concurrent users daily.
This VPN isn't as fast as ExpressVPN, nor does it have the advanced security features of NordVPN. However, it's quick in its own right, and its tight logging policy ensures you'll be safe on any website.
CyberGhost's interface is the main attraction — separated into various profiles, you can select basic or advanced unblocking or torrenting settings in just one click. Intuitive and capable, this VPN is perfect for beginners and pros alike. Read what real users have to say.
A minor drawback is the lack of Dutch translation for the website or clients. If that doesn't pose a problem for you, CyberGhost may just turn into your new favorite VPN for the Netherlands. Try it out — you have up to 45 days to get your money back!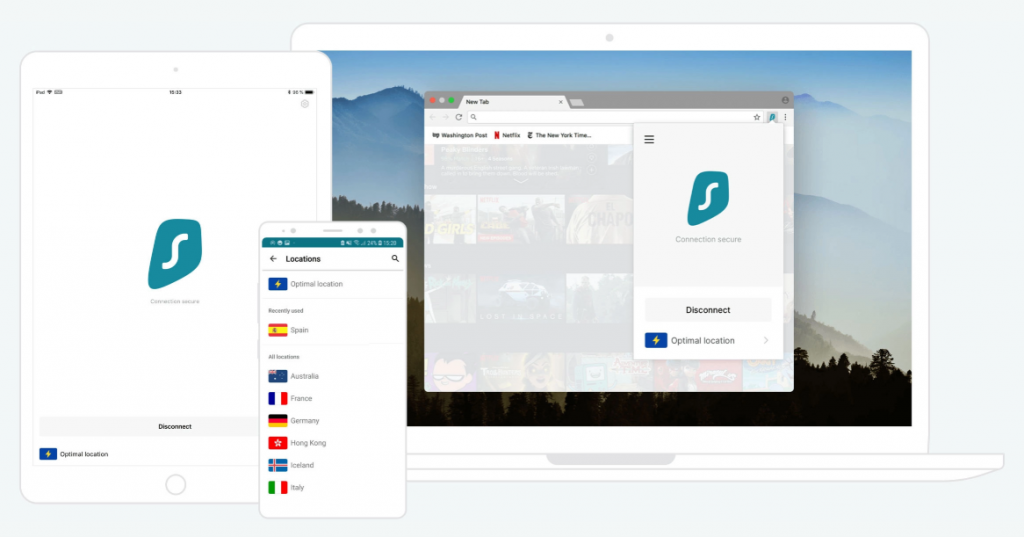 Servers in the Netherlands
User-friendly interface
Unlimited devices and unrestricted content
Diamond-strong protection
30-day money-back guarantee
A relatively new provider in the game, Surfshark VPN is making a name for itself as a reliable and secure VPN. It guarantees your security with a multi-hop double VPN chain that encrypts data across two or more servers, and every server location has a private DNS.
With over 500 servers in 50 countries, including many in Amsterdam, it is easy to access the content you want securely and anonymously. Surfshark additionally offers diamond-strong protection, a kill-switch, IP masking, zero-knowledge DNS and a strict no-logs policy. But don't take our word for it, you can read user reviews here.
If you're interested in Surfshark, you can make use of the 7-day money-back guarantee and test it out risk-free.
Choose the Ultimate VPN for the Netherlands
There you have it — our top five VPN picks for the Netherlands. Whether you want privacy and security or speed and limitless streaming, you are guaranteed to find what you're looking for in our list.
Did you find this article helpful? Share it and let others know about the best VPNs for Dutch users at home and abroad!
Your privacy online shouldn't be compromised with. Take a look at the best no-log VPNs on the market — because it really matters.